Common ways of sustaining centralized data and trust have resulted in fragmented organizations and ineffective technology systems. Nevertheless, in a collective and collaborative economy, trust comes from transparency. It is proposed by blockchain participants with the ability to share an updated account book each time a transaction occurs via peer-to-peer replication.
Blockchain is making its way into all companies around the world for a reason: it's light, fast, smart, and cheap. It's time to apply blockchain to insurance, following exciting new and successful advances in other commercial areas, from medicine and logistics to real estate.
In the article, we will discuss what is blockchain, its importance for the insurance industry, its advantages, examples, and use cases. So, let's dive into the topic!
What is Blockchain Technology in Insurance and How Does It Work?
First, let's explain what a blockchain is. So, it is a technology based on the principle of a distributed ledger, which resolves the need for facilitators. Copies of the general ledger are stored in different user locations, giving any approved insurance company, agent, broker, or insurer access to the same real-time data source. All registered transactions are verified and encrypted, and all changes to records are published as additions to the original data.
Through its three pillars – trust, transparency and immutability – the blockchain provides a single source of truth that is updated in real or near real-time. This allows parties to maintain complex records of assets, contracts and data ownership without physically possessing them or relying on paperwork or intermediaries. For the financial services industry, this means that the results will be more definite, as there is less room for interpretation of contracts or information gaps.
Due to blockchain, medical records can be encrypted and shared with hospitals and insurers (even overseas), thereby reducing duplicate and erroneous records, lengthy claims processing, claim denials, and over-checking.
Why is Blockchain Important for the Insurance Industry?
Let's start with some numbers. Jim Bramblet in the "Ultimate Guide to Blockchain in Insurance" states that 46% of insurers plan to integrate blockchain in the next couple of years, and 84% of insurers are sure that blockchain will revolutionize the way they interact with new companions.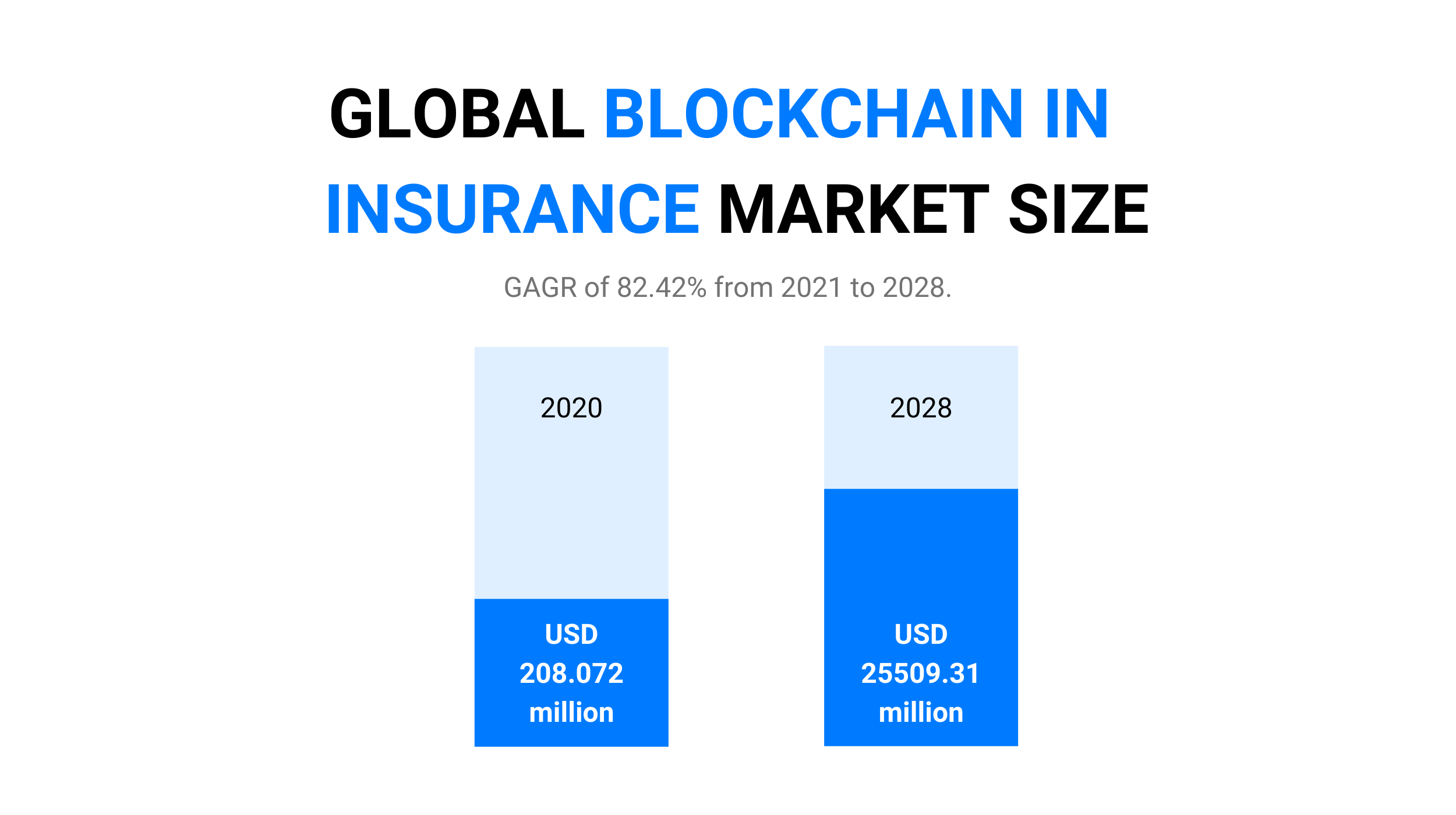 In the insurance industry, blockchain can be used mostly in two cases. The first one is for improving existing processes. And the second is for introducing new insurance practices. Blockchain enhancing existing insurance processes means complementing existing business practices. As a rudimentary use case, blockchain can be used to pay costs, salaries, bonuses, and transaction requirements at a lower cost. As a more complex interaction, blockchain can function as a shared database between different insurers. The blockchain lets new insurance methods represent a more radical introduction of new technology through the de facto insurance of smart contracts and decentralized apps.
The size of the market was estimated at $208.072 million in 2020 and is supposed to reach $25.509.31 million by 2028, with a CAGR of 82.42% from 2021 to 2028.
The growing frequency of false claims and the need for more transparent and credible procedures are driving market expansion. Besides, the growth in blockchain as a service and the Internet of Things (IoT), as well as the decline in the cost of ownership, are positively affecting the market growth.
Must-Have Features of Blockchain in Insurance
We have listed the main features of blockchain in the insurance industry.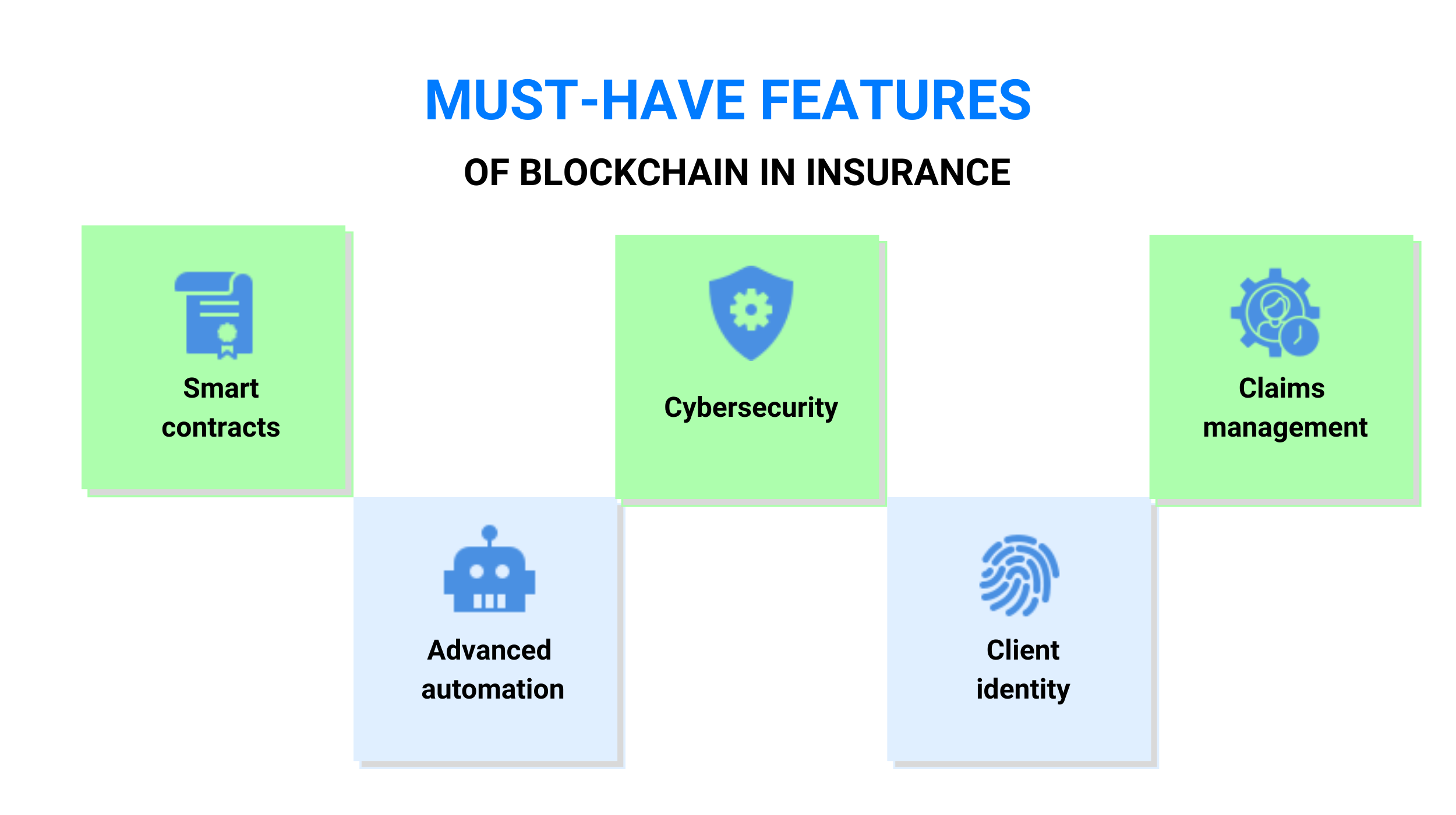 ✅ Smart contracts
They allow people to transfer any value without facilitators. Like traditional contracts, smart contracts establish rules by the two sides. In contrast to traditional contracts, smart contracts can track insurance payments and hold both sides accountable.
✅ Advanced automation
As the insurance industry connects millions of insurers, healthcare providers, and clients, the sector will simply become bogged down in inefficiencies associated with wasted funds and time caused by billions of forms, human factors, and bad communication.
✅ Сybersecurity
Blockchain helps to protect sensitive data. It is particularly attractive to a segment that is heavily reliant on data from the intersection of health, work, and private life. Blockchain registries are decentralized, so they can't be damaged or manipulated by a single authority. Besides, all data is chronologically time-stamped to ensure that events are recorded.
✅ Client identity
Brokers, insurers, reinsurers must comply with KYC (know your customer) requirements for all their counterparties. This includes collecting important customer data and verifying their identity, which is a time-consuming process. PwC and Z/Yen have created a blockchain-based prototype to accelerate this process. It keeps records of client documents and endorsement evidence from the issuing authority. Moreover, it enables the client to maintain control over the records.
✅ Claims management
Blockchain can reduce costs and time spent on each customer, and provide more confidence. This allows insurers and brokers to work more efficiently. Moreover, it is possible to create a blockchain that will include all documents created during the claims process and be available to all underwriters. This would give insurers the ability to process claims without being actively involved, as they could track and review them at any time. The administration cost for the claims broker will also be reduced.
How to Create Your Own Cryptocurrency App: Everything You Need to Know

Key Advantages of Blockchain Implementation in the Insurance Industry
Blockchain implementation has a wide list of benefits. Below we mentioned the most critical ones.
🔹 Trustworthiness
The first advantagу is reliability. Its ability to have built-in consensus algorithms ensures provenance, verifiability, and immutability. This simplifies building smart contracts, which can bring tremendous advantages to the insurance sector.
🔹 Great automation
Smart contracts simplify insurance. Since it stores the unchanged terms of the contract, a smart contract can facilitate and enforce the contract. The whole process of insurance claims can be simplified as the blockchain is executed by the terms of the smart contract – and this happens automatically.
🔹 Security
Together with other technologies such as the Internet of Things (IoT) and artificial intelligence (AI), blockchain can collect a range of useful data. I.e., if an insured person wears a fitness watch and agrees to share data – such as heart rate, oxygen levels, and sleep time – you can offer them a lower premium. The data collected by the IoT is stored on the blockchain and then read by AI, helping your company make more informed decisions.
🔹 Fraud detection
One of the main challenges insurance companies face is fake claims. Using blockchain will make it easier to verify the veracity of the statement. Insurance companies will be able to delve into historical data to identify past customer fraudulent activities and resolve such inconsistencies in advance.
🔹 Administrative costs minimization
For sure, blockchain will help decrease costs for life insurance companies. There will be an automated verification of the customer's identity, the validity of the contract, the registration of the claim, and data from a third party.
How Can Insurance Companies Use Blockchain Technology?
✔ Blockchain has a wide range of applications in insurance. It can be used for transactions ranging from signing contracts to processing large amounts of data input and resolving claims in one place, with all decisions recorded for future use, decision confirmation, and training. Blockchain smart contracts can provide risk management, contract enforcement, and even some degree of automatic claim resolution.
✔ The insurance blockchain can bring many benefits to the industry. The potential benefits mainly come from the generic features of blockchains such as immutability, blockchain security, and transparency (or privacy if that's what is required). Insurers can use this in several ways: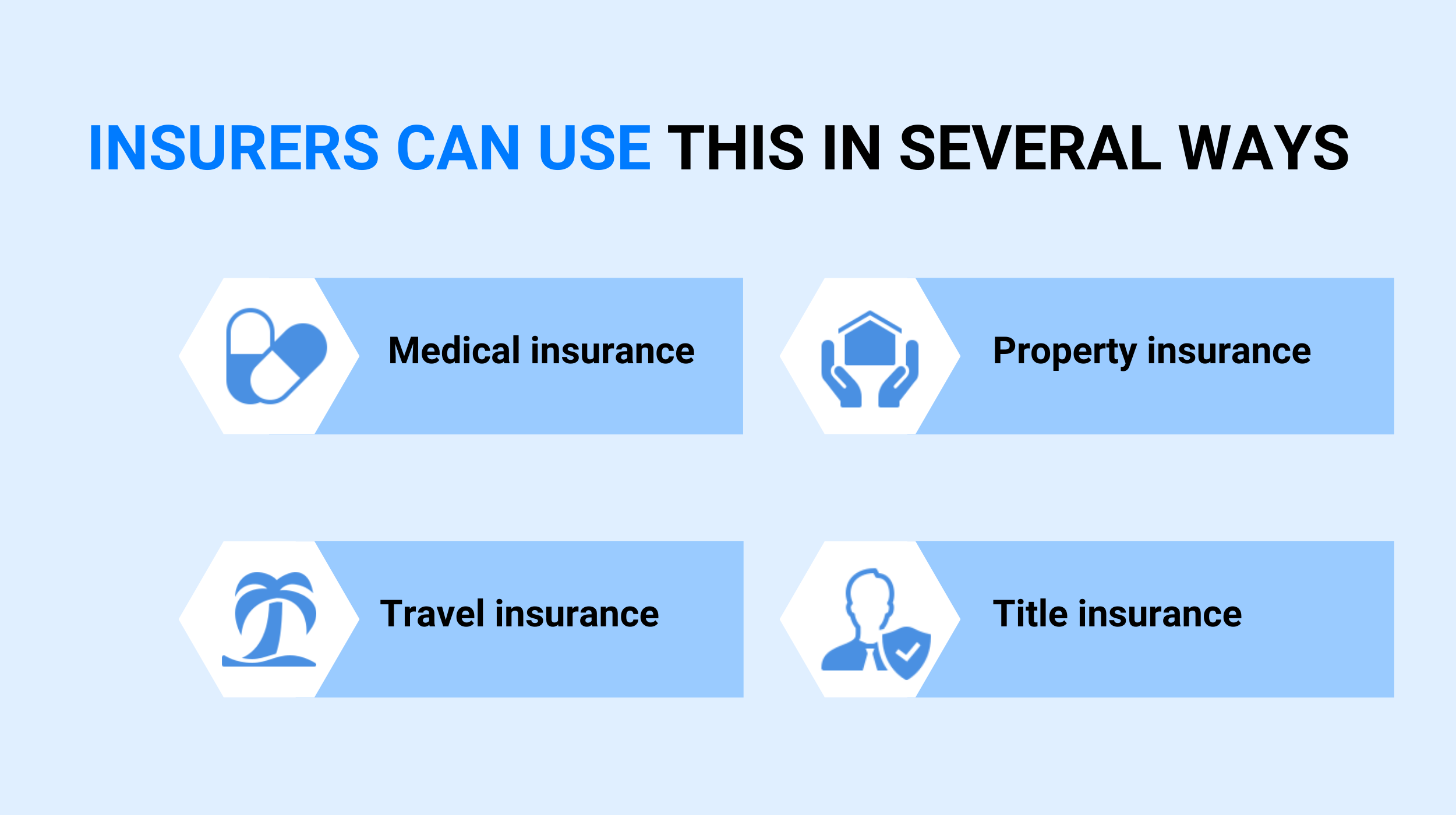 Medical insurance
Insurers currently keep medical records on their systems, and it can be ineffective to pass this information from one provider to another. Besides, blockchain can enable the faster and more accurate exchange of health data between insurers and health care providers, while maintaining privacy and security. This can result in health insurance claims being processed faster and customers paying lower premiums for coverage.
Property insurance
Property and accident insurance includes home insurance, commercial insurance, and car insurance. The number of premiums paid for this type of insurance in 2019 amounted to more than $638 billion. Implementing smart contracts can make claims handling more precise and efficient. Smart contracts are executed automatically when certain network conditions are met.
Travel insurance
Delayed flights and other unexpected travel interruptions can create headaches for everyone involved. People with travel insurance policies have to go through a long and arduous process to file a claim. Blockchain can make the whole process smoother and faster by allowing customers to automatically get paid for events such as flight delays and receive payments immediately.
Title insurance
Title insurance is intended to compensate for losses incurred due to errors in titles or similar legal documents. Title insurance insurers often exchange information about their policies with each other. The blockchain-based platform could allow underwriters to automatically view previous title insurance policies. This can not only speed up real estate transactions but also reduce potential fraud due to the transparent and immutable nature of the blockchain.
List of Insurance Companies Using Blockchain
We created a list of the companies using blockchain technology to provide you with the successful examples of implementing it in the work.
Etherisc

Etherisc builds blockchain-focused decentralized apps. Etherisc is concentrated on leveraging accounting technology to reduce inefficiencies such as high processing fees and long claim processing times.
FidentiaX

It is the 's first marketplace for the sale of insurance policies. Due to FidentiaX, people buy, sell and store their insurance policies. Using tokenization, a blockchain-based marketplace takes existing policies and puts them into an encrypted database. In real-time, customers can cash out their policies, purchase policies from others, or find all of their data in one place.
B3i

B3i is a group of insurers formed to study the use of blockchain and DLT. The company's mission is to use blockchain to improve the way we manage data and payments, reduce risks, and increase the accessibility of insurance.
Guardtime

The company creates blockchain solutions for the cybersecurity, government, finance, defence, and logistics sectors. Guardtime teamed up with logistics giant Maersk to introduce a blockchain-based marine insurance platform that will manage risk, leverage smart contracts, and establish a constant supply chain to help insurers fully secure coverage.
Lemonade

Lemonade uses the blockchain through smart contracts. In the company's business model, a flat fee is charged on each monthly payment, and the remainder is allocated to future claims. If a claim is filed, smart contracts will promptly try to confirm the loss.
Examples And Use Cases Of Blockchain Technology In Insurance
Blockchain simplifies the creation and operation of risk pools, essentially eliminating the need for costly and complex peer-to-peer payments between two or more companies and enabling them to provide fast and efficient funds to each other by following the payment histories stored on the blockchain and the terms set out in the smart contract pool.
The use of blockchain in insurance has also begun to speed up the process of paying offshore reimbursements. Tokio Marine has shown an 85% reduction in the time it takes to obtain shipping insurance, which in some cases, such as container handling, can take several days.
The reinsurance industry has improved its processes thanks to the blockchain. The principle of reinsurance requires that all data between organizations be synchronized with each premium or loss, so obtaining reinsurance payments is expensive and slow. This approach also requires funds to be spent on correspondence exchange and requirements qualification processes, which increases overall operating costs and premiums. A shared ledger between the insurer and the reinsurer benefits all parties to the process as the reinsurer has instant access to immutable claims data from the original insurer and payments can be cleared almost instantly. According to PricewaterhouseCoopers, the big four European reinsurers (Munich Re, Swiss Re, Hannover Re, and SCOR SE) could save up to $10 billion a year in operating costs, reduced by using such a shared ledger.
Massachusetts Institute of Technology has created MedRec, a blockchain-based centralized register of medical records that will essentially become the evidence and risk assessment base for health insurance. Each medical record is signed with a physician's cryptographic key and is time-stamped, so the information stored in the blockchain provides a reliable source for risk assessment algorithms that affect the premiums for each client. MedRec also has a client validation mechanism to ensure that it is not possible to add false records that could affect future medical coverage. In this particular case, the system is built using Ethereum and offers excellent scalability and portability to other blockchains.
Challenges You May Face
Blockchain implementation in the insurance industry involves various complexities. Thus, you should also pay attention to the next points.
☑ Prone to cyberattacks
The global blockchain market is expected to be worth $20 billion in 2024. With so many new users, blockchain is becoming more and more susceptible to cyber attacks every day.
☑ Loss of data integrity
The integrity of the data must take into account the validity of each transaction, which casts doubt on fraudulent insurance transactions. The blockchain must be fraudulent to ensure data integrity.
☑ Cost of operations
As blockchain becomes more popular, it becomes more expensive for insurance companies to incorporate this new technology into their daily processes.
☑ Blockchain privacy
In a cryptocurrency (like Bitcoin), the blockchain is publicly available, which means that every transaction can be traced back to the original block. This information can potentially be accessed by criminals seeking to use this information.
☑ Hiring a team of developers
Unlike other types of coders, there are few blockchain developers. Partly because blockchain is a fairly new technology. But it's also worth mentioning that blockchain is difficult to learn. Its complex nature makes blockchain a valuable skill. In this article, we discuss the hiring of a blockchain developer in detail.
Final Thoughts
Summing up, blockchain offers many benefits in insurance, and lots of companies in this area have already taken a step towards adopting new technology to take their business to the next level. If you don't want to be left behind in just a couple of years, it's worth joining the distributed ledger wave.
Contact us via email: [email protected]. We will discuss the possibilities of transforming your insurance company and creating advanced solutions.
📌Latest in Blockchain:
🔐 How to Create a Decentralized Cryptocurrency Exchange: 6-Steps Guide
🔐 How to Create a Cryptocurrency Wallet App: an In-depth Guide for 2022
🔐 How to Build an NFT Marketplace: A Comprehensive and Step-by Step-Guide