Technology advancements have completely redefined how job seekers go about job hunting. Traditionally, job seekers had to either scan through piles of newspaper ads or poster ads or even walk into companies to inquire about job vacancies. Today digital technology has made it possible for anyone to get their dream jobs by simply logging into job search websites and accessing thousands of vacancies from different parts of the world.
According to Statista, an estimated 49.3% of job applications around the globe emanate from job websites. Top job search websites like Indeed have over 250 million visitors monthly. Guess what a large chunk of these visitors is searching for? Of course, your guess is as good as mine.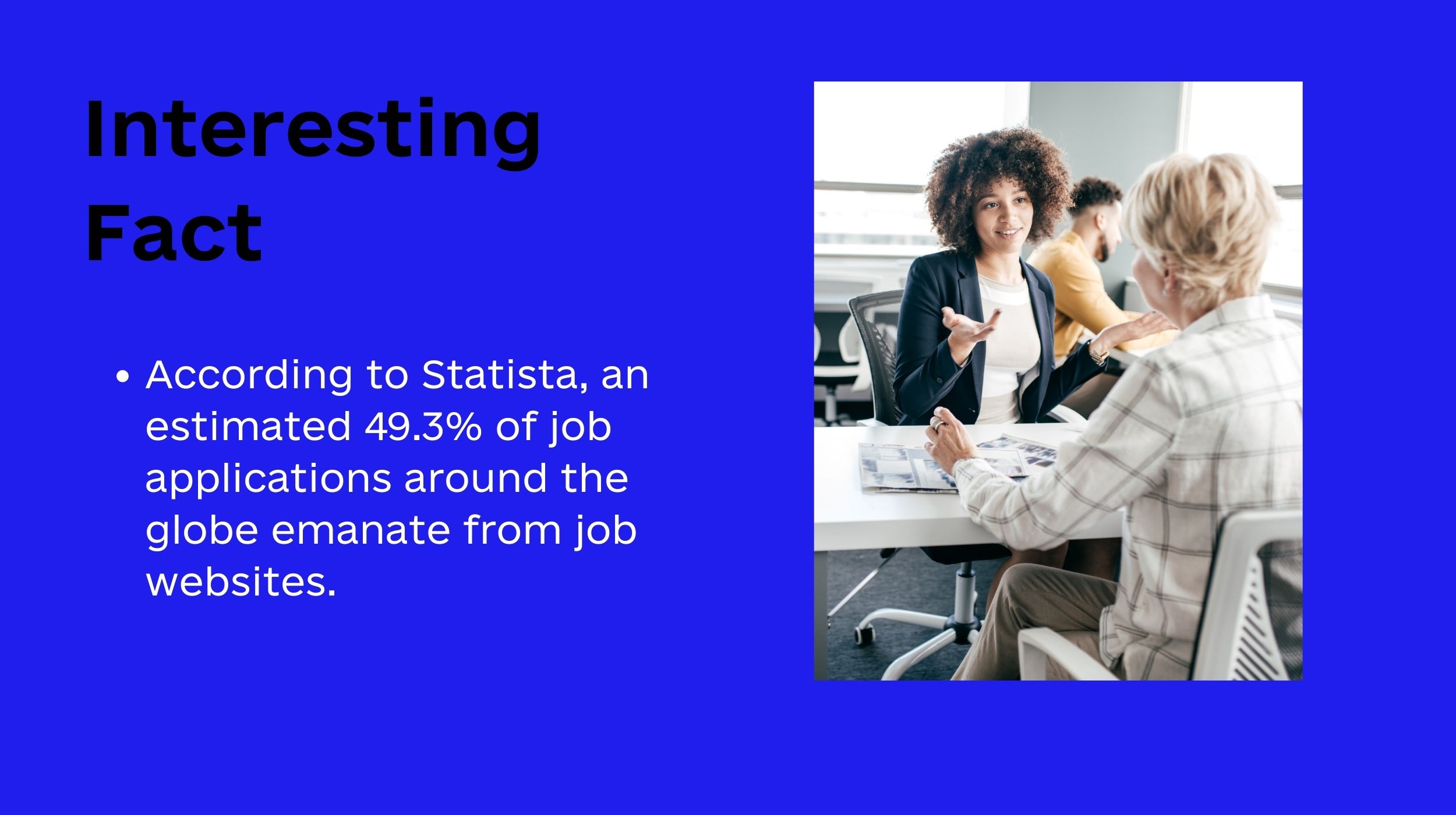 With more people getting comfortable job hunting with job search websites, now may be the best time to build one.
Over the years, we have had the opportunity to build job search websites for some of our clients, and we will love to share our knowledge on how to build a job search board with us. Please stay on track.
Step#1: Choose Job Boards Monetization Strategy
Aside from wanting to help millions of job seekers find their dream jobs, you also would want to make some profit from your platform. Here are some monetization models you can employ to get the best from your job search website.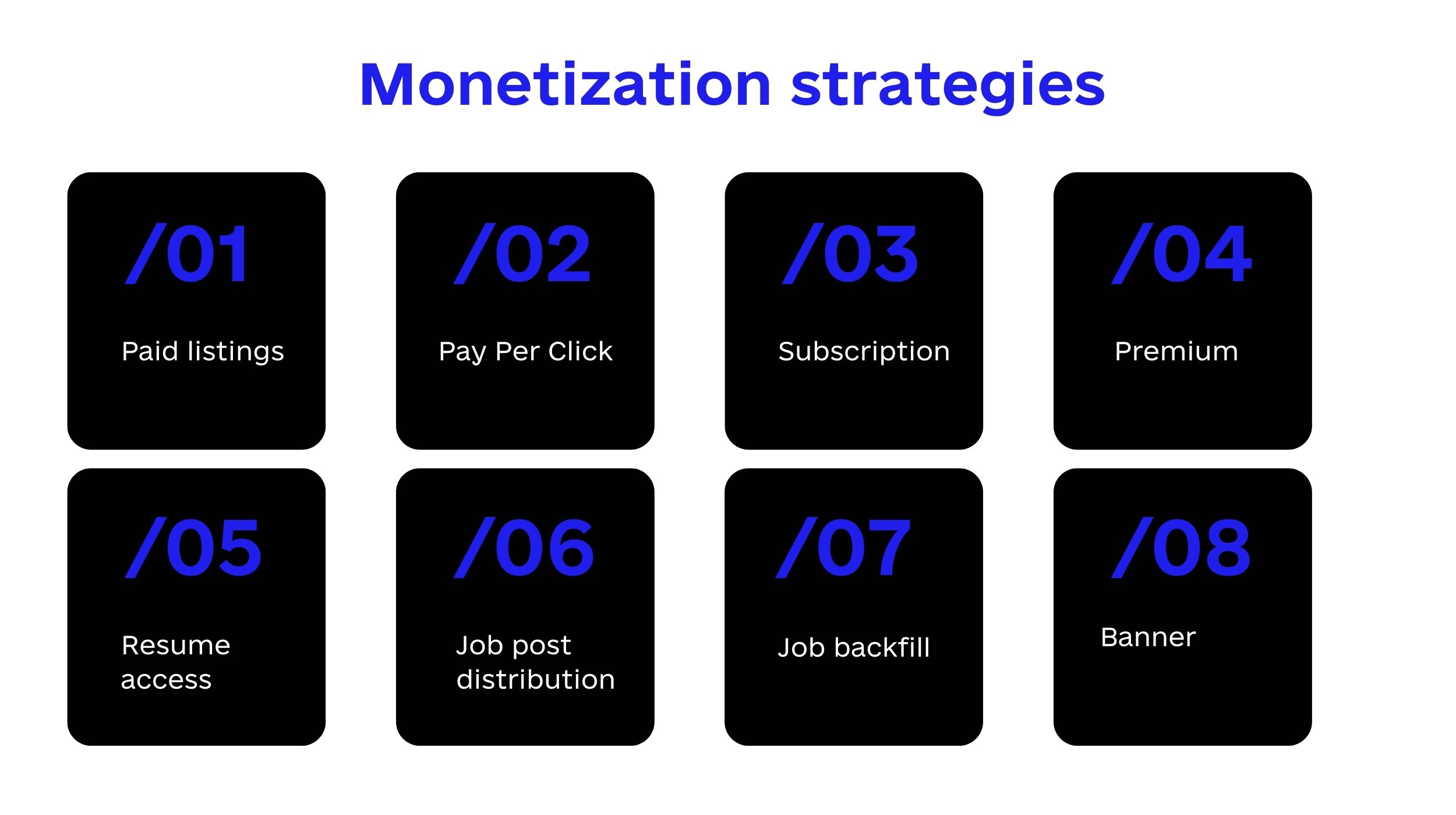 ✅ Paid listings (single-use packages)
This monetization strategy is utilized by a good number of job search websites. According to a report, about 53% of job search websites made the bulk of their revenue from this strategy. Here operators offer two different payment plans, one for employers and the other for job seekers.
In this payment model, operators charge a one-time payment for a job listing or for the job listing to be promoted for a while.
For instance, Monster charges employers $375 for a single 30-day post or $399 for a 60-day post.
✅ Pay Per Click
Pay per click is a strategy where companies who have listed jobs on job search websites pay the operators a fee every time their job listing is clicked. Platforms like Indeed charge companies a fee of $0.10 and $5 per click.
✅ Subscription
Subscription is another very popular monetization strategy used by most job search operators. This model allows employers to choose either a monthly, quarterly, or annual payment method.
Employers have the option to post a certain number of offers by subscribing. It might give job seekers access to profiles and enable them to get in touch with employers.
✅ Premium feature
This revenue generation model allows operators to make money by charging additional functionality fees.
For instance, you could offer your services for free but monetize the following features
Hide CV from employer
Ability to view employers' profile
Ability to contact the employer
Number of documents applicants can upload, etc
✅ Resume access
this strategy is usually the exclusive reserve of an established job search website. In this model, operators charge employers a fee before accessing the site's resume databases.
This revenue model is not suitable for startup job sites that are yet to have a large pool of resume databases. However, it is worth knowing since you can implement it after recording significant growth of your platform.
✅ Job post distribution
Another way to monetize your job search website is to charge employers a fee for promoting their job listings on job aggregators and social networking platforms. Usually, this service is offered as part of the paid-for plans.
✅ Job backfill
In this monetization model, you register as a publisher with an aggregator and promote jobs from the aggregator on your platform. Anytime visitors on your site click on the affiliate link, you get paid a commission.
This strategy not only helps you generate revenue but also helps you grow your job search website.
✅ Banner
Banner ads can showcase products and services linked to your speciality or hiring in general. Consider accepting banners from companies that want to increase their visibility.
Step#2: Choose the Core Features Of  Your Job Search Website
Here are the features to take on board when deciding how to build a job search website.
🔹 Registration
Customers of the job-search portal can sign up and log in using the sign-in/sign-up option. Users are to provide information, such as their names, locations, emails, and passwords. It is also preferable to include social login options so that users can access the website using their Facebook, Google, Twitter, etc., or other social network accounts.
🔹 Personal profiles
All the resources and data a person could require to begin a job search are available in the personal profiles on a job search website.
Websites like Glassdoor offer personal customer profiles with career recommendations, filters, and opportunities for users to look into salaries, recognize businesses, examine highlighted articles, and gather more essential data.
Employees can also utilize their accounts to post details about their organizations and job opportunities.
🔹 Resume creation
Users can construct their resumes online with the help of the resume creation function. During resume creation, users complete a questionnaire requesting information about their previous job, education, training, experience, desired pay, location, and certifications.
🔹 File uploader
When consumers already have a resume prepared, having the option to upload resume files is helpful. In that situation, customers don't need to spend more time filling out the questionnaire to create their resume; they can upload the document.
🔹 Bookmarking
The bookmarking tool comes in handy in a situation whereby job seekers are interested in a position but are hesitant to apply right away owing to time constraints or other factors. People can bookmark their preferred job postings and return to attend to them later.
🔹 Notifications
This feature is designed to help keep users abreast with the latest happenings on the platform. For instance, users can get updates on recent job listings that match their job search. Get notified when their employers visit their bio or request access to their CVs. They can also get reminded to apply for job vacancies or complete their application process for jobs they have previously indicated an interest in.
🔹 Job and candidate search
This feature helps make your job website user-friendly for job seekers and employers. The search and filter feature allows job seekers and employers to search for available vacancies and candidates without being subjected to the rigors of endless scrolling. In order to get the best out of this feature, it is best to make it suggestive and intuitive and positioned where users can easily find it.
Step#3: Decide on a Development Strategy
There are majorly three strategies to develop a job search website; it is important that you assess these options and decide which is best for you and which aligns better with your objective. Don't forget, your development strategy determines the project duration and the cost. So you must also consider your budget, the anticipated launch time, and suitability when deciding.
Let's briefly examine the three strategies.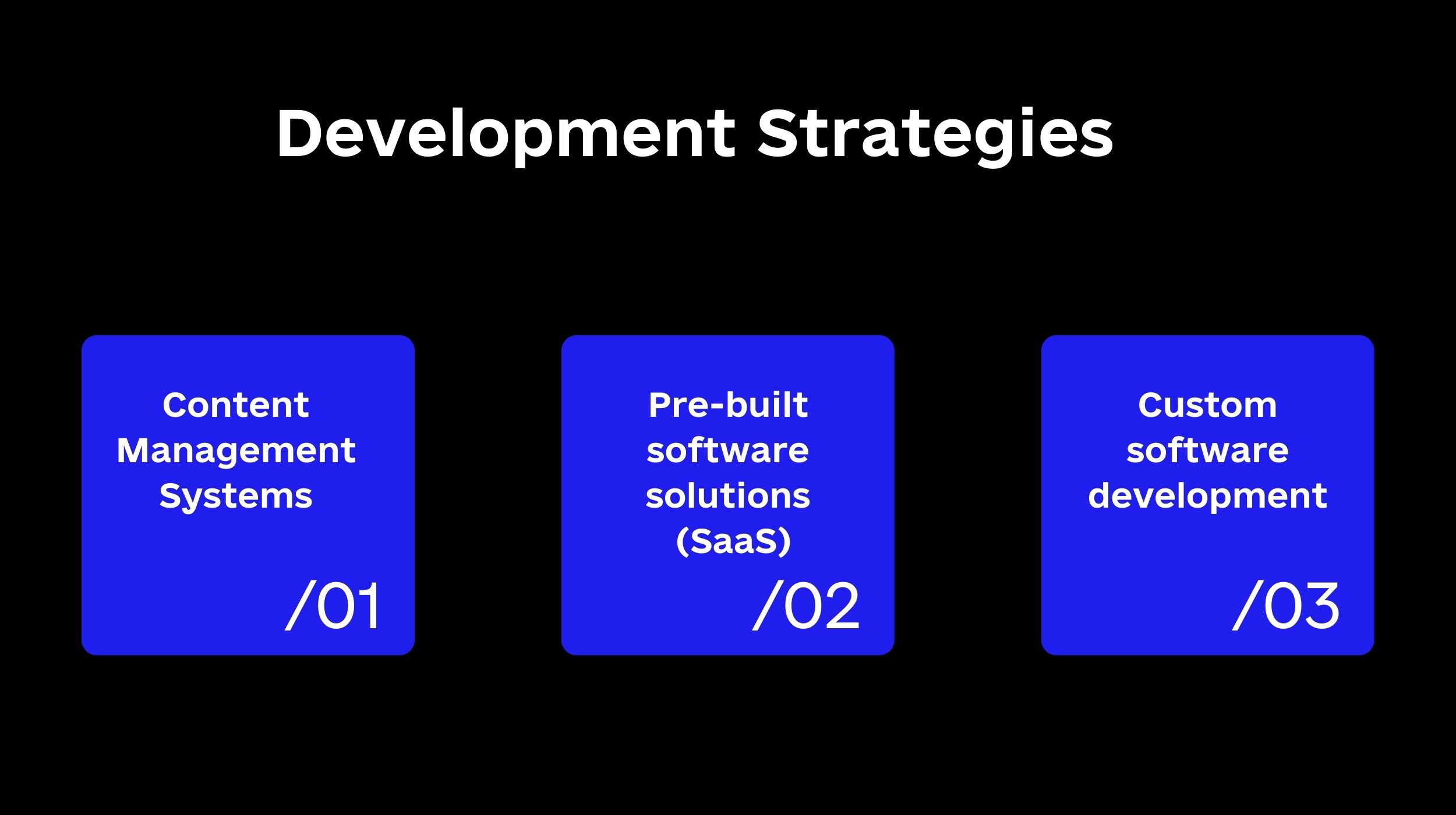 ☑ Content Management Systems
A content management system (CMS) is a computer program used to create, modify, and manage digital content. CMS systems make it easy to own a website because it's a tool that builds a website without needing to write code from scratch.
Most CMS platforms provide a wide array of themes, templates, and plugins that provide you sufficient flexibility to build and design your job search website to taste.
Admittedly there might be some constraints as most of the themes are pre-designed and may not allow for major modifications and expansibility. But the availability of varying options with different designs and plugins to add functions and features may compensate for this constraint. Notwithstanding, CMS still requires a basic knowledge of tech and software development
But if you're looking for how to build a job search website in a simple and fast way, you can choose from a few popular content management systems, which include WordPress, Drupal, Joomla, and Magneto.
☑ Pre-built software solutions (SaaS)
SaaS solutions allow you to launch a job search website within a few hours to a few days. These solutions are already built and would only require some modification to brand and personalize the platform.
With pre-built SaaS software, no technical skill is required as the software vendor assumes responsibility for handling any technical issues that may arise during the use of the program.
In this case, though, enhanced flexibility and customization are sacrificed for fast implementation. This approach is highly restrictive and doesn't allow for customization or scalability.
☑ Custom software development
The custom development strategy entails building your Job search website from scratch according to your unique specification and requirements. It is the best approach among the three because this approach allows you to develop your ideas and add innovations that may be inexistent on other websites. This gives you a good competitive edge.
However, a custom solution is more expensive but also scalable, giving room for improvements and upgrades that enhance the user experience.
Step#4: Launch a Job Website MVP
A minimum viable product is a prototype of a product or software with the minimum necessary functionality to enable early adopters to test the product and provide feedback. This information will be used for further development and to correct any error or malfunctioning feature.
In this case, the MVP will be the job website but with minimal functions enough to carry out operations. Developing an MVP is strongly recommended if you adopt the custom development strategy.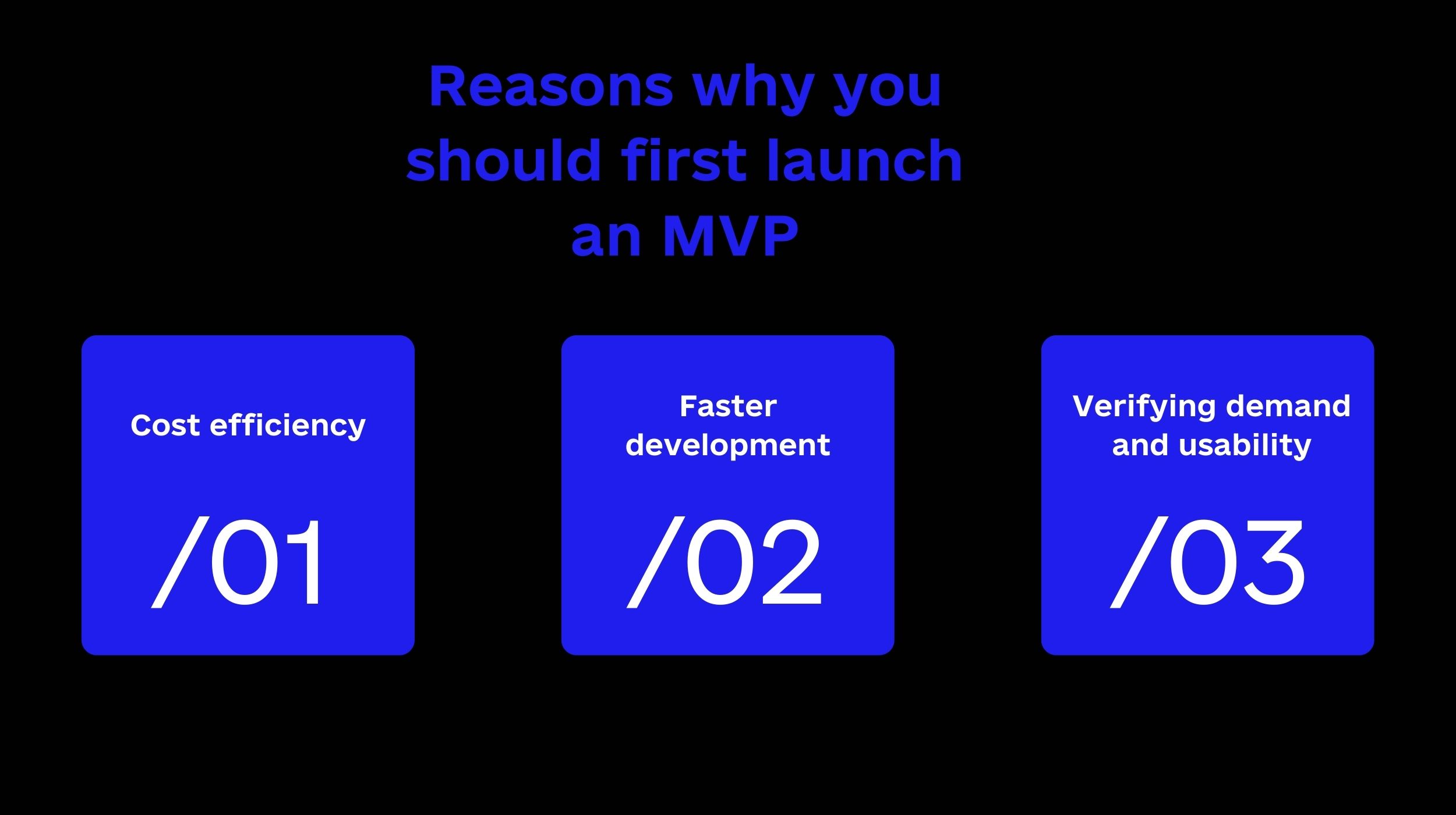 Here are some important reasons why you should first launch an MVP:
Cost efficiency: An MVP helps save costs by preventing too many errors at the advanced stage, which would require complex correctional coding and solutions. Businesses can start to invest more efficiently as they increase their user base and acquire more information to help them decide how to move beyond the MVP.
Faster development to market time: An MVP with minimal features would not take so much time to be ready for use. You can launch it and gradually scale and improve the website with feedback from early adopters.
Verifying demand and usability: One of the major functions of an MVP is to get insight into the market availability and need of the job search website. Perception sometimes differs from reality. An organization may believe that its product meets a particular user demand, but in reality, it may be inefficient, or the need may be inexistent. So with the MVP, you get feedback that helps you make user-oriented improvements.
Step#5: Choose the Right Development Team for Your Project
Finding the right development team for your Job search website is critical to the overall success of the business. The development team handles the technical aspect of the project, which is the product people will use. Don'tDon't forget that you will have competitors and rivals who are hoping you fail, so you must pay attention to the development team you collaborate with.
According to recent findings, Users make an opinion about your website in approximately 50 milliseconds, or 0.05 seconds, which affects whether they'll stay or not. Also, 88 percent of online users are less likely to visit a website again after a negative encounter. It is important to create a good first impression, and this is mostly dependent on who develops your job search platform.
Here are factors you should consider before choosing a tech development partner.
✔ Relevant experience and expertise
Most software development companies have general knowledge of developing various software products. However, it is important to collaborate with a company that has experience in a particular niche, in this case, job search websites. This reduces the occurrence of errors and speeds up development time.
Also, experts with specific experience are familiar with the fundamental guidelines and laws pertaining to this project. For instance, if you're thinking about launching a job board website that will be accessible in EU nations, it must adhere to GDPR (General Data Processing Regulation). Users' personal information is safeguarded by this legal requirement. Developers with sufficient experience and expertise will build to requirements to avoid getting into trouble with the law.
✔ The technology stack
The tech stack represents all the developers' solutions and tools in building the job search website. It includes coding language, framework, database, APIs, etc. The tech stack is critical because it determines the usability and flexibility of your website. So you have to ask the developer about their development approach and tech stack.
Tips to help you choose a tech stack:
The popularity of the stack: Popular stacks are always easily available, easy to use, and scalable.
Flexibility: Adopt stacks that are less complicated and can be widely adopted.
Scalability: Scalable tech stacks make it easy to update and add improvements to your job search website without complications.
Final thoughts
Every day, a large number of people are looking for employment opportunities or trying to change jobs. On the other hand, employers are seeking the right candidates for their business, and the internet makes it easy and convenient to do this. Building a job search website is a lucrative niche with good opportunities. But you must ensure that you build a proper website with the right business model.
So if you have decided to build your job search website, we would be happy to be a part of your success story by contributing our proven expertise in building scalable job search websites.
At Code and Care, we are particular about delivering value, and we approach every project with cutting-edge solutions. We aim to make every project the best. Get in touch let's build the next best job search website.
Read more:
How To Build A B2B Marketplace: Steps, Features and Pitfalls
How to Make an App Like Udemy in 2022: Features, Costs, and Tech Stack
How to Build a SaaS Product from Scratch [A Practical Guide]
How to Make a Site Like Pinterest That Exceeds Users' Expectations