Customer Relationship Management system (CRM) is not just one of the fastest-growing software in the market but also one that is seen as important to a variety of businesses in all industries these days. CRM is the one responsible for collecting, organizing, and managing every customer-related detail and information. It is used as a tool that enhances your business' relationship with improved customer service and communication.
Undeniable Benefits of building and implementing custom CRM software are proved by different statistics and researches: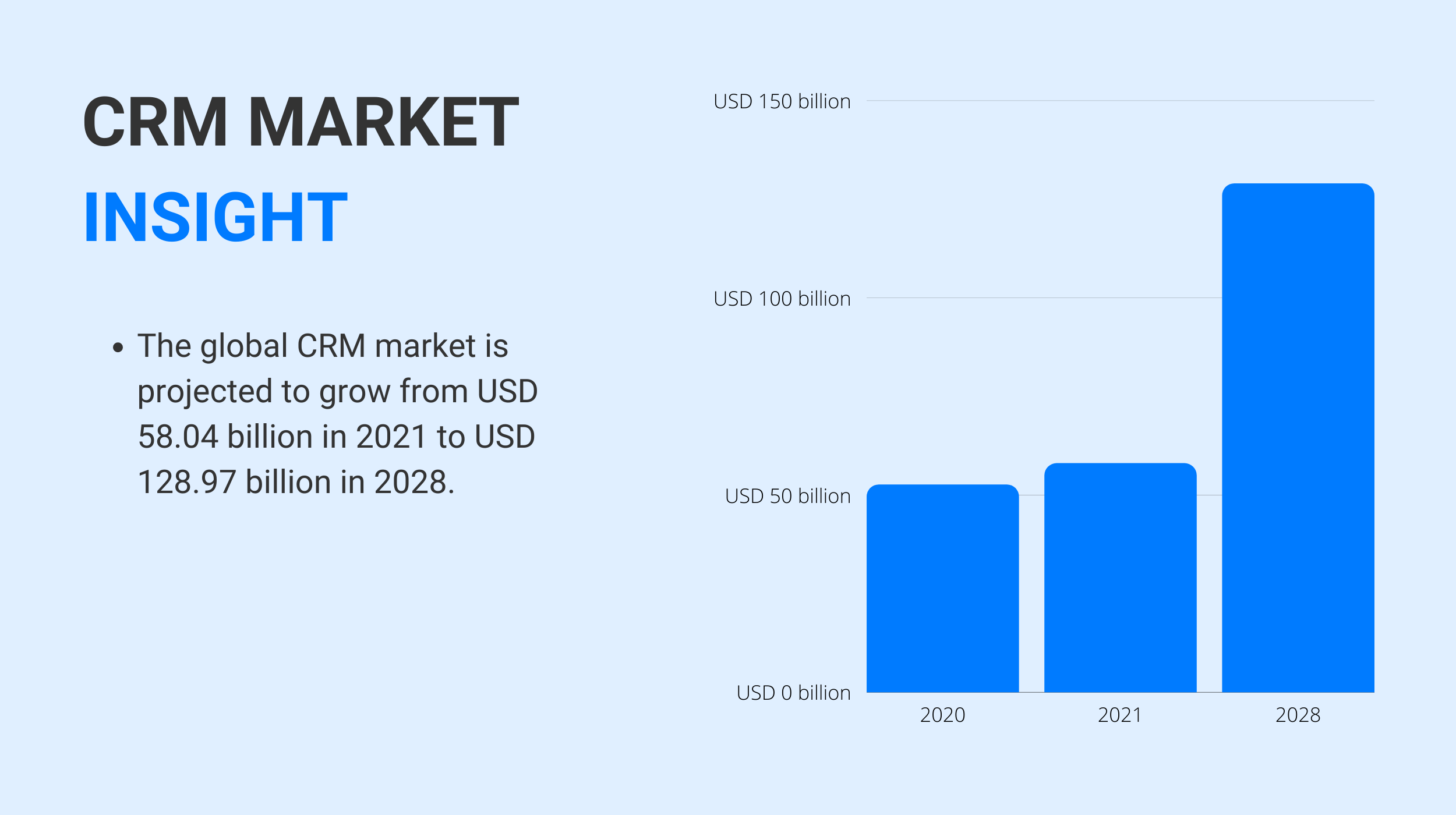 In 2027, CRM revenues are expected to shoot up to $114,4 billion because of its remarkable growth and development in recent years.
Companies in different industries such as technology, business services, retail, banking, security, and media have improved sales by 29% after implementing CRM (Source: Salesforce)
Companies strive to improve their customer relationships as quickly as possible. This often means investing in CRM within the first 5 years after starting a company. When technology is deployed in a company, it is used by about 80% of sales teams, 46% of marketing, and 45% of customer support.
CRM Magazine reports that 91% of businesses with over 11 employees now use CRM.
Over 91% of companies with 10 or more employees use CRM to manage customer conversations.
About 75% of decision-makers said the COVID-19 pandemic has forced them to increase their investments in digital software.
Capterra's research shows that 65% of companies start using a CRM system in the first five years of their business.
According to another report, customer retention and satisfaction rates increase by 47% thanks to using CRM.
81% of CRM software users access their information on multiple devices such as laptops, desktops, smartphones and tablets.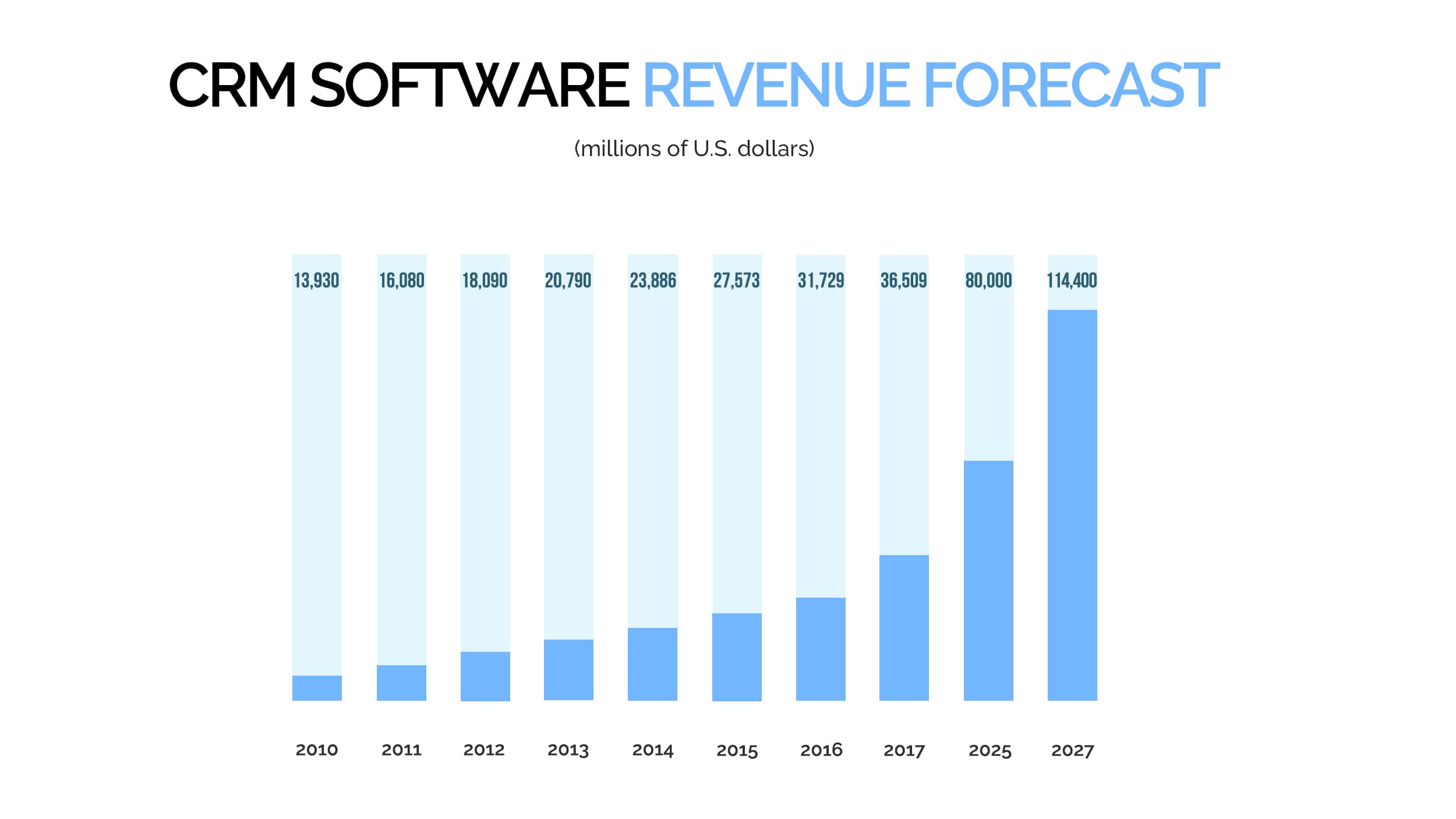 Before we start discussing how to build CRM software, we need to figure out what types of CRM are there and try to recognize which one suits your business best of all.
Types of CRM Software
1. Operational CRMs – is the one responsible for the sales, marketing, and services offered or anything that has something to do with customer interaction. This also oversees different things such as:
Contact Management wherein managing contact details, history, and records are easily accessible.
Lead Scoring helps you understand and nurture leads for more success.
Sales Team Automation making the tasks for the team easily distributed.
Marketing Automation helps drive your business to leads and potential customers.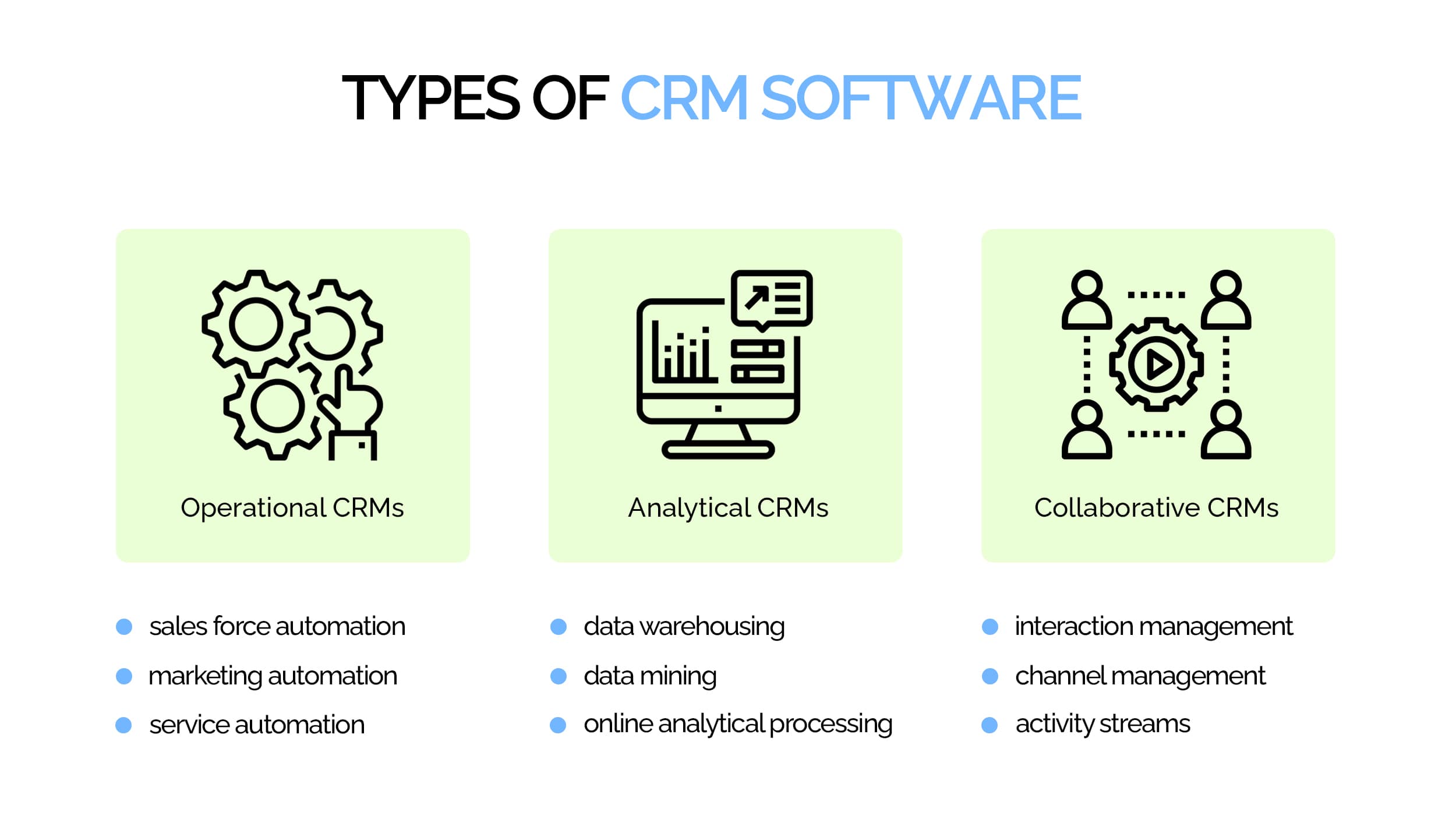 Here is the list of the best operational CRM software tools:

✅ HubSpot
HubSpot CRM is a cloud-based CRM platform that helps businesses control and attract leads and analyze business metrics. It is suitable for both B2B and B2C businesses in various fields such as retail, real estate, marketing, sales, construction, accounting, and more. HubSpot CRM simplifies monitoring outbound and inbound leads, managing the sales pipeline with automation, manage leads and contacts, running email campaigns, and following up.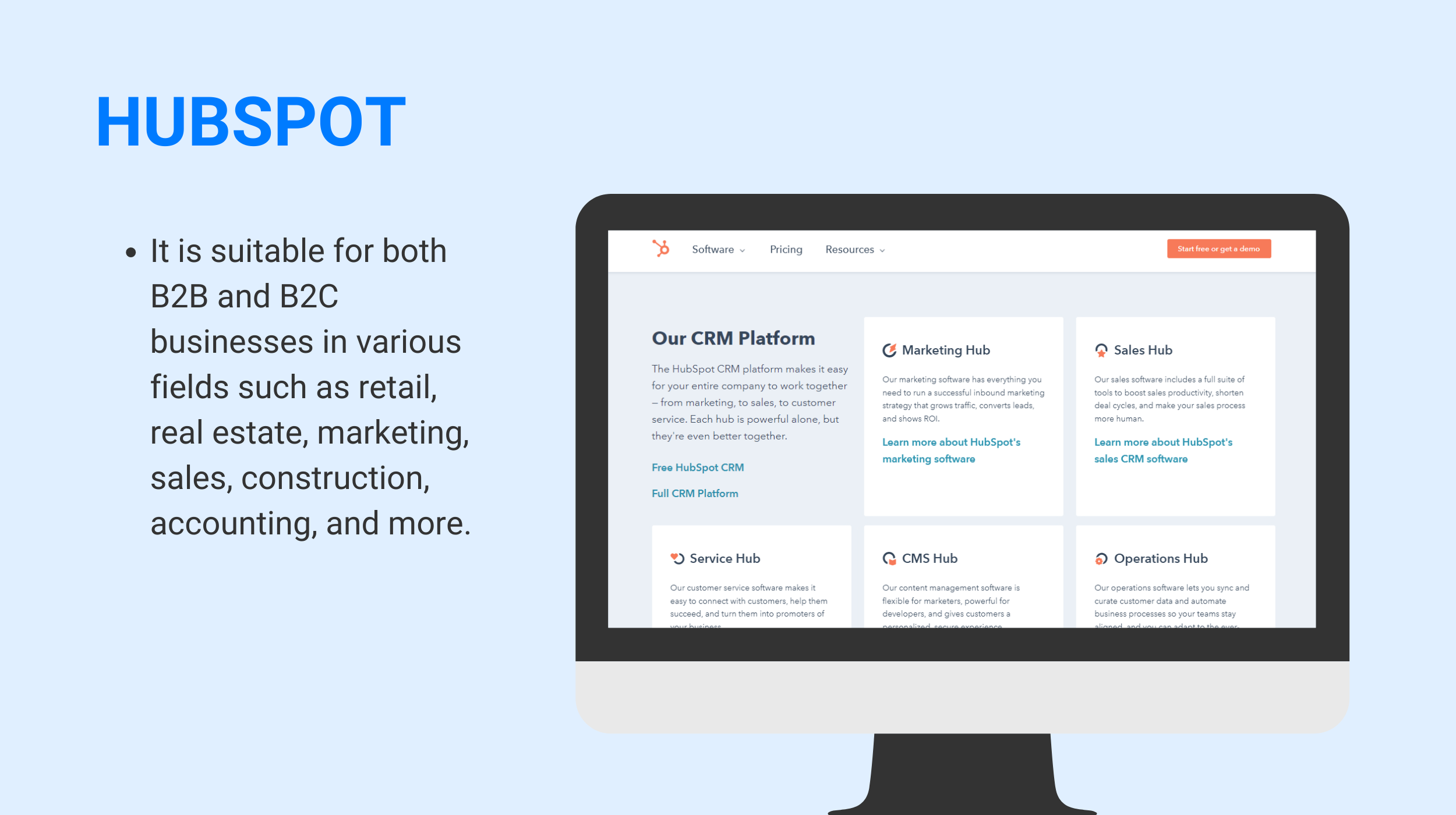 ✅ Salesforce
Salesforce is a cloud-based CRM solution that caters to companies of all sizes — a single platform designed to manage all aspects of sales, service, marketing and analytics across specific clouds to meet specific business needs. With separate "clouds" for each tier of CRM, Salesforce fits companies that want to participate in different aspects of today's consumer space, while maintaining the ability to separate operations between teams, avoiding over-complexity.
✅ Creatio
Creatio is a cloud-based software that integrates customer relationship management (CRM) functionality and business process management (BPM) capabilities. Creatio combines basic low code CRM modules with a business process management (BPM) engine.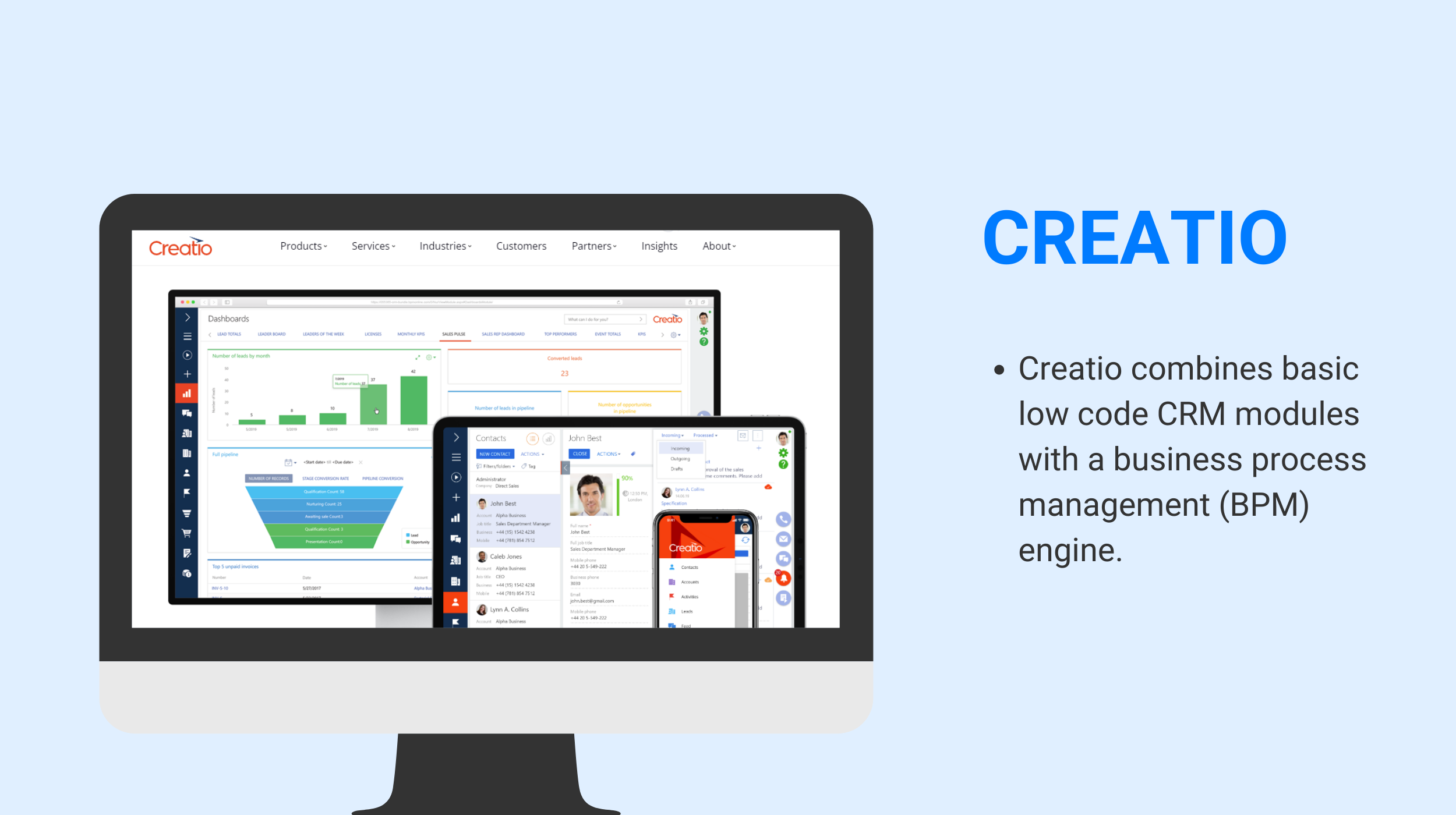 2. Analytical CRMs – is the key to making great business decisions through its ability to gather, organize, and analyze the data of customers and sales. The following is what makes up Analytical CRM:
Data Mining uses all statistical information at hand and analyzes the patterns and relationships of these statistics to your data.
Cross-selling and Upselling through insights you have gathered from customers' purchase history and behavior.
Buyer Persona Building is having the information and customer data that helps you understand your customer more. In return, this improves sales and marketing strategies.
Sales Forecasting with data analyzation, helps your business predict future demands.
Attribution having all the information you need; this lets you know how to keep your customers' loyalty.
Below, we mentioned the most promising analytical CRM tools:

✅Zoho Analytics
Zoho Analytics is a service that helps businesses make decisions based on the data they have on virtually any on-premises system or in the cloud. The app makes extensive use of AI to create data visualizations in minutes. These visualizations can be viewed in the Zoho dashboard or exported for use in email, websites, dashboards, or other media. Zoho Analytics provides features for creating pivot tables and charts using traditional approaches.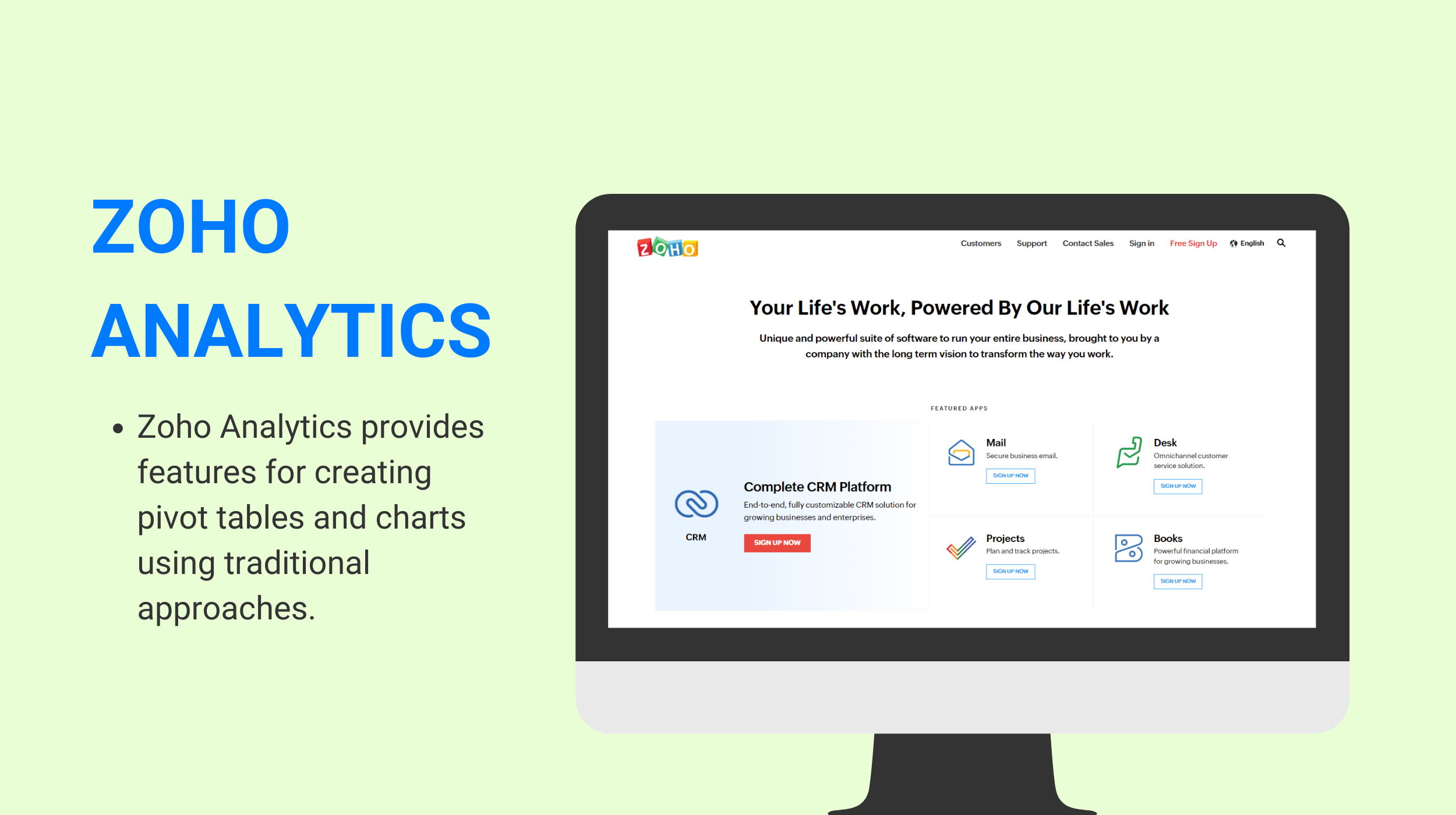 ✅ Zendesk Explore
Zendesk is a one-stop, cloud-based customer service platform that is used by a wide variety of businesses, from small to large. Zendesk provides companies with a complete customer view using customer experience data. Zendesk can help companies that have outgrown their existing CRM or are looking for other options are currently using the Zendesk support platform or handling a significant volume of inbound customer requests. By providing ongoing support, the Zendesk Support Platform empowers businesses to achieve self-service success and proactive engagement.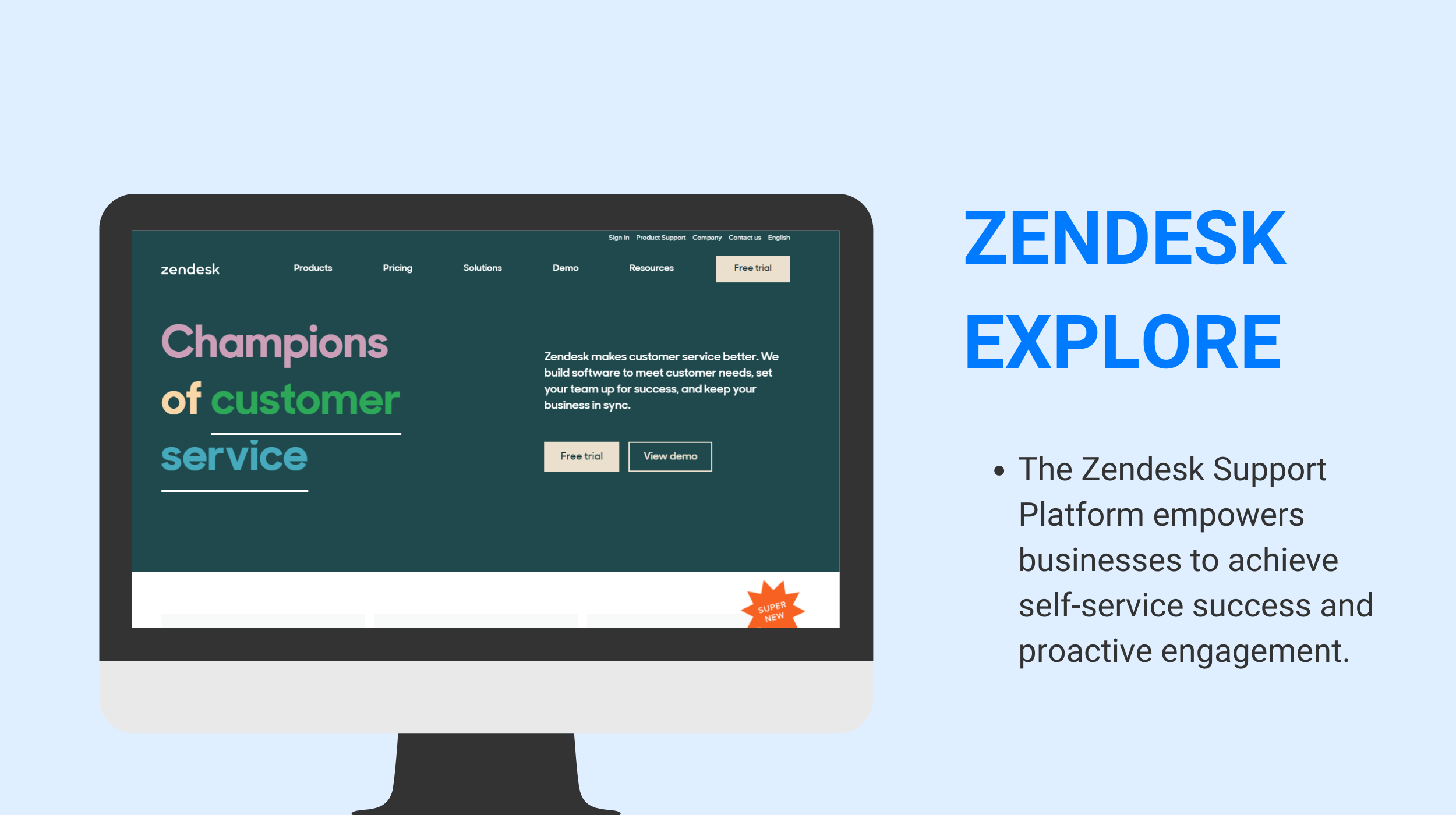 ✅ Salesforce Einstein
Salesforce Einstein helps your business sell products and services smarter. The system recognizes new relationships, new opportunities and new potential in existing data. The AI app provides a fresh perspective and perspective. And he takes over the day-to-day tasks, allowing salespeople to spend more time with the client and less time in the administration.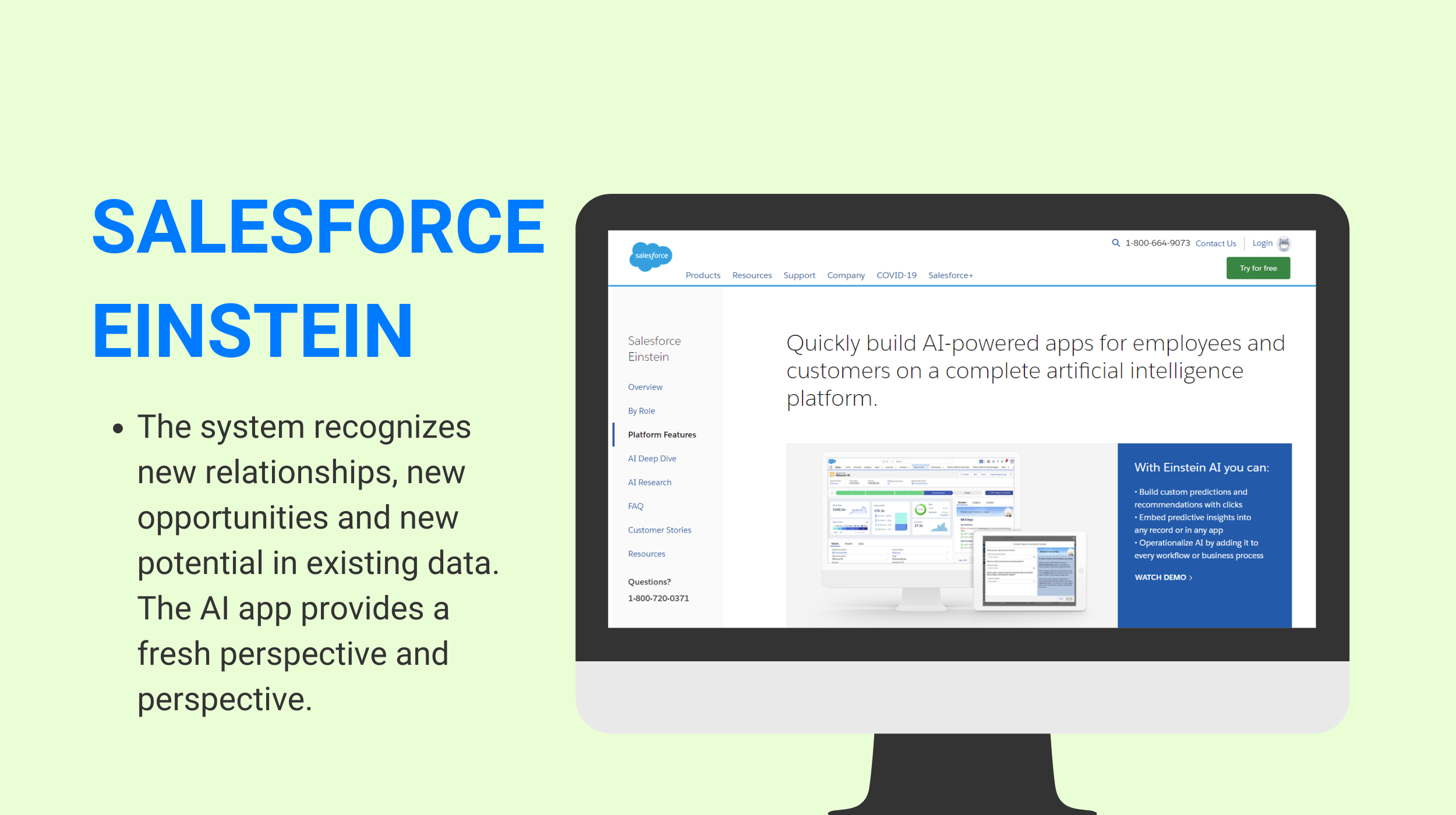 3. Collaborative CRMs – with Collaborative CRM, customer relationship is secured and nourished. This is responsible for customer service, satisfaction, and retention. From interaction management wherein any interaction with customers are tracked and access to relationship management and document management. Relationship management facilitates and makes sure that the sales team and other teams handling customers are aligned. Lastly, document management makes sure all the documents from contracts to proposals are accessible and organized.
Here is the list of top-3 collaborative CRM tools:

✅ Microsoft Dynamics 365
Microsoft Dynamics 365 CRM offers growing and midsize organizations a powerful solution for managing business relationships and transforming their sales, marketing and customer service processes. The hands-on functionality of Dynamics 365 CRM empowers employees to be more productive and knowledgeable and gives leaders a deeper understanding of productivity, capabilities, and customer relationships. Sales and marketing functions make it easier for companies to interact with clients, prospects, and team members.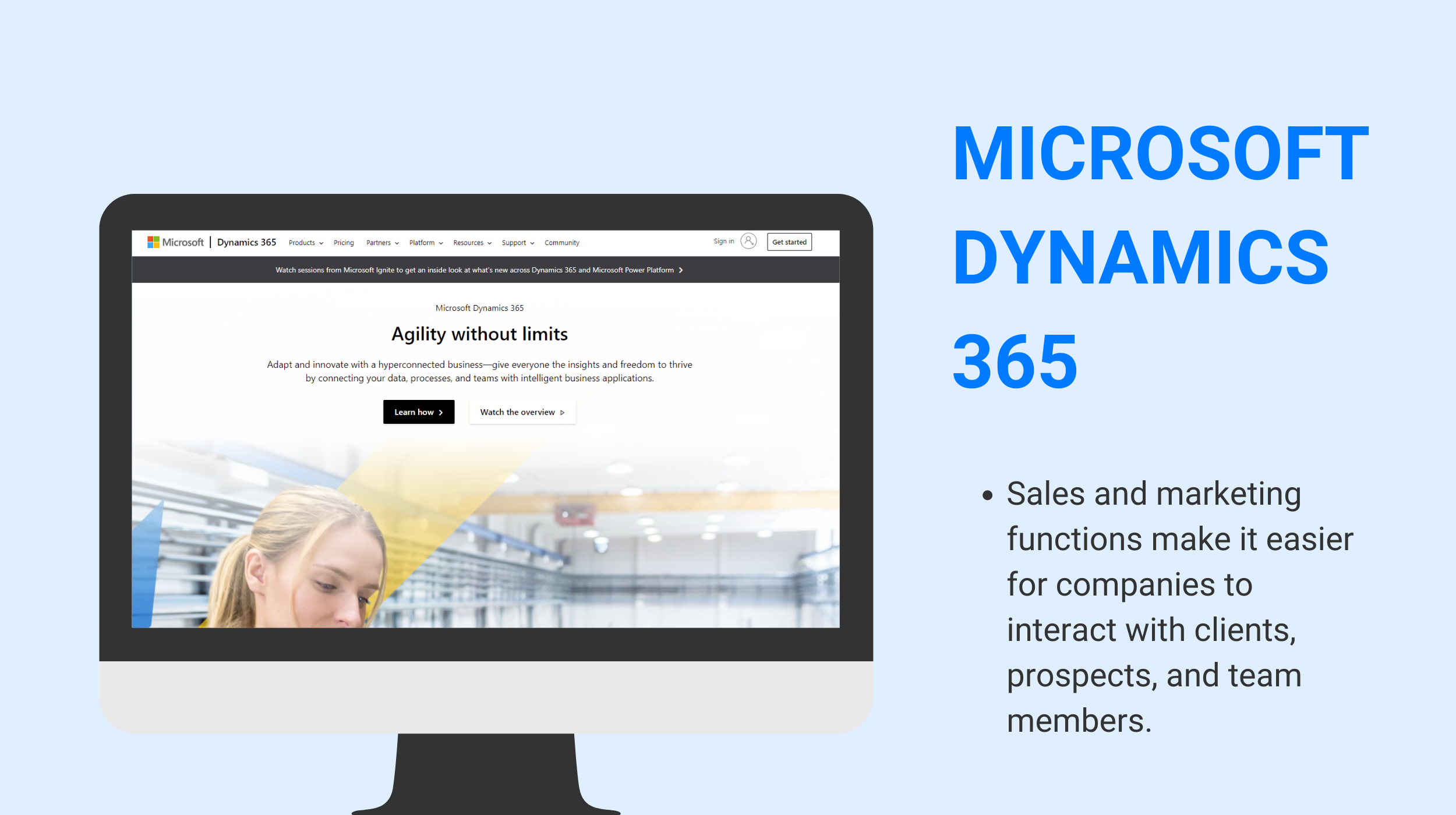 ✅ SAP Customer 360
SAP Customer Experience gives you a 360-degree view of a customer, from viewing order history and support tickets to broader profile information such as their favorite brands and colors, preferred pickup locations, and previous interactions with your company. All this is available for viewing from one interface. Naturally, the more data about the client is known, the more context can be offered to the agent through a 360° customer view.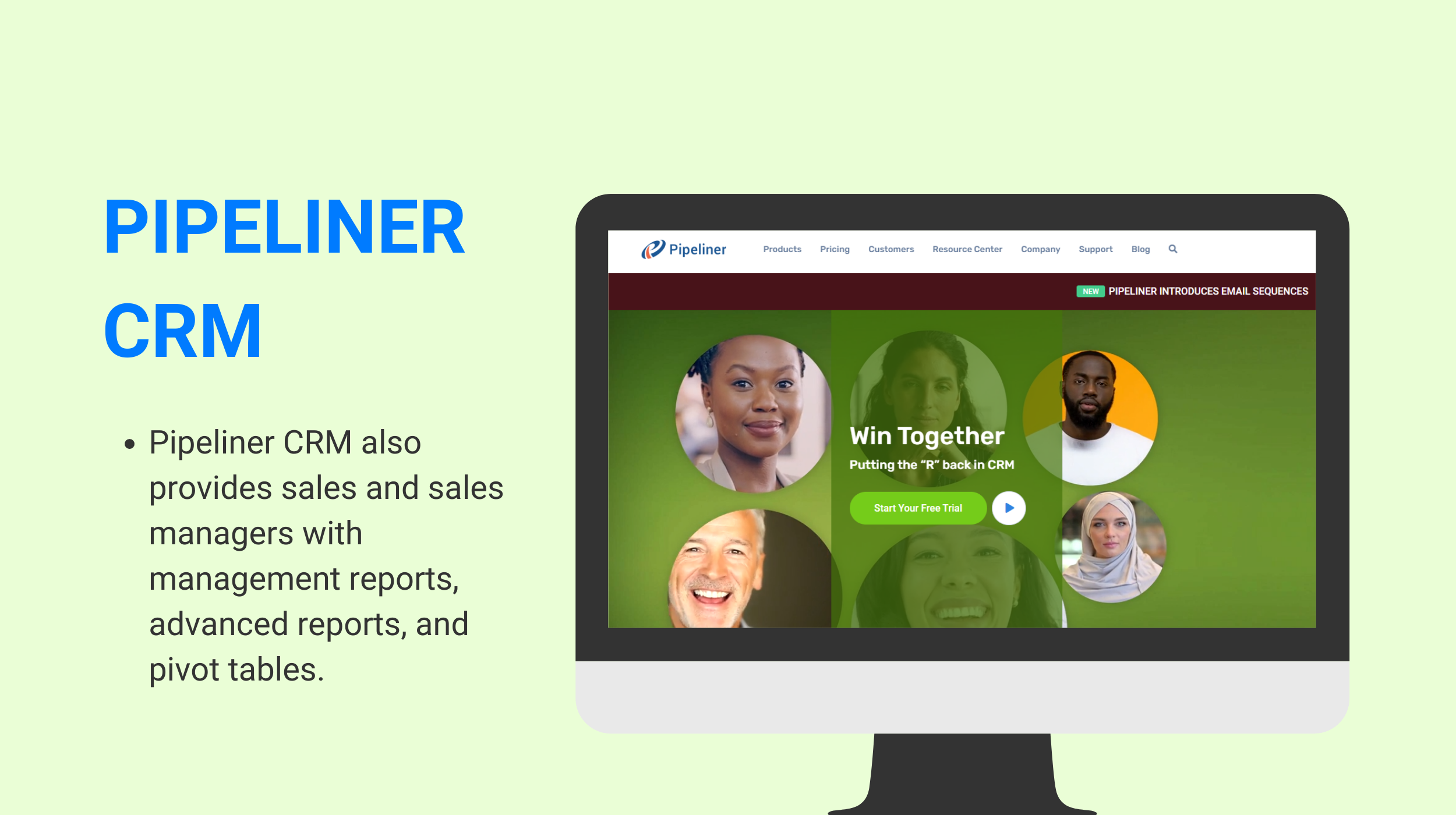 ✅ Pipeliner CRM
Pipeliner CRM provides dynamic visualization of the pipeline and sales process. Its visual contact management allows users to gain a comprehensive view of their customers and leads, and even chart how they impact the sale. Pipeliner CRM also provides sales and sales managers with management reports, advanced reports, and pivot tables.
Why does a business need custom CRM development?
Though there are existing solutions already, it is always a better decision to build a custom CRM that fits your business perfectly. Aside from the fact that this affects the relationship, you have with your customers, here are a few things worth noting:
With a custom CRM, you will have an intuitive design that is tailor-fitted to your business and have a say whether it is user-friendly for your customers or not.
Integration with business operations will be easier and does not have to disrupt existing workflows in the process.
You have the opportunity to develop unique tools and functions in different teams and departments easily.
Subscription or extra payment is not necessary anymore.
Any additional features can be developed immediately by just contacting your chosen development team which is not available for ready-made CRMs.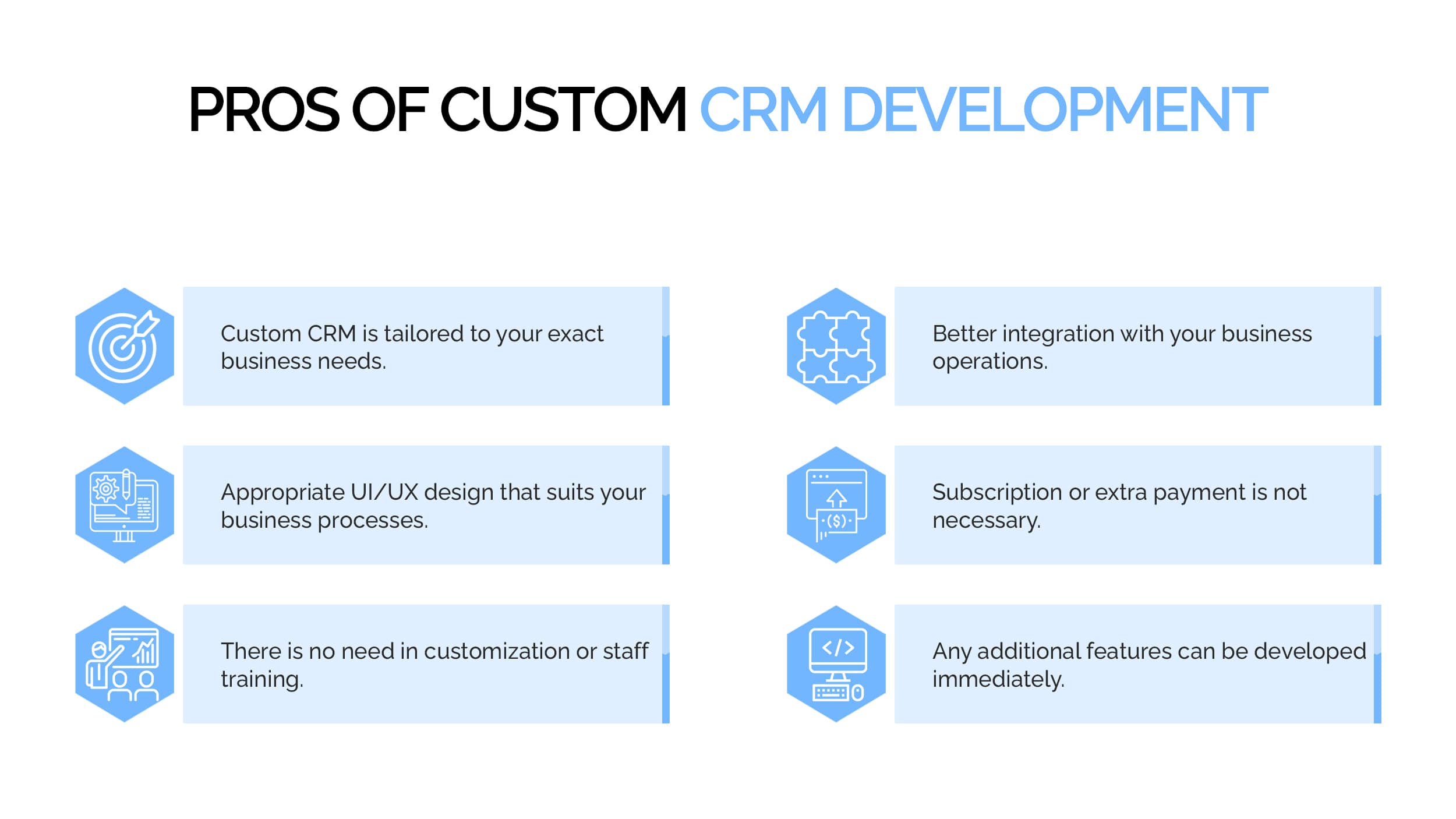 A turnkey solution, more often than not, does not really provide a solution. Here is why:
Integrations with different platforms are challenging.
Some functions are not fit or needed with your business. This will only cost you more without really the need for it.
It will be difficult to show your identity as a business on ready-made CRMs since there's a tendency that other businesses opting for ready-made ones will look as generic as yours. Your brand recognition for potential and even existing customers might not be as strong as you would want it to be.
After you have chosen the suitable type of CRM system and decided to make your choice in favour of developing custom software, it's time to move on to the development process. It includes three main stages and below we will tell you in detail about the whole process from idea to product launch.
A step by step guide on how to build a CRM software
The bespoke CRM development process is a complex and challenging task. It is very important not only to have a clear idea of ​​what kind of solution you want to get in the end but also to be provided with a clear step-by-step guide.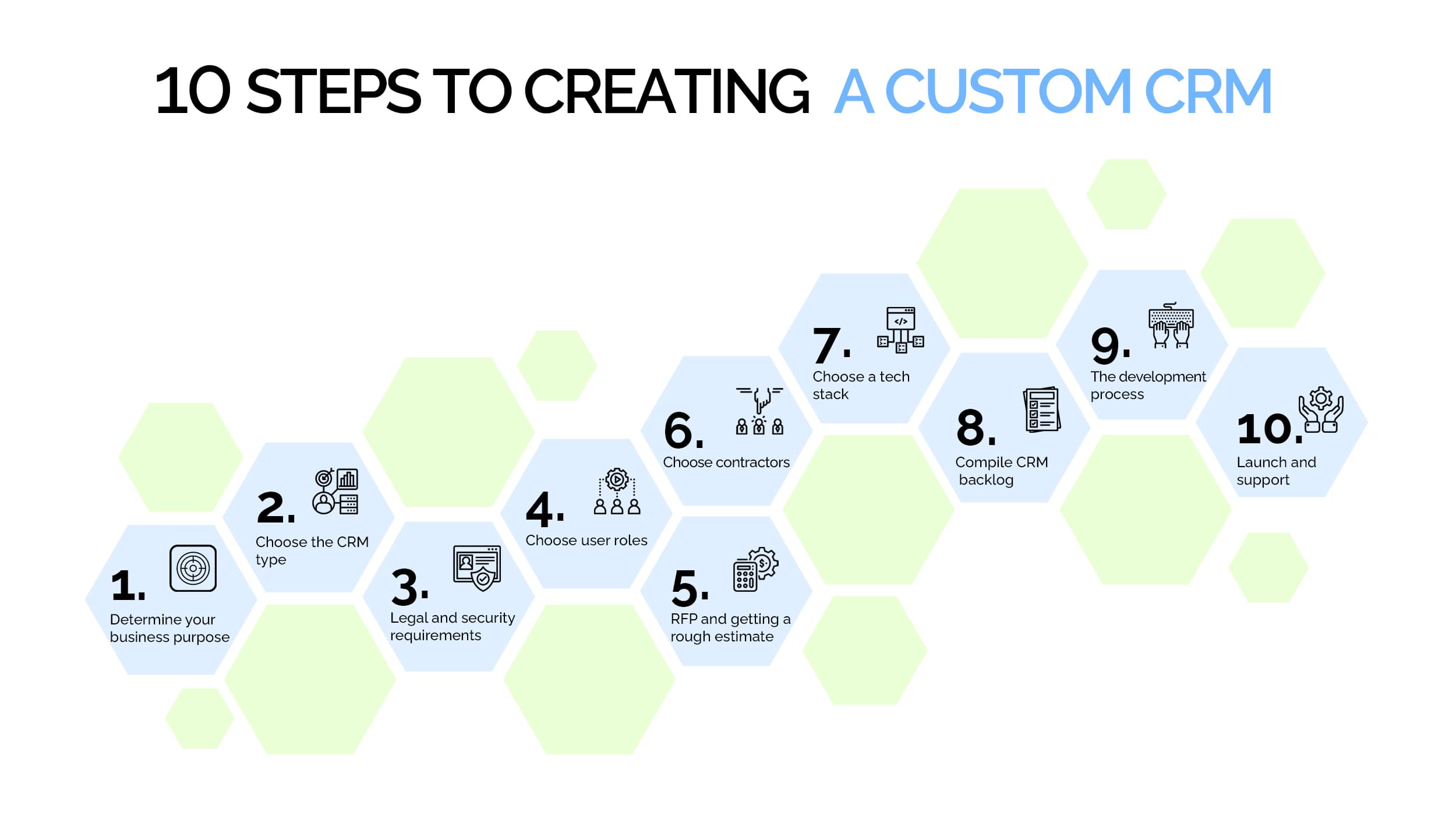 1st Step: Preparatory
Determine your business purpose. It is important to start with listing your goals and how you want your business to turn out with the strategy in mind. This helps you not only determine but prepare for future challenges that you may encounter. Lastly, it is important to know why you choose to create a CRM for your business.
Choose which type of CRM is the best for your business. It is important to acknowledge whether operational, analytical, or collaborative is what you need.
Legal and security requirements are important to be kept in mind. There is some privacy policy that hinders specific information collection on customers and even employees hence reflecting regulations in the project requirements document is key.
It is crucial to choose the user roles when it comes to making sure that the requirements are met for your business in creating a product. Make sure to have information on the current task types of each department by naming all the CRM software target groups through describing their prospective interaction with each other. With this, employee types' user story is easily identified.
Request for proposal and getting a rough estimate. Finding developers, designers, project managers, and team members, in general, should be the last part of the preparatory stage of creating your own CRM system. Having a complete team will help not only with critical paths, and different tasks, but also with deadline estimation, project schedule, and even budget.
2nd Step: Development
Choosing contractors. A reliable software development company is the next thing you need to have. Remember the option to outsource the development process. It is a great opportunity to diversify risks and reduce costs. When choosing the development team, don't forget to look for the company's reviews from other clients, and check their portfolio.
Choosing a tech stack. The development team, based on their previous experience in creating CRM, offers the client the most effective technologies and frameworks both for the front-end and back-end sides.
Compile CRM development backlog. In this step, you need to put together all the features and 3rd party integrations you want to see in your future software. All of these requirements are divided into developer-specific tasks and prioritized with the Product Owner from more necessary to less important.
Start the development process with agile methods. Once the development team structure is complete, all the necessary things needed on the project such as design, prototype, and workflow diagrams must be presented. Once that is established, deadline approval, project road map, as well as software architecture and coding, must proceed in an agile method.
3rd Step: Launch and Support
Ensure launching and implementation. The CRM software gets launched at the beginning of the app deployment. It is a grueling process, but it is needed especially when implementing a new system in the workflow of your staff and employees as well as database integration.
Post-project supporting. Once everything is settled, it is now time to learn the behavior inside the system and see how the functions are useful and beneficial. It is also at this point when you need to check for functions that may be needed as time goes by. Through continuous behavior study in the software, the CRM will also continuously be effective in your business.
CRM Feature List
Like any successful project, brainstorming and having a detailed list of functions for your CRM system is essential. We recommend collecting feedback from all departments of your company and clarifying all the necessary functions for each department and each user role. It will give you the clearest idea of ​​how build your own CRM software that will fully match the specifics of your business processes.
Based on our experience in CRM development, we have prepared an exhaustive list of features that you may need: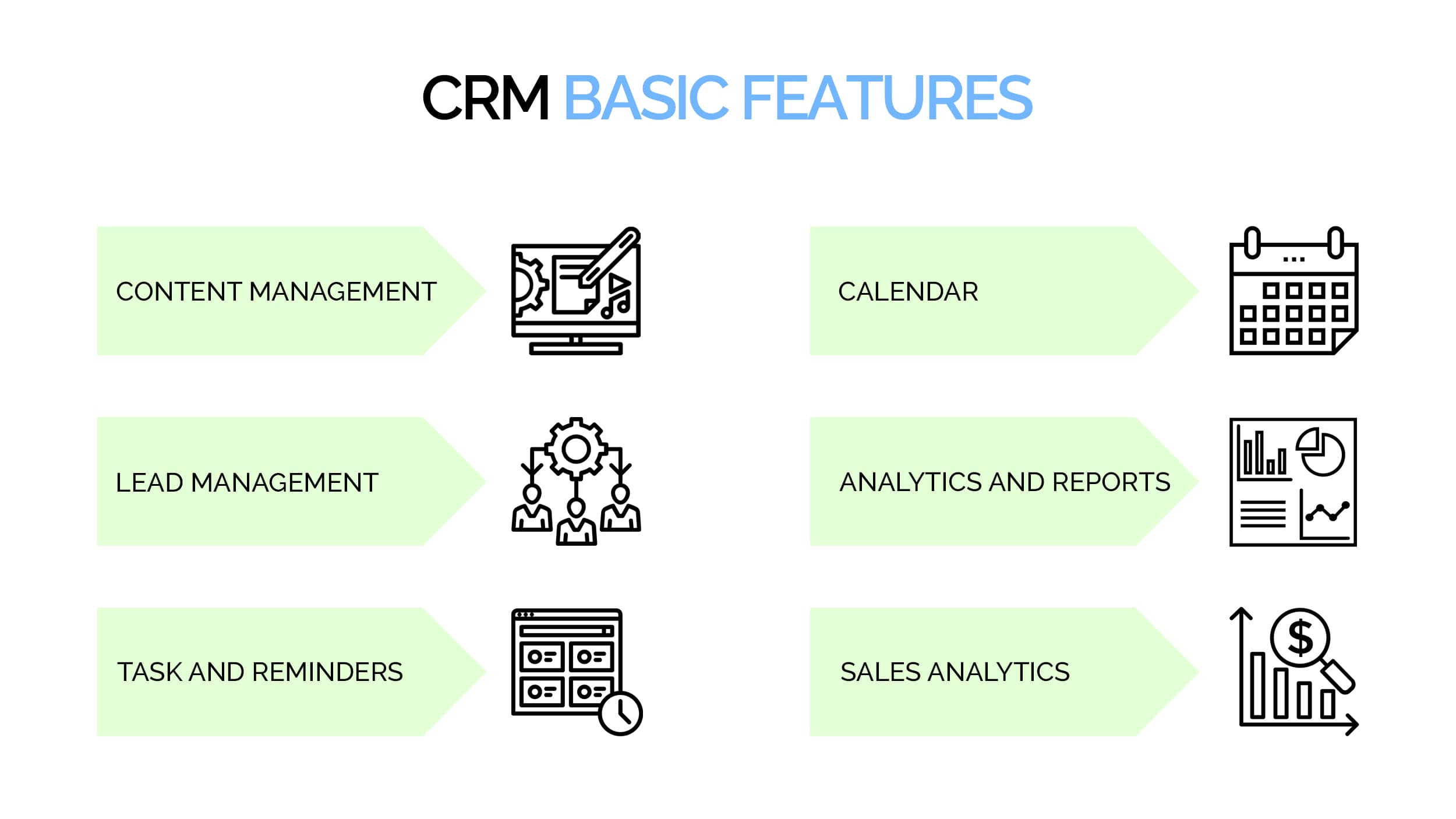 Must-have Features
☑️Content Management – this feature allows you to gather and organize all information about your customers that in a sense helps in catering to their needs efficiently. Contact Management plays a vital role not only in terms of efficiency but also in customer satisfaction, and marketing strategy success.
☑️Lead management – this feature provides you with the leads on future clients as well as existing ones from your marketing campaigns and advertisements.
☑️Task and Reminders – The CRM should be able to perform tasks like setting up and scheduling meetings, calls, deadlines, and other important activities to make sure you are on track. This makes for better service and task management in the business.
☑️Calendar – easily overlooked but very crucial, a calendar is one of the things you make sure to be included in your CRM. This ensures strategic planning from communications, events, and even marketing campaigns in the future.
☑️Analytics and Reports – having this feature makes it easier to monitor metrics and KPIs. This feature can include data in a visual sense such as charts, diagrams, and tables to keep track and monitor your progress and tasks to be done.
☑️Sales Analytics – having this feature that helps you collect data gathered from different platforms and analyze it can have a huge effect on bettering your advertisements and sales campaign through the analysis done from data of previous campaigns.
Standard Features
☑️ Sales Pipeline – this aids in tracking every sales process there is that you have. In return, you will be able to easily oversee the interaction of customers when it comes to your sales. Keeping track not only helps in retention but also prevents losing customers in the future.
☑️ Accounting and Invoicing – it is useful to integrate your CRM system with accounting and payment software and system. It helps keep track of account status, invoice history, and issuance of an invoice to customers swiftly.
☑️ Custom Reporting – if your business needs custom reporting, then this feature will deem incredibly helpful to you. This helps compile and project insights such as information on demographics, sales behavior, and type of leads.
☑️ Email Marketing – not only does this track email communication systems, but it also efficiently helps in making sure emails are managed timely. Aside from that, CRM can program automatically sending emails to customers and the possible sequence of these emails depending on customer behavior.
☑️ Quality Data Protection – gathering a lot of different sensitive information from your customer and having it stored in a database must ensure protection at all times. It is important that you integrate updated security certificates for data protection not just for your customers but for your company as well.
Extra Features
☑️ Call Center Automation and Integration – having this important feature helps you control and oversee the call center and helpdesk function teams within the CRM. This is a key feature that minimizes the need for more applications and software to use that might result in important information loss and confusion.
☑️ Lead Scoring – this feature allows you to score different customers from metrics that deem important to your sales and business. This helps you prioritize a variety of tasks and sales targets.
☑️ Internal Systems Integration – It is necessary and advisable to integrate other programs to your CRM for a smoother and flawless workflow. This also affects your company's efficiency preventing the waste of time and money if the workflow is disrupted.
☑️ Cloud Integration – it is wise to have cloud integration given that it is more secure, flexible, and stable. It is a good idea to have it, especially that it is easier and more budget-friendly to maintain and great for start-up and growing businesses.
☑️ Social Network Integration – have this feature helps boost sales all while team members can easily work together from different access points. It enhances not the brand with its ability to measure customer's intent and interest and ensures customer satisfaction in the long run.
☑️ Chatbots Integration – with chatbot automation, employees can focus on other important tasks while the chatbot answers frequently asked questions, set up reminders, organize meetings, and new-hire onboarding.
☑️ Sales Forecasting – prediction of sales through potential deals is made easier with this function. It analyzes sales performance while creating a solution to possible problems in the future even before it actually becomes a problem.
☑️ Mobile CRM – having this feature lets you take advantage of technology business-wise. A mobile CRM enables you to have access to your business anytime, anywhere which can help you stay in touch with customers more quickly.
Technology Stack
The right tech stack ensures the implementation of reliable, safe, and performative CRM systems. For sure, the choice of technologies varies from project to project. Nevertheless, CRM solutions are aimed to offer a distributed architecture that can support smooth interaction within the software. They should be as specific as possible, controlling all user needs. As an experienced CRM development company, Code&Care recommends using these technologies:
⚙ Front end Languages:
– HTML
– CSS
– JavaScript
⚙ Front End Frameworks and Libraries:
– AngularJS
– Vue.js
– React.js
⚙ Back end Languages:
– Python
– Java
– PHP
– JavaScript
– Node.js
⚙ Back End Frameworks:
– Laravel
– .NET
– Nest/ExpressJS
– Symfony
– Django
⚙ Cloud:
– AWS
– Microsoft Azure
– Google Cloud Provider
– Heroku
– Digital Ocean
How much does it cost to build a CRM system?
When it comes to CRM development cost, the accurate estimate of the project can only be summed up when detailed information about the CRM project is provided. This is because the cost will depend on a variety of factors such as the number of tech specialists, developers' experience, the chosen tech stack, the number of integrations needed, and the like. The custom CRM development cost starts at about $35,000.
Features
Approx development time, hours
Approx. cost, $
Preparatory stage
– Architecture planning
– DB creation
– Requirement clarification, etc.
40
1160
Must have features:
– Contact Management
40
1160
– Lead management
40
1160
– Tasks and Reminders
70
2030
– Calendar
50
1450
– Analytics and reports
150
4350
– Sales Analytics
120
3480
Total:
470
13630
Standard features:
– Sales pipeline
180
5220
– Accounting and Invoicing
160
4640
– Custom reporting
100
2900
– Email marketing
80
2320
– Quality data protection
200
5800
Total:
720
20880
Extra features:
– Call Center Automation and Integration
200
5800
– Lead scoring
120
3480
– Internal systems integration
160
4640
– Cloud integration
180
5220
– Social network integration
140
4060
– Chatbots integration
140
4060
– Sales forecasting
160
4640
Total:
1100
31900
For a full-fledged Mobile CRM, the development will approximately cost about 50% of the CRM cost.
How long does it take to build a website? [Estimation examples]
How to choose a custom CRM development company?
When hiring a development team, make sure you pay attention to the following details:
✓Industry Expertise – it is important to match the industry you're from with the people you choose to be part of the team. The industry expertise makes it easier for your business to flourish and teams are efficient especially when they're familiar with what they're working on.
✓Examples of CRM Developed by the Contractor – this gives you an overview of the work they have done before and see if it fits what you would want for your CRM system to be.
✓Reviews – checking the reviews will also help you decide whether it is the right team for you. Seeing what other companies have to say about them will help you manage your expectations and prepare for future challenges you might encounter.
✓Region and Time zone – Though this is not really a huge deal, it is still important to take into consideration given that communicating is crucial and a huge difference between time zones may pose a challenge unless everything is communicated properly from the beginning. Aside from that, the region also plays a role when it comes to rates so it is handy when in terms of budgeting.
✓Level of English – since you will be communicating constantly with the team, it is important that everyone is proficient in speaking and writing in the English language. This makes for a swift and efficient workflow for everyone involved.
Recent CRM projects at Code&Care
Code and Care have immense experience in custom CRM development. Though most of the clients we have are under NDA, there are a few cases we can show through personal communication.
Here are a few examples of what we previously worked on:
House of Hearing – this is a healthcare company specializing in comprehensive diagnostic hearing assessment with state-of-the-art equipment in all of their hearing clinics. Code&Care helped in the development of a solution to their HoH resource limitation through the EPR solution with intuitive CRM for efficient and successful management.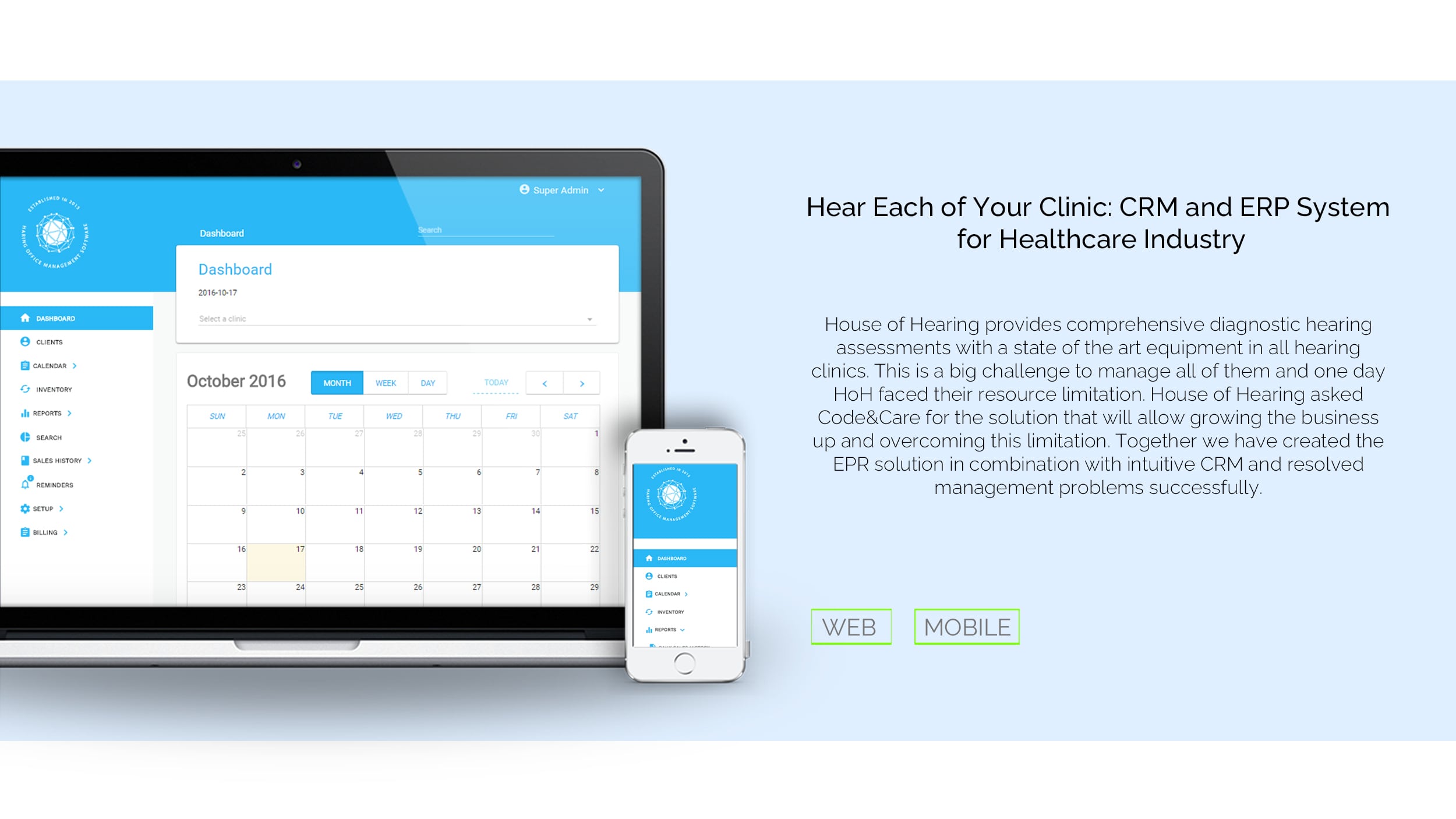 D1AL – a telecommunication platform providing Cloud Phone Servers, Broadcast Dialer, and Database Hosting Services. Code&Care's development team helped build a CRM dashboard for efficient and simpler customer management. Aside from that, several integrations are provided with SMS portal implementation allowing easier communication with customers through manual and automated replies.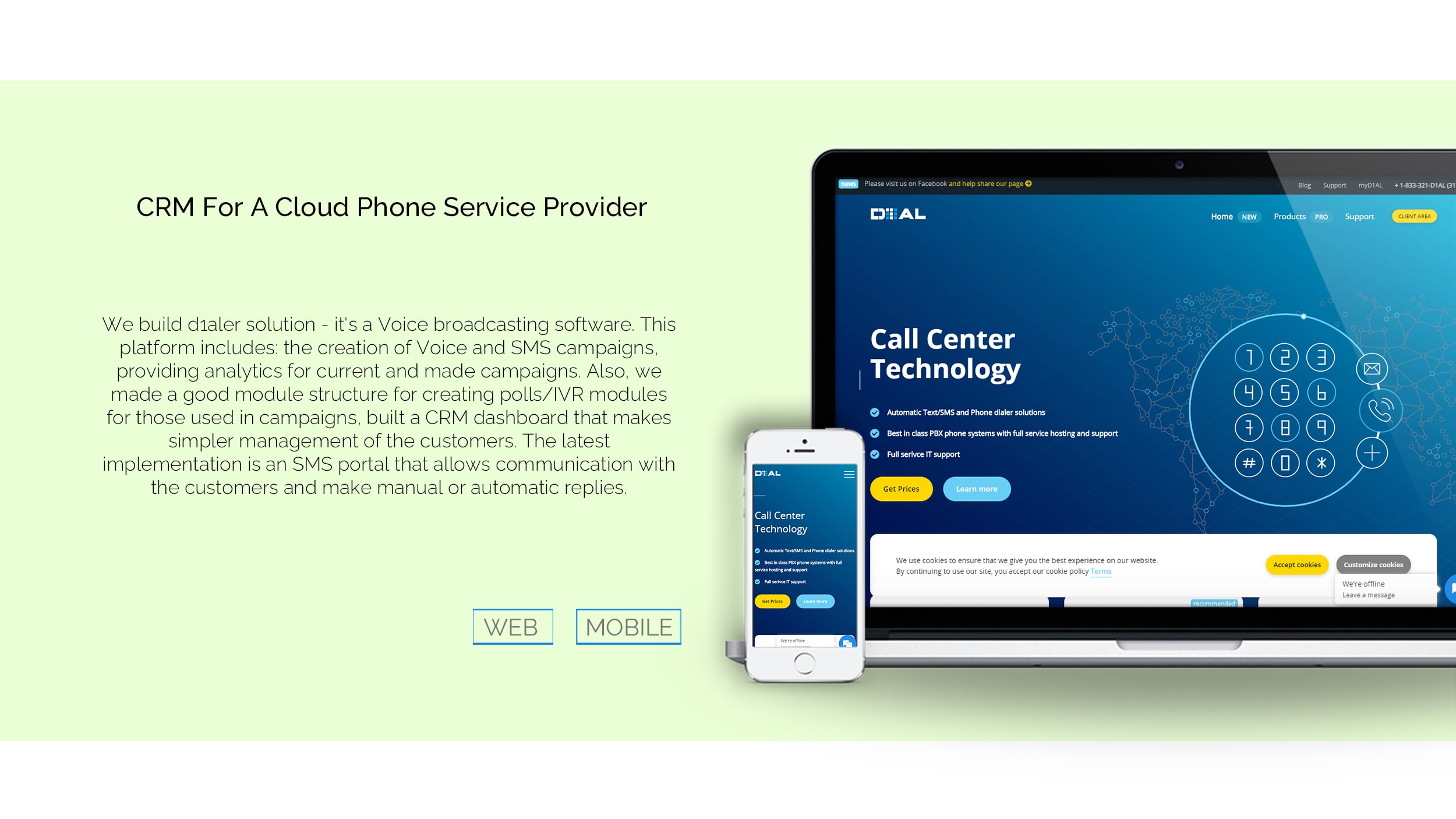 My Pharm – this is a French pharmacy loyalty system working with big pharmacy companies. Code&Care developed a fully equipped CRM system aimed to attract potential new customers with main features such as: adding new users/customers, making transactions, bonus points system, statistics display for pharmacy and groups, and exporting different reports.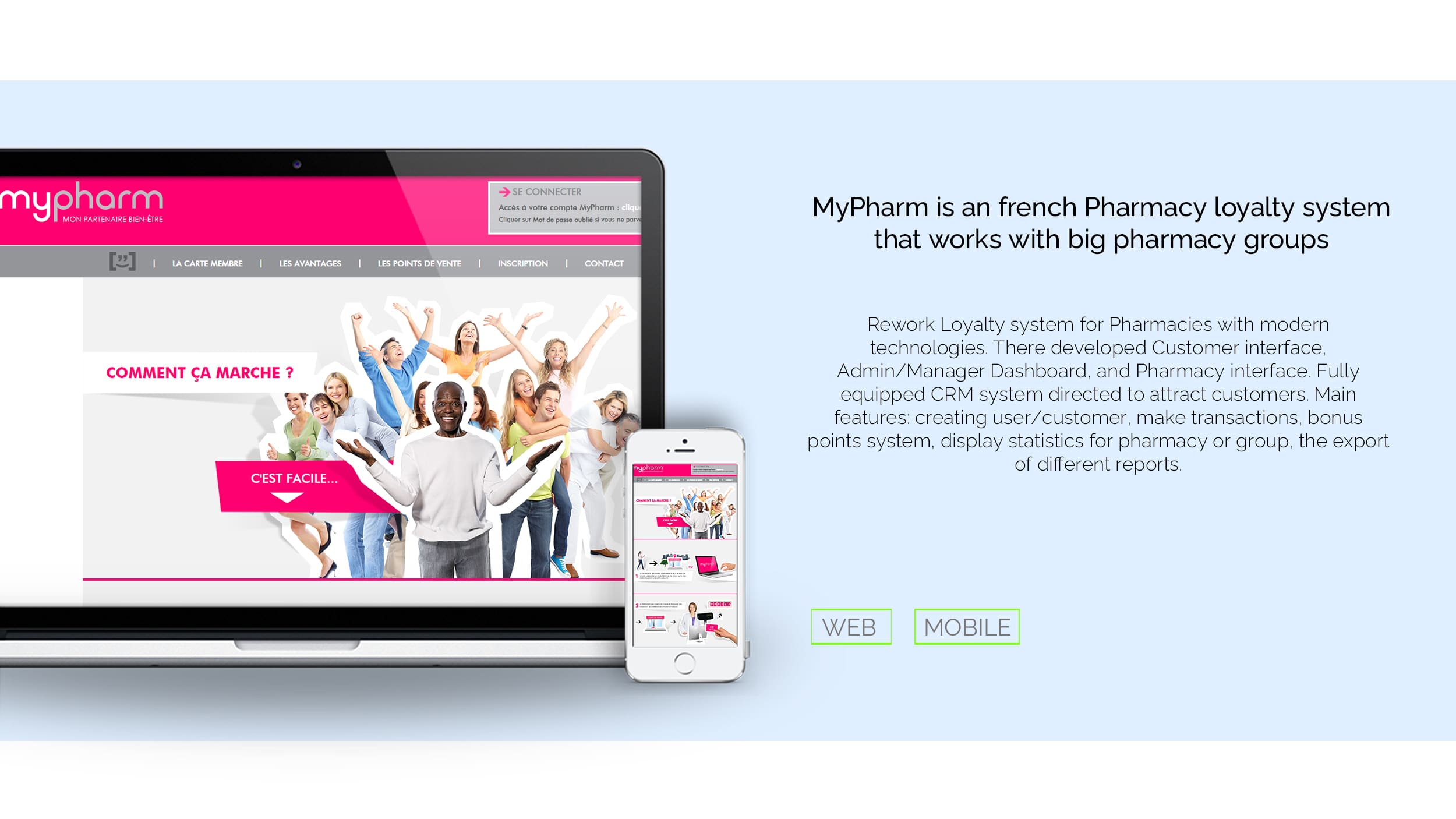 If after reading our article you still have any questions, feel free to send us a message via
the contact form
on our website. We can organize a free call and tell you about all the pitfalls you may face while building your own CRM system.
Related articles:
How to Build Your Own Auction Website
How to Build a Marketplace Website 
How to Make a Video Calling App
How to Create an E-commerce Website