So, why make your own video calling app? Video calls are becoming a standard feature of everyday life. Searches for web and video conferencing tools saw a 500% spike in the first four months of the COVID-19 outbreak. For both professional and personal usage, the video calling app development market is expanding at a phenomenal pace.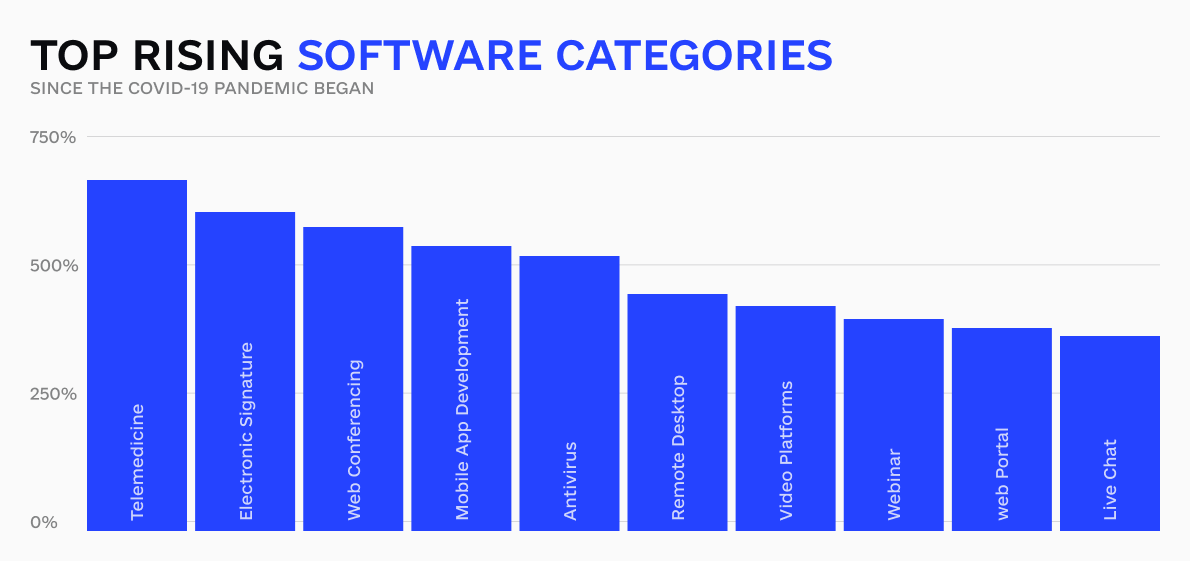 Also on the rise annually is the amount of mobile video traffic throughout the world. It is predicted to reach 60,889 petabytes monthly by 2022. It reached 29,149 in the year 2020.
Furthermore, 79% of workers think videoconferencing is just as productive, if not more so, than in-person meetings. What's more, according to a survey of business owners, 76% said that their output stayed the same or increased since they were able to work from home despite the epidemic.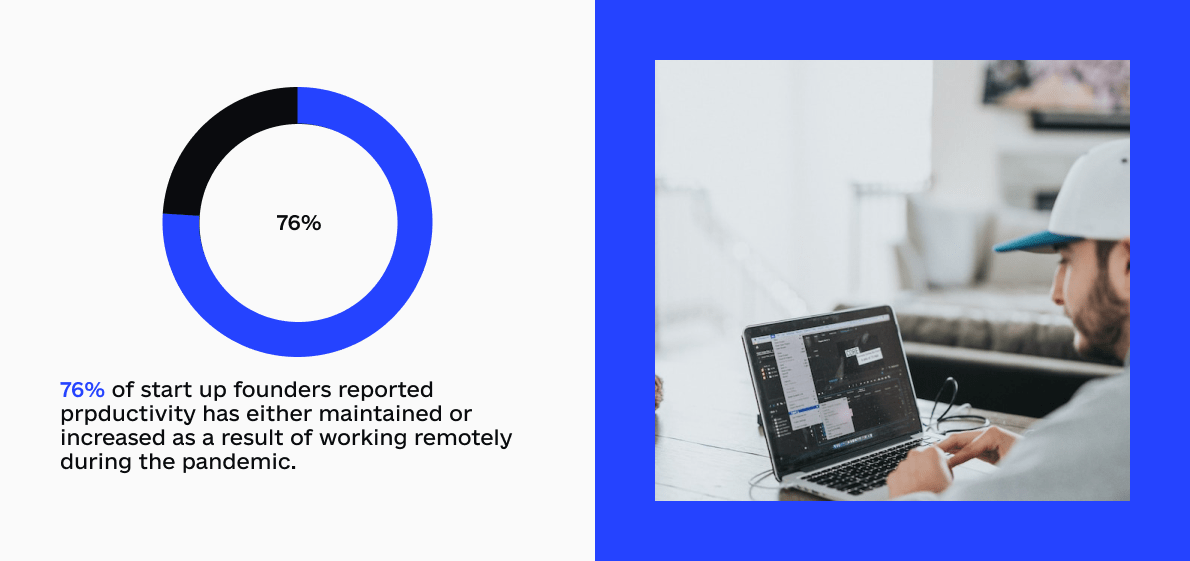 While these statistics may be convincing, you may still be confused about how to make a video calling app, what features should be included, and the benefits of investing in video calling app development. Not to worry. This manual will walk you through the essential steps of developing a video chat application.
For those who would rather skip the preamble and dive right into their development project, Code & Care is there to guide the way. Get in touch with us if you need assistance developing your ideas further.
Who Leads the Video Chat App Market?
Video chat apps allow you to send and receive instant messages while also recording high-definition video. Some apps, however, are video-only and do not support text exchanges. We'll go over the most popular ones first, but first, let's define the different types of apps.
Video Chatting Application Types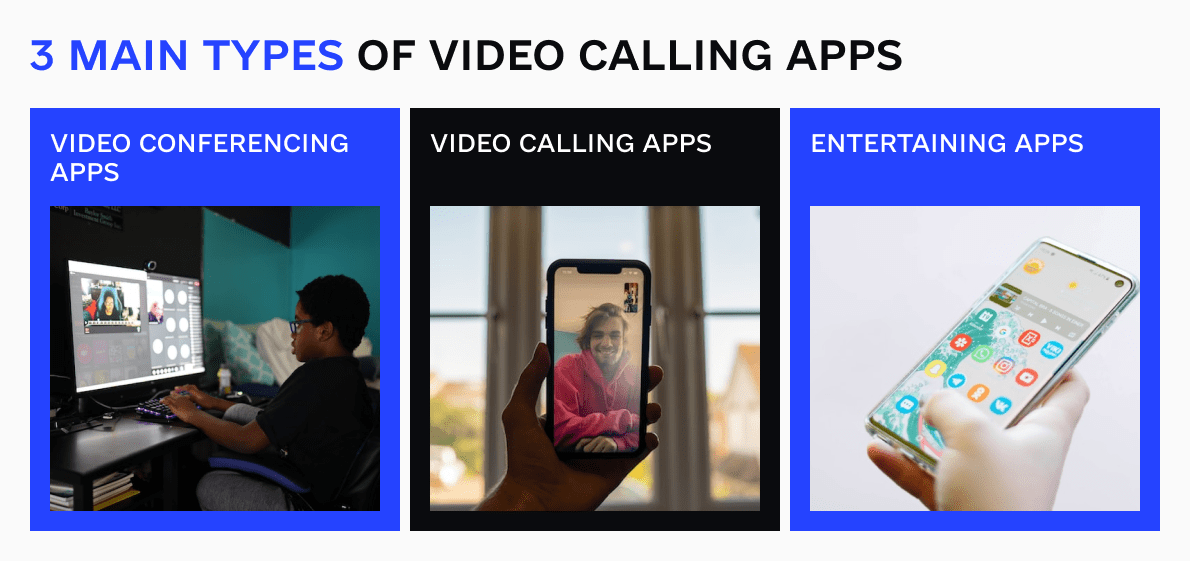 The most popular types are video conferencing apps. The typical target audience for this kind of software is huge conferences with lots of attendees. Its principal value is in the corporate world, the workplace, and the classroom. It is crucial that the video and audio quality of the video conferencing software be high since it will be utilized by many people simultaneously. In addition, the app should adapt to the user's network speed in real-time to provide optimal performance. Both Skype and Zoom are widely used for video conferencing, and both have their strengths and weaknesses.
Second place goes to video calling apps. Messenger, WhatsApp, and Viber, all of which are primarily instant messaging applications, also provide video calls. Even while it's not ideal for group calls, there are times when video calling apps may be useful for both professional and personal communications.
Entertainment apps are less common than in the previous two categories. These can relieve boredom and allow for simultaneous communication. It's an excellent way for friends to stay in touch while having fun. Discord is one such service that allows users to have video and voice chats while watching a live stream of a game with friends.
Popular Voice Calling Apps Available Today
Alright, we've covered the basics of video chatting programs. Let's move on to the best-in-market apps for making video calls.
WhatsApp is an instant messaging service that was created in 2009 and quickly gained widespread use. Users of WhatsApp sent an average of 100 billion messages per day by 2020. With UVP WhatsApp, companies may create separate accounts for themselves and interact with customers.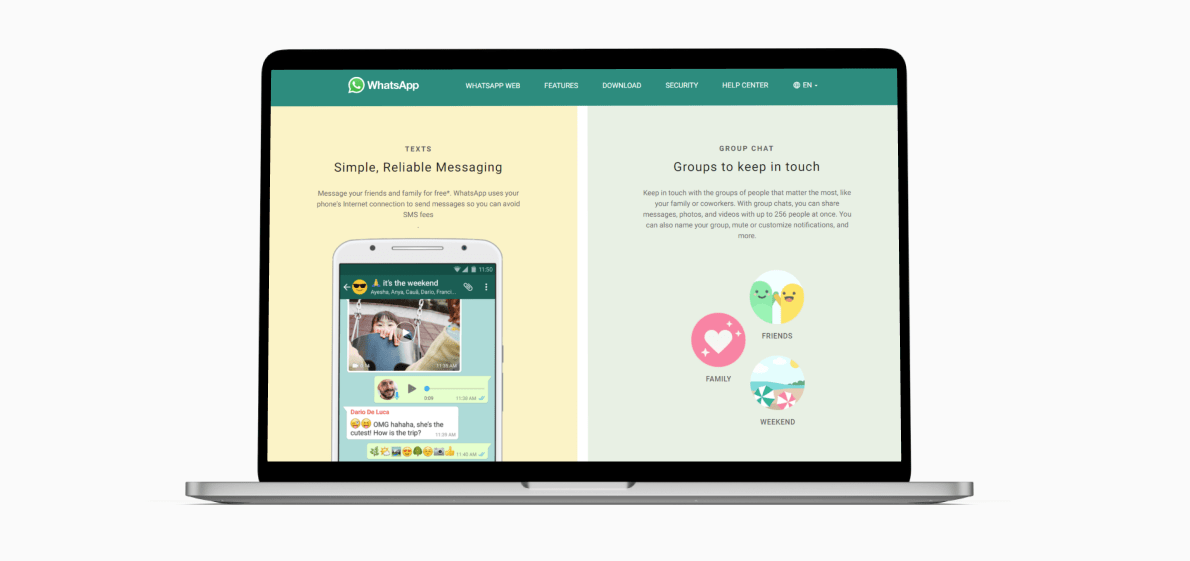 Number of DAU: 1 billion
Google Duo
Since its recent release, Google Duo has been hailed as one of the top video chat programs available. Useful features of Google Duo include group video calling for up to 12 people, compatibility with both Android and iOS devices, and the ability to utilize the service as an instant messaging platform.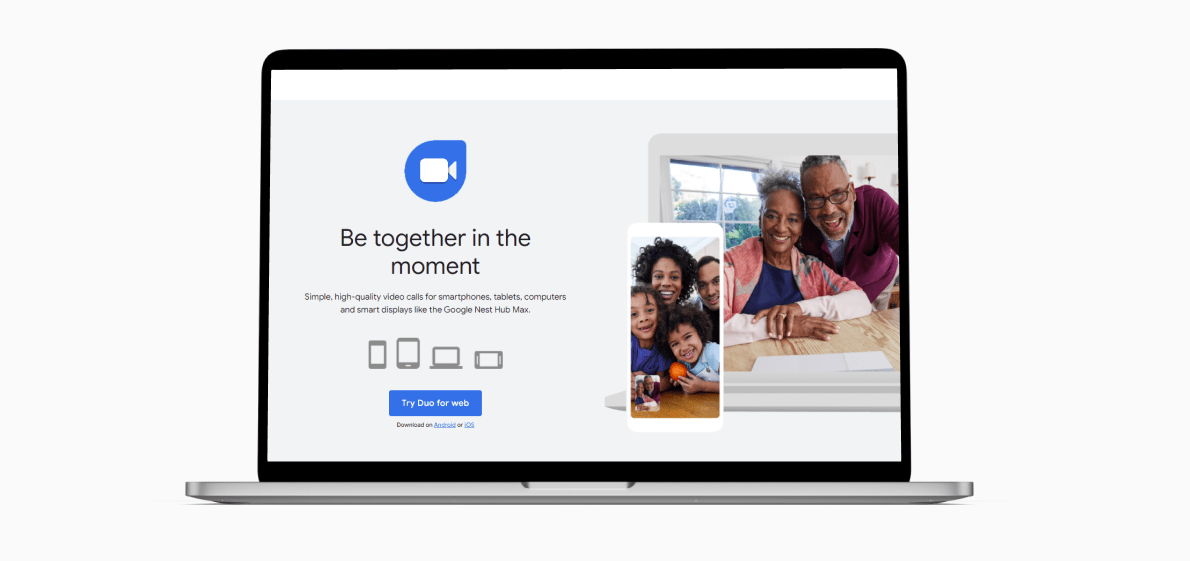 Number of DAU: 1 billion
Zoom
Zoom has always been well-liked by its user base, but thanks to March's addition of support for even more platforms and devices, the app's popularity has skyrocketed. Zoom can be used for business and personal video conferencing. And its premium subscription allows for as many as 500 users to join in on a single session.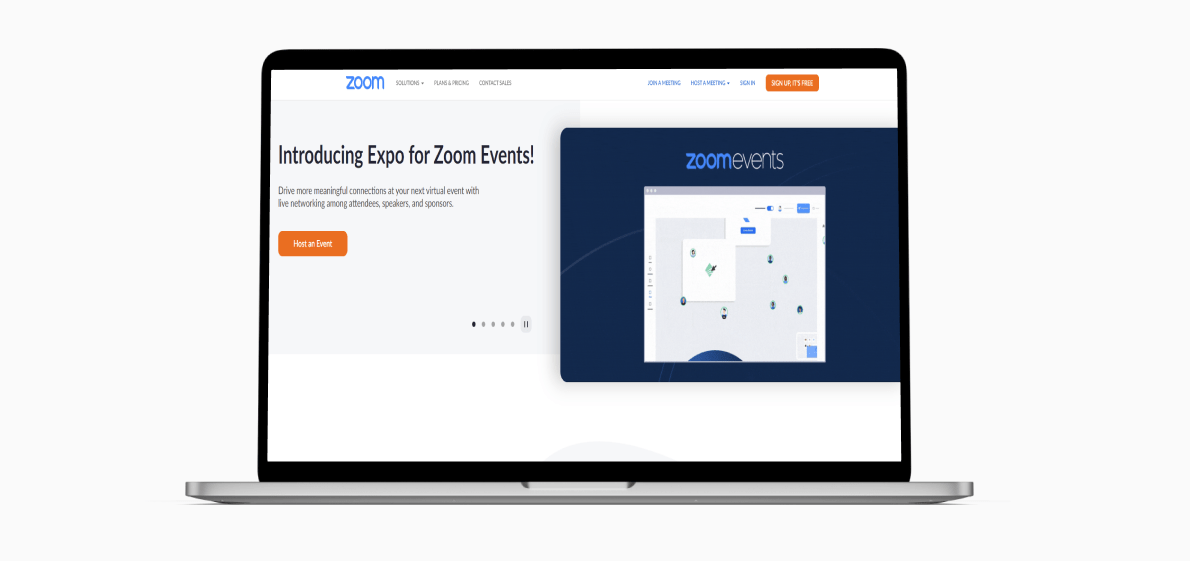 Number of DAU: 12.9 million
Google (Hangouts) Meet
Google Meet is an online video conferencing service designed specifically for businesses using Google's G Suite. With G Suite, you have access to a premium version of Google Hangouts, which can be used for online meetings. Up to 250 people may join a meeting through voice conference or HD video call.
Number of DAU: 120,000+
Discord
Discord is a Voice over Internet Protocol (VoIP) program that is similar to Slack and Reddit, with text, audio, and video chat capabilities. Discord's main strength is that it has no hard limits on the number of users, and its other constraints are also reasonable for practical use.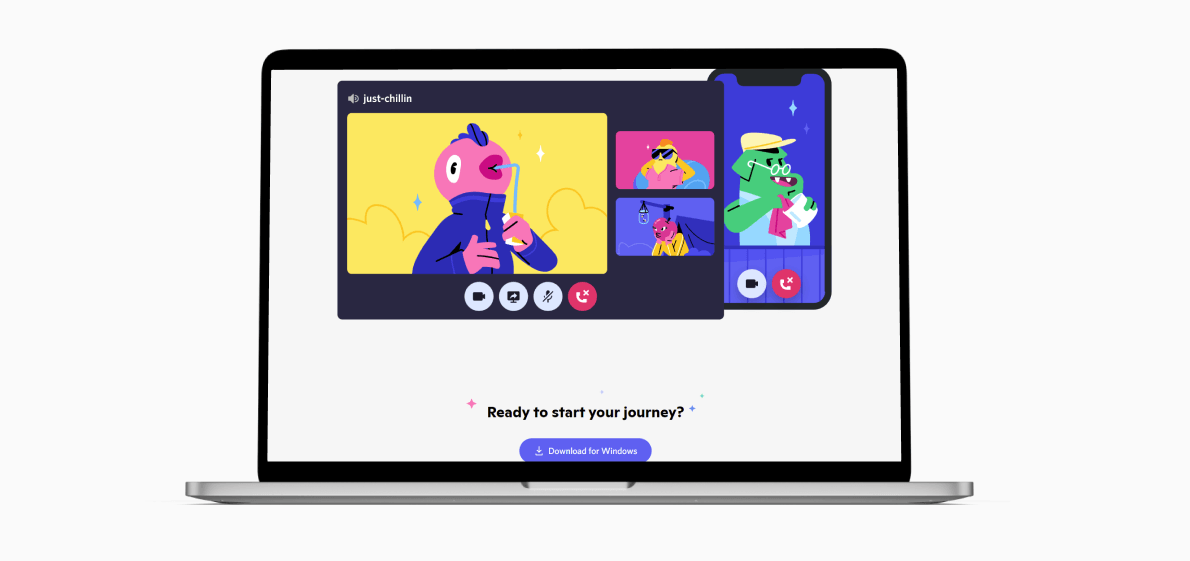 Number of DAU: 14 million
Messenger from Meta
This app and website provide a new way to communicate with friends and family on Facebook, since it functions as an instant messaging service that is integrated with Facebook's database. Users may now chat with one another in real time, share media, and do a variety of other things on Facebook thanks to this feature.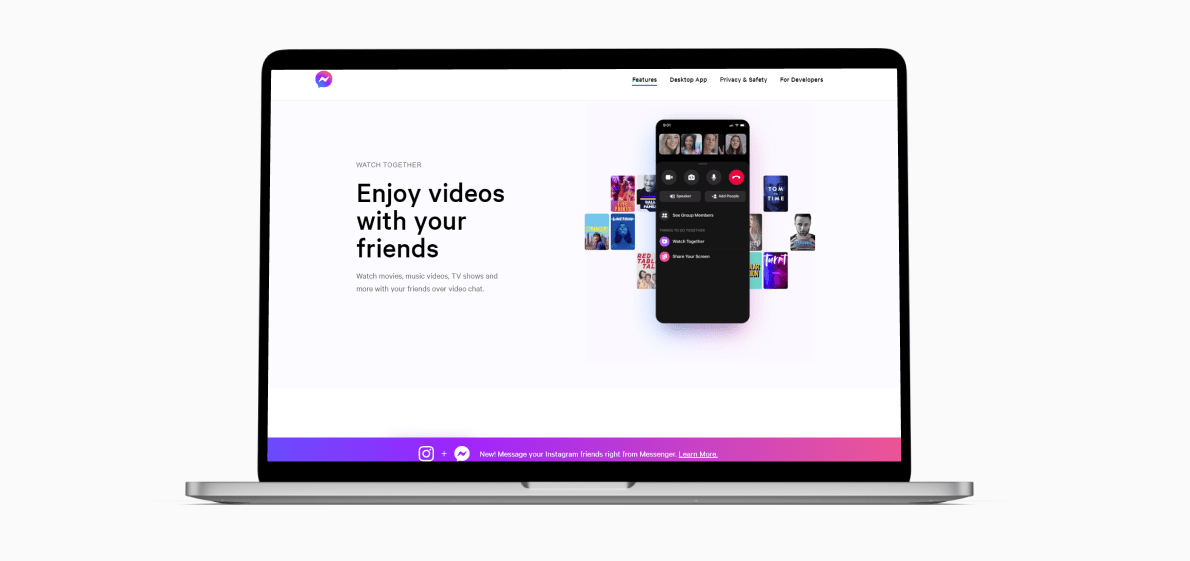 What Are the Top Benefits of Video Calling App Development?
So, why should you make your own video calling app?
At a CAGR of 11.4% between 2021 and 2028, the worldwide video conferencing market is forecast to expand from a projected $4.21 billion in 2020. In addition, by 2025, the worldwide market for web conferencing is anticipated to increase to almost $19 billion. There is a huge opportunity for app creators who specialize in video chatting, so creating your own video conferencing app is definitely worthwhile.
Let's take a cue from Zoom.
As one of the most popular video conferencing apps, Zoom made $2.6 billion in sales that year, a 317% increase over the previous year. Another video conferencing service, Hopin, is now worth $7.75 billion. It received $450 million in investment in 2021. 
That year, Discord raised an additional $500 million. The popularity of mobile apps that allow for video calls is growing all the time. This expansion has received a lot of support from the major platforms.
Zoom established a $100 million development fund in 2021 to provide financial support to entrepreneurs developing complementary solutions for the Zoom platform.
Additional noteworthy statistics for the video calling app market include: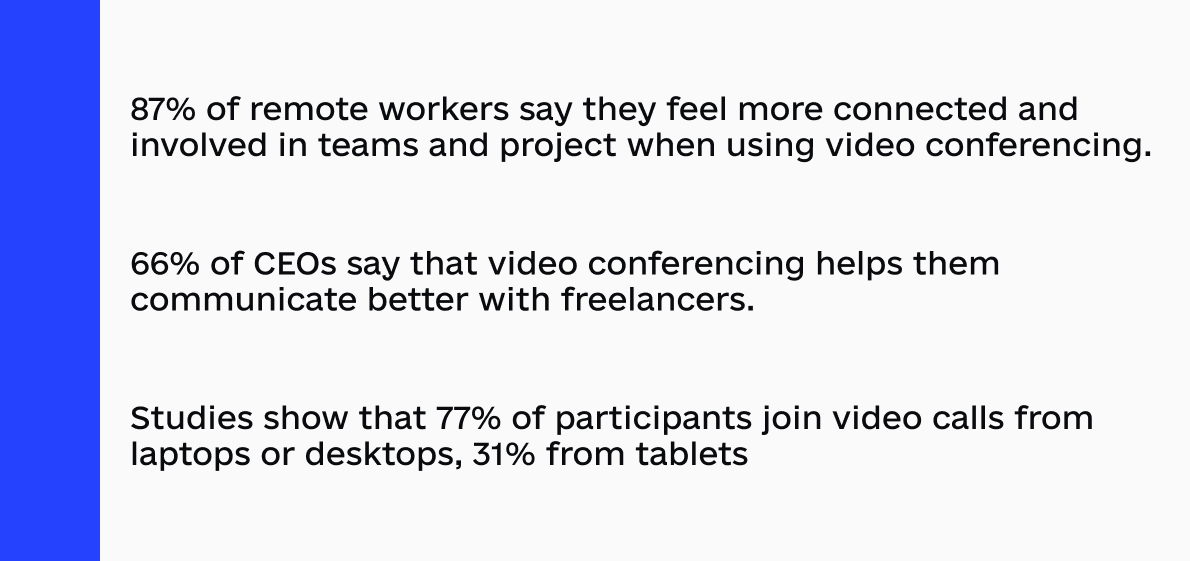 Nearly half of all teams routinely utilize video conferencing software.
Eighty percent of all one-on-one meetings at work now occur by videoconference.
Sixty-seven percent of workers prefer in-person meetings over video conferences.
Evidence suggests that despite the epidemic, remote work and education will only grow in popularity.
Ready to take advantage of these opportunities and make your own video calling app? Code & Care can help you assemble a dedicated team of developers.
Food delivery app development: tips to save your budget and nerves
Which Industries Make the Most Use of Video Conferencing?
It's crucial to define your target audience before learning how to make a video calling app. The following industries make extensive use of video conferencing services.
✅ Education
The e-learning paradigm enables higher education institutions, K-12 institutions, and businesses to provide educational opportunities to students and working professionals. Online courses may benefit people other than students in higher education. Many businesses are expected to increase their spending on video conferencing solutions in the coming years. Some businesses have already begun to implement e-learning programs in the workplace. Even though e-learning is still in its early stages, it has quickly become an essential component of modern corporate education. Companies use e-learning for different purposes, including hiring new employees, training existing ones, educating customers, and advising franchisees.
✅ Health Care & Wellness
Health care video conferencing solutions have never been more in demand. This comes as no surprise. These apps address inequities in health care delivery, such as the inability of the elderly and disabled, as well as those living in rural areas, to receive adequate medical care. Patients also save time and energy because they rarely need to visit their doctor's office in person. Patients can contact their doctors right away or schedule convenient visits thanks to telemedicine.
✅ Video Games
Streaming video game services such as Discord and Twitch are popular and are expected to grow in the face of increasing social isolation. According to Statista, the number of people using gaming networks worldwide is expected to reach 112.4 million by 2024. Streaming app users can watch everything from musical performances to cooking videos and Q&A sessions, and they can even communicate with one another via text, voice, and video chats. However, games are a major focus for many businesses.
What Are the Key Features of a Video Calling Application?
Before building a new product, we always recommend extensive evaluation of existing solutions to see where improvements can be made. To increase your chances of success with your future application, think broadly and compile a comprehensive list of all conceivable features. This may be the basis for your future to-do list.
We have put together the list of primary features after researching the most widely used products on the market. For your convenience, the list is separated into two categories: features that must be developed in conjunction with the MVP and features that can be implemented after receiving the MVP
Essential Capabilities (For MVP Development)
Establishing a video chat app's Minimum Viable Product (MVP) is the greatest way to learn about the app's weaknesses and keep an eye on its development. Let's look at the fundamentals of video chat application development.
✔Registration
There has been a shift in how users approach the signup process. Now, it's preferable to make registration completely voluntary while yet being simple and speedy. The optimal version is to provide customers with three different registration options (email address, phone number, and social media account).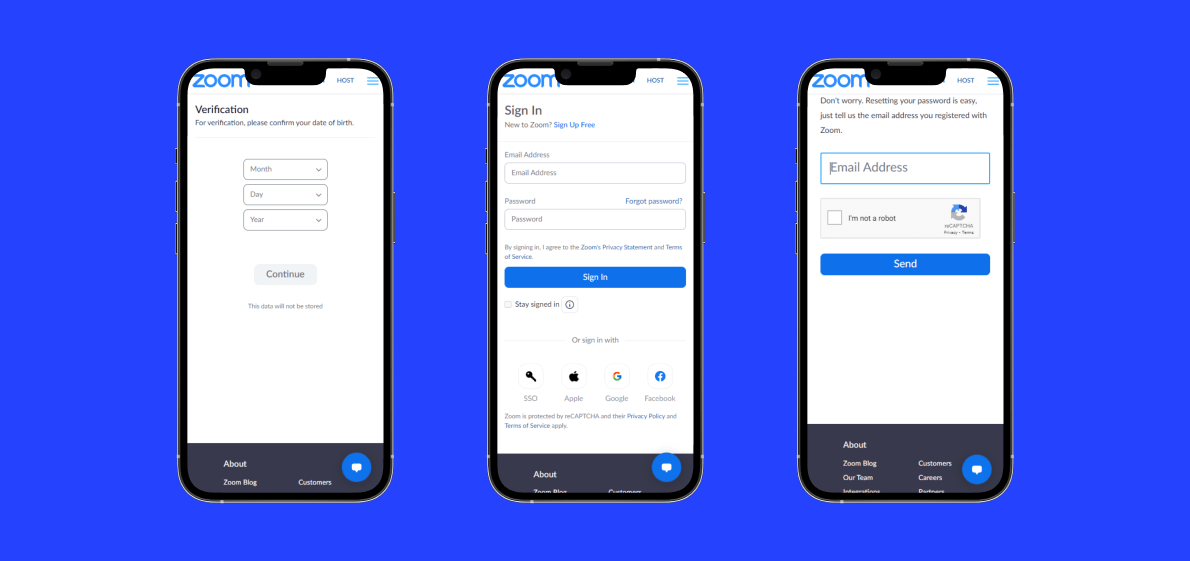 ✔User Profiles
Personal profiles give users control over their data and how it is shared. A brief description of yourself, your current location, a photograph, and even a phone number are all required to create a user profile. Integrating in-app purchasing options that allow customers to pay with a credit card is also a nice touch.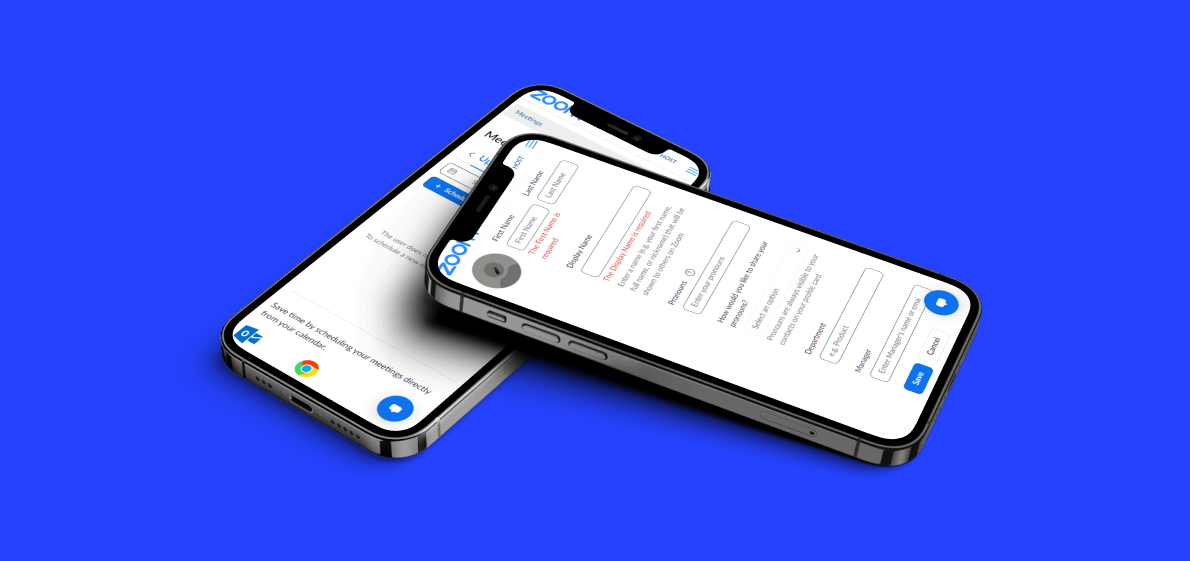 ✔Contact List
Modern video chat apps include a contact list feature. This feature allows the user to search for and import contacts from their phonebook or social network profiles for quick access.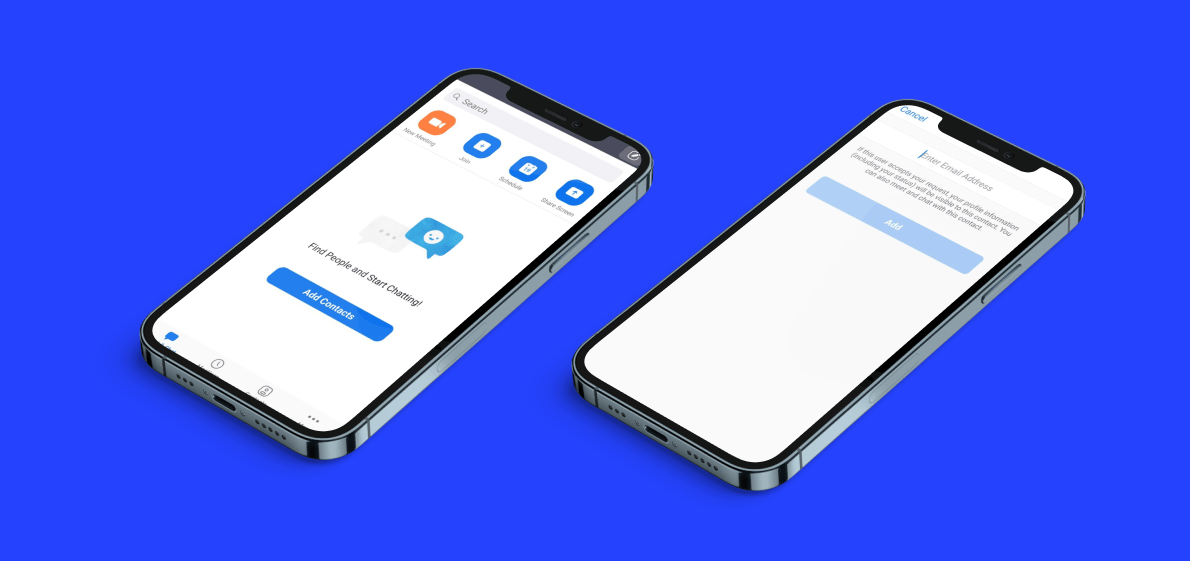 ✔Text Chat
Even video calling applications require a chat or instant messaging feature. Use it to set up the video conference, confirm that everyone who needs to be there will be present, and for any other communication that does not require a phone call.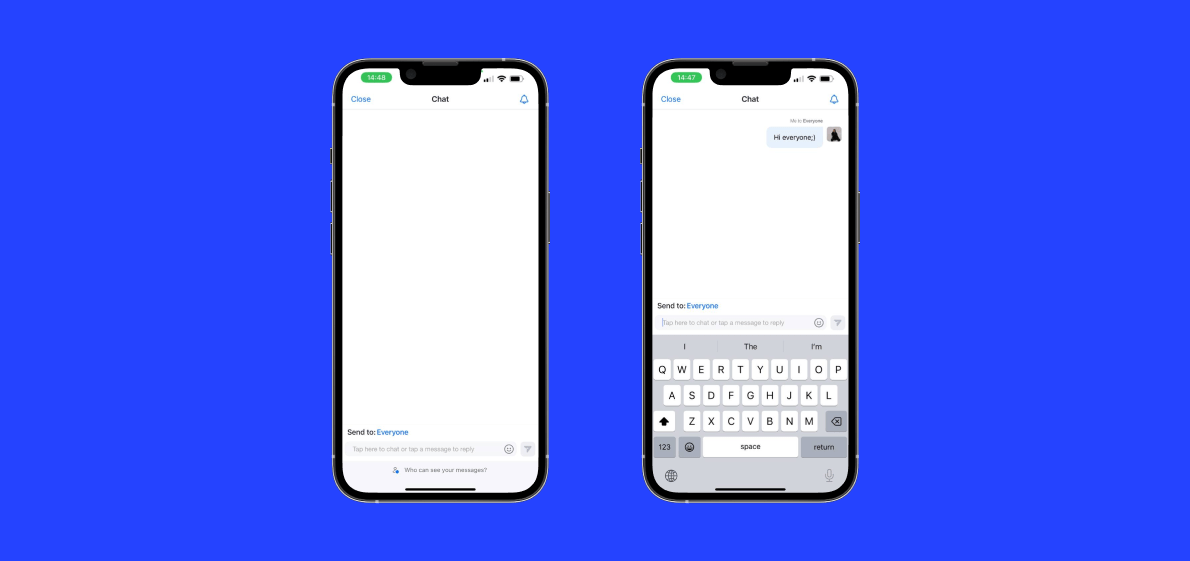 ✔Video and Voice Calls
The ability to choose whether to include a video call in your conversation can be useful for those who only need to make voice or audio calls. Aside from obvious commercial applications, it also works for individuals and families.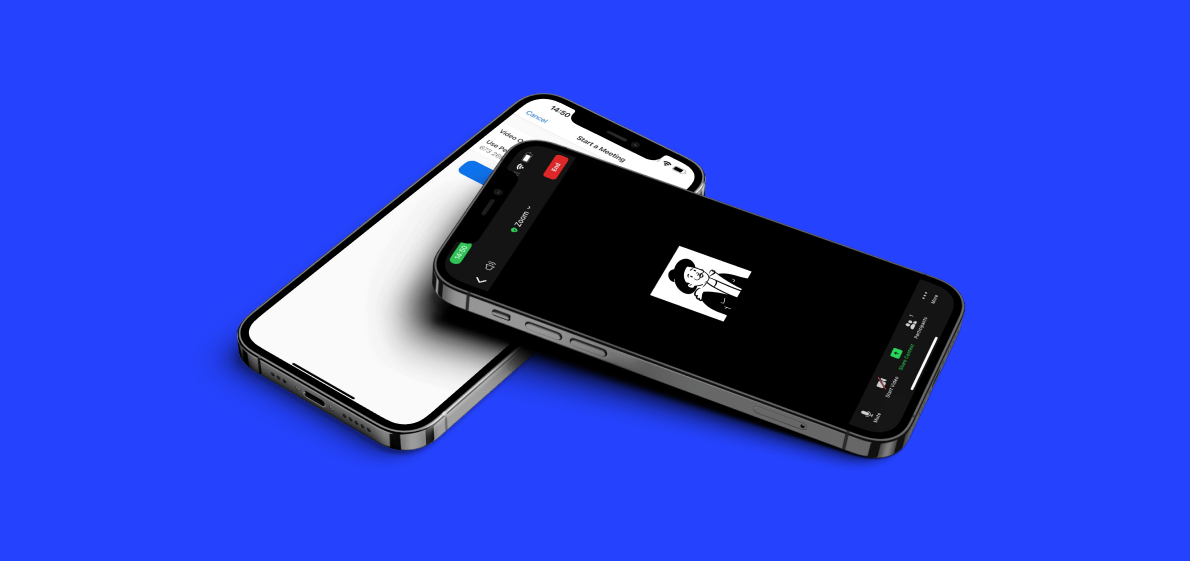 ✔Group Calls
It's great to be able to make individual calls, but being able to organize and participate in group or teleconference conversations is far more useful. Having at least 50 participants per call is sufficient and may make a significant difference in your app's performance when compared to others, especially if it is designed for commercial and corporate settings. Enhance the service by including necessary features such as user muting, inviting, and banning. These characteristics are necessary for making human interaction more relaxed and natural.
✔Meeting Scheduling
Call scheduling features allow you to import your existing calendar, instantly see when you're free and busy, and then let others choose a time that works for them from your available slots.
✔User Status
Statuses can be used to determine whether a friend is currently occupied, available, absent, or bored. It is critical to have a mutual understanding of each other's activities and geolocation to know the best time to call.
✔Security
Any voice calling app must be encrypted. To do so, you need to know the address of the sender, and to decrypt it, you need to know the address of the receiver. Encryption ensures that user data is safe from unauthorized access and disclosure. Despite Zoom's widespread usage, the platform has been subject to criticism for security flaws such as information leakage from its user base. Thus, it is essential to have secure databases, strong passwords, and robust encryption for user data.
✔Call Recording
Calls made and received may be recorded using this function. You may wish to record their calls for many reasons. How often do we wish we had taped a crucial call after the fact? After all, there's no telling when such documents may come in useful.
Advanced Capabilities (After Implementing the MVP)
Full-fledged video chat applications should incorporate the following advanced features.
✔Data Backup
If a user accidentally deletes important data, the data backup or automated backup function may be able to recover it. Users can choose whether to activate automatic backup or to perform backups manually.
✔Push Notifications
It's important to keep your users engaged with your software, and push notifications are a great way to do that. It's helpful for users because they're made aware of recent activity, chat invitations, and messages.
✔Screen and Desktop Sharing
Because it facilitates both presentations and collaborative learning, the ability to share one's screen is becoming increasingly important in modern meetings and classrooms. This not only improves user experience but also communication effectiveness.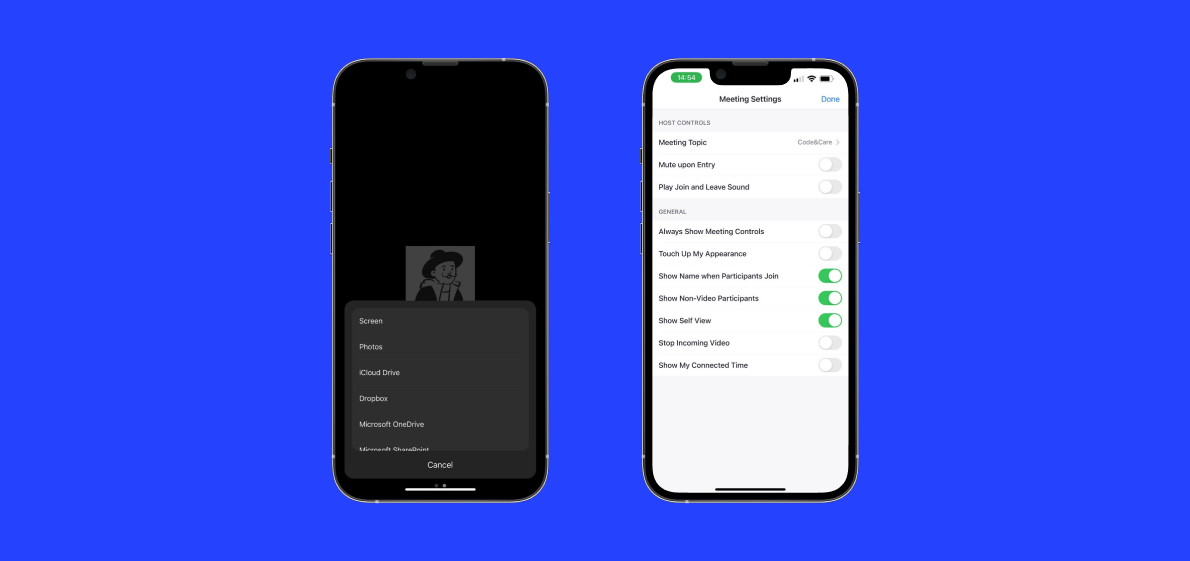 ✔Background Changing
This feature's primary application is in the realm of virtual socialization and entertainment, but it's easy to see how it could help your app gain more users. This not only eliminates its professional or academic applications, but also makes it available for use in one's personal life. Aside from that, it's a clever idea, especially for people who don't have ideal living conditions.
✔Background Noise Suppression
Users should be aware that background noise will always be present in their virtual conference arrangements. Users will value the convenience and comfort of noise cancellation within your app. While this may pose some development challenges, artificial intelligences such as Krisp can be integrated into your app as a ready-made solution.
✔Emoticons and Stickers
Emojis and stickers can be useful even in more formal situations. However, the ability to create one's own emojis and stickers is a distinct advantage for your app and may help it attract more users in the long run.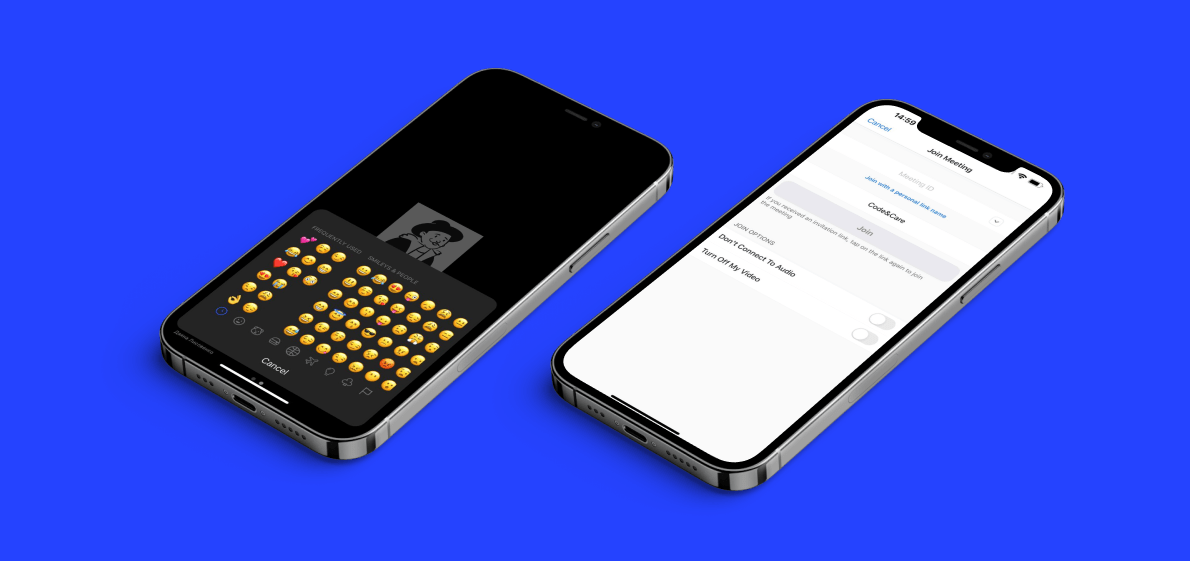 Next-Generation Features in 2023
✔Augmented Reality Meetings
The company rebranded as Meta to emphasize the use of "metaverse" technologies to improve communication and collaboration in remote settings such as teleconferences and hybrid get-togethers. Finally, by reintroducing the third dimension, as well as human expression and group participation, we hope to overcome the limitations of traditional Zoom video conferencing. This means that augmented reality will play an important role in the next generation of video chat software.
✔Blockchain
Because of the prevalence of data breaches, people are avoiding applications out of concern for their privacy. Blockchain technology has the potential to make apps more secure by protecting user data and preventing unauthorized access. All data is encrypted and stored using a cryptographic hash, making decoding nearly impossible. Furthermore, malicious programs from the outside are less likely to cause problems with the decentralized design.
✔Whiteboard Camera System
Using your own board with this high-tech camera setup is simple. With a special application system, the presenter can show what's on the whiteboard during a video conference. Attendees can get all the information they need ahead of time by downloading the whiteboard's contents.
How to Make a Video Calling App in 9 Steps
There are a few universal steps that must be taken throughout the development of a mobile app. Using our knowledge and experience, we will provide a detailed explanation of each step.
Step 1. Conduct Market Research
Gathering relevant information is one of the first steps in developing an app. It is critical from beginning to end when developing video chat software. This is where you will specify the app's ultimate goal, target demographic, and operating system.
At this point, you'll specify whether the app is intended for consumers or businesses. It's also where we think about how the app's functionality, revenue opportunities, target audience, and geographic reach will influence its future design and development.
In the preceding sections, we provided an overview of the video conferencing app market. Still, successful product launches necessitate extensive research into current and projected market conditions, as well as potential competitors.
Step 2. Define Your Niche and Target Market
If you can't pin down and satisfy your ideal customer base for your video chat app, it's not going to do well. If you understand your target audience completely, you can give them exactly what they need.
Here, consider what options would appeal to users of your video chatting software.
There will likely be more options for making video calls in the near future as a result of the rising demand for such services.
Therefore, we suggest you give careful consideration to the business strategy you should have and pay close attention to the comprehensive portrait of your end-user.
Step 3. Compile a Feature Checklist
Since it is inexpensive and easy to set up, Video Chat MVP is suitable for a wide variety of uses.
A good way to estimate how long and what kind of work will go into getting your app ready for release is to make a prioritized list of features. You'll also learn how you stack up against the competition and what you can do to gain an advantage.
You have a solid understanding of the core functionality required by your app's target audience.
Step 4. Create an Awesome UI/UX Design
Video chat app design is crucial, but don't go overboard. The secret lies in keeping things simple. That's why it's important for app users to act on their gut and not second-guess their every move. Being clear in terms of design and functionality is beneficial. The design should reflect both your intended audience and the purpose of your app.
Step 5. Select Vendors and Create The Project Specifications
Once you're ready, it's time to find a software development team to assist you bring your idea to life. You may either increase the size of your existing in-house development staff or employ a new team of developers from another country.
Step 6. Choose the Tech Stack
Building a video chat application may be done using various tools. You have the freedom to develop the program from the ground up, using components such as custom code or SaaS applications and third-party services with easily integrated APIs.
Keep in mind that the technology stack may change based on the features you decide to include in your app and the requirements established by the scope of your project.
To help you decide between using an existing API or creating a custom one, we've compiled the following table.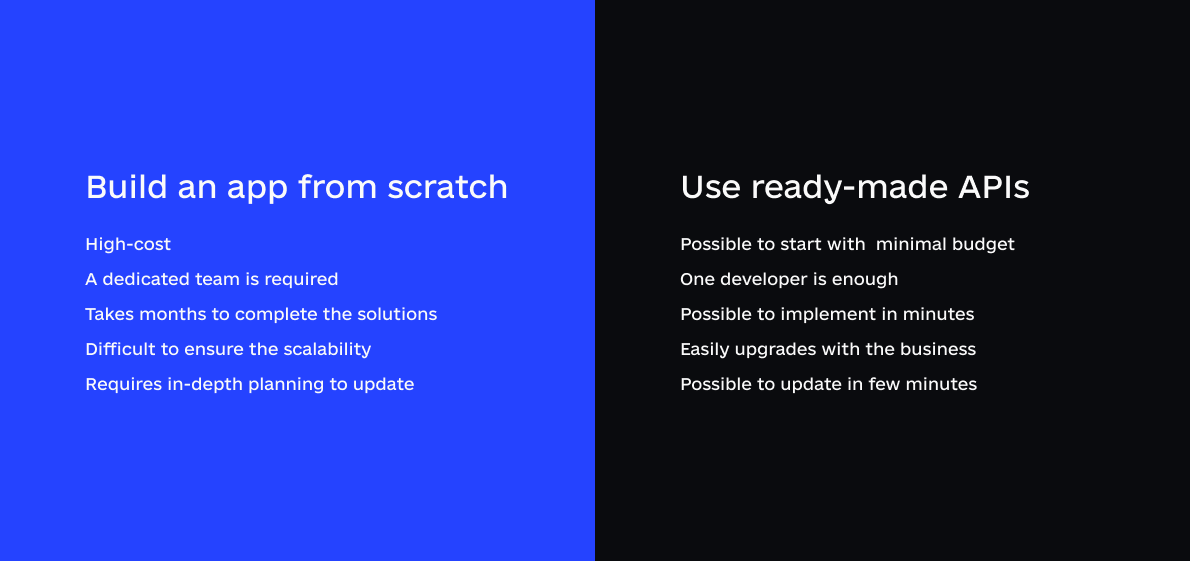 Step 7. Create a Minimum Viable Product
If you've gotten this far, you'll need to plan out how you'll create the app and the strategy you'll use to get it to market.  A few points should be clarified:
Reliable Backend Development
Here, the app's basic functionality and expected behavior are hammered out via the development process. Even though the app will be bursting at the seams with information, it must nonetheless perform reliably for users.
WebRTC Integration
WebRTC, a technology that enables real-time communication in desktop and mobile systems through a variety of application programming interfaces (APIs), is essential for video-based apps. WebRTC facilitates the use of peer-to-peer architectures by facilitating the transmission of media files between users directly, without the requirement for a central web server.
SDKs and APIs
To be developed, a video calling app heavily relies on software development SDKs and APIs. It's a win-win situation because they both promote a quick and easy development cycle.
Twilio – This aids in the provision of engagement APIs, which are necessary for coordinating processes and conversations.
The Vonage Video API – This makes it easier to connect to the session, publish streams to sessions, and subscribe to streams in sessions.
Wowza GoVoder SDK – Nothing beats the simplicity and adaptability of Wowza GoCoder SDK for end-to-end live-streaming, making it ideal for use in video conferences.
Step 8. Test
Check that your code works as it should. As a result, once the development process is complete, testing the application is critical. Verifying the code for errors and inconsistencies is critical for avoiding future issues and providing a fantastic customer experience.
Step 9. Launch and Support
The next step is to submit your software to app stores. It is also critical to invest time and money in gathering consumer feedback and acting on it to improve the customer experience.
Video Chat App Monetization Strategies
Because revenue is the driving force behind video chat development, we've outlined some strategies for creating a successful video chat app: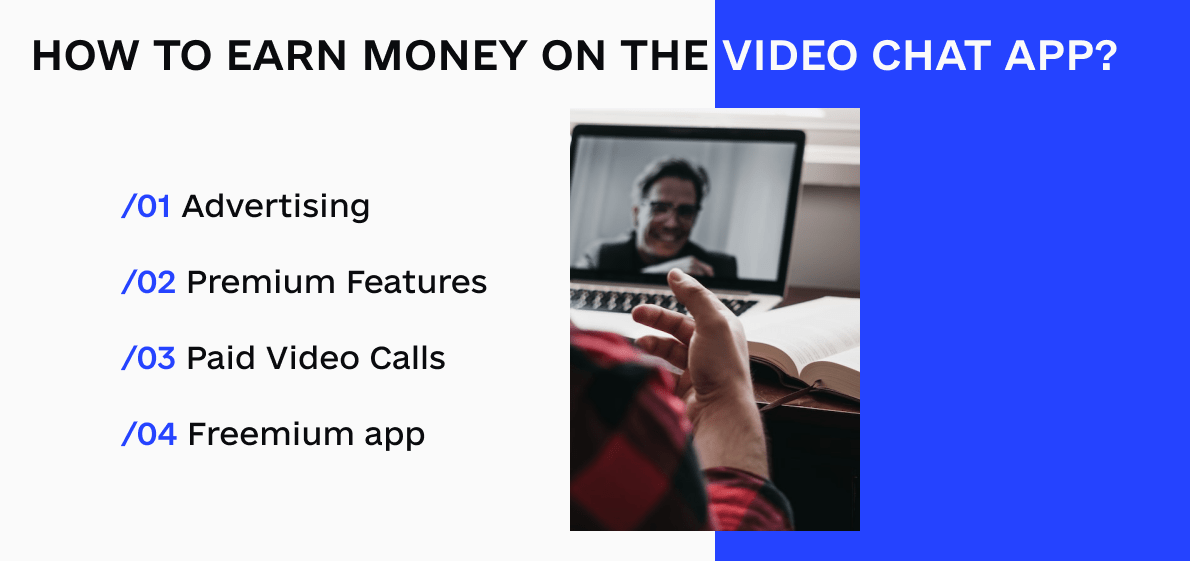 ✅Advertising
Businesses can reach their target demographic more effectively by using shared advertising. You can network with both new and established users here.
Among the models available are cost-per-click (CPC), cost-per-mile (CPM), and cost-per-action (CPA) (CPA).
Advertisers will pay you per click (CPC) whenever one of your users clicks on their advertisement.
Advertisers will pay you for every thousand times their ad is shown if you choose cost-per-thousand (CPM).
The cost-per-acquisition (CPA) model assumes that the advertiser will pay a set amount for each desired user activity, such as downloading an app or subscribing to a newsletter.
✅Premium Features
You can pay for extra features in apps such as stickers, avatar customization, and more. This improves the product for the consumer while also justifying the cost to your company.
✅Paid Video Calls
For a limited time, you may offer users the option to use video chats for free. Users must pay to use the app for an extended period of time.
✅Freemium app
To put it another way, the free version has limitations. The total number of participants, the duration of the call, and other details are all recorded. Those who upgrade to the paid version, on the other hand, have all limitations removed.
How Much Does It Cost to Make a Video Calling App?
The final cost of your video chatting software will be determined by a variety of factors. Here are some points to consider.
Your preferred app development platform, whether iOS, Android, or a hybrid of the two.
Regardless of who is on your team. A project manager, iOS developers, Android developers, backend developers, a business analyst, a UX/UI designer, and a QA engineer are the ideal team members.
Specific functionalities of your app.
Here is a table with a rough estimate:
Features
Approx development time, hours 
1. Project Start

Initial backlog preparation

4

Project Schedule Preparation

2

Staging environment setup

6

2. Development Section (Mobile)

Basic Features

Registration

40

User Profiles

70

Contact List

40

Text chat

60

Video and Voice Calls

100

Group Calls

80

User Status

40

Security

110

Schedule meetings

60

Сall Recording

90

Advanced Features

Data backup

60

Push Notifications

40

Screen and Desktop sharing

60

Background Changing

120

Background noise suppression 

100

Emojis and Stickers

40

3. Stabilization and Delivery

Prepare deployment docs

10

Prepare description docs

14

Prepare Android build

10

Prepare iOS build

10

4. Project Management

Backlog elaboration and maintenance

10

Planning meetings, review meetings

10

Project Management and communication

20

Quality Assurance, hours:
289
Total Development, hours:
1154
Project Management, hours:
52
Total: 
1495
We offer web development services starting at $34.50 per hour and extended team & staff augmentation $4800 monthly. Feel free to contact us via email: [email protected] or via the contact form to get an accurate estimate.
Which Technologies Should You Use?
If you're developing a video chat app from scratch, you'll need to select the technological stack, which includes the languages, frameworks, databases, and encryption protocols that will be used. When streaming protocols are the foundation of a video app's functionality, we believe it is critical to keep them in mind as you design your app.
We have compiled a list of the following technologies to assist you in making an informed decision:
API & SDK: Twilio, Vonage Video API, Wowza GoCoder.
Programming Languages: React Native.
Frameworks: Node.JS.
Databases: MySQLz
Cloud Platforms: Amazon EC2, and Amazon S3.
SaaS Solutions: Krisp, PubNub, and OpenTokRTC
Keep in mind that the technology stack may change depending on the features you decide to include in your app and the requirements established by the scope of your project.
Code & Care Expertise in Video  Calling App Development
We at Code & Care have a lot of experience creating robust and engaging calling apps that people enjoy. Here are three that have piqued the interest of the entire crew.
Moxie Girl
With features like goal-setting, group and one-on-one communication, and the ability to broadcast progress across several social media platforms, MoxieGirl is a powerful tool for empowering young women. The Code&Care crew implemented one-on-one and group video discussions with mentors through video call.
Node.js, React.js, and Redux.x were the main technologies we used.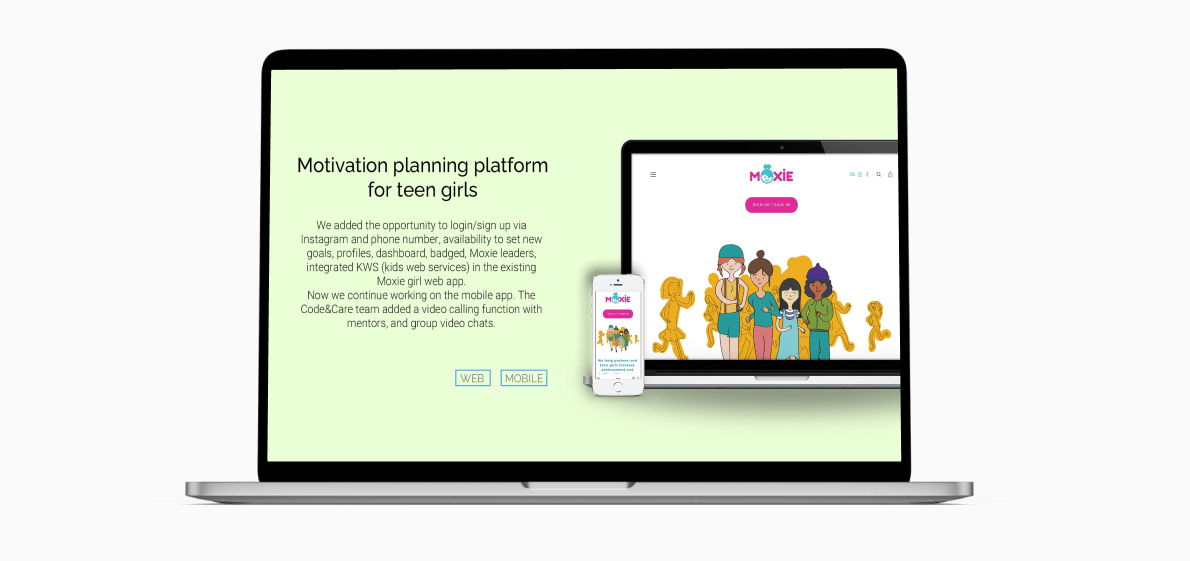 eCare Nordic AB
A healthcare video calling program, eCare Nordic AB makes it simple for patients to schedule appointments with physicians and speak with them through video or voice call. There is a focus on ease of use, simplicity, and intuitiveness, and data security is prioritized.
Ibis
The Ibis Ibis application is a web-based platform that facilitates communication between medical professionals and their patients. Each user is provided with a personalized dashboard inside the app where they may plan appointments, see the available schedule, participate in video calls, review bills, and make payments.
Need a quick project estimate? We offer free consultations to assist you in estimating the cost of your project with the assistance of a specialist. Contact us!
Read next: 
How to Create an E-commerce Website like Amazon and Flipkart?
How to Build a CRM Software: Types, Features, and Cost
How to Build a Marketplace Website That Users Will Love
Web Application Development Cost: The Full Guide On Your Project Price