Just join the conversation. This is the idea behind a new social startup called Clubhouse, which is ready to take advantage of flexible quarantine schedules for people.
In this article, we'll cover the Clubhouse's features, tech stack, development stages, ways of monetization, its cost, etc.
What is Clubhouse and how does it work?
Clubhouse is a voice-based social network where users can join rooms and interact with each other via voice chat. Created in the middle of May 2020, the service is the most discussed startup now. Here is a list of just a few celebrities that use Clubhouse: Oprah Winfrey, Michael Ovitz, Virgil Abloh, Kanye West, etc.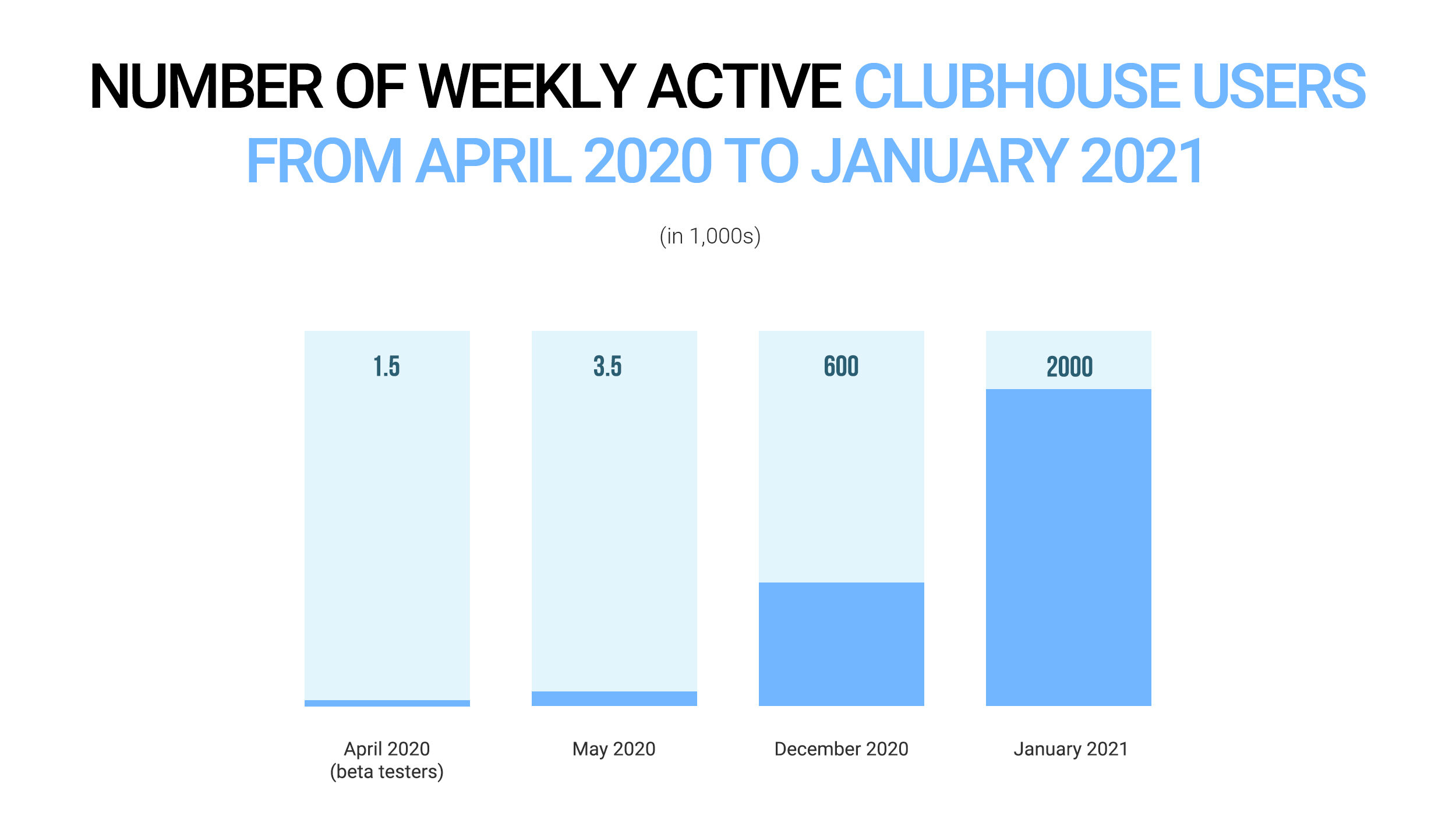 The first thing you should know about Clubhouse is the way it is possible to join. So, now Clubhouse is available only for iOS users. Moreover, you can't just download the app and sign up. You need the invitation from somebody who already has an account. For sure, there is a waiting list option. But nobody can guarantee that you'll ever get an account that way.
If you succeed to sign in, you will be presented with a list of rooms, as well as a list of users in each room. You can join the room by tapping on it or start your room. All customers are automatically muted after joining the room. But you can unmute yourself when you want it.
Is it worth investing in Clubhouse-like app development?
It was enough for Elon Musk to enter the chat, and the news about the invitation-only audio chat application went viral. The Clubhouse is now worth a shocking $1 billion, according to Pitchbook.
As written above, the app is only available for iOS, but an Android version is currently under development that will serve a large mobile user base. At the time of writing, Clubhouse had 2.4 million downloads, half of which occurred in January 2021 alone.
Aside from Elon Musk's influence, the rise in popularity of Clubhouse is a testament to the seemingly crowded social media app space still having opportunities. As long as the app is unique and user-friendly, it has a chance to stand out from the competition and attract a significant user base.
How to Make a Video Calling App Like Zoom and Google Hangouts?
What are the crucial features of a voice chat application?
If you are looking to create an application like Clubhouse, you might find the list of its basic features useful.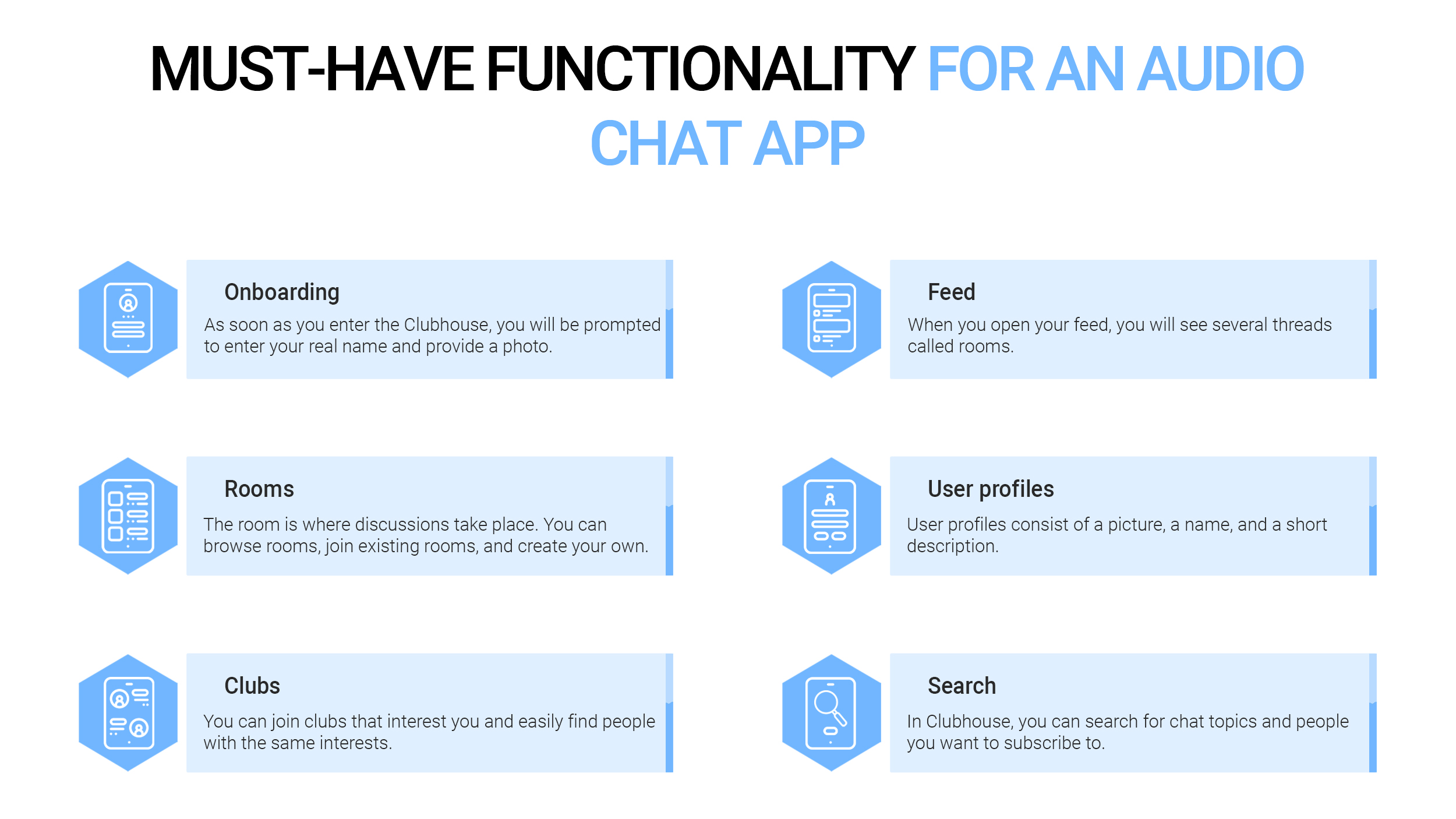 As soon as you enter the Clubhouse, you will be prompted to enter your real name and provide a photo. From the very beginning, you can join any room you like. By default, all new users are muted, but you can unmute yourself at any time.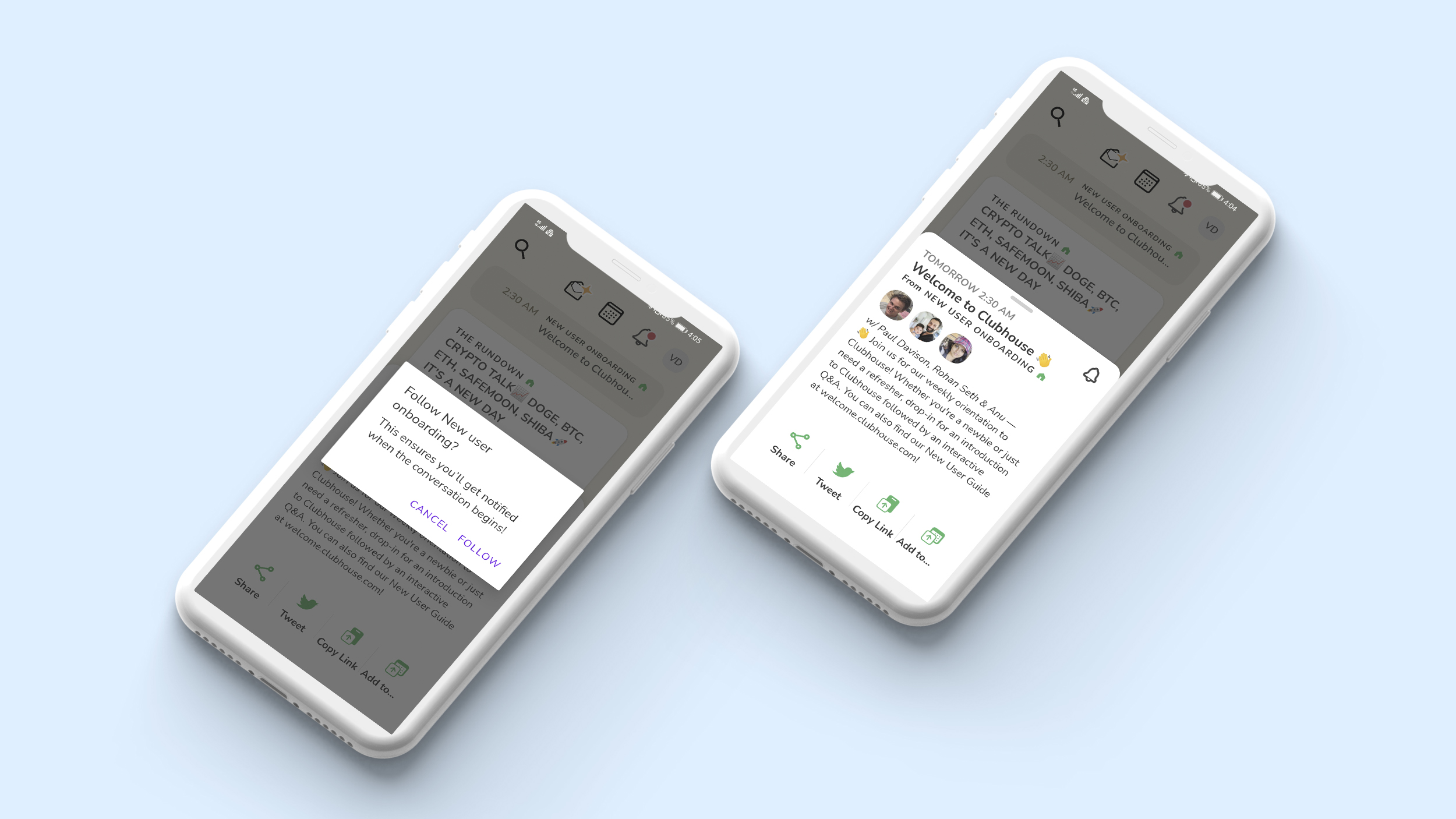 When you open your feed, you will see several threads called rooms. You can see the name of each room and all the people who are in it.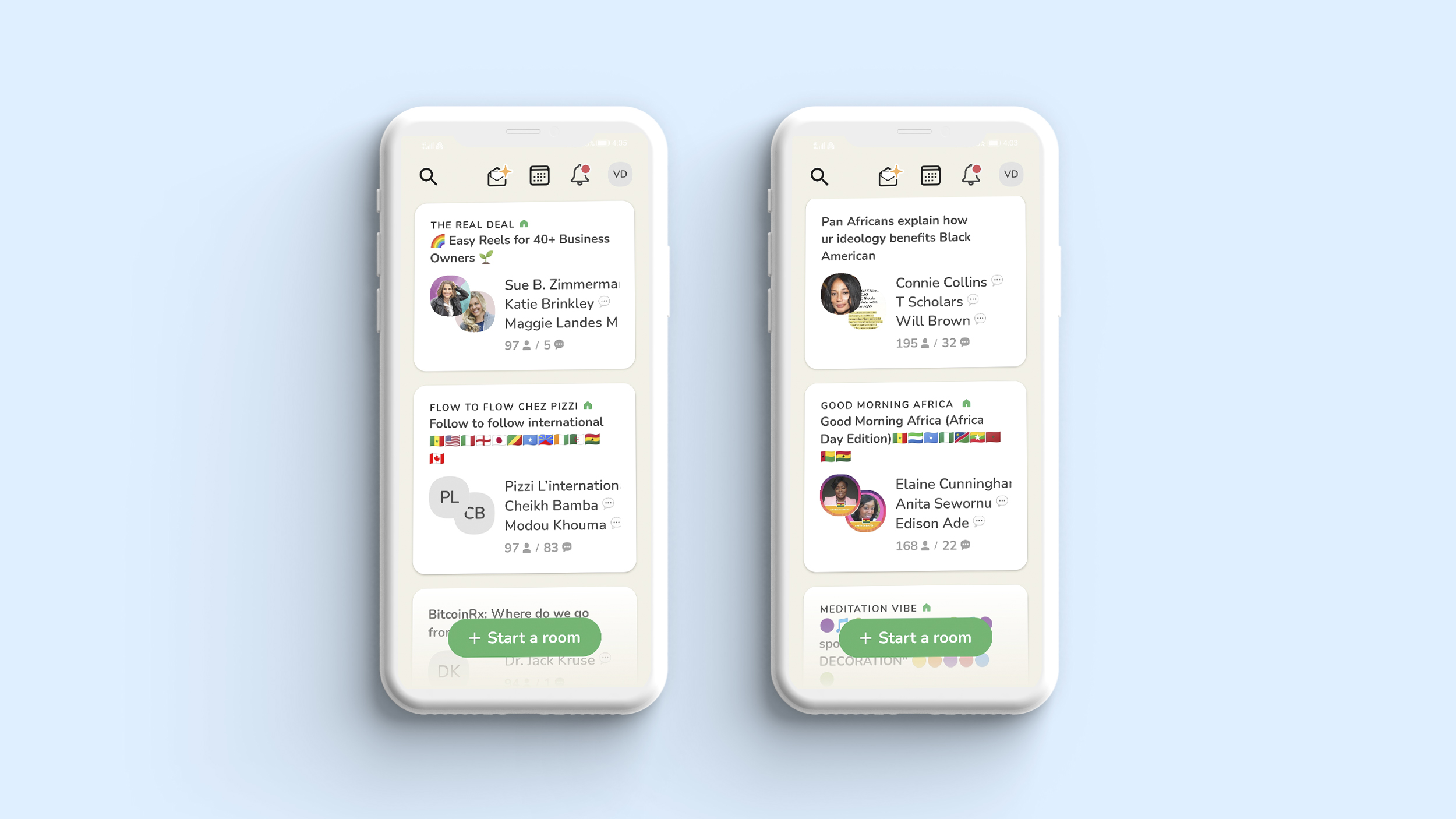 The room is where discussions take place. You can browse rooms, join existing rooms, and create your own. To do this, you need to click the "Start Room" button at the bottom of the screen. In a room, you can raise your hand to politely interrupt the speaker or ask to speak. If you want to leave the room, you can announce your exit or press the "Leave quietly" button. Besides, presenters can invite others to speak in the room.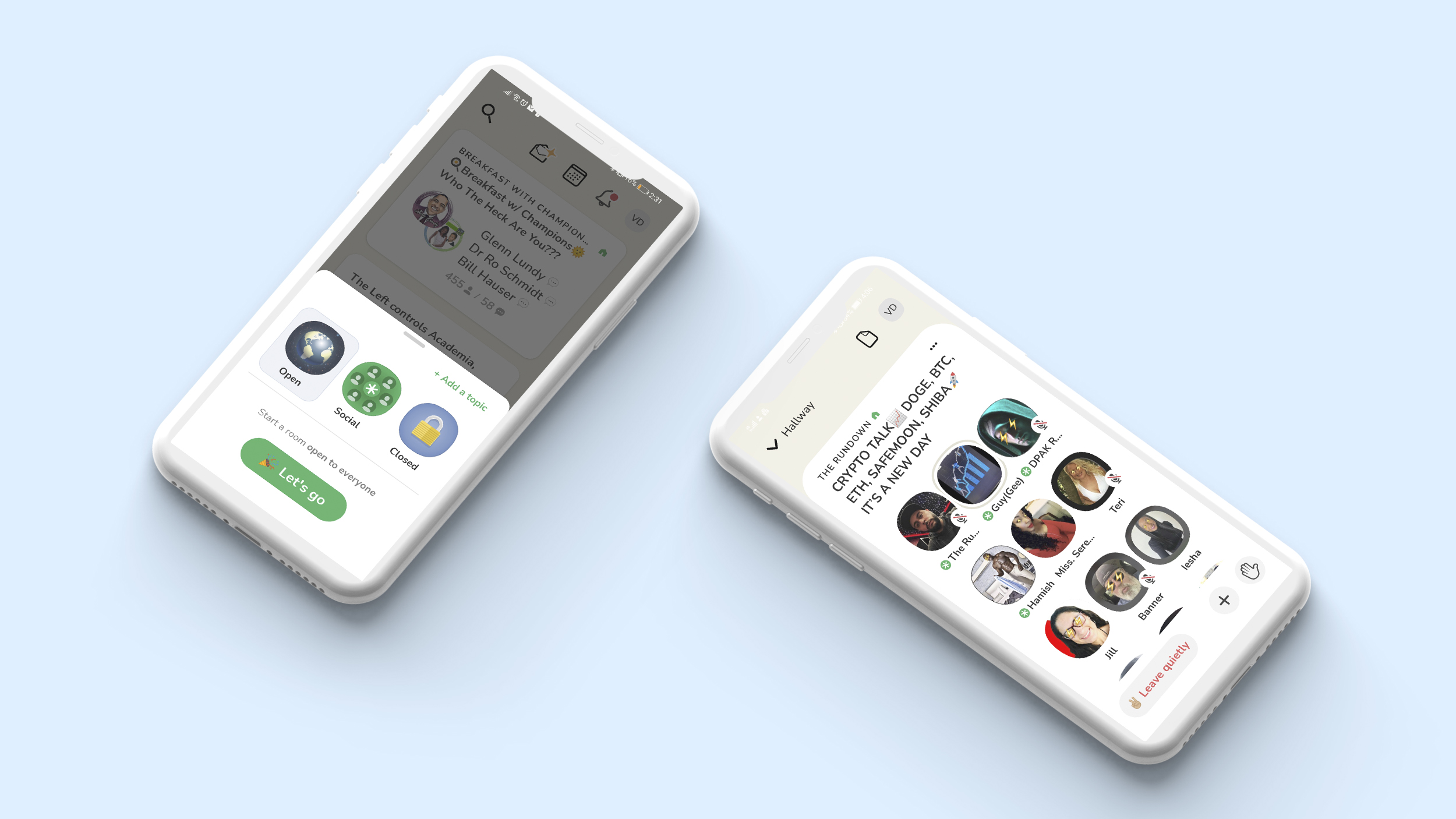 User profiles consist of a picture, a name, and a short description. When you are in a room, you can see who is talking at the moment and check this person's account. You can also see the clubs the user is a member of and see who invited the user to discussions and when.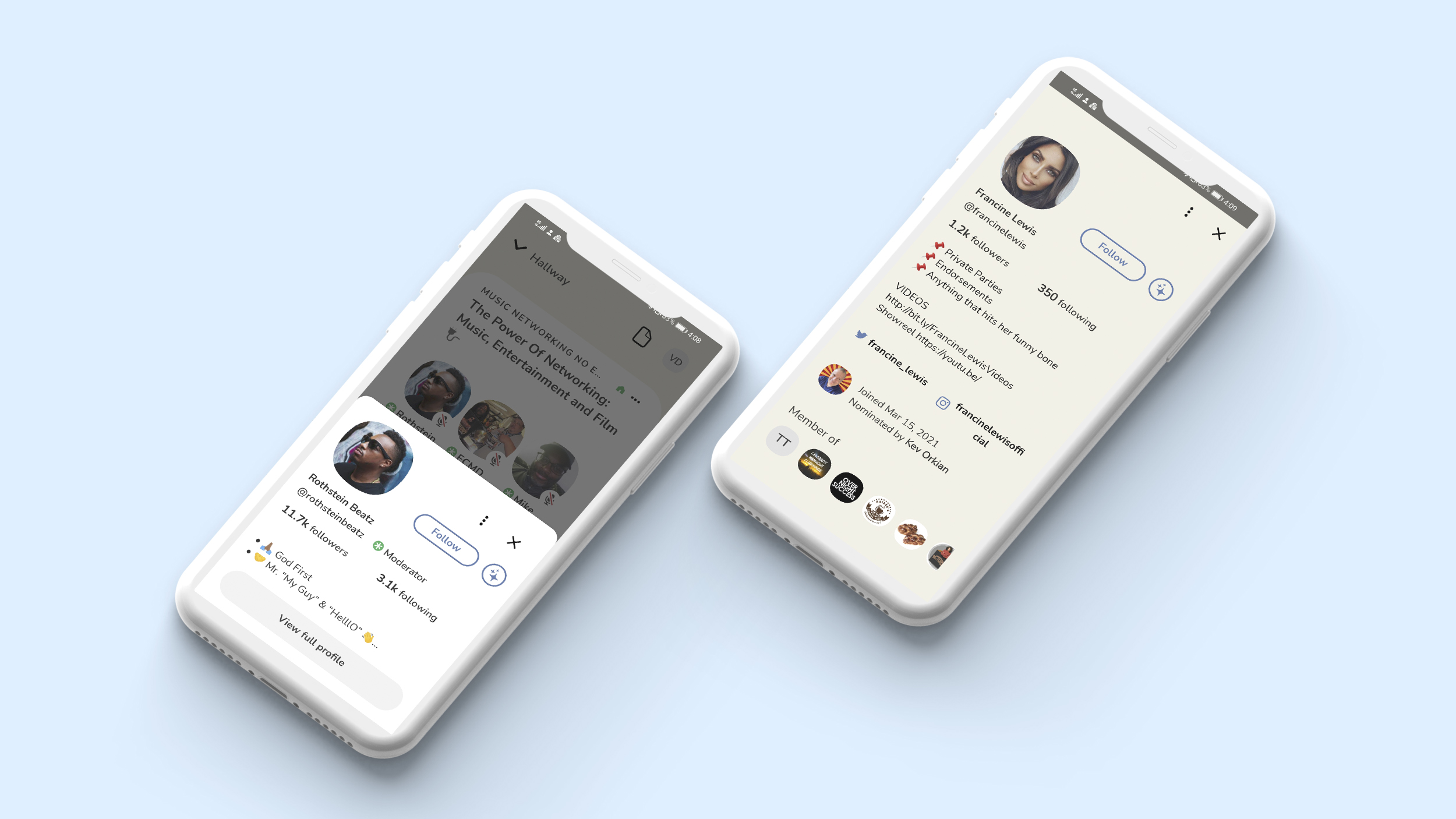 The club's function is similar to Facebook groups. You can join clubs that interest you and easily find people with the same interests. In these clubs, you can view and add members, suggest topics for discussion.
Search is a useful feature for any social media app with live content. In Clubhouse, you can search for chat topics and people you want to subscribe to.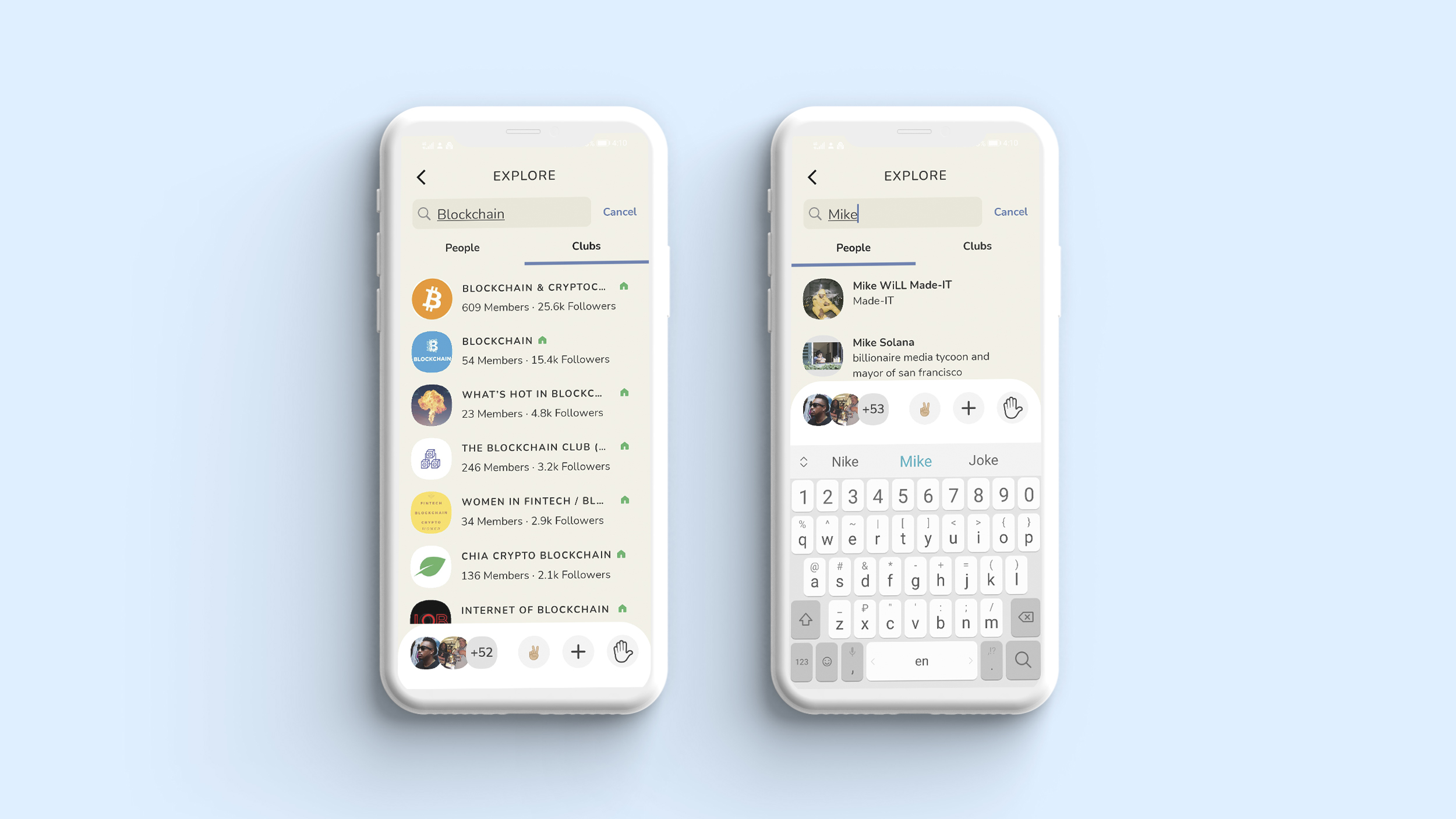 In this section, you can view upcoming discussions. The upcoming ones look like a schedule of events for you with conversation titles, start times, speakers, and short descriptions of topics. Clicking the bell icon displays a reminder to start a chat.
On the activity tab, you can see the history of interactions with your account, including those who followed you. You can find out who has just joined the app, which clubs, and scheduled events.
Like any other social media app, Clubhouse uses push notifications to improve the user experience and keep customers informed about events, such as when the person they follow opens a new room.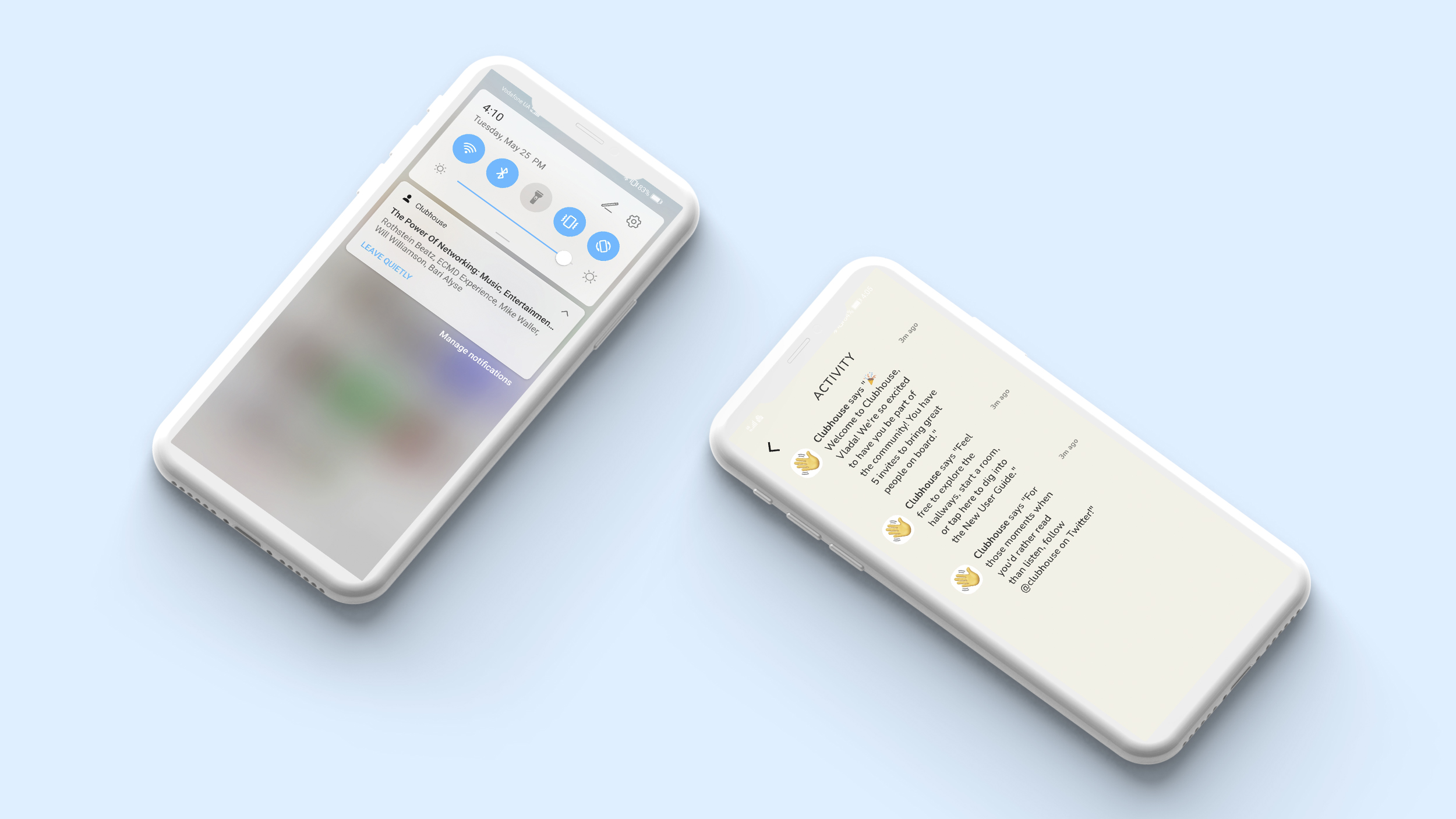 Now, when you are familiar with the core features of Clubhouse we can move on to the main stages of developing of mobile application like this.
How to build an app like Clubhouse?
Here are four stages to help you bring your drop-in audio chat app idea to life and streamline the development process.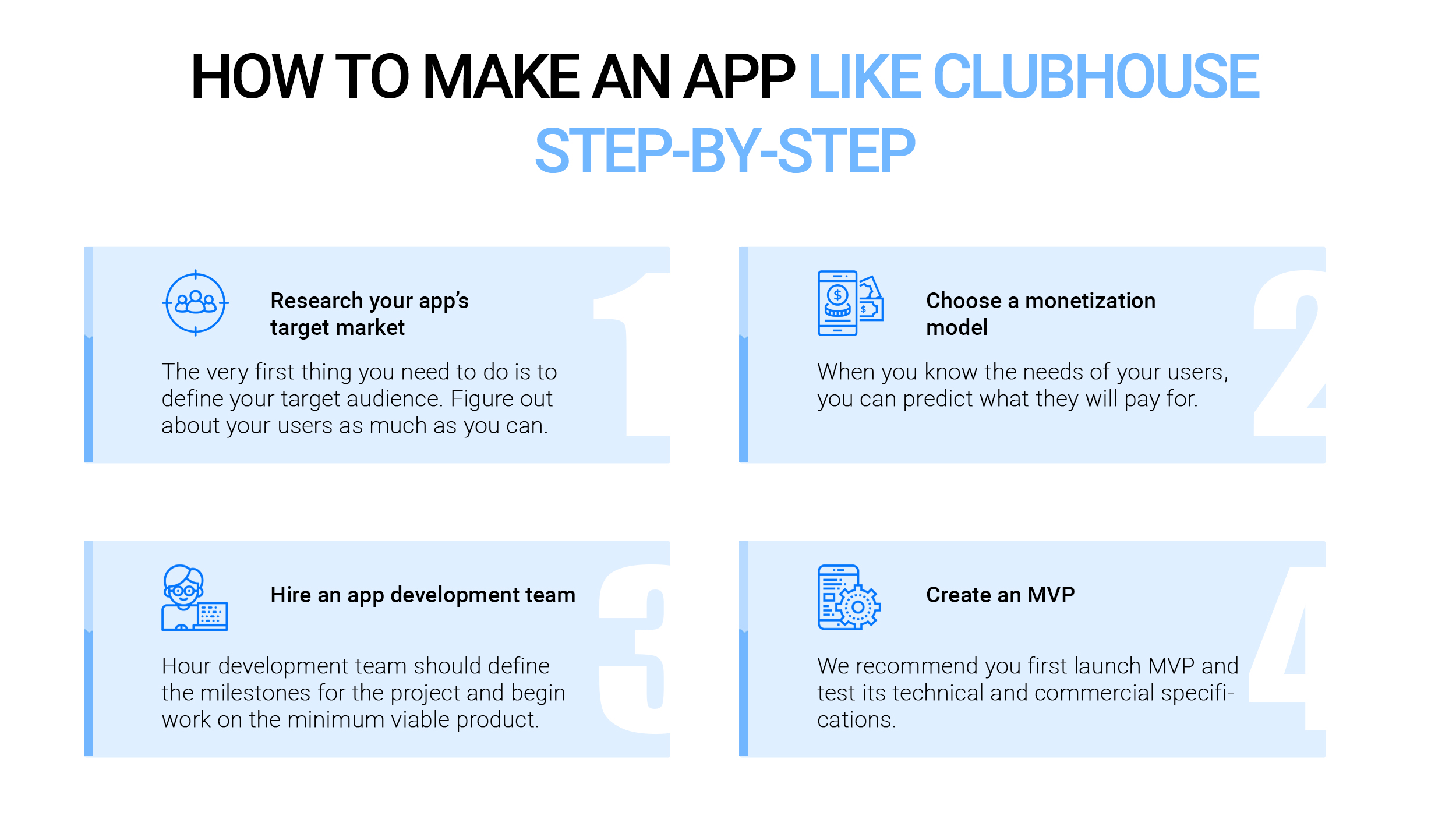 1. Research your app's target market
The very first thing you need to do is to define your target audience. Understanding your customers' needs makes the process of development easier and leads to a better final product. Figure out about your users as much as you can. You may start from demographics, determining the average age, behavioral patterns. And then move to more complicated factors. To create a brilliant application, we recommend building a portrait of an ideal user.
2. Choose a monetization model
The next step is to choose the right monetization model for your mobile app. Now, when you know the needs of your users, you can predict what they will pay for.
3. Hire an app development team
The third step is to find the development team you want to work with. The first stage of development will include business analysis, development of technical specifications, development cost estimation, and project planning. Before diving into the actual development of a drop-in voice chat application, you and your team should set up the application development workflow, select the core functionality for the application, and design the application concept. Then, your development team should define the milestones for the project and begin work on the minimum viable product.
Building a voice chat application is a big and complex project. We recommend you first launch MVP and test its technical and commercial specifications. Using an MVP approach, you can find out what users like and dislike about your application. Then you can consider their feedback and improve your app.
The next step is to get acquainted with the technology stack of the drop-in audio chat applications.
Technology stack
Communication corporations and developers have innovated ways to integrate their application programming interfaces (APIs) and have invented new ways of voice communication. Here is the list of voice APIs providers for Android, iOS, and web apps.
☑️CONTUS MirrorFly API
It is a customizable communication APIs and SDKs that allow companies to develop and integrate easy communication systems on Android, iOS, and web applications. The CONTUS  MirrorFly API has hundreds of scalable collaboration features that support more than billions of concurrent users.
☑️Pilvo API
It is a cloud-based communications platform that offers enterprise voice API solutions to create powerful voice call workflows and scale business communications. Plivo API and SDK can be instantly integrated into voice chat applications. Plivo has over 1,600 local operator networks providing reliable communications in over 195 countries.
☑️Vonage API
Vonage APIs enable enterprises to create best-in-class communications solutions. They are structured on a global platform and offer a complete set of communication channels and expert support.
☑️Twilio API
Twilio Programmable Voice API offers calling services all over the world. With the REST API, developers can integrate voice chat functionality that allows users to make, receive, track, and modify calls, along with the metadata of calls created.
☑️EnableX API
The EnableX API is a voice messaging platform that invites developers to embed high-quality, interactive, real-time voice calls into apps built for the web, iOS, and Android apps.
☑️MessageBird API
MessageBird is a communications platform as a service (CPaaS) company. MessageBird refines and simplifies the overly complex customer communication space. The MessageBird Voice Messaging API allows users to convert texts to voice messages for any country.
☑️Sinch API
Sinch is a company that builds all types of communication APIs. Sinch developer is a simple and effective way to add voice chat functionality. It allows developers to integrate voice messaging into any type of platform in minutes with a few lines of code.
☑️Siri API
The Siri API or SiriKit is a purported UI framework that allows developers to implement extensions to apps that integrate the chat system. Developers integrate voice assistant functionality into third-party apps they create and send voice messages when making calls or authenticated transactions.
☑️Google Cloud Speech API
Google Cloud Speech APIs make it easy to integrate Google speech recognition technologies into developer-built apps and messaging systems. With the Google Cloud Speech APIs, developers can translate sound to text and apply powerful neural network models.
☑️Viber API
Viber REST API is an open-source and free bot platform. Developers create bots in an ecosystem that allows users to exchange text, voice, and video messages with other Viber users available in contacts. The Viber REST API can also be used on third-party websites and social media feeds using deep linking.
How to make money with a voice chat app
There are the three most common monetization models for your to choose from: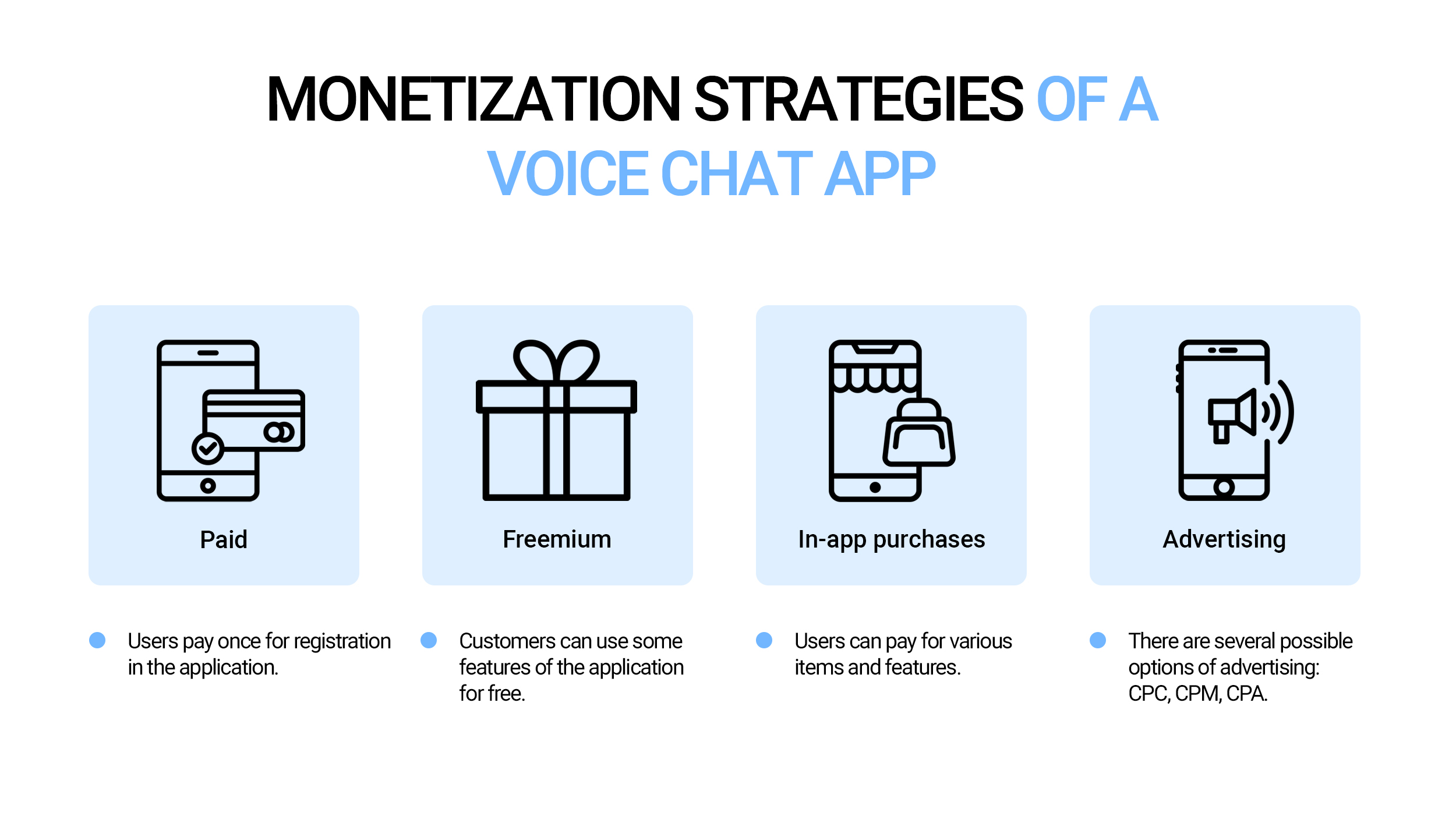 Paid
Users pay once for registration in the application.
Freemium
This model supposes that customers can use some features of the application for free. But to get access to extended functionality they have to pay to upgrade their accounts to premium.
In-app purchases
With in-app purchases, users can pay for various items and features.
Advertising
There are several possible options of advertising:
It supposes charging the advertisers every time a user interacts with their ad.
Charge advertisers for every 1,000 ad impressions in your application.
Charge advertisers only in case users perform a targeted action, such as installing an application or subscribing to a newsletter.
How much does it cost to build an app like Clubhouse?
The cost of voice chat apps depends on a huge number of factors. Among them are application features, the complexity of the design, the hourly rate of your development team, project size, technology stack, number of the team manager on the project, time frame.
The crucial factor that influences a final price is the hourly rate of developers. The hourly rate in turn depends on the team location.
Scope
Approx time, hours
1. Project Start
Initial backlog preparation
6
Project Schedule Preparation
6
Staging environment setup (AWS EC2 + CI, App Center)
25
2. Development Section (Back-end)
Initialize backend and connect database to the server
6
DB design: decomposing requirements into appropriate models
17
Users management
25
Registration endpoints & functionality
16
Login via invitation code
24
Log Out
4
Notifications logic
33
Rooms management
16
Realtime connection
17
3. Development Section (Front-end)
Base react native app setup
4
Implement in-app routing
13
Add redux infrastructure – setup store, define actions/reducers/sagas for required functionality
15
Preparing app assets: mockup slicing, preparing icons, fonts, images, colors etc.
11
Sign In screen
6
Send an invitation to a friend page
13
All rooms page
16
Room page (Agora SDK)
51
Invite friend to room
6
Club rules
6
Notifications page
21
My profile page
16
Start room
13
User profile page
8
Sign up page
6
4. Stabilization and Delivery
Prepare deployment docs
6
Prepare description docs (FE + API docs)
9
Production deployment (AWS EC2 + CI, App store)
25
5. Project management
Backlog elaboration and maintenance
25
Planning meetings, review meetings
30
Project Management and communication
30
Quality Assurance, hours:
101
Total Development, hours:
403
Project Management, hours:
122
Total:
626
I.e., the application that costs $40,000 to create in the US would cost about $10,000-$20,000 if it was developed in Ukraine.
The main pitfalls in the audio chat app development
Even though the fact that Clubhouse is called the most promising startup for now the audio chat applications have some issues. Here is a list of the main of them.
✓Audio is difficult to find
The text is easy to search. Audio is difficult. It needs to be decrypted and then saved. If someone said something interesting about hamburgers in the audio chat, there is no easy way to find it.
✓Audio conversations are ephemeral
Once the conversation is finished, it is gone. This can be both an advantage and a disadvantage. But if you want to mention a point, you cannot accurately quote it. It just doesn't exist. This will support some types of conversations but will be problematic for others.
✓Content moderation
Since it is difficult to transcribe and search for offensive, harmful or dangerous speech in audio recordings, it will be difficult to moderate them. You can ban someone who directly threatens the specified person or group with violence, but others in this room can still hear it and it will still affect those people.
The bottom line
Clubhouse has proven the fact that space for new social media apps still exists, especially with lifestyle changes during the pandemic. The key to success is creating a unique, focused, and targeted solution.
Code&Care will help you create a voice chat application like Clubhouse. Contact us via email: [email protected]. And we will bring your ideas to life!
Related articles:
How to make a location-based app tailored exactly to your needs
Food delivery app development: tips to save your budget and nerves
Live Video Streaming App Development: A Business Perspective
Progressive web application development: Cost, Tech Stack, Advantages