Are you currently running a restaurant business using a food delivery app? If not, then you can seriously consider this question. According to Business Insider, the mobile food delivery business was one of the fastest-growing industries in 2020. If you want a piece of this market, then it's time to go into a trend and to think about food delivery app development.
In this article, we are going to discuss the concept of online food ordering, the main types of food delivery applications, their features, recommended technical stack, etc. So, let's move on to the details.
Why you should create your food delivery app
With dozens of successful examples of food delivery applications, the market seems to be crowded. Nevertheless, there is enough space for new promising names, especially during the COVID-19 pandemic. Statistics only confirm it. Here is a list of interesting numbers: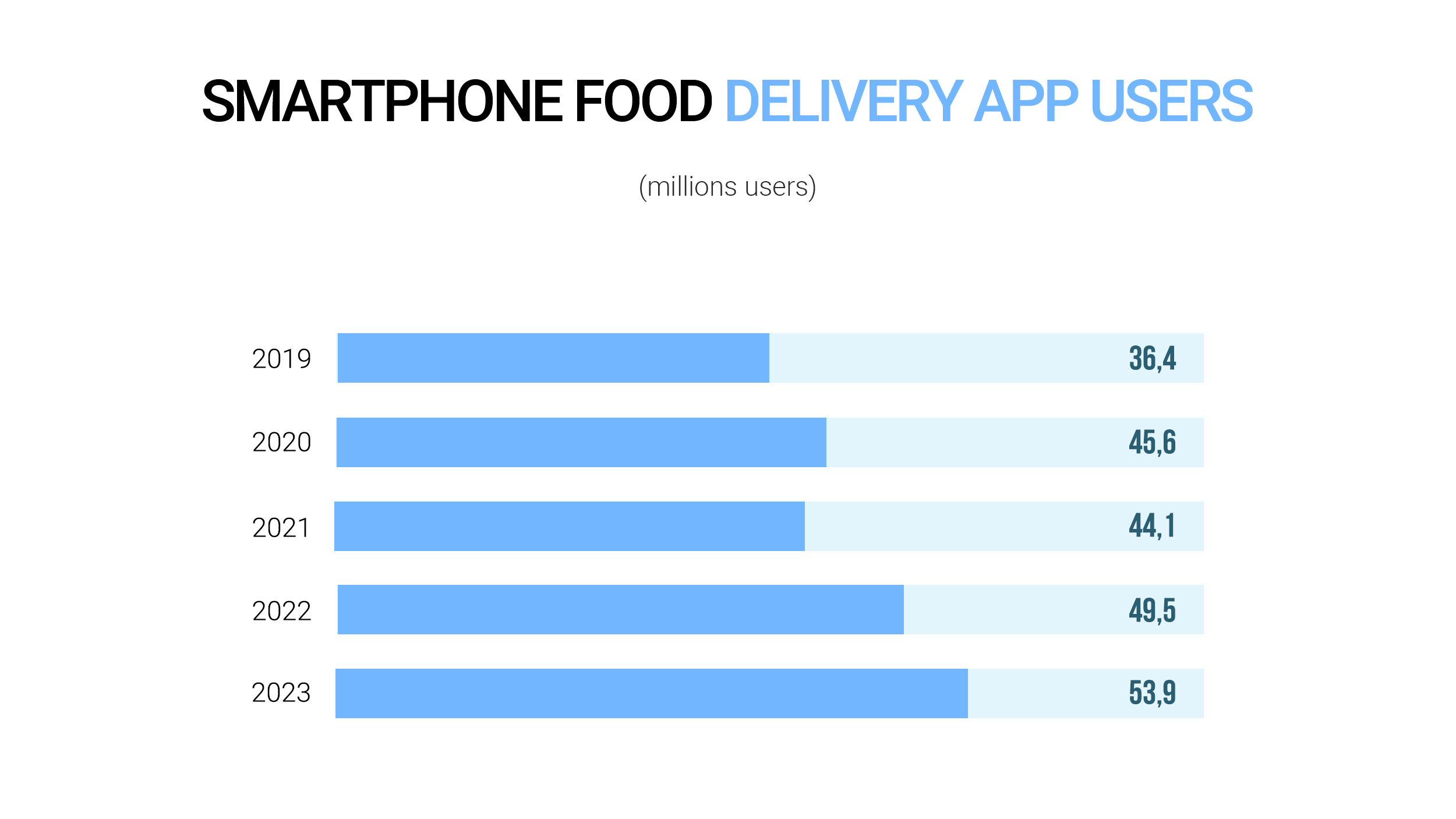 Are you interested? So, let's move on to discussing the biggest players in the market.
Who are the biggest players in the market?
Several leaders share the largest market segment. If you decide to invest in developing a food ordering app, you will have to compete with these companies.
Therefore, let's take a look at the main market players.
UberEats
When it comes to the most popular food delivery apps, UberEats should be mentioned. This globally renowned app holds 27% of the US food delivery app market and offers services in over 500 cities in 24 countries.
UberEats Revenue in 2020 — $2,19 billion.
Postmates
Postmates is an American company that offers delivery of meals and other goods prepared from restaurants. As of February 2019, Postmates operates in 2,940 US cities.
Postmates Revenue in 2020 — $1.2 billion.
Instacart
Instacart is an American company that operates a grocery delivery and pick-up service in the United States and Canada.
Instacart Revenue in 2019 — $3,000 million.
GrubHub
The app is designed to help customers get their favorite food from local restaurants. GrubHub has Android and iOS apps and is available in London and over 3,200 US cities.
GrubHub Revenue in 2019 — $1,31 billion.
Domino's Pizza
The application provides services all over the world, in the countries where its restaurants are located. Domino's Pizza is a great example of how to properly design a branded pizza delivery application.
Domino's Pizza Revenue in 2019 — 3,618 billion.
The listed applications will help you to understand the main tendencies in the market and determine the functions that make up these applications.
What are the main types of food delivery apps?
Currently, there are three basic business models of food delivery. Let us get into the details of each one of them.
☑️
Order Only Model
In this type, the food delivery application acts as a platform between customers and restaurants. The app allows users or customers to place orders at a restaurant of their choice. Restaurants benefit from these platforms as they can reach a wider audience without having to run promotions or advertisements for their restaurant anywhere. After that, customers or users of the application can easily place an order from their favorite restaurant or a new restaurant that they see on the platform.
☑️Order & delivery model
This model offers great ease and support for food startups that don't have the resources or bandwidth to have their delivery system. From a restaurant standpoint, this model brings many benefits. The adaptation of this model eliminates the need to maintain personnel, vehicles, or manage and deliver deliveries.
☑️Fully integrated model
It's a new type of food delivery model. The app owner will take care of everything here, from preparation to delivery. Most of these establishments have limited menus but offer customers the convenience of preparing and delivering all their food on their doorstep without having to worry about a thing. These businesses have their kitchens, or they partner with a chef to deliver food hot or frozen, ready to be heated and served.
According to your needs, you may choose the most suitable model.
Features of food delivery app
It's not enough to create a food delivery app. You have to develop an entire ecosystem for the platform to work for all parties.
A typical food delivery application has four parts:
✓Client application
Users can browse menus and place orders via iOS or Android apps.
✓Restaurant application
Restaurants can view and manage orders.
✓Courier application
Couriers can see the order status and shipping address.
✓Admin panel
The product owner and team can manage the entire platform. They can add and remove restaurants, process payments, and more.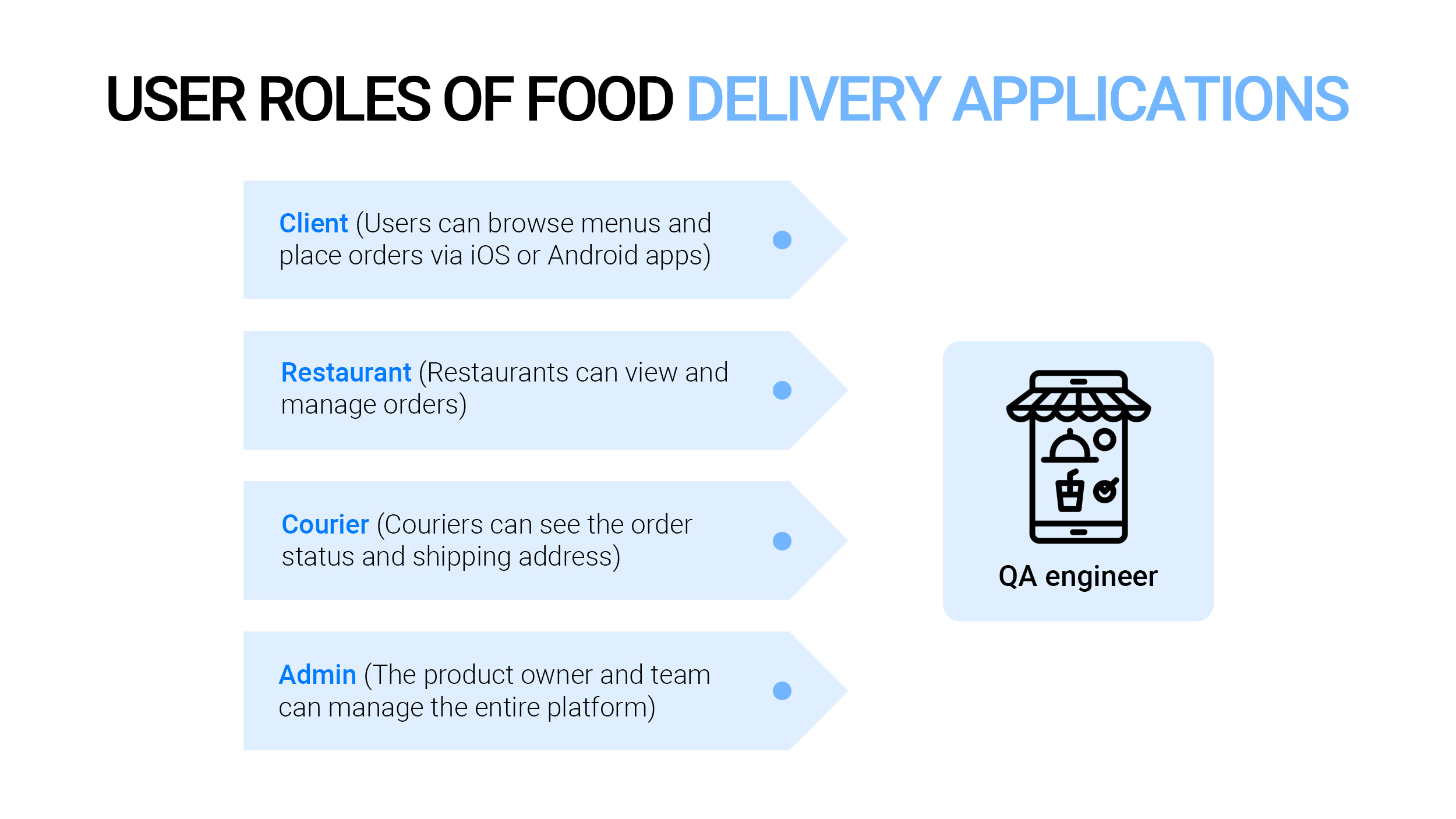 For sure, each part requires different features. Let's move on and overview the most important ones.
Client application
The client application is the most important part of the project. You need to create a user-friendly UI/UX design to attract more users. Of course, application functions may differ for different applications. But there is a set of MVP functions similar to each application for delivery on request.
It is best to offer multiple registration options to make the process quick and convenient. It is recommended to integrate registration via social networks such as Facebook or Google. Also, you need to add email and password, phone number, and password for registration. It also requires the "Forget Password" option. Developers need to use Facebook SDK and Google SDK.
Users should be able to search for nearby restaurants using geolocation. It's also a good idea to add filters to make the search process more convenient.

Allow customers to track the courier's location in real-time. You can integrate this functionality through the Google Location API for Android and the Location Framework for iOS.
By putting food on the card, the buyer must pay for the order. To do this, your development team will need to integrate various payment methods.
They help customers understand the status of an order: accepted, delivered, and arrived. Your team can use Amazon SNS and Firebase Cloud Messaging to integrate push notifications.

Users need to leave their feedback to improve the service. You can provide feedback using Microsoft Azure and AWS.
Restaurant application
This solution allows restaurants to manage incoming orders. Typically a web solution is created, not a mobile app. Due to it, restaurant employees can take orders and notify couriers when they are ready.
On-demand application developers should integrate the following features:
For the service to be secure, every employee must have an account. You can implement the registration function using the Facebook SDK or Google SDK.
Using the restaurant app, employees can edit the menu to keep it up to date.
Employees should have a variety of management options, such as accepting orders and changing their status.
Courier application
The courier application should be simple and functional. Couriers use apps on the go, so it's best to only offer a mobile version. You need to add these functions:
Couriers have to register to use the app. They should have options similar to the client application: social media, email, and password, phone number, and password.
You need to offer couriers convenient maps with the fastest routes. To integrate this functionality, your team can use Google Maps Platform for Android and Location Framework for iOS.

Couriers need to see all the information about orders: restaurant address, delivery address, delivery time, and so on.
Admin panel
An admin panel is an essential tool for managing your business. Here are some must-have features:
Secure login keeps your data safe and secure.
The admin can add restaurants to the service. It is also possible to delete users.
Using this feature, you can track important KPIs like order quantities, delivery times, revenue, and more.
This feature allows you to charge restaurants and users. Also, you can change the amount using this function.
We have covered the most common features. But during the mobile application development, it may turn out that you want to add something more.
Recommended tech stack
Here is a list of technologies you can consider to improve the overall functionality of the application:
| | | |
| --- | --- | --- |
| Module name | Possible options | Recommendations |
| Backend services | Building our service using one of these languages (Java, Node.js, Python) | SpringBoot/Python Django |
| Message Broker/Queue | Kafka, Google pub sub, RabbitMQ, Amazon Kinesis, ActiveMQ | Kafka |
| Authentification/Authorization | Own Service, Amazon Cognito service, or Radius single sign or service | SpringBoot/Python Django |
| Database SQL | MySQL, PgSQL, Amazon RDS, Amazon Aurora | Amazon Aurora |
| Database NoSQL | Cassandra, ElasticSearch, MongoDB, HBase | Elastic Search |
| UI | React JS, Angular JS | React JS |
| Mobile App | Android, iOS, Hybrid, native apps | Hybrid |
| Notification Service | Build your service, Amazon SES | Amazon SES |
APIs
Google Places API
Foursquare API
Uber Eats API
GrubHub API
MapBox API
Freshchat API
Onesignal API
Waze Navigational API
TomTom's NavApp And MapLibrary APIs
The most important option you should consider is ensuring the speed and convenience of a food delivery app. That's why it is so crucial to choose the right mix of technologies.
How to create a food delivery app step-by-step
When creating an app for ordering food, you need to follow several steps: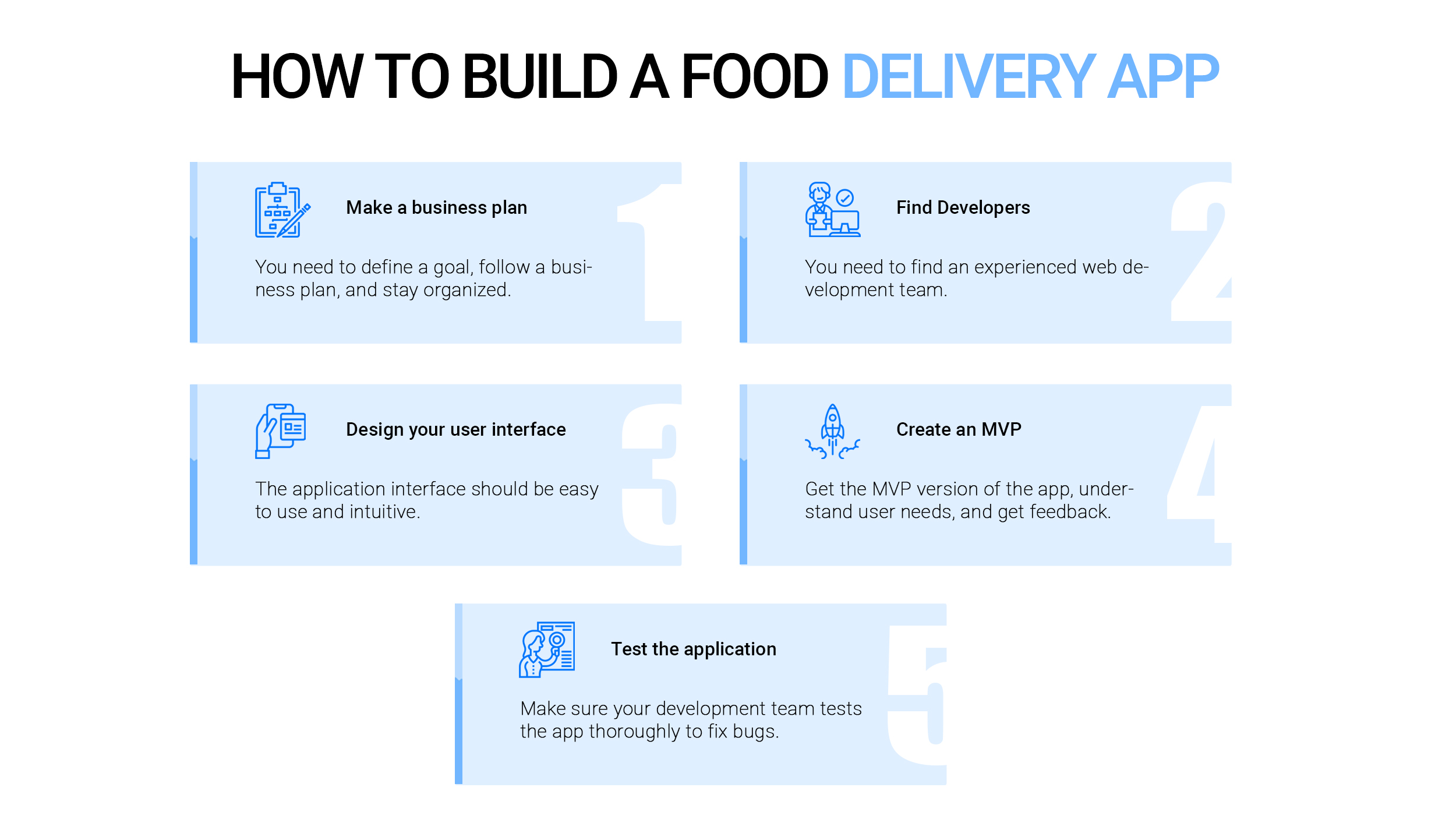 Step #1: Make a business plan
You need to define a goal, follow a business plan, and stay organized.
Step #2: Find Developers
You need to find an experienced web development team. You can create your team in-house or hire a dedicated team.
Step #3: Design your user interface.
The application interface should be easy to use and intuitive. So don't forget to pay attention to your UI/UX design.
Step #4: Create an MVP
Get the MVP version of the app, understand user needs, and get feedback.
Step #5: Test the application
Before running the app, make sure your development team tests the app thoroughly to fix bugs.
How to monetize your app?
Here is a list of the most common ways to monetize your food delivery application.
☑️Commission
This is one of the best methods. Different food aggregators follow the same concept of generating income. As a food aggregator, you can receive a reward from a restaurant partner for every order you receive.
☑️Delivery charge
You can increase or decrease the shipping cost depending on the day/night delivery.
☑️Surge Pricing
Various top food delivery startups like Uber Eats, DoorDash, Grubhub, and Zomato charge higher prices from customers during festivals and whenever demand is high. By following the same rule, you can also charge customers a premium when demand is extremely high.
☑️Advertisement
Advertising has always been the best way to generate huge income. You can generate additional income by asking restaurant partners to lead the app or by publishing restaurant ads. What's more, you can also use Google Adsense to generate income.
☑️Brand Marketing
Uber can partner with leading brands for advertising collaboration. However, this will be needed much later.
Tips you should keep in mind
We've also put together some helpful tips for you to avoid common mistakes. Read on!
Make the market analysis
Before you create an app like UberEats, you must define your target audience and analyze your competitors. I.e., your competitors can be targeted busy people who are interested in healthy eating, or a younger audience by attracting them to fast food.
Grow the user base
Start simple: run your app in a small area to test your business concept and get early adopters quickly. Use different advertising channels: PR technologies, social media, inbound marketing, referral programs, and many others. Collaborate: Small and large retailers have already acquired a certain audience, so don't be afraid to partner with them to advertise your growing business.
Retain clients
Provide impeccable customer support. Make sure you respond quickly, helpful, and friendly to your users' concerns. Launch special offers: discounts, gifts, and vouchers are always popular with users.
Food delivery app development cost
The cost of developing a food delivery app like UberEats depends on the features you want to add to your on-demand food delivery mobile app and the resources it will take to move your app from idea to launch will come out anywhere from $30,000 to $40,000.
The range of costs likely to be charged by a food delivery mobile app company includes everything: mobile app design, Android and iOS version development of the app, app testing, and launching the app in the market.
If there is a need to create a web application for restaurants, the range can be increased to 50-60 thousand dollars.
So we have covered everything you need to know currently to enter the on-demand food delivery app market and estimate the possible cost of an online food delivery app. Now is the time to prepare you for the future.
Knowing what lies ahead of the food delivery app market, you'll be in a better position to speak to your preferred mobile app development agency on request to scale your app to fit the food delivery future.
How to Build a Rideshare App: Types, Features, Cost and Challenges
How to save your budget?
For sure, the best advice is to find a well-dedicated team with experience in food delivery apps development. But some more hints will help you to save the budget. Here is a list of them:
Start with the MVP version. It will help you assess the relevance of the application among the target audience — a minimum of killer features, only a laconic design, and useful functionality.
Spend time and money on business intelligence. This step will help you to choose the right strategy for the development of the application, sweep aside non-viable ideas and save you money in the long term (especially during the support phase).
Make as little design as possible. If the application has simple functionality, make it cross-platform. You can start developing complex applications from one platform — iOS or Android. When the conversion rates pay off, feel free to go for the second one.
Instead of developing common functionality from scratch, use SaaS services and libraries.
If you already have a website and a free web developer, create a PWA instead of an app. A PWA site is built on technologies that allow it to work as a mobile application: be native, send push notifications, quickly respond to user requests.
As you can see, there are plenty of ways to save your money.
Conclusion
The mobile food ordering business is a fast-growing trend that any restaurant/cafe cannot ignore. As the technologies behind this continue to evolve (internet and mobile), the strategic value of food delivery apps like UberEats will undoubtedly grow even higher. In doing so, every element of the development of such an application must be considered and the needs of all parties involved must be properly considered.
Looking for a reliable partner for your next project? Get In touch with the Code&Care team today!
Read next: 
How to Make a Video Calling App Like Zoom and Google Hangouts?
All-in-One Guide to Telemedicine App Development
How to make a location-based app tailored exactly to your needs
Progressive web application development: Cost, Tech Stack, Advantages