Geolocation apps are the hottest tendency now. The fame of such applications as Tinder, Uber, Google Maps, or TripAdvisor is the confirmation of this statement. Moreover, the forecasts say that the geolocation services market will reach $157.34 billion by 2026.
Why did they earn the love of users? Well, geolocation expands the abilities of apps improving user experience.
So, let's take a detailed look at location-based mobile app development.
What does a location-based application mean?
Location-based applications concentrate services around the user's location as defined by GPS, Cell ID, Beacon, or similar technologies.
Most of these technologies serve as a means of navigation, allowing the user to find the desired places, the way to those places, or a specific person. But there are also geosocial, gaming, commercial applications, and many other types that make the most of geolocation.
What are the main types of location-based apps?
Statistics show that leading geolocation app categories for users in the United States are weather (65%), social networks (38%), travel (23%), photo&video (18%), news (16%).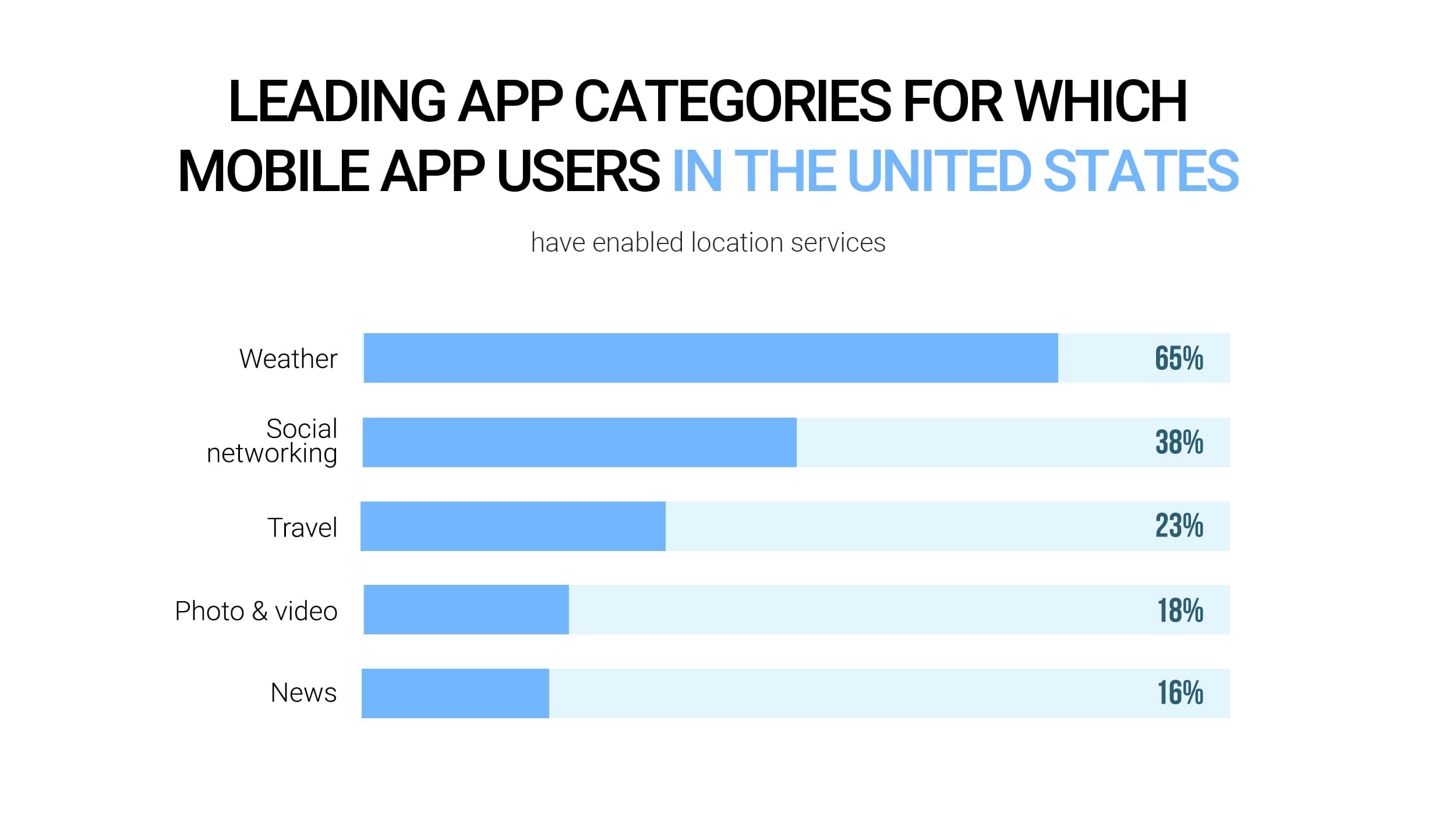 The diverse nature and scope of geolocation applications ensured that they can easily provide better services to consumers. It gives users the opportunity to use them in real-time and share impressions.
Let's overview the most popular types of geolocation apps.
☑️Mapping apps
Mapping and navigation apps are the evident instance of using the geolocation feature. They projected to help people not get lost in an unfamiliar area.
☑️Travel apps
Applications that are built to buy tickets, book a hotel room, or find a nice place to visit nearby are still leading in the app market. They are really helpful to plan travels or business trips.
☑️E-commerce apps
The geolocation feature in e-commerce apps helps customers to track the package and influences in a positive way on the users' experience. For big companies such as eBay and Amazon, this feature noticeably upgrades the logistics quality.
☑️Social apps
Social network users tag location on photos and video to share information with friends. Usually, the location-related tags include the address of a hotel, a café, a park, etc.
☑️Health and fitness apps
Fitness apps are at the peak of popularity. They can track all physical activities like jogging, cycling, playing football, and so on. Also, they give the opportunity to share sports achievements on social networks, plan workouts, and analyze daily activities.

☑️On-demand apps
Coordinates detection is a convenient feature for a number of mobile apps with GPS geolocation. Due to them, you can order the delivery of food, flowers, or call a taxi.

☑️Dating applications
The dating applications use the geolocation configuration to help people find their potential partners nearby.
Mobile applications are not limited by this list. Analyze all the users' daily activities related to their coordinates and try to come up with the idea to simplify them using location-based services.
Most popular geolocation apps
Thousands of applications appear every year. But only a few become really widespread. Here the list of ten great apps that people love:
Google Maps — navigation tool;
Uber — transportation on-demand;
Instagram — social network app;
Snapchat — chat app;
Tripadvisor — travel app;
Runtastic — fitness tracker;
Tinder — dating app;
Yelp — restaurants' reviewer;
Family Locator — GPS tracker;
Pokémon Go — a mobile game.
All of the applications mentioned above are probably familiar to you. Now we are going to talk a bit about less popular but Interesting and impressive location-based services.

Scope
Scope allows you to see what is happening in different parts of the world at a current moment. Everything works easily. You choose a place, find a user there and send a request: "Show what's going on!". In response, you get a short video panorama.
LastQuake
LastQuake has been developed by seismologists, it's aimed to alert the public and collect evidence in real-time.
WherezMoney
WherezMoney is designed to improve financial management, budget control, cost management, and cost geolocation. It allows you to trace where you have spent your money.
So, as you can see there are plenty of ideas for the development of location-based applications.
Why invest in location-based mobile app development?
The main reason why geolocation apps became a trend is their commercial benefits. Here is a list of the most crucial of them: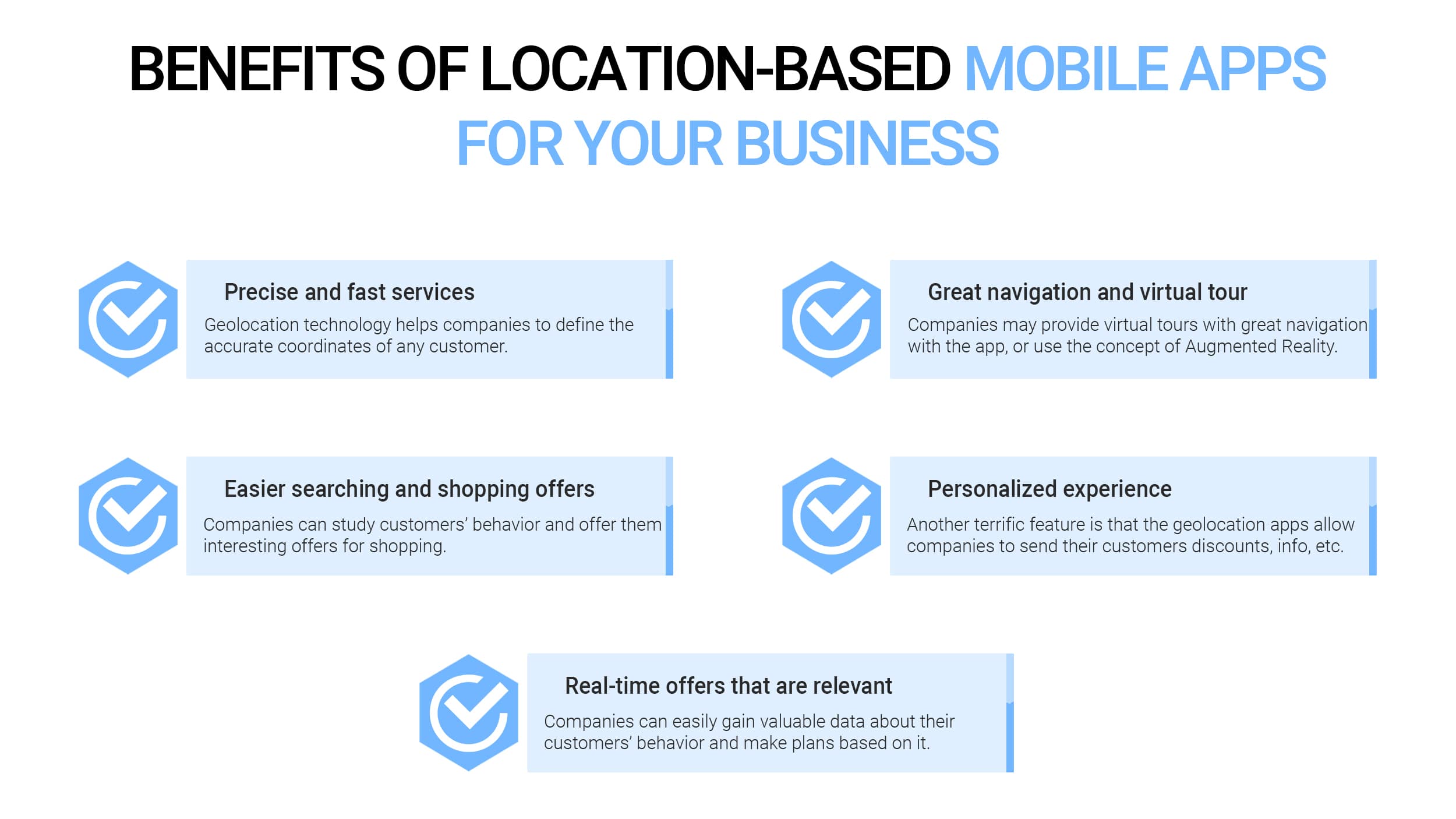 ✓Precise and fast services
Geolocation technology helps companies to define the accurate coordinates of any customer. It gives them the opportunity to send their items in a short time. This fact may enhance your trust among clients.
✓Easier searching and shopping offers
Companies can study customers' behavior and offer them interesting offers for shopping.
✓Great navigation and virtual tour
Companies may provide virtual tours with great navigation with the app, or use the concept of Augmented Reality (AR).
✓Personalized experience
Another terrific feature is that the geolocation apps allow companies to send their customers discounts, information about sales with push notifications.
✓Real-time offers that are relevant
Companies can easily gain valuable data about their customers' behavior and make plans based on it.
Main steps in geolocation app development
Let's briefly overview the main stages of location-based app development.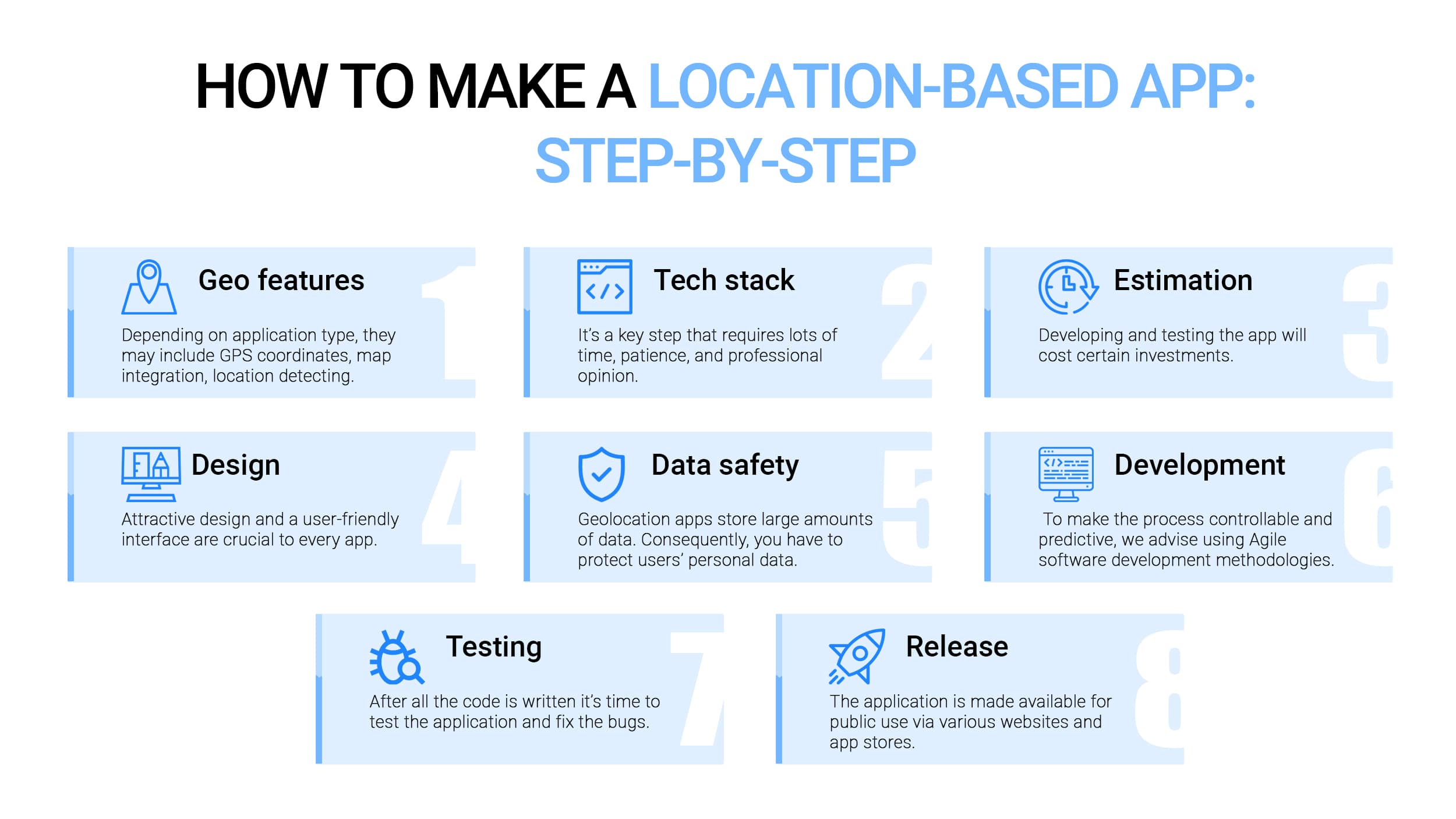 Step #1: Define the particular geolocation features for your app
Depending on application type, they may include GPS coordinates, map integration, location detecting.

Step #2: Select a tech stack
It's a key step that requires lots of time, patience, and professional opinion. Nevertheless, when you make a choice, you will be halfway through.
Step #3: Estimation
Developing and testing the app will cost certain investments. The location-based app's development costs may vary from $20,000 for a simple app to $150,000 for a complex app.
Step #4: Create a design
Attractive design and a user-friendly interface are crucial to every app.
Step #5: Ensure data safety
Geolocation apps store large amounts of data. Consequently, you have to protect users' personal data.
Step #6: Development
Mobile app development is the most decisive and long-lasting stage. To make the process controllable and predictive, we advise using Agile software development methodologies.
Step #7: Testing
After all the code is written it's time to test the application and fix the bugs.
Step #8: Release
The application is made available for public use via various websites and app stores.
Thus, everything is pretty simple. Especially, if you hire a dedicated development team with hands-on experience building location-based apps, like Code&Care.
How to Make a Video Calling App Like Zoom and Google Hangouts?
Necessary features of geolocation apps 
To make sure that the app is completely functional, it's important to add some features. Here is a list of the most crucial of them.
Authorization
Personal accounts give users the opportunity to leave notes or share reviews with other customers.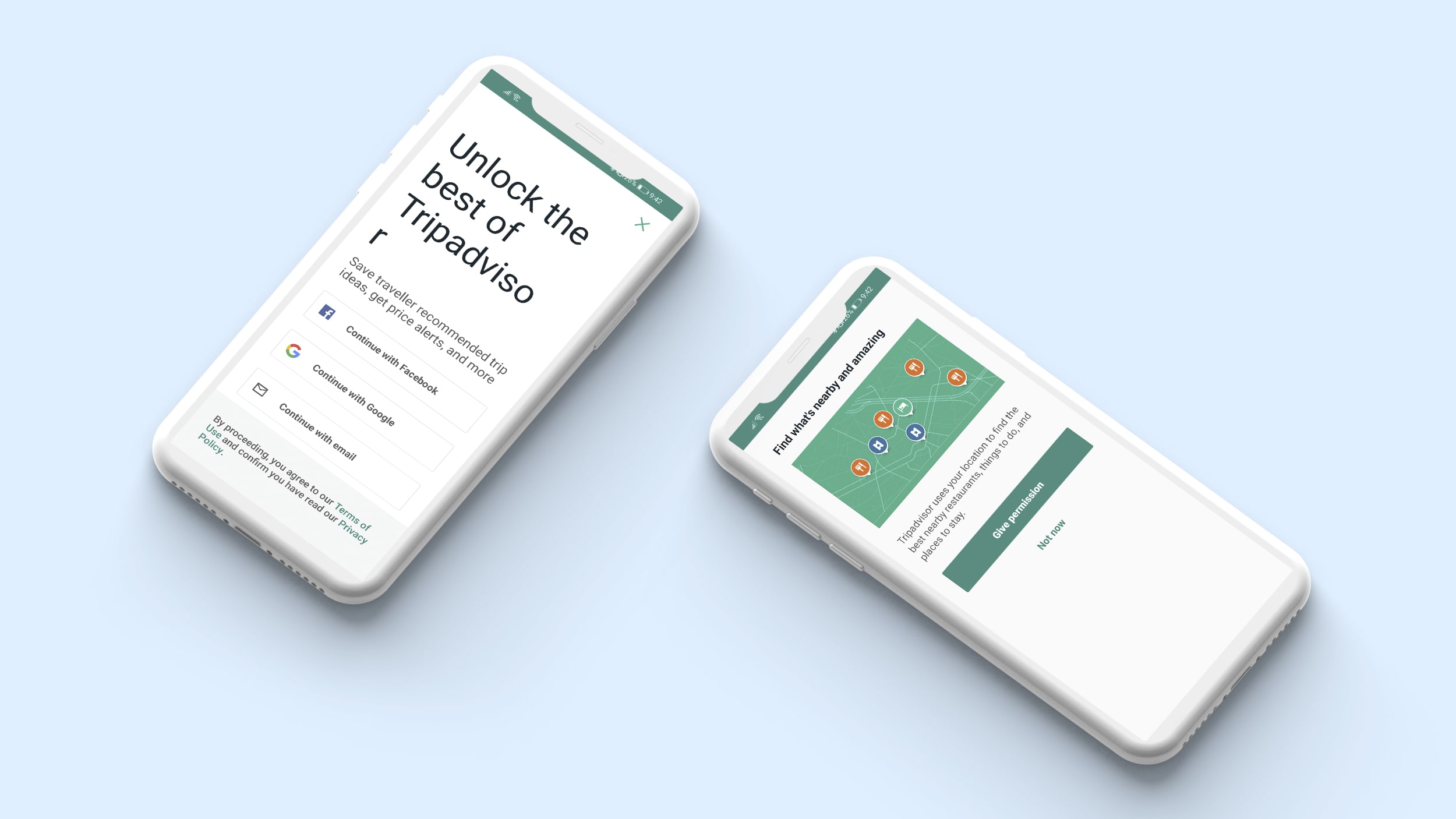 Notifications
It means that the application is allowed to send users push notifications, email, or messages about the updates, offers, and other details related to your business.
Information filter
Location-based apps contain a huge amount of data. That's why they needed comfortable information filters to make the user experience better.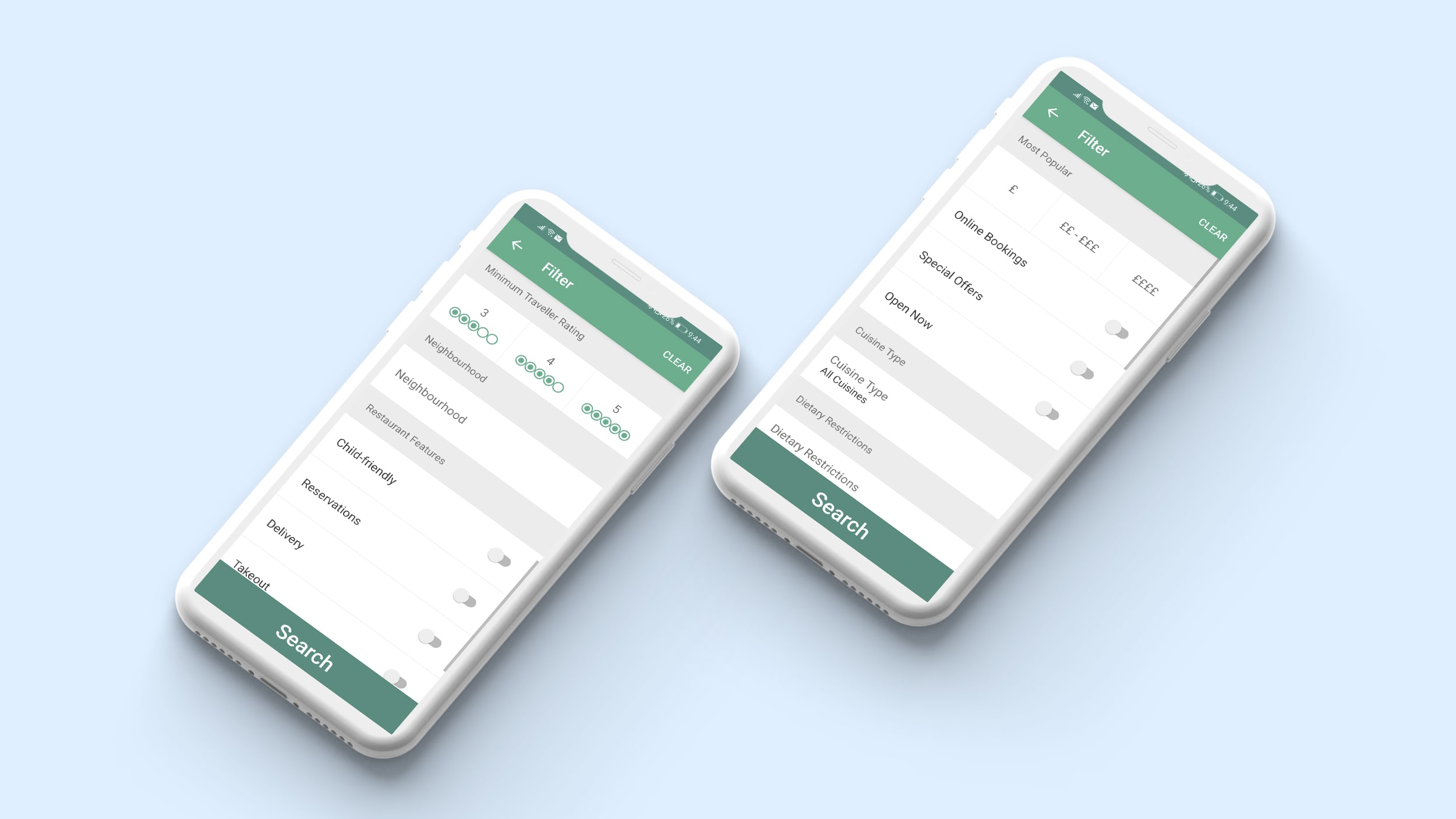 Suggestions
Suggestions are a good option if you want to inform your clients about local events, news, or whatever based on their likes, followings, or preferences.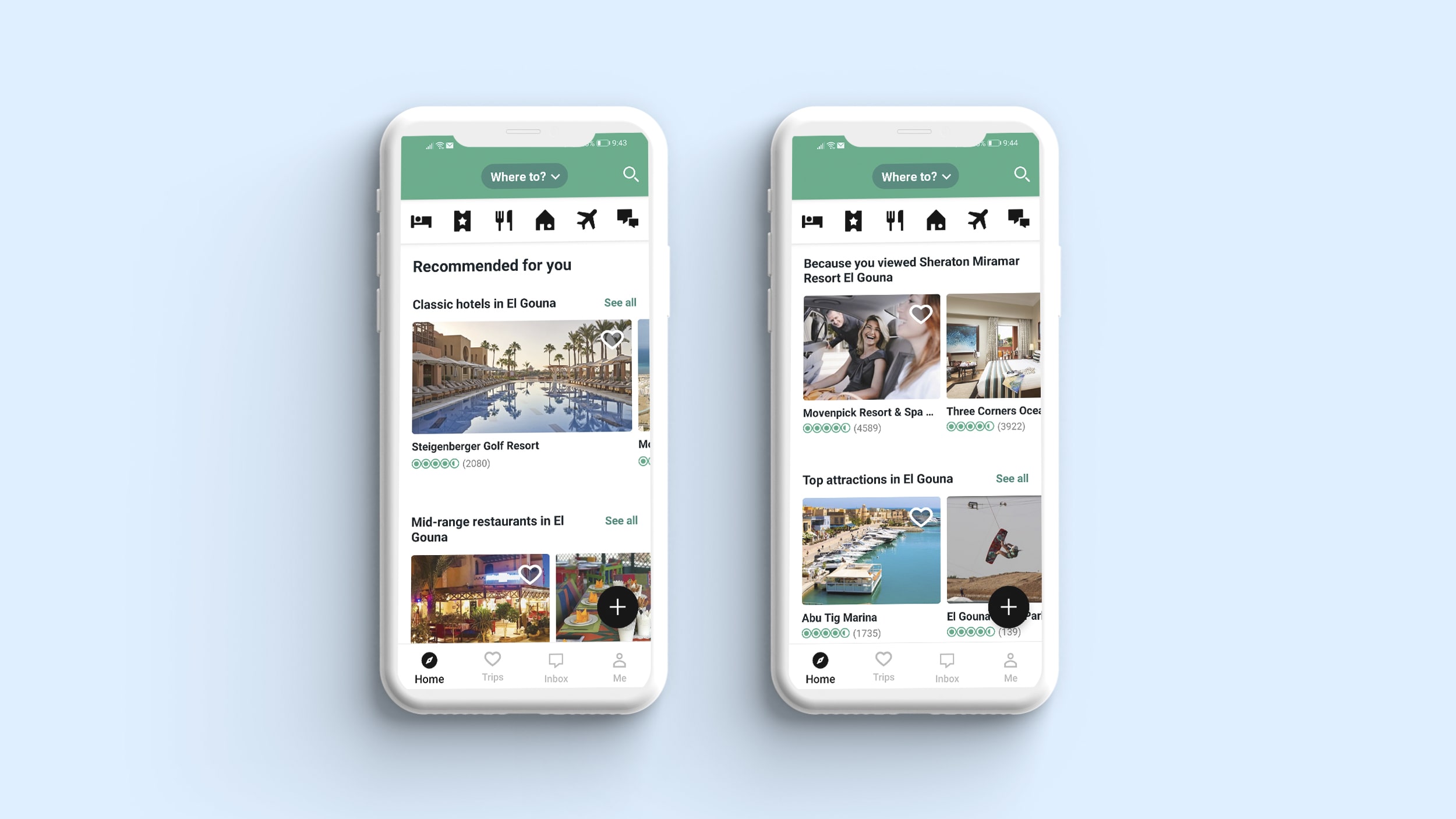 Reward program
It's an awesome idea for local business development. I.e., customers can get points for visiting some places. Later, they will be able to exchange them for free entry somewhere or other pleasant bonuses.
Analytics
The location-based apps process a big amount of data about the customers' behavior. So, the analytics feature helps to get useful insights and make the right business decisions.
Other features depend on the type of application. It may be voice assistance, rerouting, setting the radius, rating, and impressions, location sharing with friends, weather forecast, search location by photos, parking spaces finder, updates in real-time on traffic jams, etc.
Requirements and tech stack
To build a location-based application, you need to use some location solutions. We have compiled a list of the most popular ones.
Geolocation
☑️GPS
GPS is the most common technology based on satellite signals. Every mobile gadget is equipped with a built-in GPS module and permanently receives a signal from at least three satellites. If a geolocation function is enabled, of course.
☑️Assisted GPS (A-GPS)
A-GPS generates combined data obtained from the server and the satellite then transfers the data through the Internet using Wi-Fi or a cellular connection.
☑️Wi-Fi
Wi-Fi is a plain and efficient method. Its work is based on using RSSI, Google Maps, and special databases to define the location.
☑️Beacon
Beacon is a completely different technology. It's implemented using small wireless transistors and Bluetooth Low Energy (BLE). Beacons use BLE to send a signal to the customer to define its geolocation.
☑️Cell ID
One more way to define the customer's location is to use cell towers. First, you get the cell tower's coordinates, then use these coordinates to define the user's location.
☑️BLE
The idea of BLE is pretty simple. Battery-operated beacons send the signal to the person's device using Bluetooth.
☑️Geofencing
Geofencing works due to some virtual perimeter with a radius of up to 500 meters. When the consumer enters the specified zone, the trigger fires and the person receives a message or PUSH notification (or another predetermined action is performed).
APIs
Google Maps Geolocation API
Apple Maps
Core Location API
Yelp API
TripAdvisor API
Facebook Places
SDKs
Google Maps SDK
MapKit SDK
The most crucial option you should think out is how to guarantee the speed and convenience of a location-based app. That's why it's so critical to choose the right tech stack.
Security requirements
According to the statistics, 18% of users turn on location-sharing functionality for all apps, while 40% prefer don't do it. It shows obvious security and privacy problems. The law requires that all data about the users' movements that are collected and processed have to be anonymized. How can we control this?
Information is not simply collected. It is also processed and analyzed. This reveals interesting patterns. How can the collected information be used? What is ethical and what is not?
Mainly, the problem is that third-party companies collect and accumulate a large amount of personal user data, and people do not realize it. Such data may be used unethically without the knowledge or consent of the user. The recent release of Facebook/Cambridge Analytica is proof of this.
That's why most customers expect real benefits from the app in exchange for providing their location. So, you have to be sure that your project communicates three things: the value you are offering; the security precautions you have in place to protect user data; relevant provisions explaining how you intend to use the data.
How much does it cost to develop a location-based app?
The total price of the application depends on a number of factors. The main of them are integrated features and hours spent. Each application is unique and has its individual time frames. Nevertheless, we prepared a rough estimate that will help you to understand the middle price of a location-based app.
Building a complete project will require a growing development team and additional features that are needed for more precise use of geolocation. I.e., place integration, rating, and impression, bilateral location sharing with friends.
The business analysis stage takes at least 25 hours in case you have a clear understanding of the project's features. Also, it's needed about 15 hours for technical specification. The technical specification is a theoretical foundation of the work. Combining with business analysis it helps gather your requirements and transform the idea into the application.
The next stage is the user interface (UI). It takes 45-50 hours for MVP and 80-90 hours for a full project. UI is crucial for the creation of geolocation apps, as most of these kinds of projects are visual. So, the convenience of the design means the convenience of customers' orientation.
Application development for iOS or Android will take from 80 to 120 hours for MVP whereas building a full project with a big amount of the features will require at least 120 hours.
Also, you need time for testing the app. The QA department will take around 90 hours for each platform.
Summing up, depending on the total time the final price may vary from $20 000 for MVP to $150 000 for a complex project.
How long does it take to build a website? [Estimation examples]
Our expertise
Code&Care delivers software development services for 5+ years, working with top-notch platforms and frameworks.
We have wide experience in location-based apps development. One of the projects we've delivered that uses geolocation is HeyRide.

HeyRide is your all-in-one travel companion for urban settings. Its goal is to make people's lives easier by simplifying the way they search for, consume, and pay for mobility for faster, cheaper, cleaner, and safer trips with both predictability and assurance — on their terms. Covering ride-hail, train, bus, bike-share, scooters, and carshare.
Code&Care team implemented tasks for mobiles. I.e., working with routes, location updates, fixed trip pricing, combining various kinds of transport, searching for locations, etc. Like that, people can add the coordinates where they are and where they need to go, review the route and all types of transport they could use with a cost.
To get a professional opinion, send us a quote: andrew.gromenko@code-care.pro. And we will consult you for free on a cost estimate of your project.
Read next: 
Web Development Trends 2021
Web portal development: Functionality, Steps, Common Issues
How to Build a Marketplace Website That Users Will Love
How to Build a CRM Software: Types, Features, and Cost
Frequently Asked Questions
You may still have questions
📍What is a geolocation app?
Location-based apps are an important tool that makes it faster to find a person, place, or service nearby. Location data for these apps is transmitted via Wi-Fi, cell tower data, and satellite/GPS. All smartphones have built-in GPS and you can improve this GPS signal over Wi-Fi or mobile network.
📍What technologies are used to create a geolocation application?
If you are interested in building your location app, you should use location and map services at the same time. You can do this in a variety of ways using Cell ID, Wi-Fi, or GPS.
📍What are the main types of location apps?
Here are the most popular types: location trackers; social applications, messengers; dating apps; health and fitness apps; on-demand delivery apps; travel apps; weather apps; photo location finder apps.
📍How to make a location-based app?
To develop a geolocation application, you need to follow these steps: explore all marketing opportunities; select application functionality; application design; choose location tracking technology; application development; testing; launch.
Are you ready to create
an awesome product?
Partner with us to overcome
your web development
challenges!