Social commerce is reshaping how buyers shop online by blending points of inspiration with points of purchase. Live streaming is utilized for many purposes in diverse industries. At heart, streaming content helps people attend events, expos, and experiences that they cannot attend in person. The experience also allows brands to exhibit their products in unique ways – like a fashion show, as a sales pitch similar to QVC, or as a personal fitting experience at the mall.
That said, it is anyone's guess as to how successful this new channel will be in the years ahead. The potential benefits over the long term are clear for both individual businesses and e-commerce platforms. According to our best estimates, livestream e-commerce online sales in the United States will hit an astounding $11 billion in 2021. By 2024, live online purchasing through e-commerce will have tripled in revenue.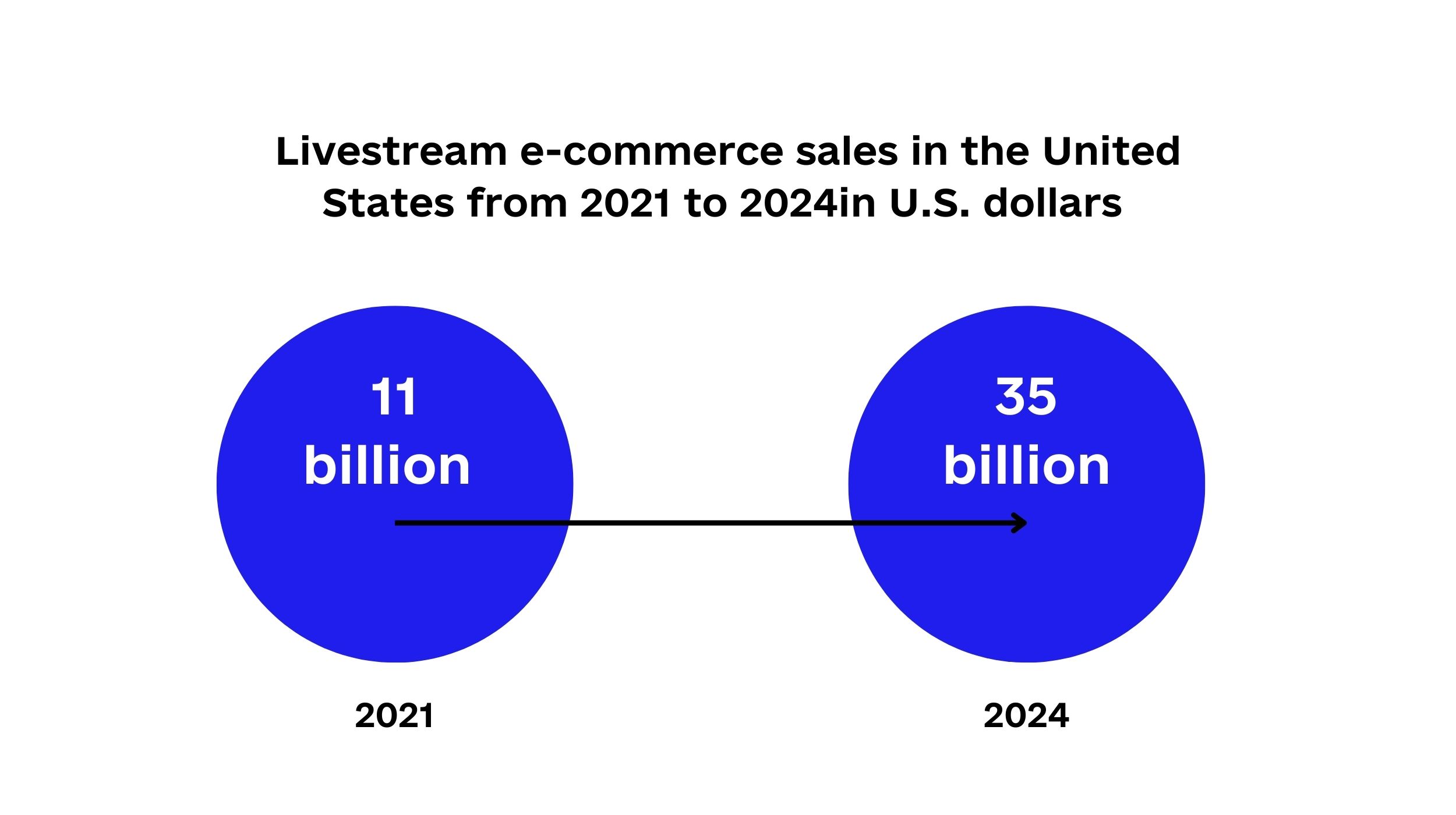 To bring a company's e-commerce capabilities up to par, a bewildering number of things must be done right. But we've learned that building a live stream shopping app could be prime. Those global players who step up to the plate will be in a strong position moving forward. Code&Care serves as your mobile app development sidekick and offers a comprehensive road map to help you along the way. Everything from its meaning and benefits to the features to consider and the steps to take to get your app running are covered in this article. Ready to start your journey? Let's go!
What is livestream shopping?
Livestream shopping (also dubbed "livestream e-commerce") is a form of online commerce. It features live video content, two-way communication, and the capacity for viewers to purchase or save featured products directly from the platform.
The distinguishing feature of this approach is that sellers, brands, and businesses can interact with their customers in a live video stream, encouraging customers to purchase displayed items without leaving the stream.
What does a livestream shopping app do?
A live shopping app is a mobile application that allows customers to shop for products in real time. The idea behind livestream shopping apps is simple. They successfully combine live streaming, which is already available on many of the major social media platforms, with a direct purchasing feature. It's similar to watching a live unboxing on YouTube, except you can buy the product right away.
In general, eCommerce retailers use such apps to allow customers to view and purchase items from their mobile devices.
The history of "live shopping"
As early as the late 1980s, American television networks like Home Shopping Club and the massive Home Shopping Network (HSN) pioneered the practice of pitching and selling products directly to consumers.
However, Taobao, China's social retail giant, embraced the concept in 2016. Livestreaming video and an e-commerce store were combined in a new way by the brand, which revolutionized e-commerce by allowing viewers to watch and buy in real-time.
📈 According to a report by the China Association of Performing Arts, there were at least 130 million livestream accounts in China as of 2020, and more than 600 million users of livestreaming-related services.
This new channel's key success factors are entertaining and event-driven formats, celebrity involvement, and frictionless mobile payment solutions via Alipay, Alibaba's payment service, or its competitor WeChat Pay.
Market trend in e-commerce live streaming
What should be kept in mind when looking at the global live shopping market? Here's what we found.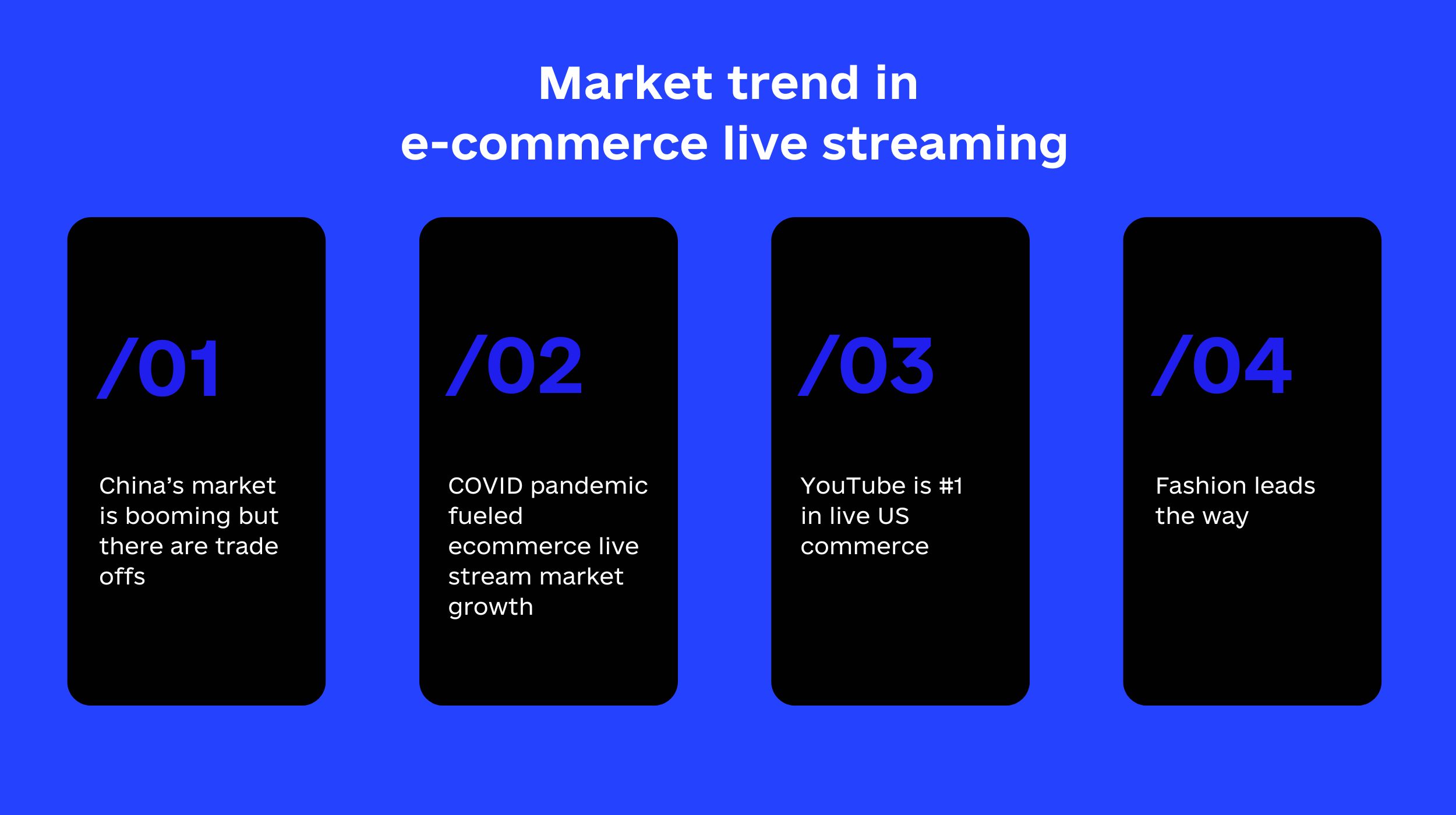 ✅ China's market is booming but there are trade offs
When it comes to sales, China has jumped right on board with livestreaming. In just three years, the livestreaming market in China has leaped from $3 billion to $171 billion, and the United States isn't far behind. Livestreaming sales could account for as much as 20% of all e-commerce in the US by 2026 if China's explosive growth in livestream shopping is any indicator. Suffice it to say that the long-term potential of livestream shopping for brands and eCommerce platforms is clear.
There are trade-offs, though!
Dependence on third-party logistics services and failure to anticipate customer needs are two of the biggest problems the market currently faces. Its success also relies on trends like rising use of artificial intelligence, expansion of cloud computing technology, influencer marketing, etc.
✅ COVID pandemic fueled ecommerce live stream market growth
The pandemic in 2020 caused e-commerce to grow at an unheard-of rate and gave rise to a flood of new trends in the industry. Live commerce and social commerce are two of the most well-known.
Europe, along with China, saw one of the biggest increases in livestream purchases since the pandemic began, outpacing both North America and the Middle East. As is already widely acknowledged, the popularity of live shopping in the US is at an all-time high following the coronavirus pandemic.
✅ YouTube is #1 in live US commerce
If you're familiar with e-commerce advancements, it should come as no surprise that one-third of US retailers will be using livestreaming platforms like YouTube in 2021. Well, YouTube has long dominated the live shopping landscape, with Facebook and Instagram coming in second and third, respectively.
And here's why.
First, the company has formed a partnership with the online shopping services platform Shopify to enable content creators to sell products directly through their respective YouTube channels.
Creators can now link their Shopify stores to their YouTube channel thanks to the newest add-ons that were released a little over two weeks ago. By linking their stores, creators can gain access to the real-time inventory syncing that Shopify provides.
✅ Fashion leads the way
With the help of influencer marketing, consumers are able to do more of their lifestyle shopping. A new wave of interest in fashion retail is pushed by the use of live videos from fashion industry influencers.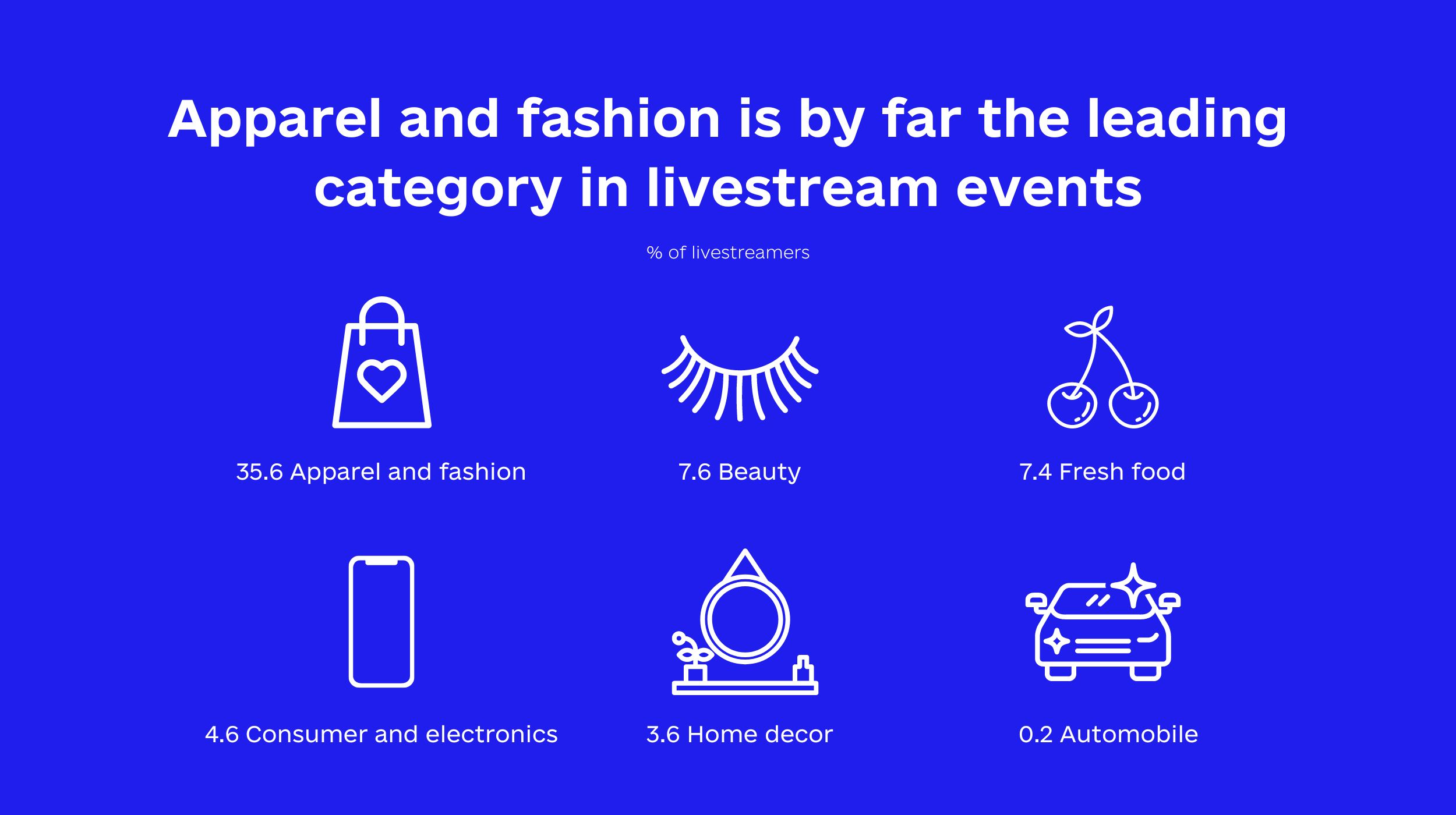 A whopping 36% of apparel and fashion sales take place through live shopping, according to stats, making it the most popular live commerce category by far. For fashion brands, live shopping videos are a great way to host limited-edition product drops, giveaways, and VIP-only access to special events.
Types of livestream shopping platforms
Brands that are itching to try their hand at livestream commerce have three different platform options to choose from. These include:
✔ Social media platforms
If you want the quickest and easiest way to get the most eyes on your products, social media is where you should focus your efforts. Facebook by itself has 2.4 billion users; let's not even get started on YouTube and Instagram! Additionally, marketers are able to maximize their efficiency by repurposing their livestreams on these platforms in order to drive sales with their already established audience.
✔ Dedicated commerce platforms and apps
Merchants who want to get in on the livestream shopping action but don't want to build their own platform from the ground up should look into dedicated commerce platforms. The livestream feature of an e-commerce website can help boost sales by empowering customers to select more appropriate products for their needs. Companies like Amazon and Shopify have already taken the plunge and implemented live shopping features on their websites.
✔ Self-hosted shopping platforms
Retailers who want complete control can build their own streaming platform. Nordstrom launched a livestream shopping channel, giving customers access to employees and brand partners. Building a shopping platform from scratch allows brands to customize the experience and reduces buyer distractions. But at the same time, brands must also attract customers to a self-hosted platform.
Rewarding benefits of livestreaming shopping for brands
You can already see that the live-streaming shopping market is a money-making sandbox. So, take advantage of the following perks: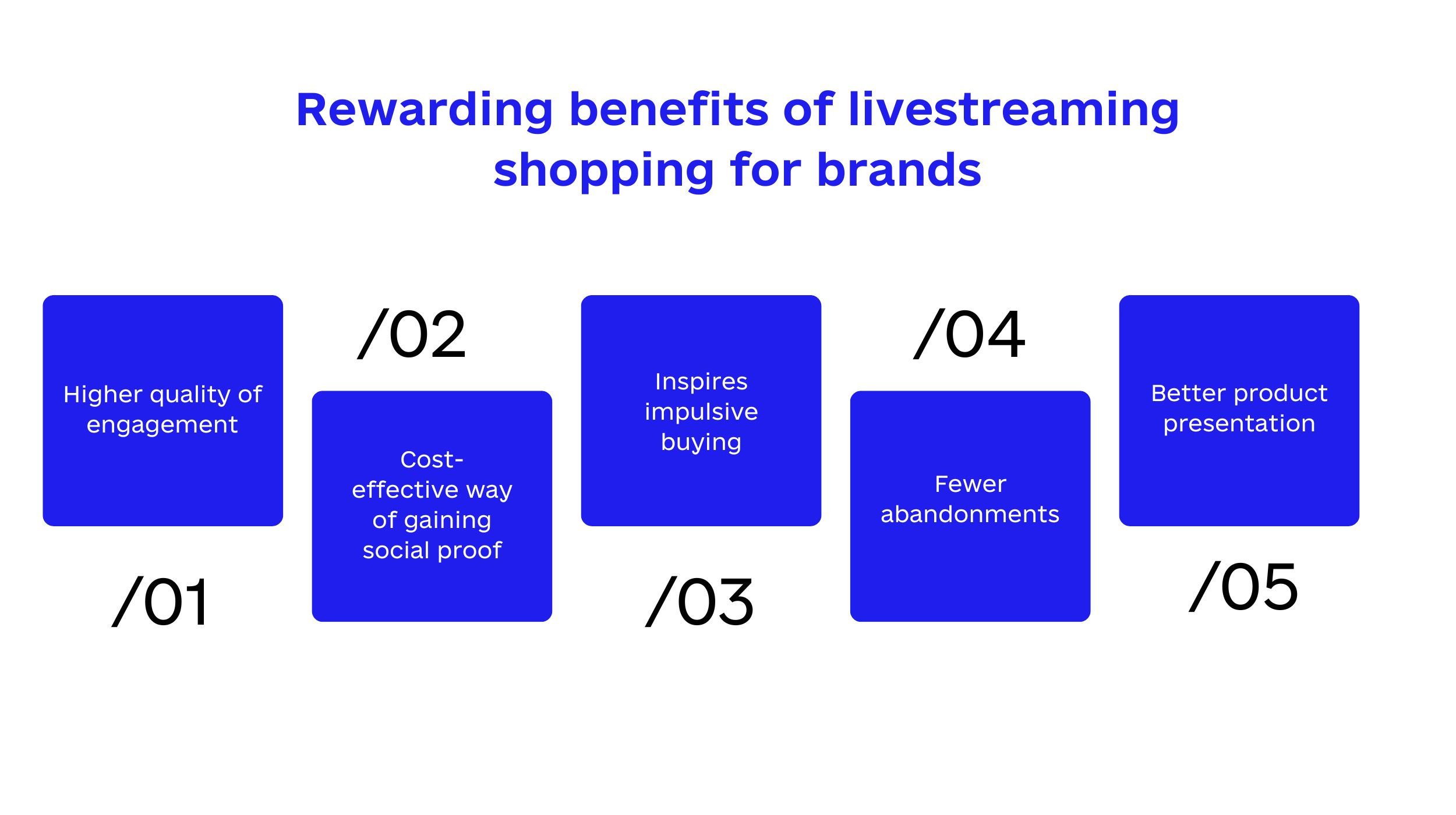 Higher quality of engagement
About 54% of consumers want more video content from brands, and if yours isn't providing it, you'll be left behind.
Video commerce allows customers to have a more enjoyable shopping experience by providing them with more information about the products they're considering. When live streaming is integrated into a website, brands can better gather first-party data on things like likes, shares, and comments.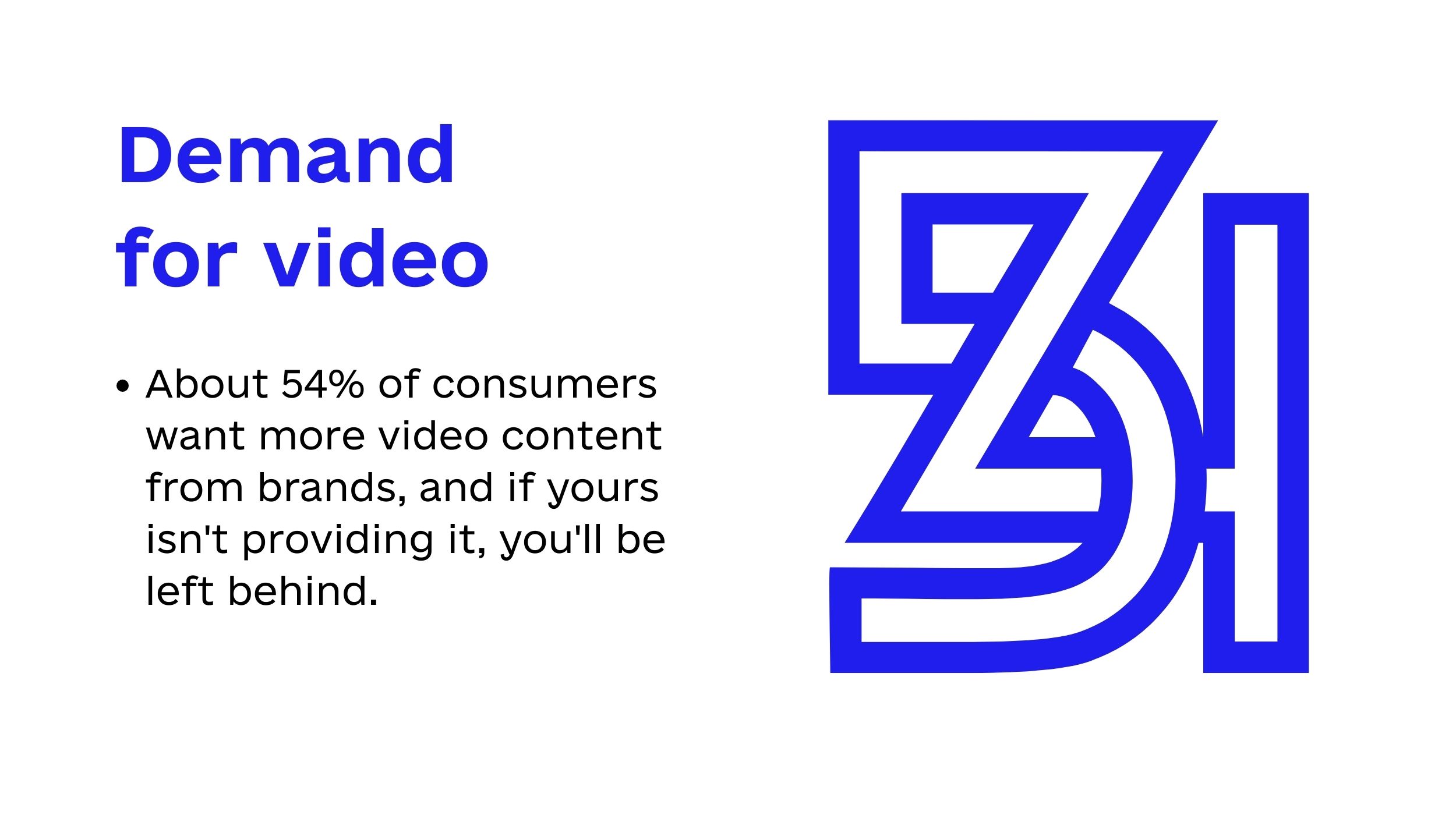 Cost-effective way of gaining social proof
Live streaming is a practical method for gaining social proof and turning viewers into potential customers. On live streams, comments, shares, and likes are effective building blocks for trust. If retailers can win over their customers' trust, the sales cycle can be shortened.
All you need to do is invest in public figures or influencers who can stream the product. Additionally, you are not required to use any other marketing strategies. And you don't need to use any other marketing method.
Inspires impulsive buying
Because live shopping events have a limited amount of time, attendees are more likely to make impulsive purchases, which speeds up the journey that customers take from awareness to purchase.
Your company will see an increase in revenue as a result of impulse purchases, but these customers will also have a better overall experience with your brand. Both new and existing customers will be left with the impression that your company fosters a sense of community and excitement, and they will come to associate these feelings with your company. The experience that you provide is something that sets your brand apart from the competition and has the potential to convince a customer to remain loyal to your brand.
Fewer abandonments
Livestream shopping can also help buyers make more informed purchases by demonstrating how the products function and providing the necessary information before they click the checkout button. Compared to traditional ecommerce channels, returns are 50 % lower when a product is purchased through a livestream. A shopper for jeans, for instance, could ask the host questions regarding sizing, color, and style during a livestream. Or, a person purchasing cosmetics can request a tutorial to ensure that the product they see is one they will actually use.
Better product presentation
A live video lets the seller show the product in many different ways and in great detail. If it's a piece of clothing, the presenter can put it on to show the audience how it looks. Customers can also ask questions through live streams, and we can answer them right away by, for example, changing the light or position. Your product's credibility and trustworthiness are greatly boosted by demonstrating how it looks and feels on a real person.
Essential features for any shoppable video streaming app
The following is a list of features that an app for live shopping absolutely needs to have.
This feature is a must for any live commerce platform. A live stream is made possible by this basic functionality.
During a live session, your audience can interact with the video presenters by speaking to an in-app voice assistant.
Your app users will be able to see all of the information that you want to convey to them at once thanks to this feature.
With CRM integration, retailers can better manage customer relationships by considering their unique needs and providing them with recommendations and services that are tailored to their preferences.
Using this feature, you can reward your customers for their loyalty by providing them with coupons, discounts, and other types of incentives.
In reports, pie charts, and dashboards on the admin panel, you can use this feature to access real-time statistics. This allows the administrator to plan and market the content in a strategic manner.
Finding out what content your users are interested in is critical, and this information can be gleaned from the searches saved in the backend. The app should recommend products to its users, which will pique their interest. This aids in the promotion of content and increases the number of users who view it.
Using the user's ratings and reviews, live shopping platforms filter the content that is sent to the screens of all users.
How to develop a winning live streaming shopping app effectively and easily
Below is a list of actions you should take to develop a comprehensive live stream shopping solution.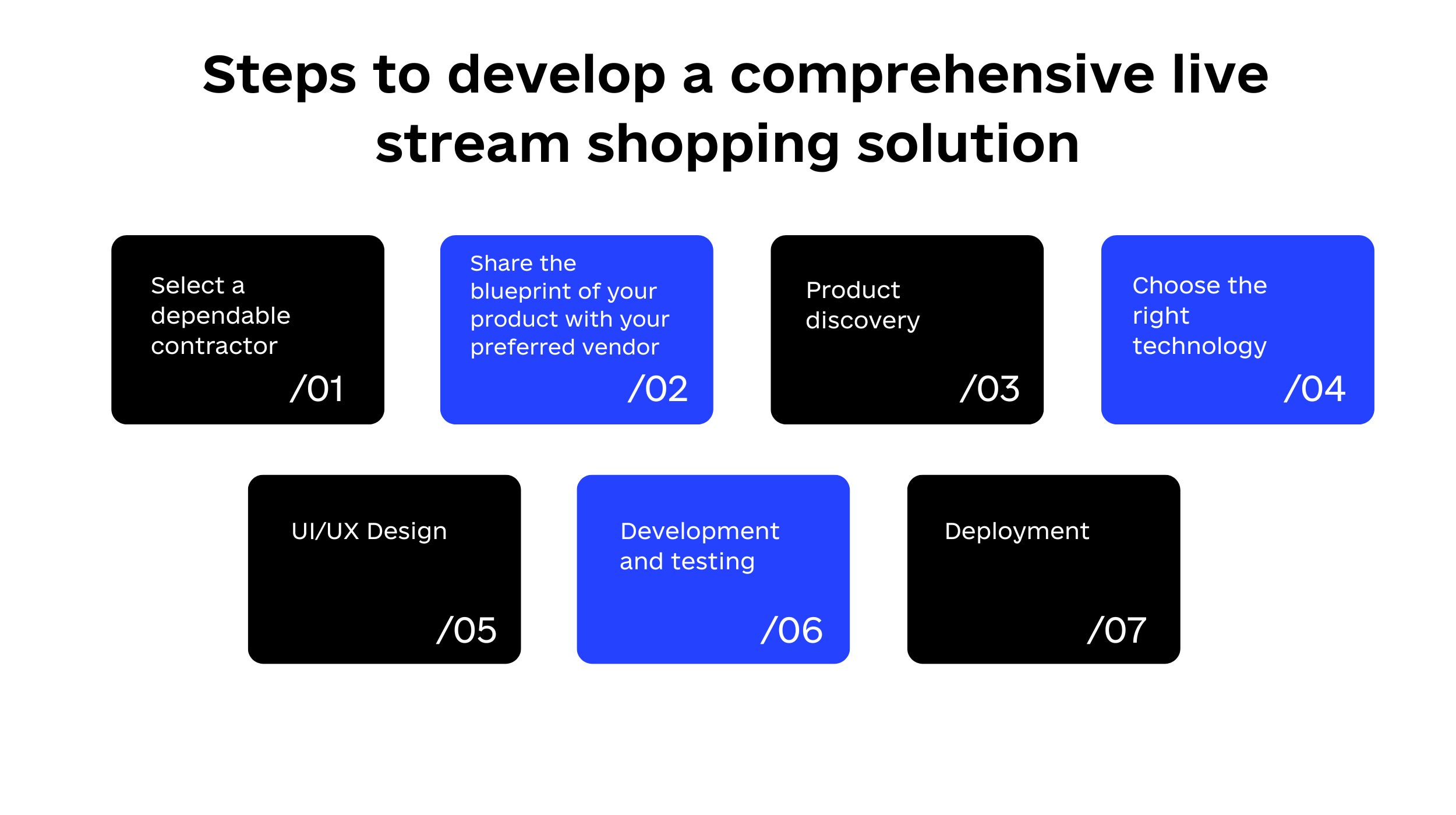 Step#1: Select a dependable contractor
The success of your product's idea greatly relies on the quality of the software development company you choose to work with. So you can afford to be picky about who you decide to bring on board to help you develop your school management system software. Your partner should be able to form and scale your team quickly.
Researching the company's portfolio as well as reviews from its previous customers is an absolute must. Make sure they have practical experience.
You have a live shopping project and you need to hire a dedicated team of developers, right? To get you off to a good start, take a look at our how-to guide covering how to hire dedicated software developers.
Step#2: Share the blueprint of your product with your preferred vendor
You can't afford to hold back on key details about your product ideas from the vendor you choose to work with. Share all the essential details, features, and components you want to see in your product. Also, specify the dos and don'ts that must be adhered to in the development process.
Step#3: Product discovery
Ensure you meticulously analyze the market. Perform competitive analysis, and analyze your potential users. Identify what they would love to see in your products. These will form the basis of your business analysis.
It is also crucial at this stage to determine your business, user, and research goals and develop user stories and customer journey maps. All of these actions aid in gathering data about your would-be software, the market in which it will operate, and the user base.
Step#4: Choose the right technology
Multiple technology stacks are available for use, and different companies have their own preferences. But do your homework on how to choose a preferred tech stack for a web-based school management software and ensure the company you choose is working with your choice of the technology stack. At Code&Care, we adopt the following tech stack below:
Front end: Angular, React
Database: SQL Server, MongoDB, PostgreSQL
Payment Gateway: PayPal, Braintree
DevOps: Jenkins, Android Studio, Amazon CloudWatch
Cloud: AWS and Google Cloud
The Best Language to Build ECommerce Website That You Can Use in 2022
Step#5: UI/UX Design
In this stage, the focus is on designing and developing the appearance and experience of the software. This will entail methodically creating every interface available on the platform, including every clickable menu and option. After ensuring the design is of good standards and capable of satisfying end users' needs, you can proceed to the next stage.
Step#6: Development and testing
After determining your UI/UX design, the next step is to build your MVP or Minimum Viable Product. Developing the MVP is to have a prototype with the most needed feature. Then use this prototype to gather feedback. Once the MVP is functionally sound, additional features can be added to improve usability. Utilize your MVP to gather real-time feedback on the workings of the platform and then use the information to improve the platform.
During development, It is critical to extensively test the software at every stage across all key devices. If a bug occurs at any stage, it may be identified and resolved quickly rather than producing problems later on and forcing the team to rewrite many phases. Ensure the development company you are working with has an in-house QA team to conduct testing as development is ongoing. This will save you from wasting money and time getting independent QA engineers.
Step#7: Deployment
This stage finalizes the development process as it defines the launching of the app into the market. After deployment, do not relegate maintenance and updates to the background. They go a long way in ensuring the smooth operation of the software.
Cost of live streaming shopping app development
Product complexity, geography, features, size, design, and time frame have an impact on the cost of the product. But the cost of building a social commerce platform is between $40,000 and $85,000 if the app isn't overly complex.
Is there a place for live shopping in internet retailing?
Live stream shopping will continue to shape the future of e-commerce in fundamental ways. Industry sectors like healthcare, engineering, finance, and B2B are likely to follow as live commerce expands.
Influencer marketing will also remain a key contributor in the market's development. But micro-influencers will be more effective in this regard. According to a study, nano-influencers on Instagram have engagement rates ten times higher than mega- and macro-influencers.
To top it all off, new formats like augmented reality (AR) and virtual reality (VR) will be adopted to give customers a more immersive shopping experience and allow them to see a product from all sides.
Read also:
How to Build a School Management System: Steps, Features, Benefits, and Costs
How to Build a Job Search Website: Extended Guide [5 Key Steps]
How To Build A B2B Marketplace: Steps, Features and Pitfalls
How to Make an App Like Udemy in 2022: Features, Costs, and Tech Stack