Subscription-based social media apps like OnlyFans became very popular in the last few years. It has a social network-based format that makes the app extremely convenient for customers. It is worth saying that the platform is widespread not only through adult workers but also A-list celebrities, bloggers, and influencers.
Despite the fact of the OnlyFans application, the niche is rather free for competition. Moreover, the COVID-19 pandemic and worldwide quarantine the attendance of sites like this.
In this article, we are going to discuss crucial features of apps like OnlyFans, the main steps of the development, tech stack, and monetization models. So, let's dive in!
What is OnlyFans and how does it work?
OnlyFans is a social media platform where people can sell original content. The service allows fans to pay to watch their favorite artists by subscription. The specialty of the app is that there are no restrictions on published content.
Since launching OnlyFans in 2016, the site has paid over $600 million to creators. Creators can allow their fans to pay for content through a monthly subscription ranging from $4.99 to  $49.99 per month (OnlyFans retains 20% commission). They may also have free pages where they then charge fans to access the pay-per-view (PPV) content. Other contributors have both a free page and a subscription page to diversify and optimize their earnings.
After actress Bella Thorne joined OnlyFans and made millions of dollars in just a couple of days, OnlyFans introduced transaction restrictions that capped the PPV price at $50 per post and new fan tips at $100. Moreover, they changed the frequency of payments in some countries from weekly payments to payments every 21 days.
Is it worth developing an OnlyFans clone app?
Apps like OnlyFans are the hottest trend right now. If you decide to develop a similar service, there is a huge probability to become a sensation overnight! By investing funds in an OnlyFans clone app, you can set yourself apart and claim as a top player on the market.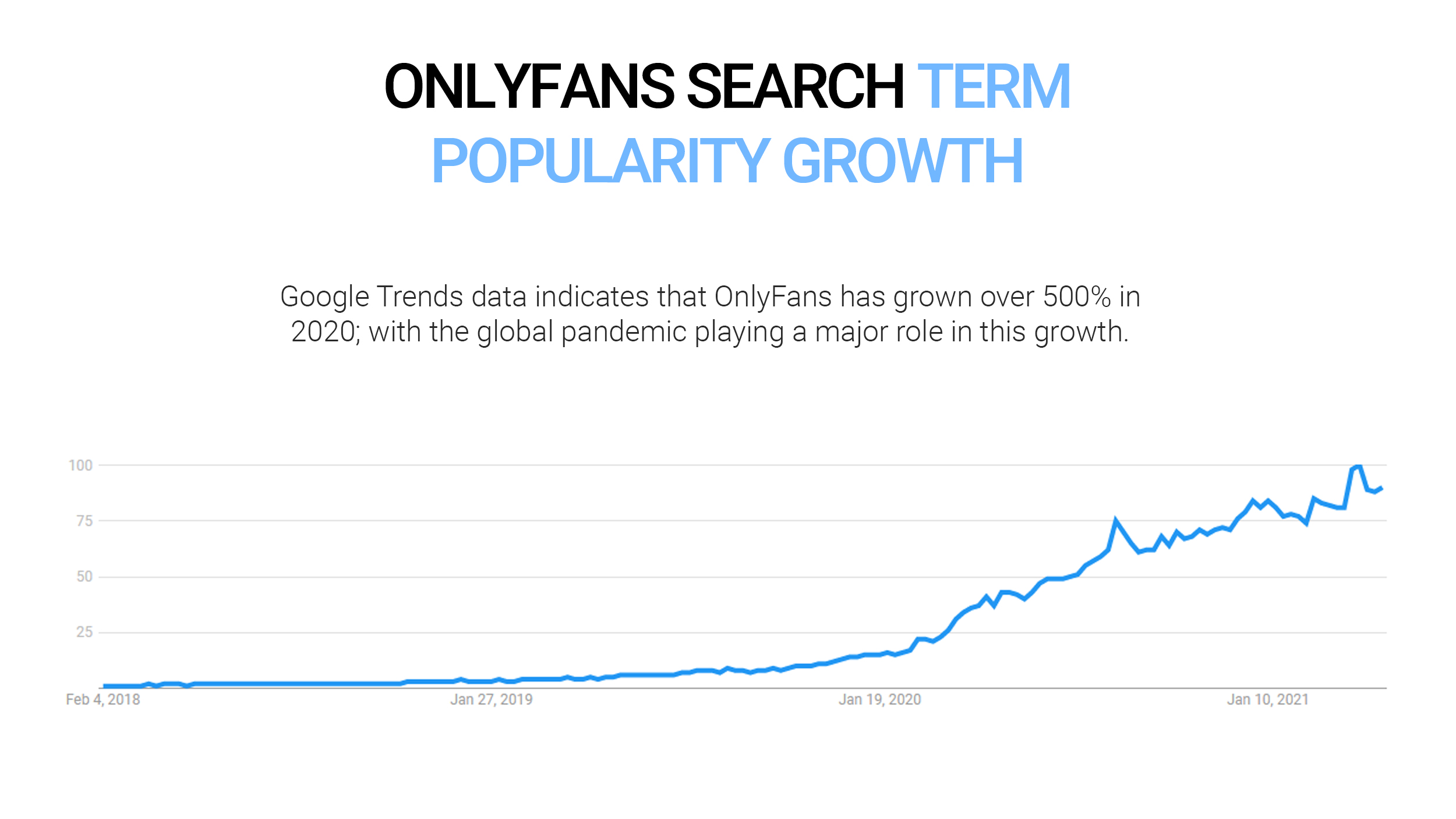 Let's look at some interesting statistics:
The total number of user and creator accounts in March 2020 was 350,000. By late August 2020, OnlyFans had 700,000 content creators. In December 2020, OnlyFans is said to have more than 1 million creators on the platform!
Most performers don't cash in on OnlyFans. Indeed, most of them receive less than $145 per month.
For the year to November 2018, Fenix International had a profit and comprehensive income of £1,483,705. A year later, that figure rose to £4,037,452.
64% of income is from subscriptions, while the remaining 36% comes from pay-per-view messages and tips.
OnlyFans has tons of fun features that will be useful to both creators and fans, and there is more and more every year. Here is a list of the main ones.
User profile features
User profile
Users need an opportunity to sign in to the app fast with basic information.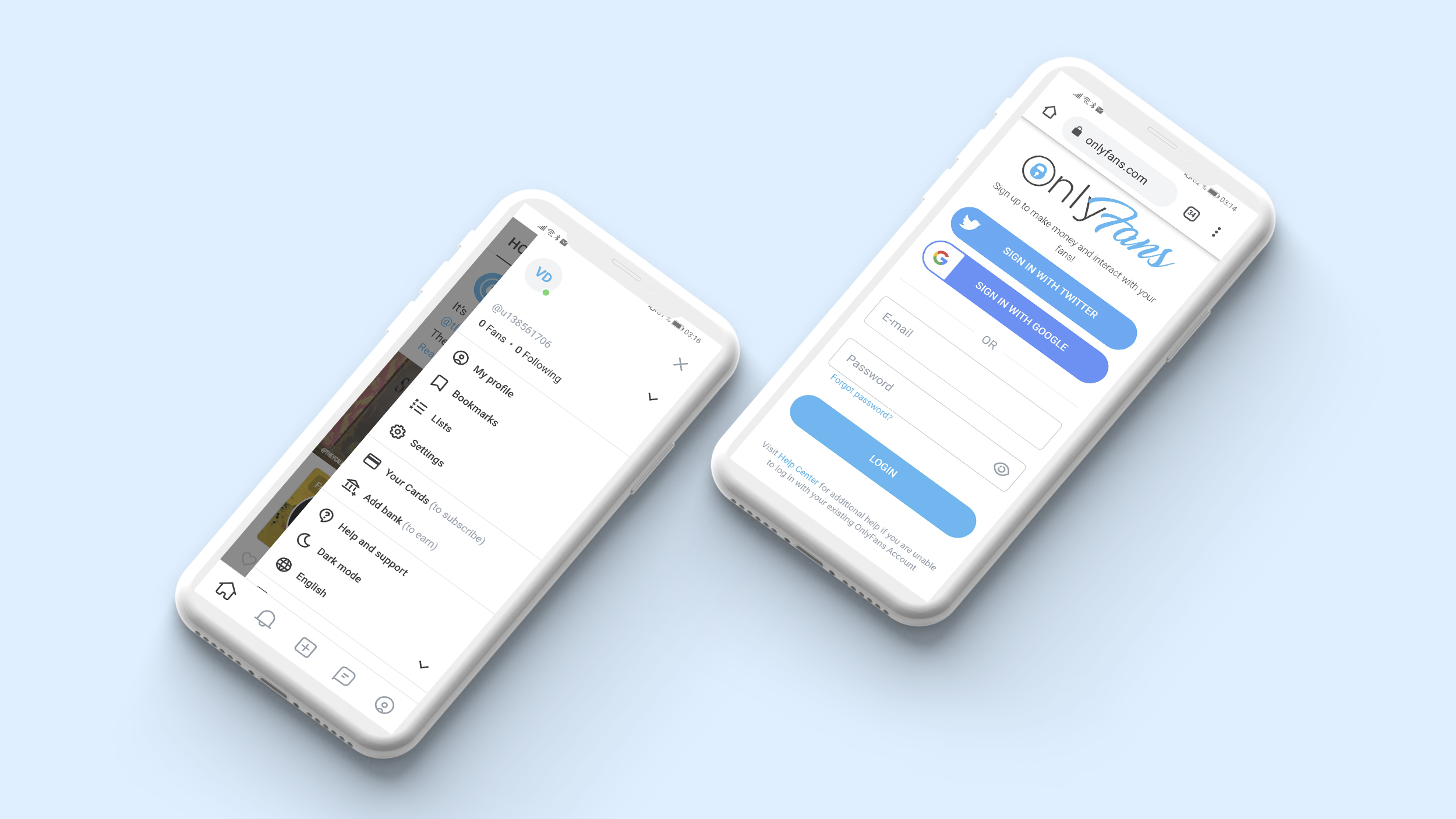 Discover creator profiles
People should be able to look for specific profiles and choose the ones they like.
It's important to implement chat features. So, people will be able to communicate with the creators.
Purchase content
Customers can ask for personalized content. I.e., birthday wishes, etc. Or to buy already existed in creator profile content.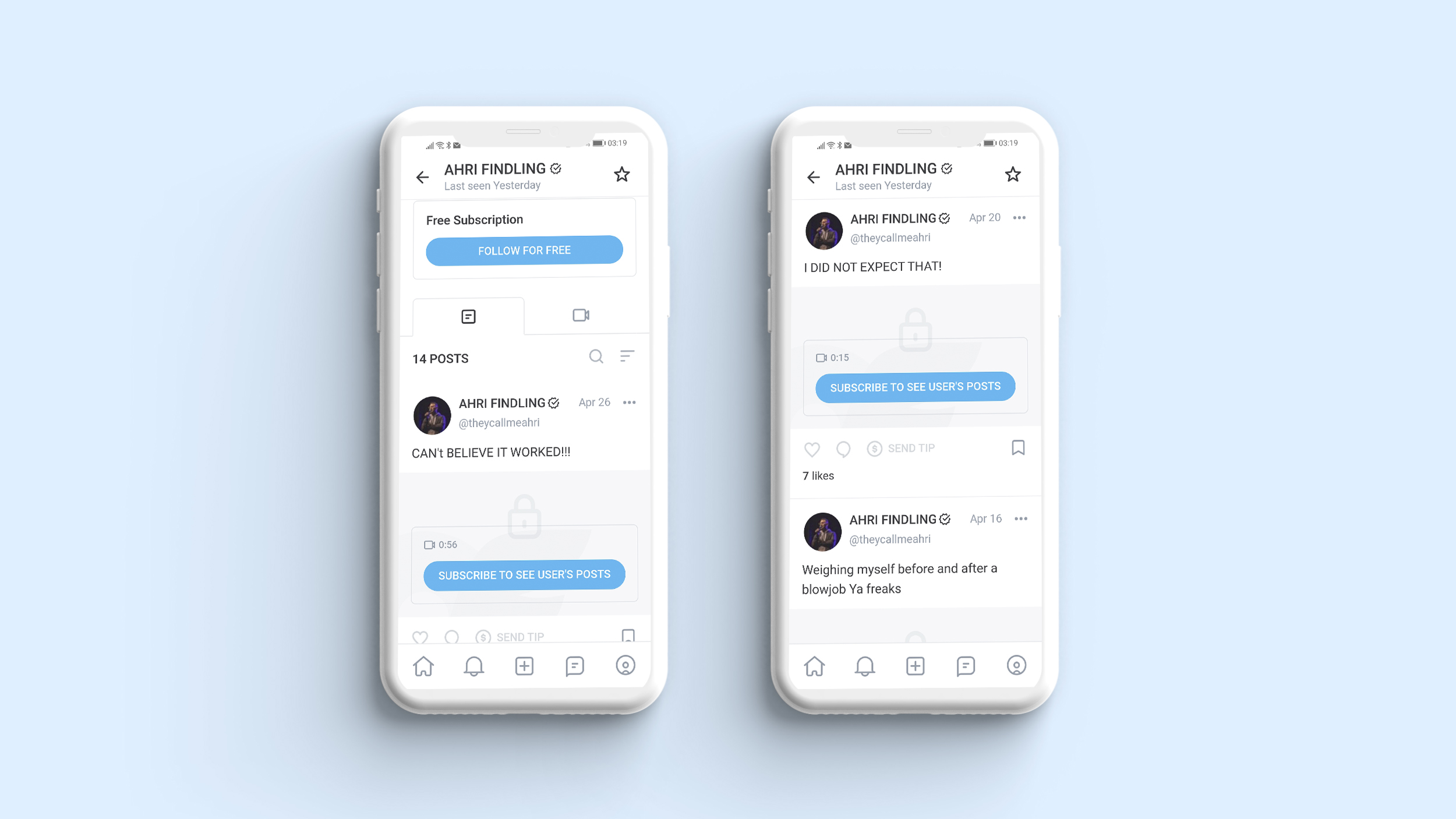 Suggestions
Based on users' interests, the app should make custom recommendations to people.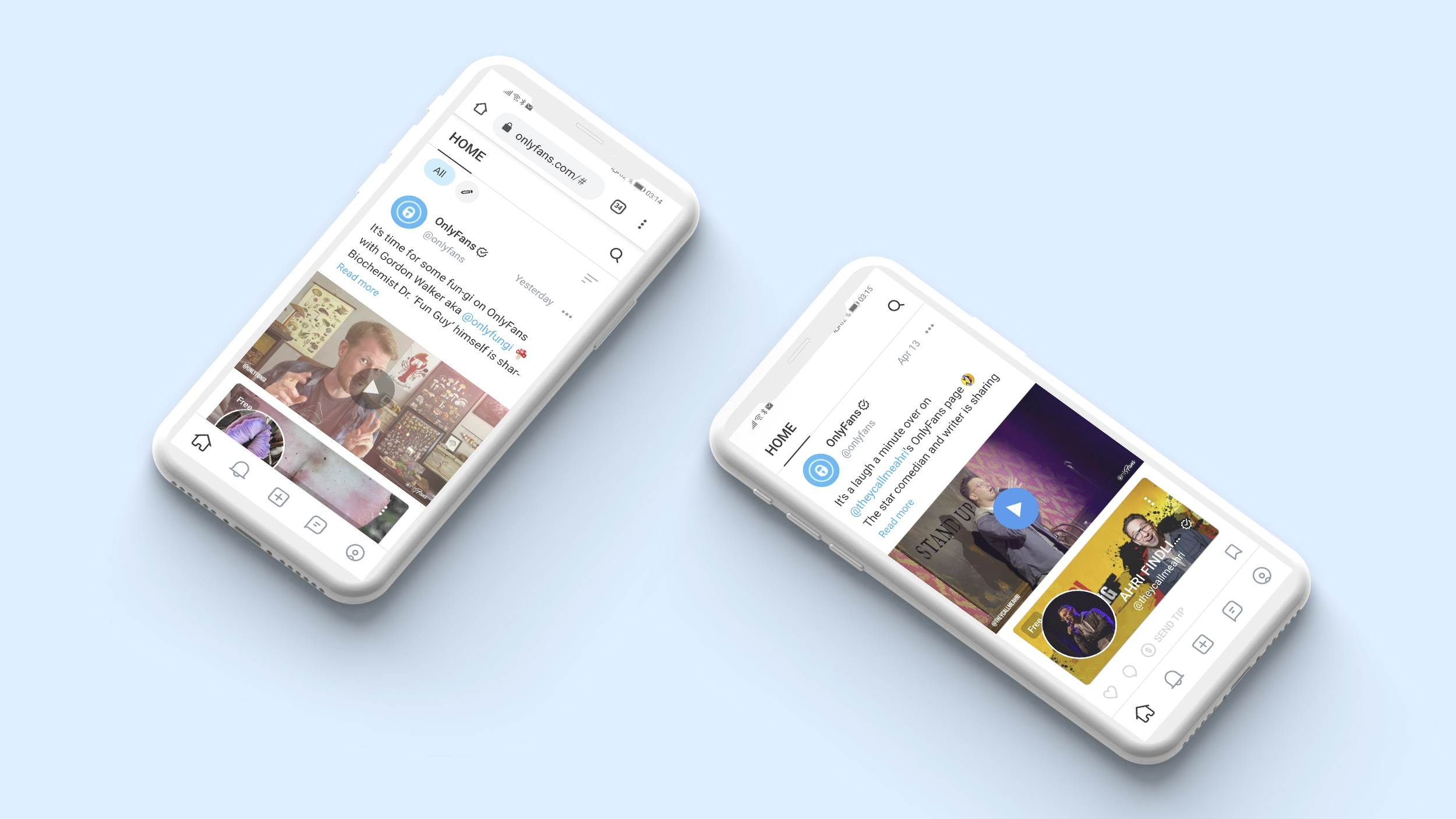 Notifications
Customers will be notified about updates or any important information.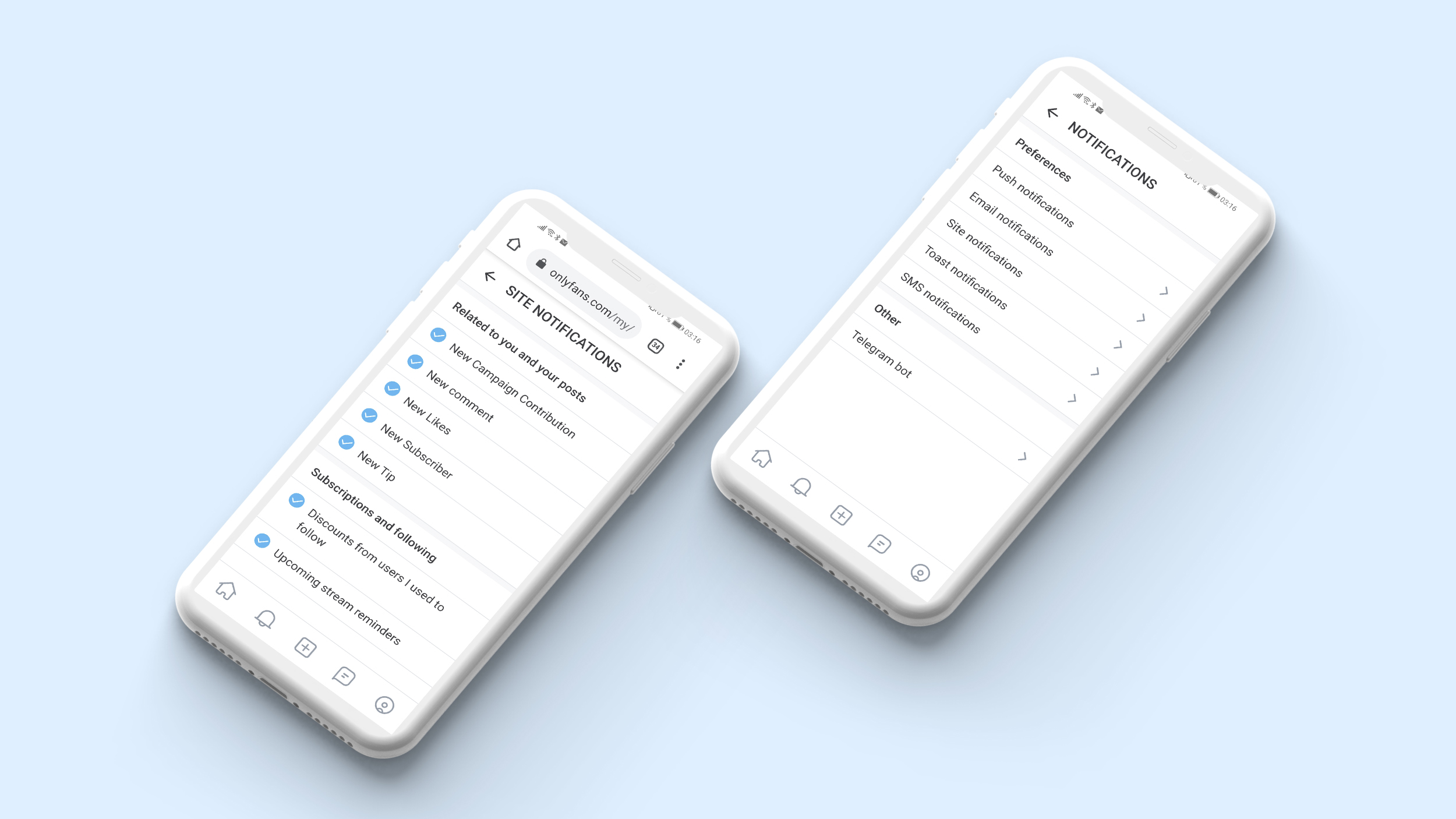 Payment
Several payment options are needed to make the user experience simple and convenient.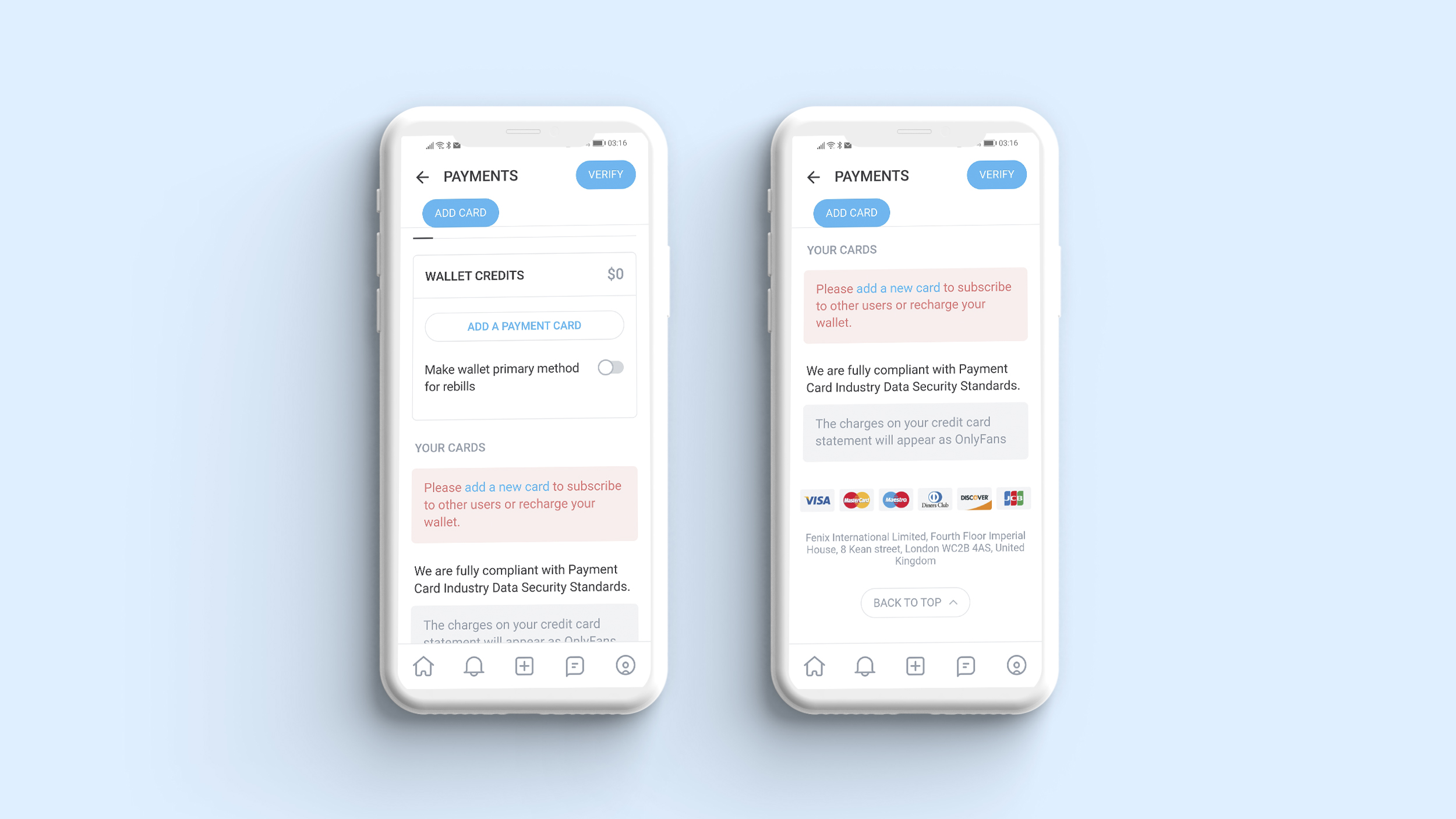 Content creator profile features
Creator profile
Content creators sign up in the app with the details about the content that they want to create.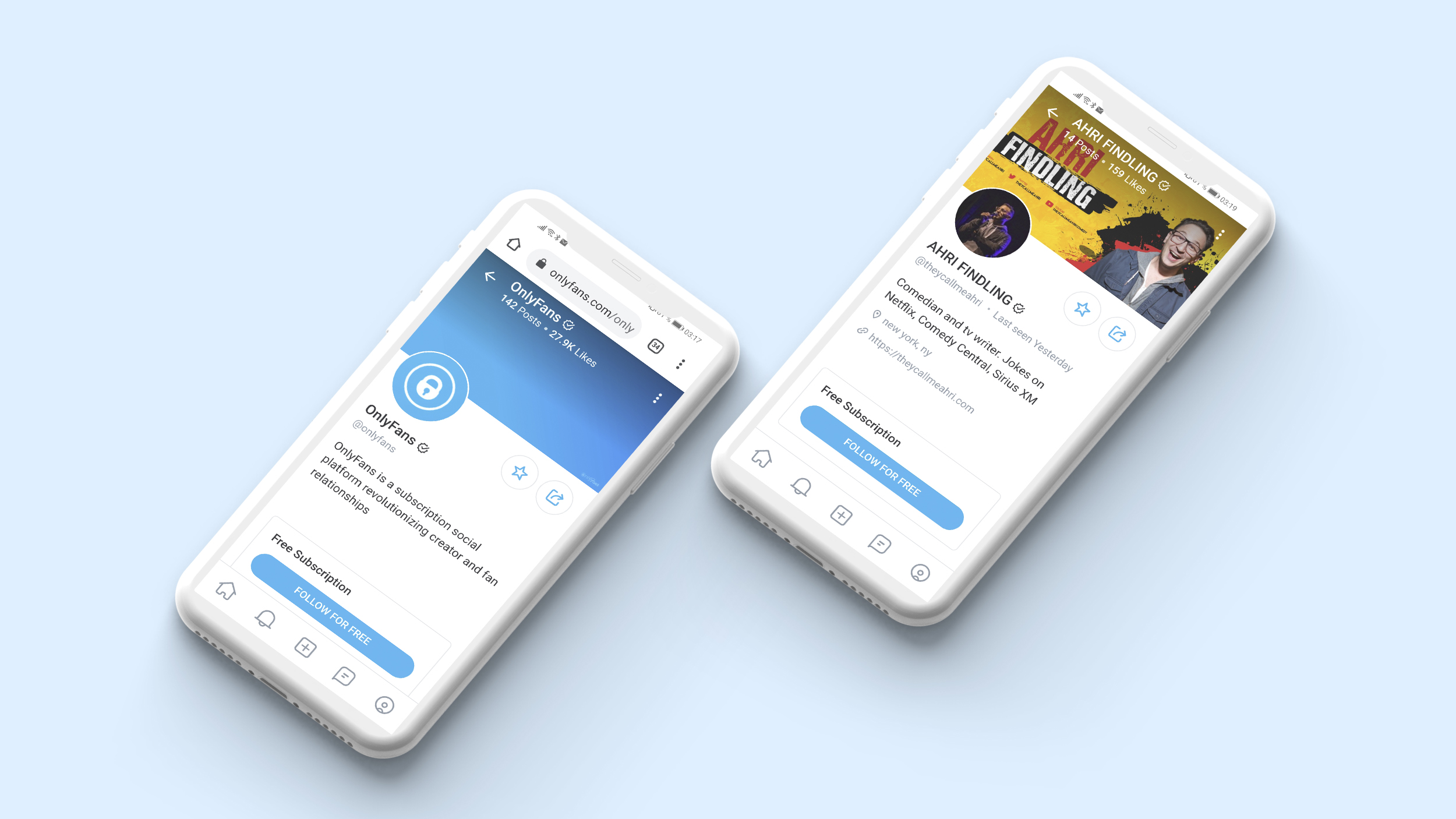 Subscription plans
Creators should have the opportunity to create custom subscription plans to give their subscribers limitless access.
Share content
Creators need to share photos or videos as per subscribers' requests.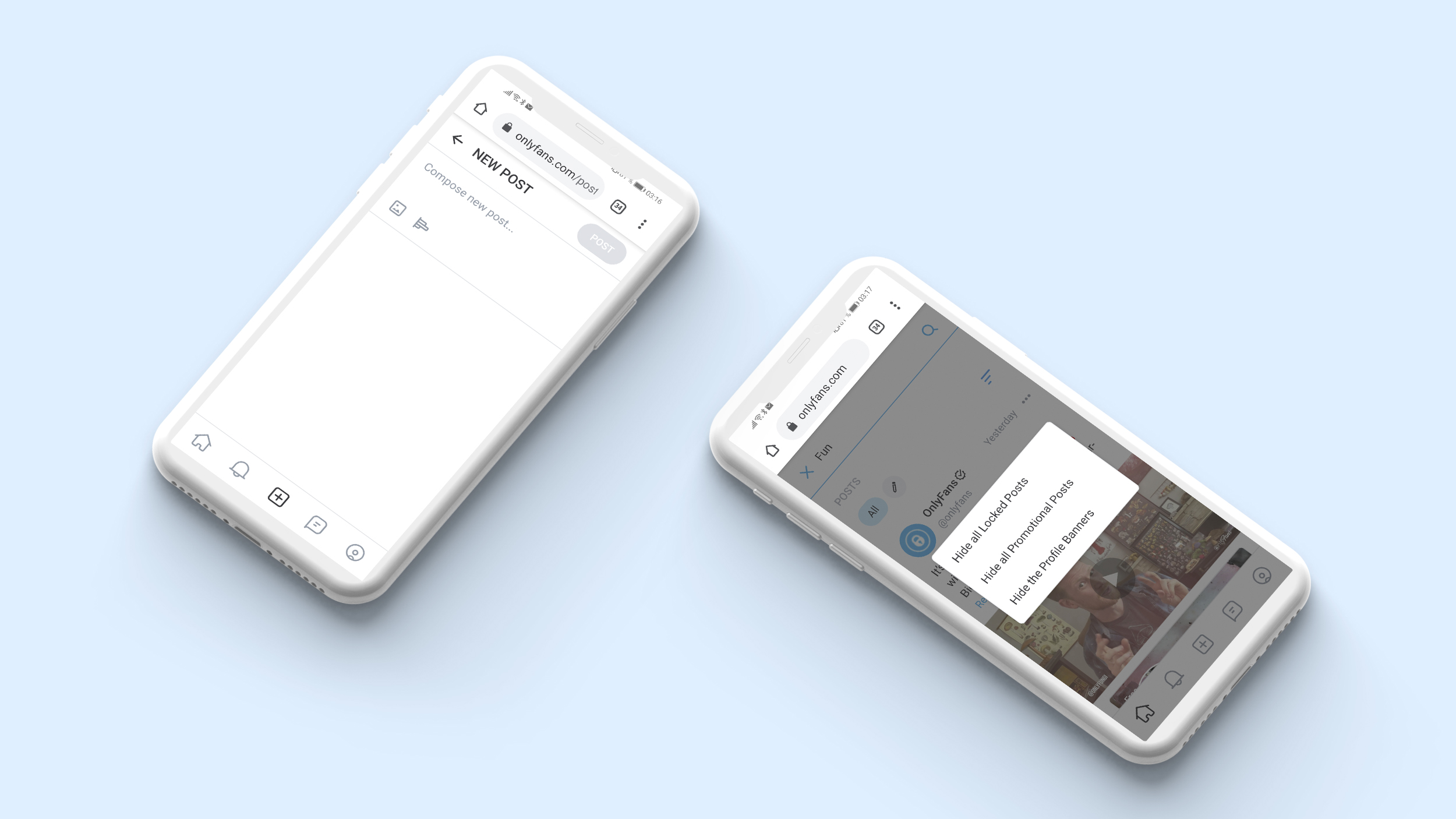 Receive payment
Content creators can receive payments from subscribers after the commission deduction by platform.
Interaction
Creators can communicate with their subscribers over chats or one-to-one calls. Moreover, it can be one more way to earn money.
Request status
Content creators can view all requests from their followers and their status.
Admin profile features
Manage users profiles
The administrator has access to each user profile, can block or delete them in case they don't comply with the app's rules.
Manage creator profiles
The administrator can view all the content creators' requests to join the application and accept or reject them.
Set commission percentage
The admin has an opportunity to set up the percentage for the platform considering the various factors.
View payments
All payment details are processed and presented for the administrator's view.
Manage advertisement
Admins can boost other projects and make revenue by adding promotional ads on the platform.
Manage alerts
The notifications shared with customers should be managed by the admin.
Now, when you're familiar with the essential features, it's time to move to the main stages of an app like OnlyFans development.
How to Create Your Own Music Streaming App That Brings Clients
Main steps to create an app like OnlyFans
Now let's dive into the details. What does each part of the development mean? Why is the process taking so long? What steps are inevitable?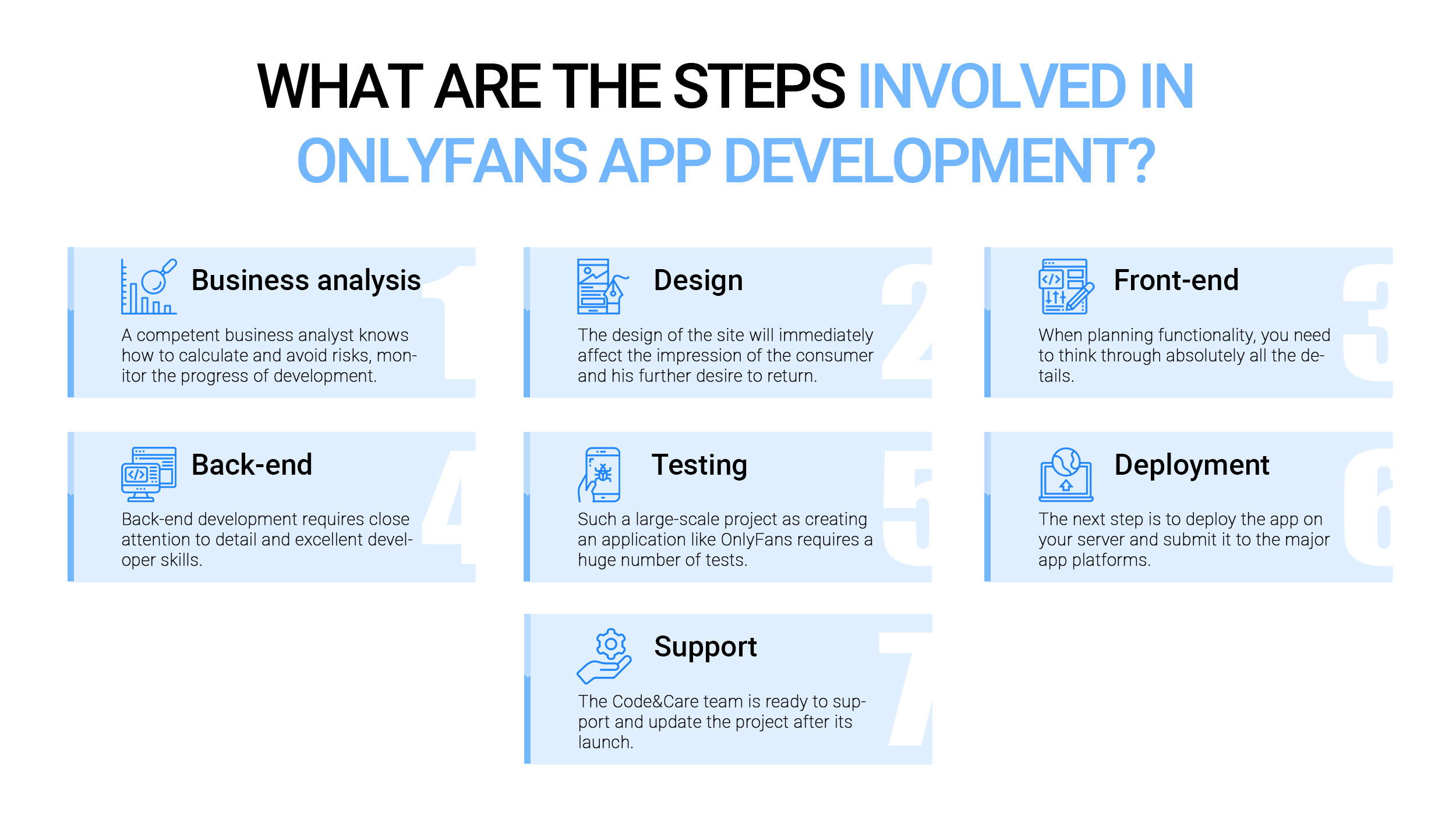 1. Business analysis
A competent business analyst knows how to calculate and avoid risks, monitor the progress of development, and bring the project to a high level of return on investment immediately after launch. At this stage, the Code&Care team provides you a full-fledged planner with clear milestones.
2. Design & development
The design of the site will immediately affect the impression of the consumer and his further desire to return, so try to make everything as fashionable, simple, and convenient as possible. The first step is to create a basic style. The second step is to develop details like authorization form, profile management, chat, payments, settings, management, accounts, posts, etc.
3. Front-end development
The platform looks simple, but it is an achievement of a development team that has spent a lot of time and effort combining design, performance, and functionality. When planning functionality, you need to think through absolutely all the details.
4. Back-end development
Back-end development requires close attention to detail and excellent developer skills. The basic functionality consists of setting up the environment, project initiation, database architecture and design, preparation for deployment; authorization, subscription/unsubscription/blocking of users, profile management, notifications, payments, integration with the payment system, wallets, commission, etc.
5. Testing
Such a large-scale project as creating an application like OnlyFans requires a huge number of tests at all stages of its implementation to avoid bugs and make the user experience awesome.
6. Deployment
The next step is to deploy the app on your server and submit it to the major app platforms.
7. Support
The Code&Care team is ready to support and update the project after its launch.
Tech stack for OnlyFans clone app development
Many tools can be used to develop an app like OnlyFans. However, we can list an approximate technical stack that our team would use for such a product.
Technology stack
| | |
| --- | --- |
| Programming language | Kotlin, Node.js, Swift |
| Frameworks | Flutter, jQuery, SocketCluster |
| Database | MySQL |
| Cloud solutions | Amazon Web Services (AWS), Google Cloud Platform |
How to monetize your OnlyFans clone
There are several most widespread ways to monetize an application app like OnlyFans. They are: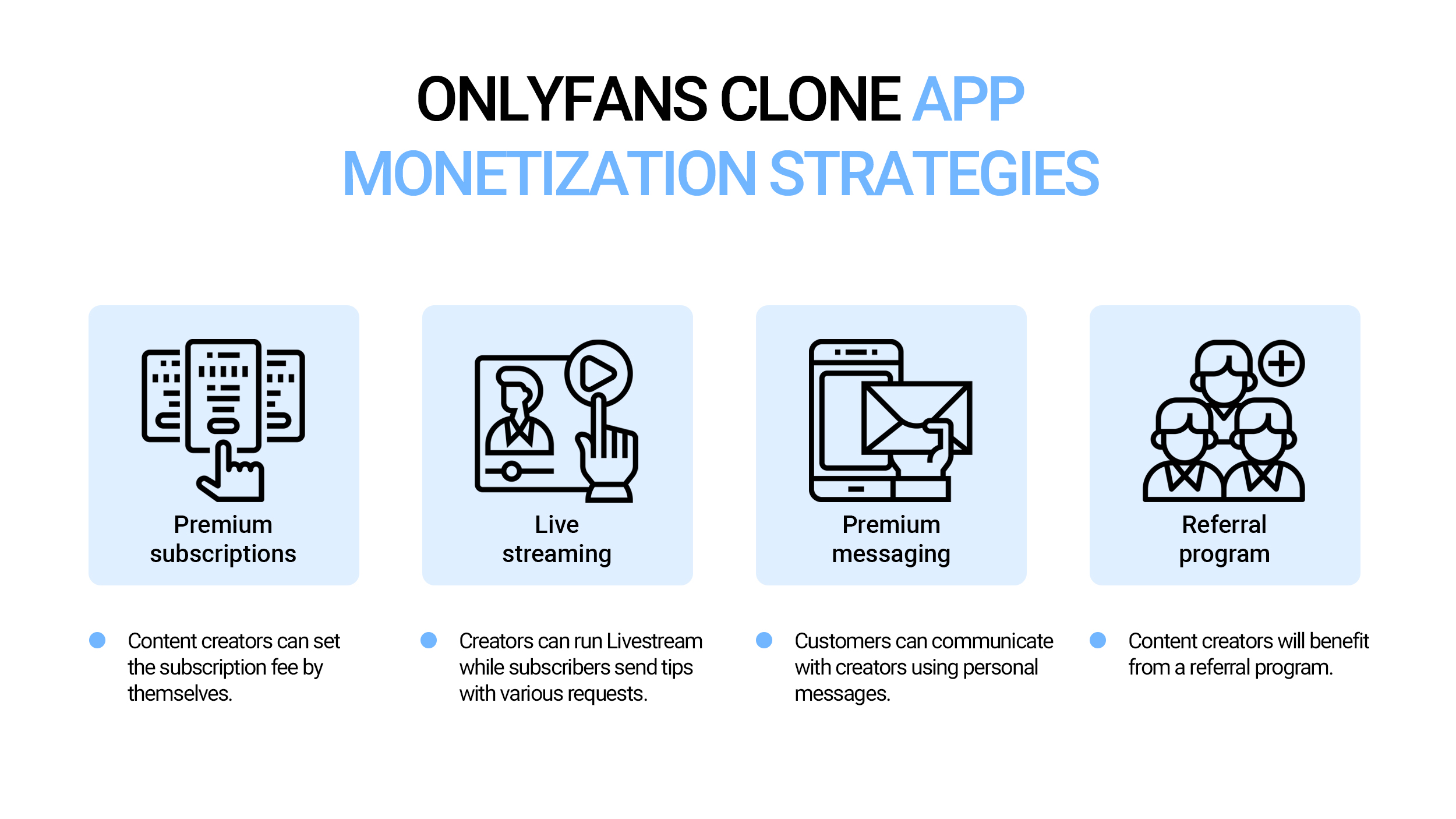 ☑️Premium subscriptions
Content creators can set the subscription fee by themselves. They can charge any amount of money for a monthly subscription from followers. It allows creators to earn money on their content as well as platform owners that get a percentage.
Creators can run Livestream while subscribers send tips with various requests.
☑️Premium messaging
Customers can communicate with creators using personal messages. Messages are operated on the pay-per-view method. It means that people can write to the content creators for free but they have to pay to see the answer.
☑️Referral program
Content creators will benefit from a referral program. Creators can recommend other creators to sign up in the app and earn a percentage of their income.
How to Make a Video Calling App Like Zoom and Google Hangouts?
How much does it cost to make an app like OnlyFans?
The final price of an app like OnlyFans development varies from $20,000 to $30,000 for MVP. Creating a full-fledged product will cost around $50,000. There are plenty of factors that influence the cost. I.e., the number of platforms (iOS, Android, or both), complexity of design, project's requirements, and the number of hours needed for the application building.
Do you want to save some money? So, we have a couple of tips for you. The first tip is to start with MVP development. It will help you get feedback from customers, understand their needs. The second tip is to hire a dedicated development team somewhere from Eastern Europe. As a rule, the hourly pay of Ukrainian or Polish developers is two to three times less than that of developers from the USA or Western Europe.
Every project is unique. If you want to get an accurate estimation, do contact us. We will be happy to help you!
Wrapping It Up
Reading this article is the first step to the app like OnlyFans development. Cost and time estimation may look overwhelming, but keep in mind that the funds will pay off quickly. If you are interested in a development project like this, do contact us via email: [email protected]. We will be glad to help you!
✔Read next:
How to Create a Fitness App: All You Need to Know
How to Make a Location-Based App Tailored Exactly to Your Needs
Food Delivery App Development: Tips to Save Your Budget and Nerves
How to Build a Rideshare App: Types, Features, Cost and Challenges