Similar to other up-to-date apps, mobile apps have made listening to music simple. So, it should not seem a secret that over 85% of people use streaming apps for listening to music.
By 2020, the music platforms have made a revenue of $16,632 million, with an expected annual growth rate of 5.8% in 2024.
Given this dynamic, the idea of ​​building a music app is awesome for startups. In the article, we are going to discuss the top players of the industry, features, the main stages of development, technical stack, etc. Read on!
Music streaming app industry market overview
Music apps are becoming more widespread for the comfort they bring to customers. Let's overview some interesting statistics.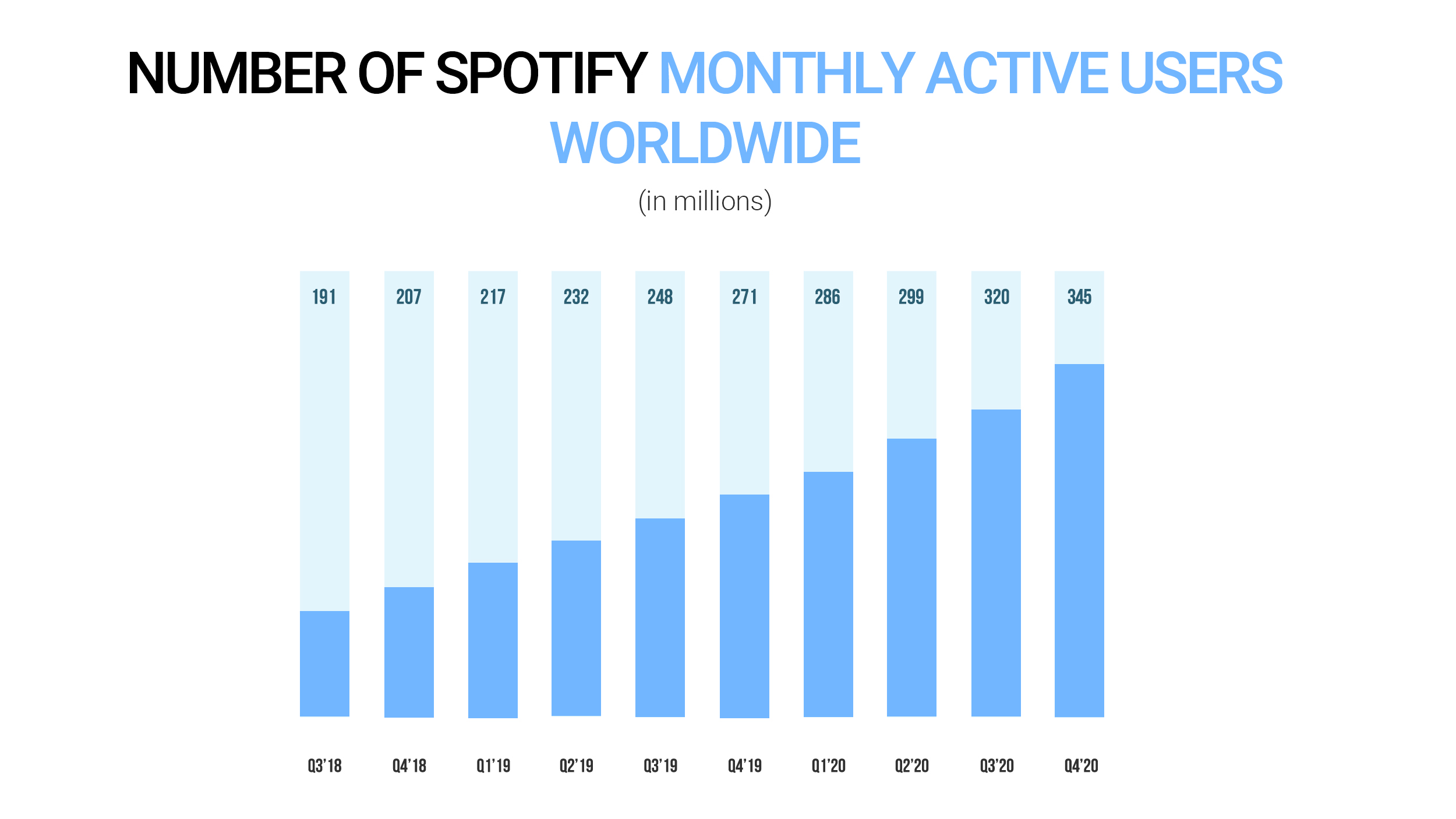 The music streaming industry is very budding. Moreover, it can be hard to compete with platforms like Spotify or Apple Music. Such applications have spent over five years building a user base and have become who they are today. They are investing a lot of money in machine learning and artificial intelligence to make music streaming apps capable of suggesting relevant artists, songs, and albums.
Let's first discuss a few of the market leaders to get what is behind their success.
List of the most popular music streaming applications
There are a huge amount of different music apps on the market, but only a few of them became leaders. They are Spotify, Amazon Prime Music, Apple Music.
In 2019, according to Statista, Spotify had 35% of music application customers from all over the world, Apple Music 19%, and Amazon Prime Music 14%. Moreover, Amazon Prime and Apple Music have a bigger audience in the US (likely due to their region of origin). On the contrary, Spotify is widespread all over the world.
Now, let's overview each of them.
Spotify
Spotify is the most famous music app. Nowadays, the apps' audience includes 109 million premium subscribers and 232 million monthly active customers.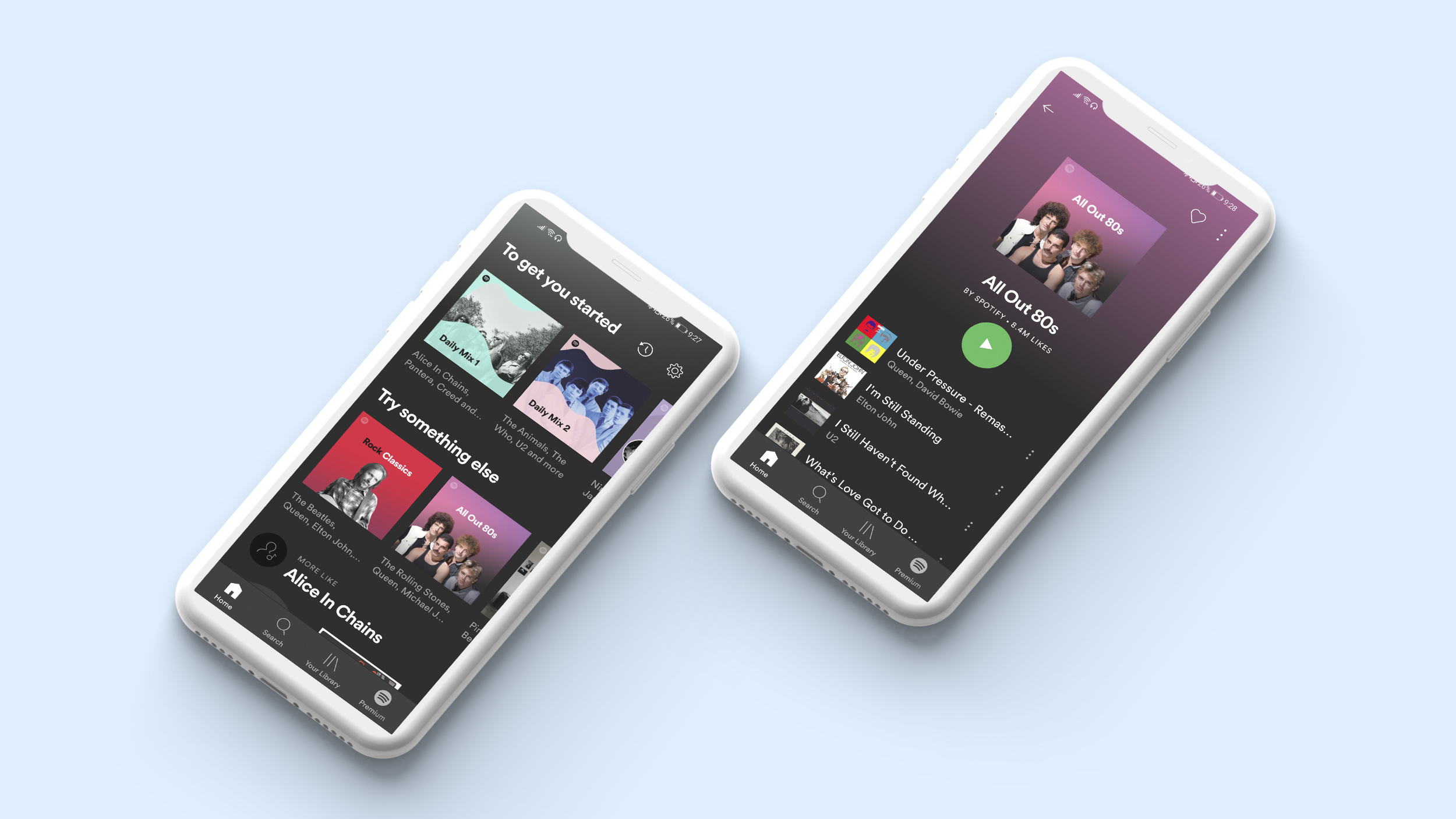 Application users get access to a list of music services. I.e., weekly playlists or tentative radio stations. Moreover, Spotify has Facebook integration allowing people to share the music with their friends.
Apple Music
Apple Music is in the second place of prevalence after Spotify. Apple Music has many features and discounts. In June 2019, Apple Music reached more than 60 million customers and 50 million tracks in its library. In contrast to Spotify, Apple Music doesn't allow sharing music.
Amazon Music
Amazon Music is an improved version of Amazon Prime Music and is free for Prime subscribers. For an extra fee, people get access to the extended catalog. Amazon Music offers playlists combined with musicians the person has already listened to. Besides, the app displays the lyrics of the tracks on the screen.
All of them seem wonderful due to their functionality. They are plain, understandable, and simple to use.
Live Video Streaming App Development: A Business Perspective
What types of music streaming apps are there?
The leading music-on-demand streaming apps are available in a variety of formats and offer many listening options. The common types of music apps are: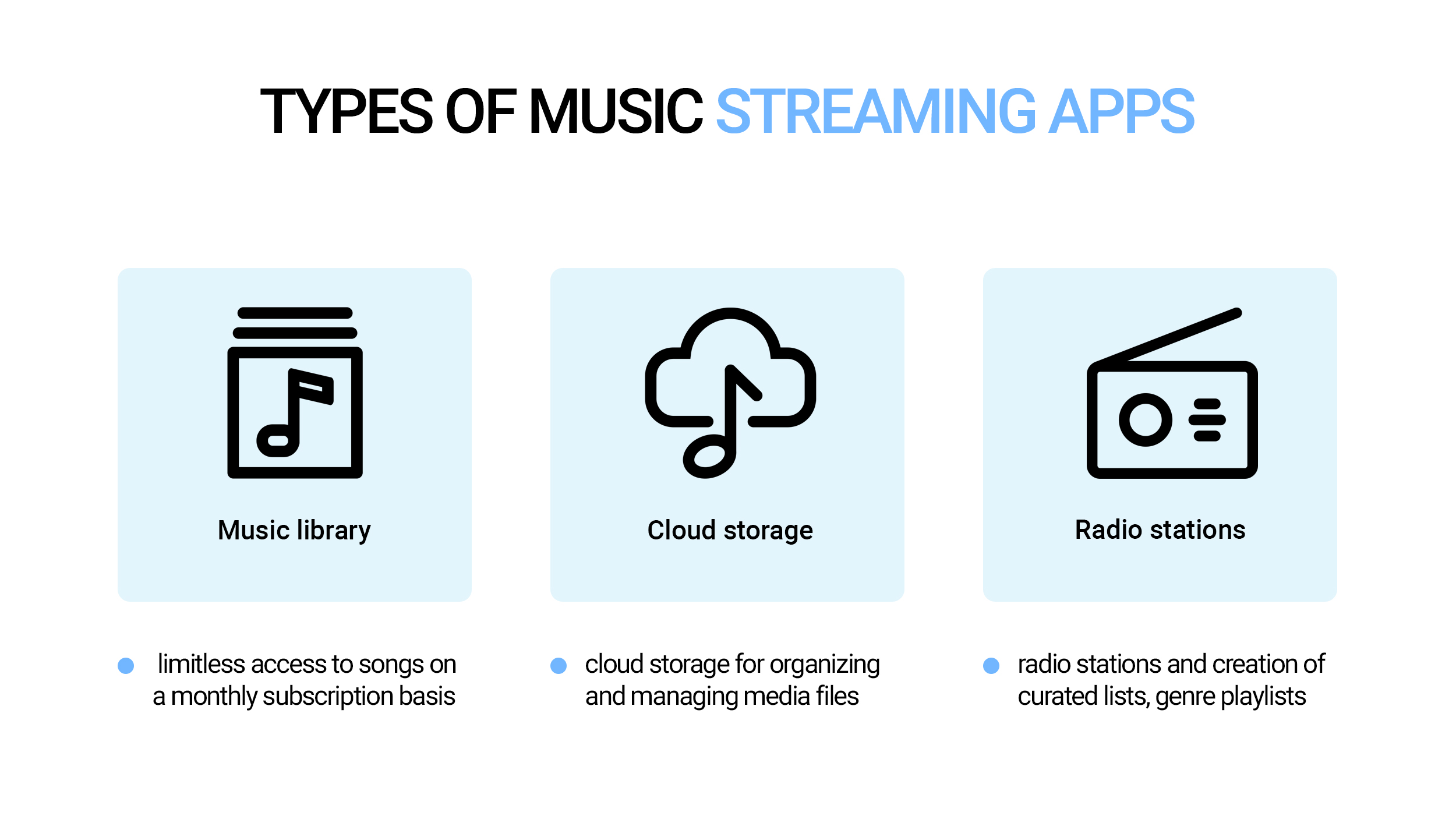 Music libraries give limitless access to songs on a monthly subscription basis, eliminating the cost of buying single tracks or albums.
The largest services commonly offer cloud storage for organizing and managing media files. I.e., pCloud offers 10GB of free online storage and allows customers to play media files online. It also has a locally encrypted secure option.
This type of app offers different radio stations and creates curated lists, genre playlists, artist-centric lists, etc.
How to build an audio streaming app
Now, let's overview the process of creating a music streaming application. We'll share a detailed guide of the Spotify-like application creation along with a cost estimation. Check it out!
1. Define the concept
You need to define the whole concept. To do this, look through similar applications and, for sure, come up with something that will make your app unique.
2. Licensing
When developing a music streaming service, you need to obtain a license to ensure your subscribers' legal audio content.
As far as Spotify is concerned, the service has two types of music distribution licenses. They are:
Sound Recording License Agreement
Spotify has licenses from three major record companies. They are Universal Music Group, Sony Music Entertainment Group, and Warner Music Group.
This concerns the tracks' legal owners, which are run by two major firms in the US, BMI, and ASCAP.
3. Find developers
It's time to get down to real work and pick a team that will build a Spotify-like app. There are many factors to take into consideration. The most important is to check out the portfolio of the potential teams.
4. Estimate
This market has plenty of opportunities, but it's insufficient to get you up and running and spend whatever you've got on a killer app. You need to make research and figure out the preferences of your target audience. Then share the concept of your future app with the development team. The team will offer tech ideas, time and cost estimates, and project requirements.
5. UI/UX design
At this stage, you and your development team have to agree on the way the future application will look. Creating a music application process includes the following steps:
The team creates a basic concept of the app.
The team creates mockups for future applications. They include icon designs, buttons, fonts, spaces, etc.
The team creates an interactive model of the application that shows the way it works. Typically, prototypes give you the ability to see the result.
6. Choose tech stack
To create a music app, consider Spotify developer tools like Python and JavaScript, etc. We will discuss this topic in detail in the next paragraph.
7. Test
After finishing the app, the team conducts extensive testing to ensure that the app works seamlessly. We usually implement this as soon as the application is prepared and approved.
Music streaming application features
There are very few crucial features in a music streaming app, but it is critical to implement them to provide users a great experience.
Registration
The registration should be done through social networks such as Facebook, where people can interact with their friends and share tracks. Besides, email registration should be available as well.
Search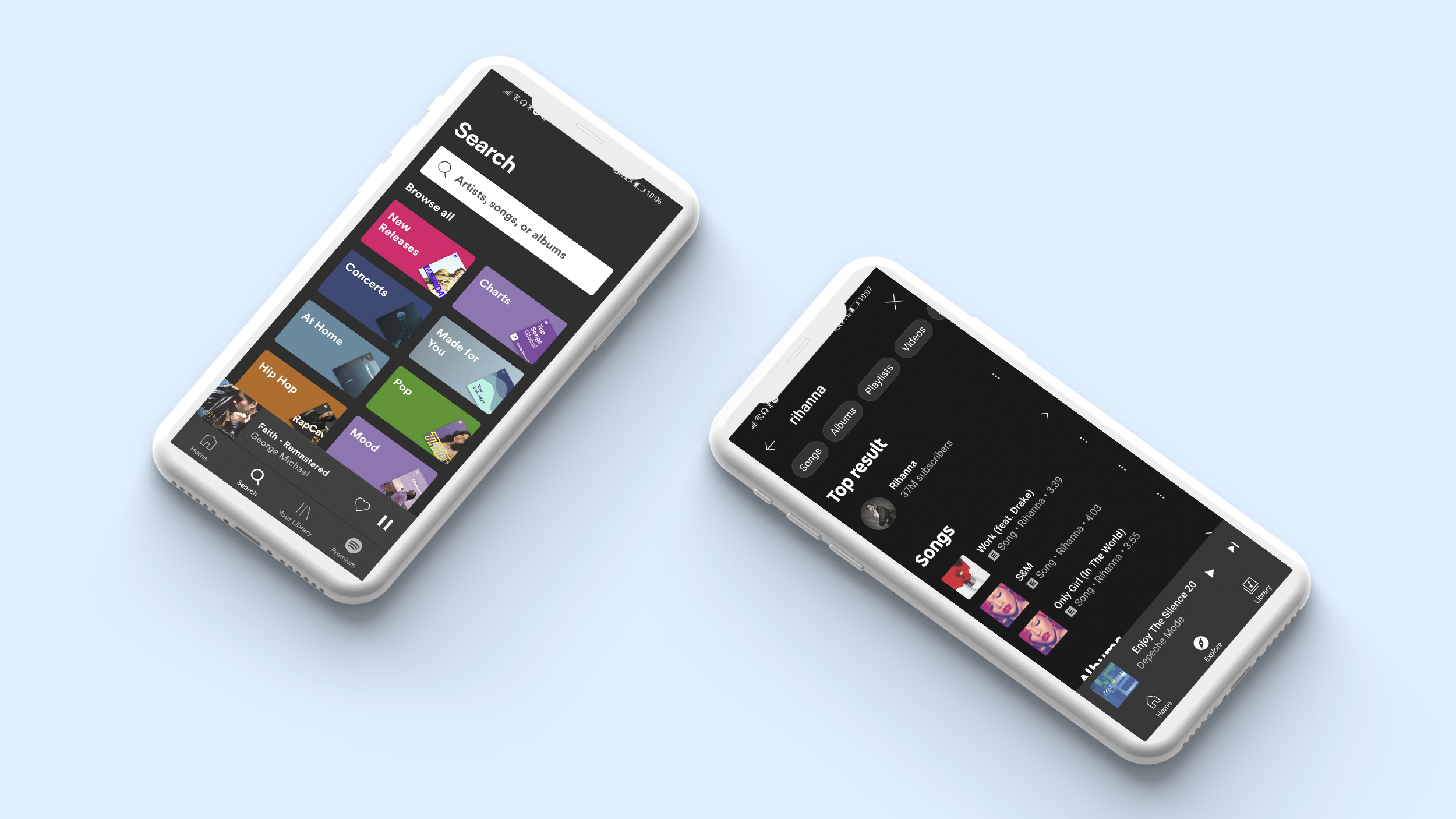 There is no search — no application. Let people find the desired songs in a fast and simple way with a search with built-in filters.
Organization of music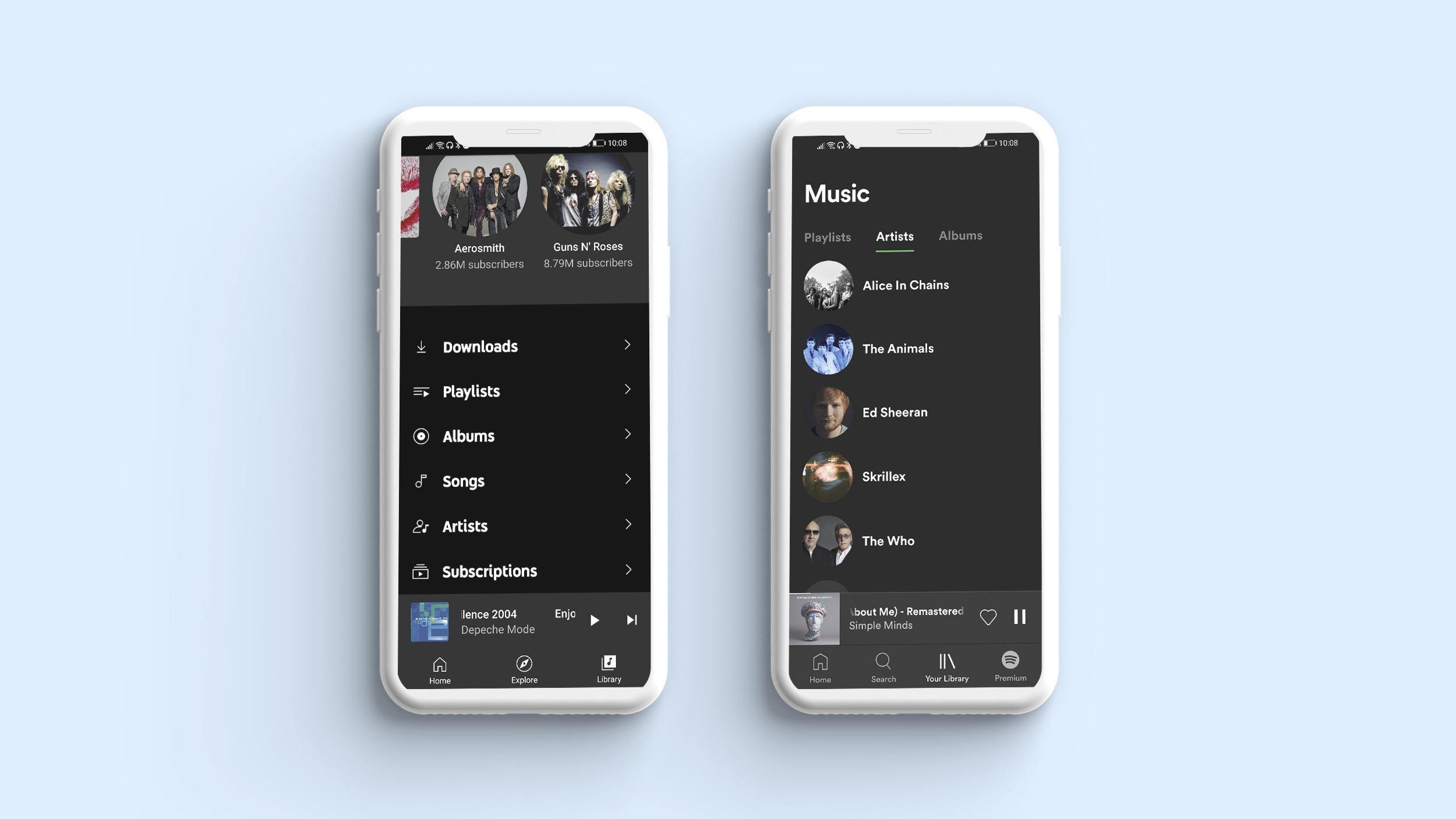 Organization of music helps customers to create playlists for various styles and goals, sort music by duration or size, etc.
Social sharing
People love to be socially active, and the ability to share information with friends is essential.
Push notifications
Any app updates will be available as push notifications on all users' devices. Of course, if you wish, you can turn off notifications in the settings.
AI-based recommendations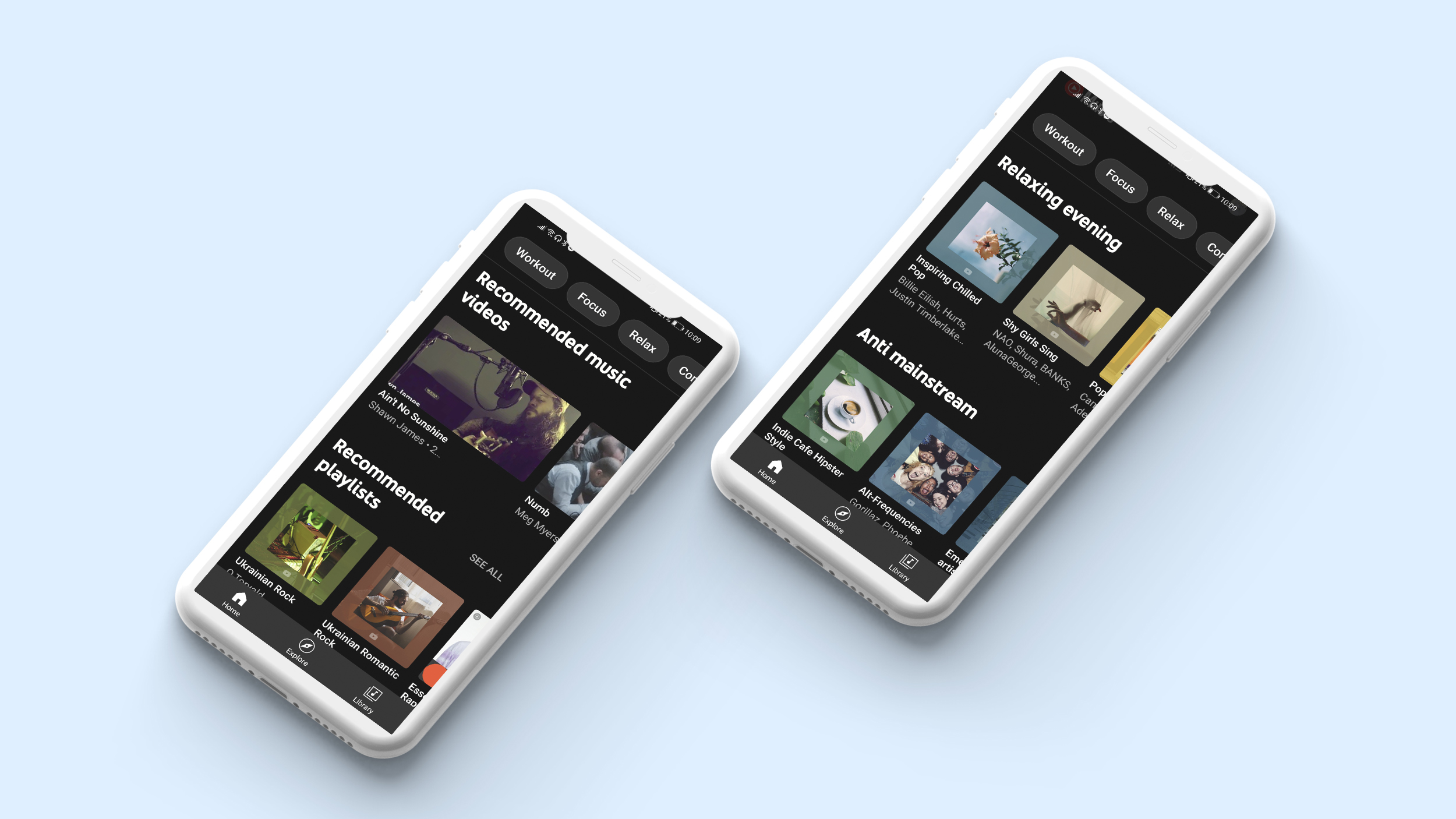 Improve your customer experience and ensure that users only listen to the music they prefer. Artificial intelligence algorithms will choose songs based on a person's preference.
Subscription to artists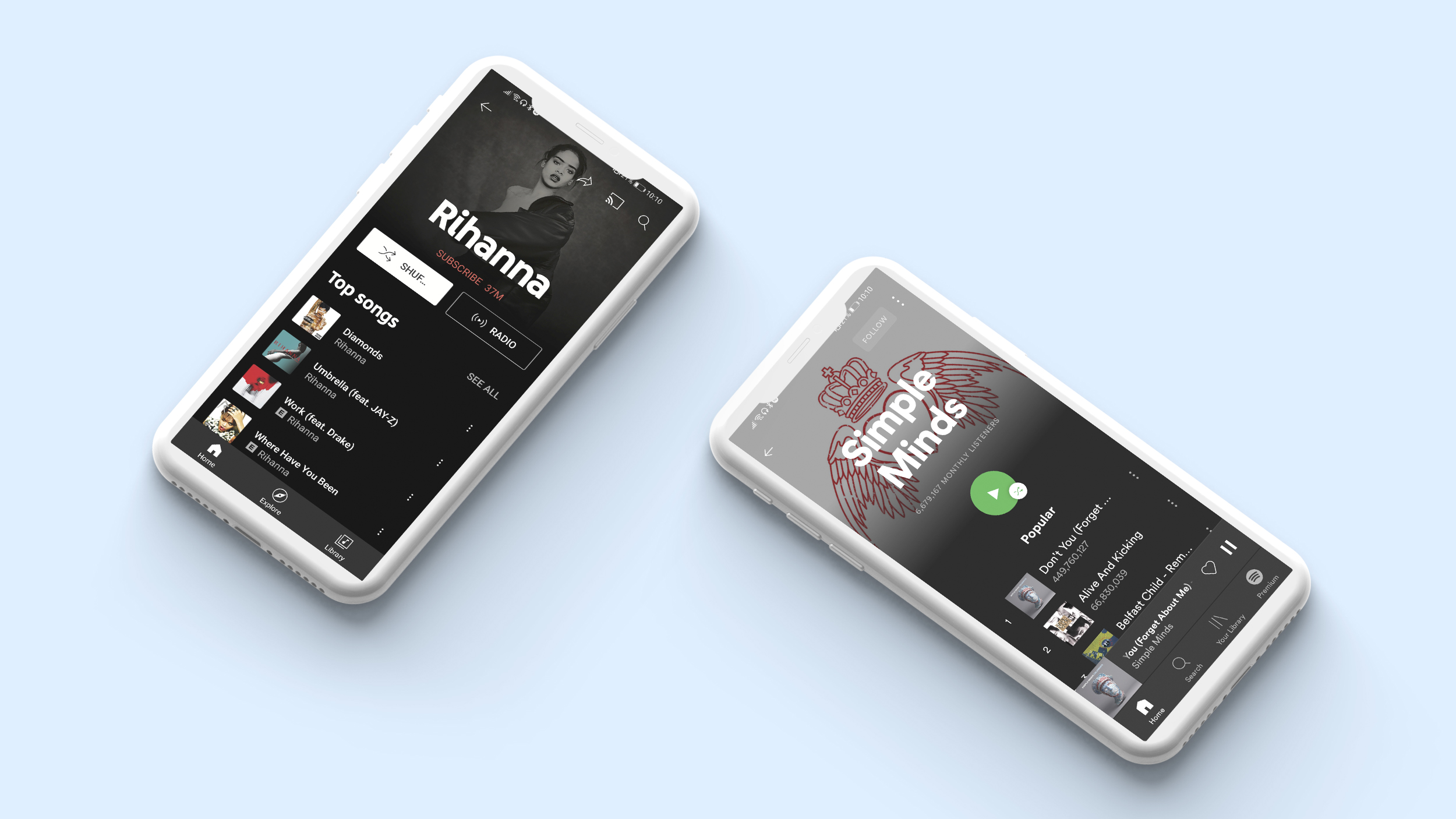 Customers can follow their favorite musicians and get updates when artists release new tracks.
Library
Spotify does not contain a music library. Besides, Apple Music has it. And you can add it so that customers can build personal libraries, upload songs, but the number of tracks uploaded should be limited to save storage space.
Calendar of events
The app will show upcoming music events to keep users informed and purchase tickets in advance.
Chat
Chat isn't that critical, but it makes your app different from others. Let users connect and share their musical tastes.
Finally, remember about the admin panel. You will use it to control customers, delete/add playlists, and manage other crucial features.
How to Make a Video Calling App Like Zoom and Google Hangouts?
Tech stack for Spotify-like app
Spotify-like app development is impossible without a scalable technical stack. Long story to short, let's move on to the main tools.
Spotify-like app tech stack
| | |
| --- | --- |
| Programming languages | Python, Ruby, PHP (for backend), HTML5, Bootstrap, JavaScript (for front-end). iOS and Android apps will be built using Swift and Kotlin/Java accordingly. |
| Frameworks | Hadoop, Apache Storm, Hub Framework, jQuery |
| Server | Nginx |
| Cloud Storage | Amazon S3, Google BigQuery |
| CDN | Amazon CloudFront |
| Database | PostgreSQL, Cassandra |
| Tools | Bootstrap, Kafka (for streaming processes), Google Analytics |
| DevOps | Docker, Datadog, TestFlight, Percy, Helios |
Ways to monetize the audio streaming app
The choice of monetization model is crucial if you want to earn money with the app. Spotify-like apps have two main ways of making a profit. Let's single out the details of each option.
Commonly, platforms suggest a subscription to access music. It allows companies to make revenue every month. Also, it is a widespread option for streaming music applications as the company's owners have to pay for licenses.
You can add ads before playing a song, similar to YouTube Music's approach. Besides, Spotify uses few types of advertising. I.e., for artists, there is Spotify Ad Studios. The service studies the style of your music and shows fans of similar styles and artists.
It is also possible to charge artists. I.e., musicians can create paid profiles where they track download statistics and other crucial data for a fixed fee.
How much does it cost to build a music streaming app?
The final price varies depending on the chosen tech stack and the location of the team. The location has a critical influence on the final price, as outsourcing mobile app development can save you up to 60% on investments. If in the US or Western Europe, hourly rates vary from $75 to $200, Eastern Europe, and in particular Ukraine, offers $35-50 per hour.
So, the development of a simple MVP costs around $16,000. The final price of a more complex project is higher.
Challenges in music streaming app development
Each development process has its pitfalls. And developing music apps is no exception. We want you to review five points.
Relative recommendations
This is a critical aspect to consider if you want to compete against the market leaders. Artificial intelligence algorithms analyze customers' music taste and give them awesome recommendations. It would be helpful if you can use it in your application.
Stability
If the streaming process slows down and there are protractions, it will irritate users like a red rag on a bull. The simpler the streaming process, the better for the app and people's loyalty. It means that you need to use multiple servers in different regions of the world. It will guarantee stable streaming as users can be anywhere.
Data storage
Use solid storage tools that can handle large amounts of data. The app can store thousands of songs and you have to buy secure server solutions. I.e., AWS or Google Cloud Storage.
Access to the market
It is crucial to take into account attracting the first customers and engage them to work with the application. To solve the problem, you have to create an awesome strategy.
Value proposition
One of Spotify's value propositions is the huge amount of individual playlists it creates based on previous user experience.
Conclusion
Wrapping up, the final price of a Spotify-like app creation starts from $16,000 and can be much higher if the project is complex. Besides, no matter how much money you will spend on app-building. The most crucial things are unique ideas and concepts.
To get an expert opinion about your idea, do contact us. We are always happy to share our expertise and answer your questions!
✔Related articles:
How to Build an NFT Marketplace: A Comprehensive and Step-by Step-Guide
How to develop a drop-in audio chat like Clubhouse
How to create a fitness app: All you need to know
Food delivery app development: tips to save your budget and nerves