Remember the times when people came to the bank to perform simple, elementary financial transactions? Thank goodness it's over now as we know how to build money transfer apps and you can quickly charge your smartphone or send a friend the money you owe for movie tickets.
A transparent and collaborative payments ecosystem is needed today. The conservative approach to universal money transfer app development disappears when millennials and Gen Z enter the scene.
During the first quarter of 2021, leading digital payment and money transfer apps reported 31 million user downloads in Europe, up nearly 35% from the corresponding quarter last year. From early 2018 to early 2021, downloads of the most popular mobile payment and finance apps such as PayPal, Klarna, and Western Union grew steadily.
They want quick and easy solutions for their day-to-day work — no paperwork or queues. If the bank doesn't offer an easy solution, they will look somewhere else.
What is a Money Transfer Application and How Does it Work?
The universal money transfer app allows you to send funds to the other person on your smartphone or tablet. Most of the apps can be downloaded for both Android and iOS. Many apps also allow you to pay with a debit or credit card. At the same time, others send money from the chosen bank account.
To send money through the app, you will need to disclose some data, such as your bank account or card details, and the recipient's details. Some apps may also ask you to provide proof of identity, such as a passport or driver's license.
These applications require data such as your debit card data to be able to make international payments. After you provide the required information, you will need to enter the amount of money you will send and the recipient's currency. The corresponding exchange rate and fees will be displayed before you confirm the transaction.
Reasons to Develop a Money Transfer App
The key thing is the benefits that the product can bring to customers. You will be provided with a comfortable payment method with essential and probably unique features to help users better manage their finances. There are many other reasons for developing peer-to-peer applications. E-wallets are a highly sought-after area of ​​financial technology. They allow the owner to earn an intermediary commission and achieve fair monetization of the product. Demand is growing and the app industry's revenue has grown more than 200% over the past decade.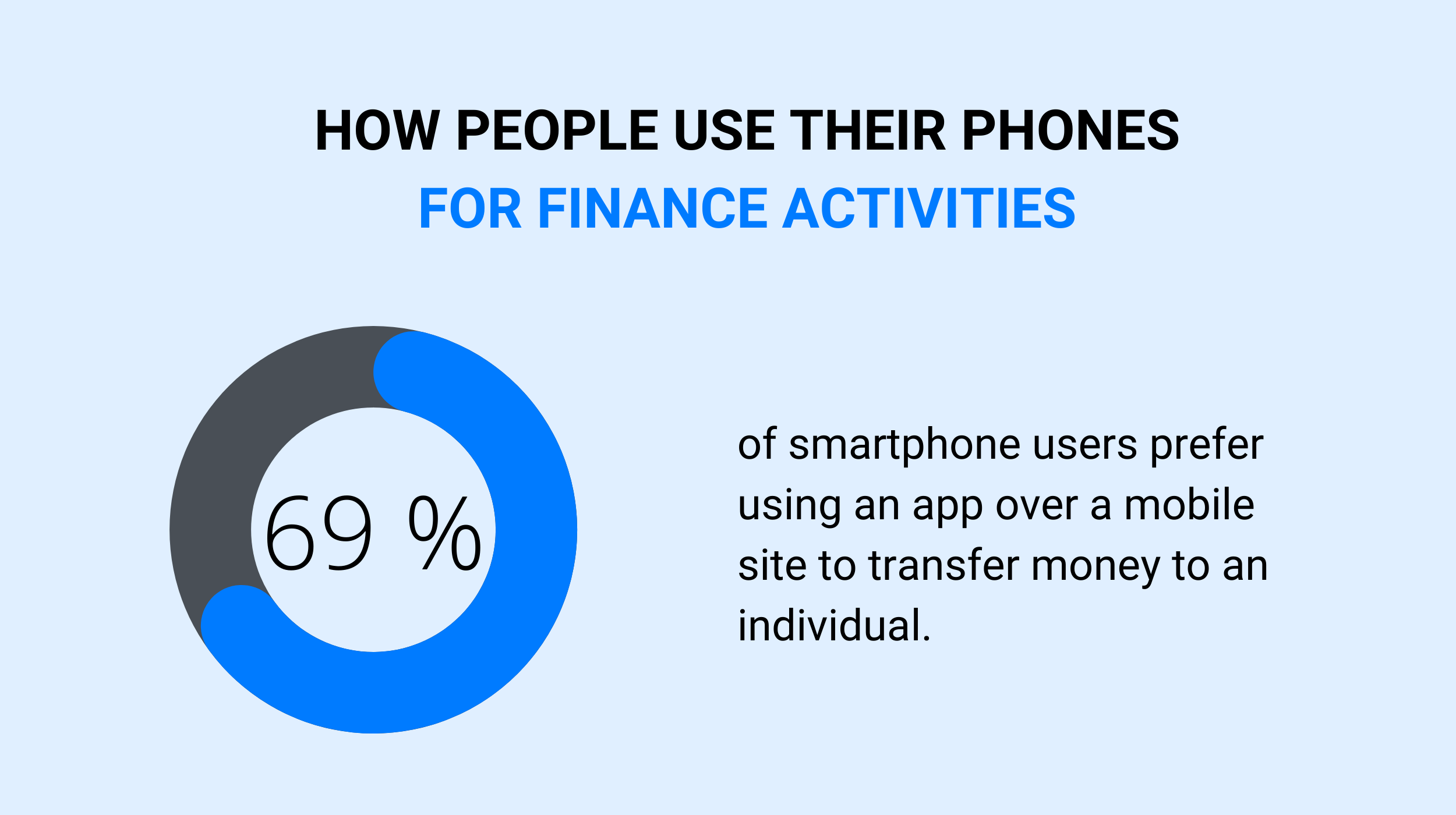 Besides, let's overview some numbers. They explain better than us why the money transfer app development is a promising idea.
As Statista states, the total transaction value in the digital payments sector is expected to reach $6,682,332 million in 2021. Moreover, the total transaction value is expected to show an annual growth rate (CAGR 2021-2025) of 12.01%, leading to a projected total of US $10,517,932 million by 2025.
According to other research, 6 in 10 smartphone users prefer using a money transfer app over a website.
In 2020, e-wallets accounted for about 45% of worldwide e-commerce payment transactions, making the e-wallet the most popular online payment method worldwide. This share is supposed to rise to more than 50% in 2024. Credit cards are in second place with a 23% market share in 2020, and the number is projected to decline in the coming years.
There are several areas in which developing P2P payment applications can be profitable:
✅ Retail and B2C services
Applications help users to pay with constructors, buy items in a store or online store, etc.
✅ Financial institutions
Companies can offer users different cards or create internal payment systems (without the need for a bank).
✅ Telecommunications, logistics, and technology companies
They act as neutral participants in the financial segment. With a customized mobile wallet, businesses can integrate cards from different banks into one environment.
✅ Private payments
People use e-wallets to send money to credit/debit cards; lend to someone; financially help parents, students, children, etc.
✅ Other areas
Such applications are convenient for non-commercial fundraising for charity, anonymous transfer, etc.
Key Benefits of Money Transfer Applications
Money transfer applications give plenty of benefits to their owners. Below, we listed the main of them.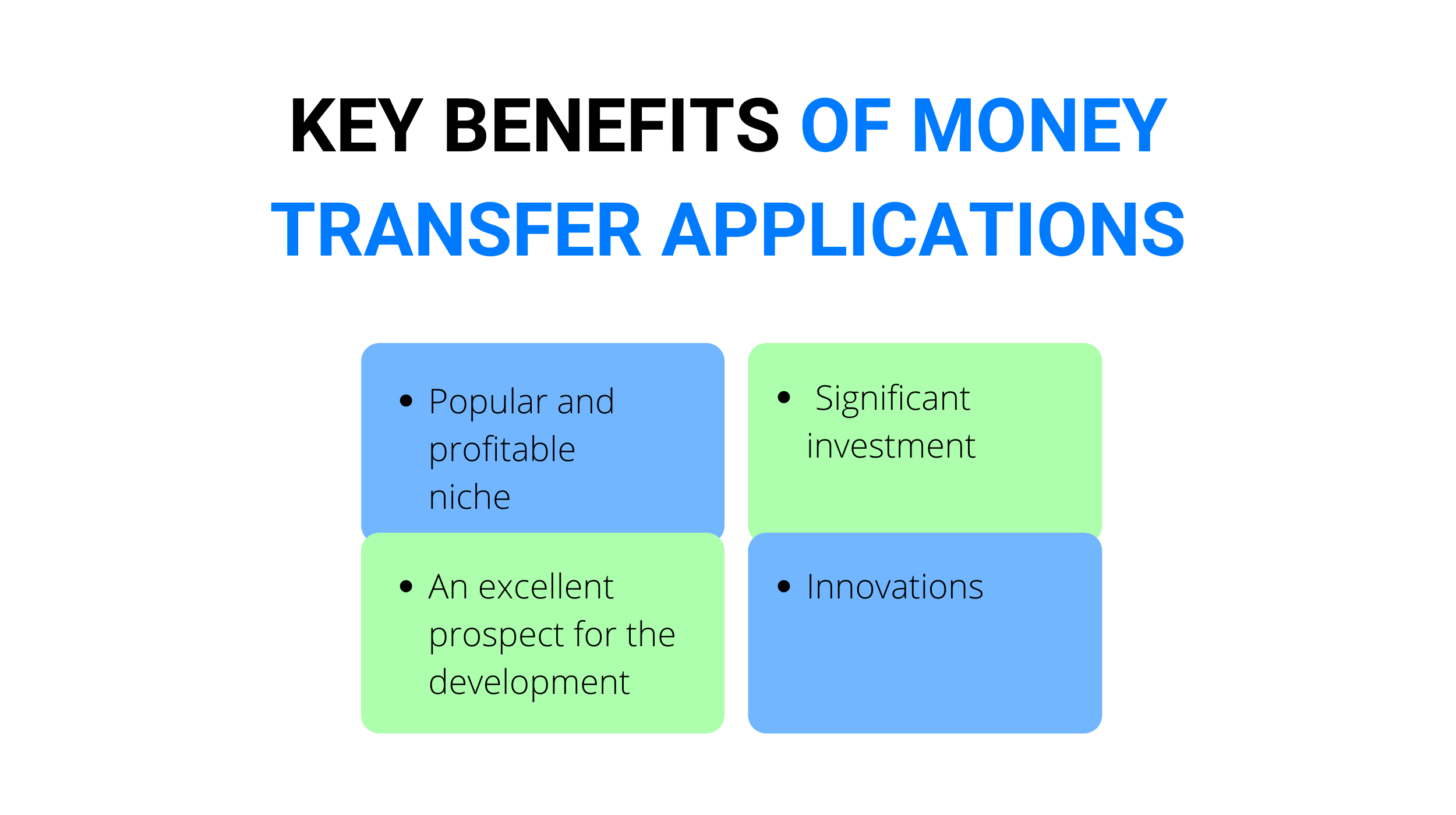 🔹 Popular and profitable niche
The fintech industry reigns supreme in the tech world with a staggering $118 billion in investment. And there is no functional fintech ecosystem without convenient money transfers. As Business Insider states, "digital peer-to-peer payments are becoming the new social norm," and "mobile P2P is expected to grow to $336 billion."
🔹 An excellent prospect for the development and expansion of applications
The fintech sector will not slow down at its staggering pace anytime soon. This means that if you can keep up with the times and keep your product relevant, your business will have tremendous potential to grow and attract new customers.
🔹 Significant investment
With the right approach, you will get funding for your product without any problems. MVP or other relevant results are enough to attract investment.
🔹 Innovations
According to the specialization of P2P payment applications, they must work with advanced technologies to ensure the protection of transfers and the security of customer data. Building a fintech product means your team will continually develop skills and experience in some of the most promising areas of software development.
Types of Peer-to-Peer Payment Software
To give you a clear understanding of the P2P software market, below we listed the main types of money transfer apps.
✔ Standalone services
Companies like PayPal have an independent digital wallet. Standalone apps help the user to make card payments and store money before withdrawing or sending.
✔ Banking services
Many banks create P2P platforms or use applications to transfer money through partners. Systems like Dwolla or Zelle include a bank as one of the parties and can work with merchant equipment such as point-of-sale terminals (PoS).
✔ Services focused on social networks
Google, Facebook, and other media corporations are developing their P2P applications or integrating payment functionality into their messengers. Mobile wallets allow you to transfer funds from bank cards within the platform and send amounts directly to recipients.
✔ Systems focused on mobile OS
Solutions like Android Pay or Apple Pay are not apps, but functions of a mobile device. Contactless payments are only possible on gadgets with NFC, which is often a problem for the buyer. But the P2P method allows Android/Apple Pay users to transfer money and buy goods in stores with NFC PoS terminals.
Main Features To Make Your Money Transfer Product More Secure
Here is a basic list of features required to create a mobile money transfer application. Introducing these features into your application will be enough to provide your users with the experience they are looking for. However, there should always be room for specific features and customization options.
Sign up and login

The user's journey begins with registration and login. Since security is a top priority in financial applications, you must immediately show your users that their finances and data will be strictly protected. Currently, the smartest way to do this is to enable two-factor authentication. Biometric authentication using Face or Touch ID should also make a difference.
E-wallet
E-wallets are online services or programs that let people make transactions on the Internet. By integrating such a wallet, clients can interact with the service and pay contactless in every country they visit, without the necessity to create multiple bank accounts each time.
Payment statistics
A payment statistics system is a set of functions that help visualize all user transactions by criteria such as volume, status, recipient, or even country. These features come in handy for people who like to manage their finances. Thus, your platform will become more user-friendly and user-friendly, attract new customers, and make their work more convenient.
Templates
Customized templates for instant payments are another way to make the payment process easier and faster while improving usability.
Payment status and history

This is an essential feature for analytics. You can share your analytics with your users so they can understand what they are spending in your store or elsewhere.
Notifications
Alerts are useful for keeping your customers informed, great for creating complementary interactions and purchases. I.e., if you are about to create a money transfer application for your e-commerce store, you can send your customers notifications about discounts and promotions. P.S. Be sure to monitor and analyze user behaviour to offer them truly relevant offers.
Money transfers to/from a bank account

For sure, your customers need to be able to replenish their digital wallets using their bank accounts, or vice versa — withdraw their money, for example, if it is possible to get cashback.
Messaging and support

This is another important feature. It allows the users to instantly contact the support system if they have any problems.
Security and fraud protection
Two-factor authentication is just one security measure. Besides, you can build a blockchain-based money transfer application and enable AI and machine learning-based fraud prevention and detection solutions.
Additional features
As your money transfer platform will be customizable, you can develop and add additional features that match your business objectives and your customers' expectations. I.e., you can add a referral system, an accumulation of bonus points to pay utility bills, etc.
Multilingual interface
If you're just getting started building a peer-to-peer money transfer app, it's possible to use one language. This is enough for MVP purposes. I.e., to present your product to clients and investors. But later, it is critical to add multiple languages. It will help you grow and expand around the world, getting more new clients in each country.
The List of The Best Money Transfer Apps for 2021
As Statista states, the safest app for money transfers or payments according to users in the United States as of July 2017. According to the results, 74% of users said they believed PayPal was safe, while by comparison, only 17% of users reported the same for Snapchat Snapcash. To inspire you for money transfer app development, we create a list of the best P2P apps.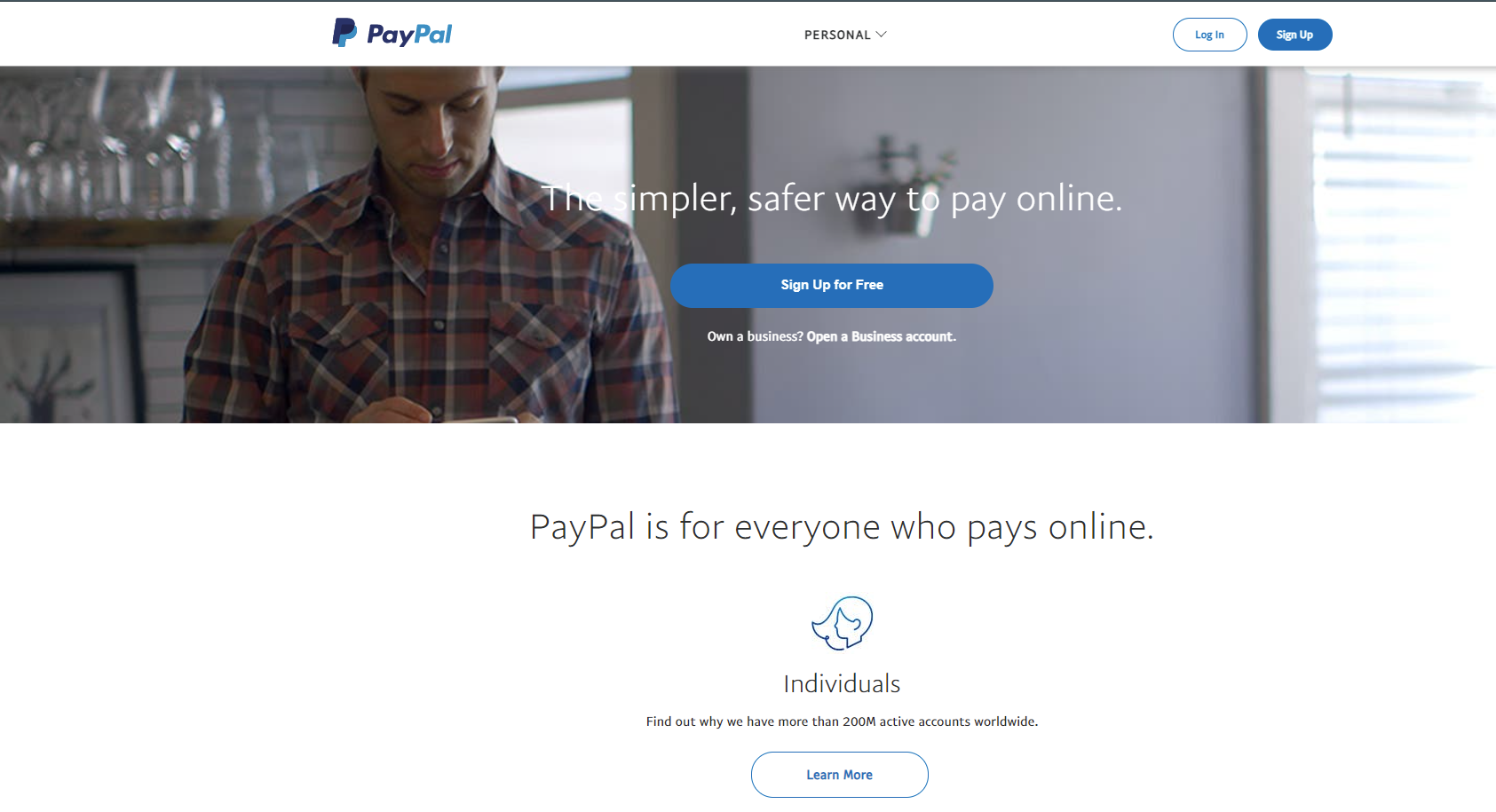 Probably the most famous online P2P system is PayPal, which tops the charts and is used in over 200 countries. By the end of 2020, the total number of active PayPal users has exceeded 250 million, and buyers and sellers can send and receive amounts in over 100 currencies. The app offers robust security tools including encryption and fraud detection. There are no install or cancellation refunds in the system, but there are service and transaction fees that generate the bulk of the revenue. Another disadvantage is the transfer of user data to third parties, and customers cannot prevent this.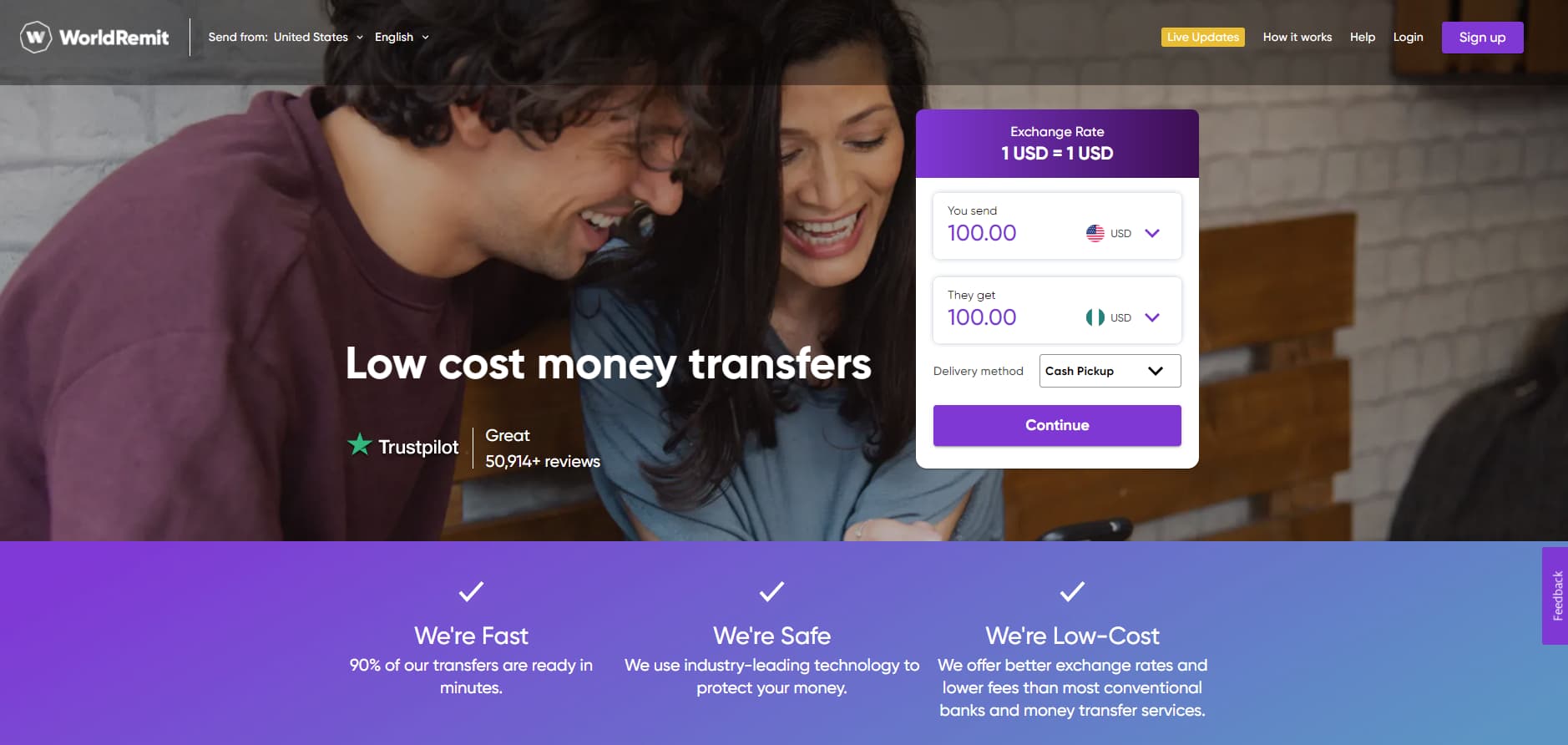 WorldRemit offers the lowest fees, the best preliminary exchange rate, and no hidden costs, as well as the flexibility to ship to over 130 countries. WorldRemit can send money to recipients within 10 minutes. Most transfers are completed within 24 hours, regardless of where the recipients live in the world.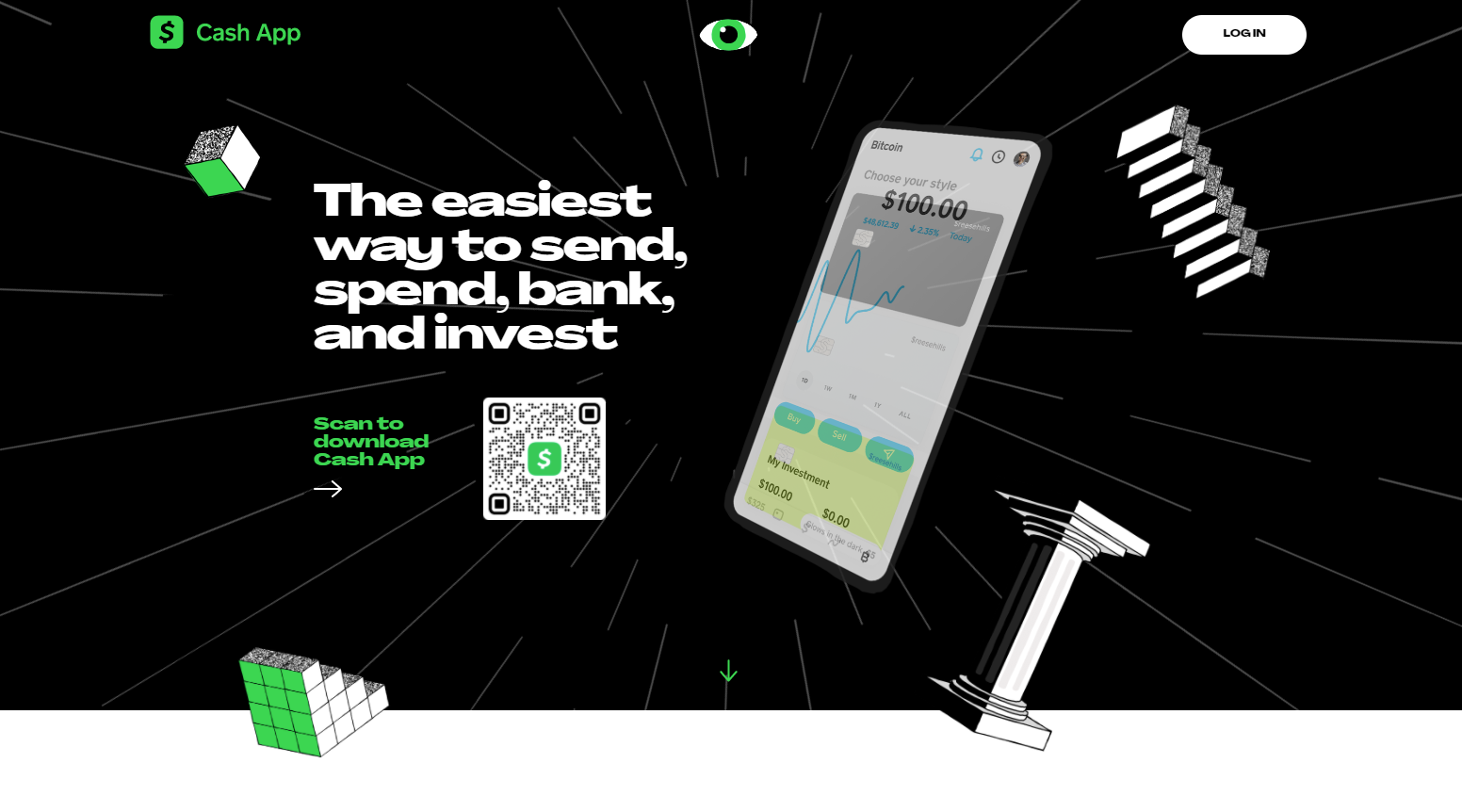 Developed by Square, Inc., this service was launched in 2015 as a free app. It now has over 7 million active users. The market capitalization of the app reached $86 billion thanks to the combined Freemium monetization method. A notable feature is a focus on cryptocurrency transactions. The service is in demand, with the platform generating $1.63 billion in bitcoin revenue in the third quarter of 2020. Users can deposit cryptocurrency from external sources to the app's bitcoin address. Square, Inc. does not charge a service fee and allows you to transfer money for free, but a commission is charged on the commission.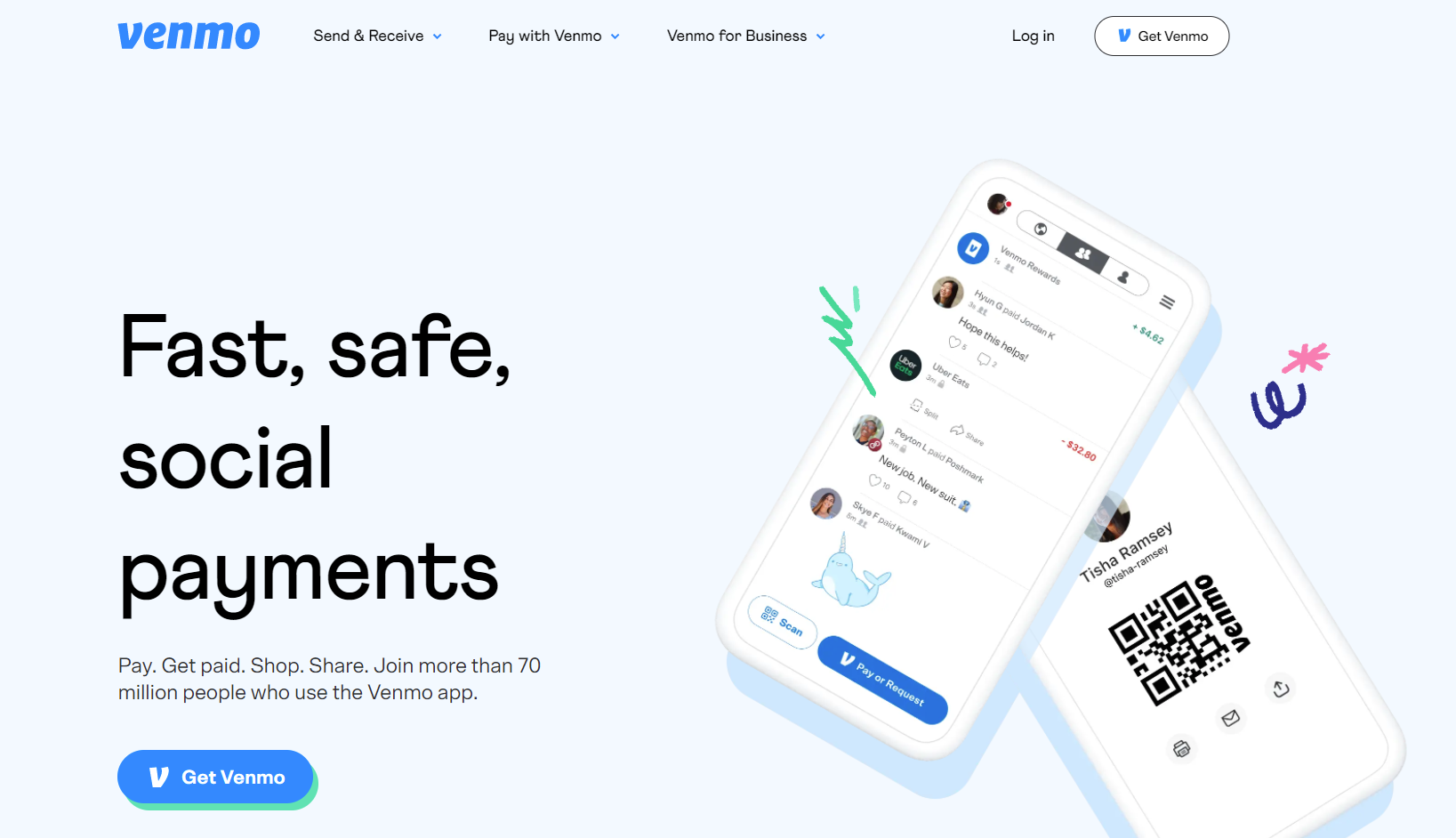 Venmo provides the best of both worlds — it offers a quick and easy way to send and receive money and offers potential "parking" for your money. You can spend, send or transfer Venmo money to your bank account. For these reasons, he won the general expenses category. You can even make your interactions more interactive by adding emojis to your transactions.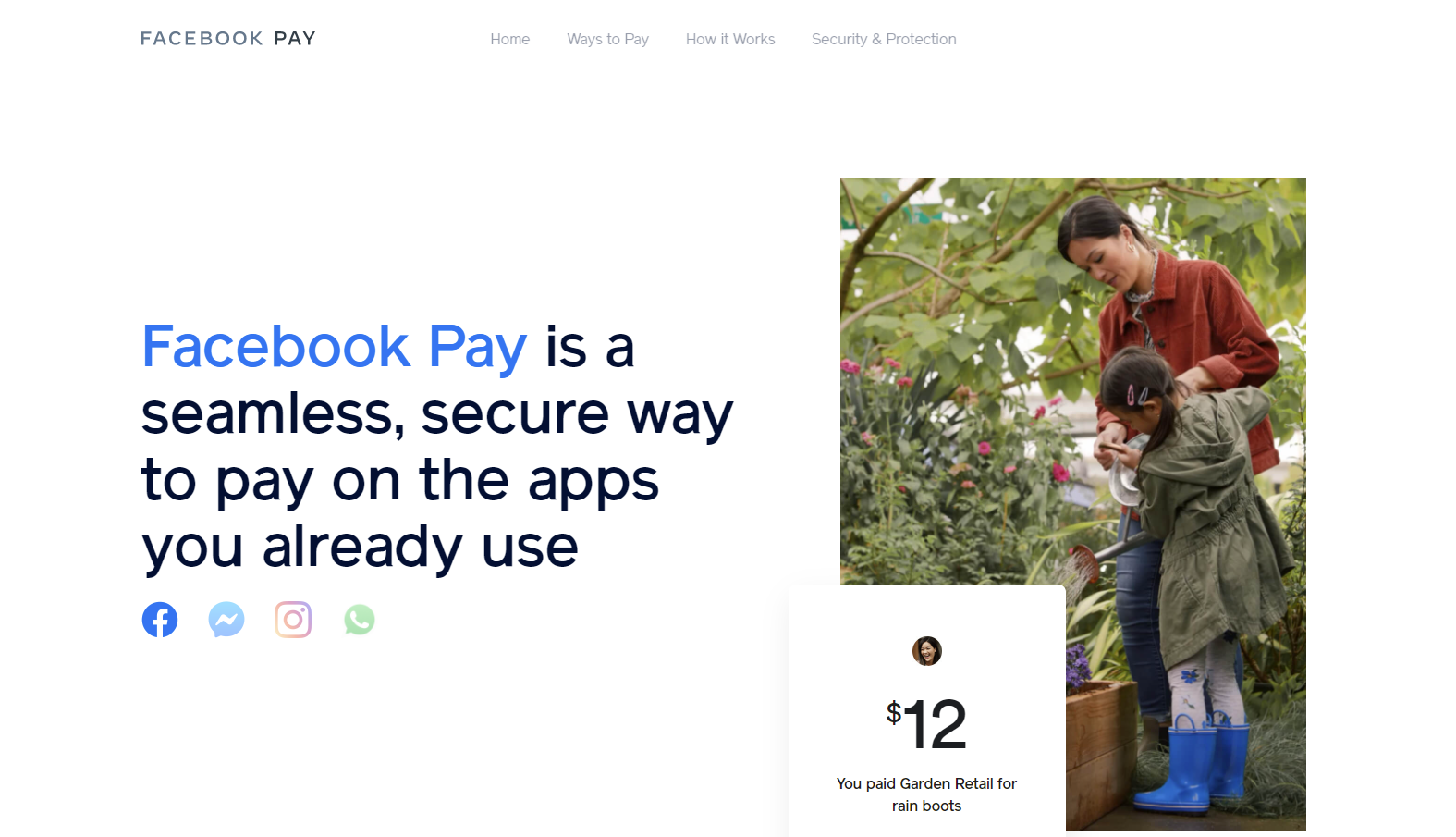 Facebook Pay is famous for its simplicity of transferring small amounts of money through a familiar platform. You can use Facebook Pay for hassle-free and safe payments through Facebook Messenger, WhatsApp, Portal, and Instagram. The app tracks payments using anti-fraud technology, advanced storage, and encryption technologies for payment cards and bank accounts.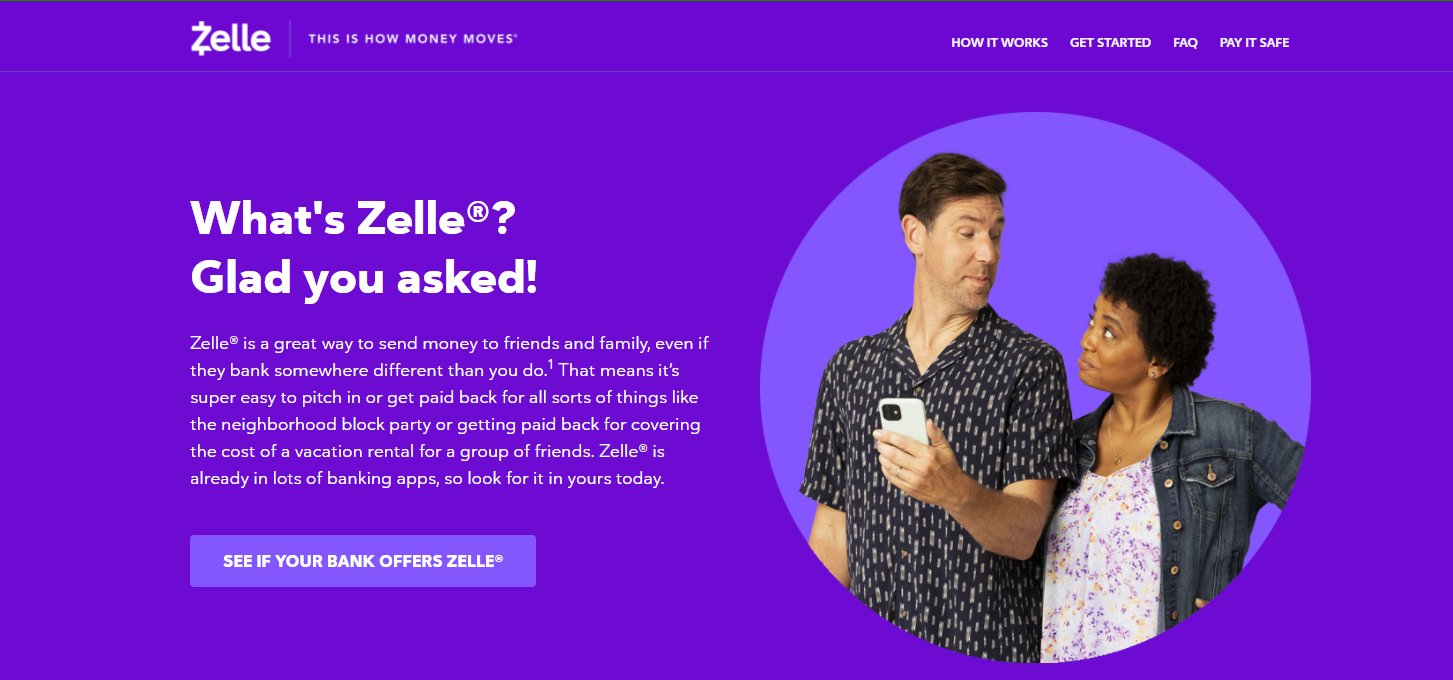 In terms of interbank transfers, Zelle has benefited from its fast access and widespread availability in most banks and credit unions. Users can go to the bank's website or directly to the mobile app to register using just an email address or phone number. No other application offers such a simple procedure for switching from one bank to another. Zelle can transfer money to other Zelle users through a convenient app. Users can send or request money using an email address or phone number.
How to Develop Your Own Money Transfer App Step by Step
Developing such a complex FinTech solution and money transfer system requires a team of approximately 15 money transfer software developers. At least some of them should have previous experience with payment systems and FinTech platforms and the know-how to build a mobile money transfer system.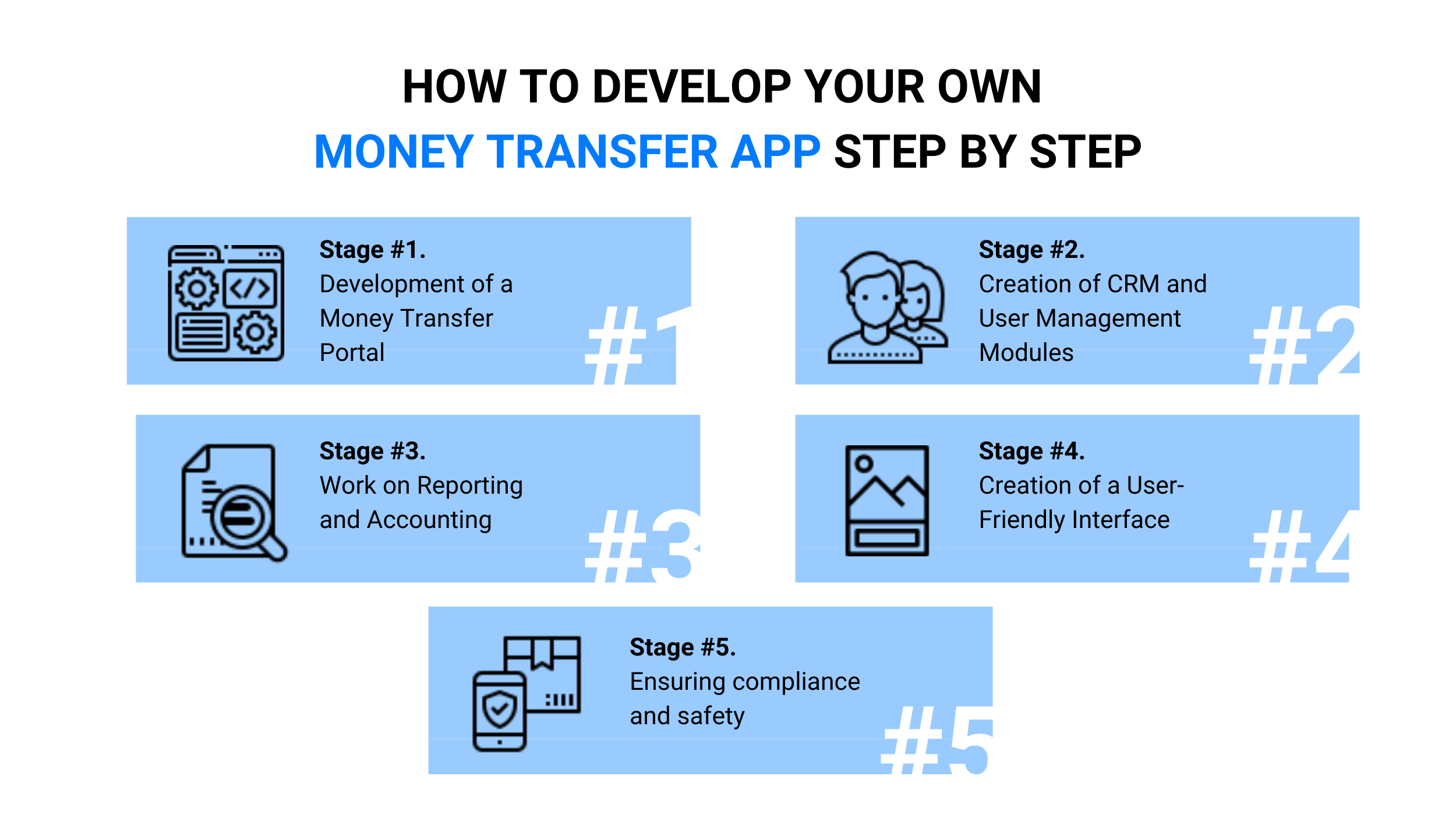 Their work should consist of the following:
Stage #1. Development of a Money Transfer Portal
Your specialists will work to allow users to make local and international transfers in different currencies from your website or mobile app for bill payments, phone top-ups, and currency exchange. Also included in the development of an electronic wallet. Your customers should be able to deposit money through PayPal, bank account, and credit or debit card; send and receive funds from an electronic wallet through multiple channels in many countries; set transaction limits based on send / withdraw limits, age, and several transactions per day; and much more.
Stage #2. Creation of CRM and User Management Modules
You will need different permissions and user interfaces for different roles in your system: administrator, auditor, cashier, etc. You should be able to track activity, activate and deactivate accounts, and view your balance history. You should also be able to conduct marketing activities with customers who meet certain criteria, send emails and SMS messages, set up promotional codes for targeted users, and more.
Stage #3. Work on Reporting and Accounting
Real-time tracking and historical data must be available for analysis. Users should be able to track transactions, as well as create advanced reports and balances, estimate profits and losses, and set general limits for the entire money transfer system.
Stage #4. Creation of a User-Friendly Interface
Developers should make the money transfer app available across desktops, tablets, and smartphones, create multilingual user interfaces for different roles, and maintain a custom white label. Developers need to review the UX and ensure that your dashboard is user-friendly, that customers can work in areas with limited connectivity, that access to the system is seamless across all possible devices, and that users can customize and get everything they need. notifications and warnings.
Stage #5. Ensuring compliance and safety
Your team of experts should take care of KYC, AML, and anti-terrorist financing compliance. They can also implement features to blacklist suspicious senders and recipients and to adapt the application to local regulations and your own business rules. Basic functionality consists of data encryption, backup and restores, limited access to certain parts of your system, session time limitation, and other features.
The money transfer application development team can be split into smaller Agile teams, each working on a specific task. In the future, the team can interact with stakeholders and add the necessary custom features, launch testing rounds and UX reviews, release prototypes with limited functionality, develop MVPs, etc. Depending on the working model adopted at the beginning of the collaboration.
Required Technologies
If you want the top-rated money transfer app, you should take care of the right technology. In the table below, we have listed the most common ones.
| | |
| --- | --- |
| ✅ Front-end | ReactJS, React Native, TypeScript |
| ✅ Back-end | Node.js |
| ✅ Database | PostgreSQL |
| ✅ Cloud environment | AWS |
| ✅ Push notifications | Amazon SNS |
How Much does it Cost to Make Your Money Transfer App?
As usual, the cost of the project is rather individual. Besides, there is something unique about money transfer software. In applications from other industries, a lot of time and money is spent on research, brainstorming, and developing truly innovative ideas. In the case of a money transfer application, it takes a lot of time and money to ensure security and regulatory compliance. Building a blockchain ecosystem, adding security layers, connecting your app to AI and anti-fraud solutions, and integrating a payment processor are time-consuming and costly initiatives.
Thus, the cost of developing your money transfer system will be higher than the annual fee for using any of the ready-made gateways. Instead, you are investing in a long-term solution that complements your business and completely meets the needs of your customers. In the case of Code&Care, we offer outsourced product development starting from $34.50 hourly and extended team & staff augmentation $4800 monthly. Estimating roughly such a project, it will take at least 10 000 hours to develop it.
📩 To get the detailed estimation, get in touch with us via email: [email protected]. We are always ready to help you!
Conclusion
People around the world are moving from physical money to digital money, which is arguably the future of payments. P2P apps are still a niche segment that will soon undergo a massive transformation, and you can be the first to adapt to new conditions and skim the cream off.
Bringing people to a platform with reliable and legally compliant peer-to-peer solutions will also simplify the daily financial transactions for your clients, so it's a win-win strategy. Therefore, today is the best time to start and create a money transfer application.
📌Read also: