Managing a property is not an easy task in today's fast-paced world. Property management can be challenging and time-consuming, whether you own a small apartment complex or a large commercial building. From managing tenants to handling maintenance requests, there are many tasks that owners and managers need to handle. Fortunately, technology has made managing real estate much easier with the advent and development of property management software.
The size of the global real estate market, which was estimated to be USD 3.5 trillion in 2021, is expected to increase to USD 4.6 trillion by 2028, rising at a CAGR of 4.9%. Also, according to recent statistics, the United States real estate industry contributes over $3.9 billion to the country's economy and 16.9% of GDP in 2021. The increasing demand for web-based services, such as real estate management SaaS, among software providers is fueling the market's expansion.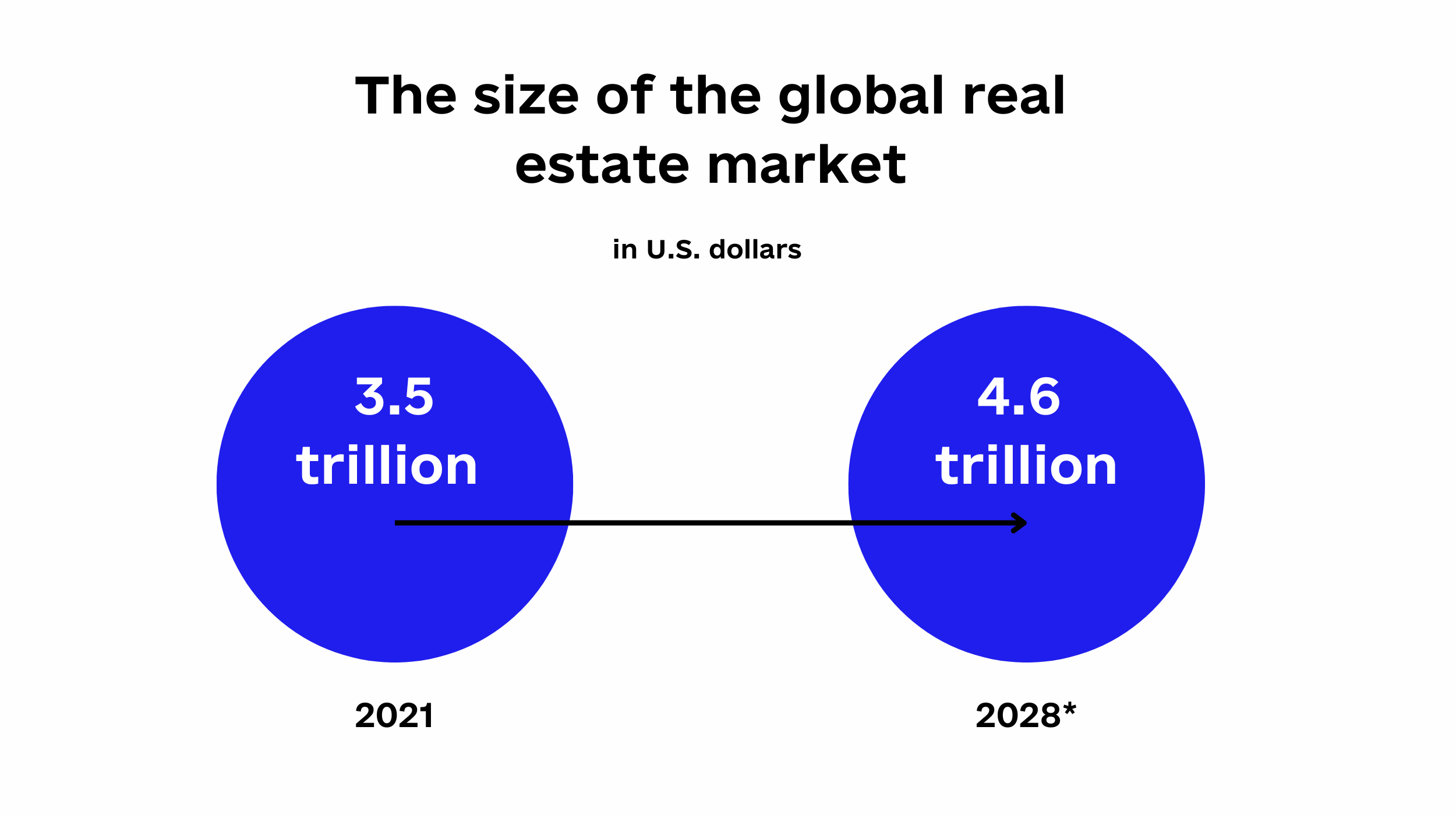 With so much at stake, it is no wonder that companies managing real estate are looking for ways to streamline their processes and increase efficiency. And this right here is where property management software development comes in.
In this blog post, we will explore the challenges of property management, how the software can provide a solution, a step-by-step guide on its development, how it can benefit house owners and managers, and so much more. Let's jump right in!
The Challenges of Property Management:
One of the biggest challenges of managing a property is keeping up with the needs and demands of tenants. Keeping tabs on everyone's needs can be  challenging, especially when dealing with many tenants. It involves making sure that tenants are happy and satisfied with where they live or work and dealing with complaints, maintenance requests, and other problems.
Another challenge is managing finances. Owners and managers must ensure that rent is collected on time, bills are paid, and expenses are kept under control. All of this can be a daunting task, especially when managing multiple properties.
Also, house owners and managers must ensure that their properties are well maintained to prevent costly repairs in the future. But keeping track of maintenance schedules, repair requests, and related tasks can take time and effort.
The Solution: Property Management Software
Property management software provides a solution for managing properties, tenants, finances, and more, all in one place. It is a tool designed to streamline and simplify all tasks involved in managing real estate, making it easier for owners and managers to take care of their properties. 
The software is cloud-based, meaning it can be accessed through a desktop or mobile application from anywhere with an internet connection, making it convenient. According to a recent survey, about 45% of property owners manage their own properties. 
Steps involved in the development of a property management system
Stay with us as we talk about the basic steps and processes needed to develop property management software that works for real estate owners, managers, and tenants alike.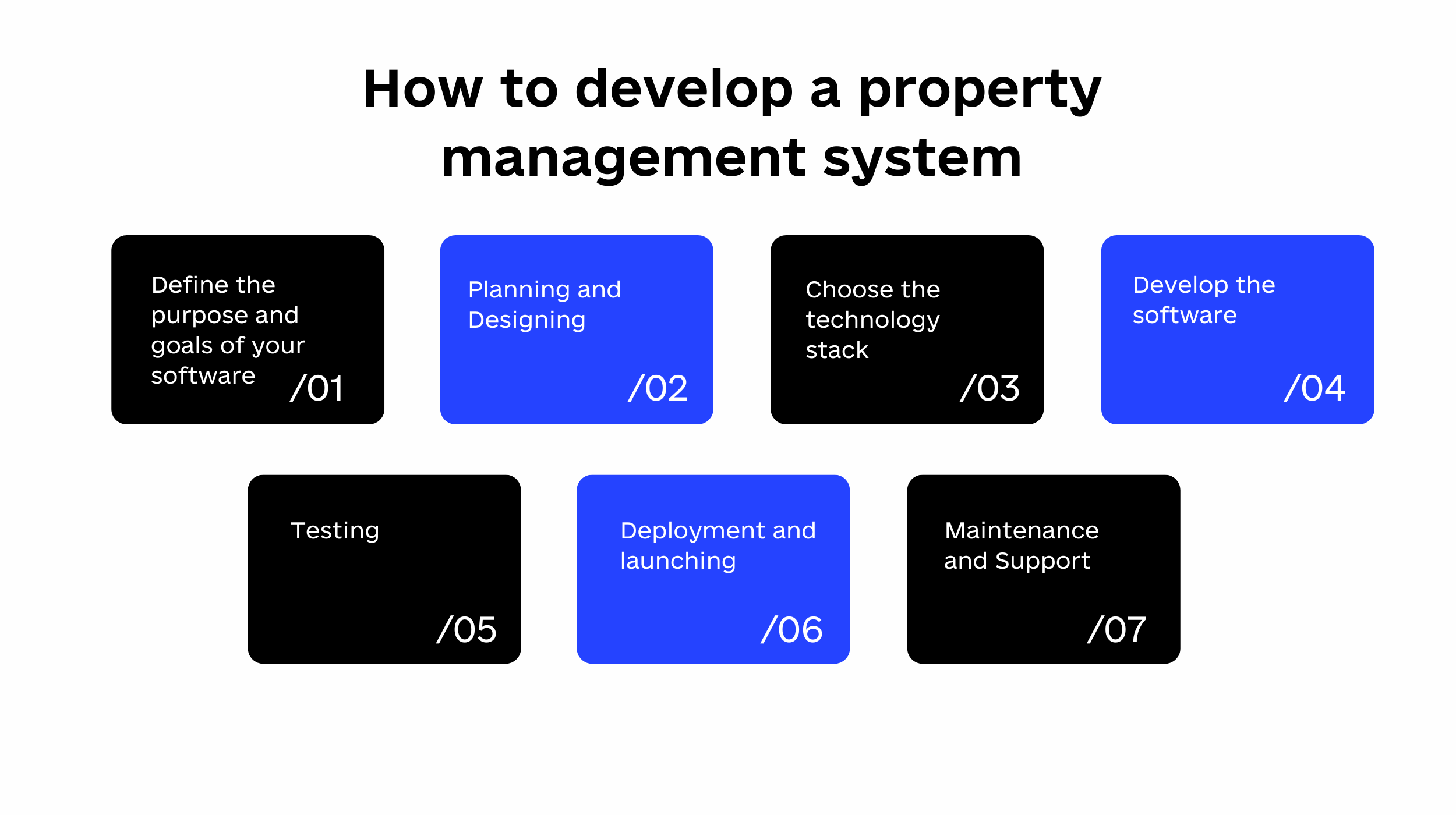 Step 1: Define the purpose and goals of your software
Before developing your software, you must define its purpose and goals. You need to determine what problems your software will solve, its features, and what makes it unique compared to similar apps on the market. Do your research to ascertain what features people are looking for most in the market, and then you can design your software with those features in mind.
Step 2: Planning and Designing
After figuring out what your app is for and its goals, you can move on to the planning and design phase. In this phase, you and your team create a blueprint or roadmap of what you want to create. The blueprint defines the scope, timeline, and resources needed to build the software. At this stage, you also identify any potential risks and challenges that may arise during development.
You can use design tools like Sketch or Adobe XD to create wireframes and mockups. The design and interface of the app should be user-friendly and easy to navigate.
Step 3: Choose the technology stack
Choosing the technology stack you will use involves selecting the programming language, database management system, hosting platform, and other tools and frameworks required to build the software. You also get to choose the system components, modules, and their interactions.
You can choose from a wide range of technologies, including programming languages like Java, Python, and Ruby on Rails and frameworks like Angular, React, and Vue.js.
Step 4: Develop the software
The development phase involves coding the software, building the database, and integrating the features and functionalities. At this point, your creation starts to take shape, and you and your team work collaboratively to build a stable and scalable product. The development process follows the agile methodology, which involves frequent testing and iterations to ensure the software meets the user requirements.
Step 5: Testing
Once the software is developed, the testing phase begins. In this phase, your team tests the software for bugs, errors, and other issues. Some of the tests carried out here include functional testing, performance testing, security testing, and usability testing. Also, test your creation on multiple devices and platforms to ensure compatibility and usability.
Step 6: Deployment and launching
Once you have tested your software, it is time to deploy and launch it. The phase includes configuring the server, installing the software, and setting up the database. The software is deployed in a secure and stable environment to ensure high availability and scalability. You can also create a marketing plan to get people interested and help it sell.
Step 7: Maintenance and Support
The final step in developing property management software is maintenance and support. In this phase, the development team provides ongoing support and maintenance to ensure it runs smoothly. Maintenance includes fixing bugs, addressing issues, and providing updates and upgrades. The software is checked regularly to make sure it is always available and based on what users say, new features and functions are added.
Trends in Property Management Software Development:
A few new trends in the industry are changing how property management companies run their businesses. Here are some of the top trends in property management software development.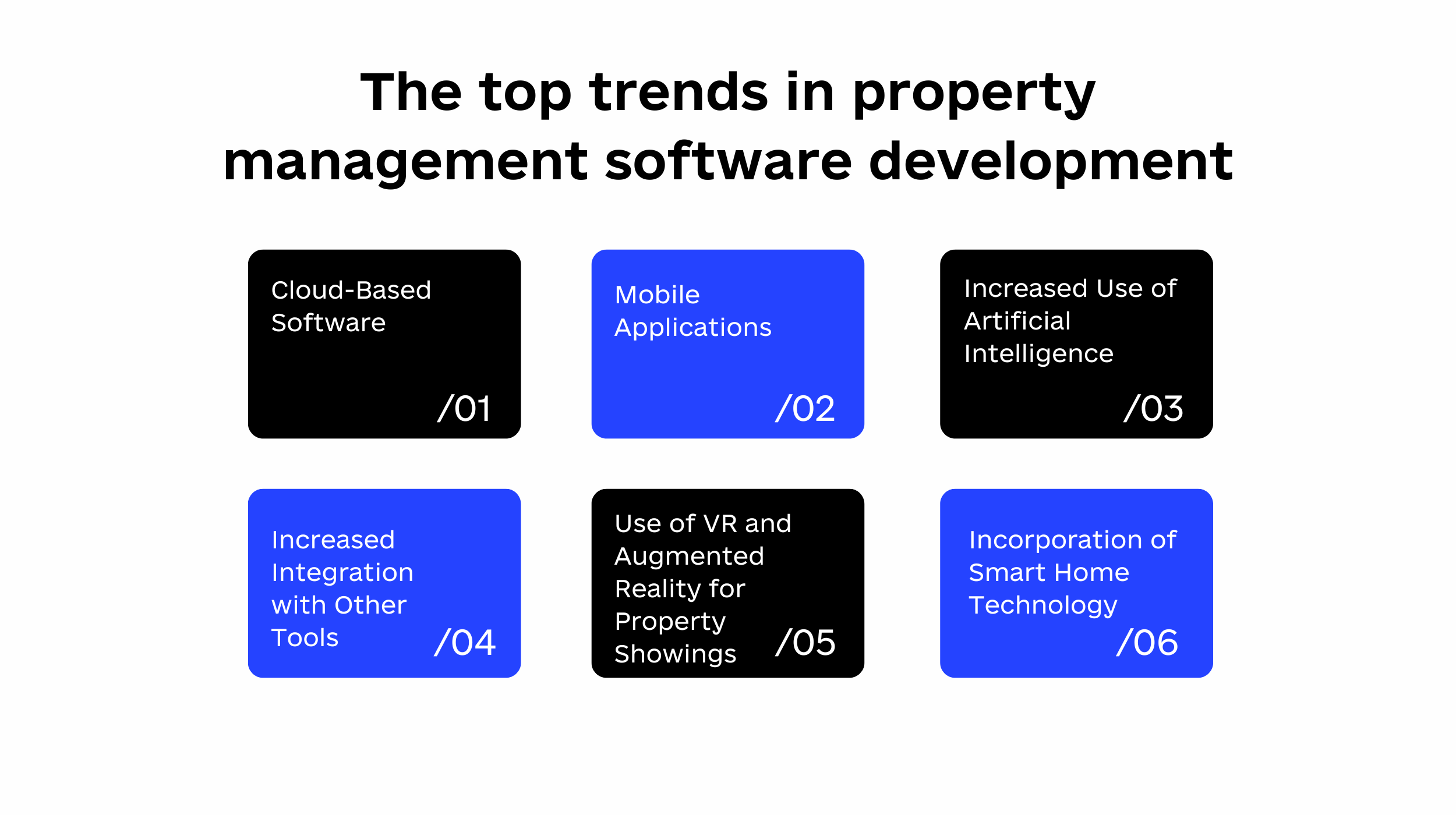 Cloud-Based Software:
One of the biggest trends in property management software development is the move toward cloud-based software. What this means is that real estate owners and managers can access their apps from anywhere, as long as they have an internet connection. Cloud-based apps will benefit those owners who are always on the go and need to access it from multiple devices.
Mobile Applications:
Along with moving to the cloud, the rise of mobile applications is positively impacting the real estate industry. With mobile applications, owners and managers can manage their properties from smartphones or tablets. Thus making it easier to communicate with tenants, manage maintenance requests, and even accept rent payments on the go.
Increased Use of Artificial Intelligence: 
Artificial intelligence (AI) is becoming more prevalent in property management software. AI-powered tools can help automate repetitive tasks such as rent collection and lease renewal. They can also analyze data to find trends and give property managers the information that can help them make better decisions.
Increased Integration with Other Tools: 
With integration, property owners and managers can integrate their software with other tools. More and more tools, such as accounting, CRM, and marketing software, are being built into property management software. Integration can speed up processes and make it easier to manage all aspects of their property from one central location. 
Use of Virtual and Augmented Reality for Property Showings: 
VR and AR (virtual and augmented reality) tech is used to improve property showings. VR technology lets potential tenants take virtual tours of properties, while AR technology can be used during in-person showings to provide more information about the property.
Incorporation of Smart Home Technology:
Smart home technology is becoming more prevalent. With smart home technology, managers can check on and control things like lighting, temperature, and security from afar. It can also make things easier for renters by giving them keyless entry and remote access to appliances.
Here are some of the key features that are commonly found in property management software:
Lease Management: As a manager, this feature allows you to create and manage lease agreements. It may include tools for setting lease terms, generating lease documents, and tracking lease renewals.
Tenant Screening: Tenant screening is a key feature of property management. The app includes tools for screening tenants, such as credit checks, background checks, and rental history verification.
Rent Collection: This feature includes tools for setting up automatic rent payments, sending reminders to tenants about rent payments, and tracking rent payments.
Maintenance Scheduling: Managers are responsible for ensuring that properties are well-maintained. The maintenance scheduling feature includes tools for scheduling routine maintenance tasks, tracking work orders, and responding to tenant maintenance requests.
Accounting: The accounting feature is another important feature of the app as it tracks income and expenses, generates financial reports, and manages budgets.
Communication Tools: Effective communication is important in real estate management. Property management software usually includes tools for communicating with tenants, such as email or text message notifications, and tools for communicating with property owners and managers.
Real-time Reporting: This feature ensures real-time reporting on property performance, such as occupancy rates, rent collection, and maintenance requests. The report can help managers stay informed about property performance and make data-driven decisions about property management.
Online Payments: Another important feature is including tools for accepting rent payments online. A payment gateway can make the rent payment process more convenient for tenants and reduce the risk of late payments.
Tenant Portals: Tenant portals are online platforms that allow tenants to access vital information about their lease, pay rent, and submit maintenance requests.
Benefits of Property Management Software
Property management software offers numerous benefits to owners, managers, and tenants. Let's briefly discuss some key advantages below: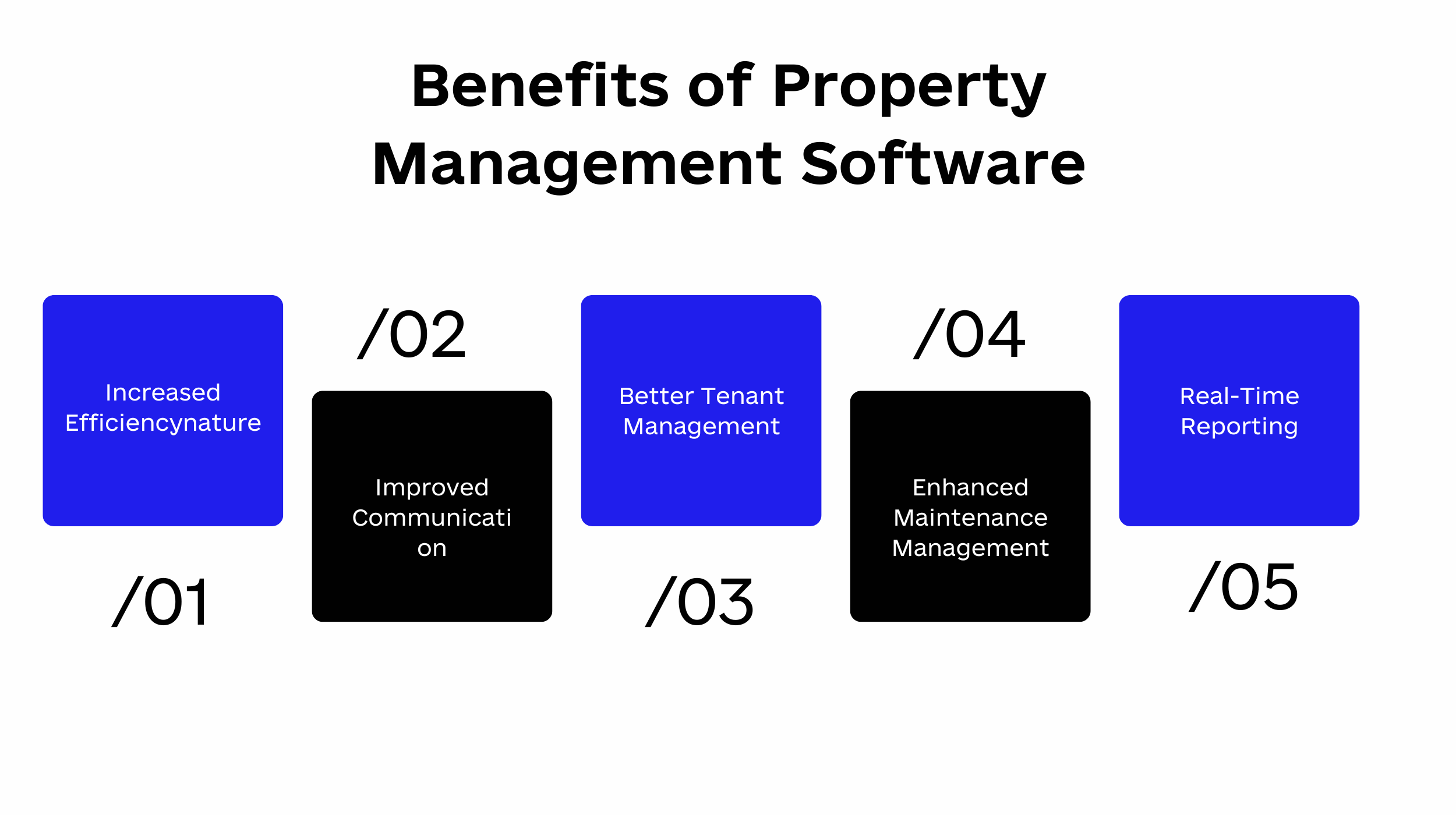 Increased Efficiency: The software can automate tasks that would otherwise be time-consuming, such as rent collection, lease management, maintenance scheduling, and accounting. Automation helps save property managers time and reduce costs associated with manual processes. It also reduces the risk of errors or miscommunications with manual processes.

Improved Communication: There is improved communication between owners, managers, and tenants. Communication can be through email, text messages, or in-app notifications, ensuring everyone is always up-to-date. 

Better Tenant Management: Provides a centralized location for managing tenants, including lease agreements, tenant information, and rent payments. Thus helping to ensure that everything is in one place and easily accessible.

Enhanced Maintenance Management: The app can help managers schedule routine maintenance tasks, track work orders, and promptly respond to tenant maintenance requests. Therefore ensuring that properties are well-maintained, reducing the need for costly repairs in the future.

Real-Time Reporting: Provides real-time reporting, allowing property owners and managers to track expenses, income, and occupancy rates. The report helps them make informed decisions and identify areas for improvement.
Conclusion
Property management software is the solution you need if you're looking to streamline your property management processes. With the right software, you can manage your properties more efficiently, stay organized, and save time and money in the long run. You can also optimize your processes, improve your bottom line, and position your company for success in today's fast-paced business environment. 
However, developing property management software is not an easy feat. It requires a team of experienced developers who can understand your needs and create a custom solution tailored to your specific requirements.
When choosing a property management software development service, endeavor to look for a team with a proven track record, excellent communication skills, and a willingness to work with you throughout the development process. By doing so, you can ensure that you'll end up with a solution that meets all your needs and exceeds your expectations.
For all of your property management software solutions, look no further than Code&Care. 
Code&Care is a reliable technology partner with a team of experienced developers. We specialize in cloud-based software, mobile applications, rental property management software development, and open-source software, which means we can help you choose the right solution for your business.
Whether you're a property owner, manager, or real estate professional, we understand that managing properties can be complex and challenging. Our team can work with you to determine your needs and create a software solution that fits your business. 
At Code&Care, we believe in open communication and transparency throughout the development process and prioritize customer satisfaction above all else. Our team is dedicated to delivering a solution that meets your expectations and helps your business thrive.
So don't hesitate to contact us. We'll be happy to discuss your needs and get you started on a more efficient property management path.
Read more:
Global software development outsourcing trends
How to Build a Product Roadmap for a Start-up
How to Build a SaaS Product from Scratch [A Practical Guide]