According to Statista, the IT outsourcing market was worth around $395 billion in 2022. But with the continued increase in global adoption rates, the IT outsourcing market is growing at a CAGR of 8.26% and is estimated to gross $587.3 billion by 2027.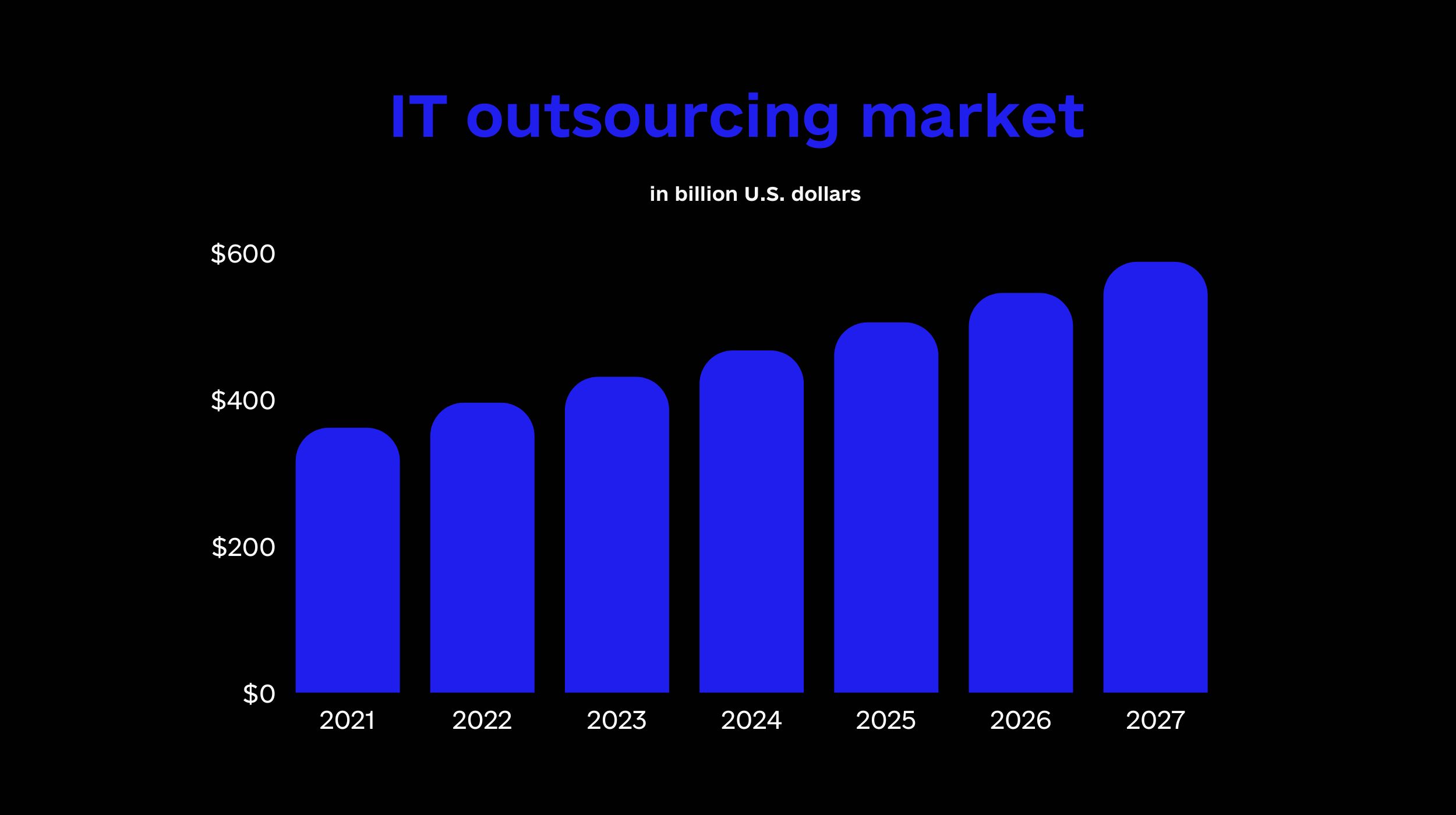 The rationale for this massive increase is linked to the demands by software companies to enjoy the following benefits:
Development flexibility

Access a large pool of tech talents

Increase development to market time

Meet the demands of clients

Cut down on the cost of development

Reduced burn-out of in-house developer

Improve the quality of software solutions etc
However, the IT outsourcing landscape is constantly evolving, and for companies to stay on top of their game, they must learn about future trends in outsourcing. This will help them leverage the opportunities for innovation and compete effectively in the industry. This article will discuss the top 10 software outsourcing trends to keep a finger on in 2023.
10 Software Outsourcing Trends of 2023
Successful companies are always a step ahead of the competition by keeping theirs on the latest developments in the sector. And we intend to bridge the gap by bringing the latest trends in outsourcing to your doorstep. Let's check them out shall we?
1. Securing Applications
Although the growth of digital technology has improved software development processes, it is not without some downsides. For instance, technology has opened up multiple avenues for software development companies to access user data. These data are used to build tailored applications to meet end users' needs. But also, hackers now have multiple channels to access and compromise application security due to digital transformation.
According to Forbes, 82% of businesses experienced cyberattacks in 2022. And while some companies may want an in-house security team managing the same has proven quite challenging. As a result, most companies now outsource their data operations to managed service providers(MSPs). These managed service providers are third-party service providers offering specialized services like data security. MSP has the technical expertise, resources, and advanced technologies to ensure the security of applications is not compromised.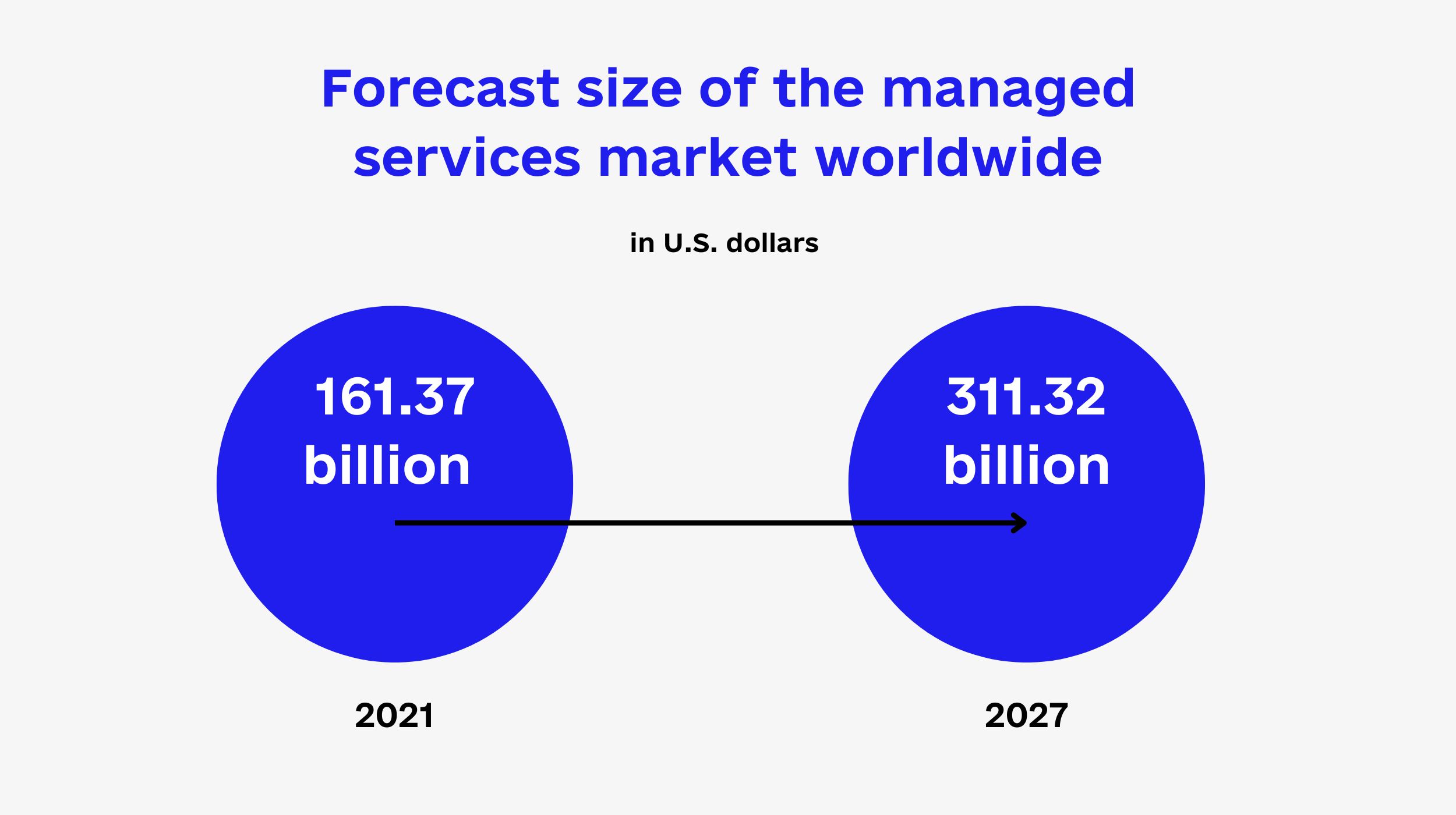 According to Statista, the MSPs market was worth around $152.02 billion as of 2020, and with the increased demands, it is expected to gross $274 billion by 2026. Are you thinking about a software development outsourcing trend to keep a finger on? There you have it.
2. Evolution Towards Digitalization
Soft development companies that stay on top of their game concerning emerging technology will certainly have the edge over their competition. The use of these technologies helps to automate processes, boost efficiency, and streamline development operations.
However, automation, IoT (Internet of Things), AI and ML, and other technologies constantly evolve. Therefore it can be difficult to keep up with all of them. This has prompted software companies to look at the direction of outsourcing service providers.
Let's look at some of the technologies that are popular with outsourcing service providers.
AI and ML technologies
Tech companies and outsourcing service providers deploy Artificial intelligence to automate repetitive tasks and computations and attend to customer responses. Furthermore, Artificial Intelligence assists vendors in improving customer service. These innovative, emerging technologies include chatbots and cloud-based IVR (Interactive Voice Response).
According to a 2022 survey, the global AI and Machine Learning outsourcing market was worth $93.5 billion in 2021. And it is expected that the combined AI and ML market will experience a CAGR of 38.1% from 2022 to 2030.t
Computing in the Cloud
outsourcing cloud computing is required to gain access to other sophisticated technologies such as AI, RPA, and ML. It also enables software development companies to accumulate and store data on the cloud and access cloud services.
According to a survey, the combined market value of cloud computing and the cloud platform is predicted to be worth $832.1 billion by 2025
3. AR or VR Technology
The augmented global reality (AR), virtual reality (VR), and mixed reality (MR) market was worth $28 billion in 2021 and is projected to surpass $250 billion by 2028. With more people incorporating augmented reality technology into their daily lifestyles, the number of companies incorporating it into their offerings is expected to skyrocket. According to statistics, 34% of customers currently employ AR technology while shopping. Also, 63% of customers claim AR technology improves their shopping experience. As a result, top companies worldwide are maximizing the potential of AR or VR technology in delivering their products and services.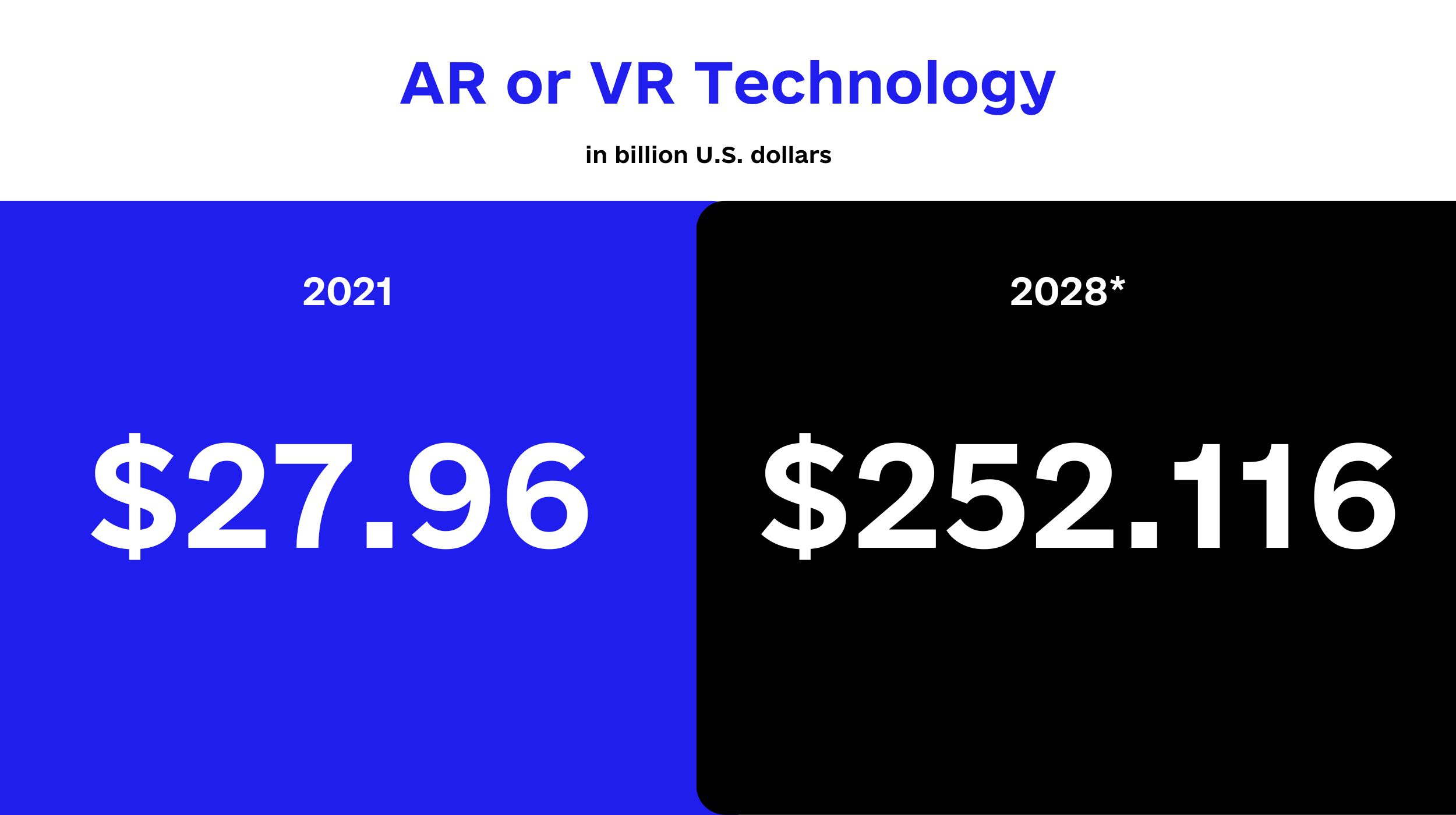 To understand technology outsourcing trends for AR and VR products, we should look at both trends contextually. For example, a real-time interactive learning process can be achieved using VR technology. 
Are you thinking about how to develop an Edtech app? Contact us here. We will be glad to help.
And lastly, in developing real estate applications, AR technology can be integrated with the application to allow potential property owners to inspect the property virtually. Based on these, it is easy to predict that augmented reality (AR) will be among the top outsourcing industry trends in 2023.
4. Putting the Cloud's Might to Work
In recent years, we have witnessed rapid growth in the reliance on cloud technologies in software development outsourcing. According to available data on Statista, the global market for cloud technologies was sitting at $410.92 billion in 2021. But with increased growth in usage, the global cloud technology market is predicted to gross $598.4 billion by 2023.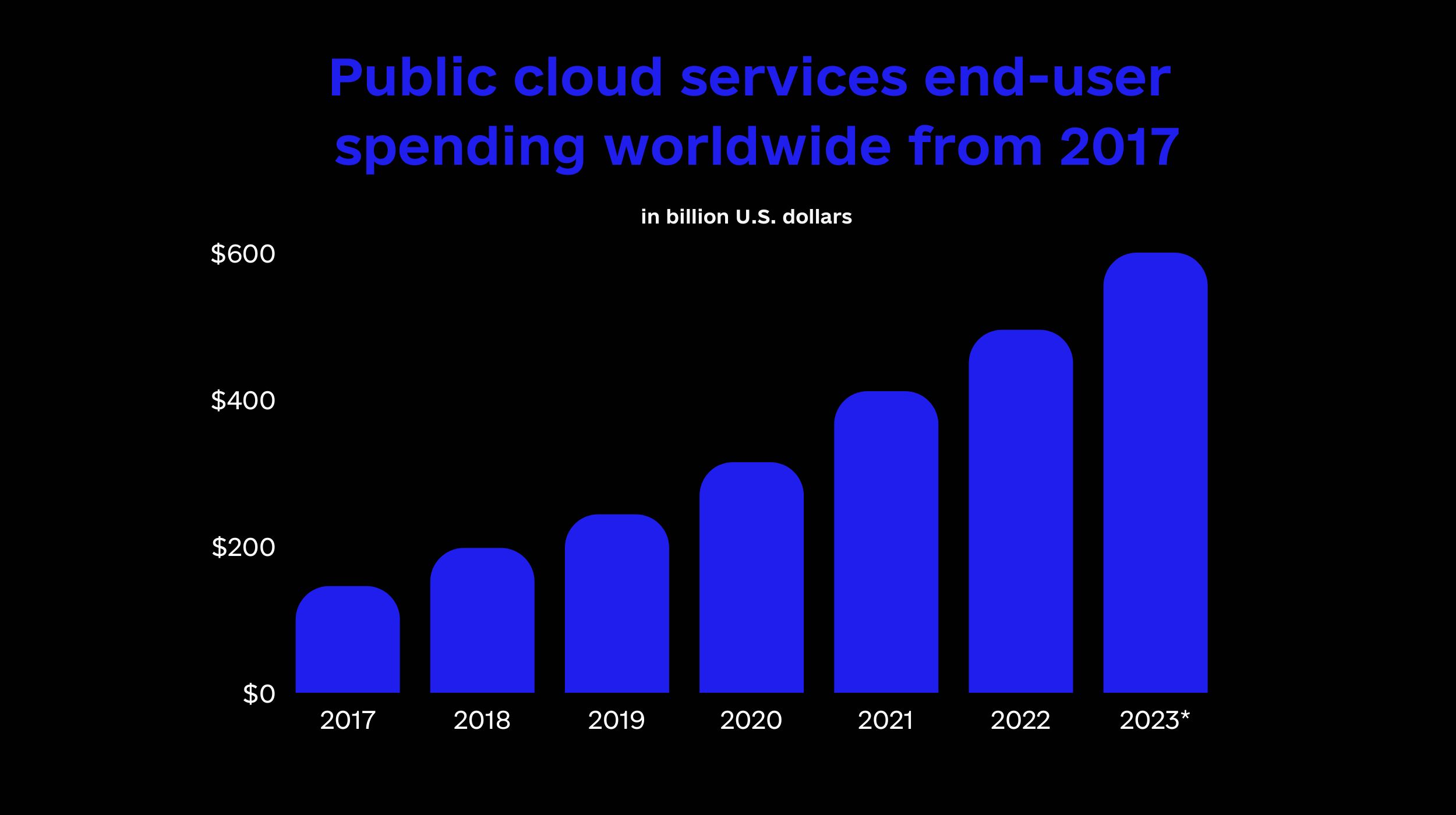 The reason for the growing reliance on cloud technology is largely due to the following: 
Low overhead and monthly payments

Quick and accurate access to data

Enhanced global connectivity

Increased efficiency and productivity,

improved infrastructure

Improve data security,   

Improved collaborations with employees etc.
With the continual increase in cybersecurity, cloud technology will remain a top-tier software development trend in 2023 and beyond.
5. Rising Interest in RPA
The growing reliance on robotics in software development is one of the most important software outsourcing trends to keep a finger on in 2023. The shortages in skilled talent, global economic recession, and increased global competition have encouraged most companies to look the way of robotics in software development. According to Gartner, the global robotic process automation (RPA) segment alone witnessed a 31% revenue growth in 2021, smashing a total value of $2.4 billion. Looking at this carefully, that was near twice the growth rate of the overall software market (16%).
In addition, According to Statista, the robotics market was estimated to be worth around $55 billion in 2020. But with growing adoption, the robotics market will be worth $165 billion in the next 5 years.
6. Multiple Vendor Selection
Crises such as the pandemic, economic insecurity, and the ongoing Russia-Ukraine war have taught software development leaders an important lesson in outsourcing— always have a contingency plan. As a result, tech-driven companies have learned the importance of having several outsourcing partners in different countries to remain ahead of disruptions.
The era of preferring one outsourcing partner in a particular offshore location is bygone. Knowledgeable software development leaders currently prefer to broaden their hiring portfolio globally to minimize possible threats that can disrupt businesses overnight.
Opting for multiple vendors allows you to partner with vendors in multiple countries or with multiple vendors in a single region.
It allows you to effectively scout for skill among desired locations via a blend of nearshoring, offshoring, and onshoring. That way, you are one step from any future disruptions.
As a software development leader, you can access low-cost development services while collaborating with more sophisticated vendors on specialized programming projects.
7. An Enhanced Focus on Delivery
The growth of digitization has birthed a competitive landscape for tech companies. With many new entrants in the tech space, companies have shifted their emphasis from launching numerous products to providing high-quality products to their customers.
For companies to achieve this, they will need expert software developers with access to advanced technology. And in most countries, this will prove to be costly. As a result, software development companies are shifting to processes like software development outsourcing.  
Outsourcing allows tech companies to provide customized products to their customers. Also, an outsourcing company is more likely than an in-house team to have the time, technical know-how, and resources needed to customize solutions. Accordingly, it has been predicted that software development outsourcing will grow by 70% between 2022 and 2023.
8. Working From Home: The New Normal
The pandemic made one thing clear— business operations can be done entirely from a remote place. While some companies have continued with their remote mood of working, most large corporations have adopted a hybrid work approach, thus normalizing remote work culture. 
The software development industry has accepted this shift and embraced the new normal to increase work flexibility. This adoption laid the pathway for outsourcing software development. And with remote working becoming the new work normal, it is expected that more industries will accept the remote culture in the coming years. Although there is nothing new about the remote working culture, its rapid adoption makes it a trend to watch.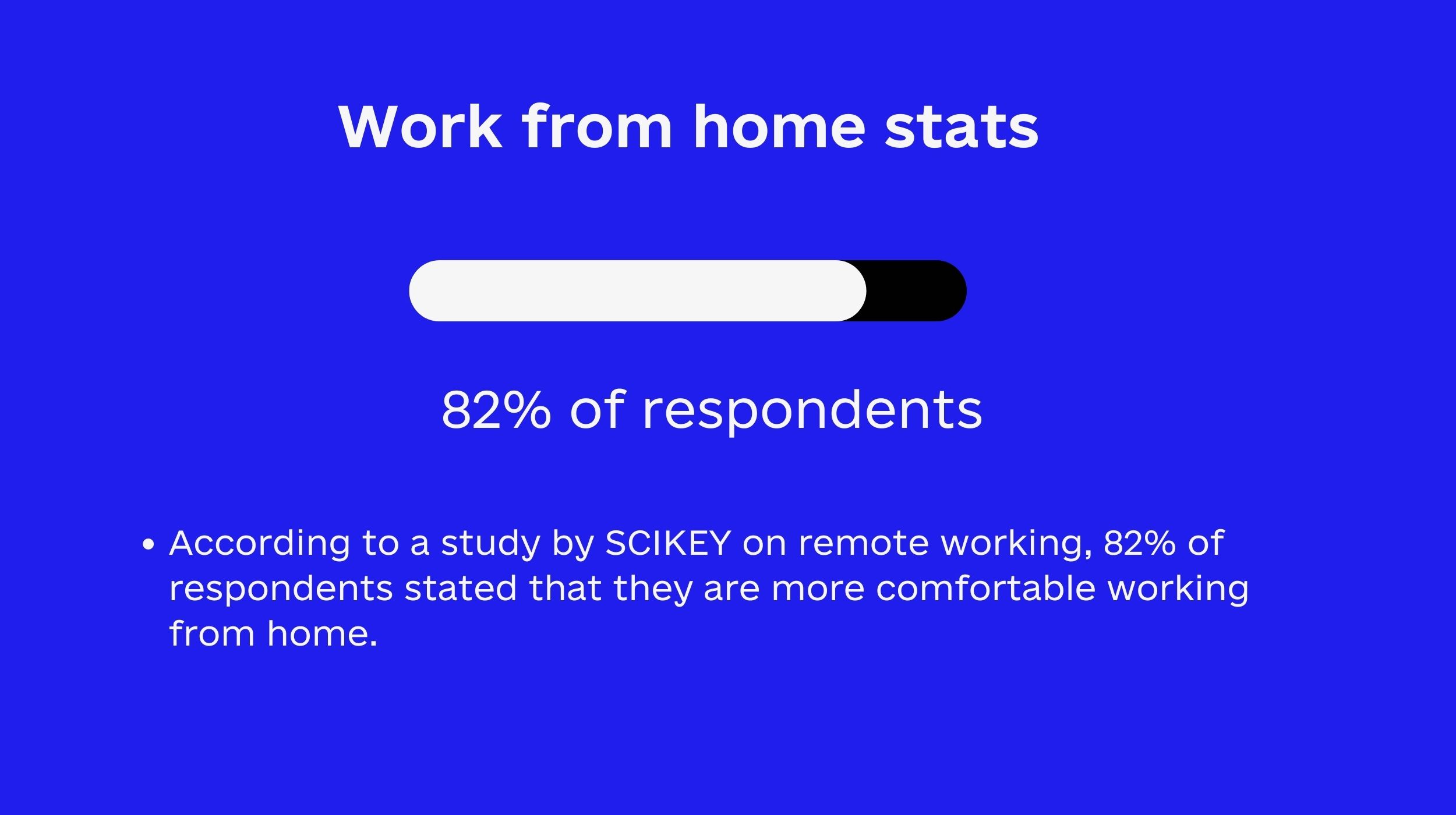 To support this, let's look at the following stats:
But with the rapid shift of working approach to remote engagement, you may be worried about how you manage your developers remotely. Not to worry, we got you covered. Kindly contact us here. We will be glad to help.
Notwithstanding the continued global downsizing by top IT firms, the demands for software developers continue to top the charts. And even with the downsizing by IT companies, tech-driven companies are still trying to find the right fits for their software development needs. At least 50% of CIOs claim that the absence of qualified software developers creates a hole in their companies' wheel. Thus making it hard for them to grow and compete with their counterparts.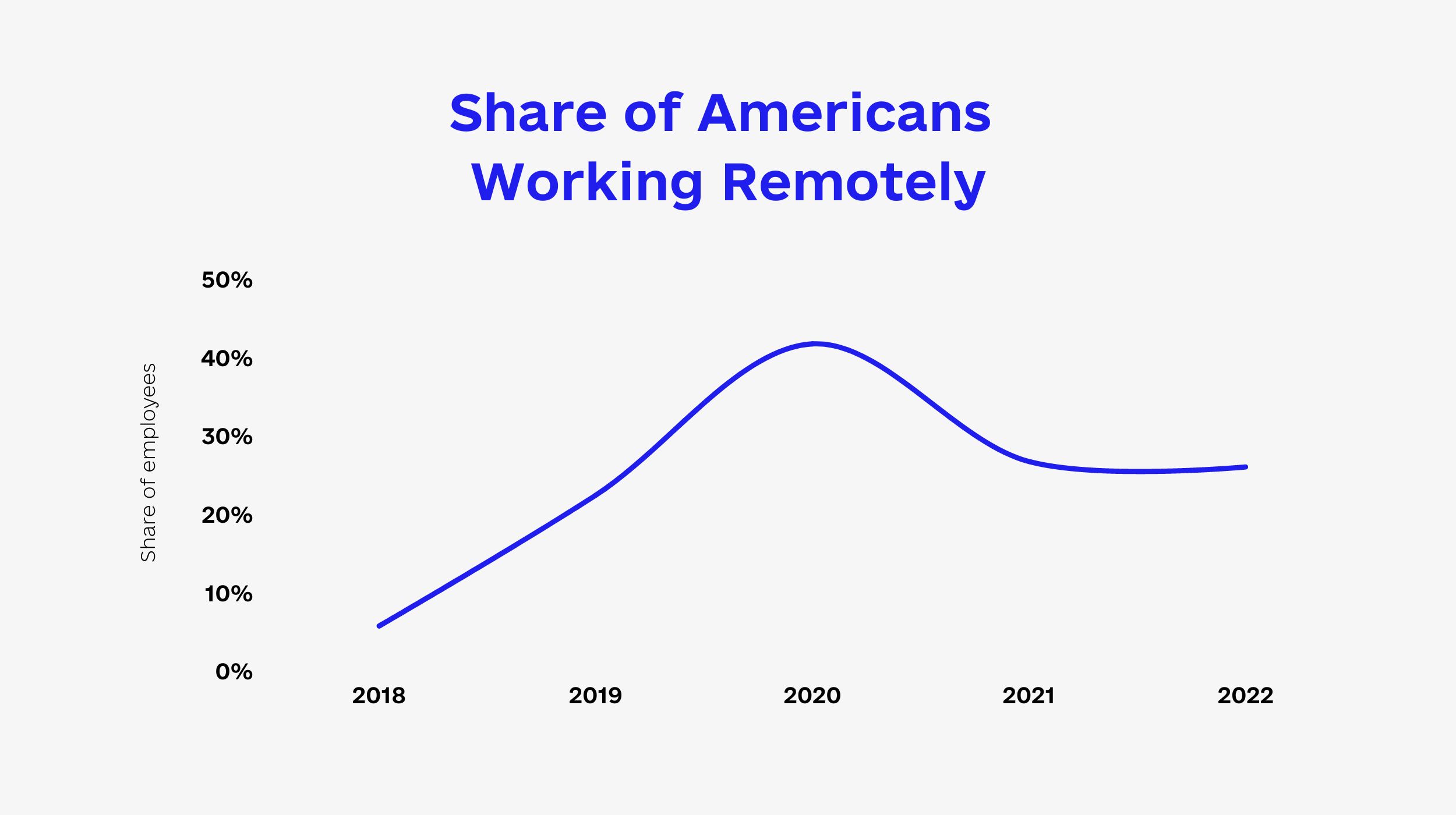 9. Outsourcing Gains Ground Due to Skills Shortage
Notwithstanding the continued global downsizing by top IT firms, the demands for software developers continue to top the charts. And even with the downsizing by IT companies, tech-driven companies are still trying to find the right fits for their software development needs. At least 50% of CIOs claim that the absence of qualified software developers creates a hole in their companies' wheel. Thus making it hard for them to grow and compete with their counterparts.
As a result, hiring and retaining the right talent tops the list of challenges plaguing leaders in the software development industry. The time-consuming nature and increased cost of recruiting and training software developments have made outsourcing a better consideration for most tech-led businesses. According to reports, only about 29% of IT workers have a higher tendency to continue their employment with their current employer.
But with outsourcing, software development companies can access the following to access talent shortage: 
Tap into a large pool of talents from top outsourcing sites outside your geographical location.

Open access to top software development talents in locations where labor shortages are less acute.

It also helps in Mitigating developer turnover by pushing the burden of replacing developers who left your team in the hands of the outsourcing company. Thus you don't have to get wound up thinking about the time and cost involved in recruiting new talent.
10. Advanced Methods for Managing Collaborations
Since outsourcing partnerships will become more focused on results, partnerships on the market will become more open to sharing risks involved among themselves. This will transform outsourcing firms into large service integrators. And with that, the old method of treating outsourcing service providers as just developers will be replaced with partnerships.
Given the expanding outsourcing landscape, you may be wondering: how much personal risk am I willing to take? Is there a limit, and if so, what is it? How do I mitigate these risks? How reliable is my outsourcing partner?
Collaboration and seeking viewpoints are the ideal things that both parties should consider. Of course, no single company wants to bear unnecessary risks, and certainly not you. Hence, be open to the discussion while attempting to determine the risk for yourself – you may find no reason to be uptight.
One way to ensure your partnerships with outsourcing companies are secured, and void of disruption is to consider partnering with offshore outsourcing companies. Aside from being cost-efficient, they also offer you access to a large pool of tech talents.
Getting Ready for the Future with Code&Care
Are you uncertain about the steps to take in preparation for the future? Below are a few tips to help you get started.
Embrace New Technology
Running a software development company is quite a herculean task. Often, 24 hours isn't sufficient to complete everything on your daily to-do list. However, modern technology is a sure way to conserve time and maximize resources.
As a result, feel free to experiment with new AI automated processes or apps because they help you improve your solutions, analyze your data, expand your capabilities, and evaluate your efficiency. So, invest heavily in automated apps, chatbots, identity management software, and data collection and analysis software.
If you need help integrating new technologies into your business, at Code&Care, we have you covered. We have over 4 years of in-depth experience in product development. We are experts in utilizing current web development trends and advanced technologies like AI, ML, AR, and blockchain in our product development. That way, we ensure our client's products align with current realities.
Partner with the Right Outsourcing Company
The truth is that technology is rapidly advancing and waits for no one. Wanting to stay in line with rapidly advancing technologies will prove abortive and, worse, lead to an increased burn-out rate for your in-house team. 
To effectively remain on the side of technological advancement, you must choose to work with the right outsourcing partner. Your preferred outsourcing partner must have the relevant technical know-how, resources, and technological tools that are in vogue.
At Code&Care, you don't have to worry about getting the right team to work with. Our highly talented and versatile development team covers the widest spectrum of emerging technologies and industries for you to make the best choice. 
We have you covered if you want to hire a dedicated web development team with the right skills for your product needs. Contact us here to get on with it.

Regularly Evaluate your Processes
Software development is not a bed of roses. Sometimes it's like a walk in the park, and other times, it is like fighting against a brick wall. As a result, you must ensure you have the right KPIs. This will help ensure that your efforts align with your business goals and current technological trends.
At Code&Care, we have over 5 years of experience in software development and outsourcing services. With our experience, we can help you efficiently monitor your software development processes and manage your developers remotely.
Follow the Market Trends and Adjust accordingly
Digitalization has made keeping in touch with innovation a bit elusive for software companies who are more comfortable with the traditional mode of operation. However, this reality does not fit into users' preferences in the face of evolving trends. One way to remain relevant to customers is to follow the market trend and grow with it. For instance, If you are into game development, you should note that game development has left the conventional to satisfy users' needs. Customers are now more in taste with games that have integrated VR/AR technologies.
If you need help getting it right. You have us to rely on. In over 5 years, we have successfully delivered maximum value to businesses in the game industry. We have become a trusted technological partner for more than 100+ clients, and you could come on board and share in our wealth of experience.
Also, remember to read our article on why Javascript is good for game development. It will come in handy in developing games that are in tune with current technological trends.
Focus on strategic partnership
One of the surest paths to preparing for the future is to initiate partnerships with outsourcing companies. Trying to keep up with all the trends simultaneously will leave you burning through your resources and in-house developers. But having the right partnerships with outsourcing companies will give you access to skilled talents and innovative technology. That way, your clients are satisfied with your product, and you are one step ahead of the competition.
And if you are thinking of how to get started, we qualify as the right choice. Aside from paying attention to recent development trends and technologies, our over 100+ partnerships are proof of our reputation and skills to get the job done. Contact us, and we will love to partner with you.
Conclusion
Staying relevant in a competitive and tech-driven society is a major nut to crack for most businesses. While the software development sector is rapidly evolving, tech-led companies must stay abreast with changing technologies to continue meeting the demands of consumers. To successfully keep up with the changing trends, you can contact us. We will be glad to help you remain on top of your game even with the changing technological trends.
Read more:
How to Build a Product Roadmap for a Start-up Software Development
JavaScript Game Development Trend: Learn the Steps to Building Cool Games
What Is The Difference Between A Programming Language And A Framework?