Many companies are successful with remote teams. However, this is still not the usual structure of the company, and unfortunately, there is still not enough information on how to set up distant work so that you and your team can succeed.
In this article, we will cover the most common questions about remote team management, main challenges, tips, best tools, and practices.
In-house Developers vs Remote Teams
The in-house team assumes that the development teams of the company are composed of employees who work directly under the supervision of the company's leaders. When you want to build a team of in-house developers, your first focus should be on the hiring process. After interviewing and signing the contract, you will be responsible for ensuring the salary and well-being of each team member, including labor law requirements.
The remote team model is defined as a type of IT outsourcing in which businesses hire a dedicated web development team or individual developers to create a remote team from them. They are qualified professionals with extensive experience available at an affordable price. They work remotely and are designed for a client or business based on long-term contracts.
This model is preferred by clients who have a well-analyzed project scope and progress with a clear investment vision. In addition to cost-effectiveness, the remote team model provides a prorated list of business benefits.
Why you may need a remote development team?
Companies make a decision to work distantly for a lot of reasons: to be able to connect to the global talent pool and hire the best talent, regardless of their location; to optimize operating costs by using a virtual office instead of a physical one, or to gain competitive benefits as an employer, offering workers greater workplace flexibility.
How to hire a remote development team in 3 steps
To hire a remote team, you need to have a clear understanding of the result you want to achieve. It is also important to calculate your budget and understand what skills your future development team should have. In short, we recommend following a three-step plan.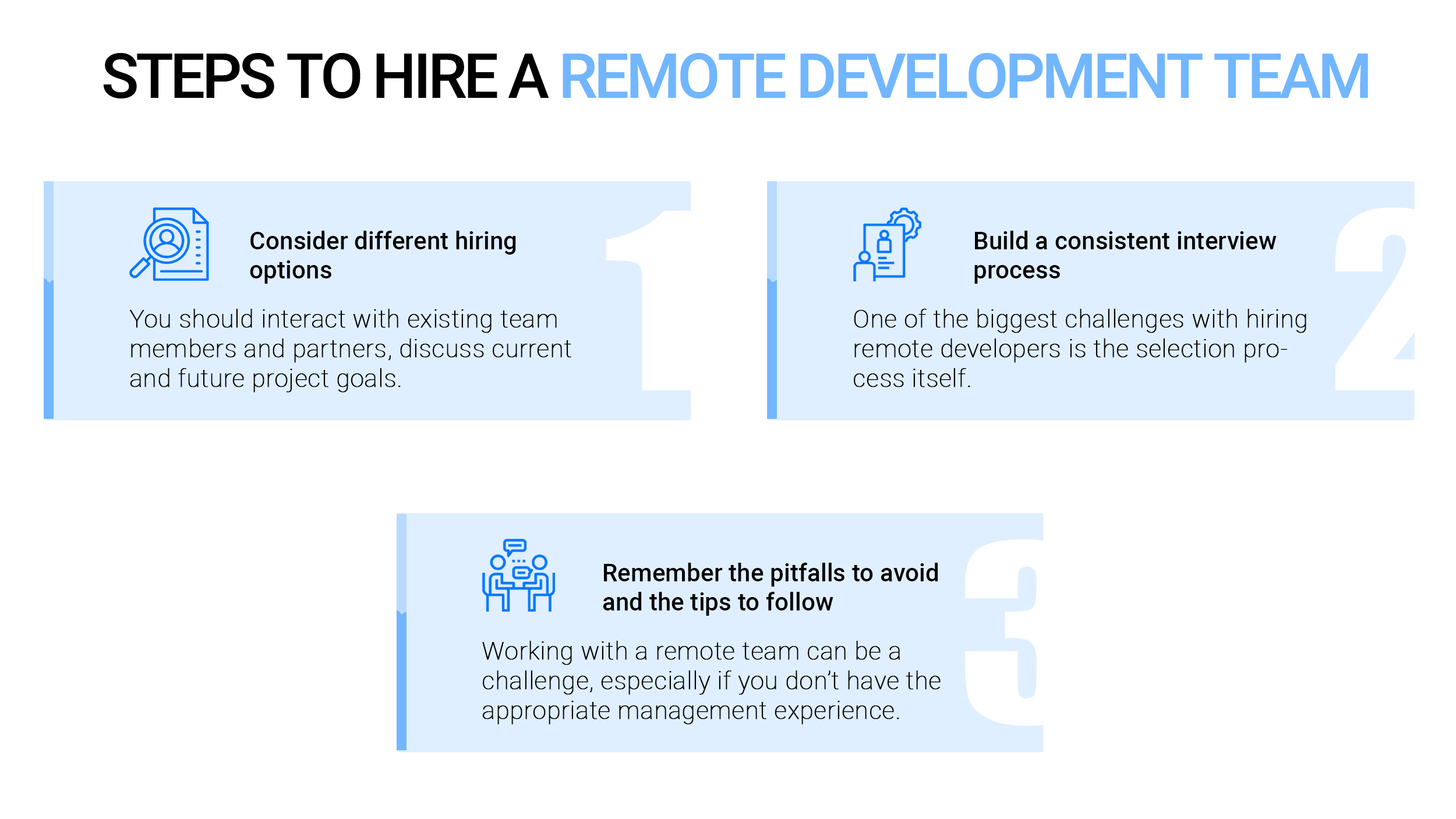 Step 1: Consider different hiring options
Before diving into headhunting, you should interact with existing team members and partners, discuss current and future project goals, accommodate budget constraints, and explore both short-term and long-term goals. It will help you get the amount of work that the remote team has to do daily. This step is critical because building the right team and delegating tasks correctly are the keys to successful management.
Step 2. Build a consistent interview process
One of the biggest challenges with hiring remote developers is the selection process itself. Since people who need to work remotely may not be able to visit your office, your interviewing options are extremely limited. However, there is a sequence that you can follow to determine if a candidate is suitable.
Compared to other online interview methods, live video calls seem to be the most effective. They can give you an idea of a person's values. If you are looking for a technical role, you need to schedule a technical interview. Taking a short exam will help you assess a candidate's depth of technical skills.
If both interviews are successful and the candidate has received the green light to move forward, the next step is the final interview. It should cover the candidate's salary expectations, the work schedule, and all the benefits of working for your company.
Step 3. Remember the pitfalls to avoid and the tips to follow
Working with a remote team can be a challenge, especially if you don't have the appropriate management experience. For more effective collaboration, it is recommended that you assign this role to a colleague or outsourcing firm that specializes in distant team collaboration that knows how to manage developers.
Pros and сons of the remote development teams
Hiring the remote development team may be beneficial in many ways if it is done correctly. Here is a list of just a few pros: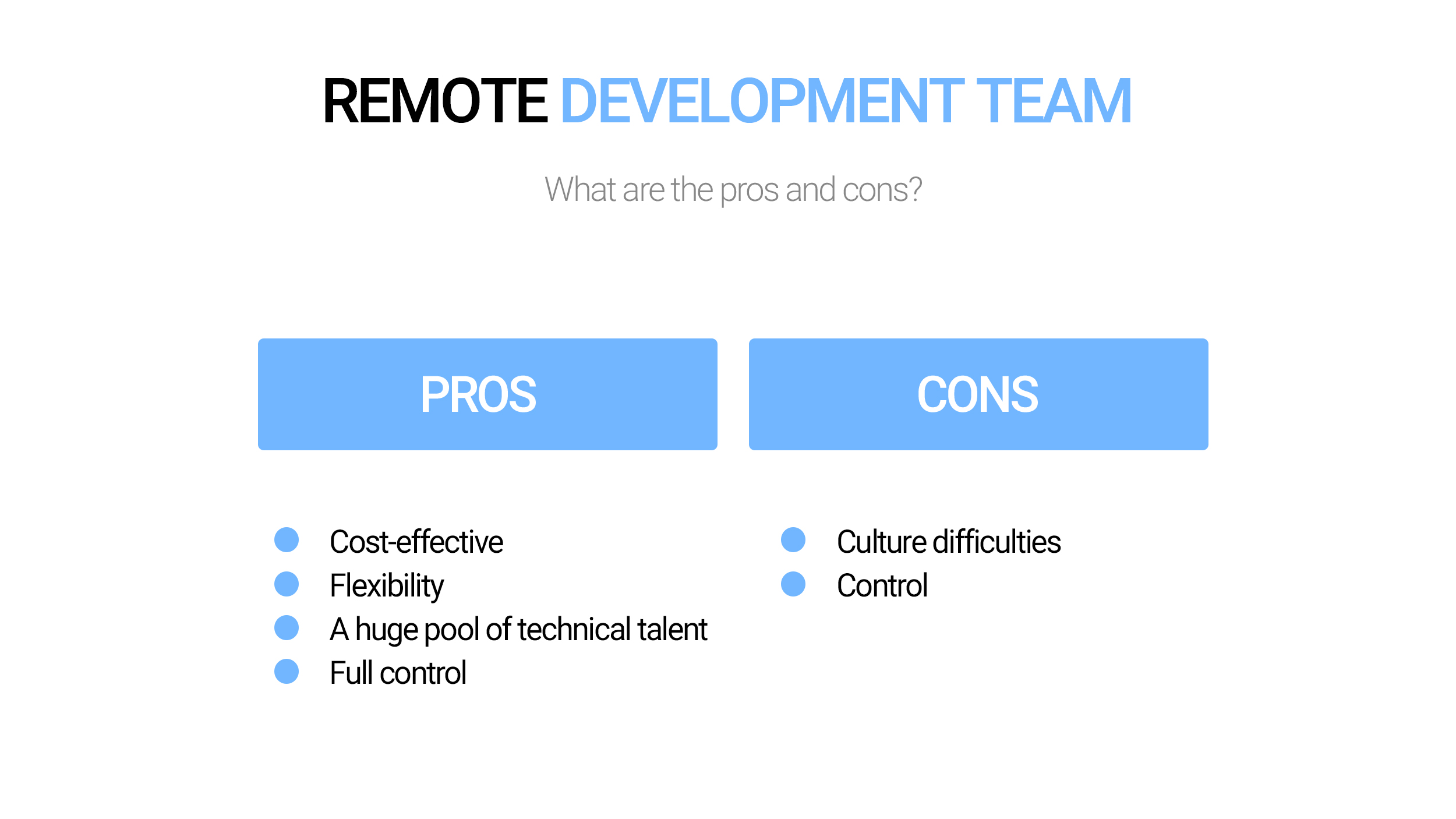 Cost-effective
The remote team model is quite budget-friendly. Entrepreneurs can be overwhelmed by the cost of developing web applications in their home country, while they can pay fewer teams from Eastern Europe, Asia, or Latin America to get the same high level of software development services.
Flexibility
You can control the size of the team depending on the current development situation. If you understand that the project requires more features, you can always hire additional programmers.
A huge pool of technical talent
You are not limited by the borders of one country or company. This way, clients can collaborate with developers worldwide trying to find the most suitable ones.
Full control
A dedicated team assumes full control over the developers. This means that all management is undertaken by the customer. You can entrust the management to CTOs or do it yourself. Anything you want.
Aside from the pros of hiring a remote team, there are also some cons. Here are the main ones of them:

Culture difficulties
This point includes misunderstandings because of different cultural backgrounds, less corporate spirit, and a sensitive period of adjustment for employers.
Control
You don't have full control over the development process, and discomforting without an NDA protecting your ownership.
Now, when you are familiar with all advantages and disadvantages we can move on to the main challenges in managing remote development teams.
Main challenges in managing remote development teams
The sudden adaptation to the new work environment has shown that managing remote development teams can be quite challenging for the untrained. By wanting to do business as usual, managers may not expect some pitfalls that we want to discuss together with solutions to help overcome them.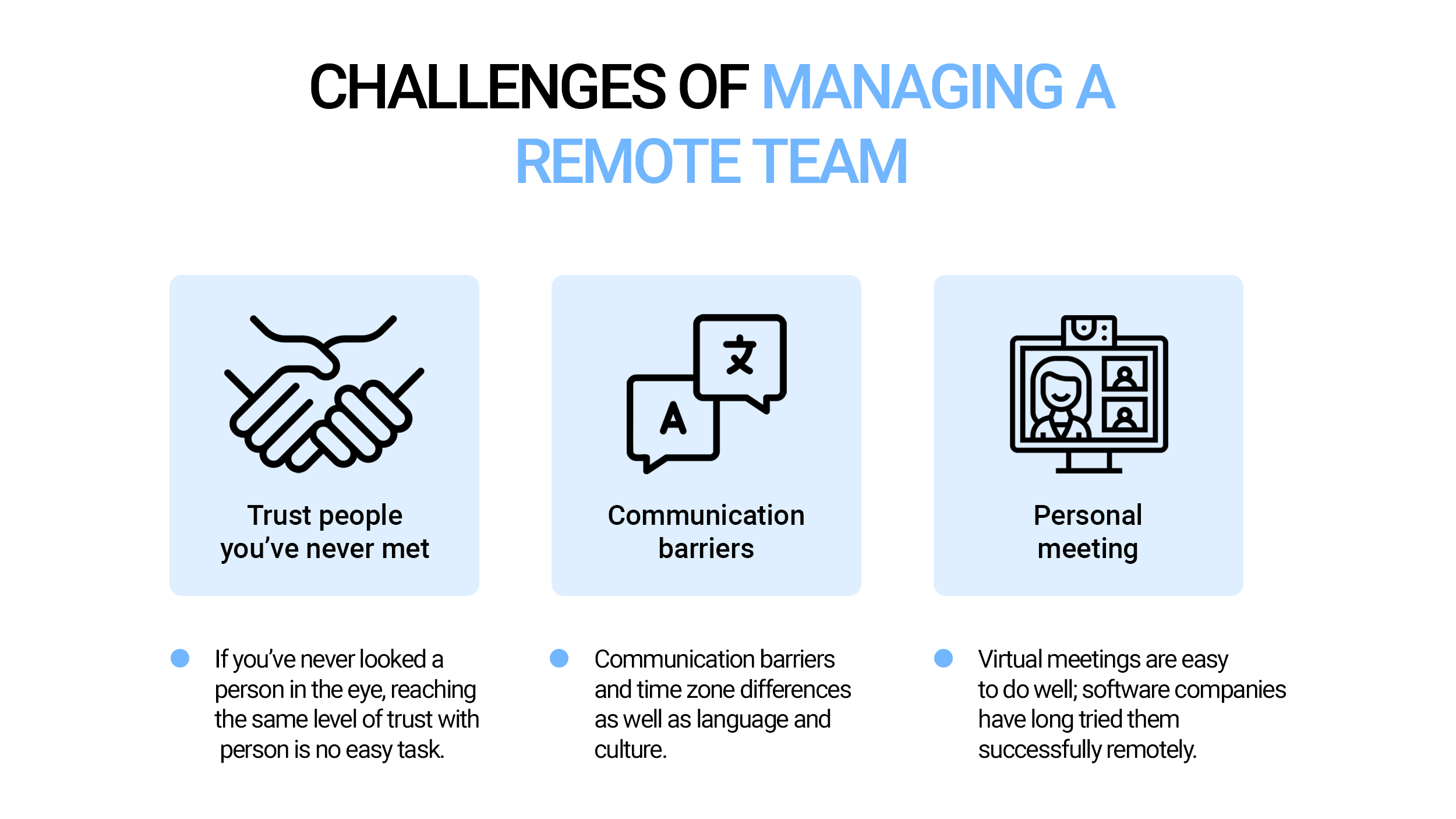 Trust people you've never met
If you've never looked a person in the eye, reaching the same level of trust with a person is no easy task. View portfolios, reviews, request information from clients who received services from remote employees you want to hire. You can ask to sign a non-disclosure agreement that explains all the requirements and expectations for the secure exchange of business data.
Communication barriers
For those who have never practiced working with remote developers, remote communication can seem like a lack of control and transparency. Communication barriers are time zone differences as well as language and culture. For example, to deal with time zone differences, you can schedule calls ahead of time by focusing on key tasks during the meeting and establish the correct workflow. You can discuss current topics for several hours while both parties are still working. What's more, remote teams tend to tailor their working hours to the client, which makes things much easier.
Personal meeting
Isolation of COVID-19 discourages face-to-face meetings. On the contrary, virtual meetings are easy to do well; software companies have long tried them successfully remotely. If you choose to go through with it, you will join 70% of those who have benefitted from digital technologies in collaboration and, besides, increase productivity by up to 30% in digital workplaces.
If you have problems in finding perfect team members, don't hesitate to ask for help from professionals.
The most popular tools for remote collaboration
Tools are crucial for remote team collaboration as they help structure work. An effective remote team will have a set of tools: an email service, file sharing capabilities, an instant messaging platform, project management software, video conferencing, and whatever else you need.
If you want to organize, prioritize, discuss work, submit files, and manage your projects, you can use:
Google Hangouts
Video calls on the Google platform are a great decision for small businesses. Moreover, free access is enough for full-fledged work.
Zoom
Zoom is a web-based video conferencing tool with a local desktop client and mobile app that allows users to meet online, with or without video. Zoom users can record sessions, collaborate on projects, share or annotate on each other's screens — all from one easy-to-use platform.
Slack
Slack is a channel-based messaging platform. With Slack, people can work together more efficiently, connect all of their software tools and services, and find the information they need to get the best job done — all in a secure, enterprise-class environment.
Atlassian Jira
It belongs to the classics in terms of project management systems and bug tracking. It's stable and solid, but you need to tweak it a bit to adapt it to your specific needs. Best for companies that already have established processes.
Google Drive
G Suite can now be integrated with Slack, and it includes instant document sharing as well as a range of professional tools that would otherwise cost you hundreds of dollars.
Trello
This convenient and easy-to-use system offers whiteboards on which you can organize tasks in minutes at a minimal cost. It's visually appealing, intuitive, and free.
It was the list of the most common tools. But for sure you may find other services more suitable for your company needs.
How to choose the suitable remote software development team
Hiring someone you met in person is common, but bringing someone you've never met into a team seems like a tricky task, doesn't it? If you're hiring a remote development team, it's a long way to go to the top, so we've prepared some useful information for you on the subject and structured it into smart tips to help you build a successful remote team. Its purpose is to simplify the process of recruiting, hiring, and onboarding your new virtual team.
Check the competencies of candidates
You can do this in the form of an interview or skills assessment, depending on your needs and the specific role of the employee. For example, if you need a customer support worker, ask the candidates to solve a real problem. Pay attention to the self-reliance and independence that the candidate shows. Remember that interviewing is stressful and anxiety-provoking. Thus, the candidate's nervousness is decoupled from competence.
Give time
Leave some time for the adaptation period so that you and your future distant team can experience the dynamics of remote collaboration. The most important thing during this period is communication. A good option is to develop a small initial project that will help workers demonstrate their skills, initiative, and ability to work independently.
Hire the right people
If you can't trust the person you're hiring during the interview stage, it's best not to hire him/her at all. You will save a lot of time and effort. By choosing to outsource, you will have access to a vast array of talent around the world. This is the best option you can imagine to put together a team that you feel comfortable with.
You have several options for remote team building. You can search for resumes and select candidates on job portals, read applications, take tests. This process is quite complex and time-consuming. Especially if you need a large team for software development or website building. An alternative option is to look for companies that provide outsourced IT services.
Cost of hiring remote teams
Foremost, the cost of hiring remote teams depends on the average software developer rates according to the country. The average hourly rate of software development services ranges from $15 in India to $80/hour in the US. Eastern Europe attracts the countries of Western Europe with its location, high level of developers' skill, and reasonable prices. $35 per hour is the average rate for the region. Poland and the Czech Republic have to pay more because of the higher standard of living, except for Ukraine at the same level of quality.
Code&Care tips on how to keep your remote team productive
At Code & Care, we have accumulated a decent experience of solving all these problems for remote developers over the last 4 years. And we would like to share with you some tips on how to keep your remote team productive:
Track all employee work-time
Time Doctor is time management and time tracking software. How it works — you set up a company account and invite everyone to it. Users register and download the mobile app and desktop app. When employees start working they click "Play" and the work time starts. Moreover, the application makes screenshots of a person's desktop and remembers his or her geolocation, where they worked every 10 minutes or so. It helps to track how much time people work this day/week/month.
Make the rule to notify everyone about being late or having breaks
In Code&Care we can start the workday at the time we want but not later than 1 pm. If somebody is running late for any reason or needs to start the workday later than 1 pm — he/she just has to notify everyone on the Notification channel in Discord about it. The same story with breaks.
A daily report message
At the end of the working day, we write a short daily report — just a couple of sentences on what is done today and planned for tomorrow + a link to the last GitHub commit for today.
Following these simple rules is crucial to keep your team organized and aware of their responsibilities. The constant communication of people with each other helps to establish trusting relationships with remote employees and maintain the same or even better level of reliability that you would have in the office.
Related articles:
How to develop a drop-in audio chat like Clubhouse
How to create an e-commerce website like Amazon and Flipkart?
How to make a location-based app tailored exactly to your needs
All-in-One Guide to Telemedicine App Development