If you are involved in the real estate industry and don't have a website, you will lose the fight. Available statistics of the National Association of Realtors (NAR) show that 95% of all homebuyers are searching online.
But even the presence of a website is not enough. Over 90% of real estate companies have websites. So, to be different from the other companies you need to create something astonishing.
Choosing a house is a difficult decision. That's why people don't only swipe on smartphones. They use their laptops to search thoroughly. This fact explains why building a great website is still important, even in the mobile-first era.
In this article, we are going to guide you through the nuances of real estate website development and give you a couple of advice.
The latest real estate market trends and insights
Here are some statistical data that describes the latest real estate market trends and insights in the best way: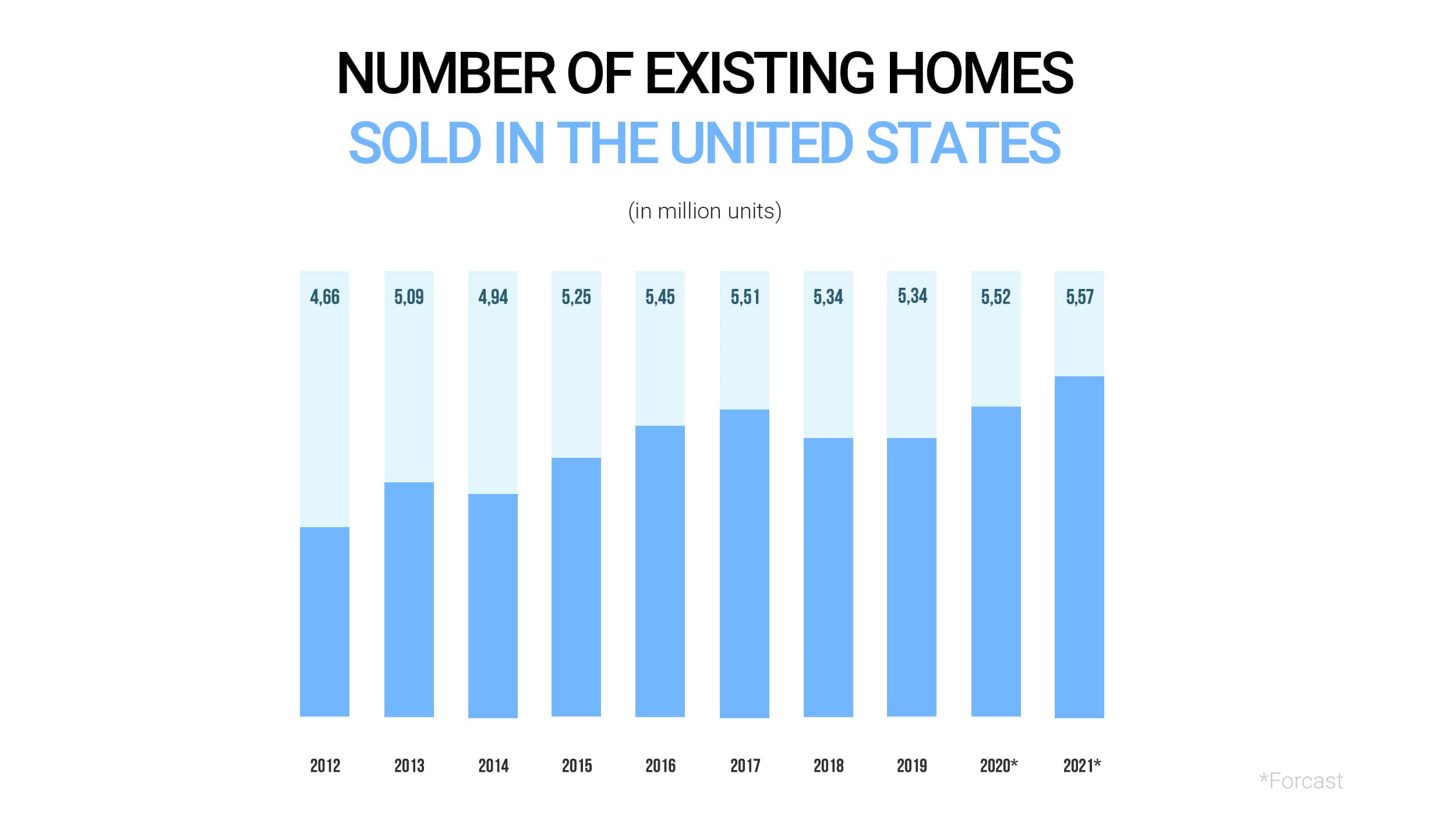 The real estate business continues to be profitable. But at the same time, purchasing power dropped a little. This means that it will be more difficult to attract a buyer and it is necessary to look for new marketing and sales tools, including attracting clients online.
According to the NAR statistics, we figured out some estate trends:
millennials still made up the largest share of home buyers at 38%;
among all generations of home buyers, the first step taken in the home search process was to look online for properties;
84% of home buyers used the internet to search for homes;
52% of home buyers found the home they purchased through the Internet.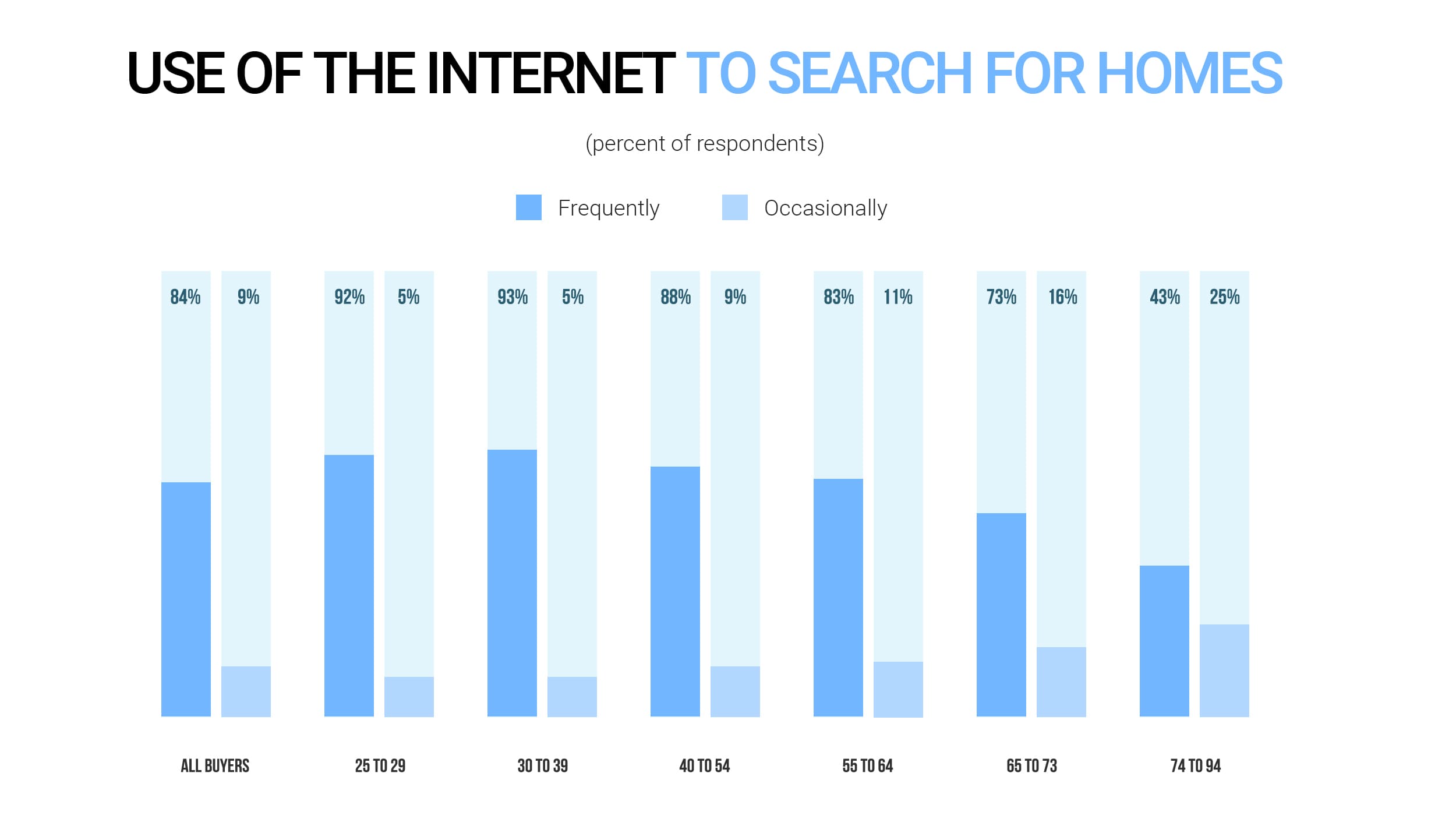 As we can see, online sales take a great part of the total amount of the real estate industry's sales.
Does your real estate business really need a website?
Pulls show that among the information sources used in the home buying search, online websites are still much more popular than mobile or tablet search devices. For example, statistics show that 93% of users prefer online websites, while only 73% use smartphones or tablets for this task.
There are at least 3 reasons why you need to create a real estate website:
☑️Convenience
The user will see all the necessary information about the house: photos, location, year built, heating, the number of bedrooms and bathrooms.
☑️More customers
Millennials are the most solvent audience. Also, they prefer to search for properties online then go to the real estate agent. So, a website is a good idea, as you can attract more users.
☑️Saves time
You don't need to waste time in traffic. If a website gives full information about the object, it's enough to communicate with potential customers only via email or online forms.
Keep it in mind, when you start to work on your website. To find out more about real estate website development resources, you are always welcome to contact us for a free consultation.
What types of real estate websites are there?
The current online property market offers plenty of opportunities. That's why a huge amount of different real estate websites exist today. Below, we discuss the most popular.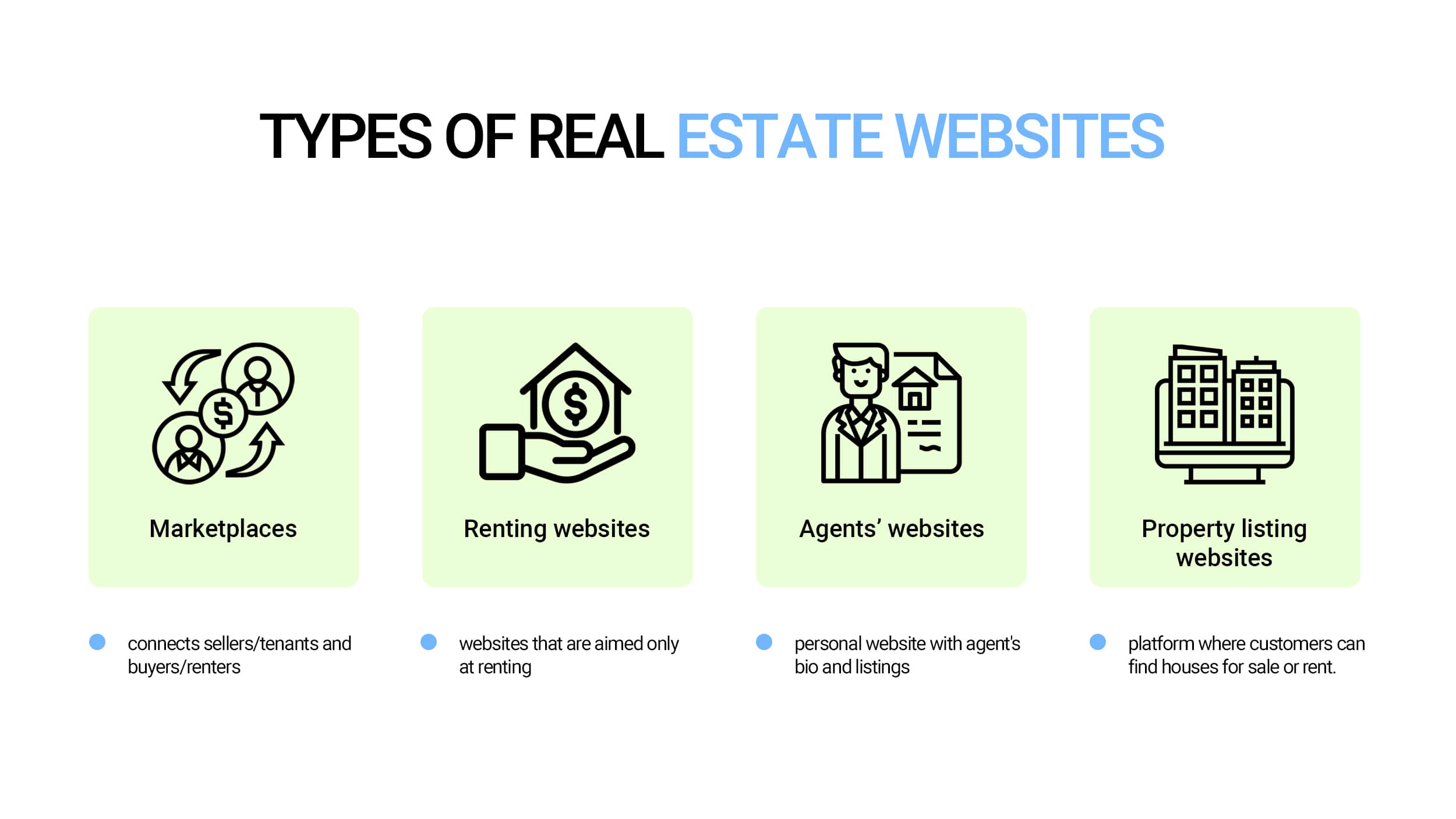 A marketplace is a platform that connects sellers/tenants and buyers/renters. It's a popular and developed type of website. Both sides can use the platform without any limitations. Sellers are able to list their houses on the website and determine its price due to an online calculator. Buyers, on the other hand, can search for a flat or house for rent or purchase, browse photos, read the descriptions, and study the house plan.
Examples: Redfin, Trulia, Zillow, Airbnb.
Renting websites
There are plenty of websites that are aimed only at renting. They include two sides: landlords and future tenants. The main goal of them is to connect both sides. Also, some of them have the opportunity to manage the properties after signing the contract.
Examples: Trulia, Lovely, Rentals.com
Agents' websites
This is the most widespread type of real estate website. It's like some kind of brochure that shows who you are, what you can do, and why people should choose you as a real estate agent. You may add some more information. Like your history, listings, your contact information. It's the first point of contact with potential customers.
Examples: Michael Calcagno & Nancy Hamilton, Guy Yarkoni, John Flanagan Team.
Property listing websites
Property listing websites are a kind of platform where customers look for accommodation for sale or rent. This kind of website gives the possibility of the various agents to list the property. This system is widespread through brokers, agents, or real estate companies. Due to them, buyers or renters can search through listings to find an appropriate variant, view property information, and request a house tour.
Examples: Zoopla, RightMove, Realtor.
We have listed just four of the most common types of real estate websites.
Top real estate websites you should look for
Web application development should start with a competitive analysis. To make it easier for you, we suggest considering a quick overview of the several largest players in the market.
Zillow
For today, Zillow is one of the most popular real estate websites. It has got a database of millions of homes up for sale and rental. However, it's not just a marketplace. It's a real social network whose audience is involved in the real estate market. Zillow gives the possibility to put your property on the market, find the perfect house and study all the information about it, rent a house or apartment, choose the agent, home inspector, builder, or another real estate professional that you need.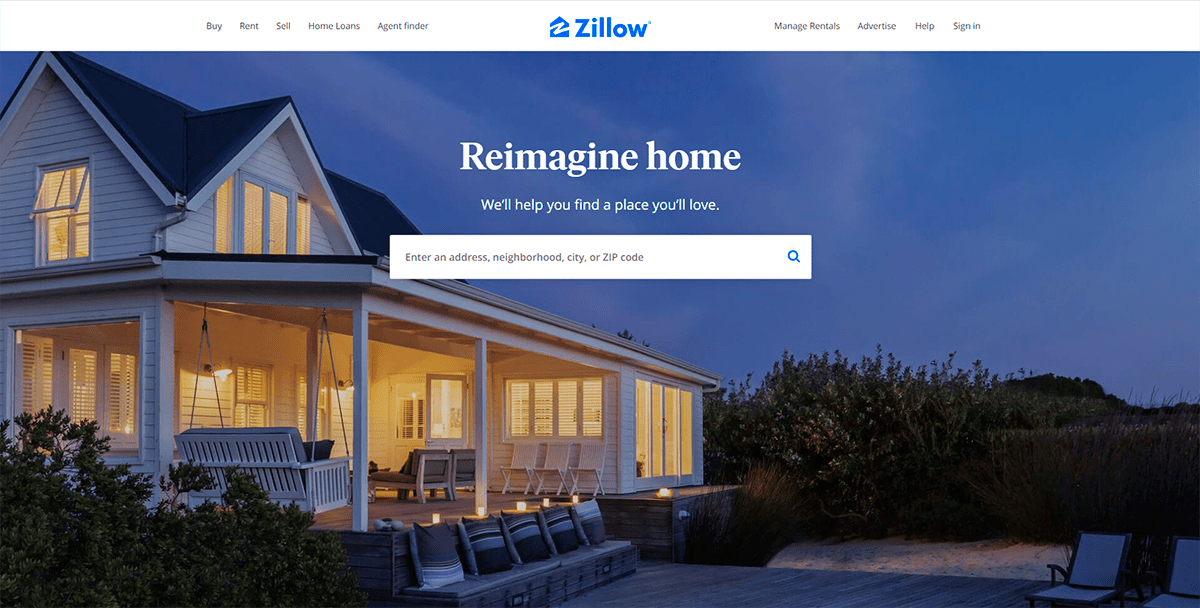 Trulia
Trulia is one more well-known real estate website. Providing various information, calculating the mortgage rate, finding the local agents are its key features. Trulia has a user-friendly interface and makes the processes of buying and selling easier.
Realtor.com
Realtor is the official website of the National Association of Realtors. Like previous websites, it gathers information from multiple-listing services (MLS) — databases of listings compiled by real estate specialists. The company website connects all the trusted realtors that are members of NAR.
Redfin
Redfin is a residential brokerage company. It helps users to find a new home through a filtering search. The website has got a calculator of affordability and a house buying guide. Redfin promotes transparency as the biggest value. It's the reason why they poll every customer about their experience and share reviews on agents' profiles.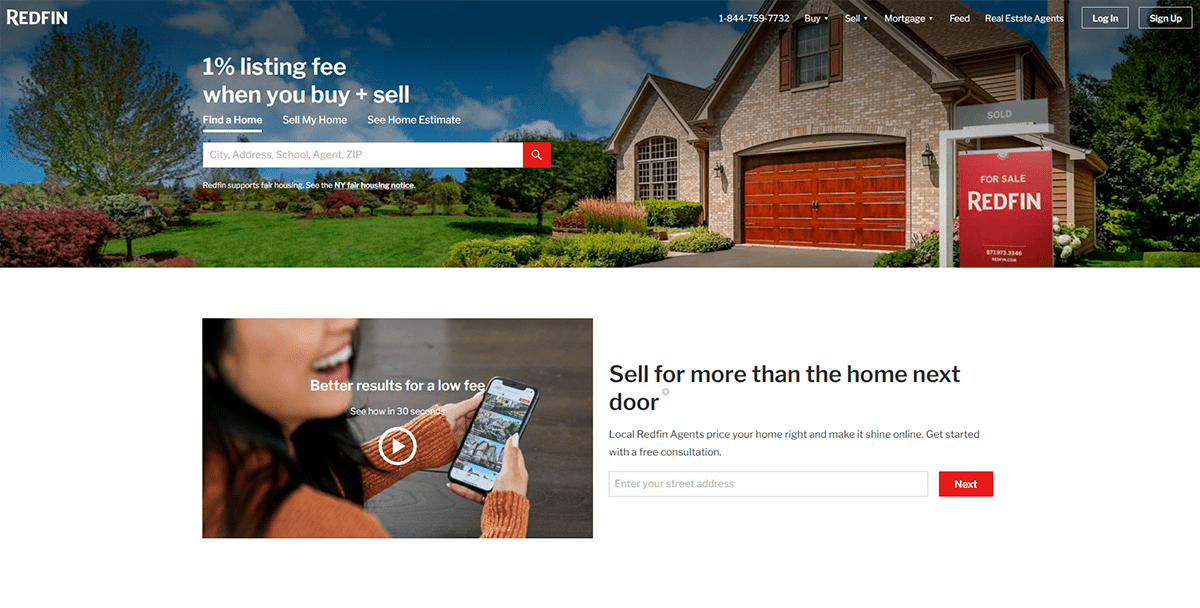 In case you decided directly that you need a website, chose its type, and analyzed the competitors, it's time to define general real estate website development requirements. Certainly, you'd rather engage experienced developers to understand all the nuances. Code&Care is going to save your time and money. That's why we share with you the main requirements and recommendations based on our experience.
Real estate website requirements and tech stack
If you decide to build your own real estate website, the first step is to define your requirements. The number of development hours and, therefore, the total cost will depend on them.
Answer yourself the following questions:
What is the goal of the website?
What functions do you need?
What existing platforms do you like?
Is SEO important for you?
Depending on your answers experienced technical specialists will recommend suitable tech stack and platforms for the development. Also, there are some key recommendations that are important to maintain. Here they are:
Basic requirements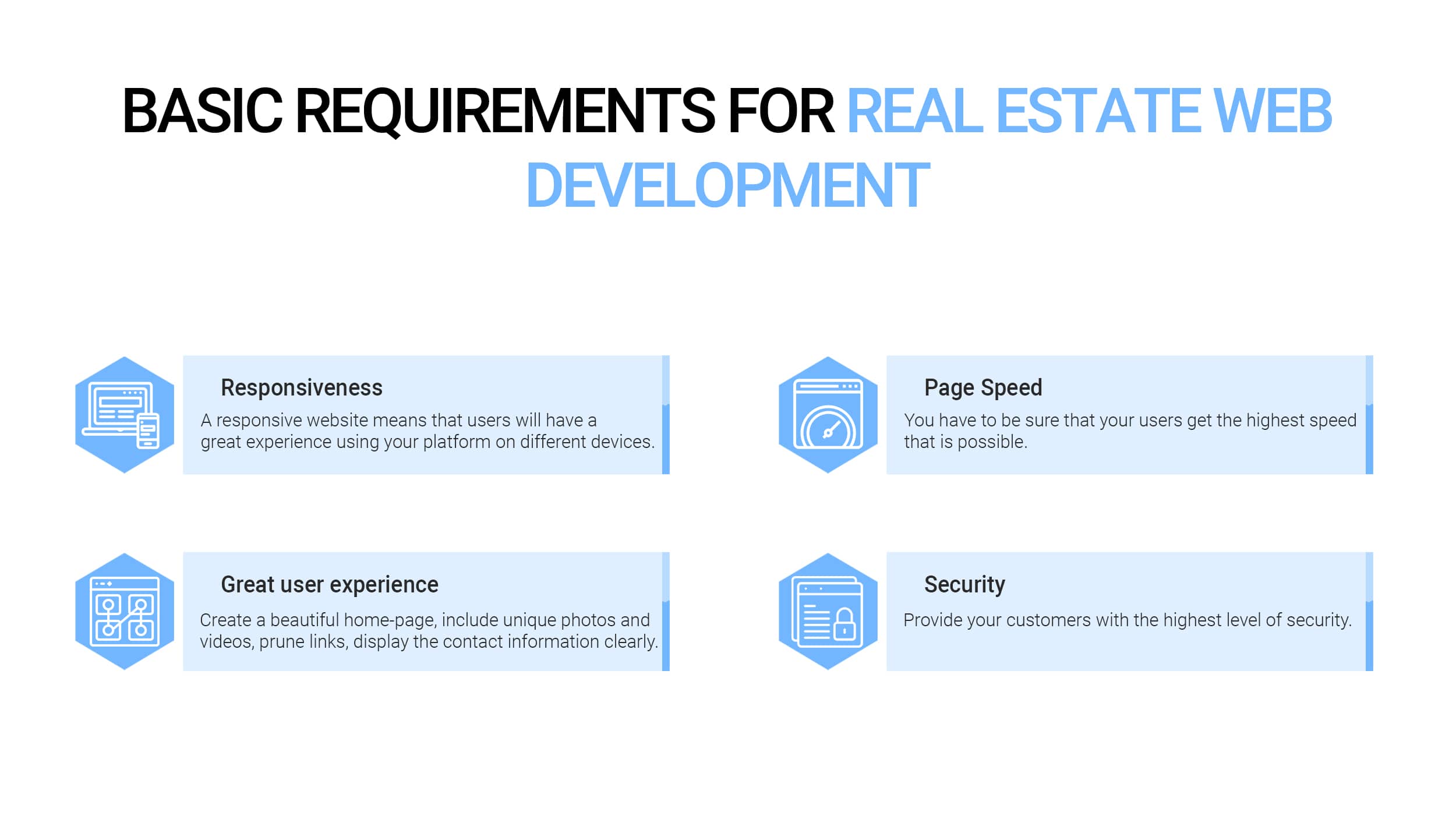 ✓Responsiveness
According to NARs statistical information, more than 71% of buyers have found their homes due to mobile applications. So, you should be focused on creating a responsive mobile website. A responsive website means that users will have a great experience using your platform on different devices.
✓Great user experience
Top-brands understand how important is user experience (UX). The key task is to make the user's life easier. That's why your team should work a lot to give online visitors a pleasurable experience with your resource.
Here are a couple of pieces of advice for a superb UX website: create a beautiful home page, include unique photos and videos, prune links, display the contact information clearly.
✓Page Speed
If your website works slow, you will never succeed in getting customers. So, optimization is a great part of real estate web application development. You have to be sure that your users get the highest speed that is possible.
✓Security
Besides the saving data of your users, real estate websites receive a lot of contacts and tons of personal information. Provide your customers with the highest level of security.
IDX integration
The Internet Data Exchange (IDX) is a term that refers to the exchange of Multiple Listing Service (MLS). IDX allows uploading such property information as price, features, or its type. The system is almost not customizable. It means if you want to change some information, it will be impossible.
In order to create a competitive position in the real estate market, you need to take care of where you get the information about the listings. For now, in the USA there are about 600 different MLSs. The big market players sign the agreement with each MLS directly. Code&Care recommends our clients to get access only to the most extensive databases, like the Arizona Regional Multiple Listing Service or other regional databases.
CRM integration
A solid Customer Relationship Management (CRM) system is key to the success of your business. Define your needs before choosing the CRM. It can be contact management, marketing tools, a customizable platform with MLS, lead tracking, etc.
The best CRM is the one that solves all your tasks.
Appropriate stack
The tech stack may be vast. There are many features to be implemented, so you will need to use plenty of tools and frameworks to make the platform work smoothly. We will name just a few:
Backend
Frontend
Frameworks
Database
3rd parties

PHP




Python

Javascript




CSS, HTML




jQuery

React.js




Leaflet.js

MySQL




AWS




PostgreSQL

Facebook SDK




Google authorization




Google Places API




RETS API




RESO Web API




3rd party MLS services




Crime Data API




School Data API
✓Cloud infrastructure
The integration of a cloud-based infrastructure from the very beginning is a perfect decision for a real estate web resource. As the platform will include a great number of high-quality photos, videos, and 360° images, to keep all the data you need powerful hosting. That's why splitting objects between different file systems is a good solution.
Main real estate website features
If you want to build a real estate website, the first step is to define the main functions that you need. Here is the list of features you'd rather include in your platform:
Registration and Authorization
Registration and authorization are obviously needed features of real estate websites. They have to be easy and quick. Give users the possibility to register or authorize via social networks or an email.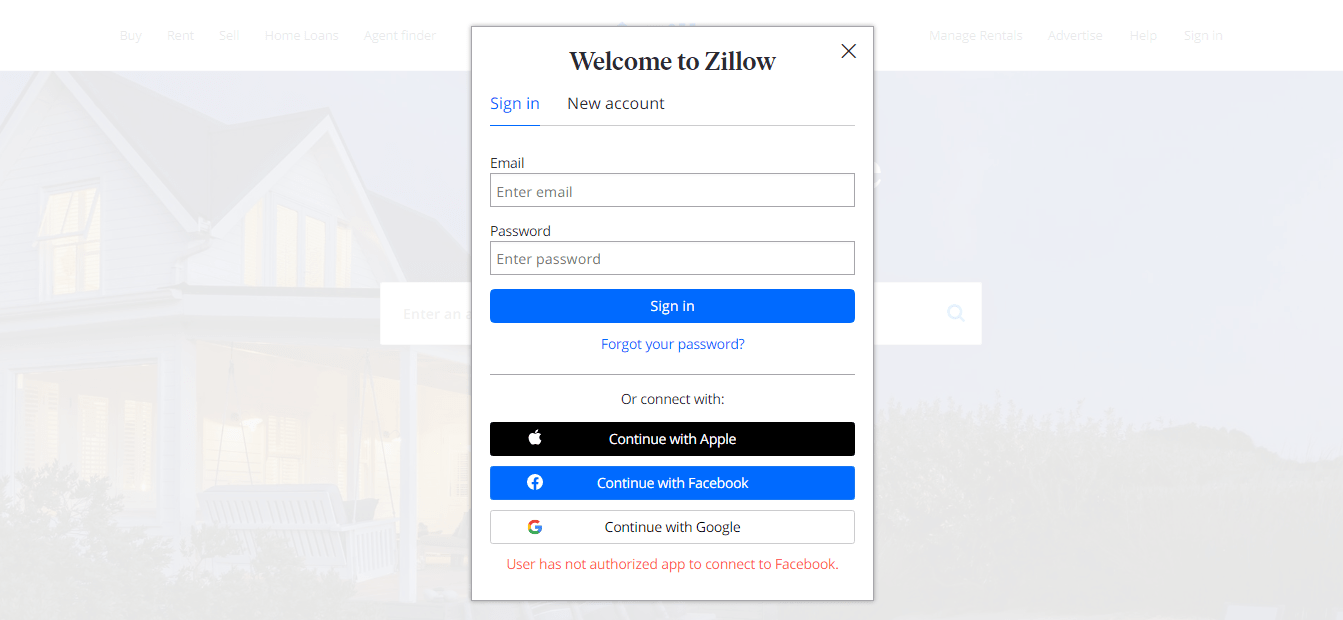 Adding property
Property posting is a must-have feature. Make it simple for users. First, they have to choose whether a house is for rent or for sale. Then, suppliers need to pin it on the map, set a price, add photos, and give some additional information.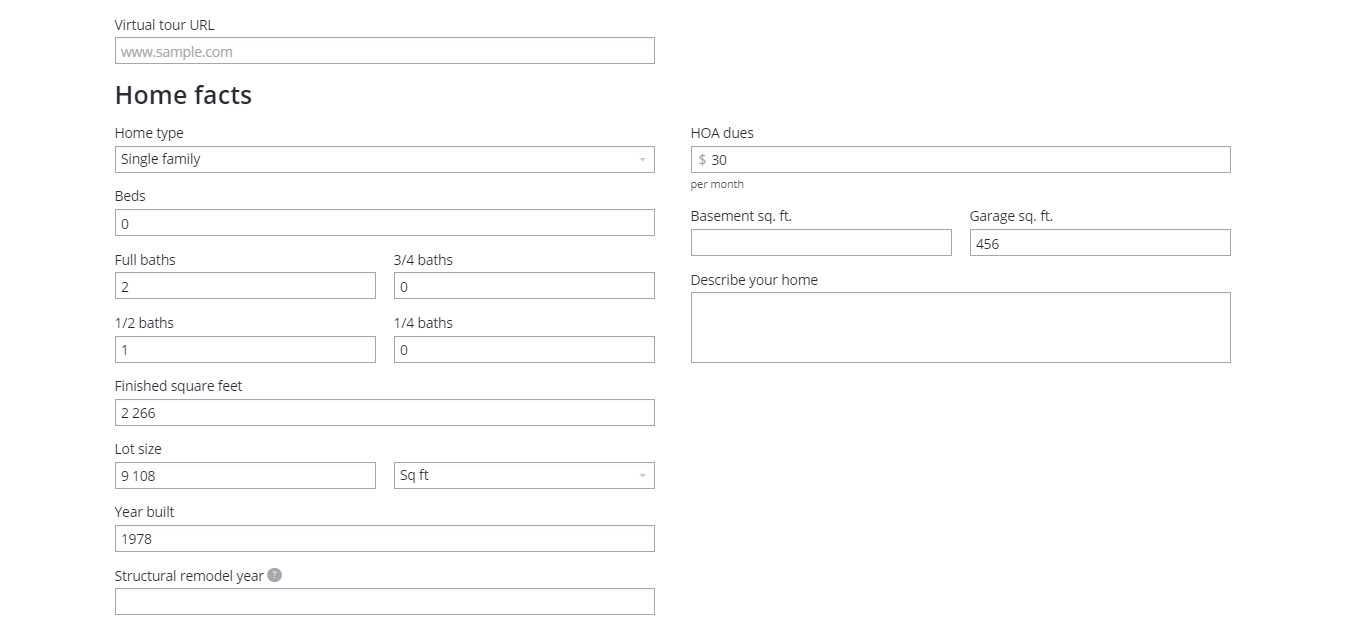 Detailed property listings
Ideally, a property listing page has to have: property name, location, floorplan, building overview, and local info, like the nearest schools, shops, crime, etc.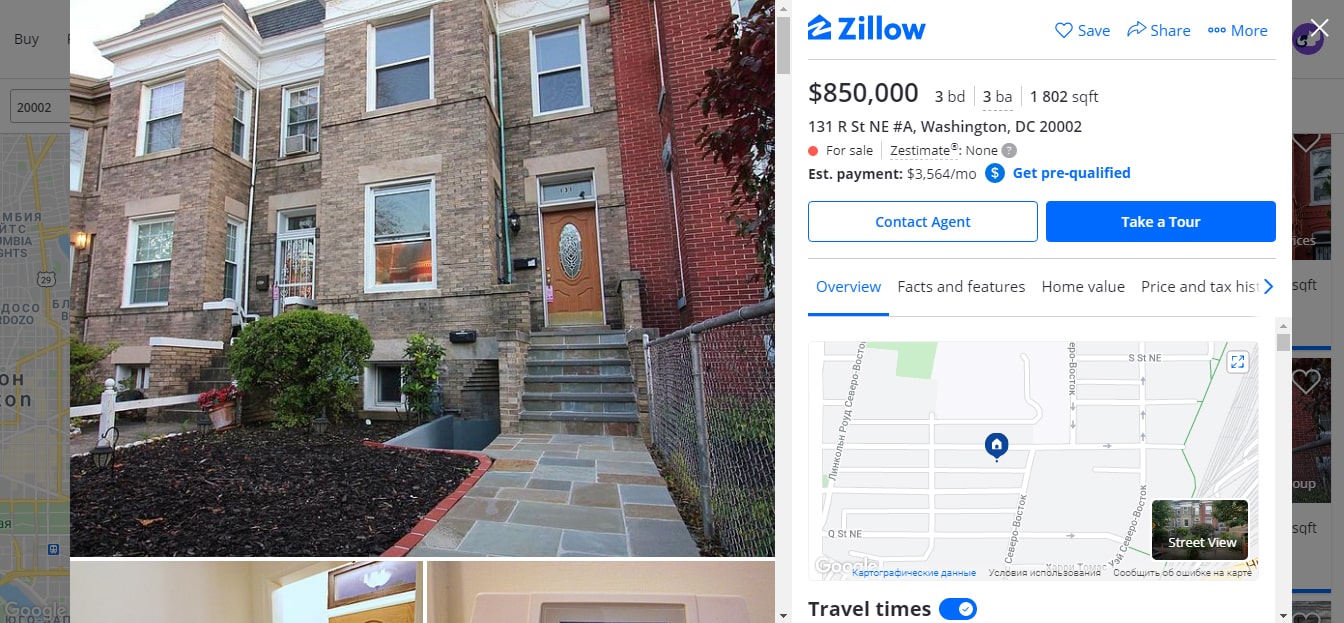 Agent's profile
The agent's profile needs to include information about sold and active properties, short biography, contact info, and reviews.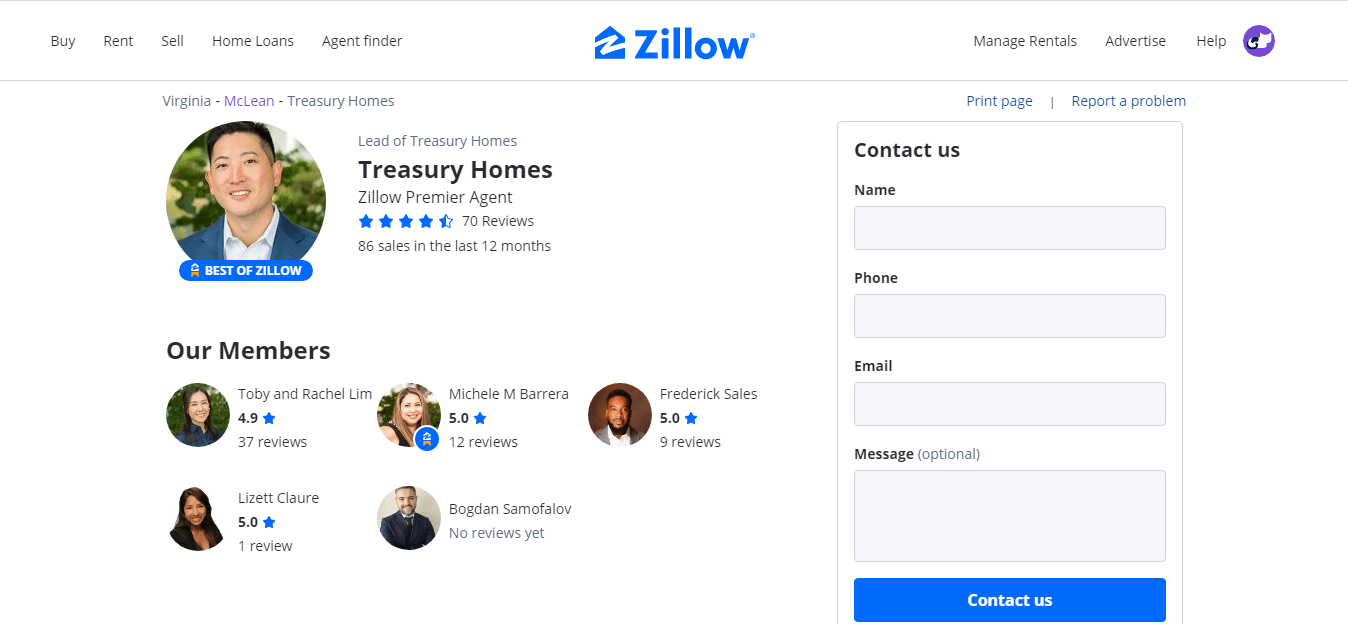 Photo/Video gallery
According to the NARs report, 9 out of 10 buyers under the age of 55 noted property photos as the most important website feature. Users prefer to look through photos and videos of houses and apartments in order to make a decision.
Map Integration and Geolocation
Map integration is a crucial feature that can't be skipped. Adding geolocation helps users to find the appropriate accommodation and make the right choice in an easier way.
Property search and filters
The search and filters are two necessary functions that make your platform fulfill. The common filters are price, the number of bedrooms and bathrooms, home type, year built, basement, square feet. It is also a good idea to sort objects by price, newest, verified source, mortgage, bedrooms, bathrooms, and so on.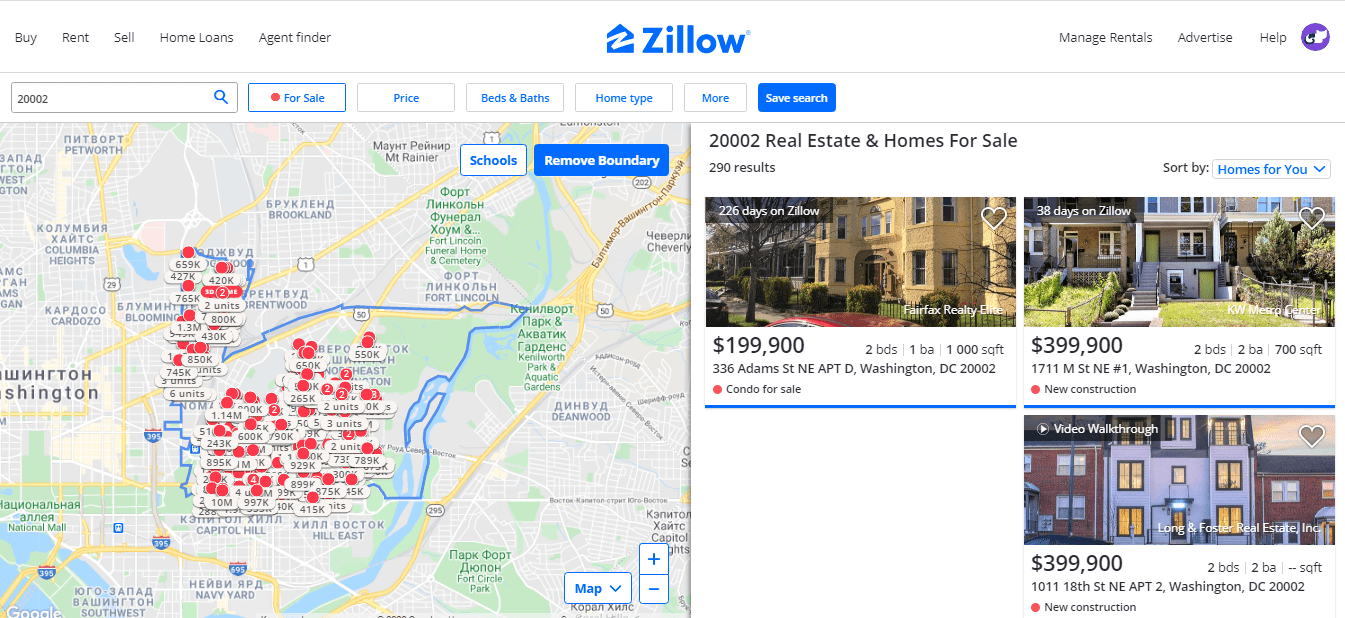 Neighborhood data
Give your user data about the nearest schools, cafés, supermarkets, parks, and recreation.
Calculations
A mortgage calculator helps users to define monthly payments, the number of payments per year, etc.
Property Value Estimation (or BPO) helps sellers and tenants estimate the property price using the statistical model. The margin of error is around 7%. There is a similar calculator for buyers. It helps to understand whether they afford to buy a certain property or not.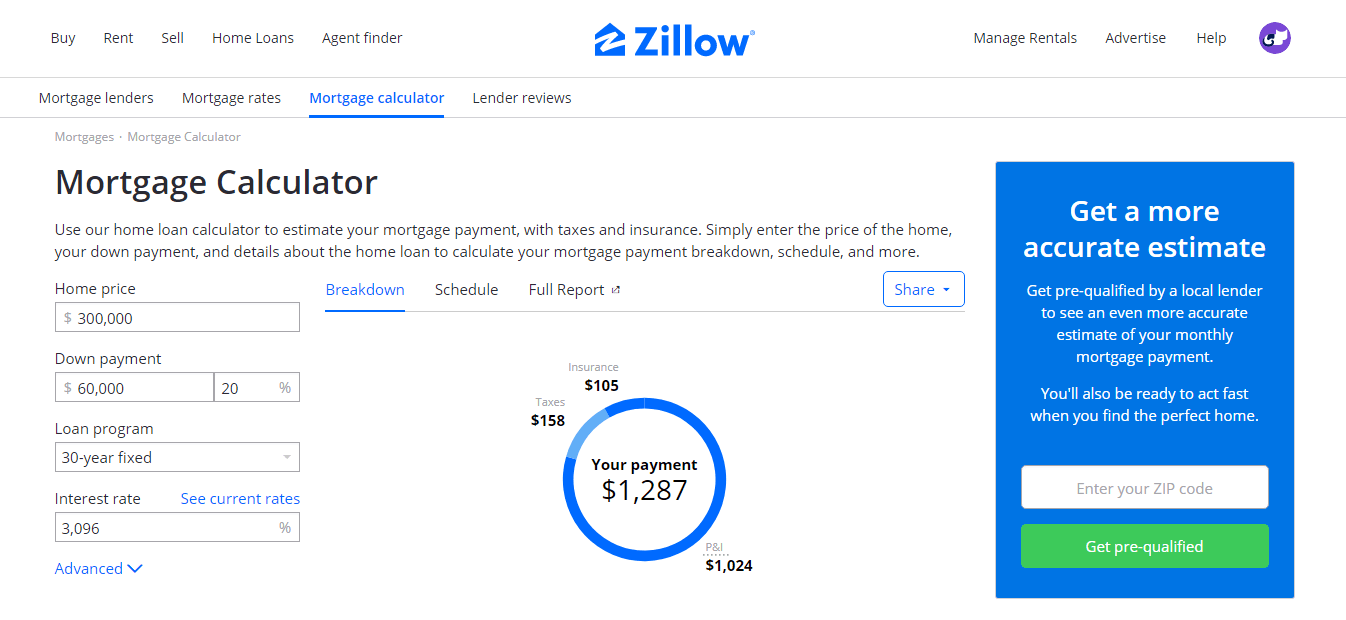 Messaging
A live chat feature makes communication between buyer and seller faster. You can integrate a messaging system into your website to help both sides deal more effectively.
Open houses calendar
A calendar is a convenient tool that lets potential customers know when the property is open for showings.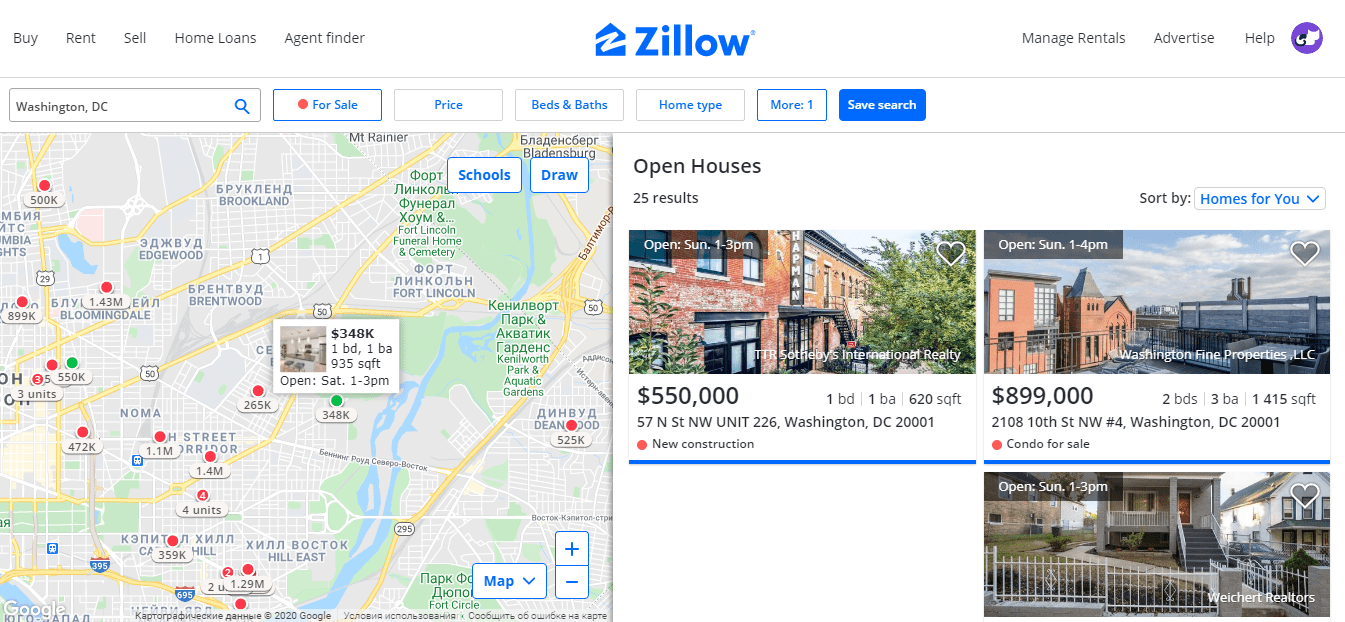 Market reports
Providing information about real estate statistics, price trends, and useful content for customers makes them engaged on your platform.
Real estate web application development flow
Now, let's talk about the most important part. So, what are the steps of real estate platform development?
1. Market research
The first step is market research that begins with the study of the target audience. You need to understand what agents, sellers, and buyers need.
For example:
Agents require real estate advertising, getting new clients, and the opportunity to use analytical and marketing tools.
In its turn, the sellers want to estimate the property, find market trends, calculate taxes, and promote their objects.
At the same time buyers desire to find a property with all necessary requirements, compare prices, see the geolocation of objects.
2. Choosing your business model and monetization strategy
There are several ways to monetize your web resource. For example, premium user fees, charge fees, and advertisement. Let's discuss each one in detail.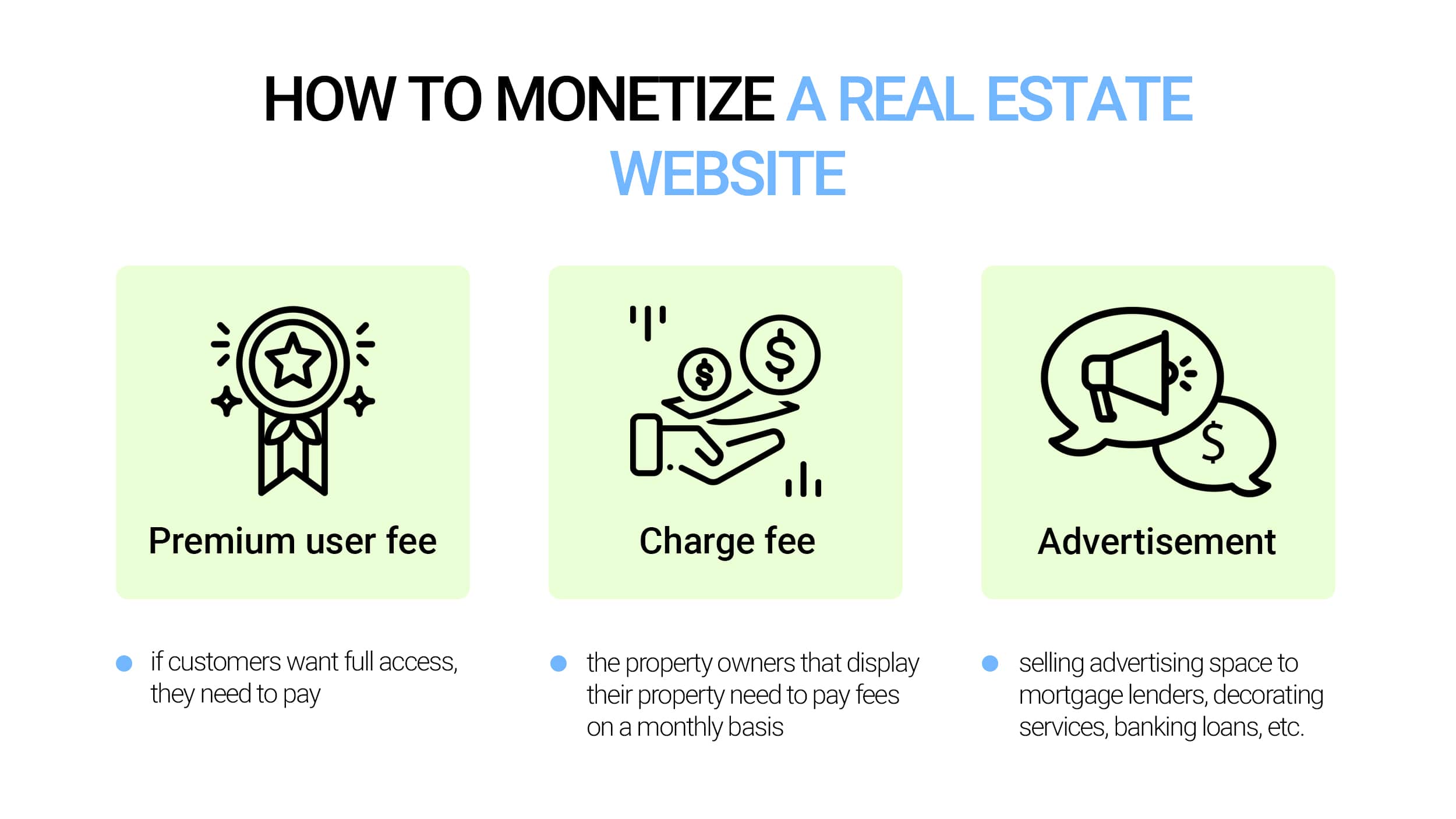 Premium user fee

supposes that some options are free for every user. But some of them are limited. So, if customers want full access, they need to pay.

Charge fee

means that the property owners that display their property need to pay fees on a monthly basis.

Advertisement

is the easiest way to make money. You can collaborate with decorating services, banking loans, and so on.
3. Getting access to your MLS
The next step is to get access to your MLS. Unfortunately, it's quite difficult. As there is no public API developers can use to just pull the data from. Also, MLS may restrict membership and access to real estate agents. After getting access to data it's needed to start the process of mapping each field of data to match your platform for smooth integration.
The most popular 3rd party MLS services:
4. Choosing your MVP features
To save you time and money, we recommend launching such projects as MVP, a website with only the main features. In this way, you can discover whether or not your business idea has to earn potentially. To start MVP means to choose the must-have functions you want to see implemented on your website.
5. Project specification
Then you need to take care of project specifications. A good one is a simple but complete description of features and goals. It contains descriptions of how the software will be used from a user perspective and performance details such as speed, availability, and response time. It's needed to communicate with the developers and explain what they need to do.
6. Picking out the real estate website development company
The team will either break your project or make it successful. So, you need to take the time to find the right tech specialists. First, choose if you want to work with local specialists or hire dedicated web developers abroad. Also, we recommend focusing on companies that have relevant experience. Once you found the right candidates, conduct the necessary negotiations, and estimate the project cost.
7. Front-end and back-end development
The website infrastructure always includes a hosting server. Now the most popular ones are cloud services due to their elasticity and ability to scale up. The MLS system has to handle large data volumes. That's why building an MLS listing website requires experienced back-end developers.
Front-end development is important as well. As real estate customers look through websites a lot, they understand clearly the way a good platform should look and what features it needs to have. You definitely need to create the following pages: home page, property search page, property details page, about us page, contact us page, personal user's profile.
8. 3rd parties integration
Due to the help of different APIs users can be provided with more detailed info about the neighborhood. For example, crime data, weather data, the nearest schools, etc.
9. Testing
The final step is testing. You have to be sure that customers' data will be safe. Also, important to check page loading. Ideally, it shouldn't be more than 3 seconds. If the process of loading is longer, you need to optimize CSS, JS, and images that you use.
10. Support and new features implementation
After the testing, the work doesn't finish. You need to host your website, maintain IDX, implement some new features, or update the design.
How to Build Your Own Auction Website Like eBay (The Full Comprehensive Guide)
Real estate website cost
The development of a real estate website is a complicated task. And the project estimation depends on a lot of factors. For example, the number of user roles (buyers, sellers, and admin), the feature list of your future website, the number of MLSs and 3rd-parties, and the difficulty of the chosen tech stack.
Below we provide an example of real estate website estimation. Please, note that the final cost may be unique for each project.
Features
Back-end
Front-end
Approx. cost, $
Approx development time, hours
Approx development time, hours

MLS database integration

100

0

2900

Advanced property search & filter

80

50

3770

Detailed information about the property

80

50

3770

Interactive map

20

120

4060

Image gallery

20

40

1740

3D or virtual reality tours

0

200

5800

Authorization via Social media

30

24

1566

Detailed agent's profile

40

60

2900

Client's reviews

20

40

1740

Adding property and editing data

40

120

4640

Uploading an agent's license

20

20

1160

Saving favorite properties

10

10

580

Search saving

10

10

580

Searching agent in a certain location

20

40

1740

Mortgage calculator

12

60

2088

Property price trends analytics

30

16

1334

Development (total)

1392

40368

Testing

278

8062

Bug fixing

139

4031

Project Management

209

6061
Let us estimate your project for free! Send us a quote:[email protected]
How long does it take to build a website? [Estimation examples]
Our expertise
RealConnex is a network where real estate professionals connect to capital, investments, services, and opportunities.
Code&Care provided a reliable team for front-end and beck-end product support.
To bring this idea to life, the team used such technologies as Cake PHP and Angular 2. The development lasted for 7 months.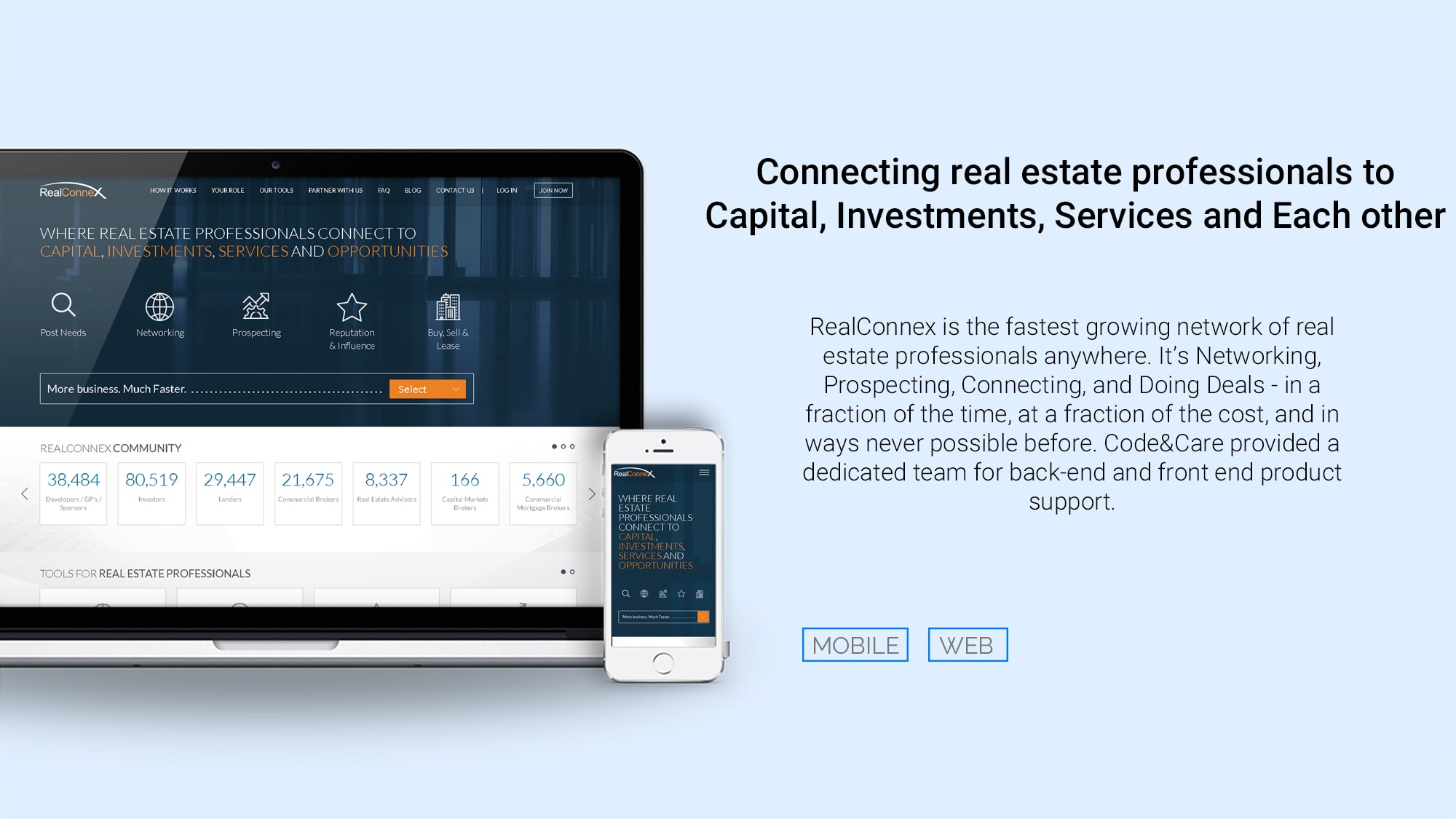 Have you got cool ideas for real estate web development, and you're in need of qualified experts who can bring them to life. If so, we will help you! Feel free to contact us.
Read next: 
Web Development Trends 2022
How to create an e-commerce website
Progressive web application development
Food delivery app development