The Covid-19 pandemic sealed the deal for freelance market places like Upwork, Fiverr, Zippia, Toptal, Glassdoor, etc. As physical business operations became impossible, companies and employees resorted to getting jobs done by employing the services of remote workers or freelancers. As a result, both employers of labor and freelancers sorted the comfort of freelance market places to advertise for jobs and to showcase their skills. But now that the pandemic is over, most employers of labor prefer the service of freelancing services over employment due to its numerous benefits.
📈 Before the pandemic, the growth of remote opportunities was pegged at 4%. By the end of the pandemic in 2020, it grew to 9%. But at the close of the third quarter of 2021, it has grown by almost 15%. Analysts have forecasted that by the end of 2022, 25% of professional jobs in North America will be entirely done remotely.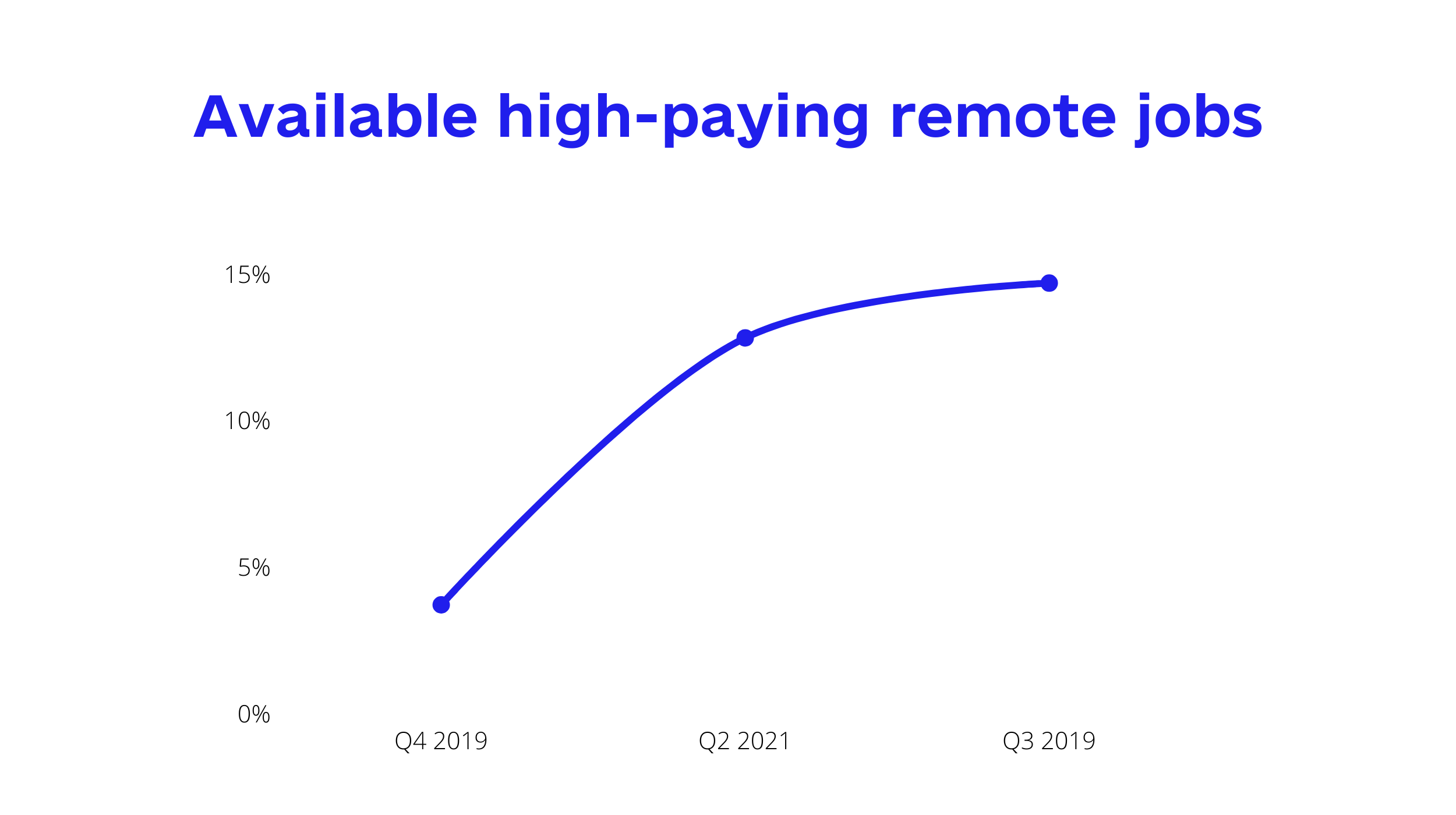 To add some perspective to this, did you know that freelancers accounted for $1.3 trillion in revenue in the U.S. in 2021? Currently, there are over a 1.1billion freelancers in the world in the U.S. alone, and there are over 58 million freelancers. With most companies adopting remote working systems and employees abandoning normal employment jobs for remote jobs, there appears to be a significant shift in the trend towards remote working and jobs.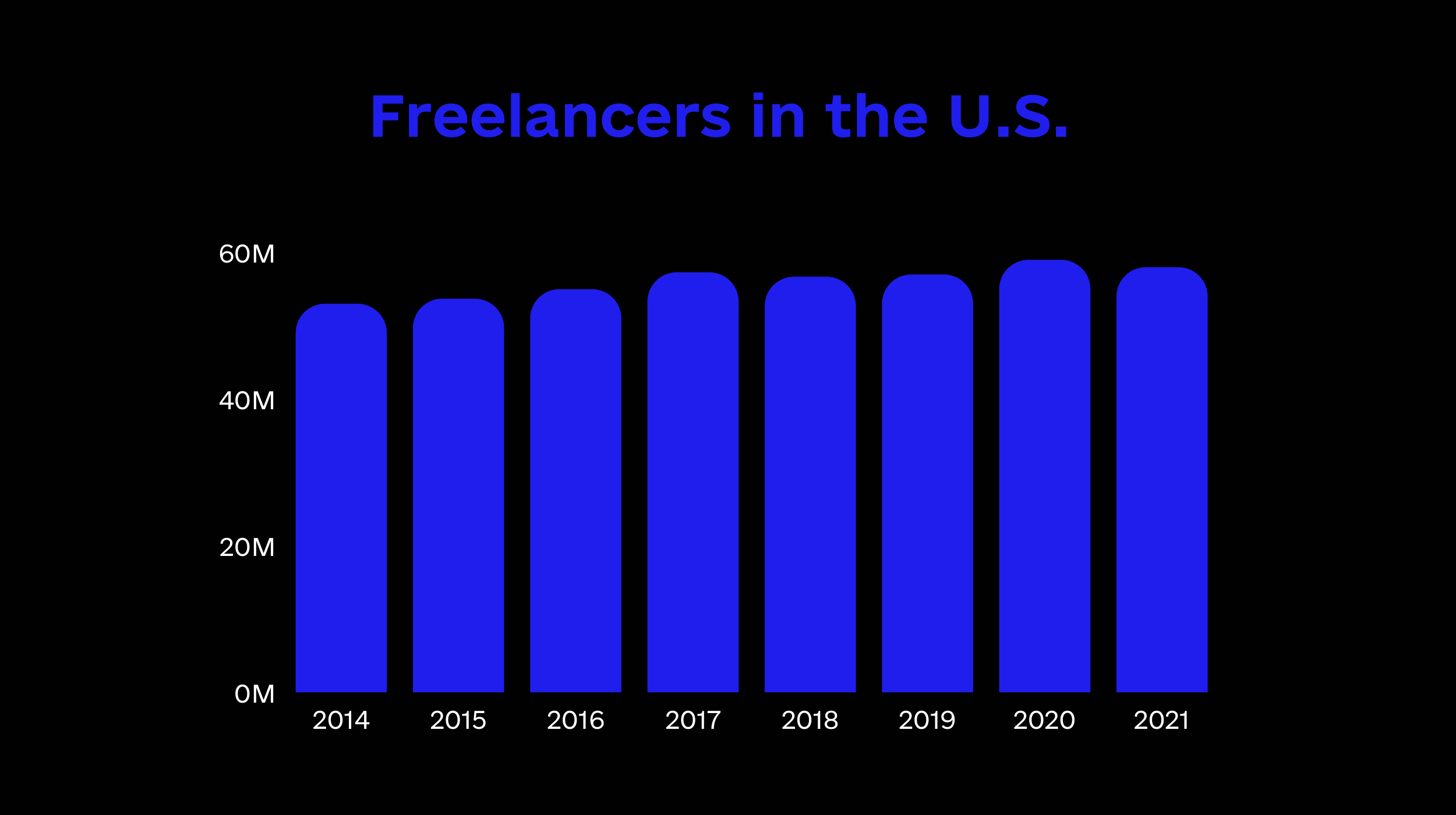 And where is the best place to get remote jobs? Freelance Market places! With over 1.3 billion freelancers globally, it is safe to conclude that there is not enough marketplace to meet the teeming demands of both employers of labor and freelancers. This article will take you through the basic things you need to know when developing a Freelance Marketplace.
What is a Freelance Marketplace and How Does it Work?
A freelance marketplace is a dual online platform that connects business owners with independent contractors. It is a platform designed to connect employers seeking to hire experts in a particular field with freelancers who have the required skill set for a particular task. On the one hand, a freelance marketplace allows employers to advertise and hire independent contractors or freelance suitable for a particular job. On the flipside, freelancers or independent contractors can also apply or bid for open positions if they believe they have the required qualification or skillset required by the employer. Once both parties are connected, they work remotely to fulfill their obligations.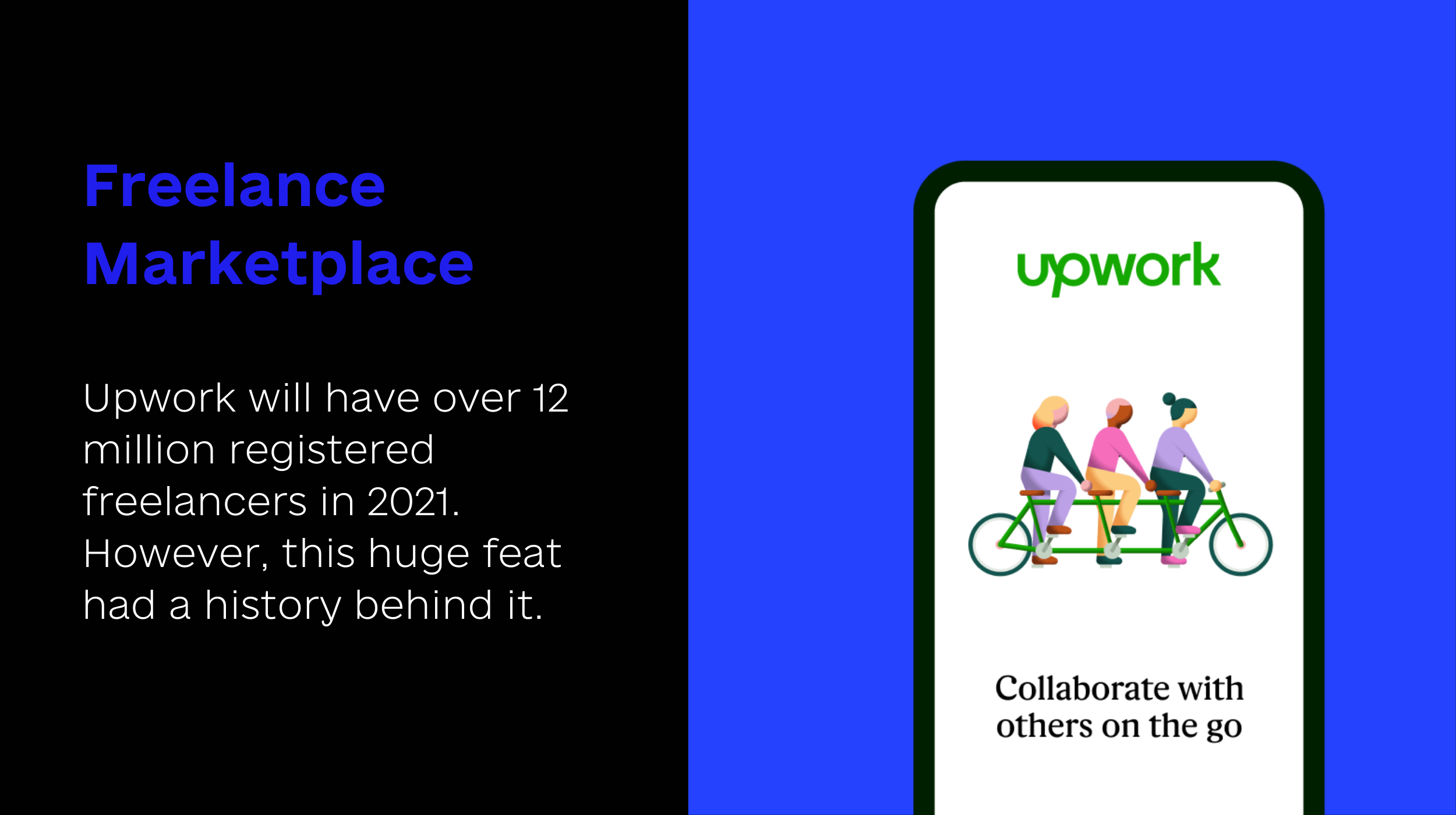 What is Upwork?
Upwork is currently one of the largest digital marketplaces for freelancers and businesses looking for workers to take on projects. According to Website Builder freelance statistics, Upwork will have over 12 million registered freelancers in 2021. However, this huge feat had a history behind it.
How It Started
Upwork is a merger of two giant companies that started on an individual scale. The companies are Elance and ODesk. Elance and ODesk started as individual companies until they decided to come together to acquire a greater market share. In 2014, the merger was completed, and they came under the name, Elance-ODesk. As their market share increased, the name "Upwork" emerged later in their business journey to mark their solidarity and expansion.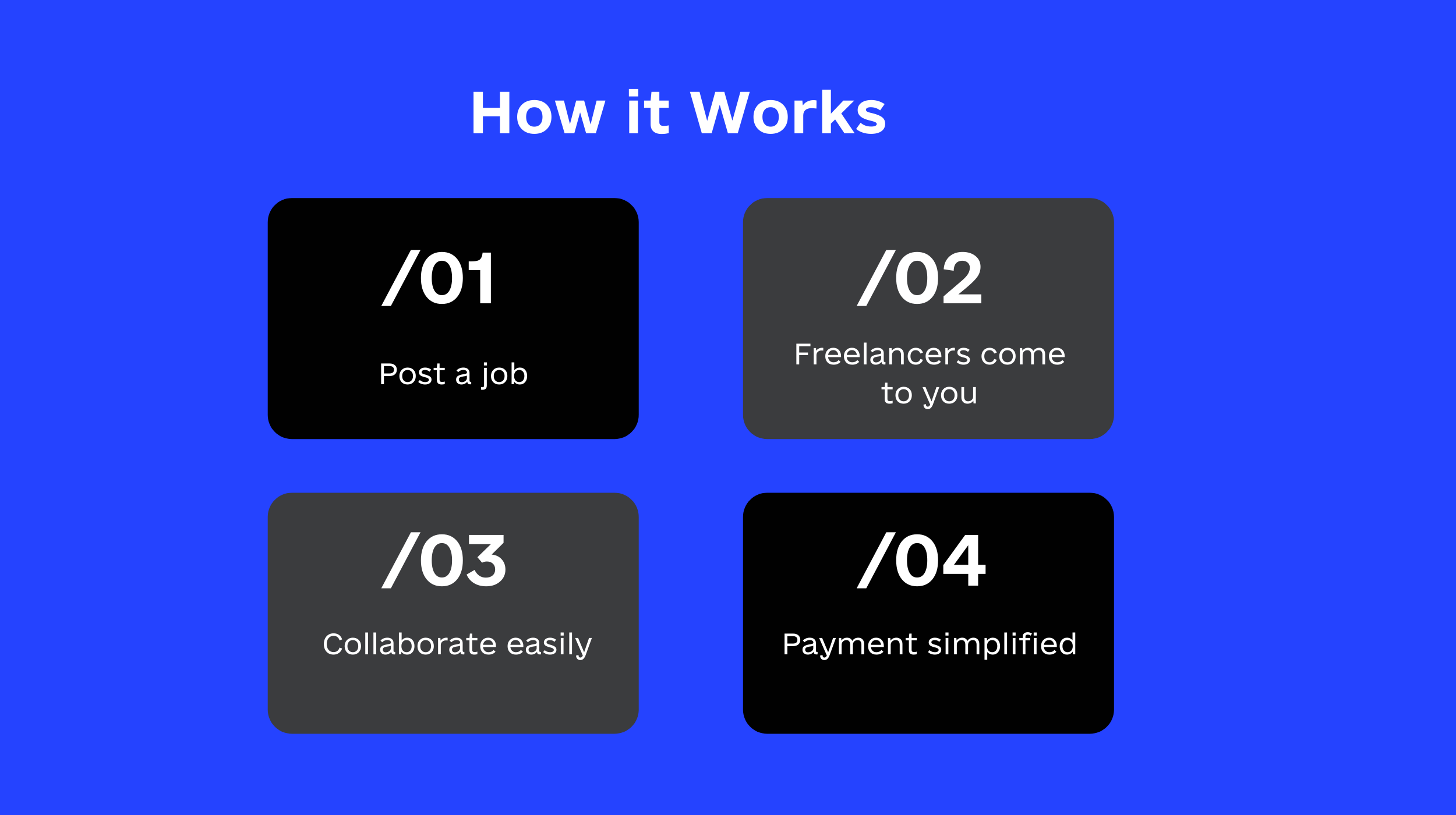 Upwork is largely made of employers, freelancers, and any business needing freelance services as an online platform. The services provided on Upwork include all professional services that independent contractors can do remotely. The workspace is designed so that each intending Freelancer or company would have to be verified as a community member. To be a visible part of the Upwork community, you would have to:
Sign up as a user. You can register as a freelancer or employer.
Set up a profile in line with what you want to use on the platform.
Undergo verification to ensure your details are current and true. False identity and scams are highly tested.
As a freelancer, you can start looking out for projects and bidding for those in line with what you need. As an employer, you should publicize your job offer and review bids.
Negotiation of prices, project duration, and expectations follow.
A payment method is decided. Upwork takes a percentage of the payment rate as a commission or sums up the commission if it's a fixed price for a single project.
The List of Key Upwork Alternatives
The freelance marketplace is becoming more competitive on a daily. With over half of the world's professionals serving as freelancers or independent contractors, many alternative websites are being developed to serve a job-hungry populace.
While there might be several freelance platforms that can serve as an alternative to Upwork, we have compiled a list of the most renowned and key alternatives to Upwork. They include:
Freelancer
Freelancer is renowned for being the world's largest freelance marketplace that has existed for a decade and more. From Freelancer's 2022 website report,  It has a record of over 50 million freelancers beating the record of Upwork and other options. When it comes to its job categories, it showcases 1800 job categories for its marketplace with multiple payment options in over 39 currencies. The marketplace interface is easy to navigate too.
However, the major setback for Freelancer would be its increased employment rates. Plus, even independent contractors have to pay a fee.
Fiverr
Fiverr is another growing alternative to Upwork that builds up the share of the freelance marketplace. With over a 3.42 million user base, it has become the trending choice of most highly skilled professionals. It specializes in key professionals from over 500 categories alongside 545 employees who work round the clock to serve the marketplace and support customers daily.
The Fiverr marketplace is distinct because of its affordability. However, customers are always concerned that its cheap rates have opened room for a low-quality workforce rendering low-quality service. Its affordability has also attracted a lot of freelancers who are in intense competition for a few bidding opportunities. Hence, more jobs hang around a few skilled professionals for a long while. This discourages growth for upcoming freelancers.
Guru
Guru is an authentic freelance marketplace similar to Upwork regarding access to jobs and a substantial user base. With over 3 million freelancers spread worldwide, it operates daily to deliver services to needy employers who have time-bound projects. It is renowned for having the highest number of payment channels compared to Upwork. These payment channels are available for different currencies too. The payment options can be fixed price, hourly rate, task-based or recurring payment.
The Guru workforce is a growing team of 300,000 employees striving to deliver quality customer service. However, Guru's major setback has been inadequate customer support over the years. There is no strong live chat, and there are frequent glitches in making withdrawals from the platform. Since payment is the motivation to work, most registered freelancers are becoming less active on Guru.
PeoplePerHour
As the European freelance market giant, PeoplePerHour deserves to be on this list. It provides multiple job opportunities for the European space and leads to a strong competition of talents, skills, and professionals. As the name implies, it is distinguished by its hourly payment basis. For the past years of its existence, it has hosted over 3 million businesses seeking independent contractors. The skillset of its market ranges to 8,766 skills with a delivery span of  7 days.
However, the 20% rate on its freelancers is seen as a major discouragement for freelancers planning to use the platform. Its rates ate higher than Upwork, but it promises a money-back guarantee and anti-fraud protection services.
Hubstaff Talent
Hubstaff is surely staffed with lots of global talents. Its current website status report shows over 139,764 profiles registered on the website. These profiles have access to 1,016 jobs delivered by 2776 agencies from 212 countries worldwide. While these are great feats for an upcoming platform, it has some limitations. As a younger player in the freelance marketplace, it is limited in terms of the level of projects it can take. Most of its projects are not large like that of Upwork.
Its digital space faces a lot of scalability constraints too. It cannot take in countless registrations. Hence only a few freelancers can register on the website.
Feature List for A Freelance Website Like Upwork
If you plan on building a website like Upwork – especially one that can compete effectively – you need to Include some key marketplace features. Some of these features include:
Profile Set-up
The freelance marketplace has some major players. They can be freelancers, employers, agencies, and so on. The profile set-up option should give room for unique users depending on the role they intend to play in the marketplace. Details in profile set-up should include names, location, picture, skills, and bio.
If you want to ensure there are no scam pages, you must set up an algorithm to verify the users' information and profile.
Bidding Feature
Once I boarded, freelancers should be able to fix prices for their services and allow employers and customers to decline or accept price offers.
Ratings and Review Feature
Customers are on the lookout for the best skills in the marketplace. This feature enables freelancers to receive ratings based on the portfolio of works done, past employers' feedback, and their delivery quality.
You can also give room for skill tests in different specialties. It helps each Freelancer stand out with their skill level. It also boosts customer confidence.
Search Feature
Freelancers need to search for available jobs and possibly apply. They also search employers to vet their company's records. Hence, there should be a search option provided.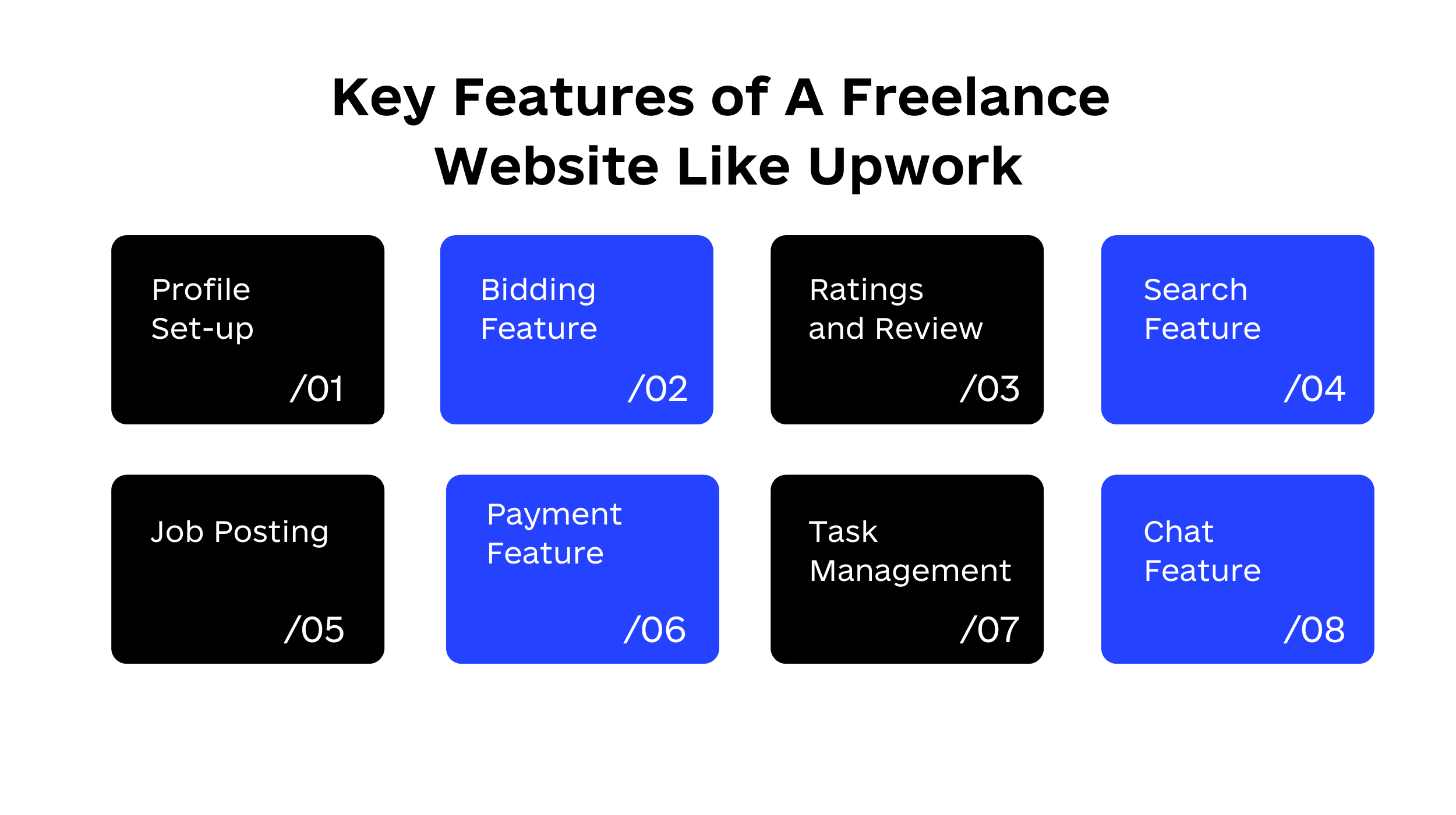 Job Posting Feature
If there is a search feature, there should be an option for employers/customers to post available jobs. Freelancers access this information for a good market flow.
Payment Feature
Payment is the greatest motivation in any market space. It requires structure, channels, and security. Hence, a good freelance website should have a payment feature that connects to multiple payment channels in multiple currencies.
Task Management Feature
Employers would love to monitor the tasks customers are working on and their consistency with their expectations. The time tracking feature should come under a task management panel. It helps to ensure transparency and quality delivery. For customers who have higher delivery speeds, it is an advantage.
Chat Feature
A marketplace requires communication. Therefore, including a chat feature will help freelancers communicate with intending customers or current employers for a great flow of information.
How to Create A Freelance Marketplace Like Upwork
Developing a freelance marketplace like Upwork demands enough clarity to come up with an MVP that can thrive competitively. Here are a few steps to consider:
Step#1: Structure your market idea
This is the foundation and requires adequate attention. Here, you define your market niche; choose your potential customers and the kind of services they need. It would be better to focus on a particular niche and expand with time for a start. For example, freelance marketplaces like writers focus only on copywriters and clients that need their services.
You can also choose to only focus on a few niches. This will give you a more competitive advantage over platforms like Upwork with multiple job categories.
As part of your foundational choices, you can allow everyone to set up profiles on your website. Make your profiles so easy to navigate too. However, choose a selection criterion that prioritizes high-skilled professionals over lowly-skilled ones.
Step#2: Establish your value offers
Your business value is your unique brand identity. It differentiates you from your competitors by giving you a unique voice and advantage. For effectiveness, choose values that focus on:
Price: Every freelance platform has a unique pricing system. Some are fixed, while others are progressive, depending on the earning capacity of the freelancer involved. You can fix your commission at a lower percentage than your competitors and increase it after getting a level of market share. Alternatively, you can deliver quality services and penetrate the market with good goodwill.
Free entry: Have a free entry policy for all freelancers who want to work on your platform. Then, back it up with selection criteria.
Time: Speed is what every professional or customer wants. Speed both in delivery and payment. Hence, combine efficient processes that can effectively help freelancers deliver on time. Also, set structures to ensure customers pay on time to the freelancers working for them.
Step#3: Decide on an income prototype.
Income prototypes are so important to keep the business running. A few income prototypes to choose from are:
Subscription Prototype: Under this prototype, both freelancers and clients are expected to access the platform by signing up for a periodic subscription. The period involved can be a month, quarter, or year.
Commission Prototype: In this case, the business assigns a percentage of commission to be paid on every service rendered. Commission can be a one-way commission paid by only the freelancer receiving the money or a two-way commission paid by both the freelancer and the customer receiving the service. Commission can range from 5% to 20%.
Biding or Price Offer: This prototype involves the freelancer offering a price for a service package and then having the freelancer accept or reject the price.
Deposit Prototype: The deposit income prototype demands that the client deposits a part of the agreed amount to show them the ability to pay up. This is usually a liquidity test, especially for big projects.
Advertisement Prototype: in this prototype, registered freelancers are allowed to advertise their profiles for a promotion fee.
By utilizing a mixed prototype- As implied, a mixed prototype will combine all the models mentioned above.
Step#4: Specify crucial functionalities
The elements of a freelance market define it. Some core functionalities of a good freelance market website include :
User Profiles visibly showcase their portfolios, reviews, ratings, and past tasks completed.
Chat functionalities
Search functionalities
Job listing
Payment channels
International currencies
Task tracking and management
Bidding feature
Customer service support
Step#5: Set up a technology crew
At this point, you can go ahead and set up a team of developers to help build your product. The team should comprise both backend and frontend developers. Their role is to help develop suitable architecture rye, database, testing, and maintenance systems for your MVP. They can choose to utilize an already prepared template or develop a new design if they have one.
You can also include third-party tools like digital workplaces. Another good recommendation would be a good AI specialist. To stand out competitively, you need AI functionalities that help match clients to the best service providers they need. Factors like their budget, service expertise, and geographical location can serve as a tool for good matching. AI functionalities can help track progress based on the level of hours devoted to a project. This will help track down freelancers who deliver low-quality projects by investing little time in them.
Step#6: Launch your product
The best time to launch is when the product can solve an identifiable need in the freelance marketplace.
Step#7: Be open to adjustments and support
Building a perfect product at first is like a mirage. The focus should be on creating a viable product that can serve market needs. Then, tasting and adjusting it to suit the market evolution and customers' needs.
Also, employ a support team to help detect errors that wasn't identified during the building process. They can also help in updating the product In the long run.
How much does it cost to build a website like Upwork?
The cost of developing a platform like Upwork varies and depends largely on the following factors:
The number and kind of feature you want to have in place
The level of complexities of the platform
The amount of time necessary to develop the app
The number of software experts needed for the implementation of the project
And the location of the developers.
If you want to contract the services of developers from the U.S. or U.K. tech space, you may be looking at paying between $50-$150/per hour. At the same time, experts developers from the western Europe market places charge around $40-$100 hourly. On the flip side, a Ukraine developer charges around $34.5 per hour to $80 per hour. Clearly, getting your developers from a location like Ukraine is more advantageous. Aside from the fact that the hourly rate is low, you still get the same professionalism as you would from the U.S. or U.K. developers.
Certainly, for a freelance marketplace with some degree of complexities and improved functionalities, you wouldn't want to hire a rookie to handle such a delicate project. Hence, our estimate will be based on the rates of a senior developer of Ukraine extract. We offer web development services starting at $34.50 per hour and extended team & staff augmentation $4800 monthly.
| Functionalities | Time Estimate | Cost per Hour |
| --- | --- | --- |
| Admin Panel | 124hrs | $4,278 |
| Bidding features | 64hrs | $2,208 |
| Chat System | 32hrs | $1,104 |
| Employer Panel | 96hrs | $3,312 |
| Freelance Panel | 96hrs | $3,312 |
| Home Page | 84hrs | $2,898 |
| Job Posting Feature | 64hrs | $2,208 |
| Payment System | 42hrs | $1,449 |
| Profile set up | 96hrs | $3,312 |
| Rating and Review features | 68hrs | $2,346 |
| Search Feature | 46hrs | $1,587 |
| Security and Safety System | 72hrs | $2,484 |
| Task Manager | 96hrs | $3,312 |
Here is a summary of the above table:
Total time estimate needed to build an Upwork-like marketplace: 980hours
Total cost estimate needed to build an Upwork-like marketplace: $33,810
The Tech Stacks of a freelance platform like Upwork
Your technology stack will be determined by the development company you have chosen to oversee your project. We at Code and Care make use of the following technology stack:
✔ Node/NestJS: this is a hybrid programming framework used in building logical and scalable Node.JS server-side applications. It is currently the fastest-growing Node JS framework in TypesScript. It helps in creating functions and logic.
✔ PostgreSQL Database: this tool is a primary data storeroom for most applications and websites. It helps to manage ACID-compatible relational databases.
✔ ReactJS/Redux: these are open-source JavaScript libraries used in developing the U.I. of single-page applications.
✔ React Native: this is an open-source user interface development tool used to develop native apps without impacting the quality of user experience.
✔ AWS: Amazon Web Services (AWS) is a secure cloud services provider that helps businesses develop and flourish by providing computation power, database storage, content delivery, and other features.
Conclusion
Companies are currently cutting down on the number of employees on their payroll to minimize cost while maximizing the expertise and spice of freelancers' work. Employees, especially Gen Z, are boycotting conventional employment arrangements to adopt the freelance working model. As a result, the demand for freelance marketplaces is just gaining momentum. However, each business industry has its perks, but having an in-depth knowledge of the freelance market gives you a good foundation to succeed. Also, establishing a solid value proposition and the right development crew will help you thrive.
Above, we have discussed the basics you need to know before developing a platform like Upwork. However, if you still have certain concerns and need clarification or help developing an Upwork-like platform, please get in touch with us here.
📩 We are happy to share our wealth of experience and expertise with you. Feel free to contact us via email: [email protected] or via the contact form to get an accurate estimate.
Read also: 
The Best Language to Build ECommerce Website That You Can Use in 2022
A Definitive Overview On Technology Stack for Mobile App Development
Web Application Development Issues You Can't Ignore in 2022 [Threats & Challenges]
Cross-Platform Mobile Development: Advantages and Disadvantages [A Complete Guide]
Web Application Development Issues You Can't Ignore in 2022 [Threats & Challenges]