Everyone has always placed a premium on keeping a sound mental state. The many stigmas and misconceptions about mental illness often discourage people with mental disorders from seeking treatment. Fortunately, the advent of the digital era has brought about convenience through mobile apps. People can now receive mental health care in a safe space without feeling embarrassed.
As technology advances and attitudes towards mental disorders shift, mental health app development is becoming increasingly popular among budding entrepreneurs. Around $500 million will be spent worldwide by 2022 on mobile mental health apps, according to Deloitte Global. Apps for mental health care may greatly assist doctors in monitoring their patients' overall health and mental well-being. At the same time, patients must be able to use the app effectively.
Before you put your software products on the market, you must make sure that they are as error-free as possible. That being the case, you're probably wondering what makes a good mental health app and how to ensure yours runs smoothly. To help those who are just starting out, the Code&Care Team has put together a step-by-step guide on how to create a mental health app. Read on!
Why are mental health apps gaining popularity?
COVID-19 has hastened the development of mental health apps. Anxiety and depression disorders increased by a whopping 25% in the first year of the COVID-19 pandemic, raising fears of escalating mental health issues among communities, according to WHO. Several other factors may have contributed to the increase in popularity of mental health apps. Let's look at some of them.
Mental illness is becoming more common
As mental health conditions worsen around the world, so does the demand for available treatment options, particularly mental health apps. There are already approximately 20,000 mental health apps in circulation.
Investor acceptance is growing
Global consumer spend on mental wellness 2019-2022, according go Statista. The market for mental health apps is expected to grow at a CAGR of 20.5 percent by 2027, with a value of US$ 3.3 billion. In essence, the market is expanding at a rapid pace; the number of apps and developers is constantly growing. This tendency leads many entrepreneurs and business owners to consider developing a mHealth app.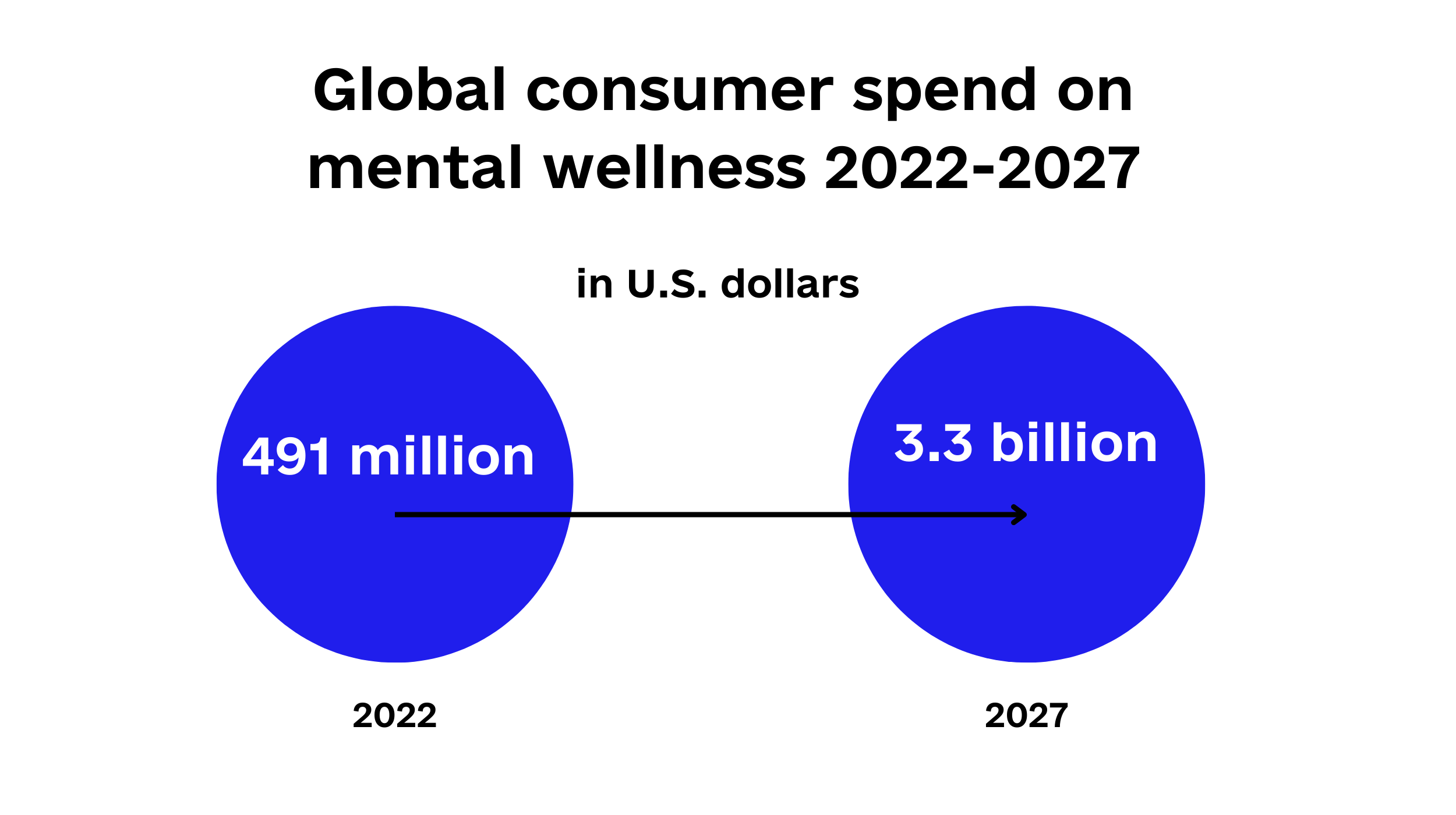 Patient and specialist usage has increased
71% of patients in a first-episode psychosis clinic owned a cell phone, according to a study. The notion that persons with mental illnesses aren't interested in, can't afford, or aren't capable of using modern digital technologies is outdated. Mental health apps could make it easier for doctors to keep track of their patients' overall health, the severity of their symptoms, and other details. They can help develop a more comprehensive picture of a patient's mental condition. As a result, experts' use of mental health apps fuels the market for such apps.Other factors contributing to the increased popularity of mental health apps include:☑ Long-term treatment is unaffordable for most people.
☑ People are unable to regularly see a therapist due to lack of time.
☑ Difficulty in finding a competent therapist.
☑ Mental health support is inaccessible in some countries.
☑ Fear of being ridiculed.
☑ Concern that a therapist will conceal information regarding mental health.
☑ Concern about discussing deeply personal issues with another individual.

Examples of mental health apps
Whether mood trackers, apps for meditation, or those for building healthy habits, here are the top picks. Go over the list to see what advantages your competitors have.
✔ MoodKit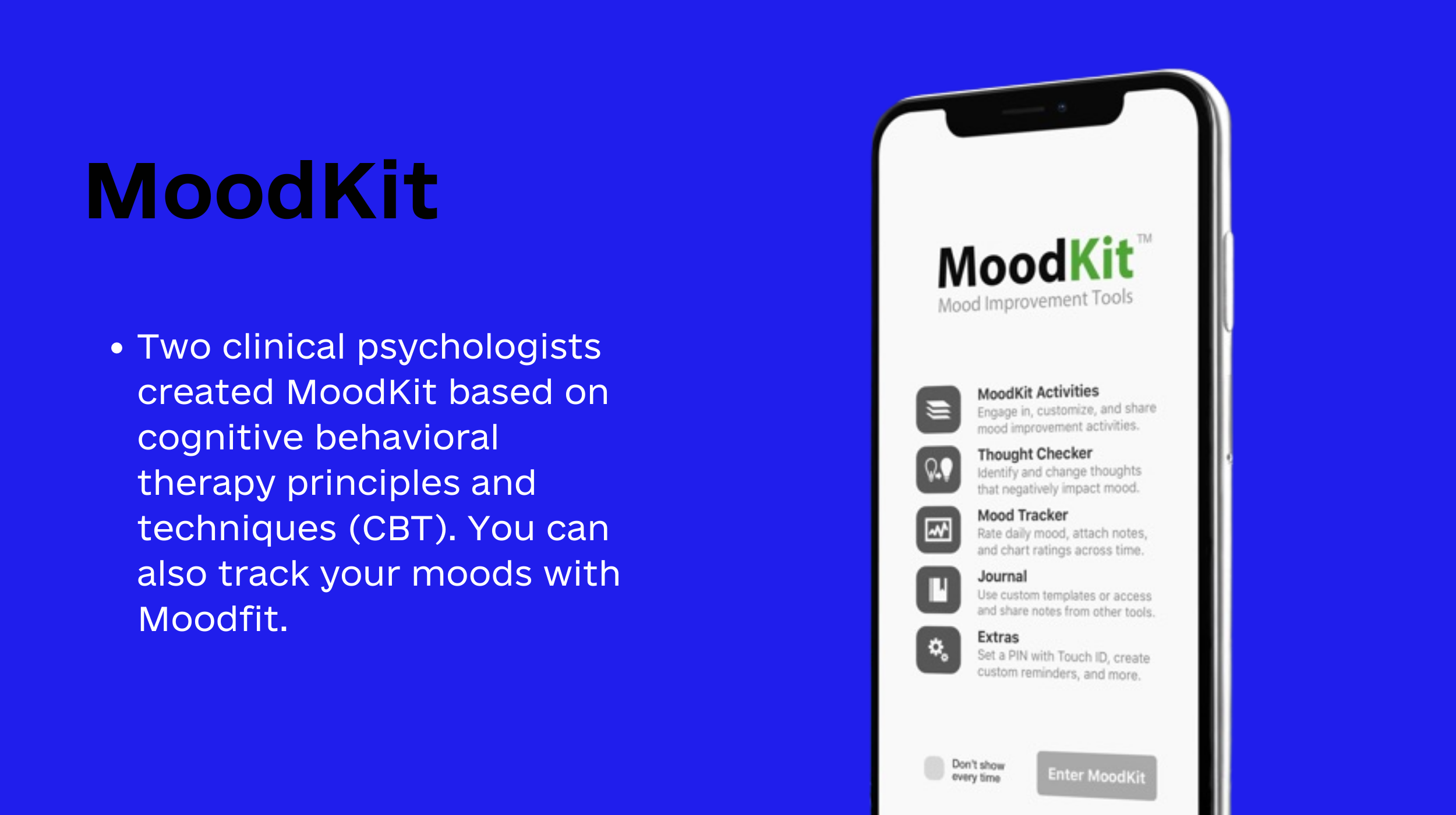 Two clinical psychologists created MoodKit based on cognitive behavioral therapy principles and techniques (CBT). You can also track your moods with Moodfit. You'll better understand what influences your emotions over time, such as sleep, medication, and exercise. The app provides actionable insights into what influences your mood and strategies to help you feel better. It has over 200 activities to help you improve your mood and change your negative thinking.
✔ Betterhelp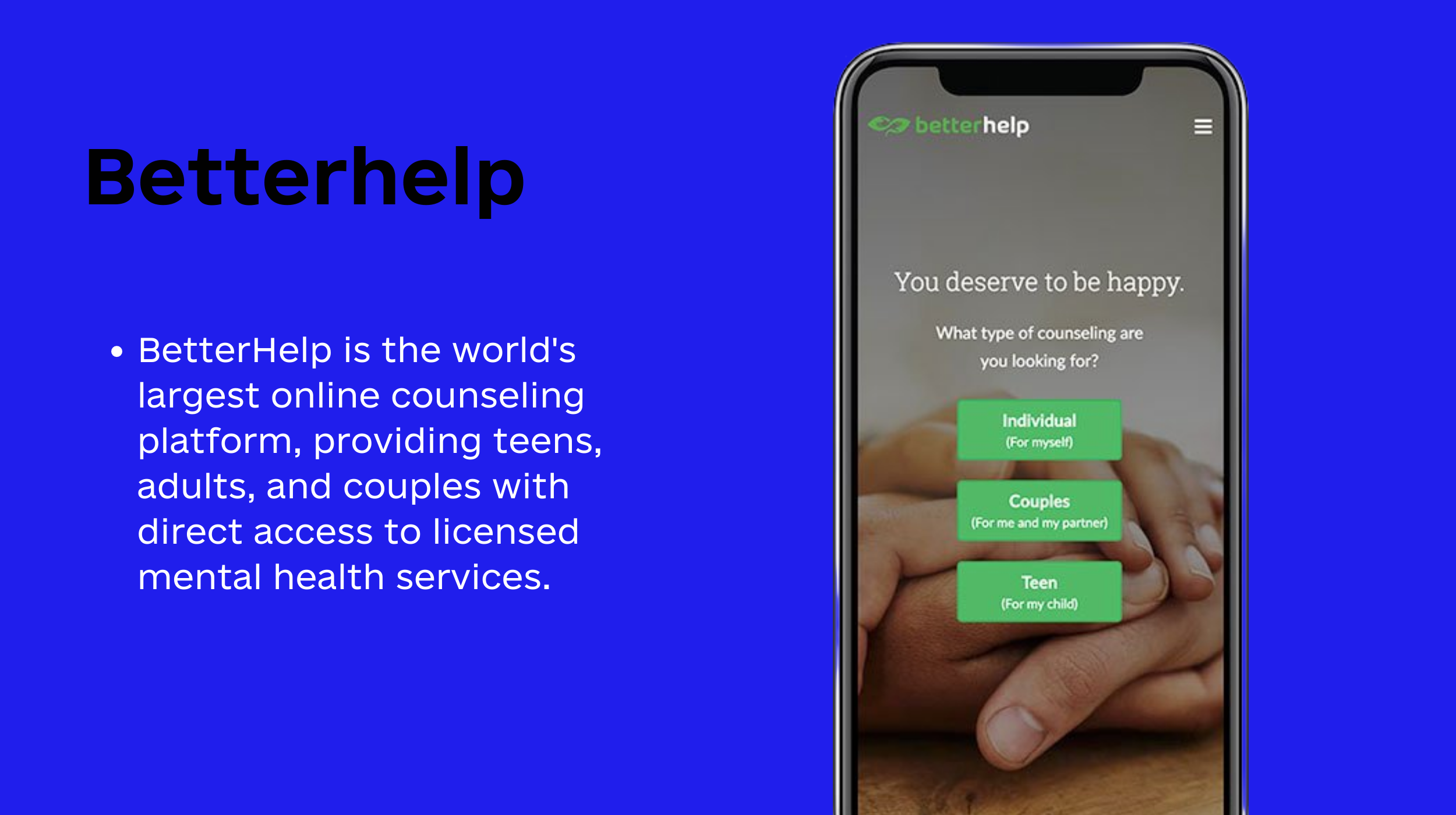 "You deserve to be happy," BetterHelp says, and therapists can help you get there. BetterHelp is the world's largest online counseling platform, providing teens, adults, and couples with direct access to licensed mental health services. BetterHelp was founded in 2013 by Danny Bragonier and Alon Matas, who later acquired Teladoc, a telehealth company, in 2014. The app guarantees that users will be matched with a counselor "who fits their objectives, preferences, and the type of issues they are dealing with."
✔ Calm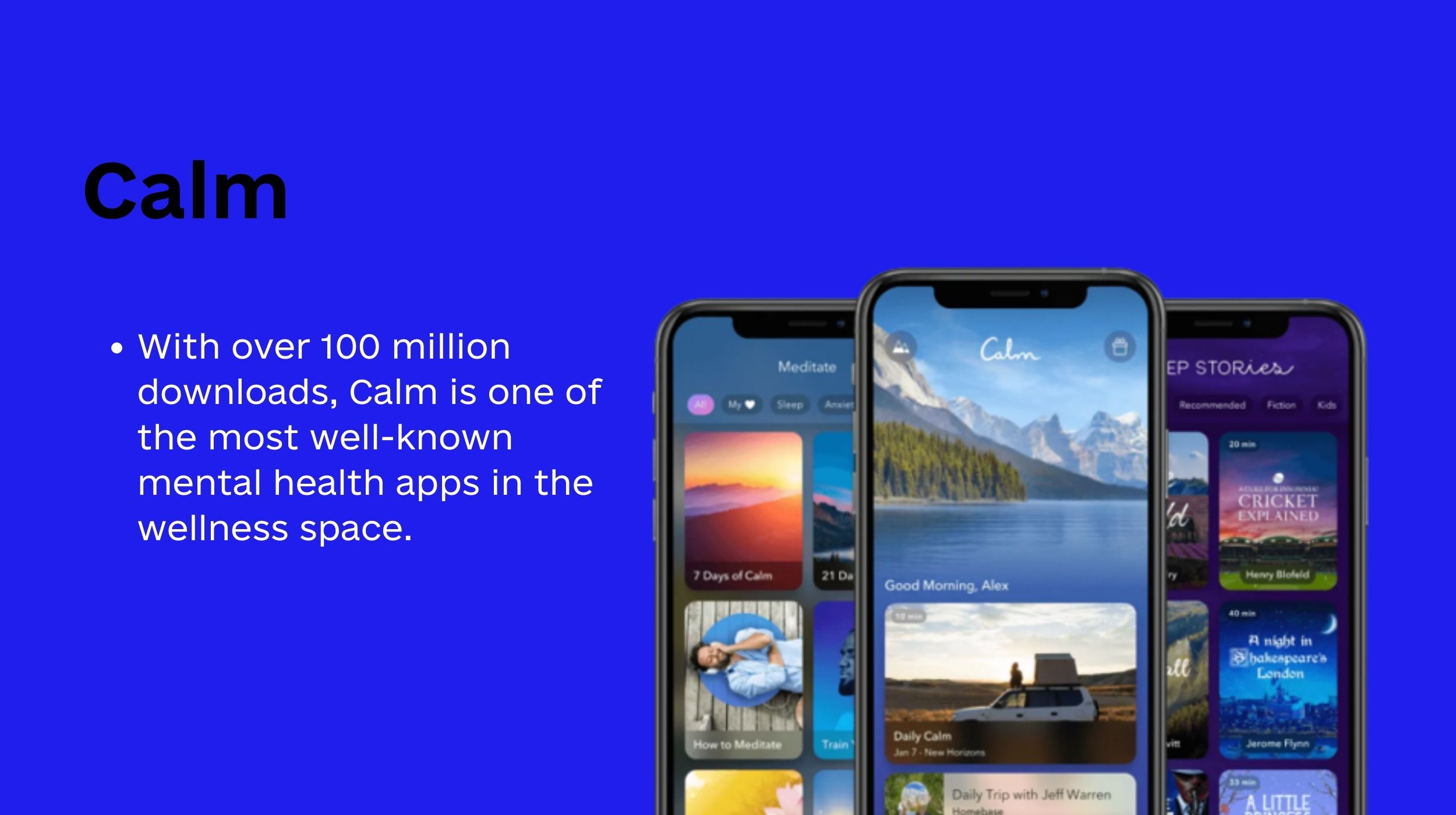 With over 100 million downloads, Calm is one of the most well-known mental health apps in the wellness space. It's regarded as one of the best meditation apps due to its extensive offerings, including breathing techniques and calming exercises. The Calm App is an excellent mental health app for beginners, but it also includes numerous programs for intermediate and advanced users. You are asked to take a few deep breaths when launching the app. Then you choose your primary goals to tailor your recommendations to your specific needs. The app can also track statistics such as how long you've been using it and how many sessions you've completed.
✔ Shine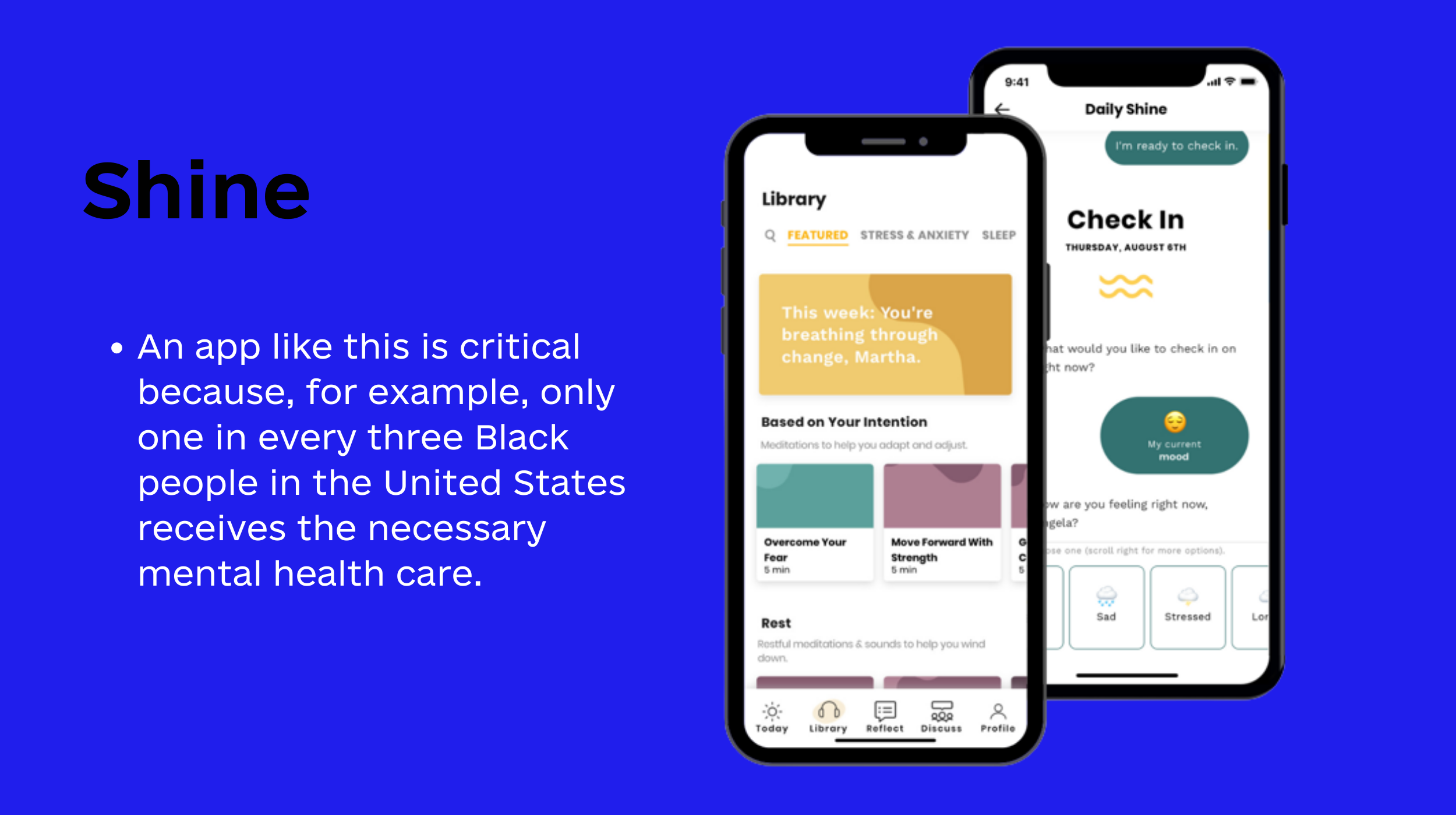 Many apps and other mental health resources fail to account for the unique experiences that People of Color face. That's why the founders of Shine set out to create an app aimed specifically at people of color and women. An app like this is critical because, for example, only one in every three Black people in the United States receives the necessary mental health care. Shine was created to address the needs and struggles of people of color, making mental health resources more accessible and inclusive. Shine provides meditations, expert-led self-care courses, and monthly virtual workshops. Every day, you're also prompted to add a wellness check-in and are greeted with motivational messages.
✔ PTSD coach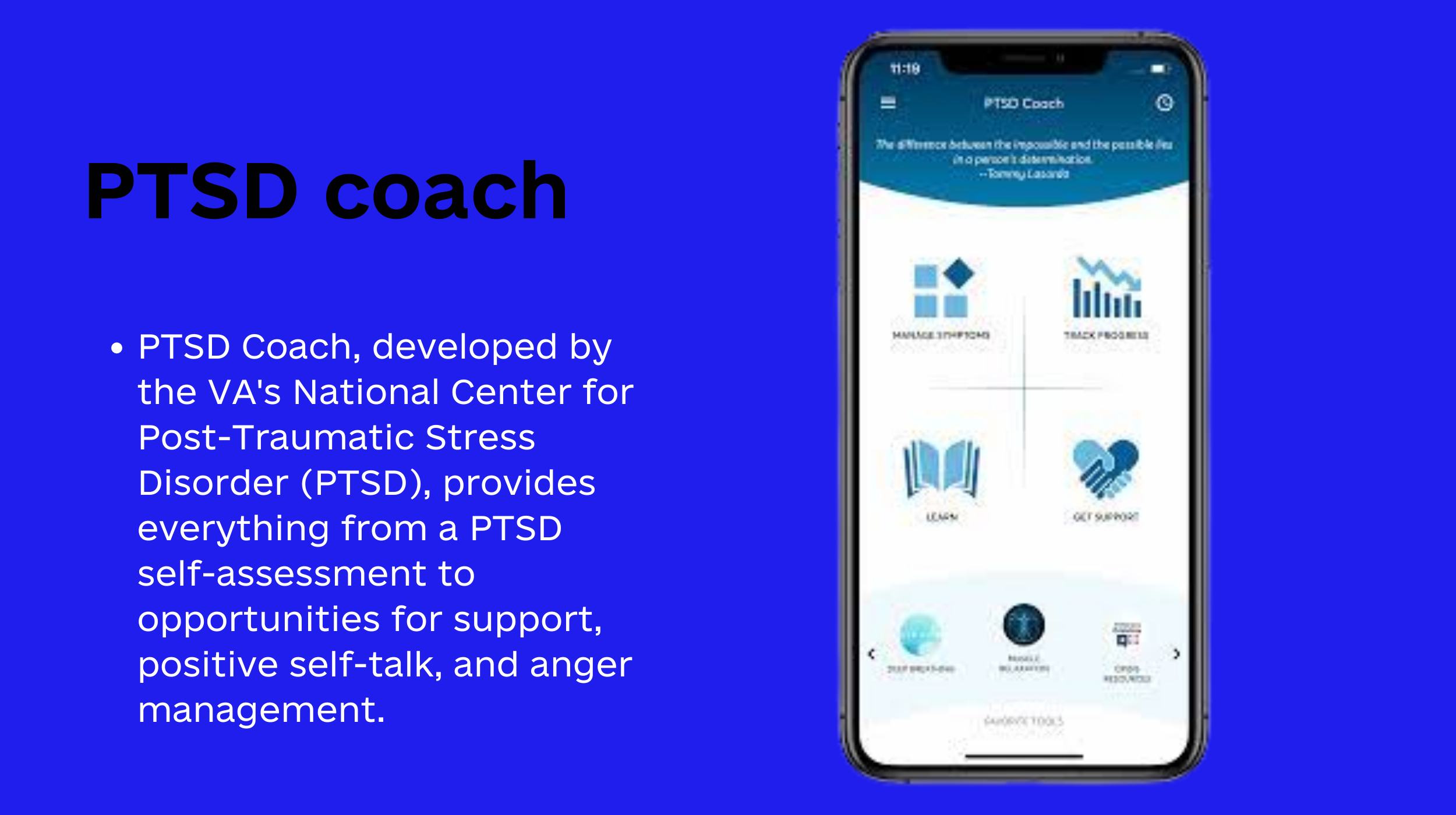 PTSD Coach, developed by the VA's National Center for Post-Traumatic Stress Disorder (PTSD), provides everything from a PTSD self-assessment to opportunities for support, positive self-talk, and anger management. What's great about this app is that you can personalize the tools to your specific needs and preferences and integrate your contacts, photos, and music.
Benefits of mental health app development
Mental health apps provide a lot of benefits to both businesses and users.
User benefits
Treatment for one's mental healthcare can take place anywhere and at any time when using mobile health apps, making this a very convenient type of therapy. Suppose a patient has difficulty making in-person appointments (especially during a pandemic). In that case, a mobile health app can be useful whether you need help in the middle of the night or while commuting to work.
Successful mental health treatment should combine behavioral and psychological interventions with other medical interventions when appropriate. Unfortunately, many people who require treatment do not receive it because they live in remote areas or cannot afford medication.
It is estimated that approximately 75% of people in LMICs  do not have access to mental health treatment. Even in a developed economy like the United States, one in every five adults with a mental illness cannot obtain the necessary treatment. And this startling figure only includes people seeking treatment but having difficulty obtaining it.
As a result, lower medical costs may be an important reason many patients prefer mobile health apps over traditional care.
The term "mental health stigma" refers to societal disapproval or shame placed on people who live with a mental illness or seek help for emotional distress, such as anxiety, depression, bipolar disorder, or PTSD. According to a survey, two-thirds of respondents believed that mental illness was still stigmatized, and nearly half said they would not welcome a mental health facility in their neighborhood.
Patients uncomfortable discussing their concerns over the phone can access information, resources, and support through an app. For many patients, the anonymity of mobile health treatment options may be preferable.
This new digital therapy economy provides advantages that traditional talk therapy does not. Apps frequently provide greater scheduling flexibility. Some people may require an in-person therapist and the benefits of mobile health apps to manage their mental health at home, at work, or even out on the town. This group sees mobile therapy as a way to get help on their terms while medical professionals figure out how to best tailor the technology to their patients' needs.
Business benefits
By developing a mental health app, investors can benefit from the market in the following ways.
Provide more value to your patients
Consumer expectations rise in tandem with the rate of technological advancement. Mobile apps are frequently an excellent channel for meeting these expectations. By going mobile, you can ensure that your products and services are more accessible and simple.
Communicate directly with customers 
One of the reasons your company requires an app is to improve direct communication with clients and customers. Business mobile application development has enabled clear and direct communication between customers and businesses by providing instant access to a wealth of information at the touch of a button. The data gathered from customers using mental health apps is priceless for any company looking to improve its marketing strategies.
With an app, you can show (rather than tell) your users why they should trust you by demonstrating what your brand stands for.
Mobile apps strengthen your brand and educate your customers in the same way that distributing fridge magnets, calendars, and other random memorabilia with your company logo on them has previously served as both advertisement and assistance.
A mobile doctor app enables medical professionals to supplement their income by providing after-hours services. More capacity to check on patients than in-office face-to-face appointments. You can spend more time on practical tasks if you use remote applications. You will not have to fill out many internal forms and documents because most paperwork will be done automatically. This decrease in inefficiency translates into a higher direct return.
Every day, healthcare organizations process massive amounts of personal data. As a result, proper organization is required. Healthcare apps that are integrated with EHR automatically record valuable patient information from connected devices in the system or wearables. This allows healthcare providers to create a comprehensive patient profile while remaining HIPAA compliant.
Monetization strategies for mental health apps
If you're new to the mental health app market, looking to enter it, or just have a really cool idea for an app, one of your first questions is likely along the lines of "Can you make money from an app?" To meet growing demand and capture interested audiences, mental health app creators and developers can pursue these methods for monetization.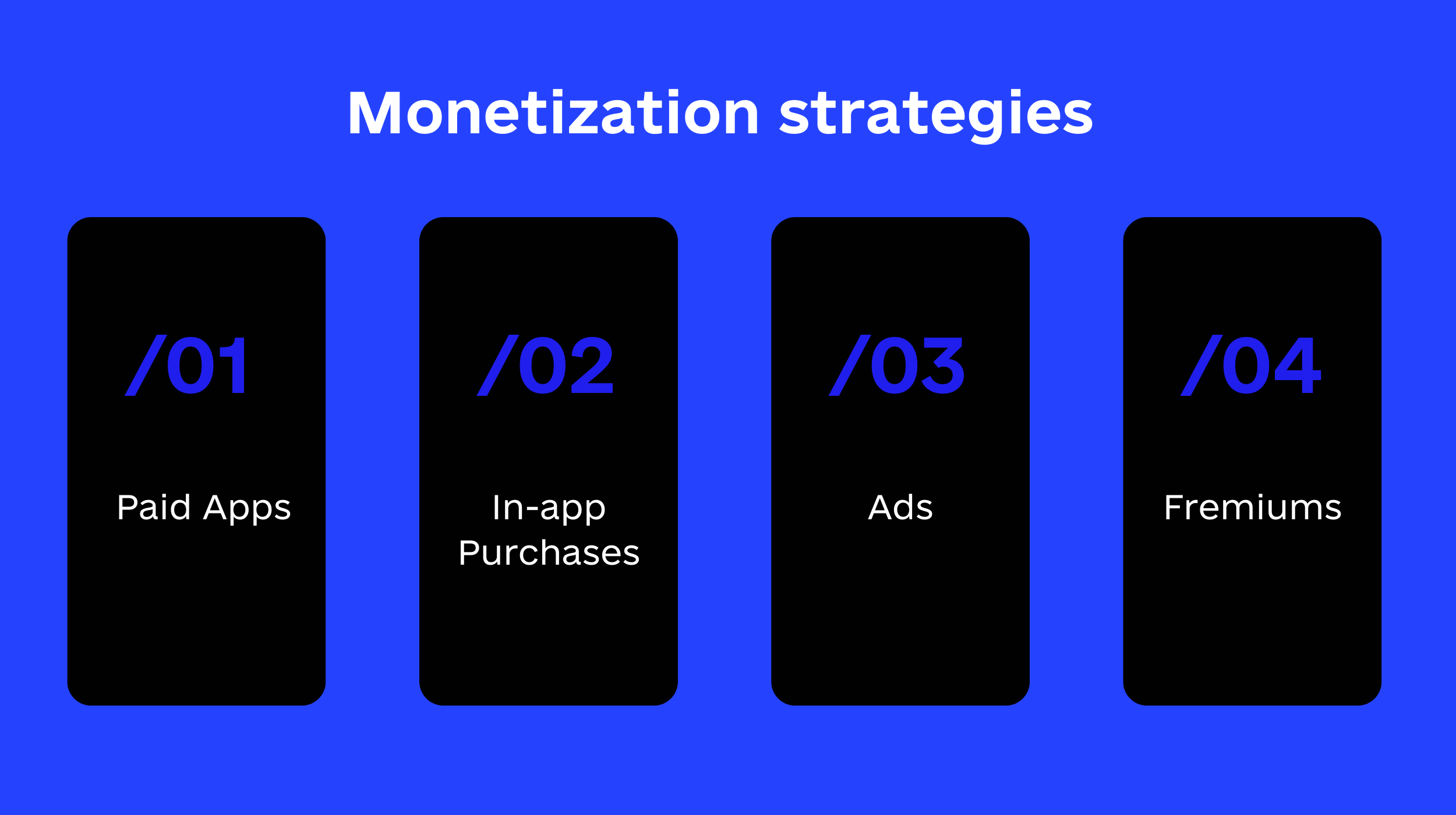 Paid Apps: Paid mobile apps employ a straightforward and traditional business strategy. Users are not allowed to test your app and can only download it after paying a one-time fee. Trends show that this method is rapidly becoming obsolete. In fact, this model is used by less than 5% of Google Play store apps. To succeed with the paid app monetization model, your app must be positioned as a premium product. One way is to avoid using a lower pricing strategy.
In-app Purchases: In-app purchases, or IAP, are another popular app monetization strategy. The app itself, as well as the app's basic features, are usually free. In-app purchases provide an unobtrusive monetization method that can enhance the user experience if your product is free, as 95% of all Google Play Store offerings are. However, if the user wishes to gain access to additional premium features in the app, they can pay for it.
Ads: Other mental health care providers may be interested in collaborating with you to run advertising campaigns in your app, for which you can charge a cost-per-mile commission.
Fremiums: The freemium model provides a free download but includes premium features that users must pay for. This model is based on an app's ability to attract free users and entice them to pay to improve their experience. Unlike the pay-per-download model, this monetization method allows users to try the app before paying for anything. The disadvantage is that striking a balance between offering too many and too few free features is difficult.
Categories of mental health applications
To create a mental health app, you must first understand the fundamentals. Before deciding on app development features, it is best to define the various mental health app ideas available in the market that target specific needs such as depression, anxiety, and eating disorders. Here's a list of the mental health app categories, descriptions, and examples.
Types
Description
Examples
Apps for eating disorders
Eating disorder apps, when used consistently, can be a great way to supplement regular therapy or support groups. They can be used to keep track of your habits, moods, and feelings, connect you to your support network, and assist you in taking positive steps toward recovery.
Eating Disorder Recovery App

Brighter Bite – ED Recovery

Eating Disorder Test
Apps for OCD
These apps assist people suffering from OCD develop peronalized treatment plans that outline challenges and exercises known as "exposures" for OCD sufferers to practice in conjunction with their therapists or as a self-help tool. During the exercises, app users confront their fears and resist compulsions such as excessive hand washing until their anxiety subsides.

The app also includes relaxation and meditation exercises and prerecorded or customizable motivational messages. The user is directed to the next exercise when a challenge is completed. Users can also create their own compulsion-resisting goals and track their progress.

Users can also set their own compulsion-resisting goals and reward for progress.
NOCD

Worry Watch

Live OCD Free
Apps for PTSD
This category's mental health app design includes self-talk measures, music selection, and breathing exercises.
This mental health app development also includes integrating the user's contacts for immediate help.
PTSD Coach

PTSD Checklist

What's Up
Apps for anxiety disorders
Most apps incorporate meditation and breathwork, two interventions that have been shown to help with anxiety. Some apps may provide specific courses to learn more about anxiety, while others may provide specific meditations and exercises to reduce anxiety.
Calm

Colorfy

Headspace
Apps for Depression
Depression apps can be useful for identifying feelings, tracking mood patterns, journaling, finding community among other people suffering from depression, and connecting with a trusted therapist.
Sanvello

Wysa

SuperBetter
Apps for meditation
Meditation apps assist you in learning and mastering various meditation techniques such as focused deep breathing, mental clarity, and being present. They accomplish this by providing various technological tools such as mood trackers, expert guided meditations, meditation timers, and a community of fellow meditators.
Insight Timer

MyLife Meditation

Aura
Health app data protection
Personal data is processed for health apps to function. This data is frequently sensitive health information. Appropriate data protection standards and mature data security concepts are thus critical for supervisory authorities and users.
Unfortunately, despite many mHealth apps currently in use or being developed, there is no direct and specific legislation governing this particular issue. In light of this, business owners considering how to create a mental health app should begin by learning about these data protection laws and bodies.
USA
In the United States, you must follow the Health Insurance Portability and Accountability Act (HIPAA), a federal law governing personal health data protection. Who is obligated to comply? Individuals and organizations in the medical field. Following the most recent amendments in 2013, the law now includes organizations that are not directly related to health care but provide:
Services related to the processing.
Storing.
Transferring of personal health data.
Europe
The processing of personal data within the European Union (EU) is governed by the General Data Protection Regulation (GDPR), which went into effect on May 25, 2018. In general, the GDPR prohibits processing such data unless one of the exceptions in Article 9 GDPR is met. The first exception applies when data subjects give their explicit consent to the processing, and the second exception applies to personal data used for medical diagnosis, healthcare provision, or health treatment.
Canada
Health Canada established a new  Digital Health Review Division within the Medical Device Bureau to facilitate pre-market review of digital health technologies and adapt to the ever-changing technologies in digital health. Incorporating digital health technologies into the current healthcare system enables more accessible, convenient, and cost-effective healthcare delivery and more timely diagnoses and treatments for patients at home, in healthcare facilities, and rural and remote areas.
Australia
Australia's medical device market regulator has issued new guidance on regulating digital mental health devices. The Therapeutic Goods Administration (TGA) issued the fact sheet to inform suppliers and providers about when and how their software may be classified as a medical device for regulatory purposes.
Suppose you create or distribute any digital mental health tool, such as therapy or suicide prevention apps, internet-based counseling, or symptom checkers. In that case, you should review these requirements to determine if and how you must comply with TGA regulations.
UK
Although the United Kingdom has its laws governing medical devices, the legal framework is European in origin. The UK Medical Devices Regulations of 2002 (as amended on several occasions) incorporated three EU Directives into UK law: the active implantable medical devices directive of 1990, the medical devices directive of 1993, and the in vitro diagnostic medical devices directive of 1998.
While the regulations specifically include software within their scope, it is also necessary to consider the software's intended use and purpose to determine whether it is a medical device.
Health app regulatory practices for app creators
To avoid fraud, misleading information, or data breaches, developers working on a health app must consider several factors. The following practices must always be followed; otherwise, the app's developers or owners may face serious legal consequences.
Ensure the app is not a medical device.
Minimize data.
Limit access and permissions.
Keep authentication in mind.
Ensure the third-party service providers are protecting data.
Implement security by design.
Innovate how you communicate with users about your app's security options and privacy features.
Mental healthcare app design specifics
Users should be able to navigate your application without thinking about it. If they can figure out the design instinctively, they will keep using your application. Let's look at some design principles for mental health mobile apps and how you can incorporate them into your work.
⭐ Branding and Logo design
Branding is important because it gives your clients their first impression of you. It can give them some associations, so they will know what to expect from your product. Consider the impression you want to make. Friendly? Reliable? The logo is a key component of branding. When considering whether or not to invest in your workout logo design, remember that it should be memorable and catchy to distinguish you from your competitors.
⭐ Color
Add professionalism to your apps by using subtle animations when transitioning between screens, and pay close attention to your mobile app's color schemes. Each color tells a different story and evokes a different emotion. Choose a color palette that complements your organization's colors, as your mobile app should appear to be an extension of your website.
A button's color changes after a click indicate that a user's action has been completed. Don't forget to include subtle yet effective elements in your mobile app's user interface (UI).
⭐ Elements
Interfaces should not include information that is irrelevant or is only used infrequently. Irrelevant information adds noise to the user interface by competing with relevant information and reducing its relative visibility. Simplify user interfaces by removing extraneous elements or content that does not directly support user tasks. Strive to design UI so that all information displayed on the screen is valuable and relevant. Examine each component and rate it based on the value it provides to users.
⭐ Text
Smartphones have relatively small screens compared to desktop computers, which means that one of the challenges of mobile design is fitting a lot of information on a small UI. Compressing everything for a mobile design can be tempting to provide as much information as possible. But it would help if you resisted the urge.
A rule of thumb for mobile: Text should be at least 11 points so it's legible at a typical viewing distance without zooming.
You can also improve legibility by increasing line height or letter spacing. Generous whitespace not only make your text more readable but will make your interface more inviting.
⭐ Feedback 
Giving users feedback as they complete actions on a mobile app is an important aspect of creating a positive user experience. As previously stated, animations and transitions are one method of providing feedback.
Mobile devices can also provide tactile and audio feedback. Providing touch feedback when certain actions are performed is especially popular in mobile games and error messages. Audio feedback is popular in-app function of all kinds. However, designers should not rely on audio feedback because so many people always keep their phones turned off.
Things to consider when developing mental health applications
Your goals: What needs will you be fulfilling by developing a mental health app?
Expertise: Who should you hire for the job?
Cost: What is the total cost of developing the app?
Target audience: Will your app target a certain demographic?
Testing: How/when do you do comprehensive testing your software?
Security: Do you need a HIPPA compliant app?
App design: What should you consider when designing an app?
Features: What are the most important functionality to have on a mental health app?
Patient community: What additional support will the users require?
Features of a mental health app
Consider the features when creating a mental health app to ensure engaged users, better monetization, and successful mental health therapy for both patients and psychologists.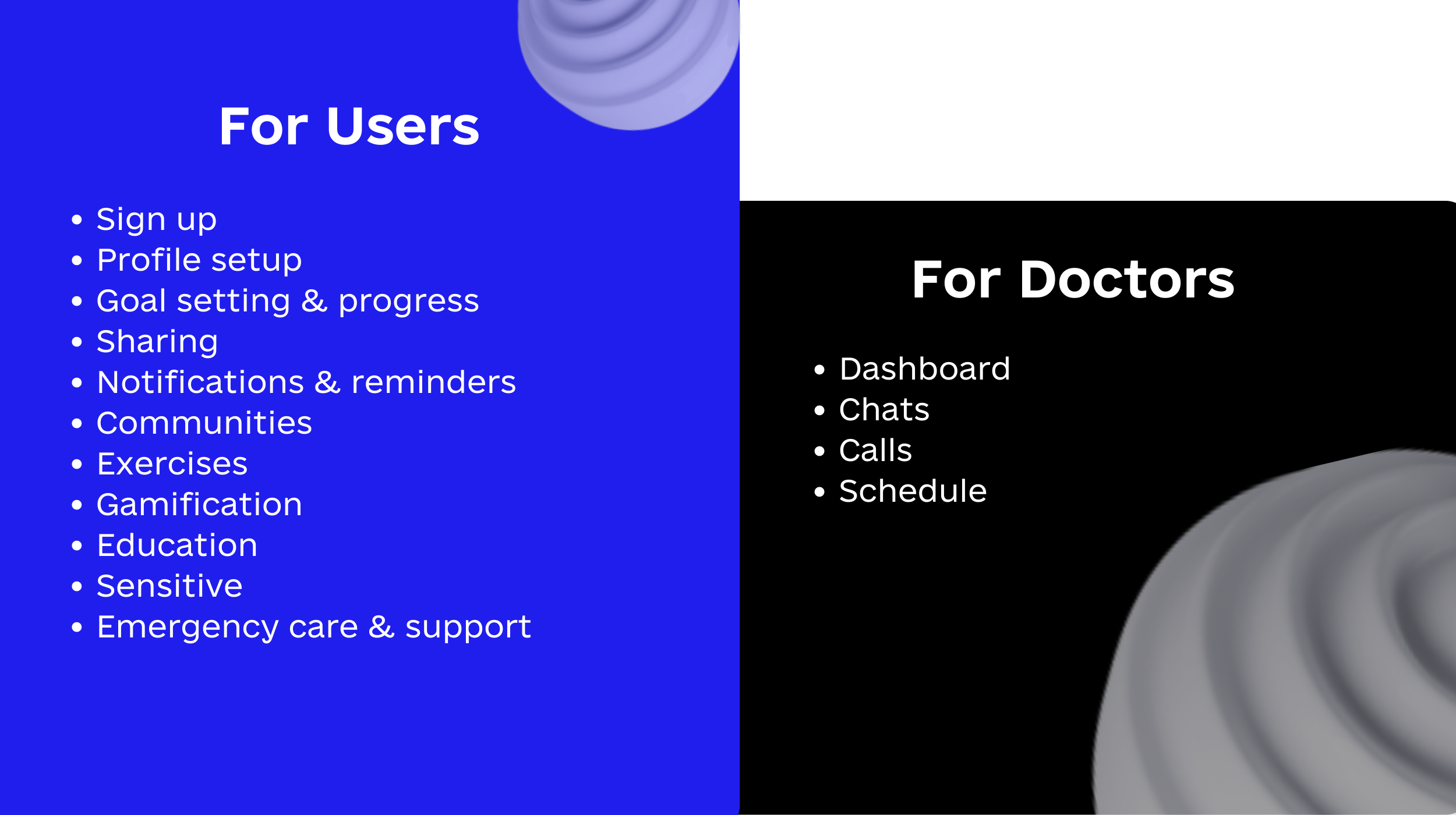 For Users
Sign up
Users should be able to sign up using their social media or personal credentials or create a new account to get started. During the signup process, users should be able to load in demographic information such as age, gender, occupation, and interests.
Profile setup
As mental health apps are for serving individuals, personal account creation is the foremost feature to consider. The end users must be facilitated with the opportunity to have an individual account where they can feed their personal data, choose all the elements/facilities they want, and track their journey conveniently.It is advisable to keep the profile creation process simple and seamless. The process should not be time-consuming and complicated. The best way to provide effective account creation services is to let the users sign up not only by email, but also by using social media credentials. This will ease the process while helping you to gather the required information and use.
Goal setting & progress
The dashboard must clearly show your users their progress towards their goals, say, in the form of charts, comparison graphs. This will help them understand the areas of improvement and also motivate them to push themselves further.
Sharing
To make a mental health app an engaging tool, you must provide users with social sharing elements within the application to connect and share their achievements. It would be great to go the extra mile and integrate tools for sharing results and other data on the users' pages on Twitter, Facebook, and other popular social media.
Notifications & reminders
Anyone who regularly uses a mental health app would never want to miss an exercise session or appointment. However, keeping up with our busy lives; sometimes, it slips out of our minds. In such cases, a push notification from the app can be very useful to remind users of planned activities.
Communities
Mental healing is more motivating when there's a support group. Building a community around your mental health app is the best way to engage and retain users. By seeing how their friends achieve their goals with the app, the users will be aware of the value that this app brings.For example, you could develop a community feature where users can:
– meet like-minded people by joining interest groups;
– find friends who already use the app;
– post updates about their activities;
– follow other users or influencers in the app.
Exercises
Photos, 3D animated models, and video illustrations can all be used to illustrate exercises and meditation. This allows users to make their own workouts, use a standard set of exercises, or combine the two. You'll need an organized and searchable content library for this.
Gamification
Just imagine what if users can complete their targets and win rewards as a part of a game in your app? This game will have several tasks which they have to complete. By using various characteristics inherent in video games, such as levels, quests, badges, and points, the app motivates people to keep track of their programs and activities.
Education
Ramp up the workout experience with audio/video guides. This will assist users in understanding the best way to alleviate their symptoms. Also, providing high-quality relevant articles on mental health that users can relate with is a great way to educate them. This can be helpful in your app's marketing strategy in order to entice new joiners.
Sensitive
Data ProtectionBuild a fitness mobile app that complies with the guidelines of HIPAA, FDA, and other regulatory systems for protecting sensitive user information against vulnerable data breaches. We can't afford to have a similar data breach like Strava's Heat Map of 2017.
Emergency care & support
Emergency care and support is necessary in helping patients alert doctors when they're experiencing acute health problems or trauma. This gives room for prompt intervention and assessment of whether the patient can be treated and released from the emergency room, or if they need to admitted to the hospital or further assessed by other specialists
For Doctors
Dashboard
The therapy dashboard is the ultimate tool for physicians to use in order to manage the information pertaining to their patients. The majority of the time, dashboards are developed in the form of web apps. These apps allow therapists to collect data from smartphone users in the form of questionnaires, journals, or surveys. By organizing the data they collect on patients' cases, psychologists are better able to provide effective treatment as quickly as they can.
Chats
Doctors will appreciate a chat feature in a mental wellness app where they provide real-time advice or consultations. If your app doesn't have live chat options, consider combining a chatbot with pre-programmed responses. Nevertheless, your app should include contact information that users can have access to at any time; it not only increases your trust but also helps at gathering much needed feedback.
Calls
Users will appreciate it if they can get in touch with an expert right from the app to get the best solution for their health concerns via telephone call or video conferencing. This will boost your user engagement.
Schedule
This feature is optional, but it's definitely interesting. Advanced and detailed scheduling helps physicians provide quality care to each of their patients. Doctors can schedule appointments for times that work for both them and their patients, which also helps them plan out their workdays and stay as focused as possible.
Major steps in the development of mental health apps
Ready to begin custom mental health app development? These steps are critical to the success of your app, so don't skip over them.
Step 1: Do market research
So how to perform thorough market research on your app?
1.Define the target audience: Now, try and study the target group. Look out for:
– Demographics
– Psychographics
– Lifestyle
– Habits (spending, recreational, and more)
You can frame focus group questions to understand your target audience, around aspects including:
Features potential customers will like in your app
Usability aspects when it comes to app development
Customers' aspirations
Industry trends in mobile app development
The outcomes will help in understanding your target group better.
2. Conduct competitor analysis
Start Competitor Analysis by Finding Competitor Apps
Naturally, the first step in competitor analysis for mobile apps is finding your competitors. Competitors are apps that:
fit your app's niche and/or category
target a similar or same audience as your app
share similar features and/or functionalities with your app
show up in the app store search results for relevant keywords
3. Conduct SWOT analysis
SWOT (strengths, weaknesses, opportunities, and threats) analysis is a method for identifying and analyzing internal strengths and weaknesses and external.
Strengths
What is our competitive advantage?
What resources do we have?
What products are performing well? Weaknesses
Where can we improve?
What products are underperforming?
Where are we lacking resources?
Threats
What do our competitors do well?
What consumer trends threaten business?
Opportunities
What technology can we use to improve operations?
Can we expand our core operations?
What new market segments can we explore?
Step 2: Choose the monetization model
Pick the monetization model among paid apps, in-app purchases, freemium, ads or sponsored content.
Step 3: Consider basic fitness app features
The basic features of a fitness app are User profiles, Notifications, Social sharing, and Geolocation.
Step 4: Choose a tech stack for a mental health app development
With the prototype ready and verified, you're prepared for the next step. Why is it important to spend time choosing the right tech stack for your project? For a couple of reasons:
Your choice will affect the budget for custom health and mental health app development
A tech stack may impose certain limitations on your mobile product's capabilities
What technologies can we choose from to build a workout app?
✅ Hosting: AWS, GoogleCloud, Microsoft Azure Services
✅ Databases: PostgreSQL, MySQL
✅ Backend: Django (Python), Laravel (PHP), Node.js
✅Mobile app front-end: Flutter, React Native
✅3rd party integrations:
✅ Payment gateway: Platform-specific
✅ SDK Geolocation: Google Maps or Core Location API
✅ Calendar: Google Calendar, Nylas, Zoho
✅ Social sign-ups: OpenID or SAML
✅ Chats: Sendbird, Stream, Vonage
✅ Video sessions: Now, Twilio
✅ Push notifications: Firebase Cloud Messaging, OneSignal, Push.io
Step 5: Workout application development
It is time to start with the custom software development process.
The Inception Phase: is where you will define the scope of work, you're collaborating with your team on the creation of a project roadmap and planning sufficient resources with set budgets.
Technical Documentation and Design: The business analysts and designers are preparing the technical specification of the product, based on the requirements needed for the application including use cases, platforms, user stories, wireframes, basic design, and a prototype of your fitness app.
Application Development: Launching a mental health app for both Android and iOS users require mobile app developers specializing in these operating systems
Quality Assurance: takes place in the form of testing and bug fixing. Testing is performed on various devices. You will be able to see how your app works and if the features function as to how they are expected to do so.
Mental health app development costs
So, to create a mental health app, you'll need at least $66,000 based on an average of 1936 hours and a $34.5/hr rate. The image below shows an estimate of the costs to develop a mental healthcare app.
Costs to develop a mental health app based on the functionality
| Scope | Effort (hours) | | | |
| --- | --- | --- | --- | --- |
| | Best | Expected | Worst | Weighted mean |
| Project Start | 24 | 40 | 56 | 40 |
| Initial backlog preparation | 16 | 24 | 32 | 24 |
| Project Schedule Preparation | 8 | 16 | 24 | 16 |
| Staging environment setup | 8 | 12 | 16 | 12 |
| Development Section (Back-end) | 558 | 745 | 902 | 735 |
| Back-end | 550 | 733 | 886 | 723 |
| Unit tests | 50 | 65 | 80 | 65 |
| Onboarding | | | | |
| User login in & sign-up | 16 | 20 | 24 | 20 |
| Consultations | | | | |
| Describe health problems - symptom tags and describe in own words | 8 | 10 | 12 | 10 |
| Add photo to chat | 8 | 12 | 16 | 12 |
| Chat with doctor | 90 | 160 | 200 | 150 |
| Notifications | 16 | 20 | 24 | 20 |
| Waiting list for voice call (call from doc mobile to patient mobile)) | 4 | 6 | 8 | 6 |
| Get physical consultation in a specific country (analysis, prescription, referral, other) | 6 | 8 | 10 | 8 |
| See ongoing consultations on home view | 4 | 6 | 8 | 6 |
| See past consultations under past consultations tab | 4 | 6 | 8 | 6 |
| Display service response time (average response time for chat, 1st availability for call) | 4 | 6 | 8 | 6 |
| Show consulting doctor profile | 6 | 8 | 10 | 8 |
| Health records | | | | |
| Create and edit profiles (family member profiles) | 16 | 20 | 24 | 20 |
| Profile includes predefined list of allergies, vaccines, medicine, chronic diseases, blood type, other | 8 | 12 | 16 | 12 |
| Past consultations shown in profile | 4 | 6 | 8 | 6 |
| Other | | | | |
| Pricing packages (subscription fee for certain package, one-off per consultation) | 32 | 36 | 40 | 36 |
| Health records Doctor | | | | |
| See profile's health records | 8 | 10 | 12 | 10 |
| Other Doctor | | | | |
| Refund consultation cost | 16 | 20 | 24 | 20 |
| Frequently asked questions with answers | 16 | 20 | 24 | 20 |
| Make physical bookings | 8 | 12 | 16 | 12 |
| Set service response time (avg chat response or 1st available time) | 4 | 6 | 8 | 6 |
| Notes | 8 | 10 | 12 | 10 |
| Diagnosis | 8 | 10 | 12 | 10 |
| "If we have time" goes below... | | | | |
| Consultation | | | | |
| Every consultation gets tags (diagnosis keywords, also in Latin) given by doctor | 8 | 10 | 12 | 10 |
| Cancel consultation | 8 | 10 | 12 | 10 |
| Charge / payment for canceled consultation | 16 | 20 | 24 | 20 |
| Add diagnosis tags for each consultation | 8 | 12 | 16 | 12 |
| Other | | | | |
| Change pricing | 16 | 24 | 32 | 24 |
| Add, save and edit payment card for profile | 24 | 28 | 32 | 28 |
| Payment for event (consultation) or period (subscription) | 40 | 45 | 50 | 45 |
| Multi-language support | 70 | 75 | 80 | 75 |
| Edit profile's health records | 16 | 20 | 24 | 20 |
| Development Section (Front-End) | 513 | 662 | 811 | 662 |
| Main features | 513 | 662 | 811 | 662 |
| Unit tests | 65 | 80 | 95 | 80 |
| Onboarding | | | | |
| User login in & sign-up | 24 | 32 | 40 | 32 |
| Dashboard user | 32 | 36 | 40 | 36 |
| Dashboard doctor | 8 | 12 | 16 | 12 |
| Consultations | | | | |
| Describe health problems - symptom tags and describe in own words | 16 | 20 | 24 | 20 |
| Add photo to chat | 16 | 20 | 24 | 20 |
| Chat with doctor | 80 | 90 | 100 | 90 |
| Notification if new message in chat (SMS via phone number) - incl show notification in home view | 8 | 12 | 16 | 12 |
| Waiting list for voice call (call from doc mobile to patient mobile)) | 8 | 12 | 16 | 12 |
| Get physical consultation in a specific country (analysis, prescription, referral, other) | 8 | 12 | 16 | 12 |
| See ongoing consultations on home view | 8 | 12 | 16 | 12 |
| See past consultations under past consultations tab | 8 | 12 | 16 | 12 |
| Display service response time (average response time for chat, 1st availability for call) | 4 | 6 | 8 | 6 |
| Show consulting doctor profile | 8 | 12 | 16 | 12 |
| Health records | | | | |
| Create and edit profiles (family member profiles) | 24 | 28 | 32 | 28 |
| Profile includes predefined list of allergies, vaccines, medicine, chronical diseases, blood type, other | 4 | 6 | 8 | 6 |
| Past consultations shown in profile | 8 | 12 | 16 | 12 |
| Other | | | | |
| Pricing packages (subscription fee for certain package, one-off per consultation) | 16 | 20 | 24 | 20 |
| Health records Doctor | | | | |
| See profile's health records | 8 | 12 | 16 | 12 |
| Other Doctor | | | | |
| Refund consultation cost | 8 | 12 | 16 | 12 |
| Set service response time (avg chat response or 1st available time) | 8 | 12 | 16 | 12 |
| Frequently asked questions with answers | 8 | 12 | 16 | 12 |
| Make physical bookings | 8 | 12 | 16 | 12 |
| Chat Notes | 8 | 12 | 16 | 12 |
| Diagnosis | 8 | 12 | 16 | 12 |
| "If we have time" goes below... | | | | |
| Consultation | | | | |
| Every consultation gets tags (diagnosis keywords, also in Latin) given by doctor | 8 | 12 | 16 | 12 |
| Cancel consultation | 8 | 12 | 16 | 12 |
| Charge / payment for canceled consultation | 16 | 20 | 24 | 20 |
| Add diagnosis tags for each consultation | 16 | 20 | 24 | 20 |
| Other | | | | |
| Change pricing | 24 | 28 | 32 | 28 |
| Add, save and edit payment card for profile | 16 | 20 | 24 | 20 |
| Payment for event (consultation) or period (subscription) | 8 | 12 | 16 | 12 |
| Edit profile's health records | 16 | 20 | 24 | 20 |
| Stabilization and Delivery | 16 | 24 | 32 | 24 |
| Prepare deployment docs | 4 | 6 | 8 | 6 |
| Prepare description docs | 4 | 6 | 8 | 6 |
| Production deployment | 8 | 12 | 16 | 12 |
| Project Management | 92 | 118 | 148 | 119 |
| Backlog elaboration and maintenance | 32 | 40 | 58 | 43 |
| Planning meetings, review meetings | 20 | 28 | 30 | 26 |
| Project Management and communication | 40 | 50 | 60 | 50 |
| QA: | | | 436 | 355 |
| Total Development, hours: | | | 1745 | 1421 |
| Project Management, hours: | | | 204 | 159 |
| TOTAL, hours: | | | 2385 | 1936 |
| Estimated project time*, h: | | | 1936 | |
Code&Care's expertise in mobile health app development
We have worked on numerous healthcare projects. One of these is a Responsive web application for people with Polycystic ovary syndrome. Here's the rundown.
✅ Focus: It is beneficial for patients to plan a menu of safe meals for their health.
✅ Content: Learning materials to help users understand and control the problem are also included.
✅ Development: Create it entirely from scratch. Vue and Laravel are the technological stacks.
✅ Process: We created all of the functionality, such as basic authorization, video embedding, grocery lists, and the ability to create one meal list. Configures as a SaaS as well as setting the subscription plans. Based on the custom design, we completed all frontend layout work, including responsiveness and cross-browser compatibility.
Conclusion
The market for mental healthcare app development is exploding with new ideas. Governments are changing their laws to make the best use of digital health apps (for example, Germany passed legislation allowing digital health apps to be reimbursed by health insurance), and funding for digital health solutions is increasing. With all of the technological and legislative constraints, the healthcare market is complex, but with the right partners, you can make a genuine and much-needed difference in the world.
We at Code&Care have extensive experience developing healthcare apps, so we know firsthand how to take your HIPAA-compliant software from the research stage to a ready-to-launch product.
Here's why you should work with us.
✅ We employ an Agile work approach throughout the development cycle.
✅ Dedicated team of developers at service to ensure quality, delivery, and maintenance of software solutions.
✅ A portfolio that speaks for itself: our work history consists of successful projects.
✅ Transparency is a core value at Code&Care, from costs, requirements, results, and communication, we keep the conversations with clients open.
If you're looking for a healthcare app development company or need any tips from professionals for your project, talk to us – we'll be happy to help you.