In 2022, most people prefer to solve their problems via smartphones. Healthcare is no exception. Especially in our COVID-19 realities, where almost everything depends on online services. Add to this the increasing number of chronic diseases and use the wearables. Thus, the reason for healthcare digitization becomes clear. This and plenty of other factors make the industry attractive for businessmen and investors.
In this article, we are going to overview the most popular medical healthcare apps, their types, features, and benefits. Let's go on!
mHealth apps market statistics
Mobile healthcare is a broad term that includes the wide variety of applications used on smartphones from pharmacy apps to telemedicine apps. The advantage of mHealth is that technology allows our patients to become more actively involved in seeking care. This allows doctors to reduce the frequency of emergency room visits by keeping track of chronic conditions. Mobile health as a subset of telehealth is one of the fastest-growing market segments rife with these new tools. So, let's discuss the main numbers of the industry.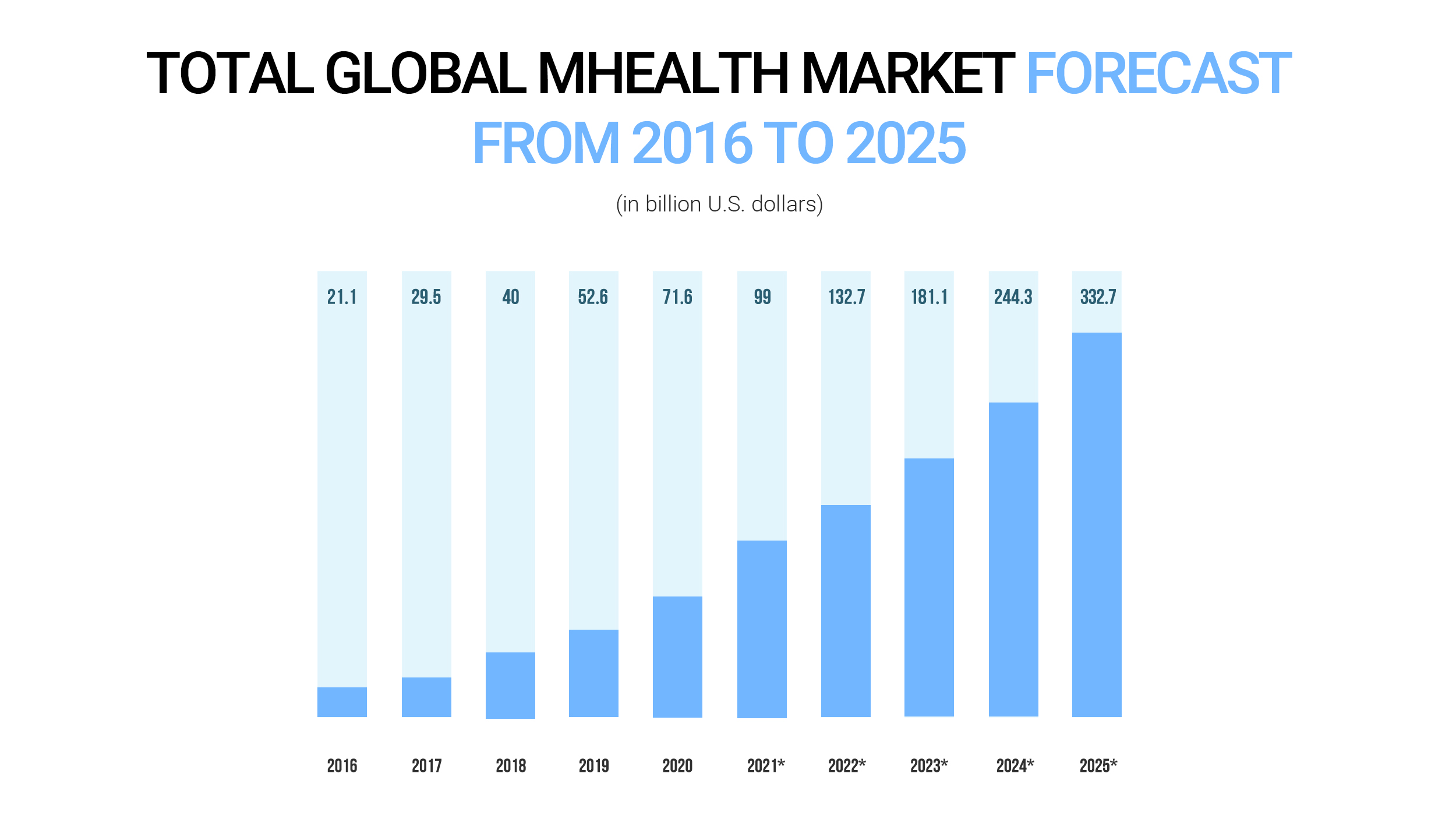 Top medical mobile apps in 2022
Among the huge number of healthcare apps, you will find some more valuable apps to help you better manage your health. From making appointments to taking medication reminders and searching your medical records, these apps let you take better control of your health at your convenience. Here is the list of the most widespread medical apps in 2022:
ZocDoc
Are you fed up with waiting longer to make an appointment? Then the ZocDoc app is right for you. App approved by MTI College and Becker's Hospital Review. It reduces the need to make an appointment with a doctor by providing an instant online booking function.
Medisafe
The Medisafe app sends notifications to your smartphone at the time you should take your medicine. People who use Medisafe have experienced incredible health benefits as it allows them to take their medications on time and exactly as prescribed.
Amwell
Amwell, powered by American Well, is one of the popular telemedicine applications in the United States. The application offers medical services around the clock and without an appointment. Patients can make an appointment for a virtual emergency appointment and instantly connect with a real doctor for personal communication via video call using the app.
Calm
It is a meditation app that allows subscribers to set goals. I.e., reduce anxiety, improve sleep, increase concentration, etc. You can choose from high-quality backgrounds and nature sounds.
MyFitnessPal
MyFitnessPal is a fast and easy calorie counting app that has become an indispensable tool for maintaining a healthy diet for millions of people. It contains a huge and regularly updated barcode searchable product database and many other useful features.
Strava
It is an app that has now become a part of the lives of many cycling enthusiasts who cannot imagine training or any physical activity without it. This dedication has been achieved through a combination of a workout diary, GPS tracker, and social media features.
Headspace
Headspace is one more meditation app that allows you to choose a program based on your skill level, circumstances, and goals. One interesting solution is short, minute meditation sessions when you want to clear your mind.
WW (Weight Watchers)
It is the most popular weight monitoring app. The main advantages of using Weight Watchers are that they affect the overall health of the customers rather than just focus on weight loss.
The list of top players can be used as a reference for determining what people like and prefer in healthcare apps.
How to create your own music streaming app that brings clients
Types of mobile healthcare apps
The active development of healthcare applications has led to the fact that at the moment more than 95 thousand healthcare applications are available in the App Store and Google Play. These apps can be divided into two categories: professional apps and patient apps. Each category has its types of applications.
Let's take a look at each category and type.
Applications for professionals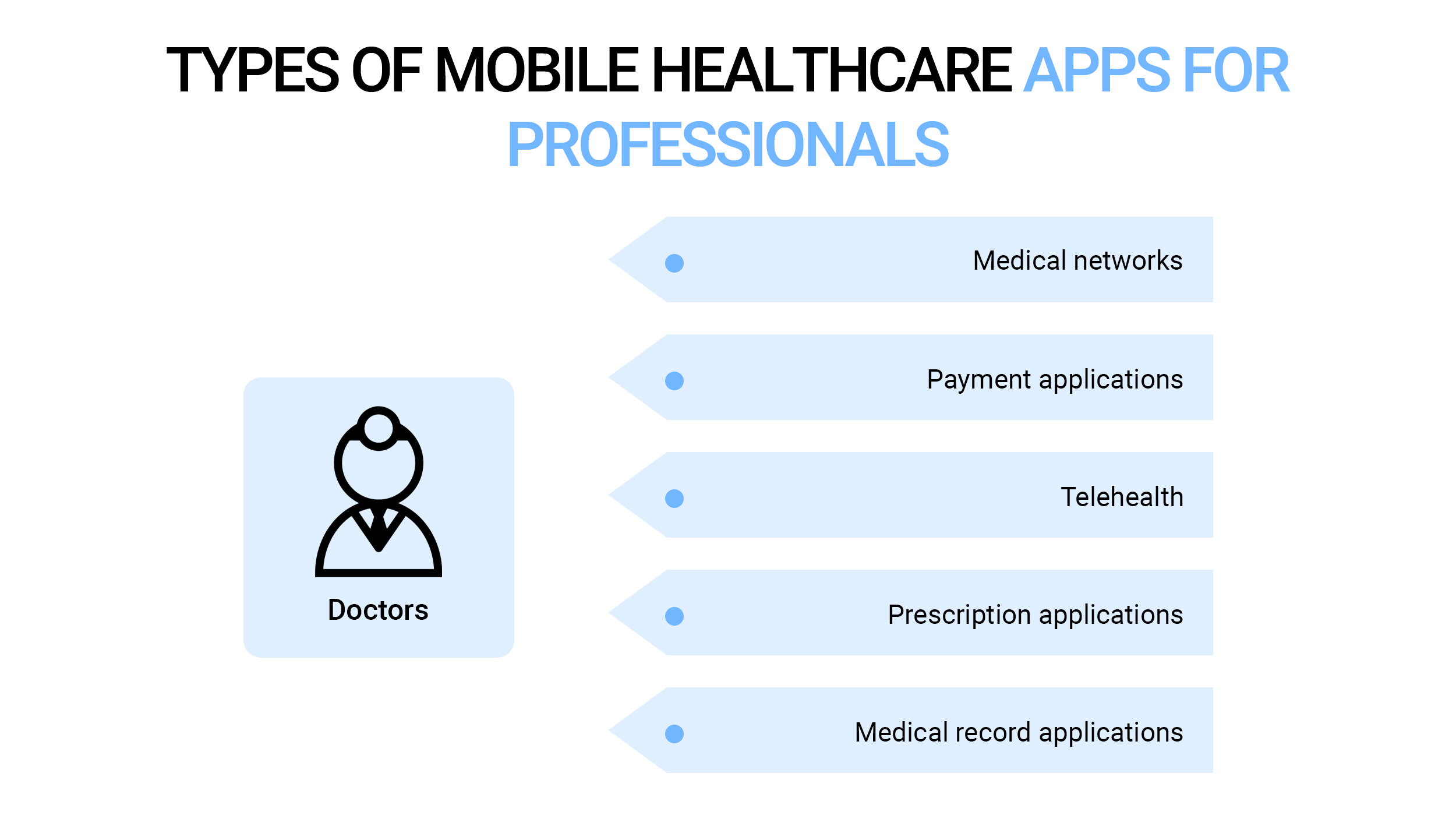 ☑️Medical networks
While doctors are quite busy and rarely meet on popular social media, they also need a way to connect with their peers, share experiences, and improve decision-making.
☑️Payment applications
Billing apps are designed to streamline the overall billing process and digitize operations such as claims management, accounting, payment processing, and patient enrollment at healthcare facilities.
☑️Telehealth
These apps allow doctors to schedule patient appointments and provide consultations via in-app messages or video calls. Telemedicine applications are convenient for both healthcare providers and patients, as they reduce no-shows by 50%, and patients can receive medical advice from their homes.
☑️Prescription applications
Prescription apps allow doctors to tailor the right medicines for each person, package them into a convenient list, set and monitor dosages to avoid side effects, or cancel prescriptions at any time.
☑️Medical record applications
Medical record apps are designed to make it easy to collect and update patient medical records. This includes vital signs (blood pressure, temperature, etc.), check-ups, prescriptions, appointments, and other information doctors need to keep track of the entire treatment process.
Applications for patients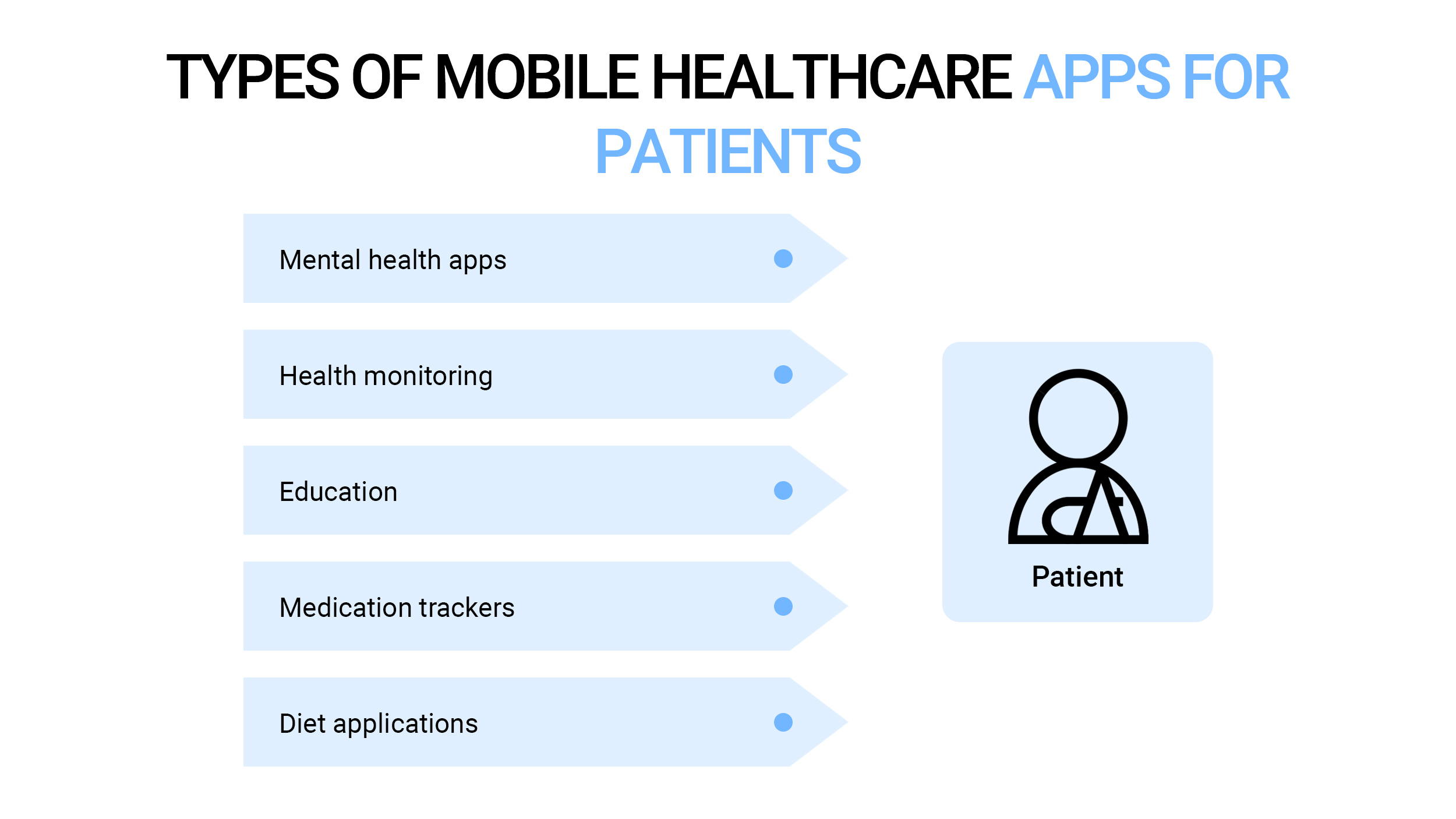 ☑️Mental health apps
Mental health apps are designed to make therapy more accessible, effective, and flexible. They can help combat depression, stress, anxiety, sleep disturbances through pre-recorded meditations, breathing exercises, gamification elements, and more.
☑️Health monitoring
This type includes apps that come with symptom checkers, medication recommendations, or treatment advice. They can also help manage chronic conditions like cancer, diabetes, etc.
☑️Education
The main idea behind medical education apps is to create a reliable database of up-to-date medical information for students, doctors, and general users who want to know more about healthcare.
☑️Medication trackers
Drug tracking apps are quite popular in health app development due to their overall simplicity. as they help users to take their pills on time. Apart from simple scheduling and reminders, these apps can keep track of certain medications at nearby pharmacies, letting users know where the cheapest offer is.
☑️Diet applications
The main purpose of diet apps is to help users establish a diet and maintain healthy eating habits. Common features of these apps include a calorie calculator, meal planning, reminders, a food and health information database, and more.
☑️Healthy lifestyle apps
This type brings together plenty of various apps like fitness apps, brain training apps, self-improvement apps, and many others that make it much easier to achieve a healthy lifestyle.
Benefits of healthcare mobile applications 
For patients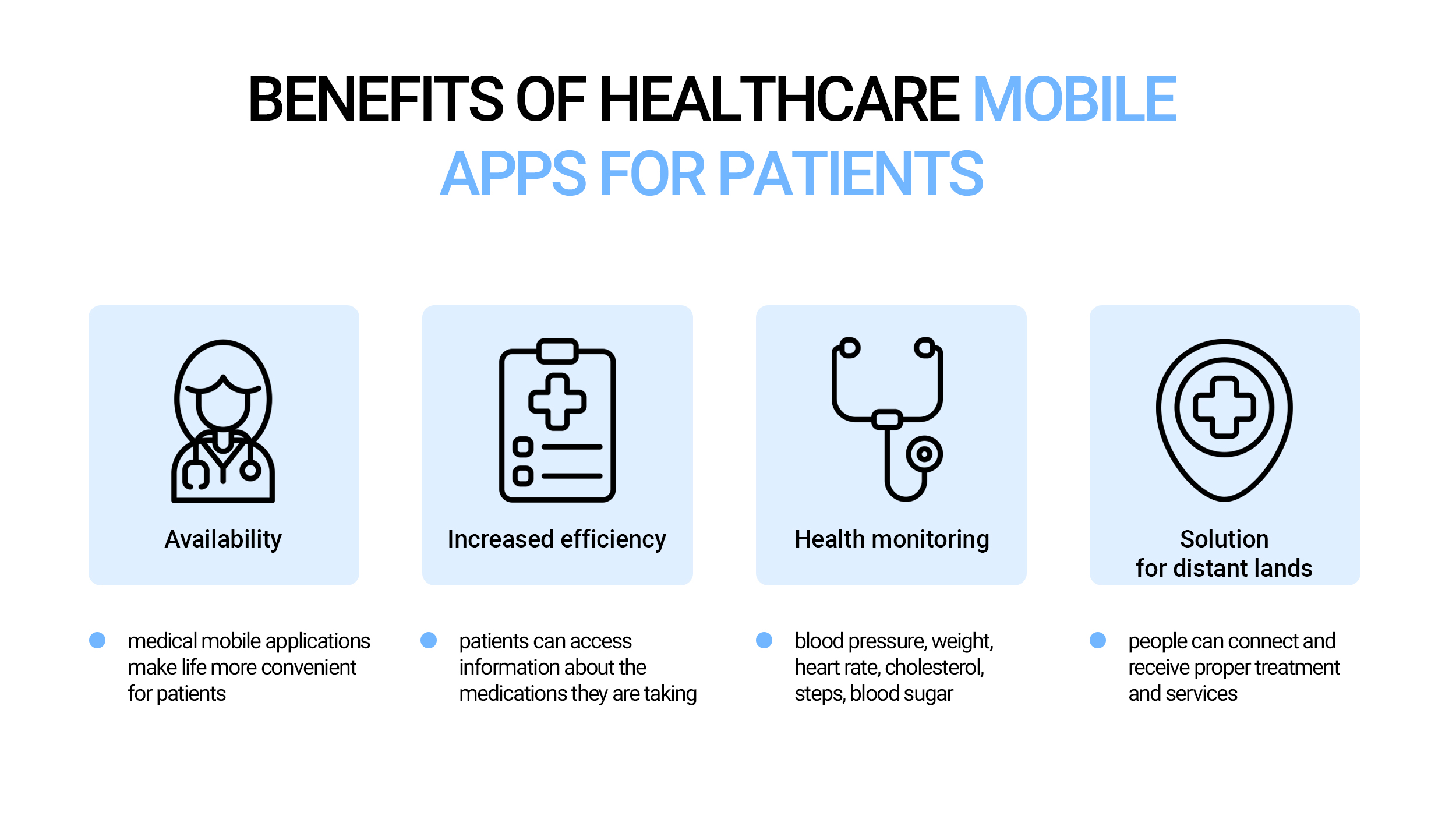 Availability
First, medical mobile applications make life more convenient for patients. People recognize that mobile health apps give them mobility, instant access to the information they need, communication with doctors, and more.
Increased efficiency
Using the mHealth apps, patients can access information about the medications they are taking, chat with their doctor, view all prescriptions, and more, from the comfort of their couch.
Personal health monitoring
To make timely decisions and maintain personal health with mobile health apps like blood pressure, weight, heart rate, cholesterol, steps, blood sugar, etc.
Perfect solution for distant lands
There are some areas where the hospital is inadequate, but in this digital age, people can connect and receive proper treatment and services using mobile healthcare apps.
Smartphones are a boon for remote areas because people can touch a doctor's advice and information without traveling.
For doctors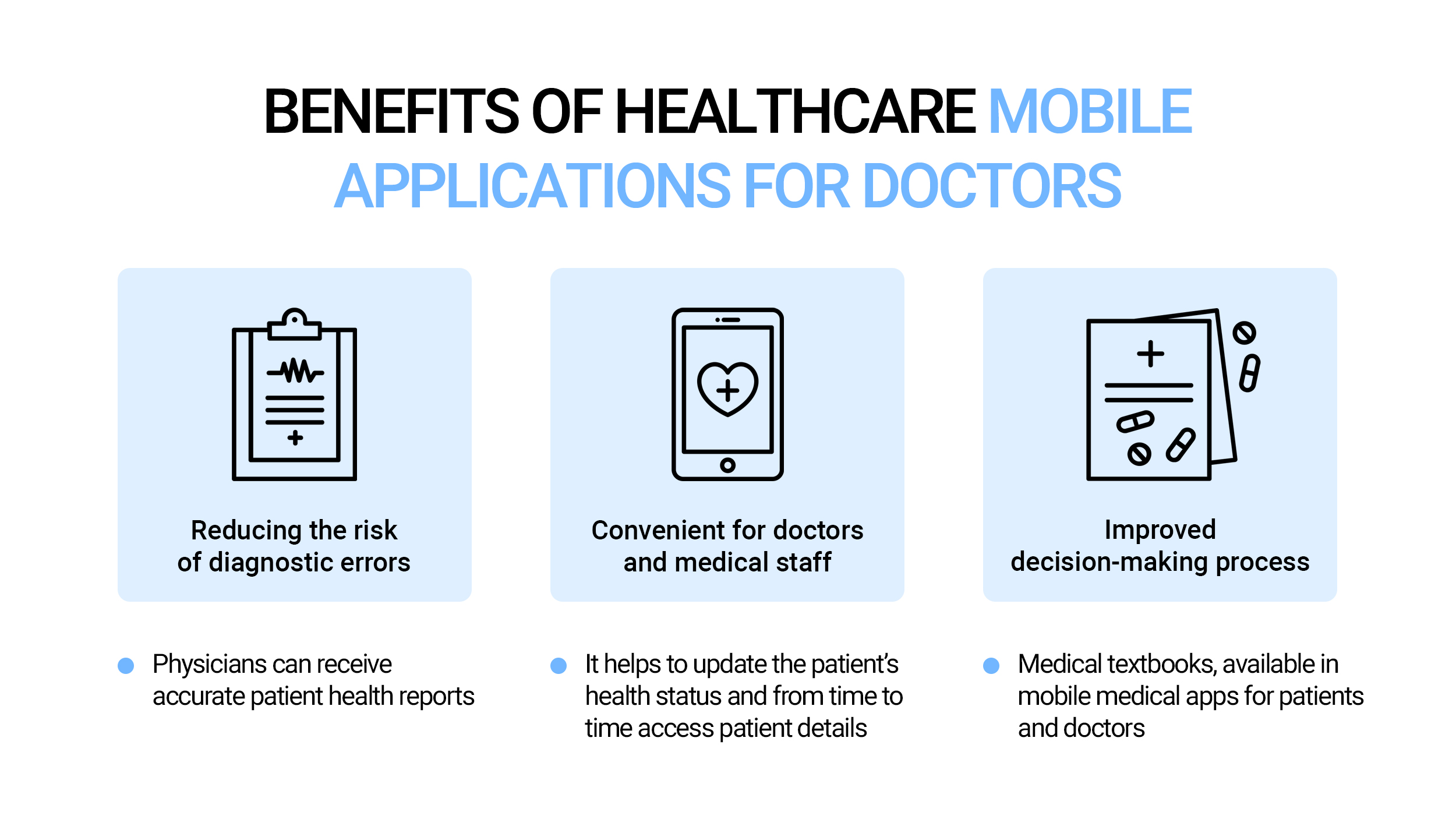 Reducing the risk of diagnostic errors
Physicians can receive accurate patient health reports, even hospital staff can accurately maintain accurate patient health status without error.
Convenient for doctors and medical staff
It helps to update the patient's health status and from time to time access patient details for hospital staff and doctors. Sometimes there is a possibility of misleading information about treatment or other means, so the functions of the mobile health application help to communicate very easily and quickly, mainly in emergencies. This helps to observe the patient with particular care, which leads to an immediate improvement in the patient's condition.
Improved decision-making process
Medical textbooks, available in mobile medical apps for patients and doctors, help doctors find the answers to the questions they need faster and make the right decisions quickly. As a result, patients can receive better services and better treatment. Also, pharmacists can have instant access to medical drug information and make wise decisions.
Having listed the main benefits of mHealth, we can say that investing in the development of mHealth applications is worth the effort if you want to feel the pulse of modern technology and improve the lives of your patients and medical staff.
Mobile medical app development checklist 
Before you dive into the difficulties of healthcare app development and design, it is important to conduct market research that can significantly influence the development of your healthcare mobile app.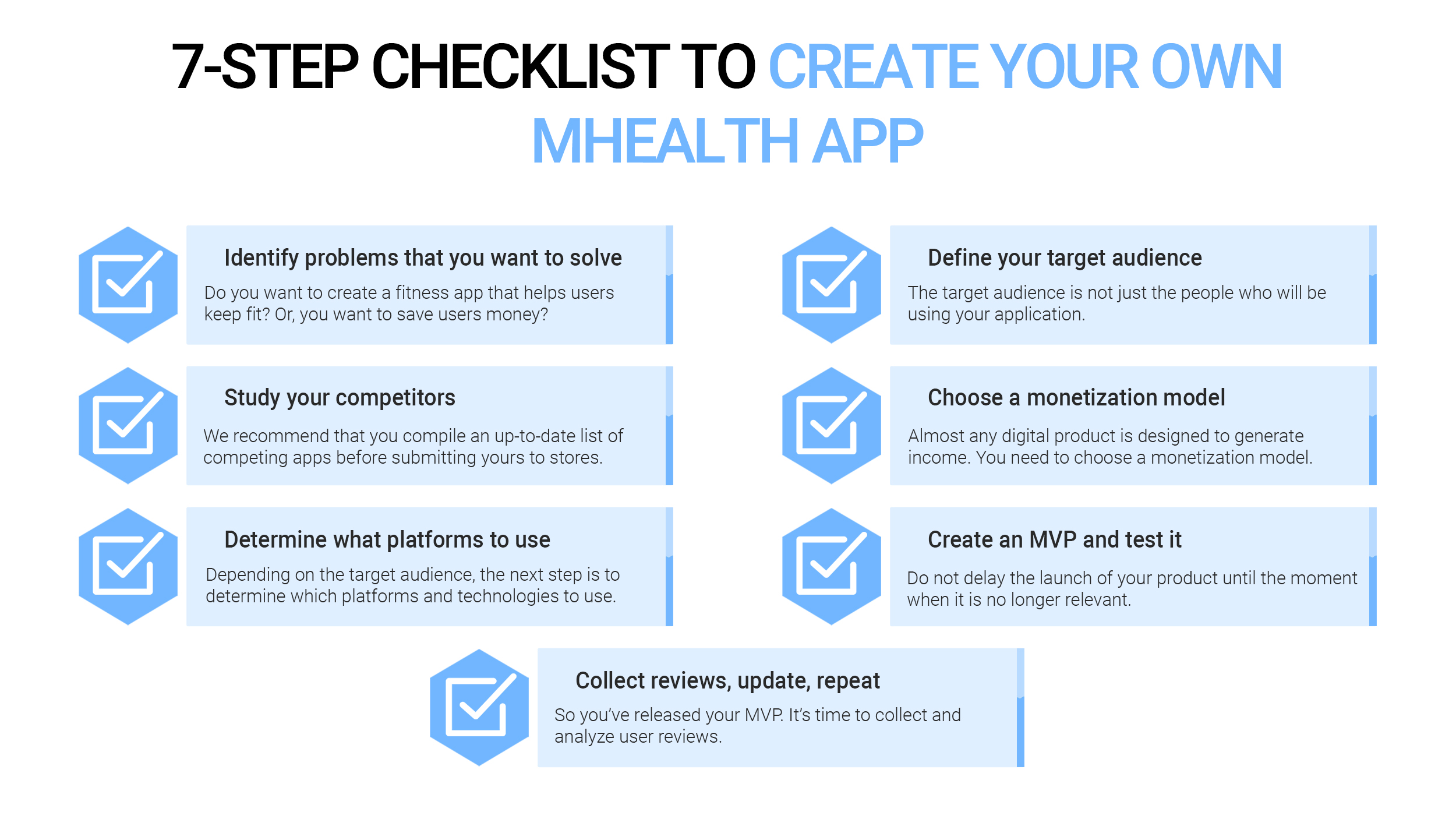 ✔Identify problems that you want to solve
Perhaps you want to create a fitness app that helps users keep fit. Or, you want to save users money on drug purchases.
✔Define your target audience
The target audience is not just the people who will be using your application. This is a whole market, segmented by many factors such as country of residence, age, education, average income, and much more. For sure, you don't want to target the wrong audience, so learning and understanding your target users is extremely important.
✔Study your competitors
Continuing from the previous point, we recommend that you compile an up-to-date list of competing apps before submitting yours to stores. Gather basic information: launch date, average rating, number of updates. Study user reviews as you will need them to better understand the interests and preferences of your audience.
✔Choose a monetization model
Almost any digital product is designed to generate income. To do this successfully, you need to choose a monetization model. There are few typical models. I.e., advertisement, freemium, subscription, or paid.
✔Determine what platforms to use
Depending on the target audience, the next step is to determine which platforms and technologies to use for your project. The choice of platform (iOS or Android) depends on various factors, both economic and user-centric. I.e., older people are less likely to use wearable devices. They prefer websites and tablets.
✔Create an MVP and test it
The time factor is important for startups. No matter how many steps there are in the healthcare application development process, one of its main principles is not to delay the launch of your product until the moment when it is no longer relevant or gives way to your competitors.
✔Collect reviews, update, repeat
So you've released your MVP. It's time to collect and analyze user reviews. Don't neglect the audience's opinion, as it can fuel your ideas for future updates. Once released, you can maintain the app by extending its functionality and implementing various quality of life improvements.
Important healthcare mobile application features
The development of mobile healthcare applications depends entirely on the features that go into your solution. They affect UI and UI design services, application development (client-side), back-end (server-side) development, quality assurance, and further maintenance. All of these services depend on the specific design concept of the medical application and the solution it provides.
Let's take a look at the most common features of healthcare apps.
Create a profile
As with any other mobile app, healthcare solutions usually have a user profile. After creating an account, patients can add their personal information (name, age, chronic conditions, insurance, etc.). This type of account can also provide the ability to store your health data and include a personalized dashboard.
Tracking
This feature is the most important in a mobile healthcare application. It allows you to monitor the patient's blood pressure, heart rate, calorie intake, pulse, and glucose levels. This feature is made possible by integration with wearable devices such as heart rate trackers, blood glucose meters, and other solutions.
Planning
This feature allows users to easily make appointments with a doctor or healthcare professional. They can also schedule prescriptions for medications, sleep times, water consumption targets, and more. From a doctor's perspective, they can effectively manage their schedule and track how patients are following doctors' orders.
Payment
There is an increasing trend towards the integration of mobile payments. Payment features allow users to pay for medical services or insurance. It can also pay recurring bills for doctor's visits, emergency rooms, hospitalizations, etc. Online payment in a few clicks provides great user satisfaction.
File storage
The EHR system is an essential part of any healthcare application. These systems allow physicians to store patient files and other information. As part of healthcare application development, you can enable the development of file storage and management systems for patients. This way, they can store their medical information in your solution, including any test results, X-rays, reports, and other files.
This feature is also very useful for doctors as patients can upload their data and receive recommendations remotely.
This is another feature that you need to consider in your project. Having this feature can help patients find the nearest doctor for help.
Chat
The ability to communicate with your doctor in the app will make service faster and help build trust between patients and healthcare providers.
Video conference
You can extend the communication portion of your application by adding video conferencing to your healthcare application development process. Telemedicine application development is a popular practice today because not all patients have the opportunity to visit doctors in person.
With the help of video conferencing, patients can stay in the hospital and visit the doctor's office without leaving their homes.
Social integration
Social logging is an attractive feature, but when integrating it into a healthcare app, pay special attention to data security.
This feature should be optional as many users find it unacceptable to share any health information with third-party services (for example, via the Facebook SDK). Therefore, your application's privacy policy should clearly state that the user is providing access to their profile information.
For those clients who register on social media, there are several options such as LinkedIn, Twitter, Facebook.
Ratings and reviews
For applications that provide access to information about medical personnel, this feature will be useful. First, any patient will be able to share their experiences with the doctor and help other patients make decisions. Secondly, it will increase the involvement of staff in building loyal relationships with customers.
If you want to make your app more convenient, it is a good idea to implement such features as appointments, photo gallery, analytics, recipes, push notifications.
Food delivery app development: tips to save your budget and nerves
Cost of mHealth app development
Once you've identified all the features you want to include in healthcare app development, you might wonder how much it costs to develop a healthcare app.
The final price of developing a medical application depends on a list of factors:
pre-development, during which you need to analyze the competition, market stage, identify features for implementation, etc;
the number of platforms you're going to target (iOS, Android, or both);
the use of some specific technologies and innovations such as machine learning, artificial intelligence, etc;
the complexity of app design including customization, branding, animation, etc;
the software provider you want to work with.
The cost of creating an MVP for a medical application starts at $60,000 per platform (iOS, Android, or Web). The final price can be as high as $500,000 or even higher.
By outsourcing healthcare application development in Ukraine, you get access to a wider range of highly professional developers and a much lower development cost compared to services provided by companies from other countries such as the US.
Healthcare mobile apps trends
As you develop your healthcare app, you need to make sure it stays relevant over time. Most of the current trends in mobile app development are technology-related. In recent years, technological developments have allowed many companies to create and develop specialized medical software for their specific fields. As a result, patients, as well as doctors and healthcare providers, benefit greatly from this. Even the simple ability to monitor your health and nutritional status makes life much easier for many people.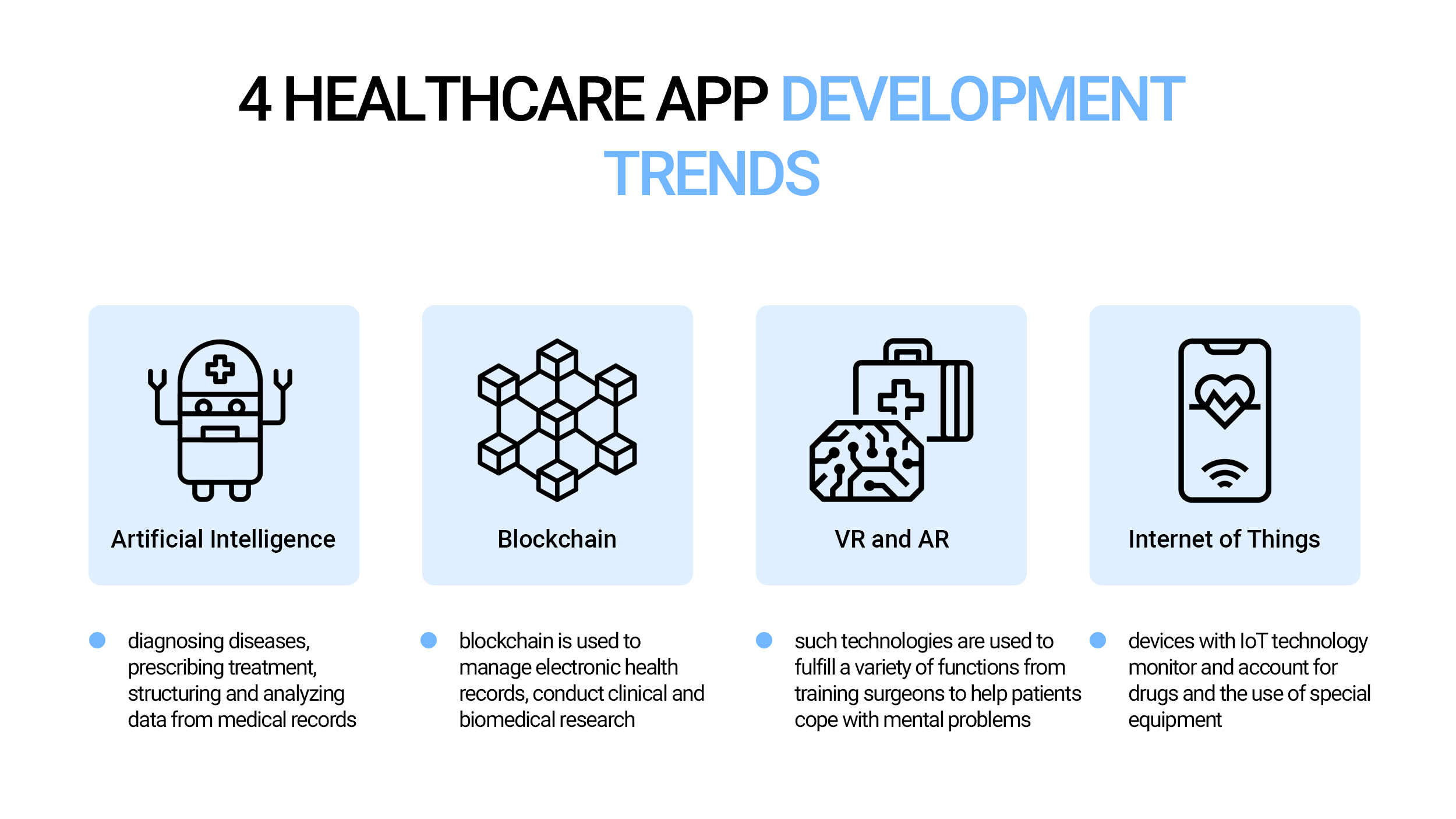 AI is a part of the following medical tasks: diagnosing diseases, prescribing treatment, structuring and analyzing data from medical records, identifying patients in need of emergency care, monitoring the movement of doctors and patients in medical institutions, planning the work of hospitals and clinics, imaging ultrasound images, CT, MRI, drug creation.
Speaking of lifestyle-oriented apps, AI algorithms are used, for example, in modern chatbots. Chatbots can be used to collect primary information. They ask questions, offer options, and initially connect patients with doctors, and then streamline the process.
Blockchain is a technology for creating databases and managing complex transactions that are mainly related to cryptocurrency. The healthcare blockchain is used to manage electronic health records, conduct clinical and biomedical research, monitor patients remotely, improve insurance and billing procedures, and analyze medical data.
The acronyms AR and VR are primarily associated with the gaming industry. The potential for using AR and VR is much wider, as evidenced by their modern examples, for example, in the e-learning application development.
Such technologies are used to fulfill a variety of functions from training surgeons to help patients cope with mental problems and make a diagnosis. For example, the Anura mobile app can measure health with a 30-second face scan.
Following the theme of closing fitness centers, fitness technology transforms augmented and virtual reality fitness from a trendy fad into a truly sensible idea. For example, FitXR's BoxVR virtual reality sports app has made a name for itself in the growing digital fitness niche and has raised $ 7.5 million thanks to the pandemic.
The Internet of Things (IoT) is widely used in medicine in various sensors that allow monitoring the condition of patients. Devices with IoT technology monitor and account for drugs and the use of special equipment.
Besides, in many regions, there is still no available medical care. In such cases, the transition to telemedicine becomes effective — the interaction of a doctor and a patient online using mobile applications and services.
Our expertise
The Code & Care team has vast experience in mobile health app development. Let's overview our last couple of projects.
The first one we want to discuss is MedaSync. It's a centralized case management system that helps SNFs address each of these challenges. The software monitors care and services, flags anomalies, and alerts teams to reimbursement opportunities that usually are missed.
Our team's task was the improvement of the current app and the patients' forms. The developers worked on intake flows and updates, analytics dashboard, and alerts features. The team also implemented the latest React modules, worked with parsing docs, imported/exported data from various file types.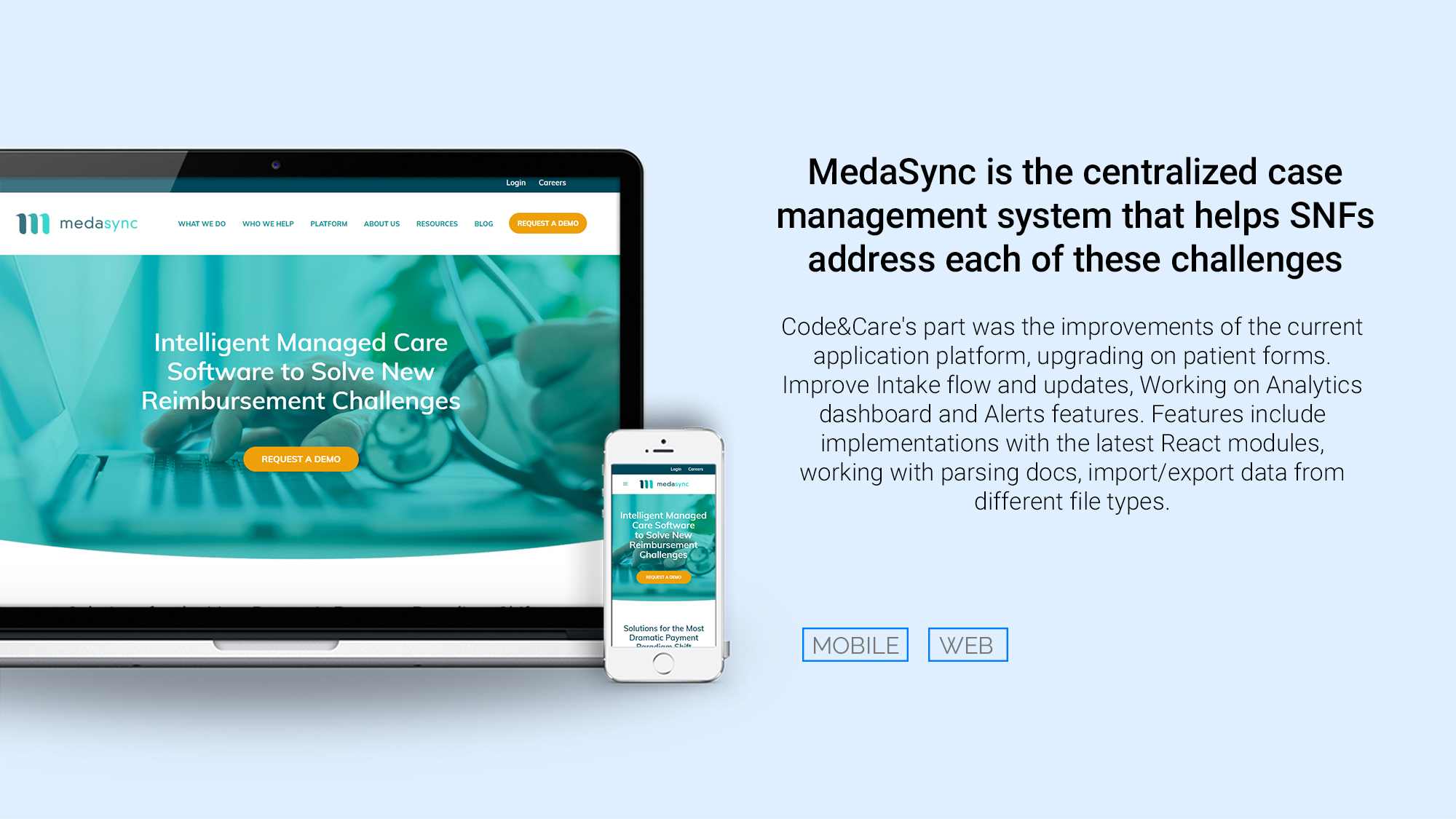 Another app that we worked on is
House of Hearing
. House of Hearing provides comprehensive diagnostic hearing assessments with a state of the art equipment in all hearing clinics. It's a big challenge to manage them all in one day. Thus, the Code & Care team's task was to create
the ERP solution
in combination with CRM and solve management problems successfully.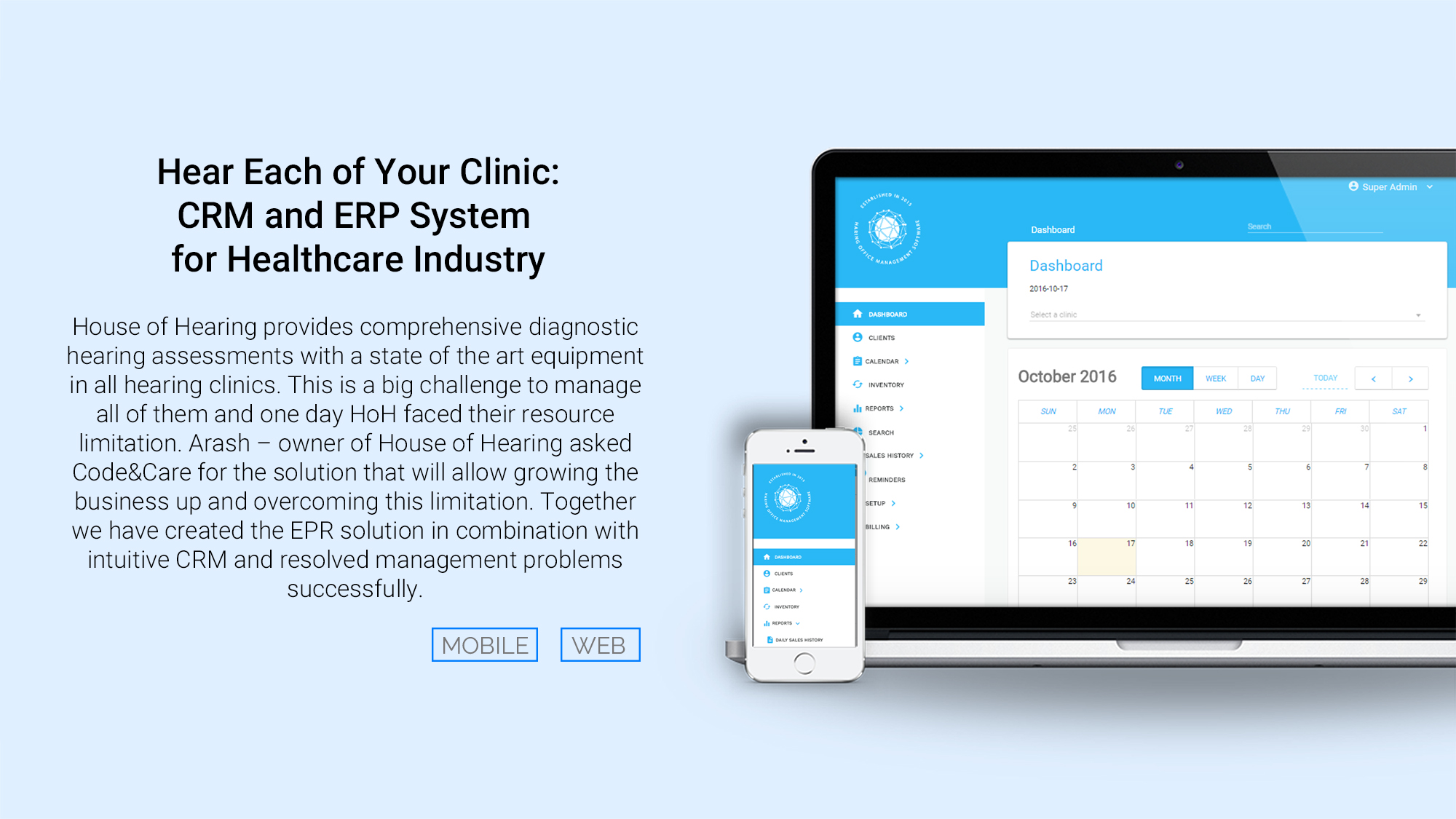 Do you want to develop your health application? Book one-on-one consultation to find the right technologies for YOUR project.
✔Read next:
Progressive web application development: Cost, Tech Stack, Advantages
Web portal development: Functionality, Steps, Common Issues
Web Application Development Cost: The Full Guide On Your Project Price
How to manage a remote development team: Challenges, Tips, and Best Practices