Are you involved in the healthcare sphere and aimed to increase the quality and efficiency of your medical services? Then, the doctor appointment app is the perfect choice for you. First, because most people consider the doctor-on-demand is crucial for any healthcare provider. No matter, if they are getting treatment at a hospital, clinic, or private practice. Moreover, it gives your clients a sign that you're on the cutting edge of the industry.
In the article, we are going to discuss the most popular doctor appointment booking apps, their types, key features, advantages, tech stack, and tips for your budget. So, let's dive in!
Market overview of doctor appointment booking apps
A doctor appointment app is some kind of telemedicine service that helps people avoid going to hospitals and clinics unless there is an emergency. Users do not have to stand in lines and wait.
The online appointment system allows people to find physicians, make an appointment, get a consultation, etc. Patients stay at home in a comfortable environment, and in most cases, they can immediately receive qualified assistance. Communication can be carried out via text chat or video call.
Besides, patients can upload laboratory results for doctors to review and write a prescription. This is what the app can do — write prescriptions and set up reminders for people so that they can take their medications on time. The medical app is a new era of communication between doctors and patients.
Statistics and insights
The medical niche is developing extremely fast, and many new applications are being downloaded to the Apple Market or Google Play. Let's take a look at the current state and opportunities of this market.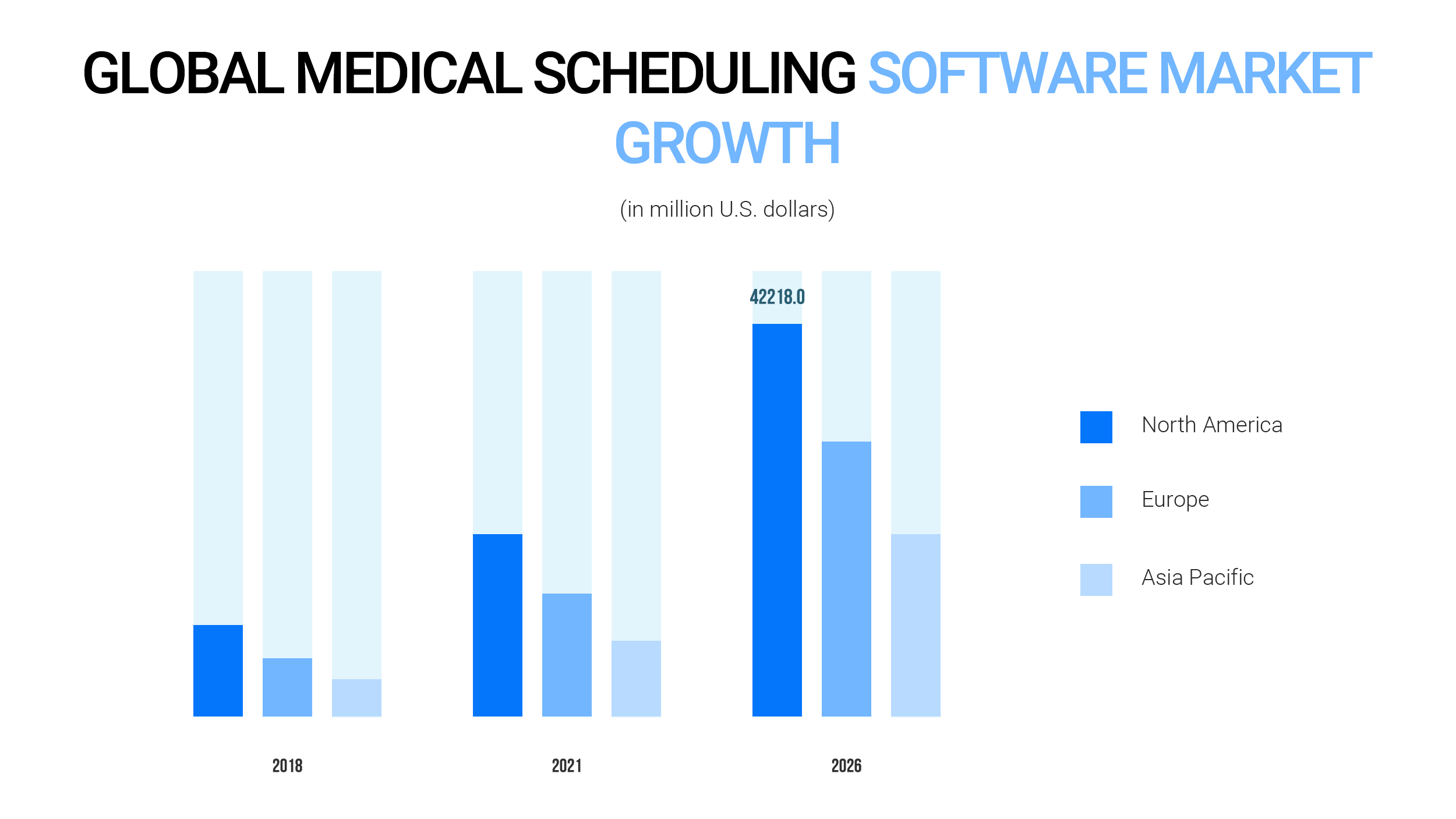 Research shows that the market will double over the next six years and will reach nearly $600 million by 2026.
47% of all Internet searches refer to healthcare providers and specialists.
Market coverage of categories of medical applications in the United States is 68.9%. For comparison: games — 65.9%, travel — 84.7%, communication and social networks — 97.9%.
60% of patients conduct online research before making an appointment at the office.
Currently, 88% of all physician visits are made by telephone, and only 2.4% via the Internet. Most people don't want to risk confidential information filling out online forms.
List of the most popular apps
Research is a mandatory step when starting any project. And you need to know more about your competitors. So now we recommend you to check out the best examples of doctor appointment booking apps.
Doctor on Demand
The app allows patients to communicate with doctors 24/7 via video calls. There are only licensed healthcare providers. Doctor on Demand also contains laboratory results and gives patients prescriptions.
ZocDoc
ZocDoc gives people an opportunity to communicate with more than 50 different specialists, make appointments, read reviews, and use an integrated dictionary where patients can find explanations of health-related terms.
Now GP
It is for finding and making appointments with general practitioners. It also helps deliver prescription drugs right to your door, gets a professional diagnosis, writes e-prescriptions, etc.
MyHealth
MyHealth app can be integrated with third-party EHR (electronic health records) systems, the HealthKit system allows you to collect data from other devices. Besides, MyHealth can be used during hospital visits and provides patients with useful information to keep them informed. Overall, the app allows patients to manage their daily care.
Practo
Practo is the most prominent digital health player in the Asia Pacific region. It allows patients to make appointments for an online or traditional consultation.
HealthApp
The app has a first-class service available to patients by subscription. The company also offers a paid B2B telemedicine solution for doctors and several other subscription-based products for employers and insurance companies.
Main types of doctor appointment apps
It is necessary to emphasize the main types of applications for finding doctors, since the development of the doctor on-demand application may vary depending on its type.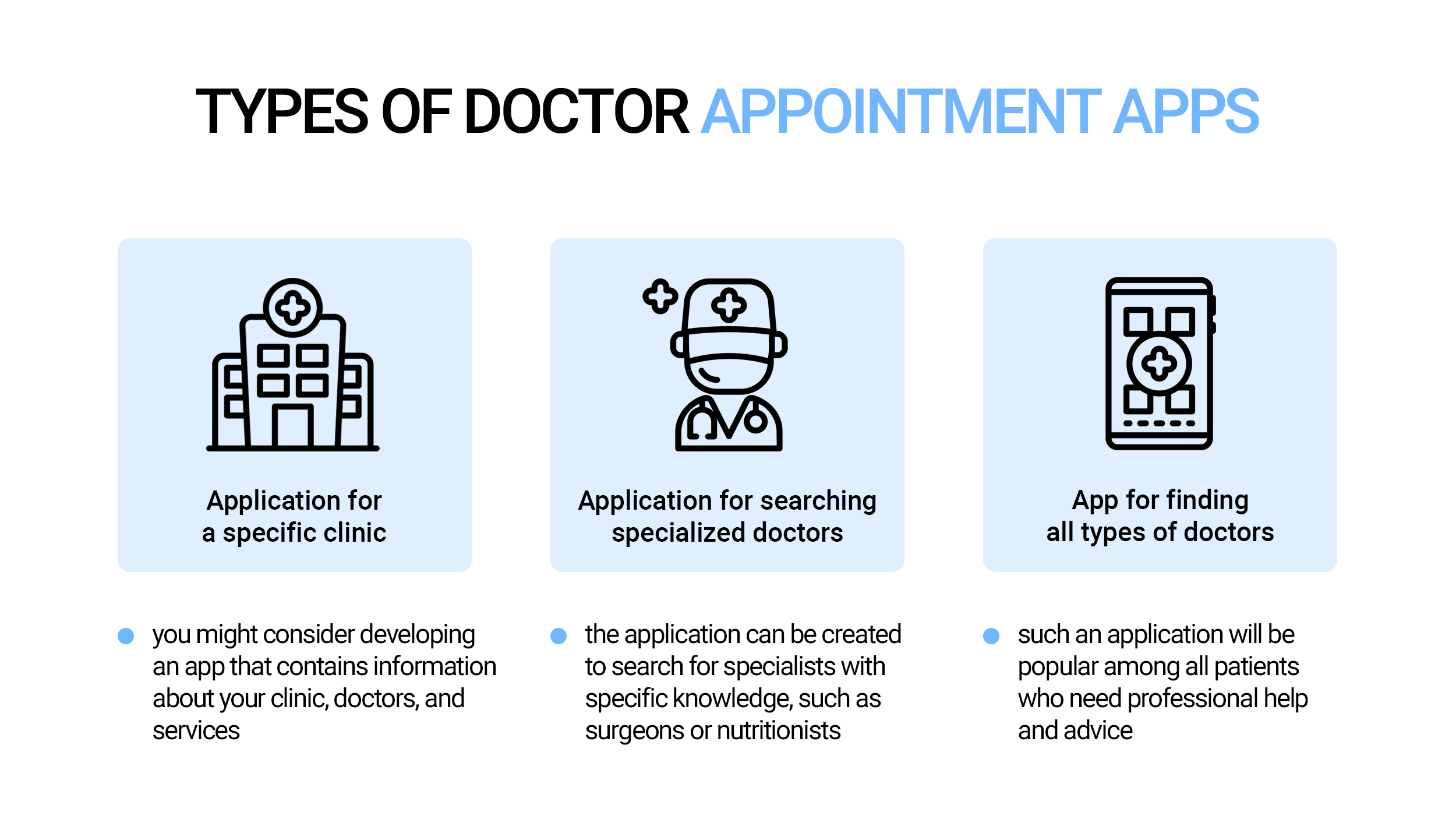 Application for a specific clinic
If you are a clinic owner, you might consider developing an app that contains information about your clinic, doctors, and services. Also, the application may contain licenses and certificates to confirm the level of qualifications of specialists. This will make your application stand out from the competition, as patients will have the information they need.
Application for searching highly specialized doctors
The application can be created to search for specialists with specific knowledge, such as surgeons or nutritionists. Potential patients can use your app to compare doctor service levels, read reviews, and choose who they will contact.
App for finding all types of doctors
A handy application for finding doctors. Such an application will be popular among all patients who need professional help and advice. In this way, patients can select doctors based on their experience and type, and make appointments.
Advantages of doctor appointment app development
With the emerging trend of expanding remote services, it's no surprise that healthcare-related virtual visits are skyrocketing and therefore require a reliable booking service to make doctor appointments easier and with minimal friction.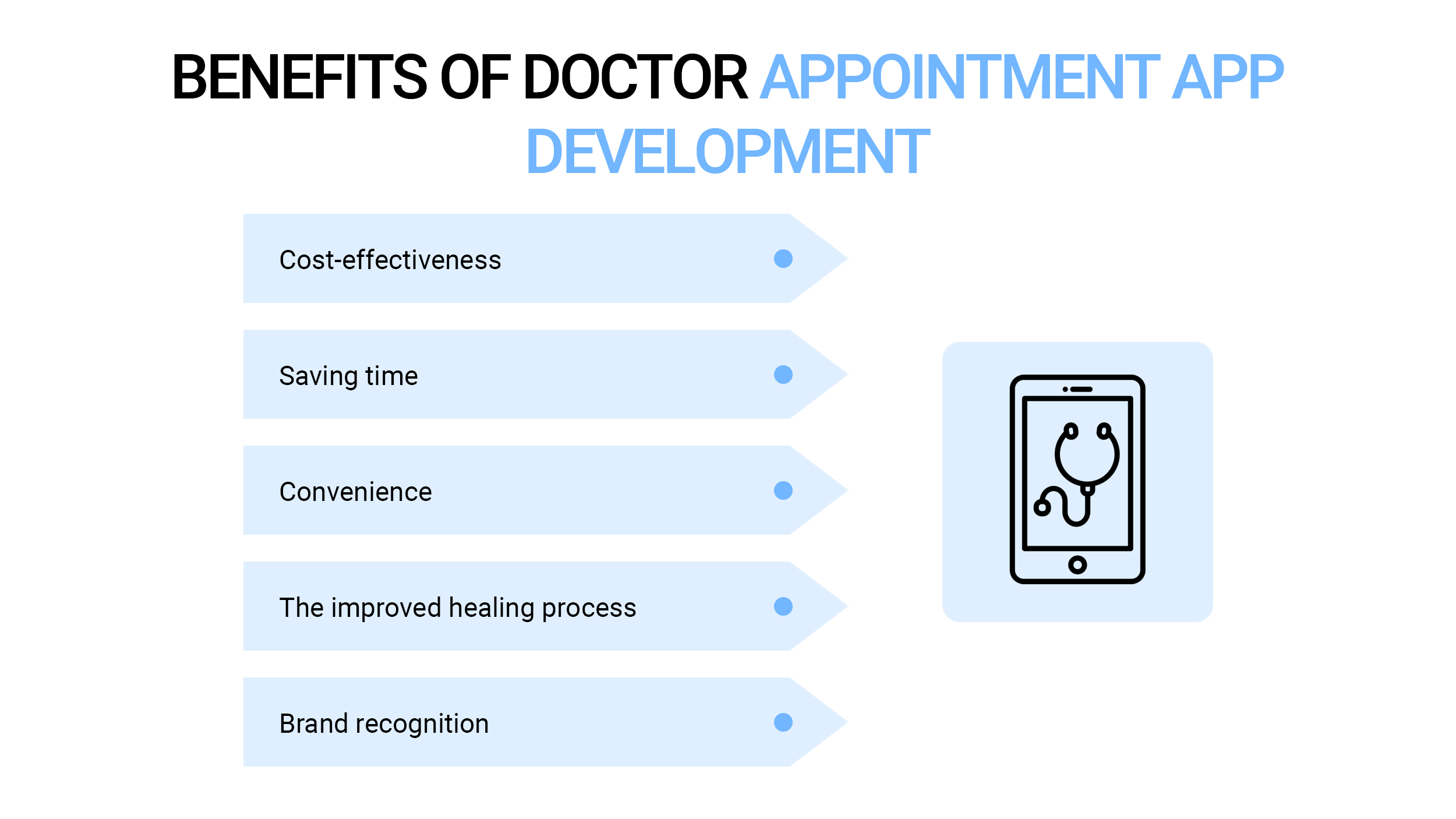 Healthcare booking apps are equally useful for doctors and patients. The most crucial of them are:
Cost-effectiveness
Patients do not need to waste time visiting hospitals. What's more, making an appointment online is cheaper than making an appointment in person. And it is unlikely that patients will miss a visit or transfer.
Saving time
People can make appointments quickly using the online doctor appointment system, while doctors are not involved in the appointment process, so their time is also saved. Reminder notifications also inform patients that an appointment is coming soon, which reduces the number of no-shows.
Convenience
When patients are ill, they can easily find a doctor; all they need is an internet connection and a smartphone. If the application is built with an intuitive user interface, the patient can make an appointment much faster than if they called the hospital.
Availability
Video conferencing provides a more comfortable communication between patients and doctors. If patients have skin problems and visible injuries, they can show this to a doctor. Also, if the patient is disabled, he still has the opportunity to communicate with doctors. Online payment is another advantage as it takes a few seconds.
The improved healing process
Patient confidence is growing, they can receive qualified medical services on time. In turn, health care providers can reduce health care costs and improve services tailored to patient needs. Doctors make prescription lists and oversee medication regimens.
Brand recognition
When patients communicate with the clinic, where they are treated with the utmost care, trust and loyalty are increased. Most likely, next time they will choose the same clinic. So making an appointment with a doctor is a great way to take it to the next level.
Key features of on-demand doctor appointment apps
To build a medical app, you have to thoroughly pick each feature. There are three types of user's roles: patient, doctor, and administrator. Let's overview the most critical features.
Patient user role
Easy login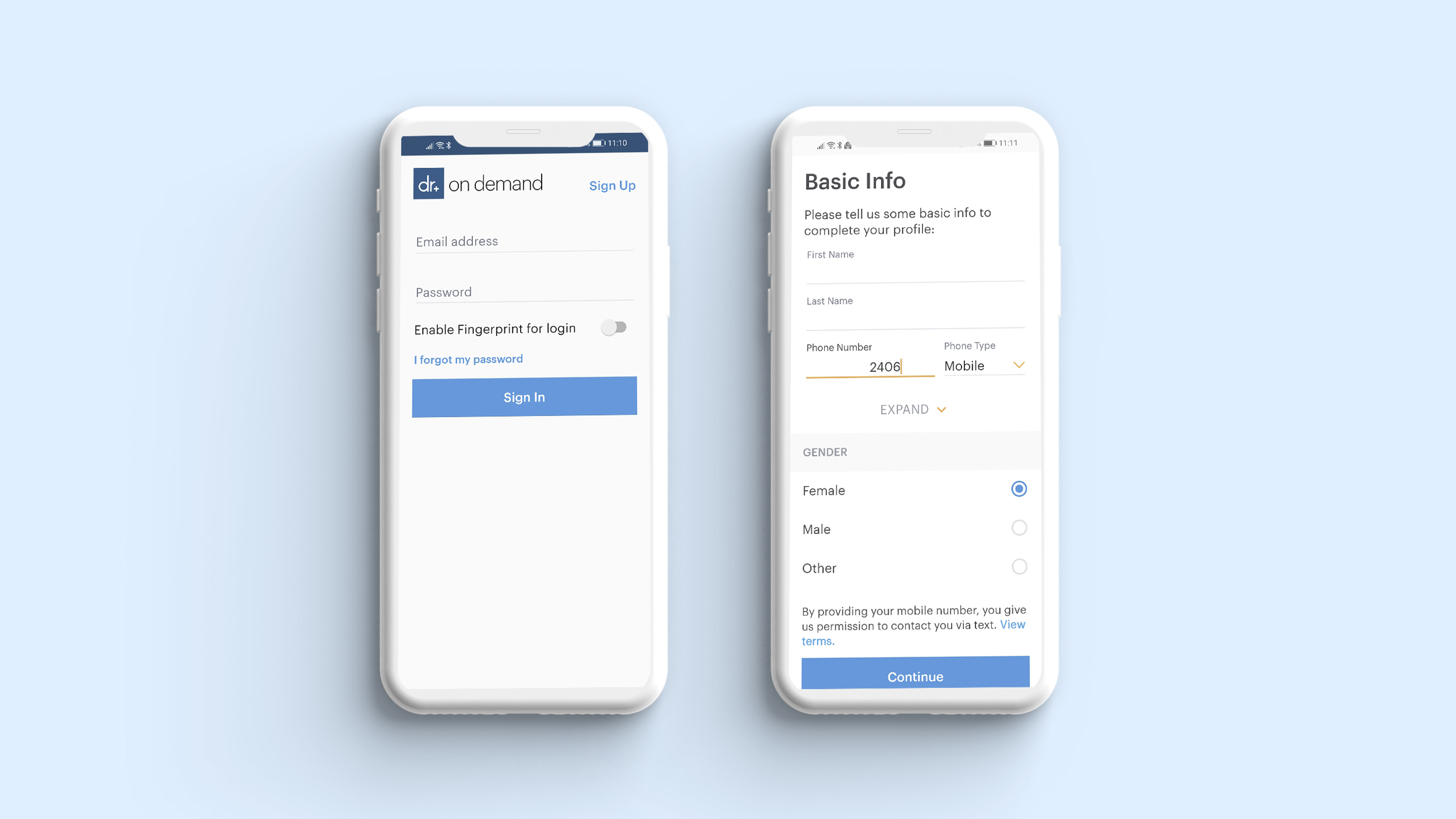 The app should ensure a simple and secure login with many options to choose from. I.e., number, email, social networks, etc.
User profile
The patient profile has to include personal information and the ability to grant permission to the doctor to access the data.
Appointment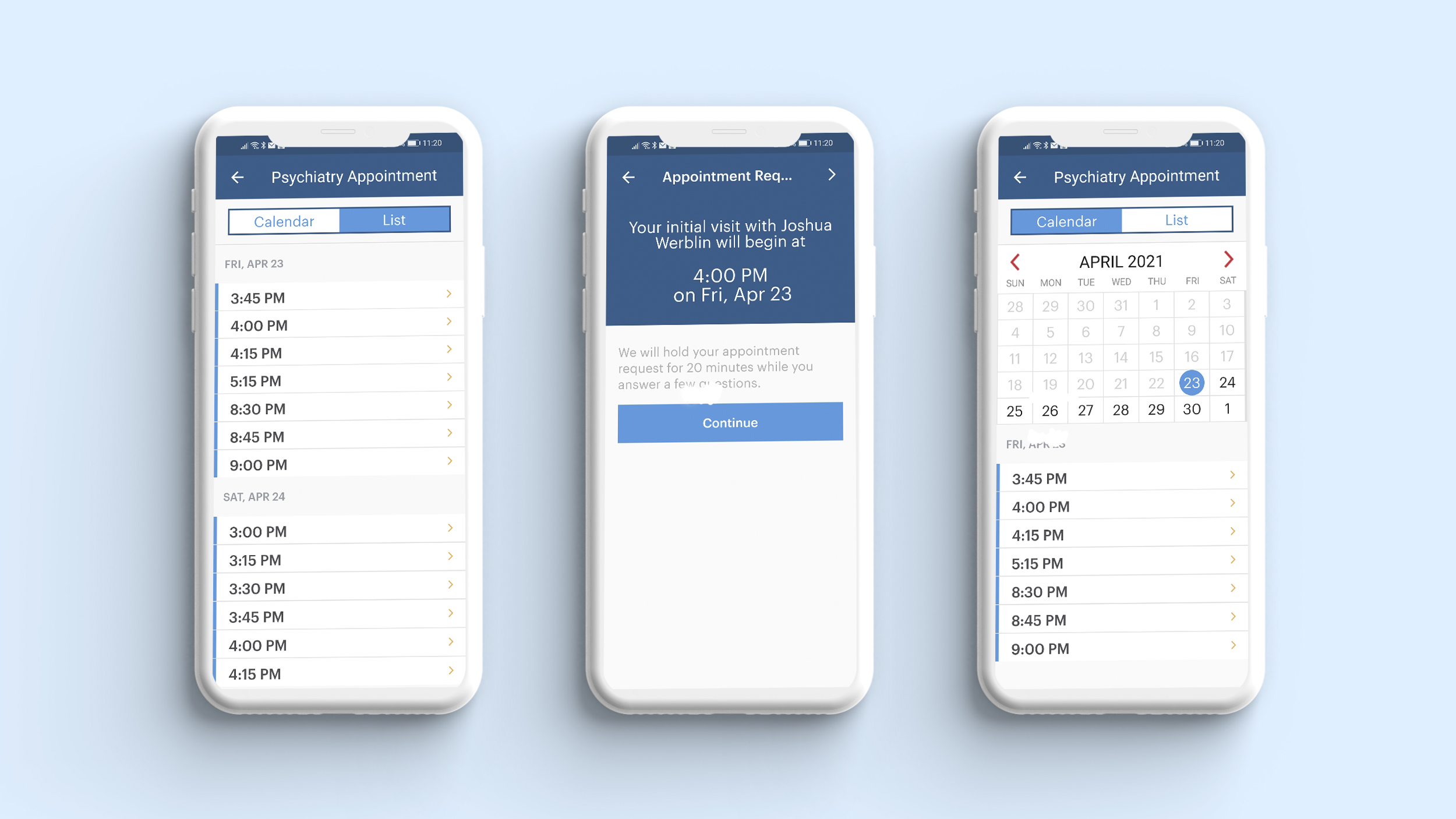 Patient-centered scheduling should include easy-to-view slots that contain all the information you need about physician availability, as well as options for booking times, days, dates, cancellation policies, and more.
Notification
Notification icons help customers be aware of critical updates.
Find your doctor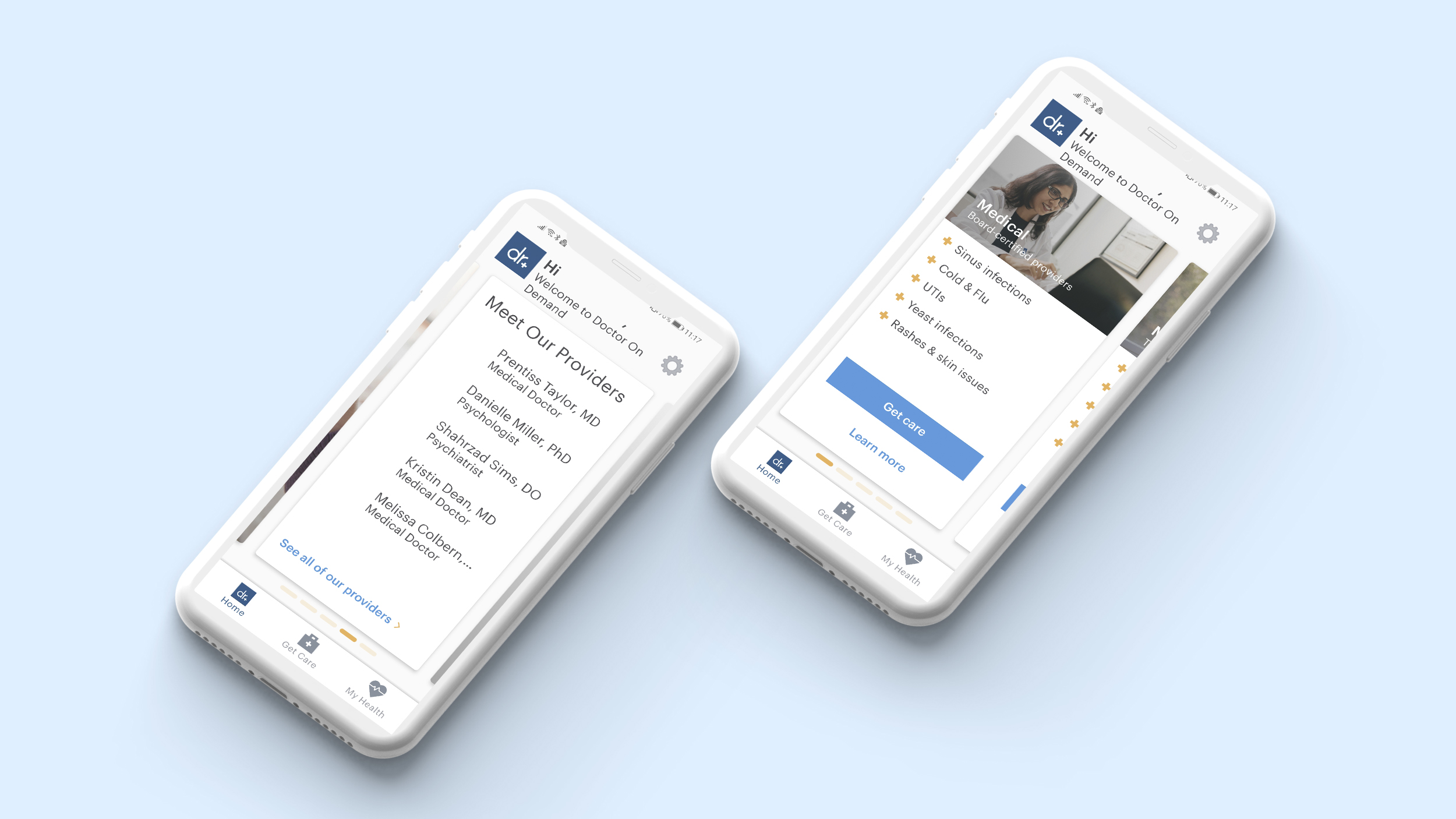 The integration of maps with convenient navigation will help your patients find doctor's offices or clinics without any problems. With advanced features, the app can offer patients directions from their home to the nearest hospital.
Payment 
The in-app payment system provides instant access to the service and simplifies billing. Automatic payment for consultations is critical for correct work.
Review and assessment of access
The rating system and the ability to leave comments, make planning easier and helps the customers interact with the app.
Ask your doctor
The ability to ask questions or check for symptoms early on can be a game-changer for providers and customers alike and can be an efficient feature for preventive health care.
Preferences
Save your favorite healthcare providers in one place for simple appointments next time.
Doctor role
Doctor profile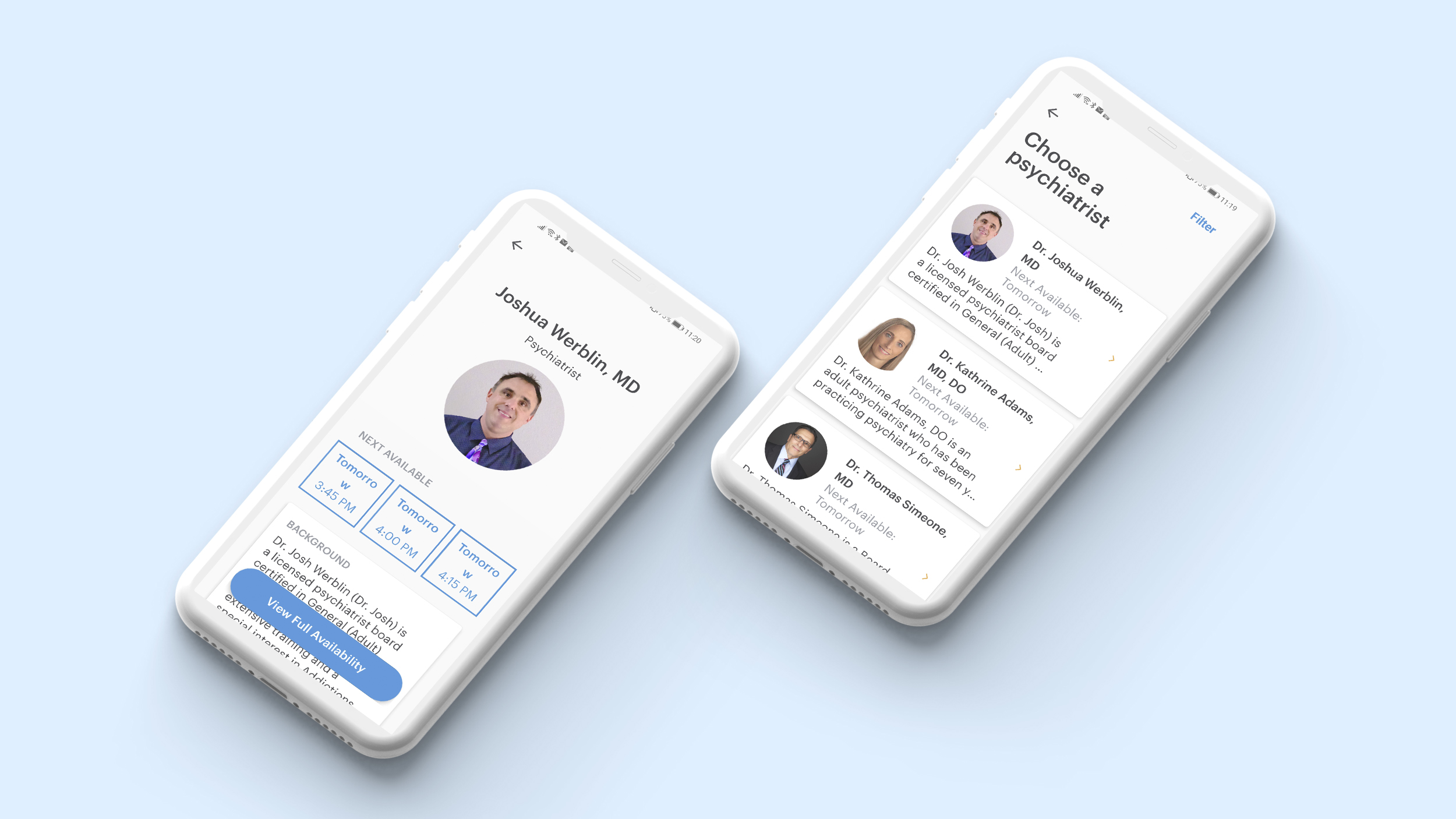 Doctors need the opportunity to create a module with frequent updates. Crucial data includes the doctor's specialty, location, overview columns, and analytics to help physicians manage the work.
Check meeting status
The app needs an appointment status tab and a fully functional appointment email, phone, or app reminders to avoid missed appointments.
Publishing slots for booking
There should be built-in functions for working with a functional calendar and managing appointments.
Control booking
To improve the system, physicians have to provide instant feedback when it comes to scheduling and accepting or rejecting appointment requests.
In-app chat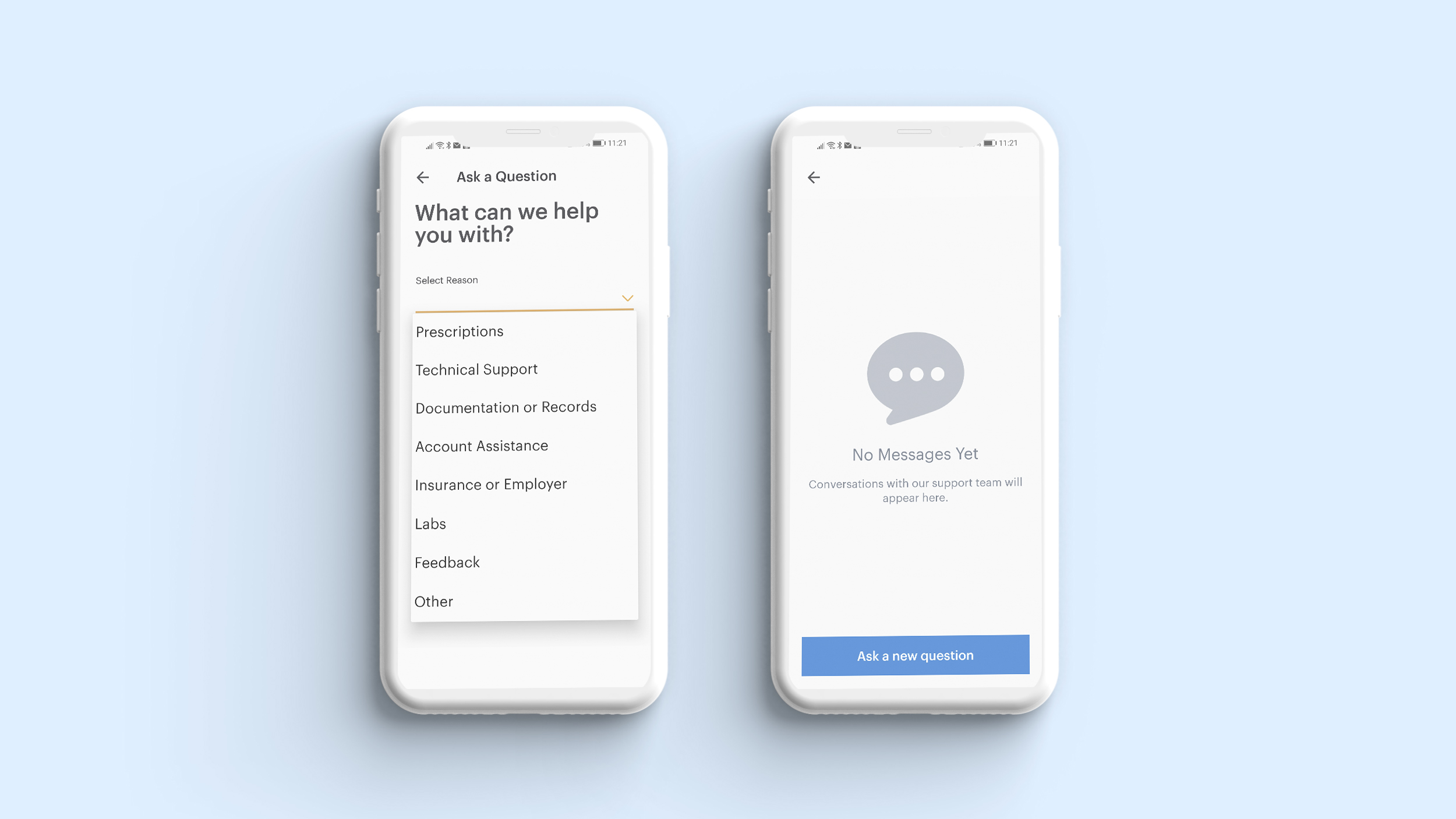 People expect physicians to be available on HD video platforms with access to audio and chat integration.
Internet recipe
Physicians need the opportunity to prescribe the medication just in the app. It makes the process easier and people could order prescriptions from the chosen pharmacy.
Admin role
Management
The admin panel requires physician and patient-related data for both proper and more complete management.
Content management system
The role of the admin panel in the CMS is to ensure that informative blogs/articles to exclusive publications by health experts are available to users of the appointment doctor app.
Analytics
Used to identify, understand, and represent meaningful patterns in data. Real-time predictive analysis is the foundation of effective patient health management.
Marketing tools
Marketing tools are essential to promote the relevant clinic/hospital. Since the dashboard takes care of external things, effective marketing should be used regularly to maximize their impact.
Communication methods
From email to video conferencing, a doctor's appointment application should offer multiple communication methods for the benefit of both the doctor and patients.
Reporting
It is important to check the daily activity of the application, therefore the reporting function is a must for the application to make an appointment with a doctor. This allows you to understand where you might need some improvement and in what area you are strong right now.
The strategy of doctor appointment booking app development
We have prepared a detailed description of how to make an application for making an appointment with a doctor. The doctor appointment app is complex and requires a responsive approach, so keep this section on track and read it carefully.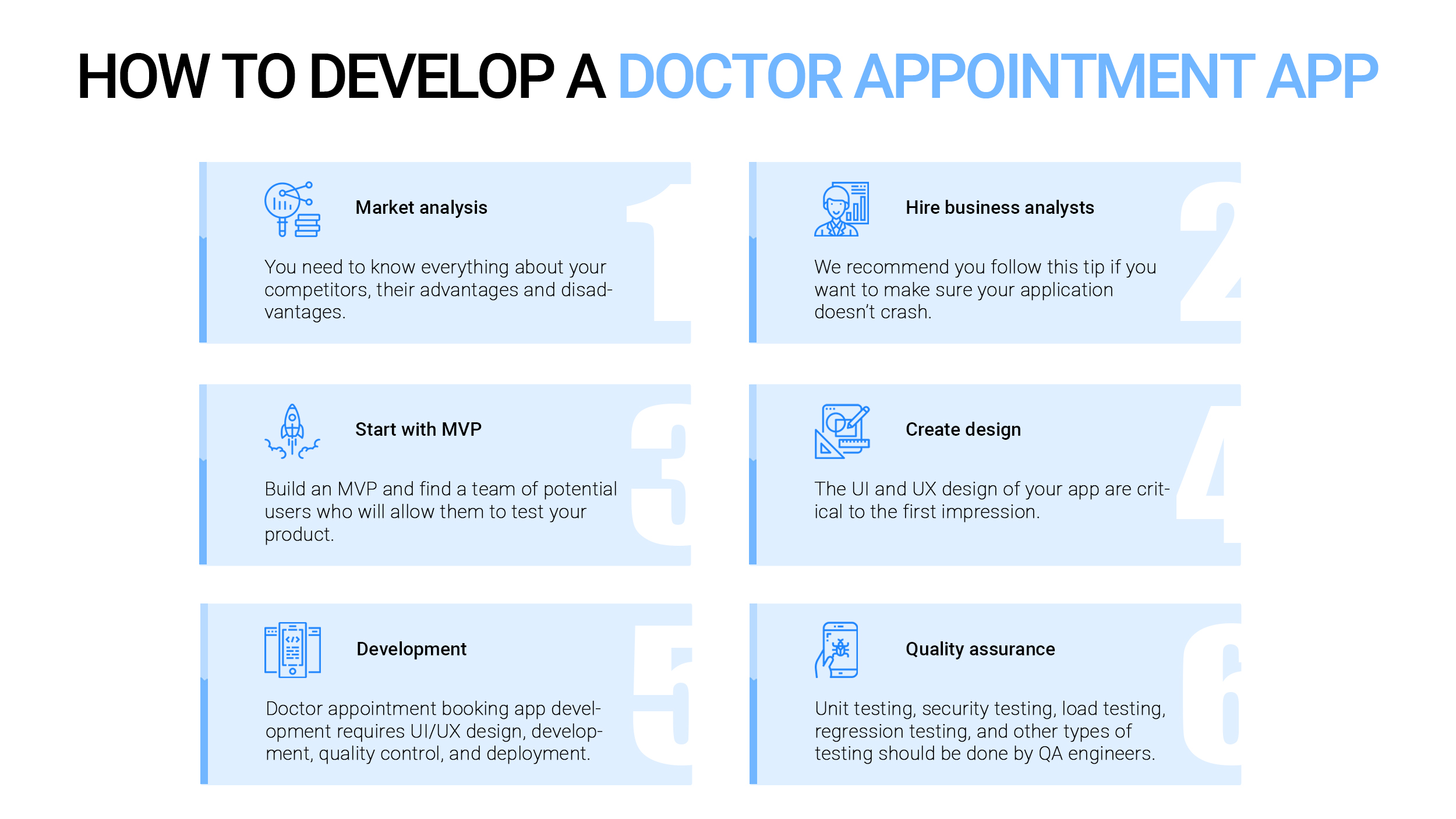 1. Market analysis
Market analysis is the first thing that precedes the development of any application. You need to know everything about your competitors, their advantages and disadvantages. If you want to stand out from the competition, your app needs to provide users with something unique and different. A mobile app business plan can help you cover all the important milestones, so be sure to use it.
2. Hire business analysts
We recommend you follow this tip if you want to make sure your application doesn't crash. Hire a business analyst or even a team. They will help you build the right business model, conduct a SWOT analysis, and think through possible use cases. This way, all potential risks will be taken into account and your application will be prepared for this.
3. Start with MVP
Build an MVP and find a team of potential users who will allow them to test your product. The importance of MVP is undeniable, and it helps you find the right path. Even if a business analysis was carried out, the opinion of potential customers would be most valuable. If the app meets customer expectations, you can keep changing it.
4. Create design
The UI and UX design of your app are critical to the first impression. Moreover, your application should be user-friendly and easy to use, and patients should not have any navigation problems. Developing a doctor appointment app means that patients have to quickly find and contact a doctor, so the process should be as simple as possible. You can also check out the best healthcare website designs to use as a clear UX example.
5. Development
You need a team of developers to complete the project. Doctor appointment booking app development requires UI/UX design, development, quality control, and deployment.
6. Quality assurance
Any application requires quality assurance. But the application for finding doctors includes a set of different tests since it should be free of errors. Unit testing, security testing, load testing, regression testing, and other types of testing should be done by QA engineers when developing an application.
Technology stack
Many tools can be used to develop doctor appointment applications. However, we can list an approximate technical stack that our team would use for such a product.
| | |
| --- | --- |
| Programming language | Swift (iOS), Kotlin/Java (Android), Python/Ruby/Java (back-end) |
| Frameworks | React Native/Flutter (cross-platform apps) |
| In-app chats and video calls | Twilio/Agora/Vonage/Nexmo |
| Push notifications | Twilio, Push.io |
| Database | PostgreSQL, Cassandra, MongoDB, Mailchimp, Hbase |
| Payment gateway | Stripe, Braintree, PayPal |
| Cloud solutions | Amazon Web Services (AWS), Google Cloud Platform, Microsoft Azure |
| Multiple payment modes | Google Money, Braintree, PayPal, Stripe, eWallets |
| Real-time analytics | Flink, IBM, Spark, Bigdata, Apache, Cisco, Hadoop |
How to earn money with doctor appointment app
Doctor appointment apps have plenty of different monetization models. Specifically, monetizing appointment decisions includes, but is not limited to: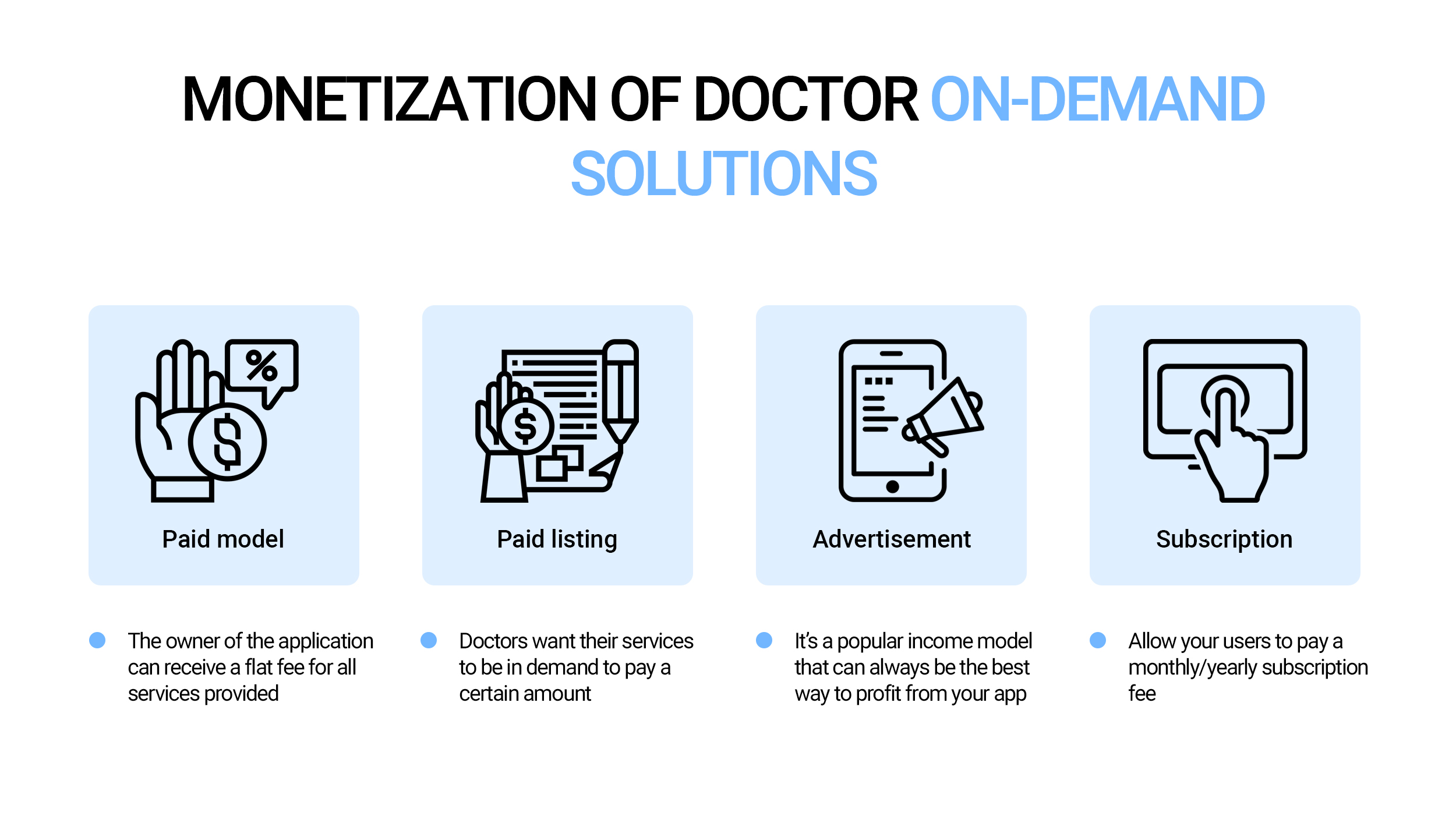 Paid model
The owner of the application can receive a flat fee for all services provided in the application. When a patient pays for services, a flat fee of that amount will be shared with the owner. This is a common practice in such applications.
Paid listing
Competition in healthcare is not new either. Doctors want their services to be in demand to pay a certain amount to be on the recommended doctors list. This allows them to receive more inquiries from potential patients.
Advertisement
It's a popular income model that can always be the best way to profit from your app. However, do not forget that too many advertisements can confuse users and allow them to find another doctor search app.
Subscription
Allow your users (both patients and doctors) to pay a monthly/yearly subscription fee to use the app without ads and get some extra premium features that the free app doesn't have. Moreover, you can provide subscribed users with many more interesting bonuses.
Cost of on-demand doctor appointment app development
The cost of an on-demand doctor appointment app can range from $20,000 to $100,000, It depends on several factors:
the app complexity,
number of functions,
development platforms,
third-party API integrations,
location of the chosen team,
size of the development team, etc.
If you want to save money, the best option is to start with MVP (minimum viable product) development. It helps you to get meaningful feedback from users, understand what they need and not create something that they are not interested in. The second tip is to choose the development team somewhere from Eastern Europe. Commonly, the Ukrainian or Polish developers' hourly rate is two or three times less than the developers from the US or Western Europe.
Tips to save your budget
Your doctor's appointment app must comply with legal requirements depending on the region because it stores and processes users' data.
✓Encryption
Developers must use encryption protocols to prevent attackers from stealing data. Users feel comfortable and loyal when they know their personal health information is protected.
✓Data backup
It is required to use cloud servers and organize automatic data backups to restore them in case of failures or failures.
✓Medical license check
Patients want to know the doctor's skill level, so your application must have a built-in algorithm that checks the license by its ID number. So the license must be available in the doctor's profile.
The final thought: how to choose a doctor appointment app development company
Summing up, the most crucial is to find the right vendor. Choosing the web development company, pay attention to its portfolio, check if the developers have relevant experience, make sure that culture and time zone differences will not interfere with the workflow.
We hope we clarified the situation. We'll answer the most widespread questions on this topic in the FAQ section below, but please contact us with any specific questions. We will be happy to take you on this exciting journey. Because it's time to create an appointment app!
Healthcare software development services
✔Related articles:
Progressive web application development: Cost, Tech Stack, Advantages
Food delivery app development: tips to save your budget and nerves
How to create your own music streaming app that brings clients
How to develop a drop-in audio chat like Clubhouse