The benefits of Web 3.0 are becoming increasingly evident as more people begin to use it. Reports of people purchasing virtual land in the Metaverse and developing wallets and games can be heard. However, Web 1.0 and Web 2.0 came before Web 3.0. Web 2.0 is the current version of the Internet and is marked by users' active involvement in the generation of content, largely on social media sites. Web 1.0, the prior version, was solely intended to allow individuals to access information in a passive manner.
Web 3.0 is the Internet's prognosticated future, characterized by its boundless capacity. Even though it has only recently begun to advance out of its inception and is still growing, research indicates that approximately 50,000 people were already making use of Web 3.0 environments by 2021. Remarkably, the finance sector has been fast to adopt Web 3.0 and its related technologies; it is estimated that nearly half of all financial applications are web-based. The advantages of Web 3.0 are numerous, with the protection and safety for users and the refined advertising prospects for enterprises being particularly noteworthy.
In this article, we will be analyzing the advantages and disadvantages of Web 3.0. If you are interested in taking advantage of the capabilities of Web 3.0, we can offer our assistance. Please reach out to us for further help.
What Is Web 3.0? 
The Internet has progressed through various stages since its birth and is now venturing into the Web 3.0 era. Presently, we reside in Web 2.0, mostly user-generated (as demonstrated by social media networks) but centrally managed.
The Semantic Web, or Web 3.0, is altering this system by enabling humans and machines to communicate without accessing any centralized systems. No longer will data be held by only a few, but instead made accessible to all. 
Web 3.0 is characterized by innovations such as distributed ledger technology, AI, and the Internet of Things. By utilizing smart contracts and blockchain technology, Decentralized Finance (DeFi) strives to reduce the cost and expedite financial transactions; both of which are hallmarks of Web 3.0.
In addition to these tangible aspects, Web 3.0 is characterized by a number of marked traits, such as: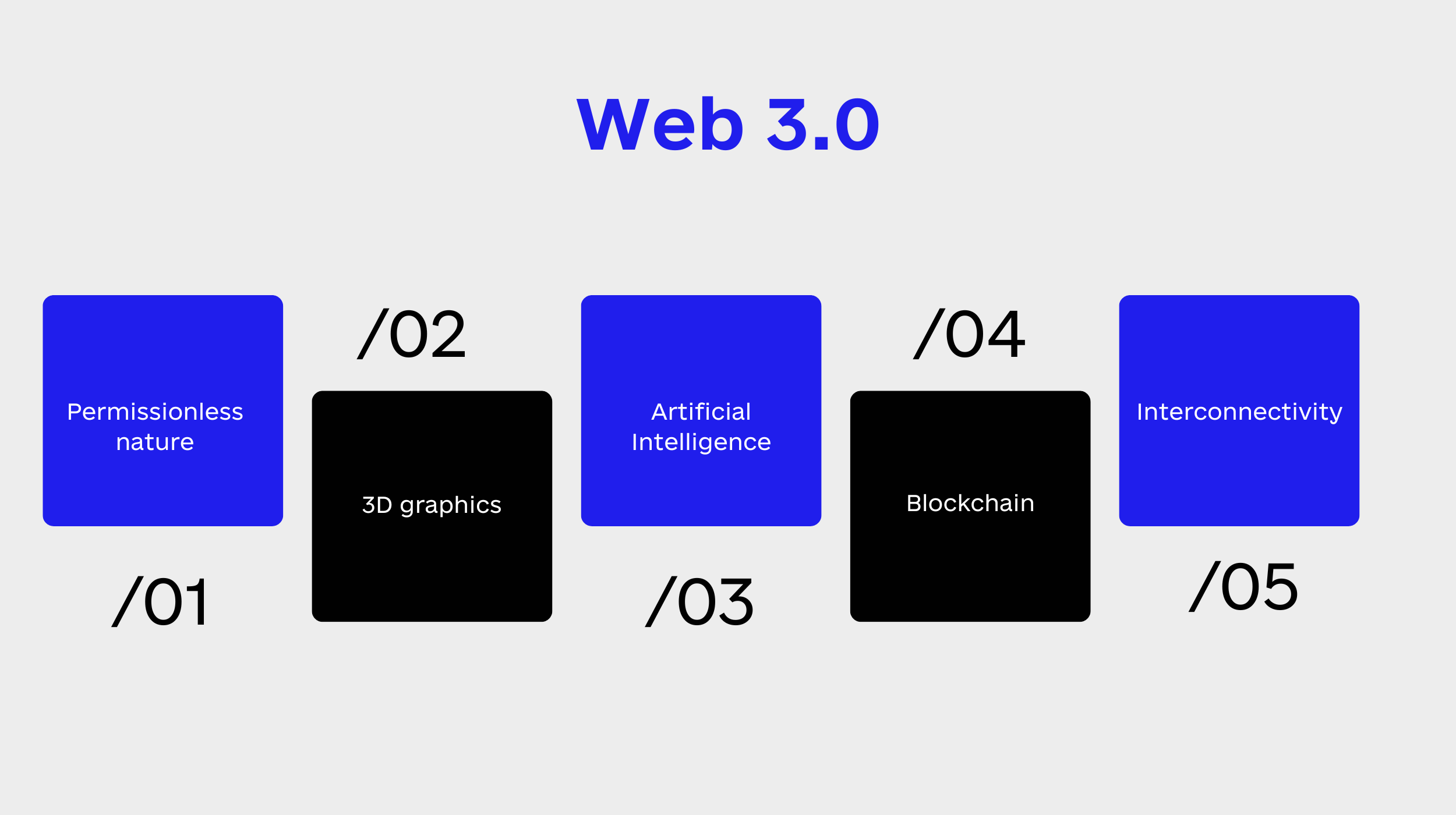 Permissionless nature
The decentralized nature of Web 3.0 allows users to post content and communicate with each other without requiring permission from any centralized authority.
3D graphics
The utilization of 3D graphics enables Web 3.0 to better illustrate concepts. This type of graphical representation is already commonplace in computer games and films.
Artificial Intelligence
Algorithms and machine learning can be used to replicate human thought processes, ultimately providing more pertinent results in web searches with the help of artificial intelligence.
Blockchain
Blockchain, a key element of Web 3, provides many advantages. When users link blocks of data in a sequence, they create an immutable record that cannot be modified by any third-party. This ensures greater transparency and security. For example, blockchain can help to detect fraudulent insurance claims.
Are you looking for blockchain developers for your project? Check out our blog to uncover the steps for locating the ideal talent.
Interconnectivity
It is estimated that in 2020, there were 9.7 billion connected devices enabled through the Internet of Things, and figures are expected to reach 29 billion by 2030. This technology facilitates the seamless communication and seamless integration between a wide range of devices.
Web 3.0 vs. Web 2.0: What's the Difference?
The functions and features of Web 3.0 demonstrate that it is distinct from Web 2.0. Listed below are the contrasts between Web 3.0 and Web 2
Pros and Cons of Web 2.0
Web 2.0 revolutionized the World Wide Web by introducing a read/write platform, allowing users to take an active role in creating content rather than simply consuming it. This was a massive step up from the read-only Web 1.0. But what are the advantages of Web 2.0 and are there any potential drawbacks?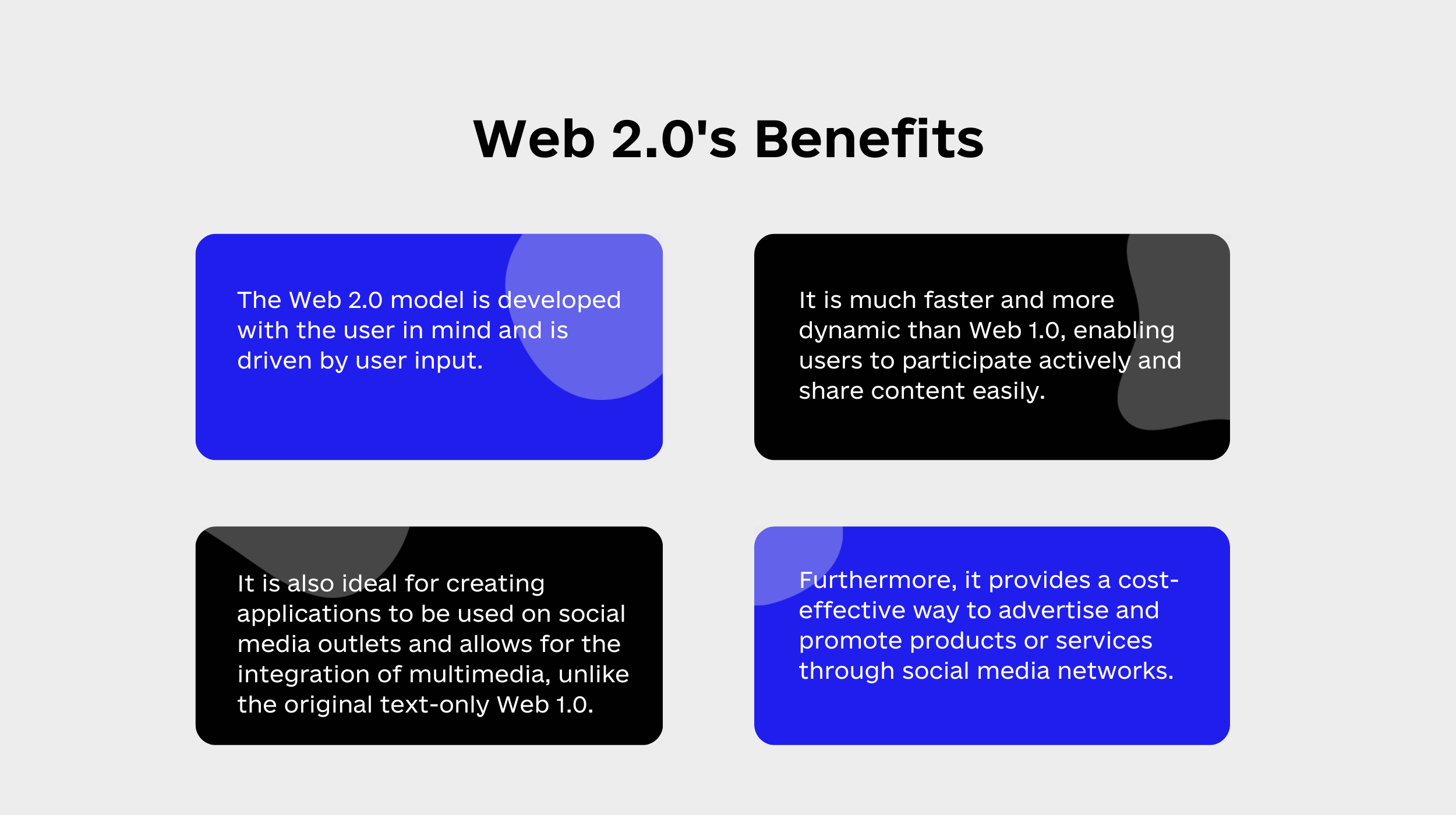 Web 2.0's Benefits
The Web 2.0 model is developed with the user in mind and is driven by user input

It is much faster and more dynamic than Web 1.0, enabling users to participate actively and share content easily.

It is also ideal for creating applications to be used on social media outlets and allows for the integration of multimedia, unlike the original text-only Web 1.0.

Furthermore, it provides a cost-effective way to advertise and promote products or services through social media networks.
The Drawbacks
The centralization of data makes it susceptible to malicious attacks, leaving users with no control over their personal information.

Furthermore, users are reliant on the benevolence of server administrators, and their privacy cannot be guaranteed. To ensure transparency among users, data should be clear, precise and accurate.

Additionally, there is an abundance of fraudulent activity and fake identities.
Weighing the Benefits and Drawbacks of Web 3.0
Web 3.0 presents an innovative method of engaging with computers, with virtually limitless possibilities. Taking the advantages into consideration, there are also certain obstacles that accompany Web 3.0. Let us examine both the benefits and drawbacks of this technology.
Advantages of Web 3.0 
The blockchain's cryptographic properties and consensus mechanisms provide considerably enhanced security for data. 

Through distributed ledger technology, users can feel assured that their data is secure and untraceable, with full control in their own hands. This enables direct interactions between users and companies, creating a direct connection between the consumer and the business. 

The dispersed nature of the system drastically reduces the chance of service outages.

The prevalence of distributed applications renders data accessible at all times. 

Users are able to customize their online experience to their own requirements via the Internet. Furthermore, artificial intelligence has enabled search engines to be more dependable. 

As a result of the absence of an intermediary, content creators are now able to gain more compensation for their work. To illustrate, digital artists are taking advantage of this development through the sale of Non-Fungible Tokens (NFTs). 

Cryptocurrencies and other digital tokens also provide a means for individuals to engage in online transactions.
Disadvantages of Web 3.0
Web 3.0 is highly intricate and may present a challenge to those lacking technical skills. 

The costs of transitioning to Web 3.0 are substantial due to its complex architecture. 

There are concerns that illegal activities, such as cyberbullying and fraud, could easily go unchecked in an unrestrained Web 3.0 as it would be tough to regulate and monitor. 

Additionally, other websites require maintenance and development to successfully integrate into the Web 3.0 era. 

As web 3.0 evolves, so does the risk of personal information being misused.
Is It Time to Embrace Web 3.0, Then?
The emergence of Web 3.0 has inspired revolutionary trends in the world of web development, including the Metaverse and a completely immersive online experience. This epoch is greatly beneficial to both brands and users alike. With the required skillset, Code&Care can utilize this innovation to execute effective marketing campaigns for your business. We are proud to have worked on many projects, with Metaverse wallets and web portals being some of our most noteworthy creations.