Looking to develop a healthcare Customer Relationship Management (CRM) system that will help you better manage patients and streamline business operations? CRMs help medical facilities to centralize patients interactions in order to streamline communication, operational process and marketing functions. 
Having a clear picture of internal processes is a primary motivation for healthcare CRM development. Successful long-term patient management and revenue generation depends on hospitals implementing customer relationship management (CRM) systems. In fact, CRMs are now a popular healthcare trend, as many organizations and providers can attest to their benefits. The market is also expected to grow from its current value of USD 14.3 billion in 2021 at a CAGR (compound annual growth rate) of 8.4% between the years 2022 and 2030, as reported by Statista.
While there are many advantages to using a customer relationship management system, it is not without its difficulties. It's important to think about whether off-the-shelf options will meet your needs or if you'll be better off creating a custom healthcare-focused CRM.
Our experience as a custom software development firm serving businesses across sectors has shown us that the health tech industry is no exception to the trend of customers moving away from pre-made solutions and toward creating their own. So, we decided to put together this manual to help you out. It will demonstrate the many advantages of a tailor-made CRM solution for the healthcare industry. We'll delve deeper into what each stage of the SDLC (research, requirements writing, design, and development) entails. We'll also explain how EHRs and CRMs differ from one another, despite their superficial similarities.
What is a CRM (Customer Relationship Management)?
A CRM is a tool or software used to help businesses manage their customer relationships. It is a system that consolidates customer information and interactions, such as contact details, interactions, sales, and customer service, into one dashboard. It allows businesses to streamline various processes and helps them to gain deeper insight into their customers and their interactions with the company.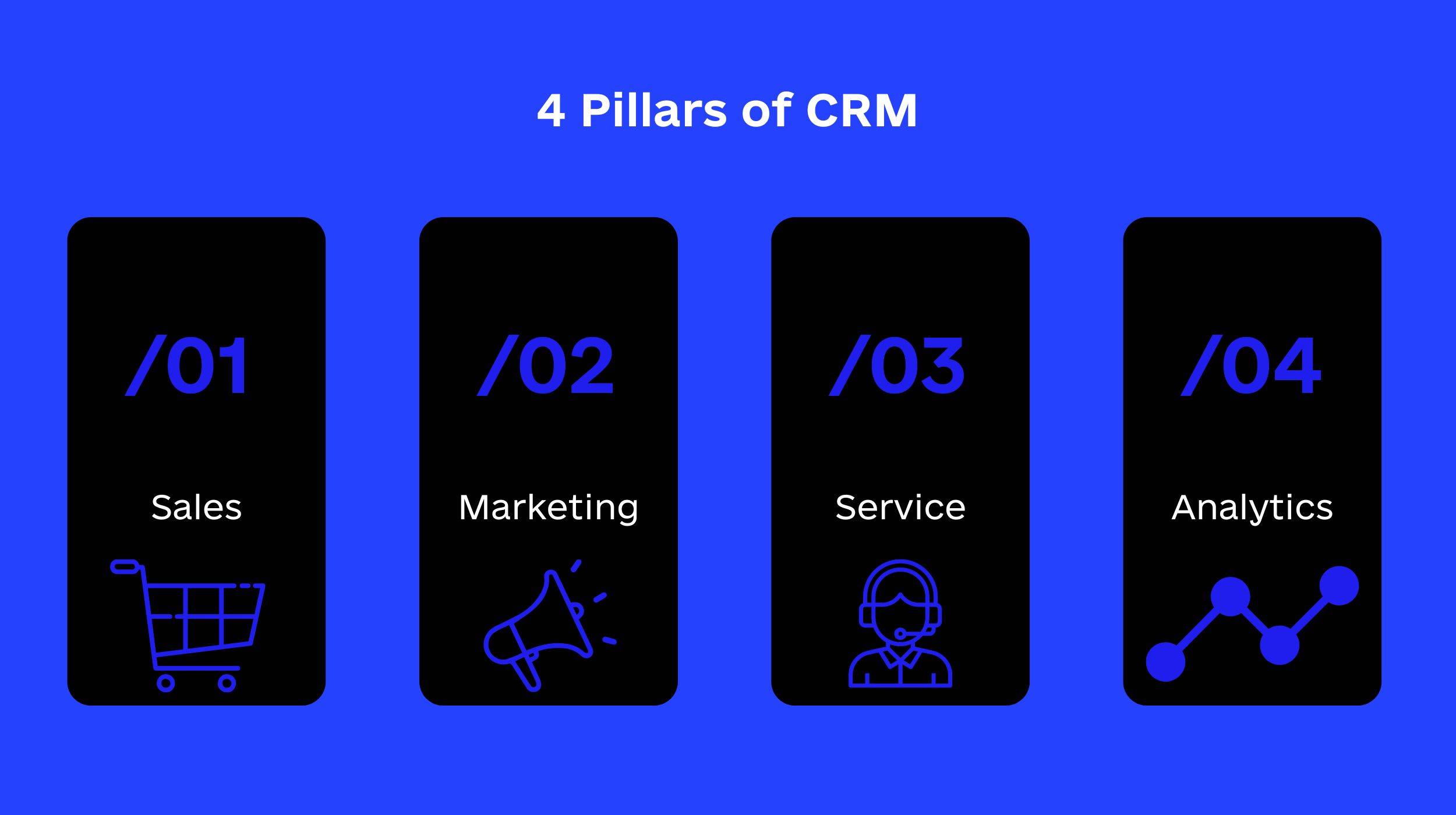 The four pillars of CRM are:
Sales: Planning and tracking of sales activities, such as leads, opportunities, and customers.
Marketing: Automating marketing activities, such as email campaigns, social media campaigns, and more.
Service: Managing customer service activities, such as log tickets, track customer inquiries, and manage customer support.
Analytics: Monitoring and analyzing customer data, such as customer buying patterns, customer segmentation, and customer lifetime value.
What Makes Hospital CRM Different from Others?
To begin, hospital CRMs are developed specifically for hospitals and medical centers. In light of this primary purpose, it is easy to see how their features and applications diverge from those of CRMs used in other sectors. Here's a breakdown of these key differences:
Data Privacy Prioritization: Healthcare data is highly sensitive and regulated. This means that CRM systems for healthcare need to adhere to strict privacy laws such as HIPAA. They need to ensure that patient data is securely stored and protected.
Healthcare Specific Customizations: The healthcare industry has its own unique processes, workflows and terminology, so healthcare CRM systems need to be highly customizable to match the specific needs of healthcare organizations.
Integration with Medical Systems: In healthcare, a CRM system needs to be able to integrate with other medical systems such as EHRs, lab systems, and billing systems to provide a comprehensive view of patient data.
Comprehensive Patient Engagement: CRM systems in healthcare need to not only manage interactions with patients but also allow for patient engagement. For example, a CRM system for a hospital might include appointment scheduling, feedback forms, and patient portals for accessing health information.
Clinical Workflows: Healthcare organizations have complex clinical workflows and processes, so a CRM system for healthcare must be able to support these workflows and help streamline them.
Is Healthcare CRM and EHR the Same?
Hospital CRMS aren't only for the doctors and nurses who work there. It's helpful for patients, marketers, customers, salespeople, and CEOs. A detailed analysis of the positives from every angle follows.
| | |
| --- | --- |
| Healthcare CRM | EHR |
| Developed for: | Developed for: |
| Sales and marketing teams, customer service teams, administrators, and healthcare providers | Clinicians, nurses, physicians, patients, pharmacies, diagnostic centers, and other healthcare providers |
| Distinctive features: | Distinctive features: |
| Built for sales and customer relationship management, focuses on lead and customer engagement and management, may include features such as appointment scheduling and reminders, marketing automation, customer insights and reporting | Built for patient care and medical record management, focuses on clinical documentation, patient data, and care plans may include features such as electronic prescriptions, lab results, and appointment scheduling |
| Patient interaction: | Patient interaction: |
| Can include patient portals, appointment scheduling, SMS and email communication, feedback and satisfaction surveys | Can include patient portals, appointment scheduling, online access to medical records, and secure messaging |
| Sales capabilities: | Sales capabilities: |
| Can include lead management, appointment scheduling, marketing automation, and sales forecasting | May include appointment scheduling and billing, but typically does not include sales-specific features |
| Use cases: | Use cases: |
| Generating leads, managing customer relationships, appointment scheduling, marketing and campaign management | Clinical documentation, medical record management, appointment scheduling, patient care management, and population health management |

To sum up, electronic health records (EHR) optimize the treatment process, while customer relationship management (CRM) prioritizes patient satisfaction and turns them into repeat customers through personalized offers.
You can have the best of both worlds with the integration of the two systems rather than having to pick one or the other. Profits can be increased further by integrating insurance databases, document management systems, billing systems, and patient databases. Keep in mind, though, that HIPAA security requirements must be met by all medical software.
Why Do You Need a CRM for Your Medical Facility?
CRMS for medical centers aren't just meant for the providers. Patients, marketing, customer service, sales, business managers all benefit from it. Below is a comprehensive look at each side of the advantages.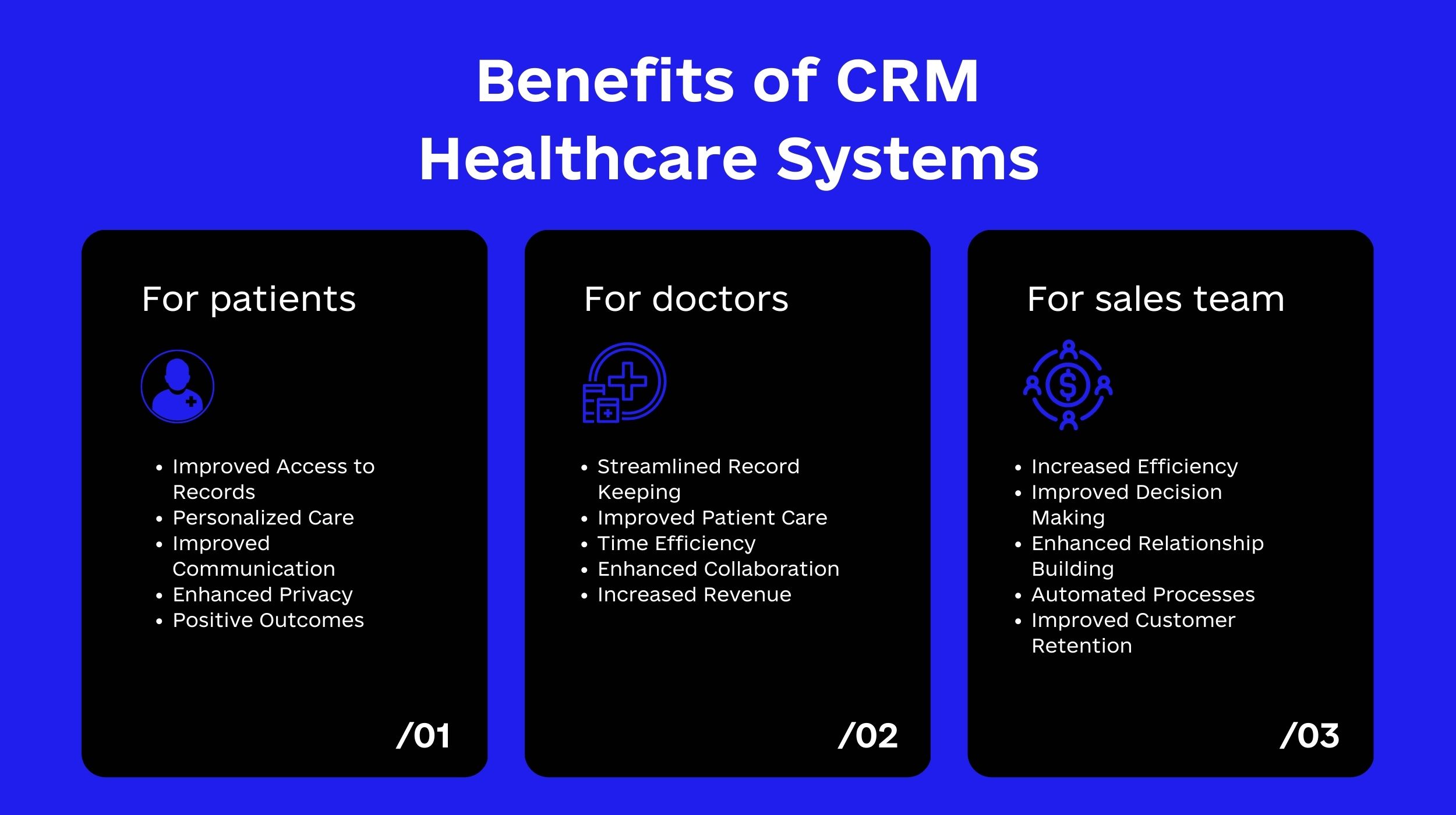 Benefits of CRM Healthcare Systems for Doctors
Healthcare CRMs can help practitioners in the following ways:
1. Streamlined Record Keeping:
Physicians can access a streamlined way to keep records, track patient information, and store data all in one place. Having this system in place speeds up the retrieval of patient information.
2. Improved Patient Care:
With healthcare CRM systems, healthcare providers can provide personalized, comprehensive care to their patients. The overall advantages of tailored treatments is improved patient care.
3. Time Efficiency
CRMs assist doctors with time management by streamlining administrative tasks and reducing paperwork. Using automation of  tasks, medical professionals can redirect their focus to providing quality care to their patients.
4. Enhanced Collaboration:
They facilitate collaboration between doctors and other healthcare providers. By providing access to the same patient data, doctors can collaborate more effectively,
5. Increased Revenue:
You can implement healthcare CRMs to increase your revenue since the software automates billing processes and provides insights into patient data. In essence, crm tools enable maximized resources and profits.
Benefits of CRM Healthcare Systems for the Sales Team
Here are some ways that sales and marketing departments can benefit from using patient relationship management software.
1. Increased Efficiency:
Sales teams also improve their efficiency through easier access to patient data and streamlined administrative tasks. It also means a hassle-free process for building relationships and closing deals.
2. Improved Decision Making:
Marketing departments might gain insights into patient data, leading them to make better decisions about which products and services.
3. Enhanced Relationship Building:
By using the system to store and track customer information, customer service teams can provide better experiences and build stronger patient trust.
4. Automated Processes:
CRM healthcare systems enable sales teams to automate their processes, including lead generation, customer onboarding, and order processing. 
5. Improved Customer Retention:
CRM healthcare systems help sales teams retain their customers by providing insights into customer data and enabling them to offer personalized services. This helps sales teams retain their existing customers and build a solid customer base.
Benefits of CRM Healthcare Systems for Patients
The advantages of healthcare customer relationship management for patients include:
1. Improved Access to Records:
Give patients easy access to their records and the ability to track their health data. This makes it easier for patients to keep track of their health and ensure that their personal information is secure.
2. Personalized Care:
Enable medical specialists to provide personalized, comprehensive care to their patients. By using the data stored in the system, doctors can better understand their patient's needs and create tailored treatments, resulting in improved patient care.
3. Improved Communication:
CRM healthcare systems facilitate communication between doctors and patients. Through the system, patients can quickly get answers to their questions and receive timely updates about their health. 
4. Enhanced Privacy:
Privacy is top of mind for patients. Thankfully, CRMs facilitate the keeping of their personal data in a secure environment, motivating patients to trust healthcare providers more.
5. Positive Outcomes:
Improve patient outcomes by providing insights into patient data and enabling doctors to provide more effective treatments.
The Different Modules of HCM
Healthcare CRMs can be implemented using the following modules:
Operations Management
Operations management modules comprise a suite of tools to aid with operations management. These tools help with automating administrative tasks, streamlining operations, and improving communication between departments. 
Application
– Automate administrative tasks, such as patient intake and billing processes
– Track patient outcomes and ensure that patient records are up to date
– Streamline appointment scheduling and document management
– Generate real-time reports to provide insights into patient data
– Provide a dashboard for analytics and reporting
Sales & Marketing Automation
Modules for sales and marketing automation help to reduce the amount of time spent understanding patients needs and ways to personalize their offerings.
Application
– Automate patient engagement and lead generation
– Automate email campaigns and patient follow-up
– Automate social media campaigns
– Generate real-time analytics and reports to provide insights into patient data
– Automate analytics and reporting to track the effectiveness of campaigns
Reporting & Analytics
As the name suggests, reporting and analytics modules are built to meticulously manage, store, and track patients' progress.
Application
– Automate patient tracking and follow-up
– Generate real-time analytics and reports to provide insights into patient data
– Automate analytics and reporting to track the effectiveness of patient care
Developing a Healthcare CRM System: An In-Depth Guide
Here's a step-by step guide to healthcare crm development from planning and design to implementation and maintenance.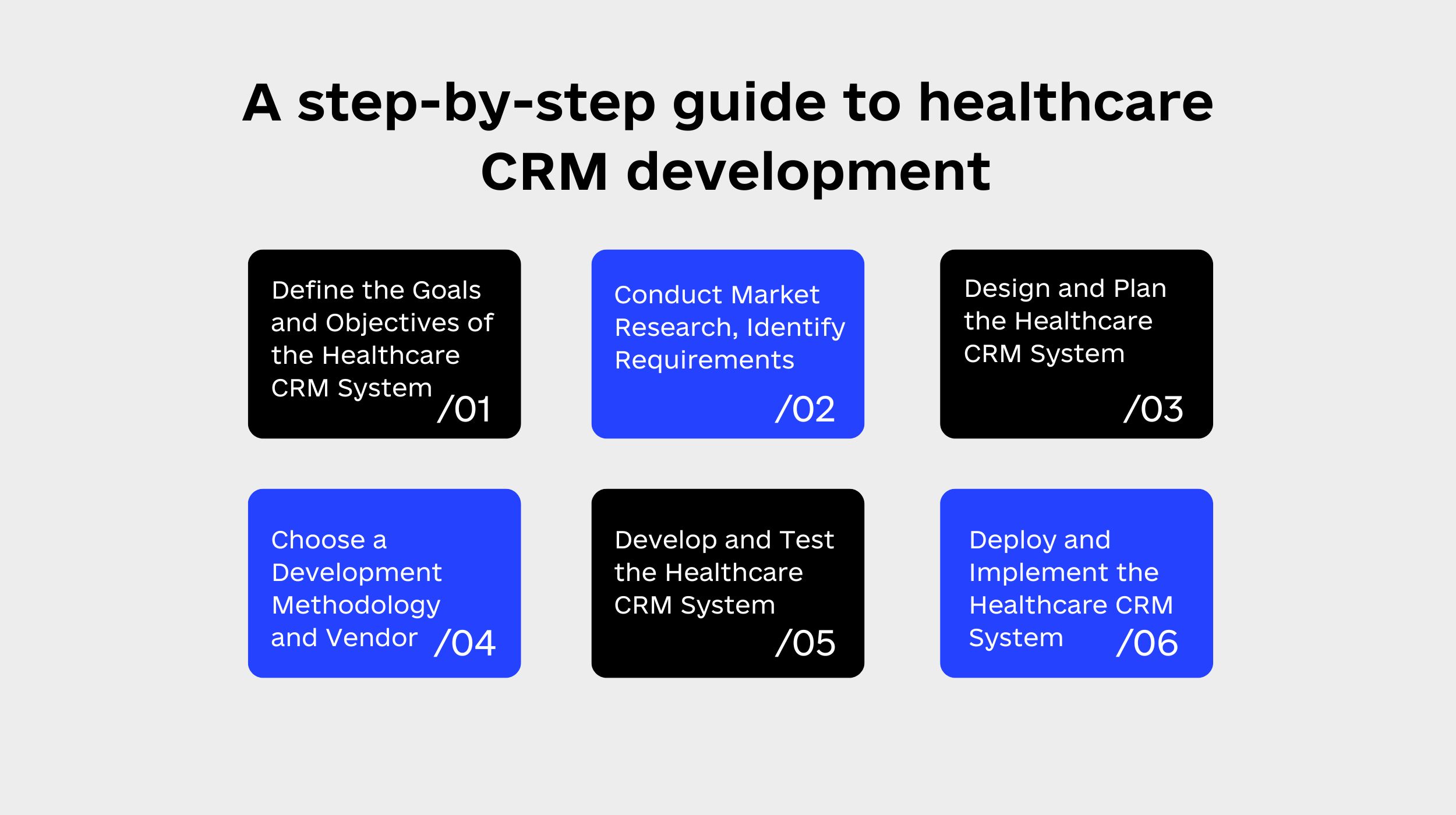 Step 1: Define the Goals and Objectives of the Healthcare CRM System
Start by defining the goals and objectives of the healthcare CRM system. What does the organization hope to achieve with the system, and what are the key features and functionalities that are needed to support these goals? Some common goals for healthcare CRM systems include:

Improving patient experience

Streamlining patient engagement processes

Increasing patient retention

Enhancing collaboration between healthcare providers

Improving patient data management and accessibility
Step 2: Conduct Market Research and Identify Requirements
Conduct market research to understand the available options for healthcare CRM systems and identify the features and functionalities that are essential for the organization. Some of the key areas to research include:

Available software solutions

Industry-specific requirements

Integrations with existing systems

Security and privacy concerns

Cost and budget considerations
Based on the research, create a comprehensive list of requirements for the healthcare CRM system. This list should be reviewed and approved by stakeholders to ensure that it accurately reflects the needs of the organization.
Step 3: Design and Plan the Healthcare CRM System
Based on the goals, objectives, and requirements defined in the previous steps, create a detailed design and plan for the healthcare CRM system. This should include:

Detailed specifications for the software, including

technologies

, functionalities and features

A high-level architecture for the system, including data models and integrations with existing systems

A timeline for development and implementation, including milestones and deadlines

A budget and resource plan, including the cost of development, deployment, and maintenance
Here are the core features of healthcare customer management systems
Data Analytics Features
Easily create custom visualizations of various aspects of your healthcare data to gain insights and make better decisions.
Mine your healthcare data to uncover patterns and trends that can be used to optimize operations and identify opportunities.
Generate comprehensive reports to track KPIs, evaluate performance and measure ROI.
Sales Management Features
Track, nurture and convert leads into patients with automated lead scoring, contact forms and follow-up emails.
Set up automated marketing campaigns to reach new patients and re-engage existing ones.
Gain insights into your marketing performance with detailed analytics and reporting.
Customer Service Features
Customer Relationship Management
Manage the entire patient lifecycle with automated workflows, contact management, and customer segmentation.
Provide customers with quick and efficient customer service with a cloud-based help desk system.
Engage with patients in real-time with a live chat system that is integrated with your CRM.
Billing & Payments Features
Accept payments securely online with a range of payment options, including credit cards, e-checks and bank transfers.
Easily create and manage patient bills and invoices with automated billing workflows.
Track payments and manage billing disputes with comprehensive billing and payment management.
Security Features
Secure patient data with advanced encryption technologies to ensure data privacy and compliance.
Restrict user access to sensitive data with role-based access controls and user authentication.
Monitor user activity and track changes to patient data with detailed audit logs.
Communication Features
Provide patients with a secure online portal to access their medical records, schedule appointments, and communicate with their care provider.
Easily send and receive secure messages between care providers and patients.
Schedule patient appointments quickly and easily with automated appointment reminders and notifications.
Patient Management Features
Manage patient files and records securely with a comprehensive patient record management system.
Develop and track personalized care plans for each patient for better patient care.
Step 4: Choose a Development Methodology and Vendor
Decide on the development methodology that will be used to build the healthcare CRM system. There are several options available, including:

In-house development, where the organization has its own team of developers to build the system

Outsourcing, where the organization contracts with a third-party vendor to develop the system

A combination of in-house and outsourcing, where some parts of the development are done in-house and others are outsourced
Once the development methodology has been chosen, select a vendor or development team to build the system. This should be based on the vendor's experience, track record, and ability to meet the requirements defined in the previous steps.
Step 5: Develop and Test the Healthcare CRM System
Based on the design and plan, develop the healthcare CRM system using the chosen development methodology. This should include:

Development of the software

Integration with existing systems

Implementation of security and privacy measures

Testing and debugging of the software

The system should be thoroughly tested to ensure that it meets the goals, objectives, and requirements defined in the previous steps. This should include:Unit testing of individual components

Integration testing of the entire system

User acceptance testing, where stakeholders are invited to test the system and provide feedback
Step 6: Deploy and Implement the Healthcare CRM System
Once the system has been developed and tested, it is time to deploy and implement the healthcare CRM in your organization.
Deployment
Decide on the deployment method, such as on-premise or cloud-based

Install the necessary hardware and software to run the healthcare CRM

Configure the system to meet the specific needs of your organization

Train all users on how to use the system effectively

Migrate data from any existing systems to the new healthcare CRM
Implementation
Roll out the healthcare CRM in stages, starting with a pilot group of users to ensure that everything is working as expected

Work with users to make any necessary modifications to the system to meet their needs

Provide ongoing training and support to ensure that all users are able to effectively use the system

Monitor usage of the system to identify any areas for improvement and make necessary changes
Maintenance
Regularly perform software updates and upgrades to keep the healthcare CRM up to date

Monitor system performance and address any issues that arise

Regularly back up data to ensure that it is protected and recoverable in the event of a disaster

Provide ongoing training and support to users as needed
Why Hire Code&Care for Custom HealthCare CRM Development?
Code&Care is a full-cycle custom software development company with extensive experience developing custom healthcare CRM solutions. We bring together a team of highly skilled developers, project managers, and healthcare experts to help organizations streamline their patient relationship management and sales processes.
Here are a few reasons why you should choose Code&Care for your custom healthcare CRM development:
Experienced Team: The team at Code&Care has years of experience in custom software development, particularly in the healthcare sector. 
Proven Methodology: Code&Care follows a proven development methodology that ensures the timely delivery of high-quality solutions. We take the time to understand your requirements, create detailed design and implementation plans, and use agile development methods to deliver solutions that are aligned with your goals.
Cutting-Edge Technologies: Code&Care stays up-to-date with the latest technologies and platforms, and they use these to create innovative and scalable solutions that help organizations achieve their objectives.
HIPAA Compliance: When embarking on healthcare projects, it is important to ensure that all systems and processes comply with the Health Insurance Portability and Accountability Act (HIPAA). We guarantee HIPAA-compliant products that meet the regulatory requirements.