Even though fintech is a complicated industry, it is gaining popularity and is replacing traditional methods of e-commerce, payments, banking, and money management. Fintech simplifies account management for entrepreneurs and professional accountants.
In the article, we are going to discuss the fintech apps, their types, features, issues, and industry trends. So, let's dive deeper into the topic!
Fintech Market Overview
The fintech industry has already changed the way we think about how money works. However, it is still interesting to know what we can expect from fintech in 2021 and later.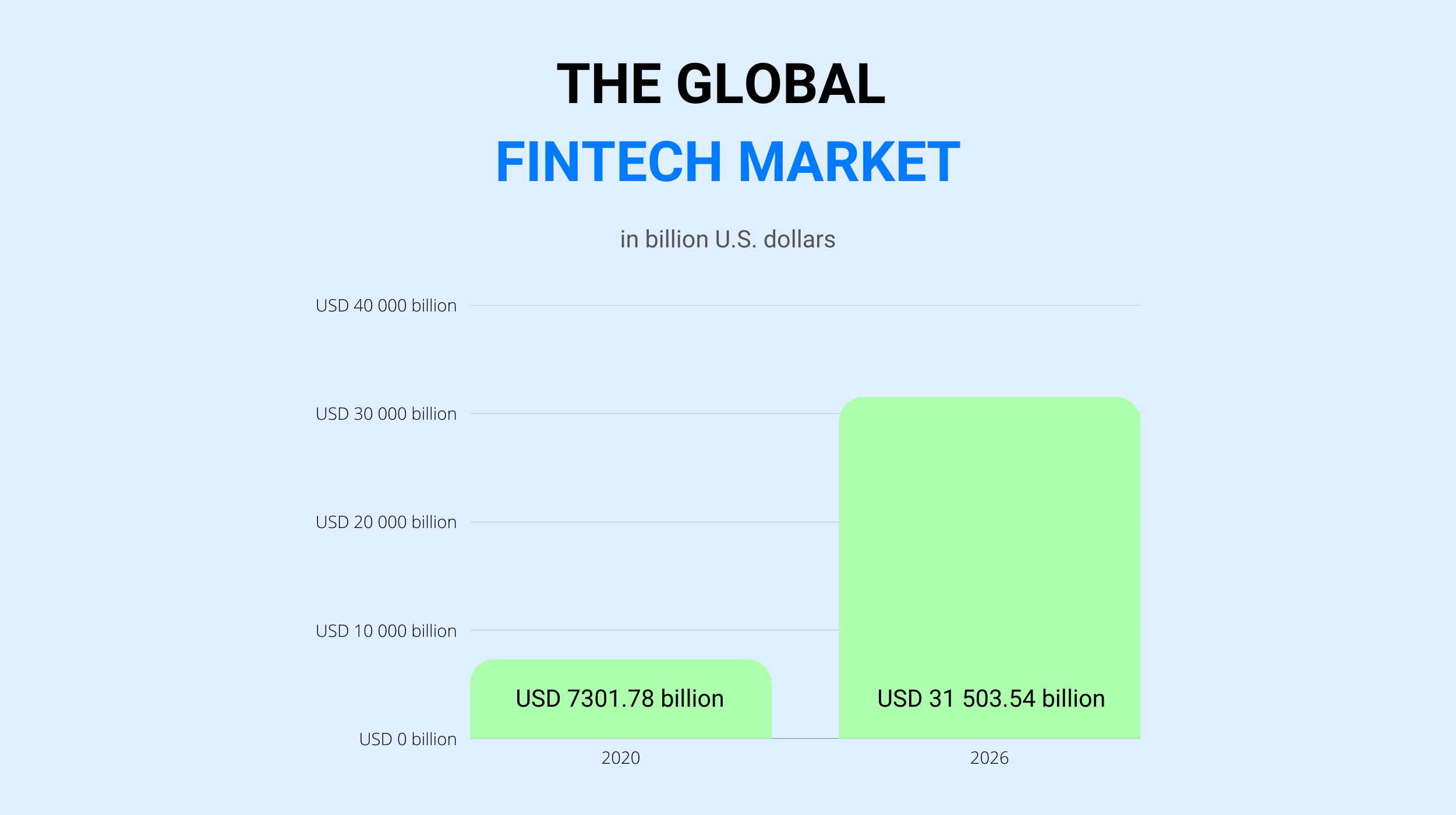 In 2019, the worldwide fintech market was valued at $5504.13 billion and is expected to grow at a CAGR of 23.58% by 2025.
Global AI in the fintech market is valued at US $7.91 billion in 2020 and is expected to reach US $26.67 billion by 2026. The market is also expected to witness a 23.17% CAGR over the forecast period (2021-2026).
The majority of global banks, insurance companies, and investment managers plan to partner with fintech companies over the next 3-5 years and expect an average return on investment in their development projects of 20%.
The industry has also experienced some development over the past five years. Guess the COVID-19 pandemic has had the opposite effect on her as the forecast for 2020-2025 looks completely cloudless for the fintech.
It is necessary to understand that fintech in 2020 is not fintech in 2010 when it was just beginning its journey to the top. The world currently relies more on fintech than the other way around. Mobile payments, online signatures, payroll projects, loans, and charitable donations. The list goes on and on, as fintech is gradually entering every aspect of our life, and it can no longer be stopped. Hence, you better come to fintech before fintech comes for you.
What is a Fintech Application?
1⃣ Fintech appeared in the 21st century, and initially, this term was limited to the internal systems of existing financial institutions. But now this has been switched to customer-centric solutions. In simple terms, fintech supposes financial technology. This segment includes various startups and huge enterprises trying to improve service delivery and increase revenue by optimizing costs and building new income streams.
2⃣ Fintech covers many areas: from blockchain platforms to internet banking, but the mobile application market is growing most actively.
3⃣ Fintech apps are developing rather fast. Clients from the B2C and B2B segments are showing great interest in such a solution so that the owner can break even and make a profit in just a few months.
4⃣ Fintech refers to any application that is aimed at improving and automating the provision and use of financial services. It helps entrepreneurs, bankers, and other organizations to manage their finance with specific apps and algorithms that can be used on computers or smartphones.
Types of Fintech Apps
There are several types of fintech apps, depending on the type of finance they are working with. Let's discuss each of them!
💰 Digital banking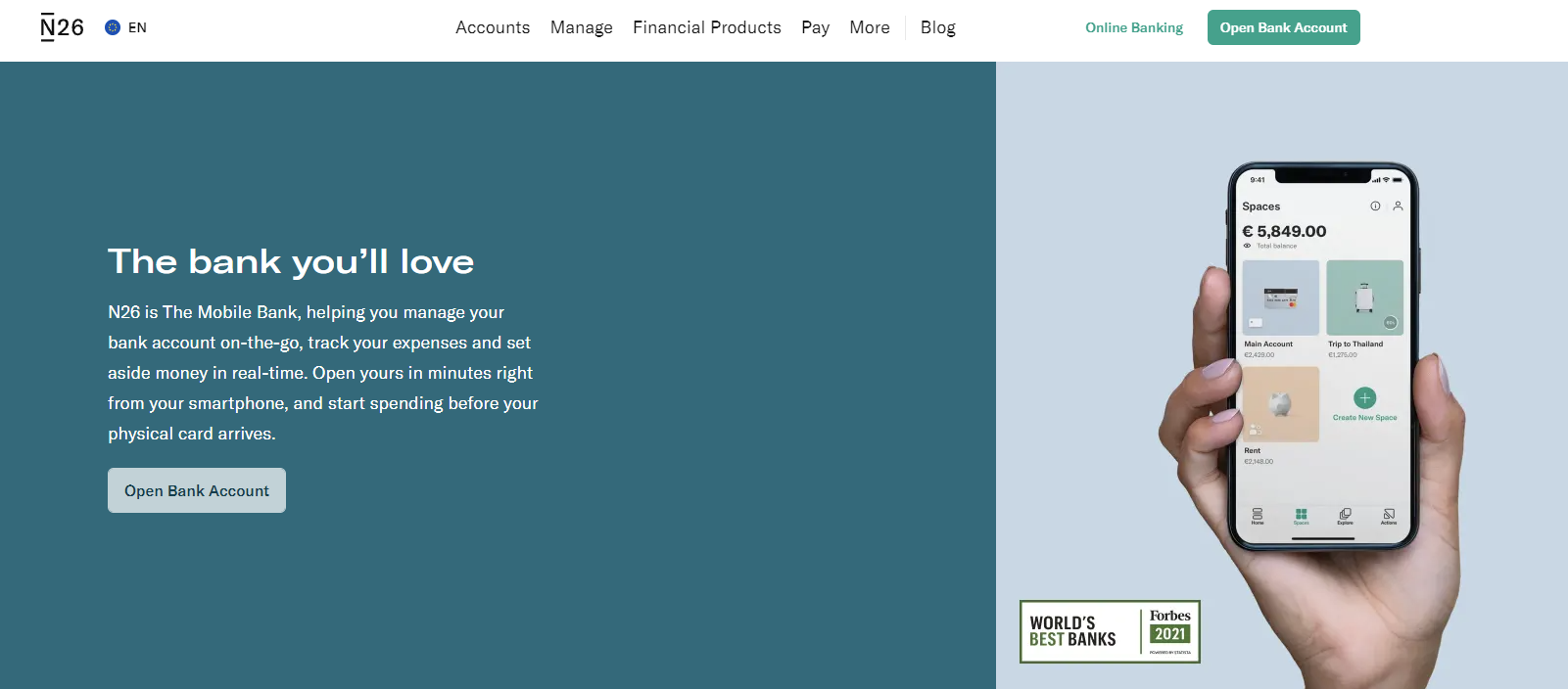 Digital banking has become an ideal option for clients who need to fast and unaided manage their bank accounts and carry out financial transactions. To meet these needs, online banking, mobile, and digital banks have emerged. To counter the growing competition in this sector, traditional banks also had to create fintech applications for their clients. The best examples of digital banking are N26 and Revolut.
💰 Digital payments
Digital payments are the largest branch of the fintech industry. According to Statista, the total value of digital payments worldwide in 2020 will be $4,769,370 million. Digital payments satisfy the need for non-cash, fast and secure money transfers. Solutions such as online payment systems, digital currencies, and e-wallets help meet this need.
How to Make a Money Transfer App [An Interactive 5-Step Guide]
💰 Digital investment
Digital investment platforms enable retail and institutional investors to explore and invest in a variety of financial assets. Investment apps are a great opportunity to get started in the stock market. Investment management solutions enable users to improve the performance of their investments by providing them with relevant insights and data. The good examples of digital investment are Hedgeable and Addepar.
💰 Regtech


Regtech is dedicated to addressing regulatory issues and challenges using innovative technology. Regtech solutions enable companies to closely monitor ongoing processes and conduct analysis to ensure regulatory compliance. By automating business processes, regtech also helps to minimize the risk of human error. 6clicks and PassFort are the greatest solutions from regtech segment.
💰 Insurtech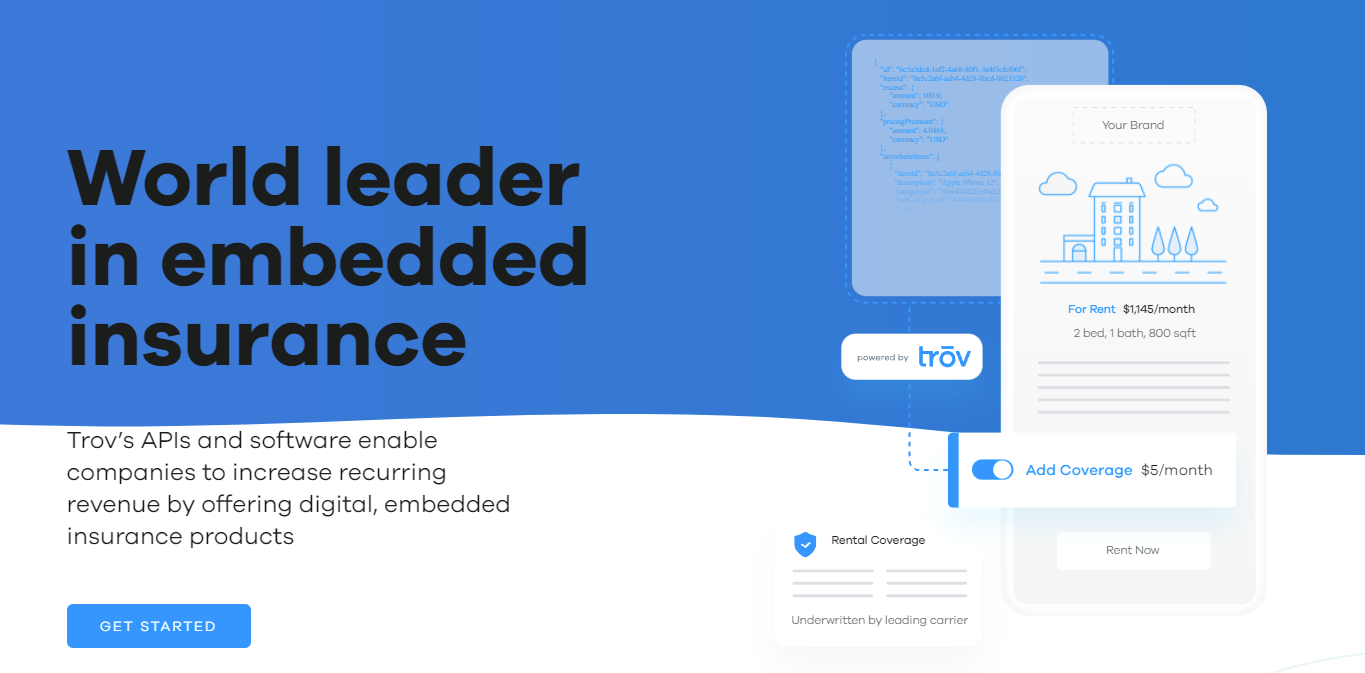 Digital insurance is related to the technology used in the insurance industry. Its main purpose is to expedite policy administration and claims processing. Insurtech also reduces the likelihood of insurance premium fraud. Insurtech solutions range from basic websites offering insurance for just an hour for someone who lends a car to sophisticated CRM systems. The most prominent insurtech apps are BIMA and Trōv.
💰 Consumer finance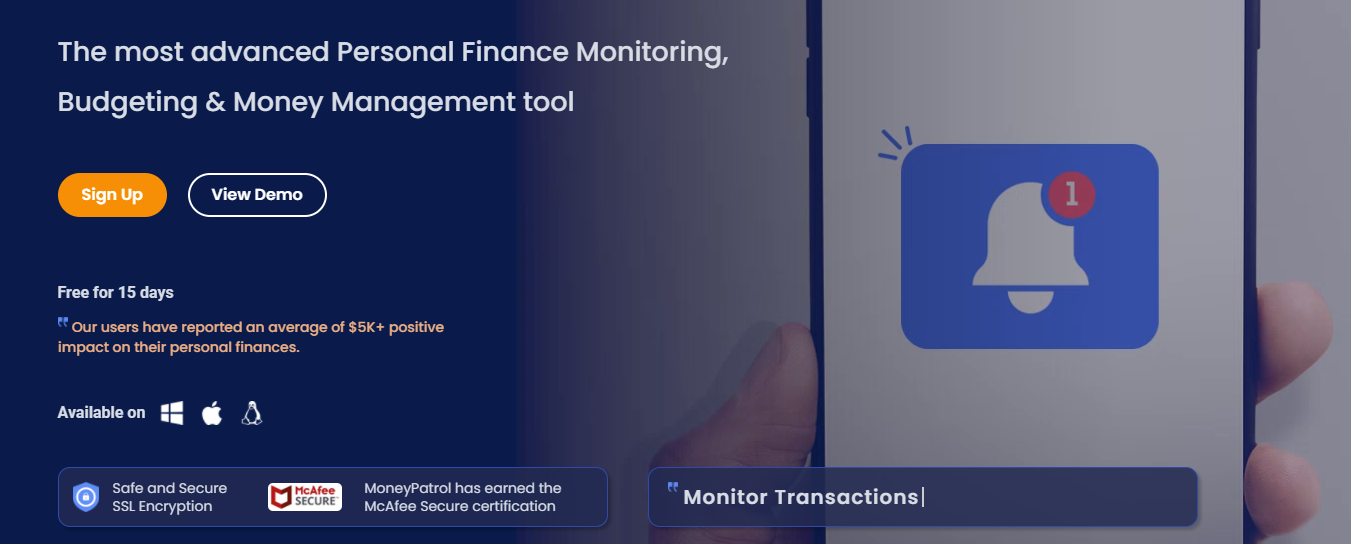 Consumer finance offers people assistance in managing their spending. It can predict future account balances so that the user does not spend more than planned. Familiarizing yourself with the following solutions will give you an idea of how to develop a fintech application for consumer finance management. Mint and MoneyPatrol are the greatest examples of consumer finance apps.
💰 Digital lending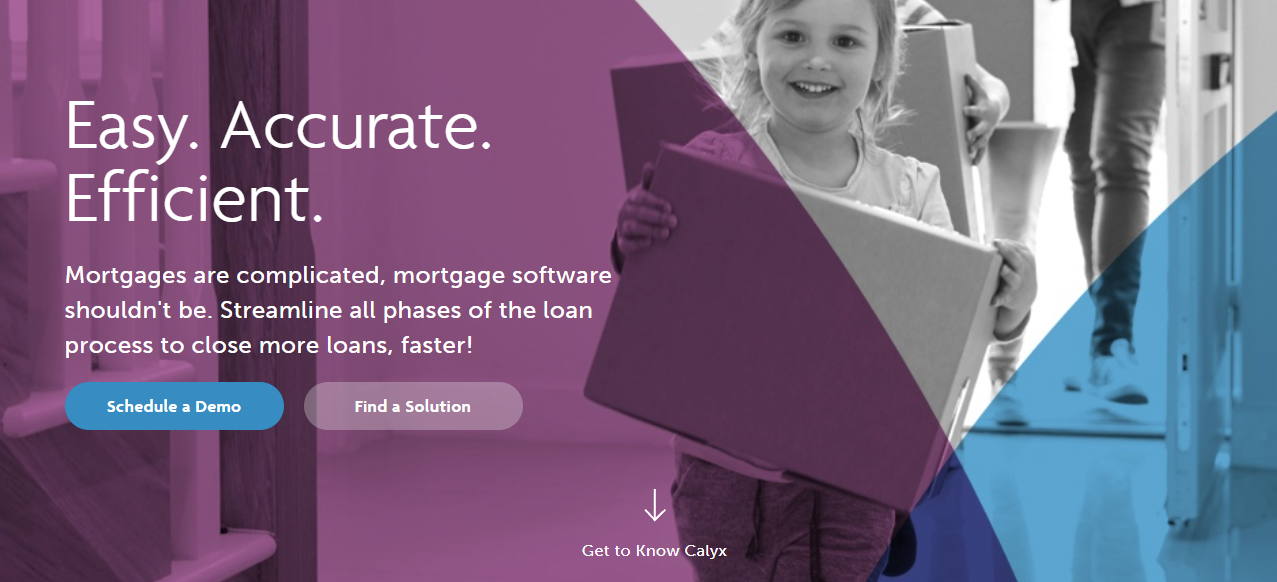 Digital lending software, from simple lending applications and websites to complex automated platforms, enables performative processing of loan requests and effective communication between lenders and borrowers. Thus, both independent digital lenders and traditional financial institutions are using advances in fintech to improve their businesses. These solutions can serve as a guide to creating a fintech digital lending app. The most prominent examples are Kabbage and Calyx Point.
Fintech Industry Trends In 2021
Statista states that there are more than 6 billion smartphone users worldwide, and the number is still growing. It leads to increasing the number of mobile applications users. Here's a list of fintech trends to watch out for in 2021 and beyond.
Artificial Intelligence
✔ Unlike traditional data analytics and robot-assisted process automation, AI has some unique features:
✔ It can detect changes in data templates and configure the model on its own. Thus, there is no need to hire a data scientist to constantly tweak the model;
✔ When the quality of the data is not perfect, it can still provide the business with useful information for making decisions;
✔ When data arrives, we do not need to store, process, and transform it before creating analytics. Instead, it can simply stream the flow through the neural network, and the AI ​​engine can pick a pattern and help businesses serve customers;
✔ It can handle unstructured data. Thus, we can apply AI in areas such as image and voice recognition.
For AI to work effectively, financial institutions need a lot of big data. Thus, when they have amassed a lot of big data, many banks and insurance companies can leverage this pool of resources and generate useful business ideas.
Blockchain technology
Blockchain is not associated with cryptocurrency only. The technology has a lot to offer for financial services and other segments as its hashing algorithm allows the industry to securely exchange data. Due to distributed ledger technology (DLT), banks, corporations, insurance, logistics companies, etc. can exchange documents along with the trade flow on the trade finance blockchain network. Since all authentic documents are hashed in the chain, there will be no more fake documents and fake invoices for funding.
Benefits of Blockchain in Insurance: Use Cases and Main Features
Gamification
Gamification includes gaming activities. This practice improves customer experience and increases engagement rates. For instance, businesses are developing various types of personalized programs, quizzes, cashback rewards, training videos, and more.
Bots
Chatbots allow companies to conduct dialogues with their customers in a human way. Organizations are trying to incorporate chatbots into their fintech applications because they are cost-effective, easily scalable, instantly available to customers, data-driven, and more.
Voice technology
One more tendency is voice recognition. Some businesses are starting to use voice technologies like Siri, Google Assistant, or Alexa. Thus, it allows people to use them to make operations.
What are the Main Features of a Successful Fintech Mobile App?
Make sure your app has these features before releasing it to the public domain.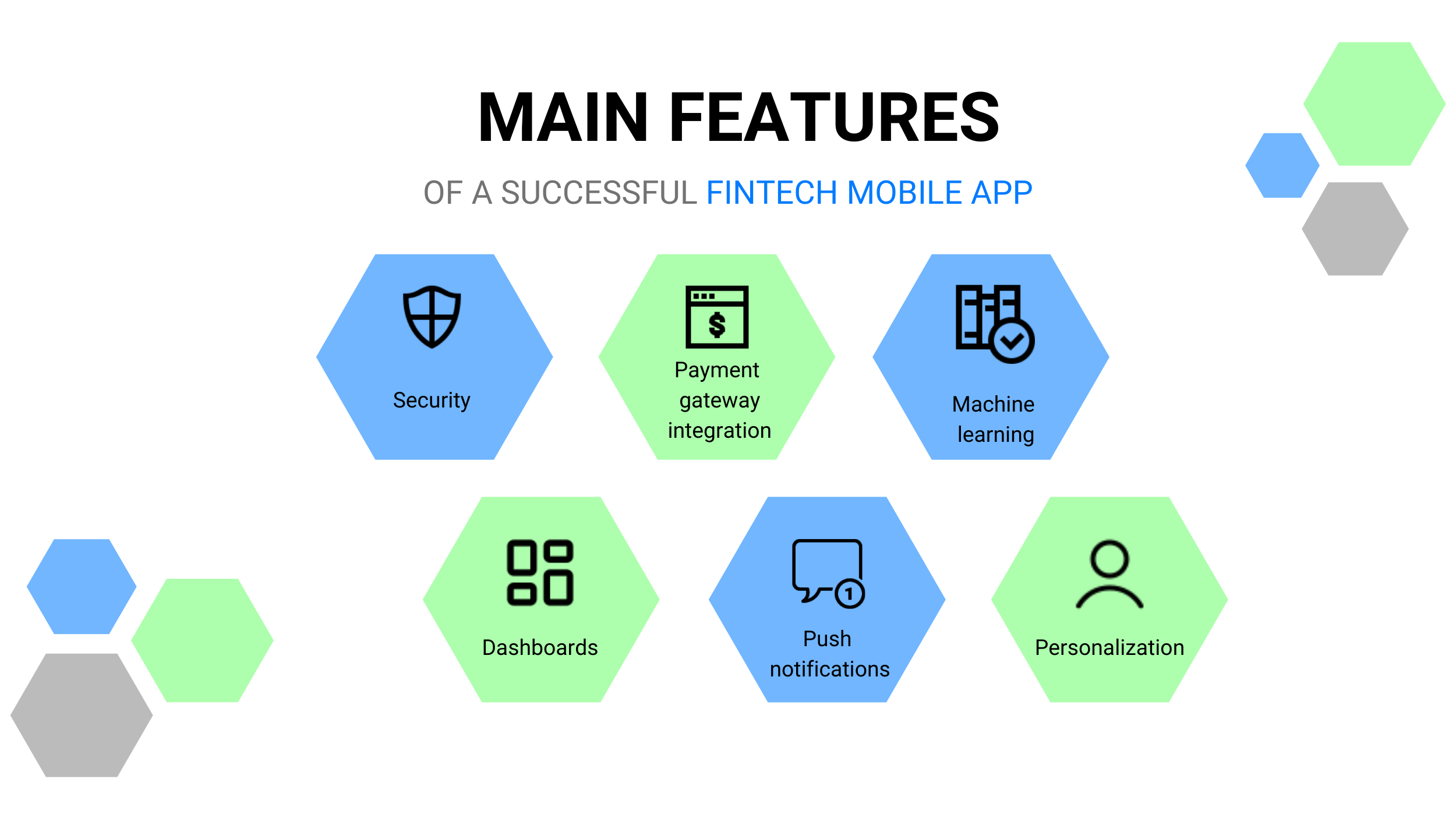 ⚙ Security
The app has to be secure to protect financial data. To achieve this, the programmer implements blockchain, encryption, biometric and two-factor authentication, data obfuscation, and other security measures.
⚙ Payment gateway integration
To enable the payment feature, you can select to integrate with services such as Stripe, PayPal, Zelle, or work through banking APIs.
⚙ Machine learning
Nowadays, AI is a necessity. While using the Ml algorithm is an upcoming trend for taking data from various sources, analyzing it, and providing advice.
⚙ Dashboards
Today, it is hard to imagine that someone would create a fintech application without a visual representation, be it expenses, payment history, or stock charts.
⚙ Push notifications
Push notifications are critical to effective communication between bank employees and customers. They also ensure that users are informed of new rules and discounts promptly. It helps financial service providers stay connected with their customers.
⚙ Personalization
AI analyzes user models and provides relevant data on new updates, policies, and benefits offered by the financial institution. In this way, significant contributions and recommendations are personalized, help retain customers, and generate new audiences and revenue.
⚙ Reward programs
Many fintech apps already use reward programs. For example, Robinhood is the number one financial app, thanks in part to its reward program. In addition, it also has a referral program that rewards customers for getting others to download the app.
⚙ Multi-tier functionality
Integrating layered functionality into your fintech application makes it more meaningful and targeted. This ensures that your application can manage tiered access while dealing with the number of concurrent sessions.
⚙ Interactive data visualization
Analytics is a pretty standard feature no matter which fintech mobile app you're developing. For this reason, your data should be easily readable and understandable on the smartphone screen.
⚙ Easy API Integration
Most premium fintech apps will need to integrate with other apps to deliver real value to users. But let's face it if you ask users to provide an API key to connect the two platforms, many of them may reconsider their decision to use the app in the first place.
Fintech Challenges and Risks
Security is the most important aspect of any FinTech software. No matter how convenient and advanced your application is, if it is not secure, it will not be able to bring you users and profit. Moreover, a single security breach can undermine the credibility of your business, which is why security should be a top priority for any FinTech product. Some of the possible causes of a security breach include:
☑ Third-party components
If you use third-party services in your application (such as a payment gateway or mapping API), make sure they are reliable and are regularly updated.
☑ Cloud threats
While cloud services are generally considered secure, they can still suffer from hacks and vulnerabilities. It is very important to make sure that your cloud provider is reliable and has regular security checks.
☑ Outdated systems
Using outdated software can lead to many vulnerabilities as it becomes more difficult to maintain, update and scale such software every year. It's important to regularly refactor your code, get rid of pieces of software that no longer work for your business, and release updates.
☑ Compliance with regulations
FinTech applications that provide financial services must comply with regulatory requirements. Failure to comply can result in serious data breaches and fines.
To ensure that your FinTech application is safe, you need to maintain and update it, as well as conduct regular security checks. The best way to keep your system secure is through penetration testing. Penetration testing helps you analyze how a hacker will approach your software and what you can do to prevent hacks and protect the entry points into your system.
How to Develop a Fintech App
In many ways, building a fintech application development is not very different from any other application development. There are just a few key steps you need to take into account.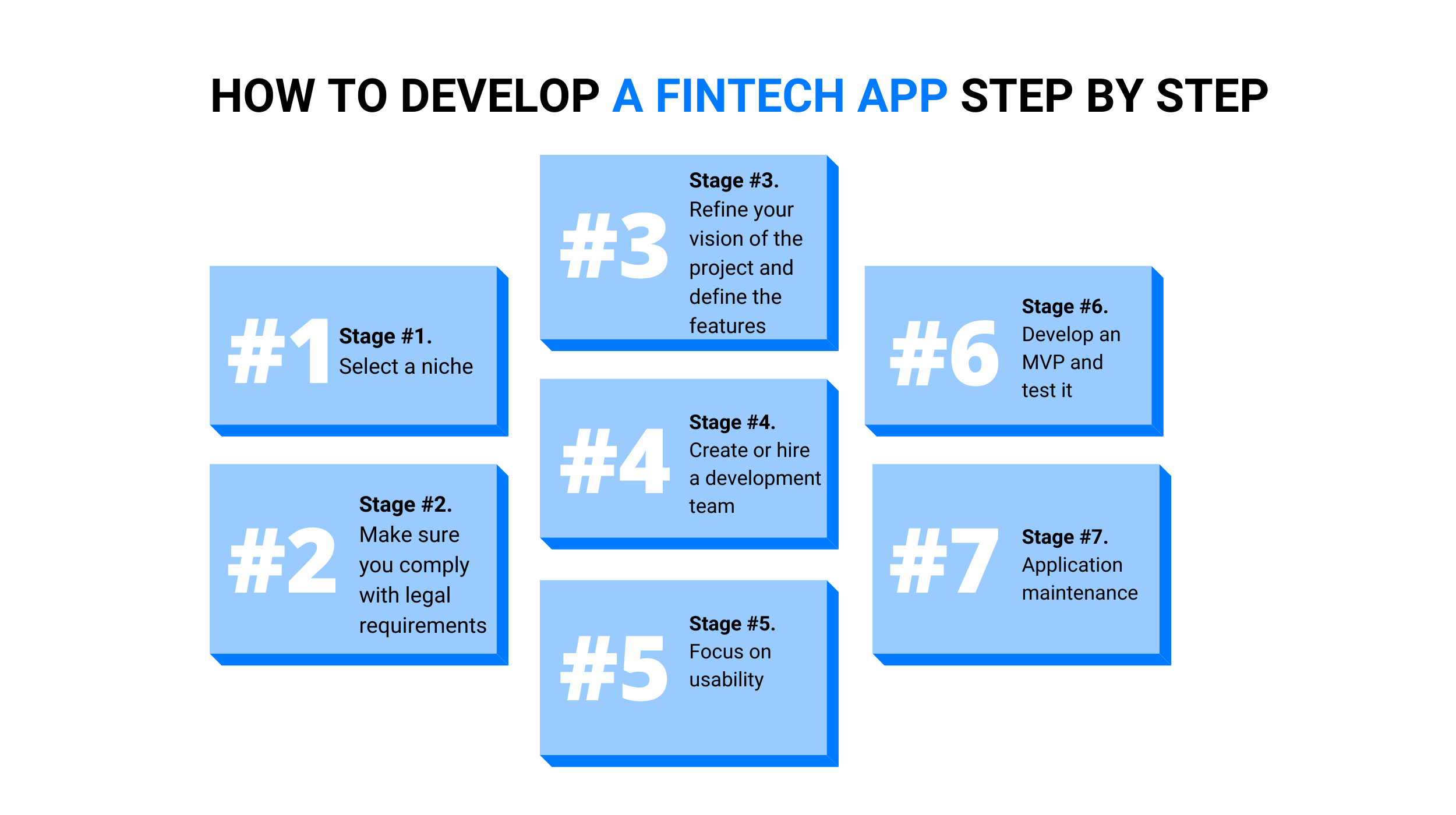 🔹 Stage #1. Select a niche
Before the development, you need to find the appropriate niche. More complicated solutions are a good choice today. As the market for simple fintech apps is already oversaturated, so it is difficult to develop something unique. Selecting the niche, think about the audience. Many countries still lack great solutions and technologies, and you can enter these markets with something fresh and relevant to a specific set of problems, rules, and needs.
🔹 Stage #2. Make sure you comply with legal requirements
The legal requirements are unique to each country, or even to each state or region within a country. Make sure you meet all applicable legal requirements and have a legal advisor to help you comply with those requirements. Governments have yet to respond to the emerging fintech industry, so you need to get how to navigate hundreds of laws, standards, and regulations.
🔹 Stage #3. Refine your vision of the project and define the features
The first stage is defining the vision for the project. You should be able to describe the main purpose of your product, what problems it will solve for users, and what main features it should have. If you have no previous experience in fintech app development, your team should help you determine the functionality, specifications, etc. Let's discuss what your development team should look like.
🔹 Stage #4. Create or hire a development team
The team usually includes front-end, back-end developers, project managers, business analysts, quality assurance specialists, designers, product managers. The number of people on a team will depend on your timeline, the size of your project, and the technologies you choose. I.e., if you decide to develop your Android and iOS apps, you need two front-end developers.
🔹 Stage #5. Focus on usability
In fintech applications, user experience is the second critical factor after security. Create a fintech app for your users. A good business analyst should help you define your main audience, define user roles in your application, and build features based on user needs.
🔹 Stage #6. Develop an MVP and test it
To ensure that your application finds a market after its release, we always recommend making a list of MVP features, developing them, and releasing the MVP version of your application as soon as possible. Feedback from real users will show you what to develop next. After your MVP is released, you need to gather data using mobile analytics and learn about user behaviour. New data and early insights into the app markets will help you identify a list of features to add next time.
🔹 Stage #7. Application maintenance
Application maintenance is a critical part of your software lifecycle. The service of the mobile application includes: updating the application to the latest versions of operating systems, updating libraries and third-party services that you use in your application, error correction, regular security checks and updates, refactoring code, updating outdated parts of your application. Besides, keeping up with the latest trends is also an important part of your product lifecycle.
How Much Does It Cost to Build a Fintech App
The price depends on such factors as selected programming languages, the complexity of design, project size, development team hourly rate, number of team members, the deadline.
The complexity of the app and the hourly rate are the most significant factors affecting the cost. Hourly pay for a development team can increase the final cost of a project by 3–5 times. Hiring a dedicated team is a great way to attract talented people, build a stable team with experience in developing apps like yours, and cut costs that can later be channelled into marketing. If you want to see the more precise cost, you can follow the table below where we have mentioned the approximate time it takes developers to build applications. Take a look!
Feature

Estimate, Days

✔ Admin
Authorization
5.1
– Sign Up
– Sign In
– Forgot Password
✔ Communication
Popup notifications
3.8
Email notifications
2.5
Chat
15.2
✔ Pages
Home Dashboard
2.5
User Profile
3.8
✔ Entity CRUD: grids, views, actions
Users (Users Auth)
– active users grid
6.3
– deactivated users grid
3.8
– user actions
3.8
– Invite New Users forms
6.3
✔ Transactions (Transfers/Payments)
– repeat action
1.3
– receipt view
1.3
– transaction views (transfer/payment)
19
✔ Reports and Charts
[Admin] Monthly Payer Register Report
1.3
[Admin] Monthly Payment Report
2.5
[Admin] Monthly Payer Primary Users Report
2.5
[Admin] Monthly Transfer Report
2.5
[Payer] Monthly Employee Registration Graph
1.3
[Agent] Monthly User Registration Graph
1.3
[Agent] Monthly Fee Graph
3.8
✔ Mobile App
Auth
– Sign Up, Sign Up
3.8
– Onboarding form
3.8
Allow logging in the app with restricted features while KYC is in progress
6.3
✔ Communication
Push notifications
5.1
Email notifications
1.3
SMS notification
3.8
✔ Manage
– manage view
1.3
– settings
3.8
– referral
2.5
– edit forms (name, phone, email, documents)
3.8
– security: biometrics, pin
3.8
– legal pages (terms&conditions, privacy policy)
1.3
✔ Home
Cards widget
3.8
– Timeline grid
– Card limit
– Card view
✔ Balance view
– Send form
– Request form
– Card limit form
Detailed timeline view
2.5
✔ Wallets
Wallets list
1.3
Add wallet form
1.3
Wallet details
2.5
Wallet actions: deposit, send, request, delete
3.8
✔ Payments
Payments history view
2.5
Payment form
8.9
✔ Unmentioned features and integrations
Bank API integration
8.9
Currency convertion rates retrieval
1.3
Infrastructure deployment setup and support
5.1
✔ Mobile App back-end
Infrastructure setup
3.3
Authentication
7.6
Profiles management
10.1
Notifications
5.1
Wallets/cards management (integrate Bank API)
16.5
Payments (integrate Bank API)
12.7
💰 TOTAL
231.3
Technology Stack Used to Build a Financial App
A robust functional fintech app requires a suitable technology stack. In the table below we have listed the most prominent technologies that can be used for fintech app development.
Besides, it's critical to take care of fintech app security. A two-factor authentication is a good option. But biometric authentication is safer and more convenient for customers. Biometrics refers to security systems that use the physical characteristics of a person to allow or deny access to an application. In smartphones, this can be fingerprint scanning or face recognition. It solves a longstanding cybersecurity problem – passwords are notoriously unreliable.
Bottom Line
Fintech apps are becoming one of the greatest opportunities for many business and application developers. It is was mentioned that traditional organizations will partner with fintech companies 80% more in the next 3-5 years. The ability to build mobile payment apps using react-native, which has lowered development costs, has attracted financial institutions more towards fintech apps.
Moreover, with fintech apps, clients get a much better experience and opportunity to conduct their financial transactions.
Are you thinking of developing the fintech app? Then feel free to contact us via email: [email protected] for further assistance and to hire a team of dedicated developers.
📌Related articles: