As mobile app usage continues to soar to new heights, digital entrepreneurs eager to make a buck need to pay attention to the monetization of their apps. From ridesharing innovations to food delivery services, mobile apps have drastically changed the way we live and work, simplifying life and opening up countless opportunities for money-making. 
But how do you monetize a mobile app? Well, with the right mix of creativity, marketing, and customer service, you can build a lucrative business model that works for your application. And luckily, this guide is here to show you the way. Whether it's in-app purchases, subscriptions, or ads, Code&Care's mobile app development experts will provide you with the essential details you need to begin monetizing yours in 2023. 
We'll discuss the various monetization strategies available for iOS and Android applications, the key considerations to keep in mind when making decisions, and the tips and tricks to help you maximize your revenue. And if you're pining for inspiration to help create your mobile masterpiece, be sure to peruse our blog for the best development ideas.
Mobile App Statistics: Outlining the Essential Figures and Facts
Investing in mobile apps is a smart move for any business looking to stay ahead of the competition. Here are statistics that prove why. 
Market 
The global mobile app market was worth USD 187.58 billion in 2021 and is only expected to get bigger, with a projected CAGR of 13.4% between 2022 and 2030.
Store (App & Google) Findings
It's no surprise that the Apple Store dominated in 2021, raking in 62.88% of global revenue. What's the secret behind their success? It's those iOS apps, with their premium features and in-app purchases driving up their monetization. Plus, the rising number of iPhones and iPads worldwide certainly helps too. And let's not forget mobile gaming, which is set to take up a considerable portion of this year's revenue. 
Application Findings
Gaming apps were the clear winners in 2021, taking home 42.94% of the mobile application market. This trend looks set to continue as the gaming population grows, particularly in countries like China and India.
Region Insights
With 31.83%, North America holds the lion's share of the market. The presence of major players such as Apple Inc., Hewlett Packard Enterprise, Google LLC, Netflix Inc., and Microsoft Corporation are the major contributors here. The high smartphone adoption, in-app customer spending, and an epic number of app downloads make this region top the leaderboard.
Downloads
In 2019, Android OS had a high amount of game downloads, yet iOS earned more due to the abundance of paid games.

Together, the Google Play Store and Apple App Store host a staggering 5.7 million apps while Apple's App Store sports 2.2 million.

The typical American has 80 apps on their phone, and worldwide app downloads hit 230 billion in 2020.

The Apple App Store and Google Play Store jointly raked in $111 billion this year.

In 2022 app downloads

skyrocketed to $255 billion

.
Revenue
In 2020, global revenue from mobile apps hit $318 billion – an increase of 60 billion compared to the previous year. Mobile games were the main money-makers with $200 billion in revenue, and social networking came in second with an impressive $31 billion. According to Statista Digital Market Outlook, the projections are looking good with worldwide value potentially reaching $613 billion by 2025.
Usage
Your average Joe uses 9-10 apps a day and 30 each month – and the main activity is chatting or sending messages.

To our surprise, the majority of digital media time (58%) is spent on a mobile device.

When it comes to mobile media, apps take up a whopping 89%, leaving only 11% to websites.

According to App Annie, the average user spends a staggering 3 hours and 40 minutes on their mobile apps every day.

Mobile apps also boast higher engagement rates than websites with an average of 4.3 sessions per day compared to 2.8.
Factors Contributing to the Rise of Mobile Apps
Here are four key factors that are pushing mobile apps to the top of the charts: 
Handy Helper
Mobile apps give us a handy way to access heaps of important information and services while we're on the move, without having to surf around online or wait for a web page to load. These apps usually have an easy-to-use user-interface, making it much simpler for people to find what they want quickly and complete tasks in an even more efficient way.
Tailored to Users
Mobile apps can be customized to fit each user's individual preferences, so everyone can get the most out of their experience. 80% of customers are willing to buy more from brands that deliver personalized shopping journeys. In other words, you can use data such as location, browsing habits, and past purchases to give your customers an experience that is individualized to their specific needs.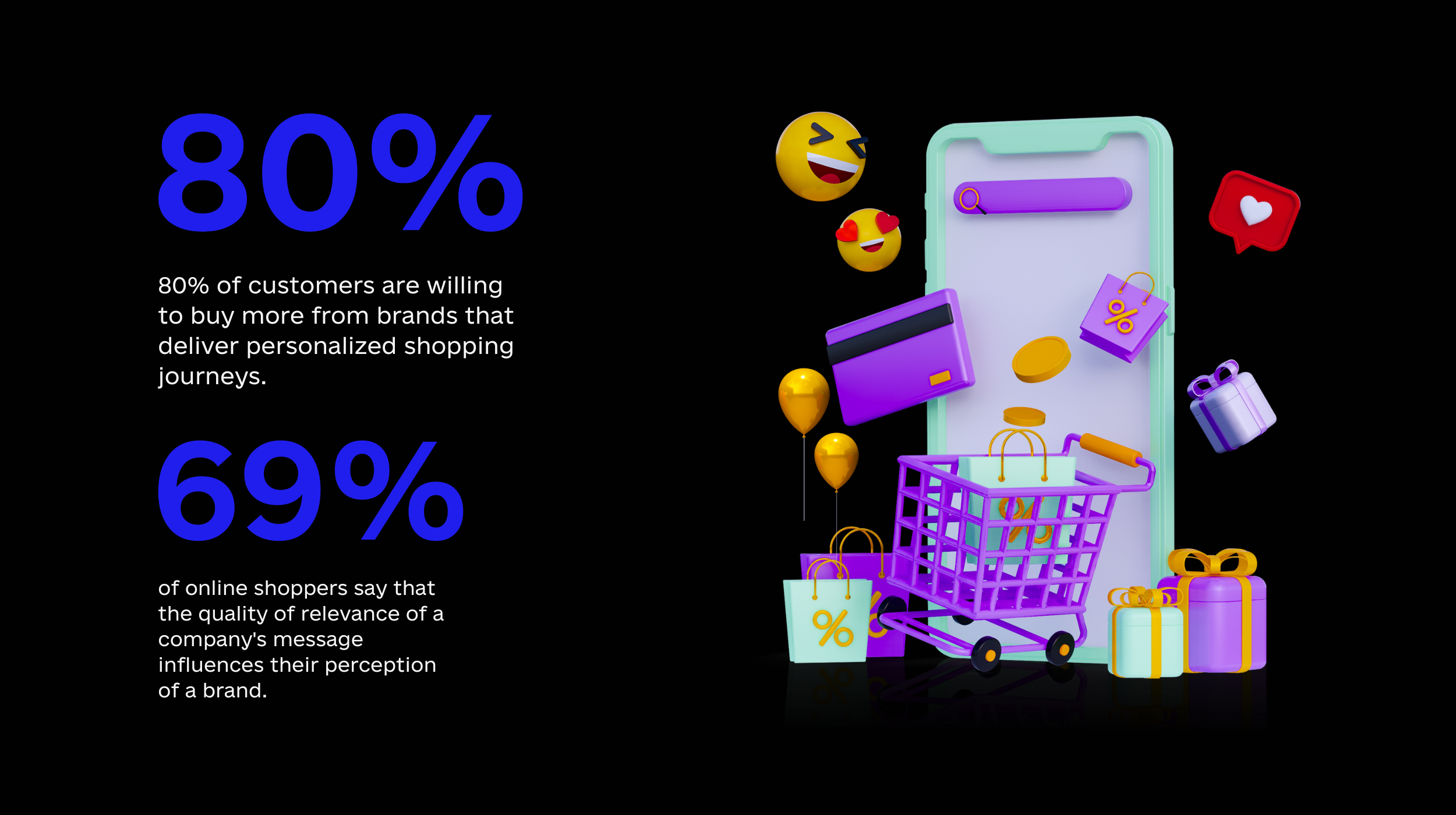 For example, organizations like Amazon continue to experiment with personalization after the advertising phase, seeking to increase sales conversion through the use of recommendation engines that serve customers with the exact product they're looking for. While this experience is so seamless that customers may not even realize personalization is occurring, customers now expect brands to act like Amazon and predict the products that fit their needs.
Increased Interaction
Mobile applications provide a dynamic experience that entices users to linger for extended periods of time, allowing them to explore more than just reading content, such as playing games, taking tests, and conversing with other users via messaging or chat functions. This deeper engagement can assist businesses in cultivating relationships with their customers, nurturing customer allegiance and catalyzing further engagement.
Cheaper Price 
For thrifty folks, mobile apps offer a budget-friendly alternative to more traditional web-based services. Not only are mobile apps usually more affordable than their web-based counterparts, but they can also furnish users with more efficient methods of accessing the same services and features. This makes them an appealing choice for people who are cost-conscious.
Why Now is the Perfect Time to Start Monetizing Your App?
If you've been dreaming of turning your app into a money-making engine, now is the time to make it happen. Here are 6 reasons why 2023 is the perfect time to start monetizing your app.
1. The mobile-fueled app economy is thriving
As people are spending more and more time glued to their phones, the app economy is on the rise. This opens up a massive potential of customers and money-making opportunities. 
2. A cornucopia of choices
There are myriad ways to monetize your app – from in-app purchases to ads and subscriptions. You can pick whichever method suits you best.
3. Innovation pays off
Don't be afraid to deviate from the beaten path and think up creative strategies to make money with your app. 
4. Gauging success
Utilizing analytics tools can help you test different monetization tactics and figure out the one that works best for you. 
5. Amplifying your reach
Monetizing your app can help you to broaden your base, since more users may be willing to pay for an app that offers them significant value.
6. Keep your competition in check
Monetizing your app can help you stay competitive in the app market and make sure your app stands out from the crowd.
Eleven Strategies to Start Profiting from Your Mobile App
Ready to cash in on your mobile app in 2023? Here are 11 genius ways to monetize Android applications and iOS alike.
The Classics: tried and true monetization strategies
Classics never go out of style, especially when it comes to monetization strategies. Here are time proven methods for making money with your mobile applications.
1. In-app purchases
The U.S. market for mobile games apps is set to be highly profitable, thanks to paid gaming, in-app payments and an expanding app user base. Thus, taking advantage of in-app purchases is a surefire way to monetize your app while simultaneously keeping users hooked. These purchases can run the gamut from slight extras like extra lives in a game to expansive items like additional content or features. Through in-app purchases, users can acquire these items as soon as they become available – making it an optimal option to keep users coming back for more! 
2. Advertising
Showcasing ads within your app is another popular way to make money, but personalizing your ads is an even better way to do so. Nearly every shopper on the planet loves it when companies make an effort to tailor their services to their individual needs. By displaying tailored adverts, you can generate revenue from clicks and impressions. Offering sponsored content and promotions is another great way to bring in more money.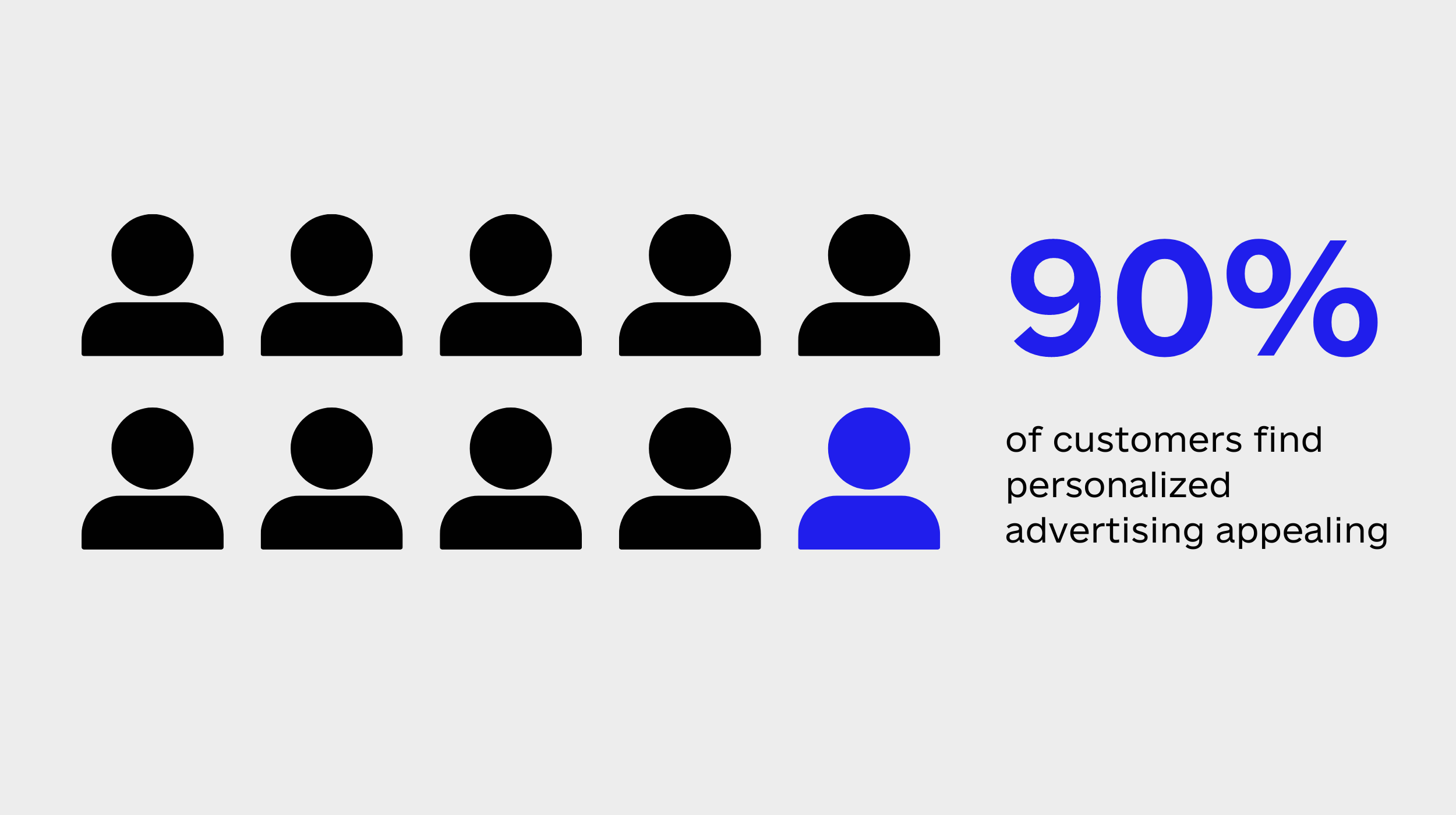 Cadbury showed us how it's done with their customer-centric video ad. With the express permission of their Facebook users, they utilized their data – age, location, and likes – to craft a hyper-personalized experience that yielded 65% click-through rate and 33.6% conversion rate.
3. Subscriptions
Providing users with a subscription plan is a fantastic method of rewarding faithful customers and keeping them engaged. Customers can pay a monthly or yearly fee to unlock exclusive content or features. For example, several popular dating apps, such as Tinder, offer Plus, Gold, and Platinum plans to users, which allow for enhanced features such as unlimited swipes and profile boosts. This revenue-generating strategy has effectively contributed to their estimated $1.6 billion in revenue in 2021.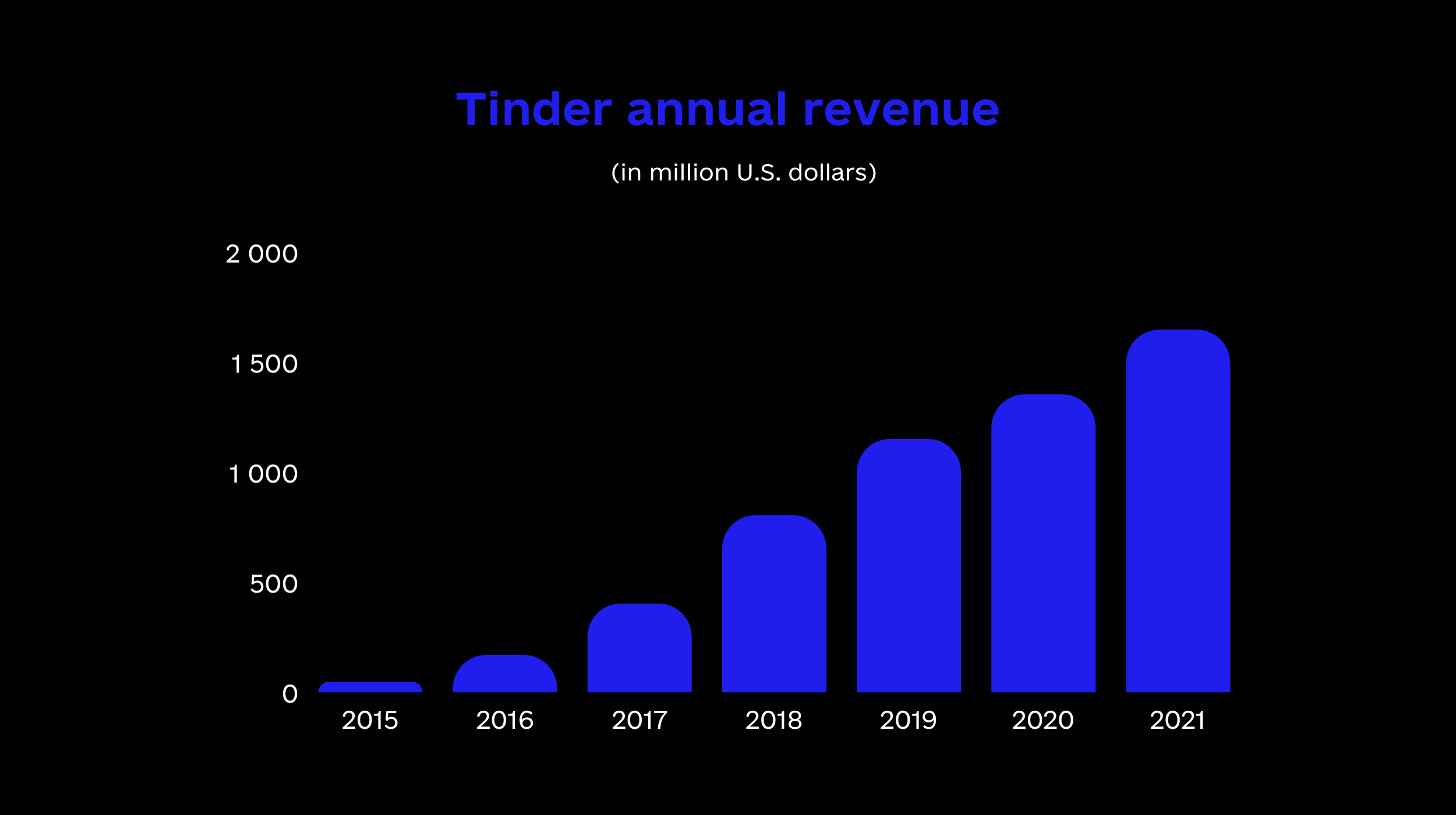 4. Paid downloads
If your app has exclusive content or features that users are willing to pay for up front, then paid downloads are certainly an option to consider. Just remember to make it worth their while.
Think Outside the Box: Innovative monetization methods
You can also try these inventive techniques whether it is to monetize an iPhone app or Android.
1. Sponsor it up 
No need to be a heavyweight when it comes to sponsorships and partnerships – whether a small business or big corporation, you can get your name out there through numerous ways. From backing a local sports team to working with a charity, sponsorships and partnerships will help connect you with customers and build relationships. 
2. Go Premium 
Give your users the chance to step up their game with a premium version of your app. By providing them with exclusive content, early access to new features, or discounts, you can monetize your app while also giving them an improved experience.
3. Freemium Offerings
What better way to entice users than to provide them with the Freemium experience? With basic features free of charge and more advanced offerings saved for those willing to shell out a few bucks, you can get customers hooked. For example, music streaming platform, Spotify, pulled off a genius move in 2018 when they offered users their first three months of Premium for a mere 99 cents. The outcome? The incredible growth of 4 million Spotify Premium users! So naturally, they decided to try the same strategy again in May 2018. This time, their ad campaign was centered around making their 'freemium' app experience even better.
4. Get Up Close and Promotional
Take advantage of in-app events and promotions to keep your users engaged. Award loyal users with special discounts, content, and more – these are infallible ways to make sure your app stays at the top of their list.
The Art of the Upsell: Maximizing Revenue from Existing Users
Below are a few tactics for maximizing cash flow from your existing customers.
1. Incentives for sharing and referrals 
Let's face it, everyone loves a bargain! Show your appreciation for your customers by giving them discounts, freebies, or other rewards when they share and refer your app to others.
Financeonline suggests that referral rewards come in various forms – such as a dollar credit, a gift card, or a percentage slash on the price. Adopting referral marketing not only brings in more loyal customers but also helps add to the lifetime value of the organization, pushing customers to make more purchases. By the way, you can also check out our referral program to see what's in it for you.
2. Cross-promoting other apps 
You don't have to go solo. Collaborating with other apps in your field could help you reach a broader audience and gain more exposure. Think about giving discounts or exclusive content to users who download and use both apps.
3. Offering value-added services 
Getting downloads is only half the battle. Offer users something extra, like customer service, personalized recommendations, or exclusive content – this will make you stand out from the competition and keep customers around for longer.
The Numbers Game: Analyzing and optimizing your monetization strategy
Ready to get your hands dirty with the numbers? Let's break down each step of the monetization equation and see how you can get ahead of the competition. 
First up, the data you need to be tracking. These are the key vital stats of your monetization plan – the ones giving you insight into how well your hustle is paying off. We're talking downloads, impressions, clicks and conversions. Analyzing and measuring these figures will give you an idea of how successful your efforts are. 
Next, testing and honing your strategy. Time to get creative with monetization tactics! Play around with different approaches, such as A/B testing, to see which generate the best results. Don't be afraid to be bold and try something new – it could be your ticket to success.
Finally, outdoing your competitors. This is where you can really start to show off. Research their strategies and see what they're doing differently. Leverage that intel and come up with a killer monetization plan that places you ahead of the pack.
Conclusion
Now that you know the 11 ways to monetize your mobile app in 2023, you're ready to start earning some serious revenue. All that's left to do is to start putting these strategies into action. Who knows? Maybe you'll be the next app-millionaire. But if you're still at the idea stage and are considering building a mobile app that can become profitable, get in touch with us. We'd be delighted to hear about your project, provide some free advice, and bring your ideas to life.