Digital transformation has made accessing basic services like healthcare, insurance, finance, and shopping via brick-and-mortar channels obsolete. Today, most consumers are shifting to online spaces to make acquisitions of certain products and services a norm. As a result, companies are on their toes to shift with these trends to meet consumers where they are.
The health insurance market is among the industries shifting their focus to online channels to meet consumers where they are. According to Statista, the global health insurance market is predicted to grow at a compound rate of around six percent per year, reaching almost 6.4 trillion U.S. dollars in 2025. While this market forecast seems promising, leveraging the opportunities it affords has gone beyond doing business as usual.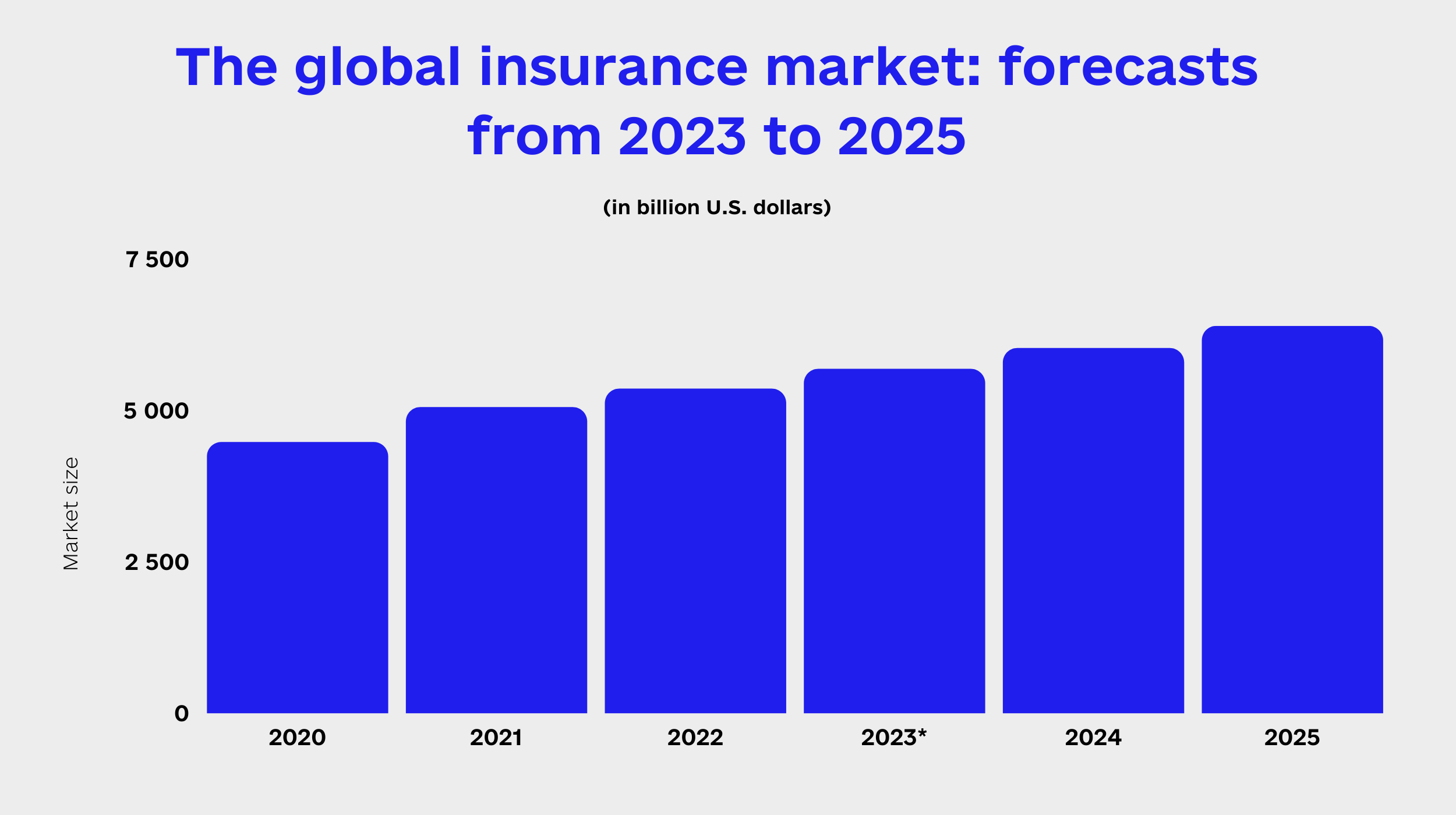 Developing a scalable and user-friendly android and ios app is one sure way to meet the constantly changing needs of health insurance. However, the goal of developing a health insurance app usually invokes questions like— How to build a health insurance mobile app? How much does it cost to create a health insurance app? What are the core features of a health insurance app? But not to worry, read through this article to get the answers you seek.
Market Analysis of Health InsuranceHealth Insurance App Development
Global Health Insurance is the fastest-growing InsurTech segment. According to Straits research, In 2021, the health insurance industry was valued at USD 2255 billion. By 2030, the market is tipped to grow astronomically to USD 5275 billion, with a CAGR of 9.9% within the projected period (2022 – 2030).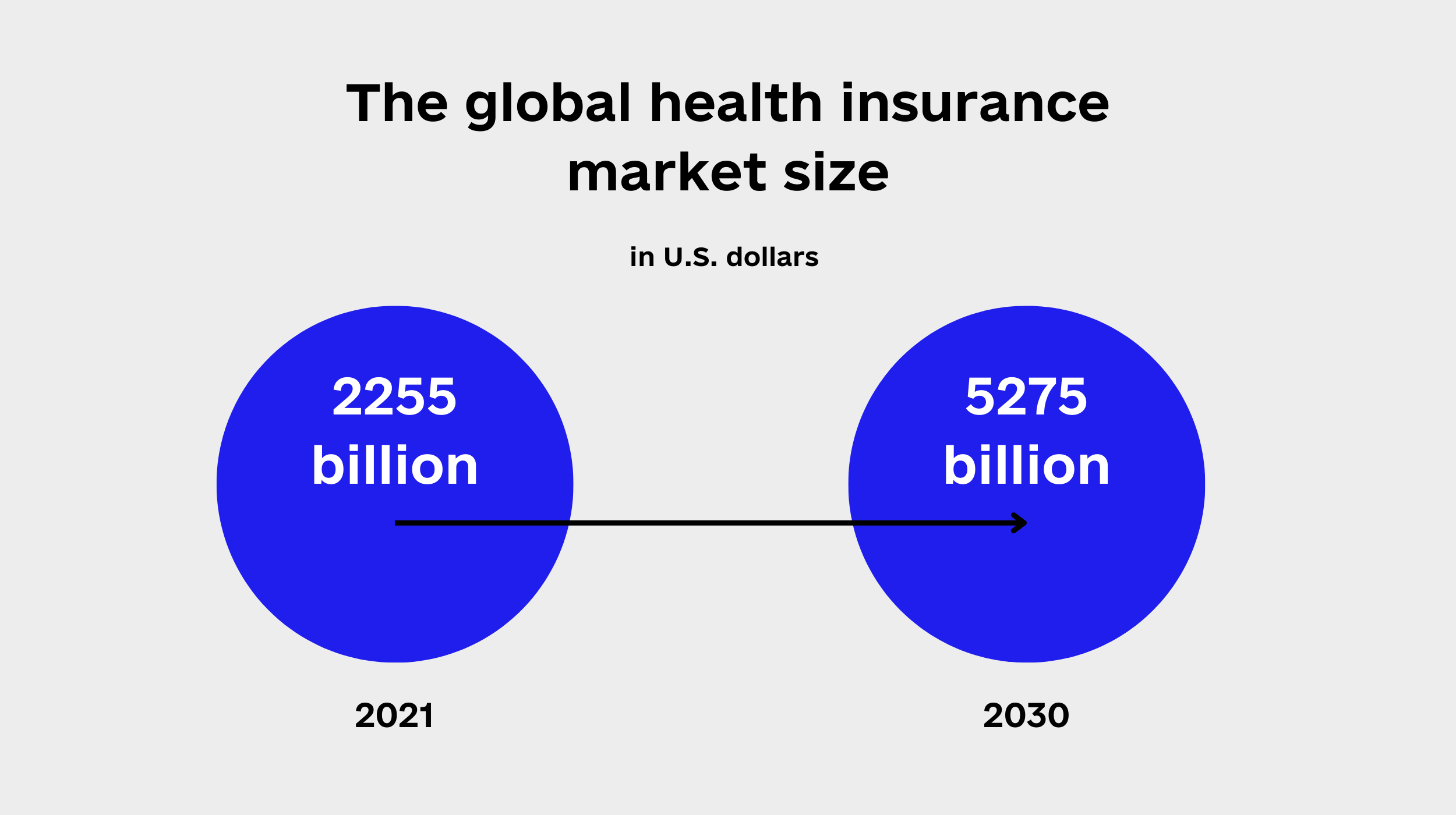 This growth is being driven forward by modern technologies, which aid insurance organizations in accelerating claim management services by paying the patient's legitimate claims successfully and preventing fraudulent claim settlements. The market is also being pushed forward by increased accidents and diseases and growth in rural areas' knowledge of health insurance.
The American Centre for Disease Control (CDC) statistics show that about 29.6 Americans lack health insurance coverage. Guess the implication of this? It implies that there's still a huge untapped market for you if you intend to go into health insurance app development. 
Why Create a Health Insurance App?
Statistics show that 90% of the time spent on smartphones is spent on mobile applications. Thus, many companies have taken advantage of this trend to stay within reach of their clients. Mobile applications are the fastest and most efficient way for insurtech companies to connect with their clients. They offer numerous benefits to health professionals, patients and insurers.
The quickest and most effective method for insurtech firms to communicate with their customers is through mobile applications.
Health insurance apps are a practical way to streamline processes, boost sales, and enhance customer relationships. They offer a central location for storing all client health insurance data. It is simpler for customers to apply for insurance coverage, inquire about claims processing, buy or renew policies, book appointments with doctors, and more. Health insurance apps should be created to reduce job strain on medical consultants. It may be challenging for some who work with multiple health and insurance corporations to keep up with all the work demands.
Because they enable improved workflow procedures, health insurance applications also help insurers. It helps them automate their processes, digitize and standardize their services, manage customer relationships more effectively, and expand their market reach.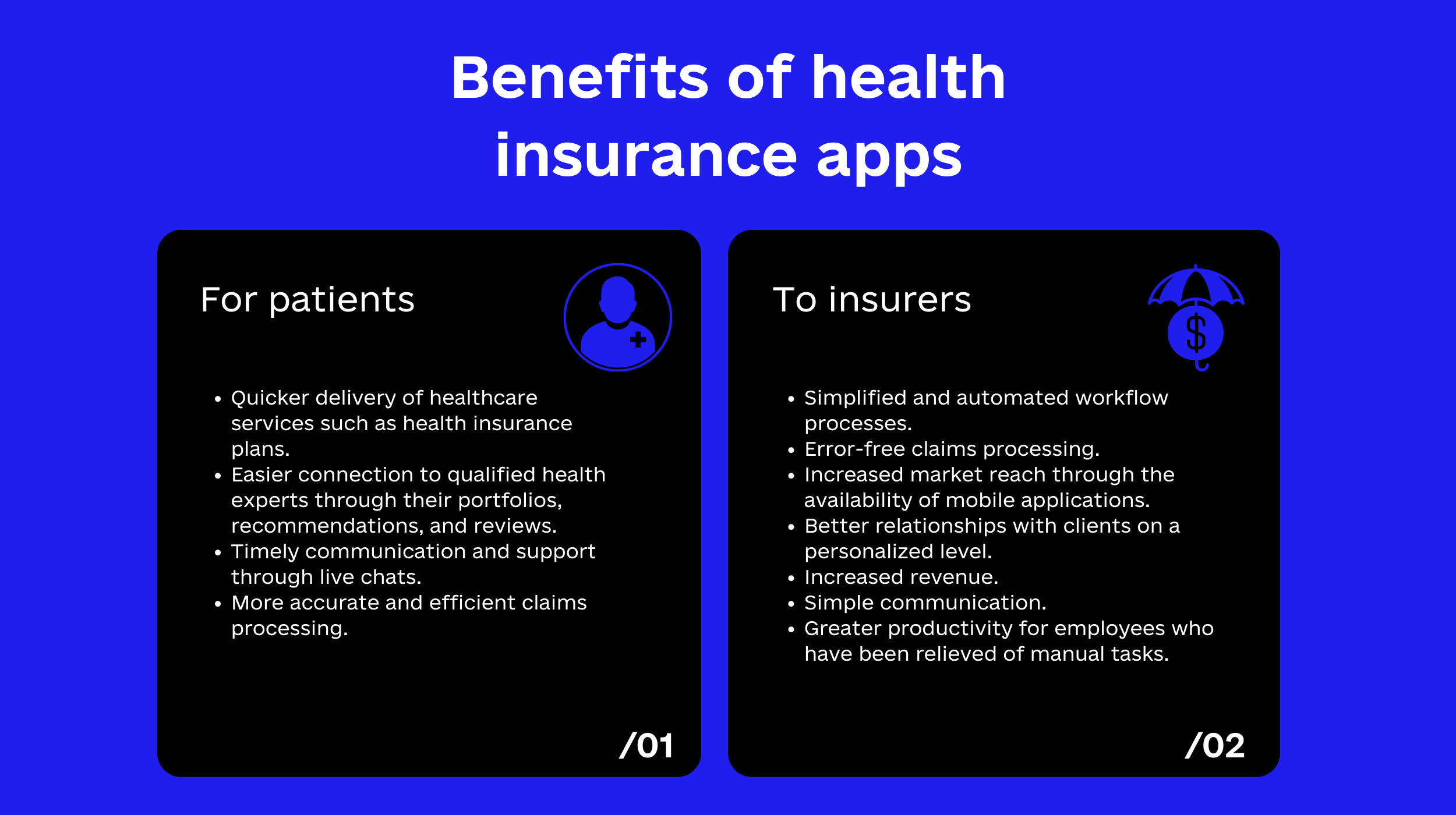 Here are some benefits of health insurance apps for patients:
Quicker delivery of healthcare services such as health insurance plans.

Easier connection to qualified health experts through their portfolios, recommendations, and reviews.

Timely communication and support through live chats.

More accurate and efficient claims processing.
Here are some benefits of health insurance apps to insurers:
Simplified and automated workflow processes.

Error-free claims processing. 

Increased market reach through the availability of mobile applications.

Better relationships with clients on a personalized level.

Increased revenue by cutting off unnecessary expenses incurred by manual activities.

Simple communication. Apps for insurance provide a constant connection with customers. If your operators are busy or not available, a chatbot can help.

Greater productivity for employees who have been relieved of manual tasks.
Types of Medical Insurance Apps
There are varieties of medical insurance applications on the Internet. These applications are aimed at bringing together healthcare practitioners, insurance agencies, and patients. In essence, we have three categories of medical insurance applications: 
Health insurance applications for patients 

Health insurance applications for healthcare practitioners 

Health insurance applications for insurance agencies 
The users of these three categories of medical insurance applications are unique. Therefore, the functionality and user's activities will vary based on each user's unique needs and usage objectives. Let's look at this deeper. 
Health insurance applications for patients 
Since the focus of medical care revolves around those in need of it, health insurance applications for patients are the most common. These apps act as platforms that provide a centralized location for storing all insurance information. With the help of these apps, clients can connect with healthcare providers and insurance agencies by quickly applying for necessary insurance coverage, asking questions about the processing of claims, buying or renewing new policies, booking doctor's appointments, and much more. In this manner, people can live more fulfilling and productive lives while spending less time managing their health.
Health insurance applications for healthcare practitioners 
This category of health insurance application is not commonly used because it is very difficult to manage since healthcare consultants deal with numerous insurance companies. But if you're trying to figure out how to create a health insurance app for healthcare providers, you should carefully evaluate the app's functionality to align with their needs.
Health insurance applications for insurance agencies 
Apps under this category receive increasing investment from insurance firms pursuing work efficiency and improved business processes. These digital platforms enable insurance organizations to move their workflow from manual to digital, thereby minimizing paperwork and human errors. Additionally, they assist firms in enhancing client interactions, optimizing communications plans using analytics and team performance indexes, attracting new customers, and maintaining old ones. 
Features Of Health Insurance Apps
In health insurance app development, functionality is key. So let's look at those important features that must be present in a health insurance app to align with the functionality. We'll discuss some core health insurance app features based on our earlier user categorization of patients, insurers, and healthcare providers.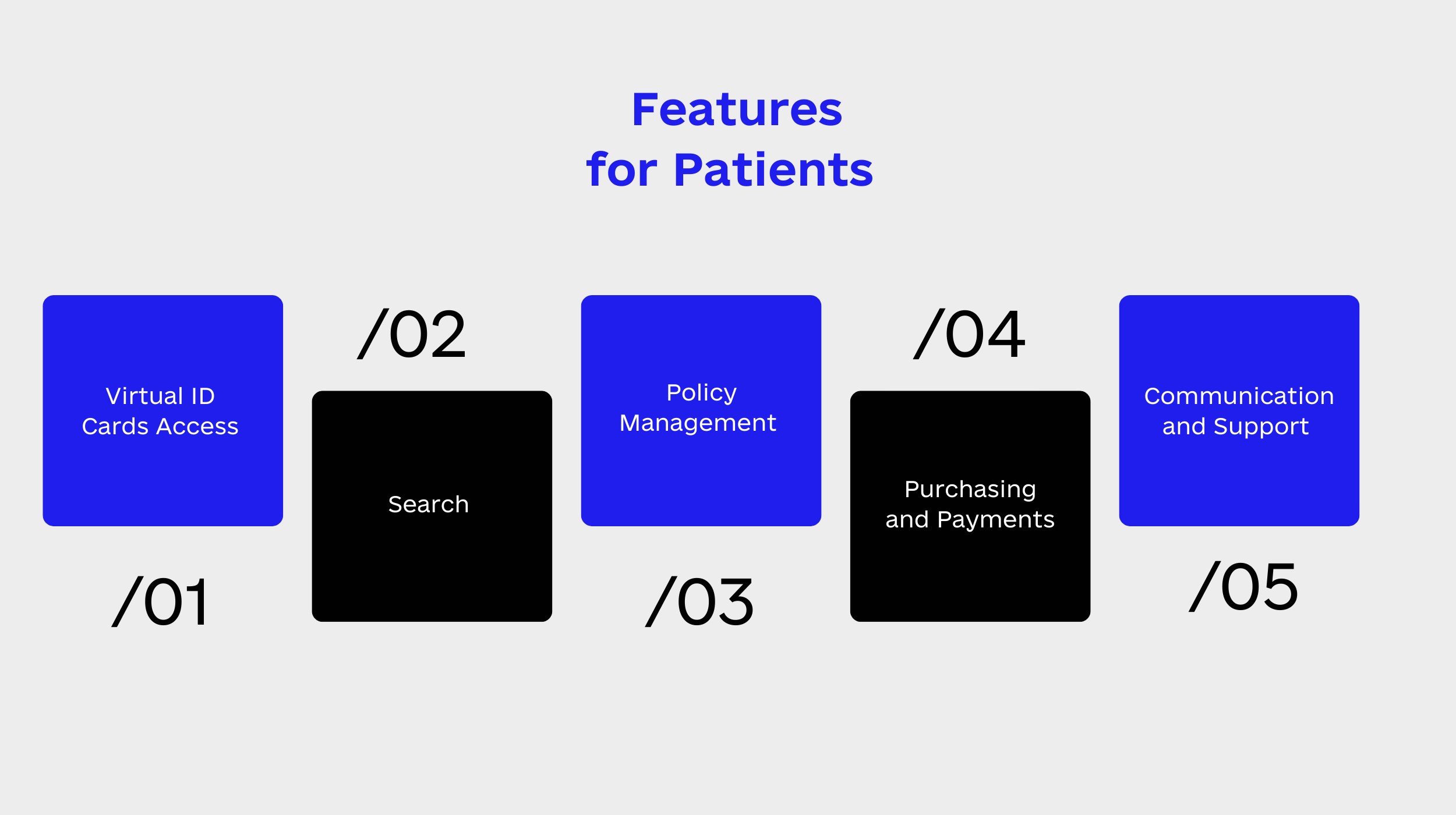 Features for Patients 
Virtual ID Cards Access
This is one of the most important health insurance app features. This feature allows users to access their profiles and use medical and pharmacy services. For instance, it enables clients to search for healthcare providers and insurance coverage, view their earlier claims, interact with physicians/agents, and much more.
Search 
With search algorithms, patients can browse insurance policy coverage and health care practitioners. Customers should have access to information about joint payments and clinics that provide covered services. If this information is readily available, it will help clients plan their budgets and choose a suitable policy. 
Policy Management 
The app should contain a feature allowing clients to re-examine, revoke, or alter their current insurance policy. The ability to switch between insurance providers is also a huge benefit when you build a health insurance mobile app.
Purchasing and Payments
This feature allows clients to purchase drugs and buy or renew insurance policies. Gateways like Pioneer, Amazon Pay, PayPal, etc., are some of the numerous tools that can be used to make payments using mobile apps. These platforms help to process online financial transactions. But remember that good data security and fraud prevention are required to use this functionality. 
Communication and Support 
This functionality enables communication between a patient and a doctor. It allows customers to reach a doctor or nurse immediately to get basic health-related information. When developing a health insurance app, it is important to include an initial interaction with assistants. These assistants will advise clients regarding their insurance plans and point them toward the required medical specialists.
Main Features for Insurers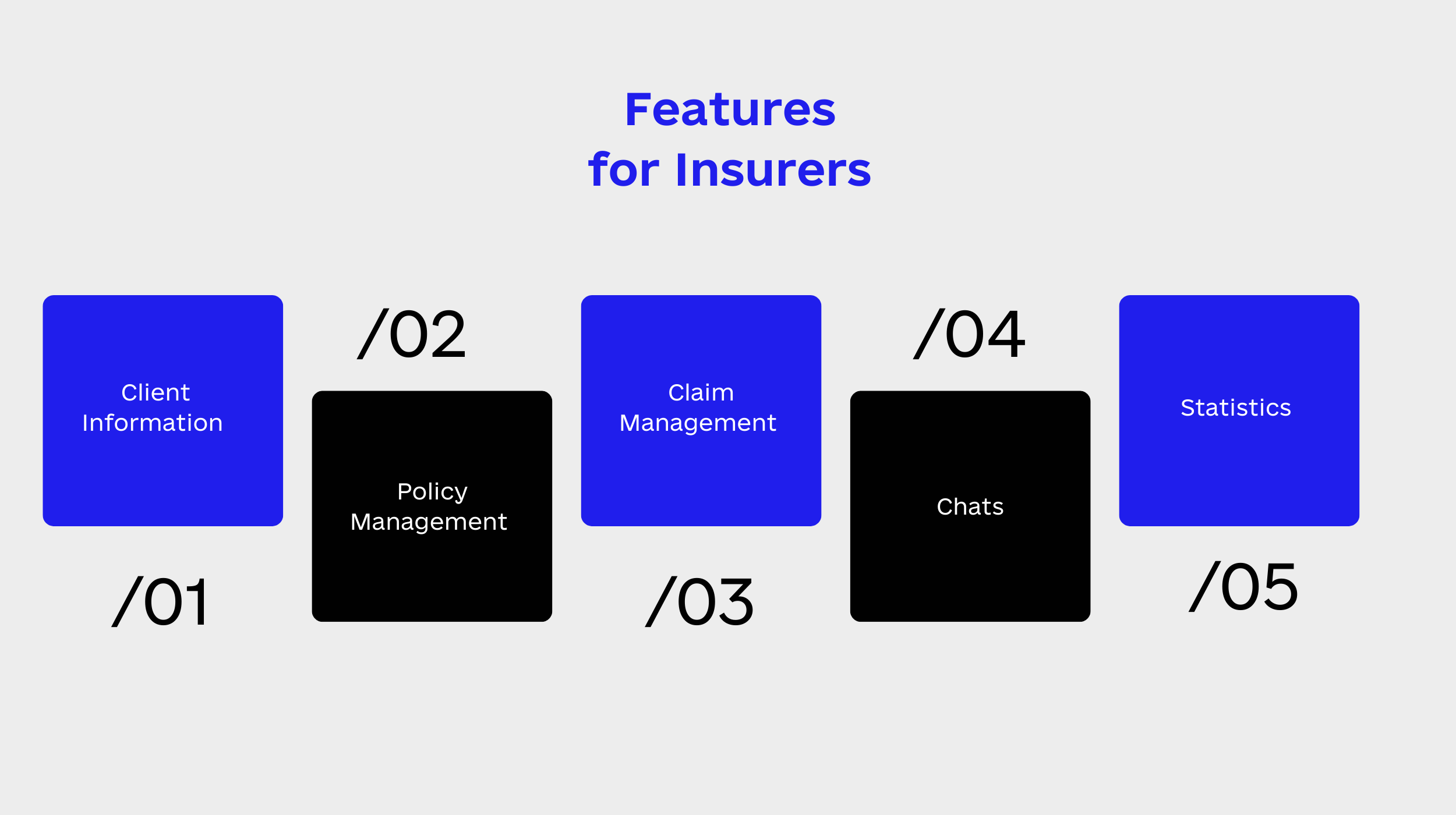 Client Information 
With this health insurance app feature, insurers can continuously keep track of clients. It should allow insurance firms to add clients using the app, modify their basic contact information, and check their billing history. 
Policy Management 
The hallmark of the insurance industry is policy management. Therefore, it is important to include a feature that allows insurance agents to update data on policies, rates, renewals, and loyalty programs.
Claim Management 
The document exchange option must be complied with for any applied claim to be processed by an agent. This option streamlines and improves the workflow for insurance companies.
Chats
It is of huge essence to know how to build health insurance apps to create a communication link between clients and insurers. Clients should be able to communicate and discuss policy details with representatives via an in-app chat. This reduces the necessity for a face-to-face meeting, which benefits both parties. 
Statistics 
It is important to include analytical features in health insurance apps because these features assist agents in gathering information on the insurance plans that clients choose, how they prefer to be contacted, the most common problems they encounter, and many more. 
Medical Providers Apps
They should contain chat features and user profiles. A telemedicine-based health insurance option for doctors may allow virtual doctor visits or provide clinic appointment scheduling services.
Comparison of Features: Top health and medical insurance apps
Thinking of some of the best health insurance apps to research on and help you set the tone for your product's idea? Here are a few of the best health insurance apps used across the globe:
1mg by HealthKartPlus
1mg is one of the top applications for learning about prescription medications, their negative effects, and comparable alternatives. In addition to providing access to reliable medical information, 1mg offers the following services:
Drug buying

Free on-demand delivery of medications to more than 1800 cities across India

Search bar

Chatbots for answering health questions

The ability to schedule lab testing

Online consultations

Health content.

Medscape
Medscape is an app specifically for health professionals, such as physicians, nurses, and students, where they can quickly find solutions to clinical concerns. With the aid of Medscape Consult, doctors may:
Share perspectives on difficult medical situations

Exchange photos

Make point-of-care inquiries with

Visual identification of medicines

Dosing of drugs and medications 

Over-the-counter monographs

Articles containing health-related information 
EyeCare Live
This app is specifically designed for optical health. It links people with qualified eye physicians so they may talk about the state of their damaged eyes. The optician uses HD video features to assess the patient's condition and prescribe medications. People may also ask basic inquiries regarding eye care on EyeCare Live. However, this app is not recommended for serious eye defects that can not be detected through a video or require special medical attention.
Some features of EyeCare Live include:
Virtual testing

Disease monitoring

Video chat

Self-testing through optical smartphone attachments

Online order and home delivery of glasses and other visual aids.
Health4Me
This app was developed by UnitedHealthcare, a subsidiary of UnitedHealth Group. Health4Me helps users to access United Healthcare services, including dental, optical, and health insurance plans. The features of the Health4Me app include the following:
Access to virtual IDs

Tips for disease prevention

Connection with healthcare providers and facilities

Management of health insurance information

obtaining prescriptions

Drug pricing.
myCigna
The Cigna company has developed five insurance apps for different health concerns. The most widely used is myCigna. Other applications offered by Cigna include: Cigna Envoy for health insurance, Cigna Wellbeing for access to medical professionals, and Cigna Compass for monitoring changes in health.
myCigna offers capabilities for:
Virtual doctor consultations

Healthcare provider search

prescription

Biometric identification

Estimated and comparative costs of medical services
Oscar Health
Oscar Health is one of the first apps ever created for mobile health insurance. The app serves to provide insurance policies for users as well as connects patients with doctors. Oscar Health is still one of the most widely used health insurance apps today.
The application has on-call capabilities for
Virtual consultations

Digital IDs

Plan information

On-demand prescriptions

Symptom research

Medication research.
MyHumana
MyHumana Mobile is a mobile application for Humana members to access medical and insurance services on the go. The app provides members with immediate solutions to arising needs with features such as:
Drug pricing

Insurance plan information

Specialized health care provider searches

In-app locator for urgent care

Claims processing

Financial statements

access to digital ID cards.
Designing Your Health Insurance App
If you are thinking of how to create a health insurance app, there are five stages you must follow process of designing a health insurance app involves five major stages, namely: 
Planning, development, testing, and compliance checks.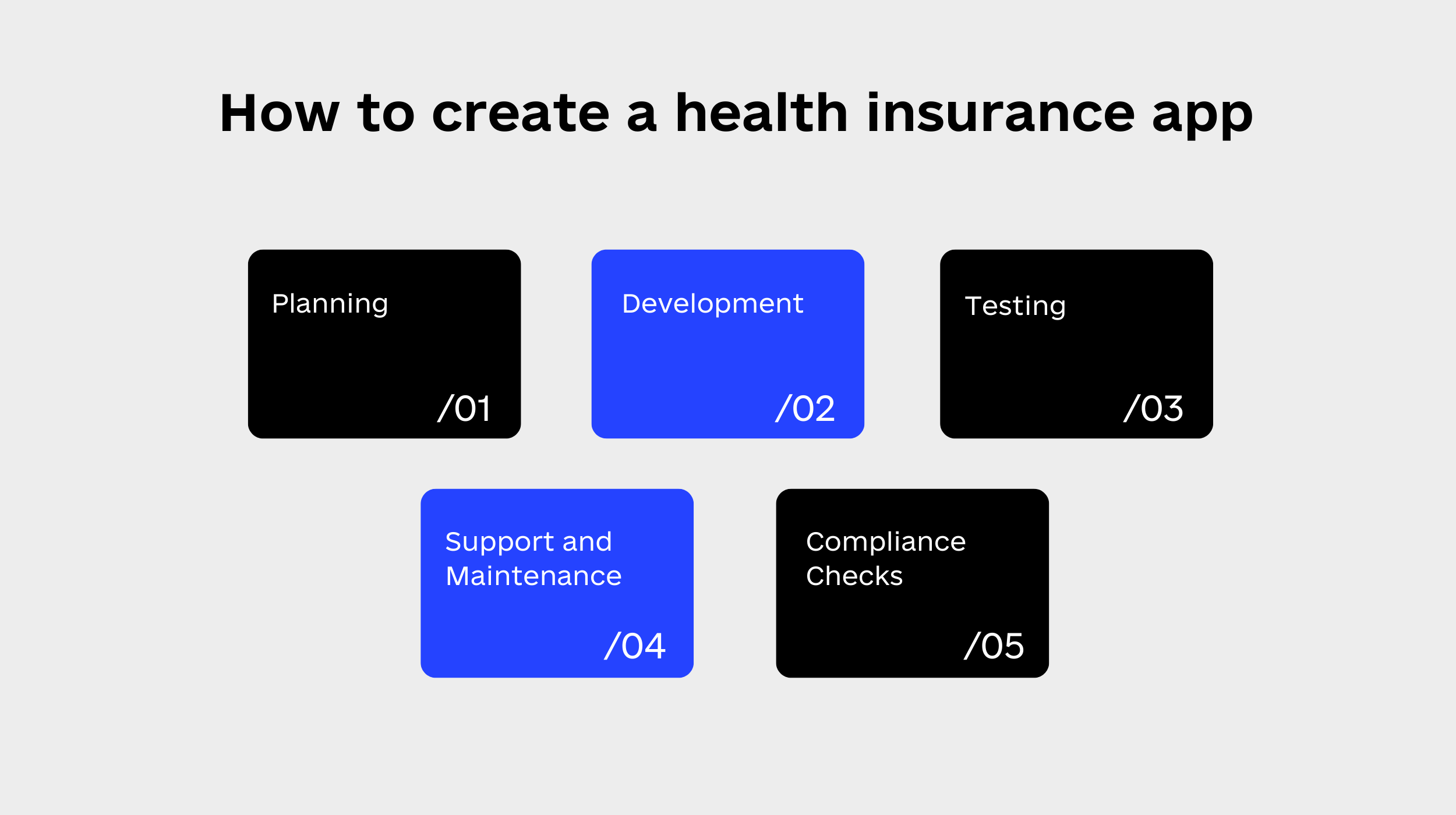 Step#1. Planning
The first step that sets the stage for your  health insurance app development is planning. This is the phase where you determine your health insurance app features and every other thing necessary for the success of the app. Thorough business analysis is taken in line with the company's unique value proposition and prototypes, and created, tested, and iterated based on feedback.
Research is carried out to identify market trends, examine competitors, create a viable business model, and ascertain the proposed app's cost, logistics, functionality, and design. This is also the stage where interdependent work teams are formed; tasks are assigned to the teams, and a roadmap for designing the app and the timeframe for its completion are decided.
Step#2.
Development
This is the core step in designing the health insurance app. Development activities are derived from conclusions from the planning phase. Tech expertise is required at every phase of development. The first step is usually to build a simple user interface UI with configuration and accessibility options for test running. APIs like blockchain technology are usually integrated to make the process faster.
All team members—developers, designers, QA engineers, the business analysis team, and technical writers—must adhere to the decisions made during the planning stage during this phase. Project managers are typically assigned to oversee the development process to ensure that each team completes its work effectively.
Step#3.
Testing
Testing is a crucial step in designing a functional health insurance app. It reveals the extent to which an app is usable and how much it resembles the intended model. Testing helps to identify bugs in different use cases. This will provide insights into how the user experience can be perfected.
Testing is a continuous process to keep the software product relevant to market needs.
Step#4.
Support and Maintenance
Designing an app is only half the job. Software maintenance lasts for the entire lifespan of the application. This includes all upgrades, repairs, and improvements done to prevent the app from becoming obsolete.
Step#5.
Compliance Checks
The Health Insurance application must be designed according to applicable regulations guiding healthcare. The app must comply with legal regulations concerning data protection. The risk of non-compliance is high.
The next section examines some applicable health laws insurance companies must comply with.
Rules That Your Insurance App Must Follow
There are several rules protecting data collected for health purposes. These laws apply based on region, but this section examines some of the major ones.
The Health Insurance Portability and Accountability Act (HIPAA)
HIPAA is the United States legislation that regulates the privacy and security of the medical information of residents. The HIPAA regulations guarantee the security of information gathered for medical purposes. Such data is known as personal health information (PHI) and can be contained in any format, whether digital, physical (written) or oral. 
HIPAA is more than simply legislation governing data privacy, though. It is a standard of operations that all US-based insurance businesses must abide by. For example, The First Part of the Act stipulates health insurance coverage for individuals who are out of jobs. It also precludes institutions that offer group health insurance from denying coverage to individuals with specific diseases and preexisting conditions. The Fourth Part of the Act further provides for health insurance reforms in the industry.
Health insurance companies must consider and comply with HIPAA provisions while offering customers digital insurance services.
Health Information Technology for Economic and Clinical Health Act (HITECH)
The (HITECH) act is an aspect of the American Recovery and Reinvestment Act (ARRA) of 2009. It creates rules and incentives for using electronic health record (EHR) systems among medical service providers. It also governs the transmission of electronically protected health information or ePHI. HITECH has proven to have an expansive effect on the Health Insurance Portability and Accountability Act (HIPAA) provisions, increasing liability for default of any HIPAA provision.
General Data Protection Regulation (GDPR)
The GDPR is the law of the European Union governing the protection of all personal data of the residents of member countries. It provides guidelines for data transfer, such as consent of the data subject and compliance of the data receiving country. The provisions of the GDPR affect all categories of personal data, including medical information. Thus, insurance applications must achieve GDPR compliance to thrive in Europe. 
Payment Card Index Data Security Standards 
The PCI DSS is a set of security standards for companies to comply with in the processing of credit card information, the size of the company, or the number of such transactions notwithstanding.
All applications with in-app payment functionality, including health insurance apps, must adhere to PCI DSS regulations. According to PCI DSS requirements, all credit card information collected from the user must be held discreetly during its retention period. Further, the data must undergo encryption through standard algorithms such as tokenizations (e.g., AES-256) or hashes (e.g., SHA 256). Even payment gateway providers used by these apps, such as PayPal, must be PCI DSS compliant.
Cost of Developing a Health Insurance App?
There is no one-fit answer to the question of how much it would cost to develop a health insurance app. At each given time, it will be determined by the project details. According to our valuation, the costs of developing a health insurance app can range from $33,000 – $500,000, even more, depending on the project size, business type, and demands. An average app with basic features and nothing tush could cost between $15,000 to $32,000. In contrast, a complex health app with all the nice features localized for the patient side and healthcare provider sides can cost $70,000 and above. Either way, below are some factors that set the cost pace for health insurance app development.
Number of developers working on the project

Location of the developers

Number of features (the more the feature, the higher the cost)

Model of engagement( inhouse team, offshoring team, freelancers)

The amount of time needed to develop the app.

Software architecture

Choice of the tech stacks

App maintenance cost

And the complexity of the app
To get a better perspective, check out this table below:
| | | | |
| --- | --- | --- | --- |
| Task | Rate | Hours | Cost |
| Business analyst | $34.50 | 520 | $17.940 |
| Project architecture development and code review | $34.50 | 320 | $11.040 |
| Front end development | $34.50 | 1090 | $37.605 |
| Backend development | $34.50 | 920 | $31.740 |
| UI/UX Design | $34.50 | 320 | $11.040 |
| Project Management | $34.50 | 540 | $18.630 |
| QA | $34.50 | 900 | $31.050 |
| DevOps | $34.50 | 150 | $5175 |
| Total | | 4760 | $164.220 |
Don't hesitate to get in touch with our team here if you are interested in getting an exact cost for your health app development. We would be glad to partner with you.
Conclusion
It is true that the cost of developing a health insurance app is largely dependent on factors like location of developers, technology stacks, complexities of the app and number of functionalities. However, there are simple ways to cut costs without sacrificing quality. One of such ways is by outsourcing your health insurance app development to companies in regions with friendly development rates. But even at that due diligence must be done to get the best fit for your product's ideas.
To save yourself of all the stress that comes with software development, kindly get in touch with us. We will be glad to partner with you to get your product idea up and running.