Do you ever wonder how powerful a review is to consumers and businesses? Have you ever considered how a review can influence your buying decision and impact a business? Please take a look at this: according to a survey, over 95% of consumers reiterated that online reviews usually influence their buying decisions. Also, more than 87% of consumers believe the integrity of an online review just as much as recommendations from their families, friends, and associates. Another survey suggests that nearly 90% of consumers would most likely patronize companies that react to online reviews on the business side. Interesting, isn't it?
While some businesses consider online reviews a nightmare because of the impact a negative review could have on their businesses, others have taken proactive steps to meet consumers where they are by embracing reviews on their products and services. Yelp, a review app, has successfully tapped into the opportunity that online reviews afford businesses and consumers and built a household name for itself. According to stats, Yelp has over 180 million reviews globally and commands about 92 million users every month.
The success of Yelp has given birth to a drive to build other review apps that can help users weigh how a business is faring by looking into how other consumers feel about their products and services. While this is a good idea, not many people know how to go about the process. In today's article, we will take you through the whole process of building an app like Yelp. Please stick with us as we dig into the secret of building an app like Yelp and how to generate regenerate revenue from it.
What is Yelp App, and What's the Secret to Its Profitability?
The Yelp app is a crowd-reliant review platform in that it relies on the reviews of loads of consumers who have patronized a local business before. The Yelp app focuses on providing reviews of local businesses like restaurants, hotels, bars, gas stations, schools, auto mechanic shops, etc. The idea was born out of necessity by Jeremy Stuppelman in 2004 after he caught the flu and needed an online recommendation for a doctor but couldn't find any.
How Yelp Works
The Yelp platform uses geolocation to provide users with a slew of local businesses around them. It also allows users to select the particular business they want to explore while giving them exposure to the business's basic information like address, price of services, routes, and reviews of other users about the business.
After using the services of a local business, the Yelp app allows you to write a review about your experience with the business. But to do this, you must first register and sign up.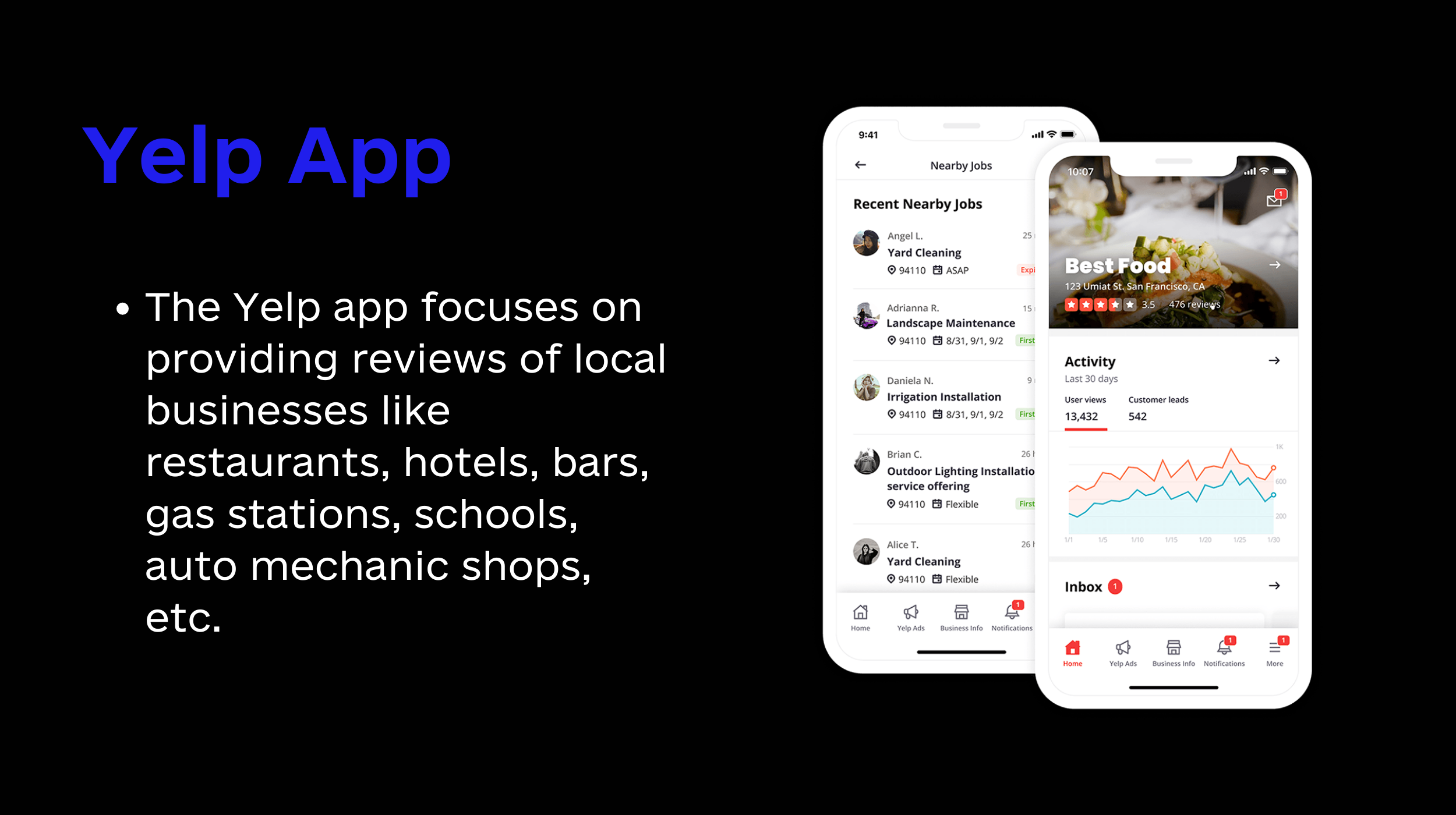 Posting a review on Yelp is as easy as ABC. All you need to do is to follow these simple steps:
Log into your Yelp account.
Click on the "Write review" button at the top of the page.
Search out the business you hope to review.
Click on the write review button close to your preferred business.
Rate the business on a scale of 1-5.
You can include your thoughts and experience with the business in the text box.
Add images or video if necessary.
Then click on the post review button, and you are done!
Secrets to the Profitability of Yelp
Most review platforms that preceded Yelp didn't seem to have sailed successfully with consumers. But somehow, Yelp did and has continued to grow relentlessly. But what did it do differently to set it apart? Let's find out.
Yelp adopted a people-centric business model: rather than just paying professional reviewers to review products and services. Yelp focused its resources on attracting a small group of fanatic reviewers. Contextually, Yelp didn't try to replace users' contributions with contributions from professional reviewers, as was the case in most other business models.
It introduced a praise and attention system to motivate people to drop their reviews: We all love to receive some form of praise and attention when we get stuff done. Yelp executives understood this human desire and implemented it in their platform. The more praise and attention people receive for their reviews, the more motivated they are to keep reviewing.
They structured their review platform to mimic a social network platform: Reviewers get to see how other users are reacting to their reviews. Also, users get to see the information of their favorite reviewers. They can even follow their favorite reviewer, just like what happens on social media platforms where you get to follow your favorite celebrity.
Targeted a defined geographical market per time. When Yelp launched, it focused on just the San Francisco market. Afterward, it moved to a new market in Los Angeles before entering the New York market.
The secret to Yelp's profitability lies in its community-centric business model. According to Mr. Stoppelman on Yelp's business model. He said, "We put the community first, the consumer second, the business third.
The Yelp platform is one of the most successful review platforms that has reshaped the way consumers view and interact with businesses around them. While this may be true, it is always best to look at the statistics that back Yelp's position in the hall of fame. Let's consider a few.
More than 44% of customers like to read reviews on Yelp before patronizing a business.
A little above 34% of consumers using Yelp platforms for review are likely to visit the business of interest within 24hrs.
More than 91 million unique visitors access the Yelp platforms over a mobile device.
A combined 177 million yelpers access the platform from mobile, web, and desktop.
Businesses registered with Yelp record about a 9%  increase in profit for every new star they earn
According to a study, more than 90% of Yelpers purchase using the platform.
Yelp restaurant platform accounts for nearly 50% of all reviews on the platform.
Four out of every five Yelpers are willing to purchase after visiting the platform.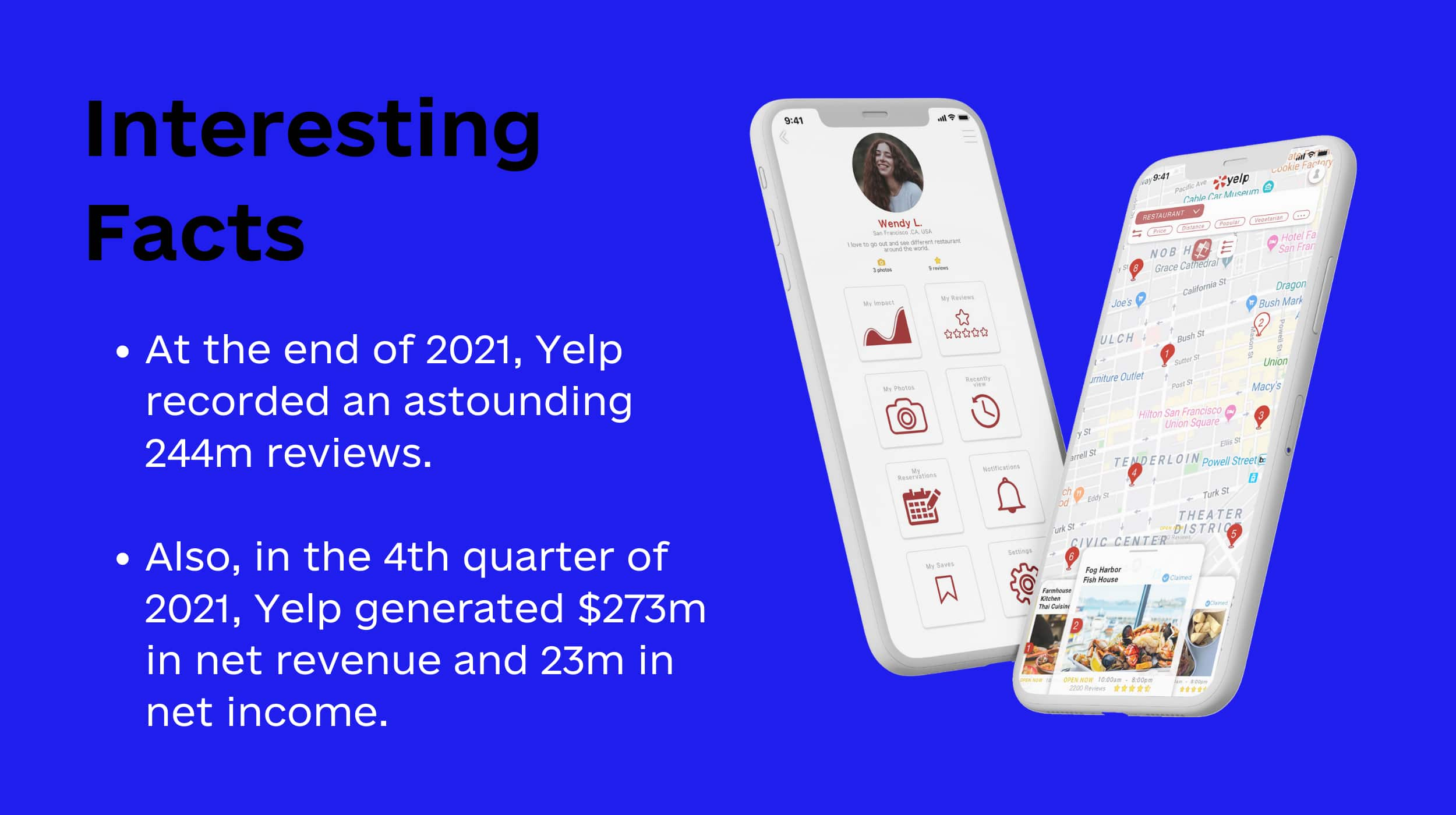 If you are still uncertain about the profitability of a Yelp-like platform, then take a look at this:
Are you motivated to build your Yelp-like review app? Before we look at the steps necessary for that, let's get familiar with the competitors in the market.
Yelp Competitors Market Overview
Since the inception of Yelp in 2004, other reviewing platforms have sprung up to have a piece of the pie. While this has led to consumers having multiple options, there appears to be a distinction in how each operates. Below are some of the platforms that are competing with Yelp.
FOURSQUARE City Guide
This platform employs a search and discovery technique to help users find the location of places of interest. Foursquare achieves this through geolocation, browsing history, and previous check-ins. On the FOURSQUARE platform, users can share their recommendations with other users on the platform.
Also,  FOURSQUARE uses geolocation to enable users to find places like gas stations, bars, restaurants, hotels, clubs, etc. However, it appears that FOURSQUARE is often used to find places or attractions, or travel destinations. FOURSQUARE raked over $100m in 2019 and currently boasts over 55m monthly users.
TripAdvisor
TripAdvisor is another review platform that is most popular among travelers and tourists. It employs user-written content and recommendations to help tourists and travelers find travel destinations and tourist sites.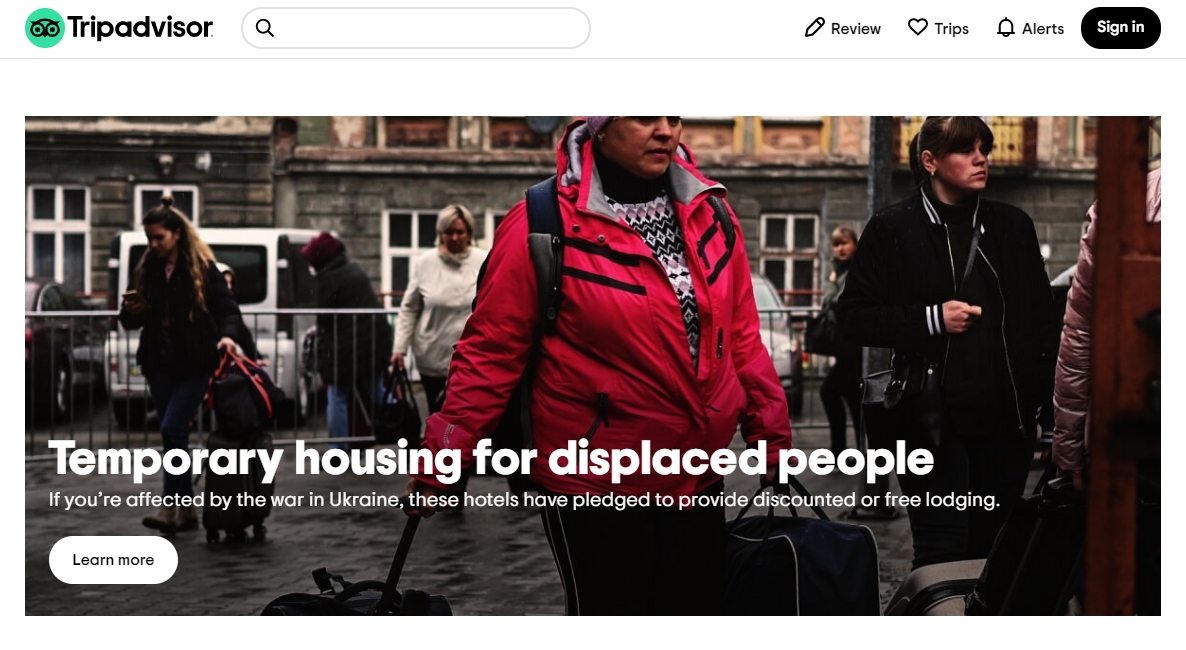 Aside from that, TripAdvisor enables users to find and book hotels, transportation services, restaurants, etc. since it is a yelp clone mobile app, it helps users get firsthand experiences of places they would love to visit by simply checking and reading the reviews of the travelers or tourist on the platform.
MerchantCircle
This is a business-to-business and business-to-consumer platform. The major goal behind this platform is to help different small and medium business enterprises stay connected with their customers.

On the platform, users can search and discover local businesses nearest to them that offer services that they need. In addition, users of the platform can leave reviews of their experiences with a particular business for others to view.
The list of businesses on MerchantCircle is quite large and includes businesses like real estate companies, auto shops, restaurants, finance, schools, etc.
Key Features a Yelp-like App to Have in 2022
User Profiles: In application development, attention has moved from owners to users. As a result, it is essential to include profile features that users can customize to meet their unique tastes. Hence, while building an app like Yelp, ensure your users through their profiles can create a list of their favorites, be in charge of their reviews and manage their payment details. for businesses using the platform, they should be able to be in charge of their profiles, react to reviews and analyze customers' feedback
Geolocation and location-search: this feature enables your users to discover places of interest. These features in your app will help provide personalized choices based on a user's location, thereby enhancing users' experience with your Yelp-like app.
Review and rating system: this feature allows users to express their feelings after coming in contact with a business. With this feature, users can rate services based on their experiences, drop a review, ad choose their favorite places.
Social media login. This feature is designed to make registration processes seamless for users. That way, users won't have to put in their details manually. Rather, they log in to your app using their social media accounts.
Push notifications: the feature enables users to get the latest updates on their preferences. This feature uses geolocation, browser history, check-ins, and previous reviews to provide users with customized information that may interest them.
Photo/video uploading. Considering that most users of a review platform fall within the age bracket of millennials and GEN Z, adding a picture/video upload feature is a must. Most users within this age bracket use videos and photos as a means of expression. Yelp has this feature in place, and since you hope to build an app like Yelp, including this feature is great.
Filter. Users want to have control of their interaction in a review platform, and this feature will give them just that. The filter feature helps users sieve through their search results by relying on basic details like price, description, delivery schedule, and location.
In-App purchase: If your review platform's model is one where you want users to make purchases from local stores and businesses on your platform, then including an in-app purchase feature will help you achieve that. However, ensure that your in-app purchase feature has mini-features like menus, pricing, and a catalog to help users see the basic parameters necessary to make a buying decision.
Payment gateway: if users have the option of running purchases, booking, or paying for any services on the platform, you must put a payment gateway feature in place.
It all depends on the scope of your Yelp-like app, it could include the above-listed features, or it could include more like:
Scanning features
Analytic features
Business/ consumer interaction system
How Does Yelp Make Money: Monetization Model
The purpose of every startup or any entrepreneurial venture is to solve a problem and make money. The problem with most creators or developers of software is their inability to monetize their products. This section will show you some strategies Yelp used to make money and stay afloat. Although Yelp uses these monetization strategies, you could customize them and use them in your platform.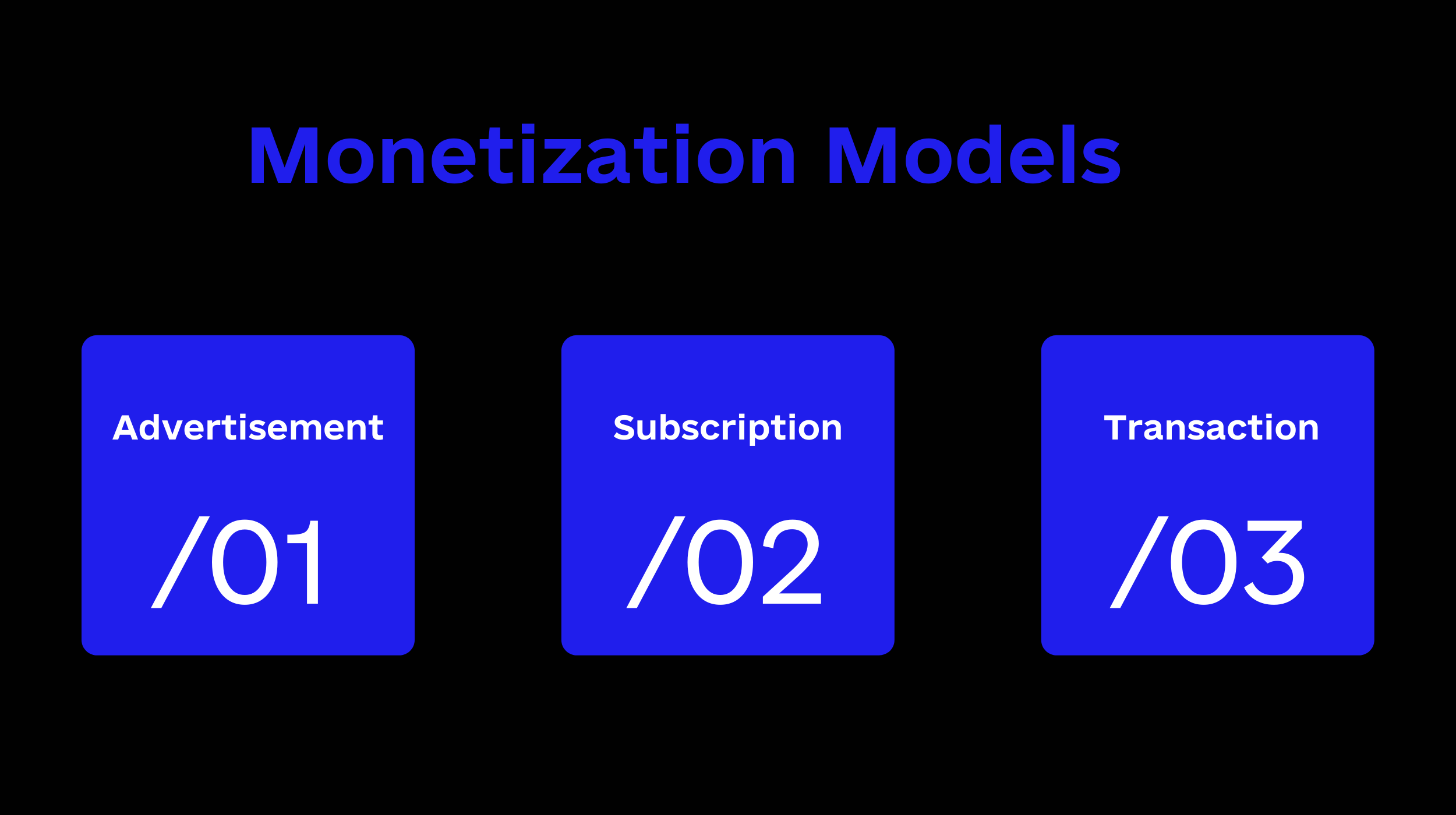 According to a 2020 report, about 90% of revenue is generated by Yelp due to the intense marketing strategies they implore to satisfy business partners' desires to be visible. Yelp uses a cost-per-click costing method to charge businesses every time users click on their ads. And when this occurs, an amount of money is deducted from the business's ad budget. Also, revenues are generated from search ads and ad sales.
Aside from the revenues generated from ads strategically placed to grab users' attention, Yelp also offers business owners the option of upgrading their profiles. Profile upgrade is done in two ways, and each attracts different charges.
✅ Branded Profiles: Most yelp business partners who want better control of their accounts go for branded profiles. The branded profile offers businesses premium features designed to improve their listings. For instance, the premium features allow businesses to select their most preferred videos and pictures to be featured on their slideshow carousel. Also, it will allow them to make crucial changes to their listing information after deployment.
Another key feature in the branded profile package is Yelp's call to action button. With this feature, customers can be moved to the businesses' websites on Yelp's business listing page.
✅ Enhanced profile: this package is a hybrid version of the branded profile package. For businesses who have paid for this package, ads from other businesses or competitors will not appear on listing pages.
According to available stats, transactions that Yelp facilitates on account of its partners are responsible for about 1.5% of Yelp's profit. There are four major ways the company generates transaction-based profit, and they are
✅ Yelp partnership: this is achieved through partnership integrations that allow users to make purchases directly from the platform. For every purchase made through these partnerships, Yelp gets a commission. A perfect example of this is the Grubhub partnership that allows users to purchase food and get it delivered to them.
✅ Yelp deals: These are promotional offers with attractive discounts created to improve users' engagement with businesses. Yelp gets a commission for every deal that pulls through these promotional offers.
✅ Gift certificates: this is another great source of revenue for Yelp. Whenever a customer purchases a gift certificate, the platform takes a percentage of it as a commission fee. What is charged as commission on a gift certificate is dependent on the total worth of the gift certificate.
✅ Yelp Verified License: Though a paid-for package, this feature gives businesses an option to choose to stand out or not stand out. When businesses subscribe to this upgrade, a badge appears on their listings, telling customers and users that the business is a trusted and verified vendor on the platform.
Simple Steps To Create an App Like Yelp
Developing your Yelp-like app such that it can get the attention of the market will be largely determined by how much time, resources, and effort you put into getting the foundation right. Below are a few steps to guide you right.
Step #1: Discover Your Niche
The review market is fast developing, and as such, there are a couple of companies currently running review platforms. As a newbie seeking to venture into the waters of the review market, the first step to take is to identify a particular niche and build your brand around it. Understand that you already have competitors in the market, and for you to stand out, you need to develop a product for a unique market niche. If you are not sure of where to start, the following tips will guide you:
Run a survey to identify the proliferation of review apps in the consumer market and focus on industries with less attention.
Run a survey to identify industries whose services are needed daily and build a brand around them.
Step #2: Determine Your Target Audience
Once you have successfully discovered the niche you want to focus on, the next important step is to identify your target audience. For instance, you want to build your brand around the cosmetics niche. It would be best to research the gender that uses cosmetic products most and the age bracket of this audience. Getting this data before you commence your review app development is crucial. It helps you understand the kind of interface, design, and features that will appeal to your identified target audience. Also, this knowledge helps you plan your marketing strategy before you even launch your app.
Step #3: Discover Your Competitors
Imagine going to war without having an idea of who your enemies are? That is a sure recipe for losing the fight even before starting. In preparing for battle, you need to know who your enemies are and also be able to ascertain the strength of their military for you to prepare an attack plan. The same principle is applicable in developing your review.
You can succeed by understanding who your competitors are and what they are currently doing in the market. After arriving at this conclusion, the next thing is to look for the weakness in their platforms or app and build your app to solve that problem. In doing this, focus on getting reviews on users' interaction with the app. You can check out some reviews on your competitors' business model by viewing comments on download platforms like google play store. Find out your competitors' blindspots and customers' pain points and develop your app to address these concerns.
Don't forget to get innovative with your solution, as innovation is what will give you the upper hand.
Step #4: Identify your UVP
Every business has a unique value it offers to its audience. If you hope not to get lost in the mirages of options available to internet enthusiasts, shoppers, and surfers, you must find your unique value proposition (UVP). Your UVP is the reason that distinguishes you from other players in the market. In this stage, you need to ask yourself the following questions: what is my reason for building this app? Why will people love to interact with my app? Answering these questions will help you develop a strong and unique value proposition.
According to Simon Sinek, people don't buy what you do; they buy why you do what you do. If your UVP is strong enough, it doesn't just help you stand out; it becomes your unique selling point.
Hint: introduce an innovative idea that none of your competitors currently have in place
Step #5: Come Up With a Workable Monetization Strategy
It is not new to find young founders and entrepreneurs getting carried away by the awesomeness of their idea that they forget to map out time-proven strategies by which their product can generate revenue. Yes, having an amazing idea is great, but not knowing how to monetize your idea could be the count down for the failure of your product.
Research how your competitors have successfully monetized their platforms. Use the information to synthesize your monetization strategies. You can also formulate novel strategies to help you generate profit. Remember, the right monetization strategies could be your golden egg when pitching to potential investors. Popular monetization strategies include advertisement placement, commission on transactions, subscription, and partnership.
Feel free to study these strategies and improve on them to get the best-suited model for your app.
Step #6: Streamline Your Feature List
Do not include features merely because other similar platforms have them. Let your features reflect your findings from all the steps listed above. Only include the most important features that best reflect your research in your MVP. As you grow, you add more features that reflect the time and concerns of your users.
Step #7: Focus on User's Interaction with Your App
In developing your review app, beauty is key. We all love beautiful things. But in adding aesthetics to your product, let your focus be on usability. While designing, you could try using a minimalistic approach rather than just clogging the app with multiple features that may consume space and not add any real value to users.
Also, ensure your app is easy to navigate. Users don't have to visit google or watch Youtube videos to learn how to navigate your app. Understand that your target audience could be tech-inclined or not tech-savvy. Hence, the app must be optimized for easy navigation with eye-catchy features.
Step #8: Get a Good  Development Team
This comes in handy if you don't have a ready in-house team of developers to give life to your project. In that case, ensure you hire a company with the requisite know-how and industry knowledge to pull off the project.
Before hiring any development company, run background checks on their services and past jobs to determine if they are suitable for your project. Trustworthy companies will have hands-on experience, excellent business models, and verifiable costs for their services.
Step #9: Develop, Test, and Launch
This stage defines the actual bringing to life of your product. Here you are putting together every aspect of your ideas to produce an that the market will accept. Do not wait for your app's development to be completed before you commence testing. Ensure the development company you are working with has a Q.A. engineer in their team to test your app at the development level, as this will ensure that what is being developed is in line with what you want.
In testing, employ the synthetic method to imitate how your users will interact with your app. The synthetic testing method helps you quickly identify and address possible challenges your users may face before it impairs their interaction with your app. Once you are technically convinced that the app has passed the stages of the tests, you can then deploy your app into the market.
How Much Does It Cost To Develop a Website Like Yelp?
There is no straightforward answer to how much you should budget for your Yelp-like app, as it all balls down to factors like:
The number of features to be included
The number of times necessary to develop the app
The charge rate of your development company
Location of your development company.
However, below is an estimate of what you should budget to build your app
Price quote – $34.5/hour
Team size – 4 devs full-time, 1 designer part-time, 1 QA part-time
Project length – 14-16 weeks
Infrastructure monthly costs: ~ USD $232.60
Infrastructure annual costs: ~ USD $2,791.20
Total project budget: USD $94,668.00.
Technology Stack
Your technology stack will be determined by the development company you have chosen to oversee your project. We at Code and care make use of the following technology stack:
✔ Node/NestJS: this is a hybrid programming framework used in building logical and scalable Node.JS server-side applications. It is currently the fastest-growing Node J.S. framework in TypesScript. It helps in creating functions and logic.
✔ PostgreSQL Database: this tool is a primary data storeroom for most applications and websites. It helps to manage ACID-compatible relational databases.
✔ ReactJS / Redux: these are open-source JavaScript libraries used in developing the U.I. of single-page applications.
✔ React Native: this is an open-source user interface development tool used to develop native apps without impacting the quality of user experience.
✔ AWS: Amazon Web Services (AWS) is a secure cloud services provider that helps businesses develop and flourish by providing computation power, database storage, content delivery, and other features.
Infrastructure
The AWS platform is a top solution for hosting modern applications. It provides a great number of services for comfortable deployment and support of the platform.
| | |
| --- | --- |
| Application part | Service |
| Server |  Amazon EC2 – t3.medium |
| Frontend | AWS Amplify |
| DB | Amazon RDS for PostgreSQL – db.t3.medium |
| Email service | Amazon Simple Email Service (SES) |
| Media storage | Amazon Simple Storage Service (S3) |
Infrastructure costs
| | | |
| --- | --- | --- |
| Service | Monthly costs, USD | Annual costs, USD |
| ec2 t3.medium | 22.05 | 264.60 |
| db.t3.medium | 112.75 | 1353.00 |
| ses | 26.31 | 315.72 |
| aws amplify | 65.98 | 791.76 |
| s3 | 5.51 | 66.12 |
| Total | $232.0 | $2791.20 |

Conclusion
Developing and launching an app like Yelp isn't going to be an easy task, but certainly, it is going to be a worthwhile process. All you need to do is follow the simple steps provided in this article religiously. If you have further inquiries on how to build a review app, please feel free to contact us at Code and Care. Contact us for a free consultation on the review app development. We are always happy to share our expertise and accumulated experience!
Read also:
How to Make a Video Calling App Like Zoom and Google Meet?
How to Develop an App Like Klarna: Features, Cost and Tech Stack
How to Build a Price Comparison Website: The Ultimate Guide
How to Create a Directory Website: The Ultimate Step-By-Step Guide