The Internet of Things has revolutionized the way we interact with our world. It has brought our physical and digital worlds closer together than ever before, allowing us to interact with our environment in ways that were once only the stuff of science fiction. From smart homes to self-driving cars, the IoT has the power to transform our lives in ways that we could have never imagined.
In a report by Thomas Insight, the global internet of things market is expected to hit a valuation of $12.44 in 2024 from a 2018 value of $1.67 billion. In its report, Grand View Research predicts the global internet of things device management market will experience a CAGR of 34.2% up until 2030. 
A mobile application for IoT management offers several benefits to users, and if you're looking to embark on a mobile management project, you can start here. In this post, we discuss how to build a mobile management application, and answer questions you might have about the procedure.
What Is Mobile Device Management

? 
"What does MDM stand for?" you may ask. MDM stands for Mobile Device Management, and it's a crucial process for organizations to manage and secure their mobile devices. With MDM solutions, administrators can manage and monitor mobile devices, including smartphones, Pos devices, and tablets, to ensure they are properly secured and managed. 
By enforcing security policies, updating apps, managing device settings, and remotely wiping devices in case of loss or theft, MDM helps protect sensitive company data. This is especially important in organizations that allow employees to use their personal mobile devices for work purposes. In short, MDM is a powerful tool that ensures proper management and security of mobile devices in an organization.
MDMs automatically identify devices connected to a network and send them commands, settings, and configurations which are executed immediately. Therefore, an MDM system should be capable of storing previous commands and sending new commands.
The use of a mobile device management system in business adds an extra layer of security with features that allow monitoring of user activity connected to it. MDMs also provide some device-specific features and platform-specific functions which combine to form the MDM suite, such as;
Data encryption

Access management

Digital card encryption
A majority of MDM systems are created based on a client-server model. Client-server models allow commands to be sent to a mobile device that executes the command. The client-server model of MDM enables organizations to centralize their master data management activities and ensure that everyone in the organization has access to the same data. It also ensures that the data is accurate, consistent, and up-to-date, which is critical for making informed business decisions.
The interface of such models is created to be flexible, improving the exchange of protocols.
The Client-Server model can be broken down and developed independently as;
The client component
The client component acts as the interface through which the users interact with the main data on the network. Users request access to data on the server which allows them to view, search, and update data on the server.
The server component
This component is responsible for storing, managing, and distributing data. The server is made up of MDM software, database, and features required to manage the quality of data, metadata, and guidelines to ensure the data on the server is accurate, consistent, and reliable.
UEM, EMM, and MDM Solutions: What's the Difference?
UEM (Unified Endpoint Management), EMM (Enterprise Mobility Management), and MDM (Mobile Device Management) are all solutions for managing mobile devices, but they differ in their scope and capabilities.
What is MDM?
MDM focuses on managing and securing individual mobile devices and their applications, such as smartphones and tablets, that access enterprise data and applications. MDM solutions can control device policies, monitor device usage, enforce security measures, and remotely wipe data in case of loss or theft.
What is EMM?
EMM extends MDM's capabilities to include mobile application management (MAM) and mobile content management (MCM). It enables IT departments to distribute, update, and manage enterprise apps, as well as secure and manage content on mobile devices. EMM solutions also provide app wrapping, which is the process of adding security policies to apps that are not designed for enterprise use.
What is UEM? 
UEM is an evolution of EMM that expands beyond mobile devices to include management and security of other endpoints such as laptops, desktops, and IoT devices. UEM solutions provide a single console to manage all endpoints, applications, and content, making it easier for IT teams to monitor, manage, and secure all devices across the organization.
What Are the Main Mobile Device Management (MDM) Features?
Some common features of MDM software  include:
Device enrollment: MDM software allows administrators to enroll devices into the system, either through manual or automated processes.
Policy enforcement: Administrators can create and enforce policies for device security, such as password requirements, encryption settings, and app usage policies.
Remote management: MDM software enables remote management of devices, including device tracking, locking, wiping, and troubleshooting.
App management: Administrators can control the installation, update, and removal of apps on managed devices.
Content management: MDM software can also manage content on devices, such as documents, images, and videos, by providing secure access, sharing, and storage options.
Compliance monitoring: MDM software can monitor device compliance with organizational policies and regulations, such as GDPR and HIPAA.
Reporting and analytics: MDM software provides reporting and analytics capabilities to help administrators monitor and analyze device usage, performance, and security.
Integration with other systems: MDM software can integrate with other enterprise systems, such as identity and access management (IAM) and mobile application management (MAM), to provide comprehensive mobile device security and management.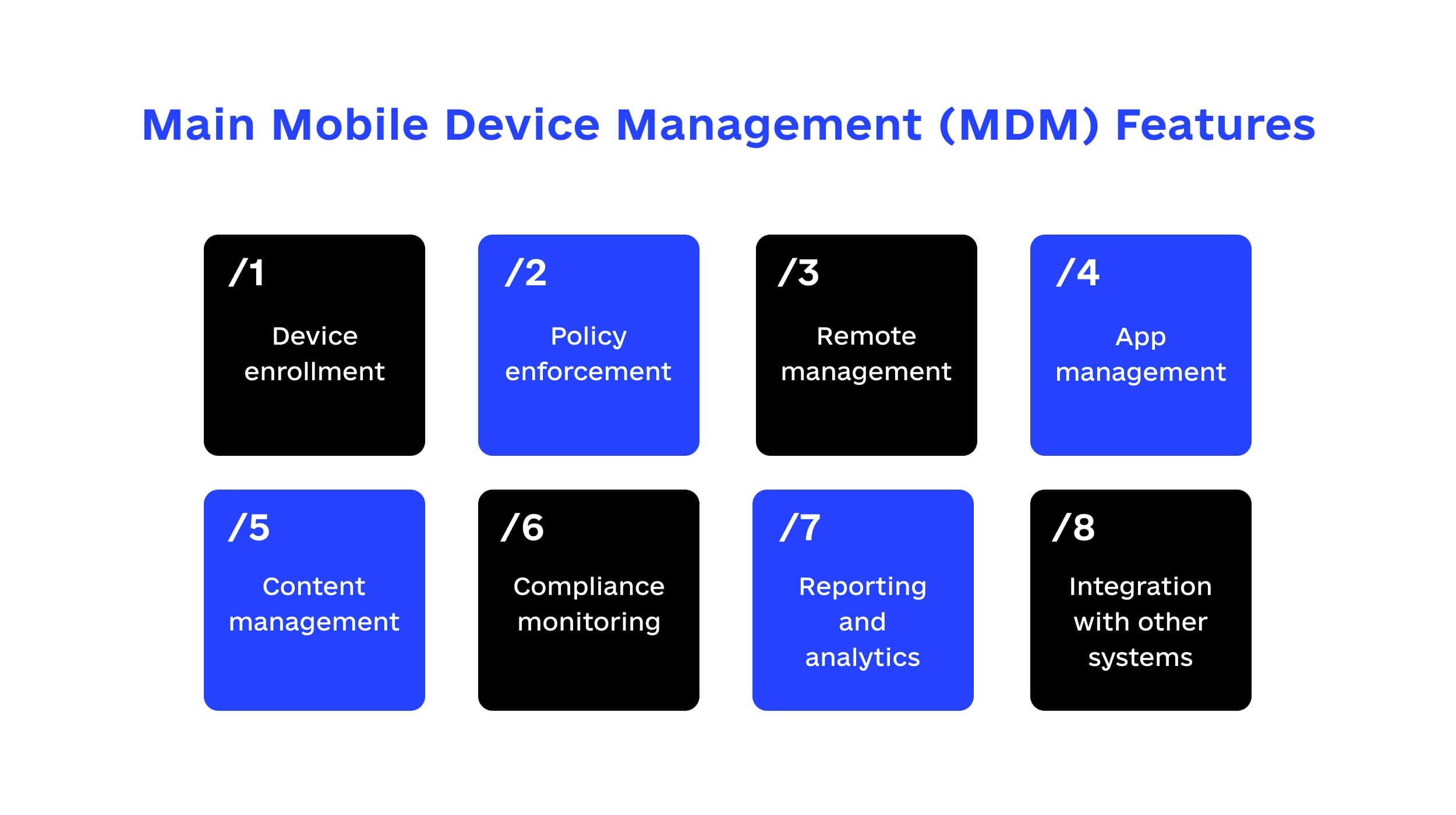 Benefits of Mobile Device Management
MDM can provide numerous benefits for businesses of all sizes. MDM is a type of software that allows organizations to manage and secure the mobile devices used by their employees. Here are some of the benefits:
Increased security
MDM software allows businesses to enforce security policies on mobile devices, such as requiring passwords, enabling encryption, and remotely wiping devices if they are lost or stolen. This can help protect sensitive business data and prevent data breaches.
Improved productivity
MDM software can help businesses manage and monitor how employees are using their mobile devices, which can help identify and address any inefficiencies or issues. Additionally, MDM can automate certain tasks, such as software updates and app installations, which can save time and increase productivity.
Cost savings
MDM can help businesses save money by reducing the need for IT support and minimizing the risk of lost or stolen devices. Additionally, MDM can help organizations optimize their mobile device usage, which can lead to cost savings on data plans and other expenses.
Simplified device management
MDM software provides a centralized platform for managing and monitoring mobile devices, which can simplify device management and reduce the workload for IT staff.
Compliance
MDM software can help businesses comply with regulatory requirements and industry standards by enforcing security policies and ensuring that devices are properly managed and monitored.
How to Develop MDM Application
Developing an MDM application involves designing and implementing a software solution that enables businesses to manage and control mobile devices and their data. Therefore, it requires careful planning and execution. Here are some steps to develop an MDM application:
Step #1. Define the objectives
Before starting development, you need to define the objectives of your MDM application. Identify the specific features and functions that you want to include in the application, such as device inventory management, data security, app management, and device tracking.
Step #2. Choose a platform
Select the platform on which you want to build your MDM application. There are various platforms to choose from, such as iOS, Android, and Windows. The choice of platform will depend on your target audience and the devices they use.
Step #3. Pick a development approach
There are two primary approaches to developing an MDM application. The first is to use a mobile device management platform, such as Microsoft Intune or VMware Workspace ONE. These platforms provide pre-built MDM solutions that you can customize to meet your specific needs. The second approach is to build a custom MDM solution from scratch using programming languages such as Java, Python, or Swift.
Step #4. Develop the application
After choosing the development approach, start developing the MDM application. Make sure to include all the features and functions that you have defined in the objectives.
Step #5. Test the system
Test the app on various devices, operating systems, and network configurations to ensure it works correctly.
Step #6. Deploy & Launch application
After testing, take the application live and deploy it to your target audience.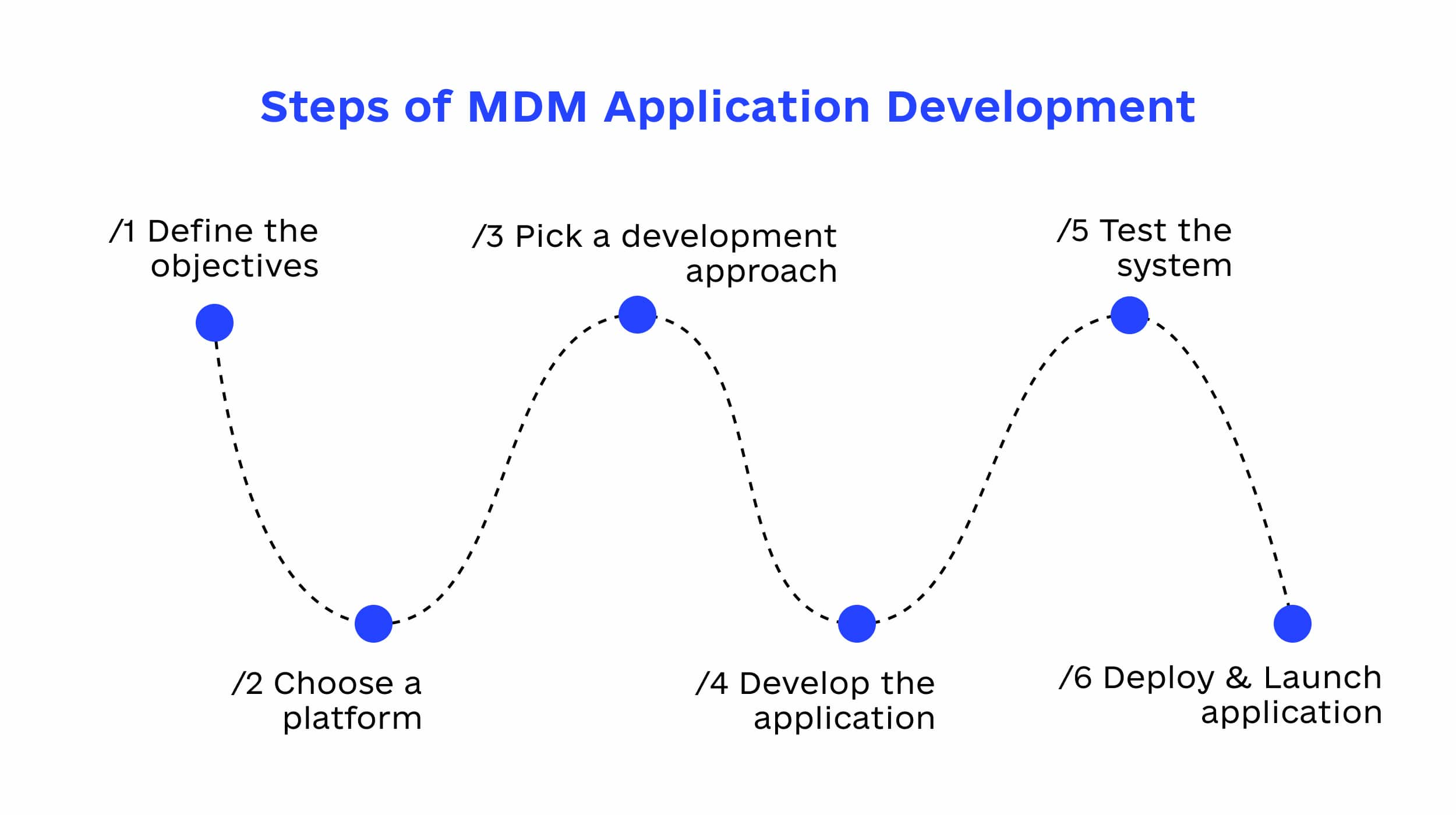 What Are the Important MDM Requirements? 
There are several key features and functionalities that an MDM solution must provide.
Device enrollment and management
The solution must offer device enrollment and management, which means it should be easy to enroll devices, configure settings, and manage them throughout their lifecycle. 
App and content management
App and content management is another important feature, allowing organizations to manage and distribute apps and content while controlling access to sensitive data.
Monitoring and reporting
Monitoring and reporting capabilities are also necessary, providing insights into device usage and performance and generating reports on device health and compliance
Integration with other systems
For seamless integration with other IT systems, MDM solutions should offer integration with other systems such as identity management or enterprise mobility management solutions.
Scalability
Scalability is also crucial, allowing the MDM solution to scale as the organization grows and the number of devices increases.
User experience
Customer experience must be considered to minimize disruption to employees while enforcing security policies and managing devices. 
Support
Support and maintenance services are essential to ensure the MDM solution remains effective and up-to-date.
Mobile Device Management Architecture
The architecture of MDM typically consists of four main components:
Mobile Devices: This component includes all mobile devices that are managed by the MDM system. These devices may be owned by the organization or provided by the employees, and may include iOS, Android, Windows, or macOS devices.
MDM Server: This component is the central control point for managing mobile devices. The MDM server is responsible for enrolling new devices, deploying policies, configuring settings, and managing updates and patches. The server also collects data from mobile devices to provide analytics and insights.
Mobile Device Management Client: This component is installed on the mobile devices and communicates with the MDM server. The client receives instructions from the server and sends information about the device's status, location, and usage back to the server.
MDM Console: This component is the web-based interface used by IT administrators to manage the MDM system. The console allows administrators to create policies, manage devices, and monitor activity across the organization's mobile device fleet.
The MDM architecture may also include additional components, such as a mobile application management (MAM) system, which manages the distribution and security of mobile apps, and a containerization solution, which creates a secure environment for enterprise apps and data on the mobile device.
How Much Does It Cost to Build A Device Management App? 
The cost of building a device management app can vary depending on several factors such as the complexity of the app, the features it includes, the development platform used, the development team's hourly rates, and the time required to develop the app. Developing a high-quality device management app may require a significant investment, ranging from thousands to tens of thousands of dollars or more.
Nevertheless, a device management app typically costs anywhere between $5,000 to $20,000, with its costs highly dependent on its features. A minimum viable product will be significantly cheaper compared to products with more features. However, a median cost of building a device management app stands at $10,000.
Challenges of Developing a Device Management Application
Building a device management application is a complex process that involves several challenges. As such, developers need to overcome these challenges to create a reliable and user-friendly application that can manage a wide range of devices and platforms.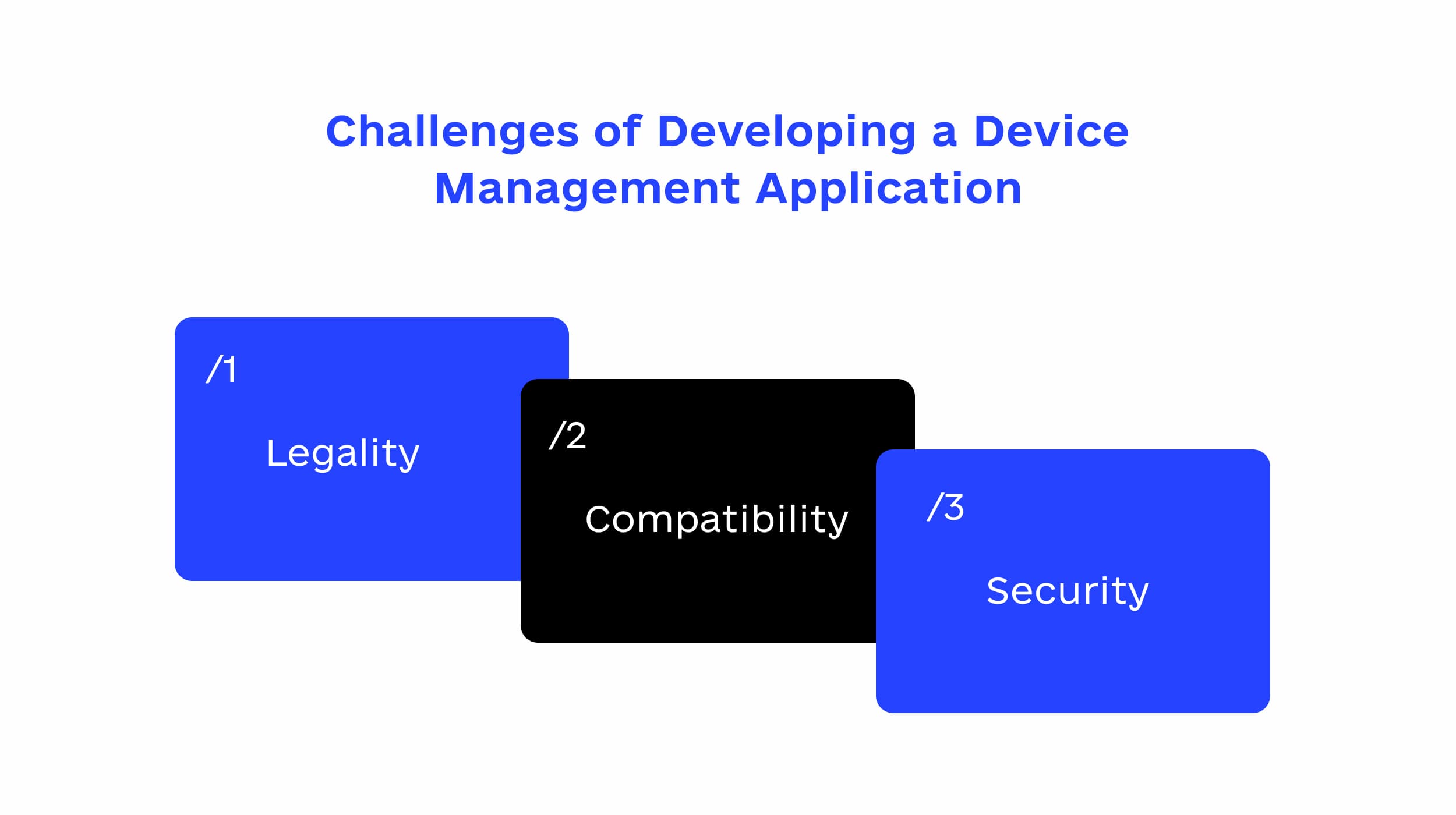 Legality
Due to certain features like geolocation tracking, device management applications can face legal challenges and as a result, we see many businesses leverage third-party device management apps to avoid infringement on privacy policies.
Compatibility
Compatibility issues arise due to the differences in hardware and software specifications across different devices. This makes it difficult to develop a universal device management application that can work across all devices. 
Security
On the other hand, security concerns arise because the device management application must be designed with security in mind to prevent unauthorized access to devices or sensitive data.
Conclusion
Mobile Device Management (MDM) is a crucial aspect of modern-day device management, given the proliferation of mobile devices in both personal and professional settings. An MDM solution helps organizations manage, secure, and monitor the devices that employees use to access sensitive data and corporate resources. 
If you are an organization that needs to manage and secure mobile devices used by employees, Contact the Code&Care team today to learn more about how an MDM solution can benefit your business.
Read also:
How to Monetize Your Mobile App in 2023: 11 FoolProof Ways to Get Paid
Global software development outsourcing trends in 2023 (& What to look for next)
How to Build a Product Roadmap for a Start-up
How to Build Your Own CRM System: Types, Features, Cost and Tech Stack